A key part of the nomad lifestyle is finding a reliable, enjoyable place to get work done when necessary. For people living a location independent lifestyle, rather than having offices around the world, it's often practical to find a co-working space where you can focus on your business.
One of the biggest hubs for such expat entrepreneurs is Southeast Asia.
Nomads have been flocking to the area for years and the region has responded to the demand of working travelers by providing an abundant supply of work-friendly cafes and co-working spaces.
Several years ago, we reached out to some of the preeminent voices in the nomad movement to find the best cafes and co-working spaces in the region. Since then, we have gone on to give our readers curated lists of the best co-working spaces in Europe, Central and South America, the United States, Canada, Africa and Australia.
We thought it was about time we returned to the list that started it all and expanded not only our recommendations for co-working spaces but also the number of countries where you can find the perfect atmosphere to connect, focus, and build your business while living a nomadic lifestyle.
We have all the best advice from our previous article, including the favorite locations of Matthew Kepnes of Nomadic Matt, Taylor Pearson of the book The End of Jobs, Elisa Doucette of Craft Your Content, and Ross Fraser of The Luxury Editor, among others.
But we have also added an extensive list of our favorite spots with descriptions of what they have to offer and why they are so great.
So, without further ado, we present you with the best co-working spaces in Southeast Asia.
The Best Co-Working Spaces in Bali, Indonesia
Often referred to simply as Bali, this Indonesian island has been a magnet for expats the world over for decades. Voted the best travel destination on earth in 2017 by TripAdvisor, Bali offers incredible luxury for affordable prices.
Our Nomad Remote Team spent several months in Bali a couple of years ago and created the Nomad Guide to Living in Bali, covering everything from when to go, where to go, what to do, where to eat and drink, where to stay, and even where to work.
Here are our top recommendations:
Outpost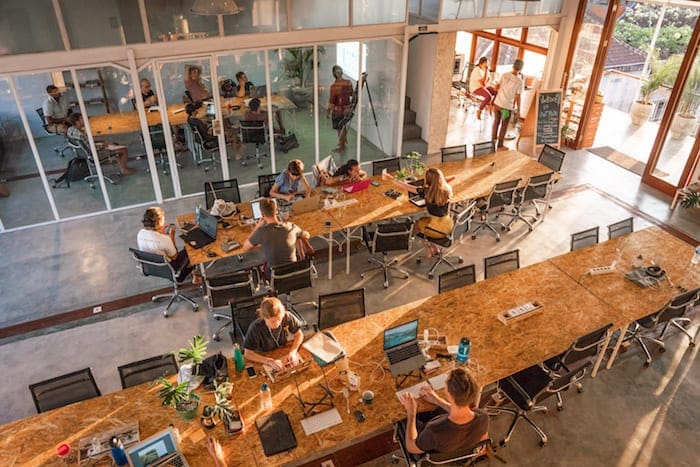 Outpost is a network of co-working and co-living spaces set in idyllic locations across Southeast Asia. For two consecutive years, Outpost has been voted as the #1 Co-working space by Coworker.com in their annual members' choice awards.
Location-independent professionals can choose to live, work and explore at any of Outpost's award-winning locations in Bali, Indonesia (Canggu, Ubud and the brand new Ubud Penestanan) or additional locations to come.
Hubud
Located in Ubud, Hubud was recommended by the life and career coach Anna Wickham, who had this to say about the workspace:
"Iconic co-working space to which all co-working spaces should aspire. They've nailed the community aspect that attracts people from all over the world just to work in that space. Worth the international trip to Ubud JUST to check it out."
Elisa Doucette Café Recommendations
Ubud, Bali:
Seminyak, Bali:
The Best Co-Working Spaces in Cambodia
Andrew has been talking about Cambodia for years and has repeatedly highlighted it as one of his favorite frontier markets for investment, whether you're looking to start a business on the beach or invest in local real estate.
And, if you want to do more than invest and actually spend some time in the country, you'll be happy to note that the cost of living is incredibly affordable. Best of all, Phnom Penh took the number one spot on our list of the most livable frontier market cities.
Whether you're about to start the next million-dollar Cambodian company or you already have a location independent business, if you plan to stick around for a while, you will probably need a good place to get your work done.
Here's our #1 recommendation:
Workspace 1 @ Factory Phnom Penh
Formerly an industrial space, Factory is a huge complex on the south end of Phnom Penh that was redesigned and now houses several different businesses, from legal services to a woodworking factory to a marketing firm, and from a skateboarding-focused NGO to a trampoline park to a company that offers high-end augmented reality for real estate.
Workspace 1 (or WS1) is the dedicated co-working area at Factory and offers freelancers, students, and entrepreneurs everything they need to be productive.
Starting at $70/month, you can get access to a quiet place to work, green areas and other spaces to relax, events and social gatherings to promote collaboration and learning, Skype/call booths, conference rooms, food and coffee, showers, a game room, and even campus bicycles!
The Best Co-Working Spaces in Malaysia
Malaysia may just be our favorite country in the entire Asian region. Andrew has named Malaysia the hidden gem of Southeast Asia and even has his MM2H visa residency in the country.
Not only is Kuala Lumpur, Malaysia one of the most livable cities in Southeast Asia, it is also one of the most affordable cities for nomads. Plus, it is a great place to invest in real estate.
Because we like Malaysia so much, we couldn't limit our list to just one favorite co-working space. Here are all our favorites:
Colony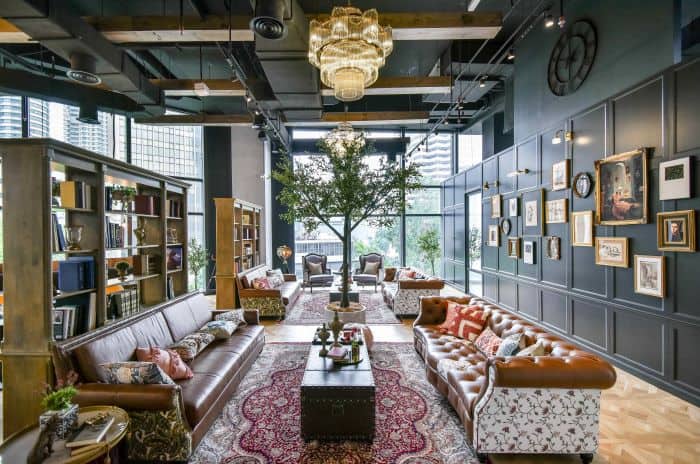 Colony is a luxury co-working space in Malaysia operating across five different locations in the heart of Kuala Lumpur.
As a hospitality-based co-working space, Colony's commitment to providing the workplace a better environment joins beautifully with their conviction that people should always be taken care of, even when they're working.
So, Colony created a place where not only is the design 'living' but the experience at work is too.
Raved over for its chic and Instagram-worthy interior, Colony aims to enable guests to focus on their life's work and reach new heights while all else is taken care of; making sure that every guest who steps through their door will indulge in first-class experience.
Sandbox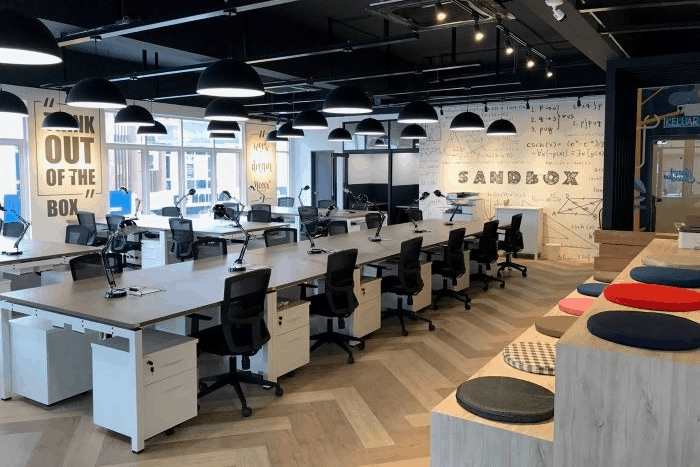 Sandbox came to be when a local cafe shut down and a couple of people who regularly worked there realized that they needed a new space to work. They saw the demand of new startups, freelancers, and digital nomads in Southeast Asia and got to work creating the ideal co-working space where like-minded individuals could bounce ideas off of each other, share inspiration, and work together.
The space is located just south of Kuala Lumpur in the classy suburb of Sri Petaling where there are many young, well-connected, educated, and informed locals, as well as numerous amenities and accessible services, making it a convenient and effortless work location.
Sandbox offers a free one-day hot desk pass, plus monthly hot desk (~USD $67) and dedicated desk (~USD$115) memberships that include 24/7 access, a business address, mail and packaging handling and other benefits. You can also upgrade to a suite (a glass partitioned office) for about $140 USD/month.
The space also offers meeting rooms, event spaces, professional and social events, branding and marketing consultation, phone booths, and more.
WORQ
WORQ is a workspace and more. It is home to a community of individuals achieving greater results by sharing with and supporting one another. It is a co-working space where members can network and collaborate with individuals from diverse backgrounds, including programmers, creatives, entrepreneurs, NGOs, investors, digital marketers and more.
Everything at WORQ is designed to enable maximum productivity, including its stunning office designs, high speed internet, fully stocked pantries, meeting rooms, and event spaces.
WORQ believes in improving the livelihoods, businesses and jobs of their members by helping them stay in touch with the latest and greatest innovations. Through their community and innovation partners, they bring together resources to meet members' business goals.
Because it is a Malaysia Digital Hub, companies housed in WORQ's facilities can easily apply to the Malaysia Tech Entrepreneurs Program (MTEP) and are able to hire foreigners. These companies can also qualify for corporate tax exemptions, funding and other government incentives.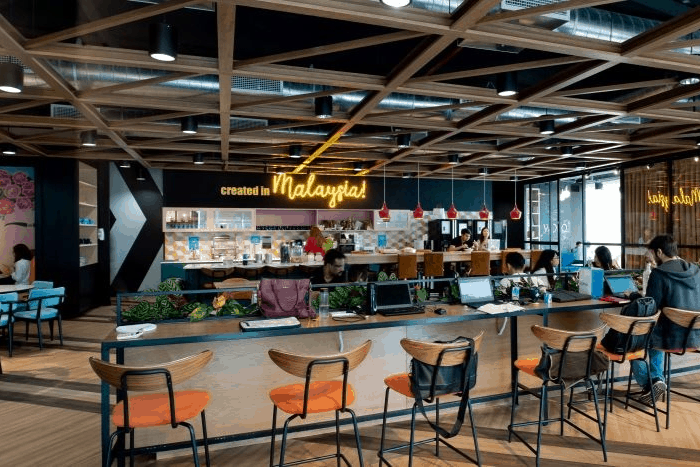 Anna Wickham Recommendations
Paper and Toast (Kuala Lumpur, Malaysia)
Convenient location in the center of KL in the popular district of Bukit Bintang, Paper and Toast is also affordable and comes with free coffee and tea. Quiet spot to get things done, but also has personality and a relaxing vibe.
The Mugshot (Penang, Malaysia)
The most popular of MANY amazing cafes in Penang. Fantastic coffee, great service, and a big wooden block table to spread out, work, and meet new people. Great location as well, walking distance from some of the most popular Penang accommodations.
The Best Co-Working Spaces in Myanmar
Myanmar – formerly Burma – was one of the wealthiest economies in Asia before it fell under military rule in 1962. The decades-long dictatorship finally came to an end less than ten years ago and has been slowly opening to foreigners since 2012.
While it still isn't the best place to invest in real estate since foreigners cannot own land, houses, or property in general, there are many ways to profit by investing in frontier markets like Myanmar.
We recently reached out to experts to learn more about investing in Myanmar, but Andrew still believes that it is best for most people to wait a few more years before investing in Asia's final frontier, favoring Cambodia over this fledgling new democracy.
If you just want to visit the country and get a little work done while you're there, though, here's our recommendation for the best co-working space in Myanmar:
Phandeeyar
Phandeeyar is a 10,000 square foot co-working space located in downtown Yangon. They provide high-speed internet, meeting rooms, personal lockers, phone booths, desks, bean bags, free coffee and tea, table tennis, and 24-hour access on weekdays (9am-6pm on weekends and holidays.)
The space is a productive environment with a cozy feel designed for business owners, architects, freelancers, startups, digital nomads, designers, and others.. Membership gives you access to a monthly co-working space party, discounts at restaurants, a flexible pass for the gym and access to all events, seminars and workshops at Phandeeyar.
A day pass is just $6, while a weekly pass is $18, and a monthly pass will only take $50 out of your total budget.
Phandeeyar's roots are in technology, connectivity, and startups. In 2016, Phandeeyar launched the Yangon chapter of Founder Institute, Silicon Valley's most successful entrepreneur development program, and has since invested in promising tech startups in the area.
Phandeeyar literally means "creation place" and is the perfect spot for locals and foreigners who are ready to ]bring about change and development in Myanmar. So, while it may not be the perfect time to invest in Myanmar as a whole, Phandeeyar is the perfect place to start by building connections and laying the foundation for great things to come.
The Best Co-Working Spaces in Singapore
Singapore… what isn't there to say about Singapore? It's safe, clean, has a strong free market, is one of the most entrepreneurial countries in the world, as well as one of the richest (with a GDP of $102,027 PPP, plus 1 in 5 residents is a millionaire), and is a top destination for affluent expats for medical tourism and high-class living.
Singapore is a thriving hub for entrepreneurs and investors, it is the place to store wealth, has a favorable territorial tax system, is a great place to set up an offshore company, and is one of the safest countries for offshore banking.
Most impressive of all, it built all of this in just 49 years!
Simply put, Singapore understands things that the West doesn't. Sure, Singapore has its drawbacks. It's silly to fine people $500 for drinking water on the subway, the cost of living for everything from drinks to rent is ridiculously high, and the culture is a bit too sterile and conformist. It's not the most culturally exciting country on this list.
But that's the point of planting flags.
You can visit and take advantage of all the great things Singapore has to offer without living there.
If you are hoping to get access to what The Economist named "the world's most tightly packed entrepreneurial ecosystem", or you're just hoping to use the country's lightning-fast internet during a short visit, we recommend checking out these great co-working spaces to get a foot in:
The Working Capitol
The Working Capitol is a diverse network of members and partners. They offer meeting rooms, event and co-working spaces, curated food and beverage experiences, and the perfect mix of events and programs to nurture businesses and company culture.
The space is located on Keong Saik Road, giving you great proximity to dozens of restaurants, bars, a gym, yoga studios, and quick access to The Duxton Plain Park, a green belt in the city surrounded by shophouses and hidden gems.
Memberships range from SGD 79 to SGD 800+ a month, with the cheapest option granting you access to The Working Capitol's network, events and professional support system, and the most expensive option including a fully furnished office with event space discounts and other partner perks and benefits.
The Company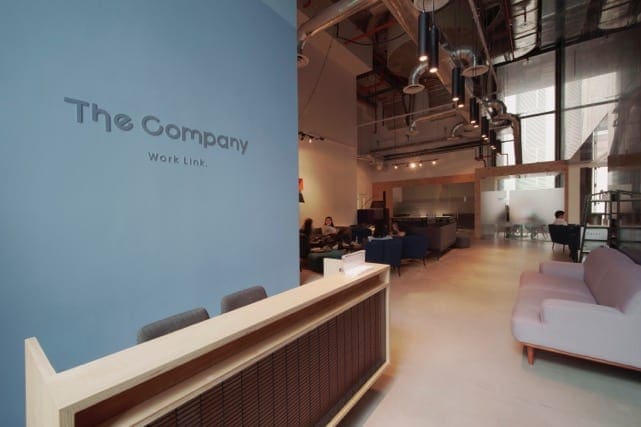 The Company Singapore is a co-working space located in the heart of City Hall, nearby F&B outlets, and next to Singapore's iconic Raffles Hotel. The Company is not only about providing workspace solutions, it is also a hub for the tech and startup community to connect and collaborate.
Based in Japan, The Company has expanded in other countries like the Philippines, Thailand, Singapore and the USA. The Singapore location has an in-house specialty coffee bar from Kyoto, Japan to satisfy all your caffeine needs.
They offer daily, monthly, six-month, and yearly membership plans for hot desks, and private offices. Prices range from $ 250/month for a hot desk membership to $ 1800+ for a private office.
The Best Co-Working Spaces in Thailand
Thailand has long been one of the most popular digital nomad destinations in the world. Both Bangkok and Chiang Mai have their pros and cons. Chaing Mai has been dubbed "the capital city of digital nomads" and those nomads have been hard at work starting everything from Amazon FBA stores to blogs to SAAS companies.
However, most digital nomads in Thailand are more interested in creating a lifestyle business rather than a full-fledged startup. Still, Bangkok is one of the most well-connected cities for nomads and you're bound to make some connections while you're there. Plus, there's delicious food and high-speed internet access.
If you're looking to bootstrap your own business or even start a business in Thailand, it's worth checking out, but know that it may not be as cheap as you think.
If you are interested in visiting Thailand, you can check out our articles on obtaining a Thai visa, the Thai Elite Visa, or even a Thai passport. And, while you wait for that visa to arrive, you can take a look at the many co-working spaces and cafes in the country where you can get to work and make your business come to life.
KoHub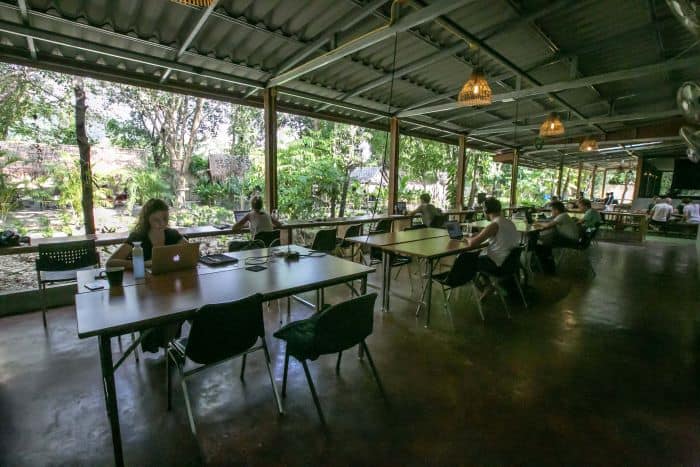 KoHub is a unique island-based co=working space on the small tranquil tropical island of Koh Lanta in Thailand.
Despite the small island, KoHub has managed to create the best life balance in the world utilizing 1,000 Mbps Fiber Optics, a custom-designed co-working space, with onsite restaurant, cafe, juice bar, massage, tropical garden and its own groundbreaking innovative membership system that increases convenience and productivity.
KoHub's community is also a welcoming and fun family, which helps create an Oasis for worldly nomadic entrepreneurs and remote workers."
HUBBA Thailand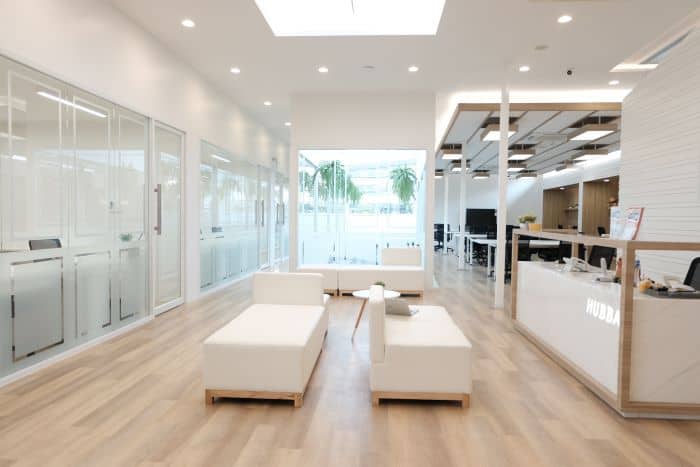 Since becoming Thailand's first co-working space in 2012, HUBBA has grown to become a corporate innovator and tech-driven co-working space with five locations across Thailand. An additional three spaces will be available by the end of 2019, including HUBBA's first international space.
HUBBA's mission is to enable business growth through community collaboration and they have built a solid reputation based on their efforts to fulfill this mission. Corporate communities recognize them for their ability to facilitate innovative thinking, which has allowed HUBBA to develop a venture-building service for it members.
With its wide network of expertise, HUBBA regularly hosts ecosystem events and training-on-demand at its facilities, including hackathons, pitch competitions, innovation training series, and bootcamps.
Elisa Doucette Café Recommendations
Chiang Mai, Thailand:
Ross Fraser Café Recommendations
The Best Co-Working Spaces in Veitnam
Vietnam is one of the most underrated countries for expat living, but it has become increasingly more popular over the years thanks to its cheap cost of living and vibrant culture.
Both Hanoi and Ho Chi Minh City (Saigon) made our lists for the most livable cities in Southeast Asia and the cheapest places in the world for custom suits. Ho Chi Minh City also made it into the top five best cities for bootstrapping young entrepreneurs.
Andrew spent quite a bit of time in Vietnam several years back doing on-the-ground research and discovered that Vietnam doesn't need more capital investment, it needs more talent. It needs you. And if you have a good deal of patience and a penchant for adventure, it is a great place to invest.
It is also a great place to find a café or co-working space and get some work done. Matthew Kepnes, travel expert and founder of Nomadic Matt, had this to say about his favorite places to work while traveling both in Thailand and Vietnam:
"I think the best cities are either Chiang Mai or Saigon. You have lots of expats and digital nomads who live in each, so it's easy to get a good community going. Both cities have good internet, international food, are good cities to make as your hub, and they are both very cheap. They've been popular with digital nomads for years for good reason!"
Here are a few more recommendations from our nomad thought leaders:
Taylor Pearson Recommendations
Ho Chi Minh City (Saigon), Vietnam:
ID Cafe sports comfy seats, amazing cinnamon tea and solid Wi-Fi. Good for a "lean back" work session, reading or a meeting
L'usine: Perhaps the most French cafe left in Saigon, two locations in District 1 offer terrific French food, high quality coffee and great Wi-Fi.
The Workshop: Big open tables in the corner of an old French building give a sense of history and the hipster-style drip coffee gives it a bit of flare. My favorite place to work.
The Loft Cafe: Similar to L'usine, the loft is a big French style cafe in downtown Ho Chi Minh, perfect for lunch and a work session.
Elisa Doucette Recommendations
Elisa Doucette also recommends L'uisine in Vietnam and says,
"I spend the majority of my time here in SE Asia in Chiang Mai and work from restaurants as well as cafes. I am a firm proponent of being courteous to cafe owners when you are working there. Order something every two hours, take up only the space you need, if you need to take a call, do it in a place that isn't an inconvenience to other customers, etc. They're trying to make money just like the rest of us, they aren't running coffee charities!"
If you're looking for something a little more formal than a café, check out our favorite co-working space in Ho Chi Minh City:
SPICED
SPICED, formerly Start Campus, was voted the #1 co-working space in Ho Chi Minh City on coworker.com. It is a boutique co-working space in District 2 that is home to a vibrant community of entrepreneurs and creatives.
Spiced offers everything you need, including plenty of room to work and hold events, plus a recreation room, garden and pool, rooftop terrace, fast and stable Wi-Fi, access to training, coaching, and an investor network, and even co-living and private bedrooms. Not to mention unlimited coffee and 24/7 access.
They hold daily community lunch and weekly activities like cocktail and pool parties and community talks so you can connect and play with like-minded people. Many community members often collaborate on side projects or even build businesses together.
To gain access to their comfortable hot desks (which come with 24" monitors), you can purchase a day pass for less than $7 or go all in for a monthly pass which costs about $95. Or, if you want 24/7 access, it will cost roughly $40 for a week or $108 for a month.