Dateline: Tbilisi, Georgia
There are so many reasons to love Australia. For years, the Land Down Under has been drawing folks to its coasts. Today, it is the eleventh largest national tourism market in the world.
And for good reason!
Whether you want to soak up some rays on Bondi Beach, witness awe-inspiring views first-hand (from the Great Barrier Reef to Blue Mountains National Park), catch the waves in some of the top surf spots in the world, or experience the Sydney Opera House, Australia has something for everyone.
Not to mention the fantastic local accent and hospitality.
A lot of good things can be said of Australia's economy, too. It was the 13th largest economy in the world in 2018 and was the only advanced economy that did not experience a recession during the global financial crisis of 2008-2009.
Australia has the third highest human development index worldwide, ranking highly for quality of life, health, education, civil liberties, and livability. In fact, Melbourne, Adelaide, Sydney, and Perth have all scored in The Economist's top ten most livable cities in recent years. And it doesn't hurt that Australia recently overtook Switzerland as the country with the highest average wealth.
Plus, Australia is ranked fifth in the Index of Economic Freedom. There are only three procedures required to open a business in Australia and the country's free-market democracy has created a strong entrepreneurial environment.
Australia has a robust financial and insurance services industry and is equally competitive in the areas of technology, high-value-added manufactured goods, mining, and agricultural exports. Best of all, almost all industries are open to foreign competition and investment.
The only downside? Taxes.
Income tax in Australia is a steep 45%, corporate taxes are a flat 30%, and with value-added and capital gains taxes, the total tax burden in Australia is more than 28% of domestic income.
As easy as it may be to do business there, Australia is not a place I would recommend for setting up your foreign company. In fact, I have worked with many Australians over the years to help them avoid the nomad tax trap and lift their tax burden by leaving Australia and creating a holistic offshore strategy.
That said, you can still enjoy many of the benefits of Australia's economy and quality of life without having to live there full-time or set up an Australian business and fall prey to their high taxes.
If you're nomadic like I am and enjoy visiting Australia from time to time, finding the right co-working space may just be your key to tapping into Australia's growing entrepreneurial community without needing to set up shop there.
Stasa, our Content Marketing Associate here at Nomad Capitalist, has already done the research for you to find the best co-working spaces in Australia. A frequent user of co-working spaces worldwide, Stasa has a knack for scanning and assessing all the essentials of a good workspace, from internet speed to comfort and accessibility, and from design to location and business environment.
If you're looking for the best places to run your business, network, and collaborate with other like-minded individuals wherever you go around the globe, you can check out our previous articles highlighting the best co-working spaces in Europe, Central and South America, the United States, Canada, Africa and Southeast Asia.
Today, let's take a look at the best co-working spaces in Australia where you can find a productive business atmosphere and get your work done while visiting the Land Down Under and enjoying all the benefits of a location independent life.
The Cluster – Melbourne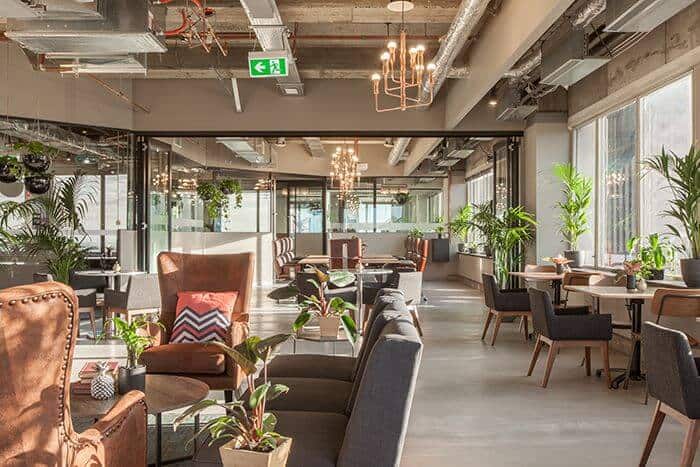 The Cluster is Australia's first premium co-working space. It is a 2400m2 penthouse in the heart of Melbourne's CBD and offers up 360-degree views of the city's most iconic landmarks.
The Cluster is home to a diverse and inspiring professional community full of innovators, disruptors, and accelerating companies. They are also the only co-working space in Australia that offers in-house receptionists. They provide event spaces (and amazing events), fiber internet, complimentary meeting rooms, and full-time IT assistance.
Their flexible packages can meet the needs of every kind of member. The building itself has three levels of premium co-working space, including meeting rooms, fexi-desk areas, a business lounge, private offices, telephone booths, and break out spaces.
Best Co-working Space: The Cluster 31 Queen St Melbourne 3000 Levels 17 & 20/21, Melbourne, Australia
One Roof – Melbourne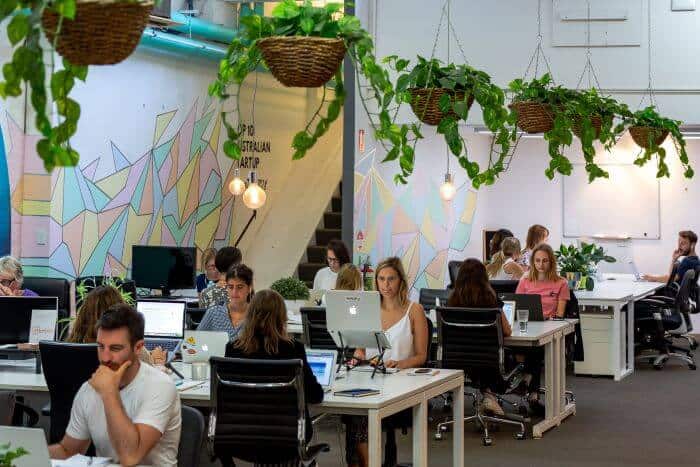 One Roof is Australia's leading co-working, event space and business hub dedicated to women-led business and women in business. They exist to provide all of the tools women need to succeed in business under one roof.
This home for entrepreneurs not only excels in providing the extensive support that businesses need to thrive but boasts a stylish, light and beautiful space that is particularly conducive to creativity and innovation. One Roof is a home, a community and an entire ecosystem – for more information or to reach out to team head over to the One Roof website.
Best Co-working Space: One Roof 77-81 City Road, SouthBank VIC, 3006, Melbourne, Australia
Exchange Workspaces Richmond – Melbourne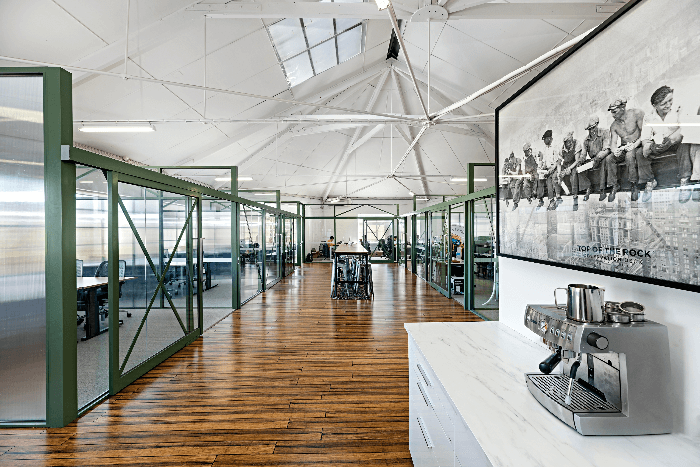 Exchange Workspaces Richmond was built on the pillars of collaborative working and sharing (the team is a firm believer in the fact that sharing is caring).
The beautiful and inspiring workspace is located in a converted warehouse in the heart of Melbourne, Richmond. Over two levels, you can find teams of all sizes, from entrepreneurs to early-stage startups to small and medium sized businesses.
With functional meeting rooms, breakout spaces, curated design and free yoga and other events, you'll love it at Exchange Workspaces. And with that location, you are smack bang in the middle of everything!
You can choose from various membership options and private offices that allow you to grow as much as you need within the Exchange Workspaces community.
Best Co-working Space: Exchange Workspaces Richmond 285 Lennox Street, Richmond 3121, VIC, AUS
YBF Ventures – Melbourne and Sydney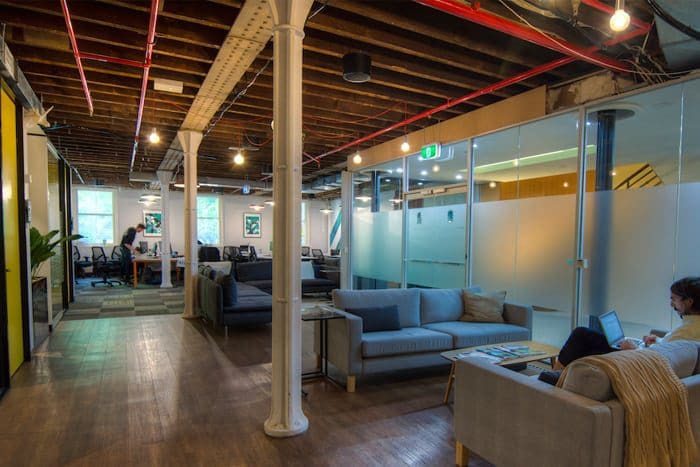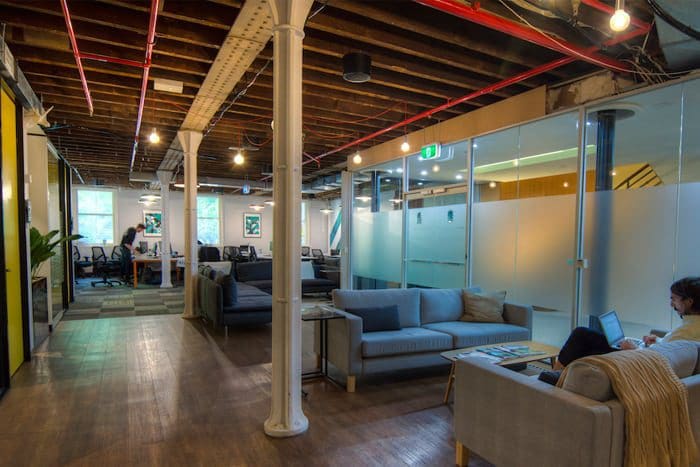 YBF Ventures (formerly York Butter Factory) is a famous pioneering tech and innovation hub in Australia. Founded in 2011, YBF has locations in both Melbourne and Sydney and continues to be the leader in helping startups to grow, scaleups to succeed, and corporates to innovate.
YBF supplies a premium workspace for its members. It is home to startups and scaleups in the FinTech, Web 3.0, and LawTech industries, as well as artificial intelligence, augmented reality, big data, machine learning, and more.
YBF also serves as the headquarters to global companies like Berlin's Signavio, Silicon Valley's Wrike, and the Australian arm of Startupbootcamp. Plus, Uber, Foodora and 90 Seconds started their Australian journeys with YBF.
YBF's workspace is merely the enabler to allow its members to grow and flourish. Aside from desks and ergonomic chairs, super-fast WiFi, stellar end-of-trip facilities, free breakfast, all-you-can-drink Fairtrade coffee and tea, YBF hosts over 400 learning events annually including coding sessions, tips on public speaking, and workshops on well-being.
To top it all off, YBF has just had a television studio built in its Melbourne hub to provide its startups and scaleups with the media exposure that they need.
YBF also goes the extra mile and makes personal introductions for their members to investors and potential distribution channels.
YBF is home to the state of Victoria's first and largest dedicated FinTech hub, the world's first Web 3.0 hub, Australia's first LegaltTch hub and a recently-launched PropTech hub in the state of New South Wales. YBF is proud to be a curated and diverse community of innovative entrepreneurs and subject matter experts who have created hundreds of new, disruptive technology businesses and jobs.
Best Co-working Space: YBF Ventures
YBF Melbourne, 520 Bourke Street, Melbourne VIC 3000
YBF Sydney, Level 5, 155 Clarence Street, Sydney NSW 2000
The Commons – Melbourne & Sydney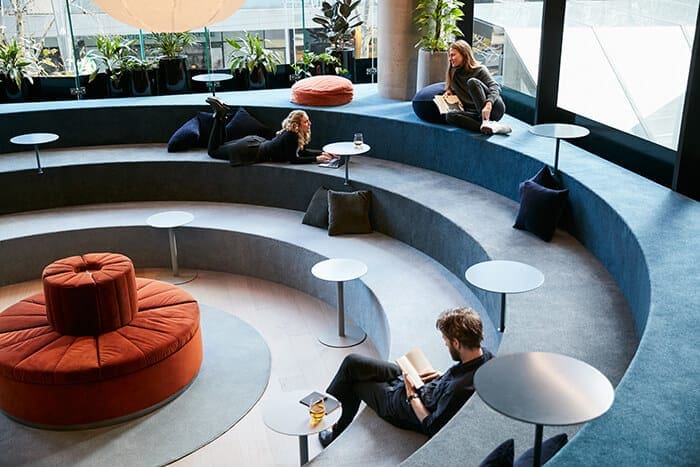 The Commons is a creative shared workspace with locations in Sydney and Melbourne. Their spaces are designed with the belief that thoughtful design is essential to improving the lives of its members. They are home to businesses like PayPal, Vice, Transferwise, and freelance creatives looking to grow their business.
They provide a wide range of services and events to inspire member's ideas and pique their interests. Each member has access to The Commons' wellness program and to a diverse array of events, from inspiring workshops, community events, special guest speakers and more.
They offer flexible month to month memberships with access across all locations.
In 2019, they invested in renewable energy, completely offsetting their CO2 emissions for every location. They are currently saving more than 575 tonnes of CO2 emissions per year. CO2 emissions are one of the leading causes of global warming. While converting to renewable energy is clearly the biggest impact they can make right now, they also know the value of even the smallest conscious efforts.
Best Co-working Space: The Commons Locations in CBD, Collingwood, South Melbourne, Cremorne, and Sydney Central
WOTSO – Brisbane, Australia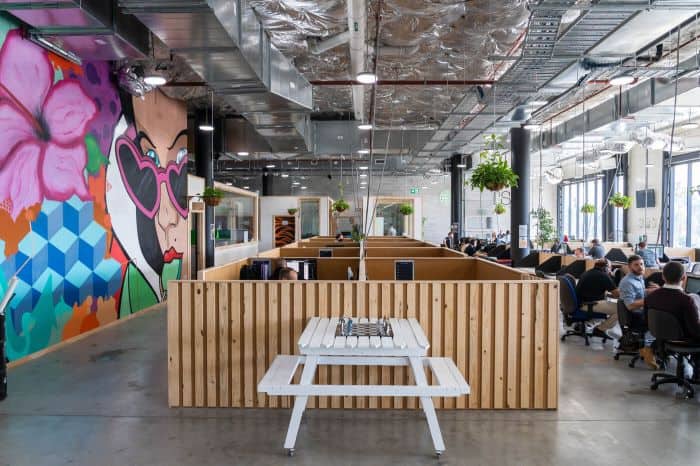 WOTSO is flexibility – co-working desks, serviced offices, meeting rooms and event space for individuals, as well as small to a medium business enterprise. WOTSO is a long-term relationship with short-term contracts.
The WOTSO approach to co-working means that members have 24/7 access to every location within the network – the WOTSO Passport ensures members can live and breathe (and work) by the businesses motto: work where you want, when you want.
With no long-term contracts across all of its spaces and offerings – whether it be a serviced office, hot-desk or a permanent desk – members can focus on growing their business without worrying about overheads and other factors that often come with running a business.
By offering businesses of all sizes the co-working option they want, all within the four walls of an exciting and networking driven hub, WOTSO has quickly established itself as the go-to co-working business in Australia.
Best Co-working Space: WOTSO
Chermside Westfield, Cnr Gympie & Hamilton Roads, Brisbane, QLD 4032
Fortitude Valley, 84a Brunswick Street (entrance on Water Street) Fortitude Valley, QLD 4006