Dateline: New Delhi, India
When I think about Canada, one particular quote always pops into my mind from the great Douglas Adams: "Every country is like a particular type of person. America is like a belligerent, adolescent boy; Canada is like an intelligent, 35-year-old woman."
Whether you agree with it or not, a land of hockey, maple syrup, poutine, the homeland of Leonard Cohen and — according to the famous 2016 edition of "Jim Murray's Whisky Bible" — the best whiskey in the world, should certainly be on your travel list this year. I know it is on mine.
There is an incredible variety of regions to see and explore with vibrant and multicultural cities such as Toronto ( or "Tronno" for the locals), French-speaking Montreal, the most expat-centered Vancouver and the charming Halifax on the Pacific and Atlantic coasts. If you do stop by, consider watching the northern lights in Newfoundland and whale-watching in Vancouver.
I have recently discovered some fun facts about Canada — for example, Canadians spend more time online than anyone from any other country in the world. On the more useful end of the fact spectrum, Canadians enjoy several income tax exemptions and can deduct a number of things from their tax software, but perhaps you were not aware of the fact that dog food is tax-deductible in Canada as well.
Like Jason Bourne who was trained to spot escape strategies on the go whenever he enters a new place, my brain works in similar ways in terms of finding the best places to work — for myself and my team — automatically scanning and assessing the internet speed, accessibility, comfort, design, location and overall vibe of the place. It's just one of the things that comes in the package of the Nomad Capitalist lifestyle.
If you're a location independent/remote worker or entrepreneur, you are probably well aware of how co-working has become the norm for modern businesses. The reasons to join a co-workspace are plenty, as I have discussed in our previous articles listing the best in Europe, Central and South America, Africa and Southeast Asia. The list is just getting longer and longer.
Canada has certainly been under the spotlight lately, especially for U.S. citizens looking to relocate due to recent political changes in the country. Whether you're debating moving to Canada to escape the new US president or you are just in the mood to hit the woods in grizzly bear fashion, we got you covered regarding the best places to work and meet like-minded individuals in the thriving digital startup and co-working scene this country provides.
Toronto
Toronto is the largest city of Canada, one of the most multicultural and cosmopolitan cities in the world, and an established international centre of business, finance and art. It certainly is one of Canada's great places to visit – especially for culture, dining and shopping. You can enjoy world-class theaters, shopping malls and restaurants, but with clean sidewalks and extremely polite people.
Peter Ustinov's metaphor "New York run by the Swiss", perfectly sums up the vibe for the new visitors as it holds the record of the world's most ethnically-diverse city. Today, this city is the host of the third-largest theater industry in the English-speaking world, after London and New York.
Toronto's best known attraction — and a symbol of Canada that you cannot miss — is the 1,815 foot high CN tower, which still remains the tallest free-standing structure in the Western Hemisphere. And the elevator reaches the observation deck in just 58 seconds. If you have the choice, my recommendation is to visit in the fall to get the best experience.
Lab T.O.
Lab T.O. Co-working is a community-oriented space designed for entrepreneurs, freelancers, and digital creatives. It is located in a west-end neighborhood called the Junction Triangle, which is quickly becoming one of the city's most vibrant hubs of technology, art, and culture. In this trendy area that is quickly gentrifying, Lab T.O. has been achieving its mission of providing affordable workspace to creative enterprises and individuals.
When Lab T.O. opened in January 2016, there were no co-working spaces open in the area, and it has since become a thriving workplace and the location of many tech and design events for the greater community. The space was founded by journalist and writer David Hamilton as a place in the west end where people from diverse backgrounds could come together and have a focused and supportive place to work, inspire each other and build community.
LAB T.O.'s loft-style building features 11-foot ceilings, large windows, skylights, ergonomic leather office chairs and desks. For $20 you can get a one-day pass with access to the space with complimentary coffee and tea included. An $80 week-long pass gives you access to the space starting on any day of the week you like, and extending the access until the same day the next week. For the full membership price of $200 per month you get 24-hour access with unlimited coffee and tea. Pretty good deal I would say.
District 28
Leslieville's District 28 is an 18,000 square-foot factory turned multi-media facility. Besides functioning as a co-working space, it also includes studios and event spaces that offer creative environment housing, post-production suites, a 4K theater and bar bistro. So, if you're hosting a corporate or private event or shooting your latest project, you might want to stop by and get everything done in one place.
One of their advantages is that they do not require long rental agreements for clients, providing the freedom to structure your own month to month rental term. The space offers a number of free amenities for members like printing, high-speed wifi, 24/7 access and free coffee and tea from their onsite bistro. What really separates District 28 from others is their readily available features for creatives such as exclusive hourly rates for onsite studio space and a screening room.
Their basic common package is $90/month and includes access to common areas, internet access, and unlimited coffee. The standard designated desk price is $300/month which gives each member their own personalized desk. A "hot desk" plan is offered for $195/month which includes 10 days at a designated desk and access to the common area for the rest of the month. They are also are currently offering a free week of no commitment co-working so their space can be tried.
Take them up on the offer!
Montreal
This French-speaking city is known as the cultural capital of Canada, and a representative of "Québécois" style. Don't miss out on a horse-drawn carriage ride around the streets and the beautiful architecture of Old Montreal highlighted by visiting The Basilique Notre-Dame where you can appreciate exquisite art inside and out. You can spend a day shopping in Rue Ste.-Catherine and and, afterwards, take a break in Plateau Mont-Royal's district cafés or relax in La Fontaine Park — the perfect picnic place.
My personal favorite is The Montreal Jazz Fest which holds the 2004 Guinness World Record as the world's largest jazz festival.
La Halte 24/7
La Halte 24-7 co-working space with contemporary design is located in the heart of the Mt-Royal Plateau, a vibrant and urban neighborhood close to Parc Lafontaine and just a few minutes away from the Jacques-Cartier Bridge. It has fully embraced the co-living, co-working, co-eating style and concept.
You have several options for members and work places to choose from. You can pick a spot that best fits you in one of the three areas: shared space, lounge, dining room or even the terrace. Each area is equipped with a desk, ergonomic chair, filing cabinet and lamp. All members have access to the business lounge, terrace, showers, dining room, coffee machines, high speed wireless internet, 25 pages of black and white photocopies per month, and a PO Box.
Prices for shared space start at $ 199 + tax per month. If you are like me and struggle to keep up with the exercise regime while traveling (and perhaps like to treat yourself with a massage after work) there is a special package combining shared space access and gym membership in nearby St. Jude gym and Nordic spa for 375 $ + tx / month. Probably the most complete offer to work on your progress and success in health, fitness and business altogether. It's a good deal for those who like to save themselves the hustle and have it all in one place.
Ideal Coworking
Ideal co-working loft-style spaces are situated in the South-East of Montreal, near the Atwater market, Lachine Canal and Place St-Henri metro station with a total of 3000 square feet. In each space you can enjoy the kitchen, dining and lounge area, wireless high-speed internet access, coffee and tea, meeting rooms (suitable for 6) and also use their cleaning services and postal address. If you are a new visitor, you are also entitled to a full day trial.
Access to a single desk space is available for $25/day and the meeting room (3 hours reservation/day) will cost you $12/ hour. Pricing for the occasional member on a monthly basis is $160 for 3 days a week, $135 for 2 days a week, and $90 for 1 day a week. If you want to be a permanent member with a single desk space, the price is $191 a month. For an open office space count on spending $382/month and for a closed office between $496 and $524/month, depending on the room size of your choosing.
Vancouver
Vancouver ranks as the third city in the world in terms of quality of life and is the third largest city in Canada. It has a mild climate, which makes it a very popular location for expats. If you enjoy skiing, golfing, biking, sailing or kayaking you can do it all here — and all in the same day too.
The city was named after Captain George Vancouver, a British Royal Navy officer who explored the North-Western Pacific Coast. Though its location is considered threatening in the terms of potential earthquake damage, it continues to top the real estate value in North America. Vancouver is very ethnically diverse, with wealthiest neighborhoods in Canada and one of the oldest and largest China towns in North America. I would add it also ranks as one of the most expensive cities in the world.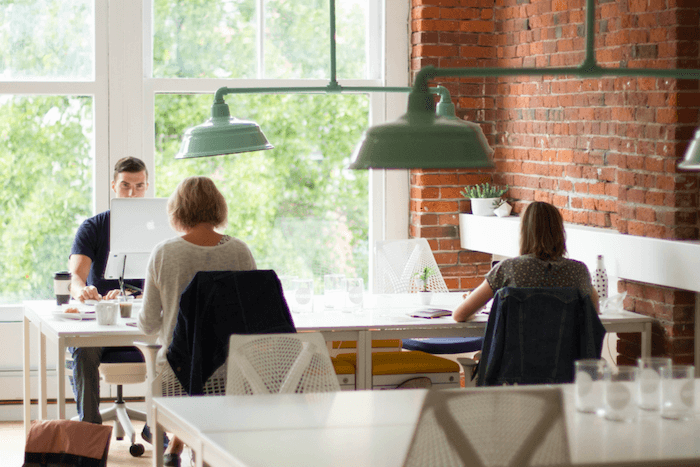 L' Atelier Vancouver
L'Atelier Vancouver is a co- working and networking hub in Gastown with a focus on creativity and innovation for entrepreneurs, startups and freelancers. They certainly provide a comfortable and inspiring space for individuals and small businesses to bring to life their unique projects and connect with a community of like-minded, forward thinking creators. Spaces include shared "hot" desk areas, as well as dedicated desks and meeting rooms for its members.
Membership options range from full time memberships to one day trials and time passes. Every new visitor is granted with one free day pass and can choose between two hourly rates or either 40 hours/month for $150 or 80 hours/month for $200. There are also options for a meeting room pass or an event hosting space.
If you opt for "The Professional" (dedicated desk) package you will get full time dedicated desk, 24 hour access, drawer space with a lock, eight complimentary hours in the conference room, extra meeting room time, and a business address and mailbox all for $475 month. "The Freelancer " package gives you unlimited monthly access to the hot desk area, two free hours in meeting rooms and an option to rent a locker and get a mailbox for a small fee. If you are a part- time worker you should check out the "Get out of Your Pjs" package which covers 15 hours to use anyway you like every month in the shared "hot desk" area.
In this place you can never feel disconnected, and if you enjoy theme days you are welcome to join their Lunch Conversations Tuesdays, Two for One Wednesdays, Happy Hour and Freelance Fridays. The space is partnered with local organizations for discounts and introductory offers (car sharing, food delivery services, meditation studios) of which you are informed in detail upon joining.
HiVE is a community hub for social impact located in Vancouver's historic gastown district. They use their 12,000 square foot space for coworking, community building, and hosting events and workshops. Their members come from diverse sectors, backgrounds and places; but they all have a passion to make the world a better place.
HiVE offers many flexible options for the social impact entrepreneur, ranging from a daily drop-in ($45) to unlimited access and the full benefit package with an Executive desk membership ($575). Find more information about their rates here:
http://www.hivevancouver.com/join/
.
HiVE is home to over 200 members and 120 member organizations. Their community is made up of non-profits, for-profits, entrepreneurs, creatives, activists, professionals and techies who are challenging the status quo. Together, they have skills in finance, green building, education, food systems, sustainability, law, design, community development and everything in between!
This space is quite literally buzzing with activity. They aim to create a safe, inclusive and welcoming space for members. In terms of aesthetic, our space boasts high ceilings, exposed brick, lots of natural light and en eclectic mix of greenery. It's bright and airy on the inside, and surrounded by hip local restaurants and coffee shops on the outside.
Not to forget, if you option for joining this co-working space after reading this, do not forget to refer to us. You will get 10% monthly discount!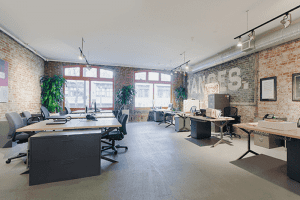 Ottawa
Ottawa, the capital of Canada and the second coldest capital in the world offers a great mix of culture and recreation and gives you easy access to the outdoor life. Ottawa also has a high standard of living and low unemployment. It ranked second worldwide in the Numbeo quality of life index and is home to a UNESCO World Heritage Site.
The city is considered to have the most educated population in Canada. It is home to the National Arts Center and a host of The Canadian Tulip Festival. In the winter you can skate on the Rideau Canal or cross country ski in the Gatineau. In the summer you can enjoy cycling around since this city holds a reputation for being bike friendly well before it became a trend.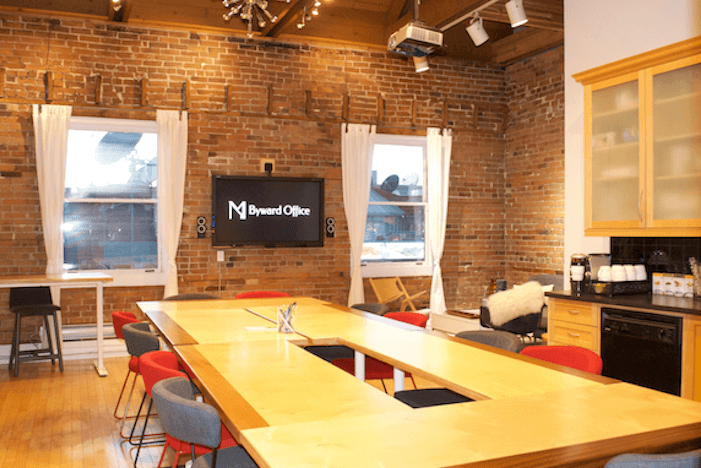 My ByWard Office
My ByWard Office has beautiful natural light throughout the day, with exposed brick and beams dating back 130 years. The space provides the perfect perspective as it overlooks the vibrant ByWard Market. It is spacious and comfortable with good energy and good coffee.
There are various different arrangements, packages and memberships created to fit everyone's life and business style. A co-working day pass is $26. If you require a dedicated desk you should choose full time business membership, which will cost you $395. For Part-Time workers, Freelance Membership ($245) is recommended since it gets you access to the space 2-3 time a week. Passports for the Traveler ($210) is the perfect package for the mobile person that needs an office to work when they are in town and stay productive and you can also choose Kickstarter for $250.
With their diverse catalog and ultimate flexibility they make it easier for you to work on your own schedule and get you out of the house and help you avoid the distractions of your local Cafe.
The Code Factory
The Code Factory was founded by Ian Graham. Being a home-based entrepreneur himself he often met with clients in coffee shops to talk about business ideas, which eventually led to the idea of creating the place that Ian himself would like to work from and a place for entrepreneurs to work, network and make connections. This space offers the possibility of a virtual office, shared offices, office space, co-working and meeting rooms — for lease as well as for rent. You can also enjoy a spacious kitchen and couch area.
One of the new options includes a training room appropriate for up to 12 people with a projector and white board for the hourly price of $35 and a daily price of $250 (for 8 hours). If you want to pay them a visit, use our site as a reference and it might get you an exclusive discount.
Calgary
Calgary is the largest city in Alberta and has a population of around 1.2 million people. It is located only 45 minutes from the Rocky Mountains and, according to Forbes.com, it is the cleanest city in the world! It is sometimes referred to as Cowtown by some, being famous for The Calgary Stampede, an annual 10 day event which is promoted as "The Greatest Outdoor Show on Earth."
Calgary is also well-known for the concentration of oil companies there. Oil is a significant part of Alberta's economy and that rings true in Calgary, as well. In recent years, however, there has been a larger focus on non-oil based business and, specifically, start-ups. They are becoming more and more well known as an entrepreneurial and innovative place which can be attributed to the rise of the modern way of work organizations and working places which are bringing an awareness to an alternative way of working through the shared economy (similar to Airbnb, Uber, etc).
Work Nicer
Work Nicer is a specific contributor to the entrepreneur community of the city through a variety of means, including the donation/use of space, promoting events, connecting people, investments, and sponsorships. The overall mid-century modern design matches the vibe of the space which is energetic, upbeat, friendly, and fun.
You can access Work Nicer's event calendar on their website to always be up-to-date with plenty of meetings and workshops held at their space and throughout their community. Additionally, they also donate their space to meet-up groups, fundraisers, and community events including Startup Calgary, Hackernest, and more.
This space offers all sorts of pricing, from individual, part/and full-time memberships, team pooled memberships, and private office memberships. The good news is that every package is completely all-inclusive including furniture, internet, printing, copying, boardroom + meeting room access, draught beer, coffee (of varying types), and access to their on site gym + shower facilities.
Furthermore, on the basis of the partnerships, they provide members with free or discounted personal and business banking and lending, as well as an ultra-incredible cellular plan. On top of all that, they have one of the greatest communities of people around. Make sure to see it for yourself.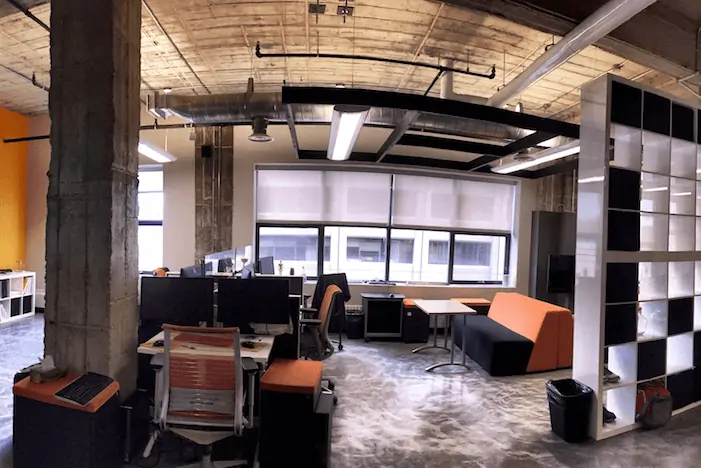 Quebec City
Quebec City is the capital of the Canadian province of Quebec, located on the intersection of the St. Lawrence and the St. Charles River. The name of the city and province derives from an Algonquin word meaning "Where The River Narrows". The city is famous for the Chateau Frontenac, which is the world's most photographed hotel, and La Citadelle fortress. The oldest part of Quebec City was declared a UNESCO World Heritage Site. If you do stop by, don't forget to pay a visit to The Chocolate Museum and try Caribou – the adult drink at Quebec City's Winter Carnival.
BNKR
BNKR co-working space is 3,000 square feet and offers about 30 work places. It has a lot of benefits for its members like unlimited free coffee, hot showers, games and a great location in downtown Quebec City. The place is filled with entrepreneurs, startups and interesting and creative people.
People are invited to try the space out for a week for free. Otherwise, it's $200/month part time (3 days per week) and $300/month full time (with a dedicated desk). The package includes a 24/7 secure access with an access card, but they are open to discuss pricing with businesses who'd like to make BNKR their HQ. The price also varies depending of the number of employees, availability, duration, etc.
At the beginning, the co-founders of Spektrum, Georges and Vincent, decided to buy a building to have their offices downtown and to offer a space for the startups they were coaching. Spektrum developed lots of great initiatives like a Startup Program, where participants have an office at BNKR. Their motivation to open a co-working space was not for profit as much as the goal to bring together motivated entrepreneurs and create a great vibe.
Edmonton
Edmonton is the provincial capital of Alberta and one of the largest cities by area in North America. It is slightly larger than the country of Cyprus in the Mediterranean, to put it in perspective. It hosts festivals year round, for which it merited the nickname "Canada's Festival City". Here you can visit North America's largest mall, West Edmonton Mall, and Fort Edmonton Park, Canada's largest living history museum.
Unit B
Unit B is a multi-company co-working space located in the heart of the city. If you are looking for new contacts while in town, you will for sure meet a group of creative businesses, freelancers, marketers, environmental activists, and health and wellness startups here willing to share their stories and ideas.
By joining this space you will get 24-hour access, unlimited coffee, laser printing and secure shredding, access to the lovely kitchen and common area equipped with a foosball table where you can take a break and unwind.
This space offers an option to choose between a dedicated office or dedicated desk area in the basement and main floor. Prices for desk rentals start at $250/month and for private offices from $500/month.
Surrey
Surrey is the second second-largest city by population after Vancouver and one of the fastest growing cities in Canada. Surrey is also considered the largest industrial centre within British Columbia with the possibility of developing into the future tech hub, with highly anticipated incubators that will potentially act as a base for various different projects, start-up ideas and companies from local innovators, investors and entrepreneurs.
Beta Collective
If you do visit Surrey, make sure to stop by Beta Collective, a cozy, casual co-working loft design space located in the heart of downtown Surrey. It's just a short walk from Central Skytrain Station and Central City Shopping complex.
All members have access to Kitchenette and Lunchroom, an open space where people usually gather around after working hours to network and unwind. They also provide office rentals and virtual offices, mailing services as well as virtual assistant services if needed. You can enjoy free coffee and parking as well as comfortable chairs, meeting rooms for event and workshops and a lovely community of inspiring entrepreneurs and freelancers on one of many meetups, tweetups, hackathons and community contests organized on regular basis.
You can choose from three membership packages offered by the space. If you opt-in for "Alpha" membership for $109 you will get a shared space/desk for two days per week and four hours per month of board room access. The "Beta" package for $169 gives you 24/7 access, mail handling and eight hours of board room access, while "Beta +" gives you 24/7 access to a private desk, mail handling and 16 hours in the board room for a total of $249/month.
Halifax
Charming Halifax, the capital of Nova Scotia should be your choice if you want to be close to the ocean and enjoy great seafood (tip: look for lobster, Atlantic salmon and Digby scallops on the menus). Halifax hosts the largest population east of Quebec City.
If you are interested in some random facts about the city, Halifax has a strong connection to the Titanic sinking (check out Titanic Museum at the Maritime Museum of the Atlantic) and it is the famous place where Houdini broke out of his jail cell (at that time located in what is currently City Hall) escaping from handcuffs. Another fun fact is that Halifax is actually closer to Dublin, Ireland than it is to Victoria, British Columbia.
Workspace Atlantic
Workspace Atlantic is located in Bedford, a suburban community of Halifax, and offers unique meeting spaces for 3-50 people. The space is complete with ergonomic seating, modern furnishings, state of the art technology, kitchenette, caffe, reception, catering services and more. Members can relax in the lounge and chill-out area, have access to printer, scanner and photocopier, enjoy unlimited coffee and tea while working and network during various events and workshops.
A one day pass is offered for $20, part-time workers can choose the $50 Flex package for 10 hrs/month, or you can enjoy unlimited business hours for $100/month or 24/7 access for $200. Workspace Atlantic also offers flexible virtual office packages starting at $100 per month where you can have a distinguished address and customize your membership by choosing only the options that your business needs as well as private offices and meeting spaces.
Mahone Bay
If you are, by any chance, a fan of world-class sailing and boating then you should visit this little town named for the Mahone Bay and its 365 islands. Don't be surprised if you hear a lot of German, because it was the main language spoken there for many years.
While tourism has been a foundation of the economy for several decades, in recent years Mahone Bay has focused on a new era of prosperity based on small business, arts & crafts communities and green initiatives. You can always enjoy and relax with their traditional folk art and folk music festivals and there is always a course or workshop available in creative writing, visual arts, dance or drama for creative minds.
The Hub South Shore
This co-working space compliments the charm and vibe of the city, with its cosy chairs, comfy couch areas, wooden floor, high ceilings and funky design. It features a very spacious shared office area, two soundproof phone rooms for video & conference calls where you can get some privacy, a meeting room, stand up work stations, a library, a kitchenette with snacks to keep you powered up and a deck with a sea view for relaxing in between.
The Hub has a very lively and loyal community where you can network and share ideas with like-minded people at their hosted events such as " Healthy Eating for Busy People", "The Start Up Life", "Lightning Talks" and more.
Membership packages start at $9.99/month for 4 hours of work and $99/month will cover you for 4 days (1 day a week). By paying $199/month you are a part time member with three days of access a week for a total of 12 days a month. For $299/month you are a full time member.
Members can always count on free coffee and tea provided by the space.
Winnipeg
Winnipeg is the capital of Manitoba, but is also the geographical epicenter of Canada. It is home to over 700,000 residents and, if it were not for the residents of this city. there would be no James Bond, no Winnie the Pooh, and no Bugs Bunny. Indeed it's true, and these are just some of the factoids about Winnipeg that will make you want to visit. It's a city of inclusion, culture and people working together to build ideas that permeate difference. Manitoba's rich economy is most distinctly recognized for it's extreme diversity.
Launch
Harnessing the diversity of entrepreneurs that call Winnipeg home is Launch Coworking Space. Located in Winnipeg's SouthWest, Launch offers over 5000sq.ft of new and modern co-working space.
It's a welcoming community with an open and collaborative environment that includes task desks, café style seating, meeting rooms, a board room, a presentation area and all the amenities one might expect.
Other nice touches include the lounge areas, phone booths, energetic Community Leaders, high-speed wi-fi and free coffee. Did we mention that parking is also free? Launch's pricing is all-inclusive and starts at just $9 per hour for a hot desk. Members include local and visiting entrepreneurs, freelancers, innovators, and nomads looking for community, collaboration, and collective wisdom.