Dateline: Tbilisi: Georgia
Europe has long been a prime destination for digital nomads. Its diverse cultures and travel destinations can keep any perpetual traveller bouncing from one country in the region to another for more than a year.
Even better, Europe has the perfect set up for running your location independent business amidst your many travels. Sure, the EU has it's problems, but many entrepreneurs could achieve great success running their business from Europe rather than from a beach in Thailand. Great WiFi, little to no visa problems, many great cities for value and cost of living, and affordable workers are among Europe's many qualities.
But what about finding a reliable, enjoyable place where you can work when needed? Europe has that too.
Europe is awash with co-working spaces that gather together communities of successful entrepreneurs, freelancers and other digital nomads. We've done the homework and compiled a list of the best co-working spaces in Europe. From London to Bratislava and Barcelona to Tallinn, there's bound to be a co-working space waiting for you.
Just take a look…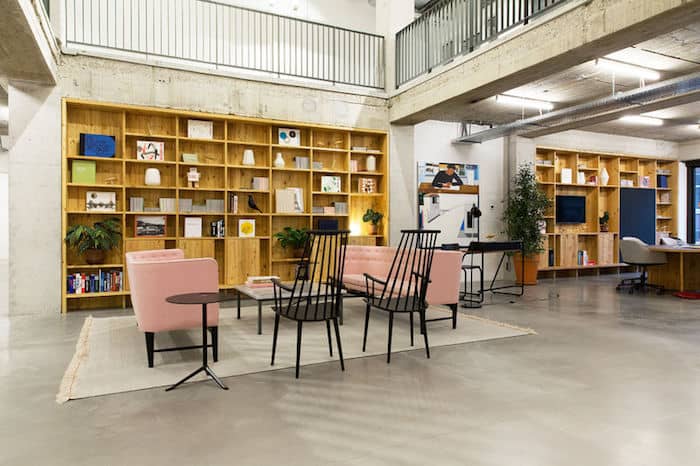 Amsterdam, Netherlands
The beautiful city of Amsterdam is not only the capital of Netherlands, but is also considered a global city. It has become a financial center for Europe. Some of the largest enterprises in the world have settled their headquarters in Amsterdam. What's more, it has been named the second best city to live in.
Spaces is a co-working space if over 6,000 meters, all in stylish design. It's a lively environment full of creative, hard-working people. You can't help but breathe in the enthusiasm. Spaces wants to make its members feel at home and has implemented various services such as massages, dry cleaning, bike renting and much more.
Being a member at Spaces will cost you €225 a month. For that price you get every service you could ever want to facilitate your working process, including super-fast internet, the best coffee and the best network of people. Let's not forget all the social events organized to add some excitement to your days. If you want to you can book a free day at Spaces and see it for yourself.
Best co-working space: Spaces, with three locations in Amsterdam.
Amsterdam, Netherlands #2
Startdock has created a coworking community for whatever kind of entrepreneur you are! They love the coworking ecosystem of Amsterdam and get inspirational people involved in their warm community.
StartDock is built on a 'no competition policy' and true coworking is the connecting factor. They want their members to grow fast by helping them to achieve their entrepreneurial goals.
Startdock has two locations in Amsterdam. One is based on the Herengracht 420 and the other is based on the Keizersgracht 482. Both locations are in old characteristic canal houses.
Best co-working space: Startdock
Athens, Greece
Athens is one of the oldest cities in the world and has been a center of art, culture, politics and philosophy with a large influence on many other countries in Europe. Despite Greece's financial crisis of recent years, Athens maintains its role as an alpha city, with an important role in the financial situation of the continent.
The Cube Athens is a hub for innovative people to gather and work on their own projects and initiatives. Located in the heart of the city, it provides offices and meeting rooms throughout its seven floors for individuals or groups working on start-ups. Their rental is all inclusive, which means there are no extra services to pay for and the prices vary only according to the surface.
You can choose a 10 meter room, which can hold about two people, or a 35 meter room in case you are part of a larger group. The co-working space also offers meeting rooms, event rooms, classrooms and workshops, each suited to the various needs of entrepreneurs. With any package, you get fast internet, cleaning, photocopy, telephone, and more.
Best co-working space: The Cube, 8 Kleisovis Str, 10677, Athens, Greece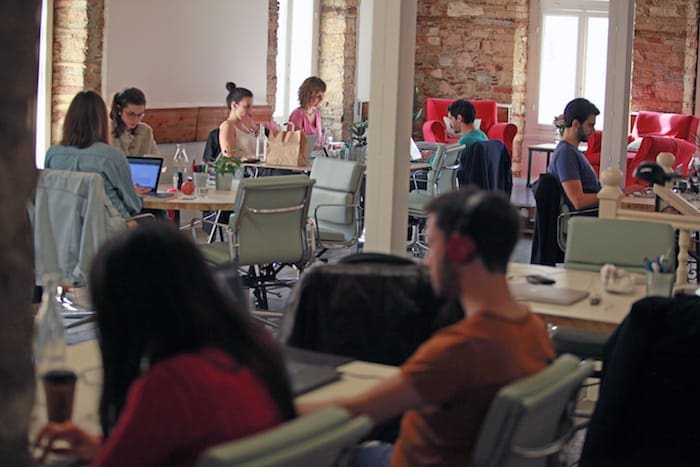 Athens, Greece #2
Since part of our team is currently working from Athens, Greece, we are adding one more co-working space to our list that we whole-heartedly recommend. Impact Hub Athens is located in the heart of the city, near Monastiraki Square where you can spend your lunch break gazing at the Acropolis.
The place itself looks like an old Greek house, with a wonderful terrace and balcony where you can catch some sun in the warm days. With lots of stairs, small rooms, lazy bags to take a power-nap and an amazing kitchen and chef, you really do feel like you are part of one big family as soon as you join this community. And, if by any chance, you stop by during the Christmas season, after working hours you will be greeted with delicious pumpkin soup, traditional Greek cookies and a glass of hot wine to warm you up after a long day.
Impact Hub Athens is part of an International Network of social driven professionals and a variety of high impact creative professionals that are dedicated to prototyping the future of business. It's community is quite diverse and consists of several social enterprises, NGOs, organizations, as well as creatives, freelancers and educators. Impact Hub Athens is engaging expertise from its worldwide presence and creating a net of intercultural, high impact community that acts locally and internationally. Its community's impact is "located" in areas and fields such as Social Inclusion, Democracy, Human Rights, Environment, Health, Employment, Education, Technology, Arts, Migration and Integration, etc.
Impact Hub Athens was founded in 2013 and is part of a global network of 86 Impact Hubs that currently operate around the globe. Prices range from €10 a day to €18 for 10 hours/month, €60 for 40 hours/month, €90 for 80 hours/month and four free hours in the meeting room, all the way up to €170 for unlimited access and eight free hours in the meeting room. You can get the full list of prices here.
Best co-working space: Impact Hub Athens, Karaiskaki 28, 10554 Athens, Greece
Athens, Greece #3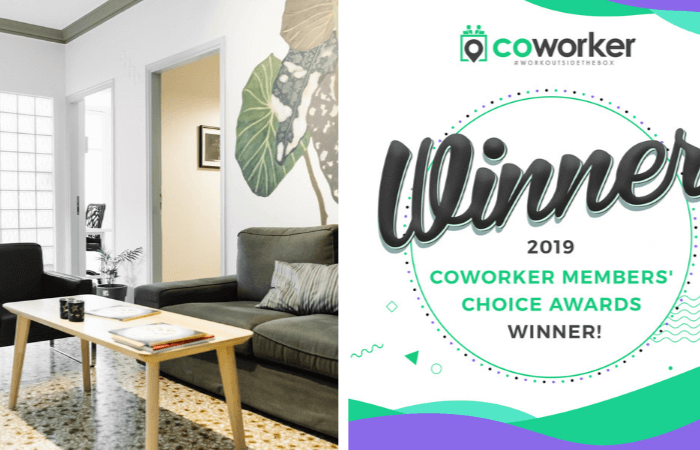 Stone Soup is a Digital Creative Hub established in 2014. Based in the center of Athens, Stone Soup manages 700 square meters of office space where multi-disciplinary individuals and teams gather to co-work, learn and build together. The company offers private offices, co-working areas, networking opportunities and IT consultancy.
The role of the hub is to allow and encourage creatives in the digital sector to connect, communicate and collaborate, as well as, to get feedback and gather the knowledge they need to grow.
The hub was named after the Stone Soup story, an old folk story with a deep meaning behind it about sharing and gaining from each other. The hub's philosophy is that it's always better to work and share together, for that reason it is community driven and focuses on how its residents could benefit collectively.
Best co-working space: Stone Soup is located on the corner of Akadimias and Charilaou Trikoupi 18 – 5th floor.
Barcelona, Spain
Barcelona is listed as one of the most populous areas in the EU and is a preferred destination among nomads for its uniqueness. It is definitely a city of the world, famous for its contribution on trade, education, science, media and economy. It has ranked among the top five cities for doing business and, as you can imagine, it has some amazing co-working spaces.
We have picked MOB as our favorite place in Barcelona, not only for the beautiful spaces it offers, but for the community as a whole. They have created a warm environment driven by the idea of continuous learning, sharing and collaborating to bring paper projects into life. A special feature of MOB is their Fabcafe where you can use some of the coolest technological appliances such as a 3D printer.
They have created so many plans it's impossible for you not to find what suits you best. The lowest membership begins with €60 per month and includes a hot desk and access every day of the week from 2: 30pm to 7: 30pm, besides other amenities. There are many other possibilities, but a great option is the Super Mob plan for €230 a month, which includes 24/7 access and your own desk.
Best co-working space: MOB, Bailen 11, Bajos, Barcelona AND Ronda de St Pau 47
Berlin, Germany
This list wouldn't be complete without the best co-working space in the popular digital nomad hub of Berlin. Known for its art scene and iconic sights, Berlin is a great stop on any digital nomad's journey. You can relax in any one of its great parks or dine at its chic restaurants, but you'll also need the perfect co-working space.
That's where Agora comes in. Agora Collective provides a relaxed, community-focused environment for international and local freelancers, entrepreneurs and more. They provide work spaces on five different floor of a spacious building in Neukölln, Berlin — complete with workshops, a cafe, garden, and event space. The will soon open a second location in Rollberg.
It costs €16 for a day pass, €118 for a part time membership and €159 for full time — or €248 if you want a fixed desk. You can also reserve a table for €780 or an entire floor for €2,500 for your team. All packages include printing, a choice between vibrant or silent floors, and access to meeting rooms. You can also pay extra for a mailbox, locker or 24/7 access.
Best co-working space: Agora Collective, Mittelweg, 50 – 12053 – Berlin
Birmingham, United Kingdom
Birmingham is the second largest city in the United Kingdom after London, not only in size but also in economic development. It has a very developed service sector and has become a commercial node internationally. Co-working spaces are the latest trend and, of course, they have made it to Birmingham.
The Moseley Exchange is the first of its kind ever opened in Birmingham and we believe it's still the best. With a modern and friendly environment The Moseley welcomes every freelancer or group of people who seeks connection and collaboration. It's more than a desk or an office.
You can be a part of The Moseley for 16 hours a month if you pay £32 and you can access all their events, get discounts on the meeting room and have free coffee and tea all the time. The highest membership costs £102 and offers unlimited access to your space and four hours in the meeting room for free.
Best co-working space: The Moseley Exchange, 149-153 Alcester Road, Moseley, Birmingham
Bratislava, Slovakia
Bratislava, Slovakia's capital, is a metropolitan area established as the core of the country, be it in politics, culture or economy. You can find the largest companies of Slovakia in Bratislava, as well as the most important institutions related to finances. There are quite a few co-working spaces in Bratislava, making it an appropriate destination for international workers.
Connect provides some lovely spaces and — as the name itself suggests — it seeks to create connections among innovative and hard-working people. Whether you are a freelancer or a start-up group, Connect is the place where you can find inspiration, motivation and the opportunity to develop. Its members can attend all events and have access to office supplies, a kitchen, an area to relax and play ping-pong, and even a place to shower.
The cost for a full month of unlimited access to the workspace is €159. If you want a fixed desk, you can add €30 to the initial price. A cheaper option for those who need only a few days a month is to pay €89 and get ten entries to Connect spaces alongside other benefits such as legal support, counseling, discounts, and more.
Best co-working space: Connect, Páričkova 18, 821 08 Bratislava
Brussels, Belgium
Brussels is a metropolitan area with more than 1.8 million people and is the heart of international politics. Considering the fact that various international organizations are settled in Brussels, it is a common destination for politicians, diplomats and officials.
Transforma bxl is one of the best co-working spaces in the city. They have an inviting environment and work hard to fulfill every need you may have so that you can dedicate all your attention to your tasks and projects. Each member has access to the building from 7 to 22 hours, can use the technological equipment and the mutual kitchen, can drink coffee or tea as much as they like, and — the sites most special attraction — can access a garden full of organic vegetables.
Their Coworker plan costs €220 a month and comes with five days of access to the workspace per week, 9 hours for the meeting room and a locker for personal items. Add €100 and you get 24/7 access, a fixed desk and telephone subscription. For those who want a less pricey plan, they can choose between €80 or €150 depending on the number of days they want access.
Best co-working space: transforma bxl, Avenue Jules Bordet 13, B1140 Brussels
Brussels, Belgium #2
Due to the city's popularity, we've added another incredible co-working location in Brussels to the list. Factory Forty is a co-working and events space based in Brussels that opened in January 2013. The space is 1200 square meters and has one large open space for freelancers with 40 seats. The space also has seven private offices for companies and as five meeting and event rooms. They also have cosy rooms for interviews or meetings, as well as large ones for workshops or conferences.
Factory Forty never closes, so each member can leave whenever they want. Their rates are 70 euros for 4 days per month, 150 euros for 12 days per month, 210 euros for 20 days per month, and 280 euros for a full 30 days per month.
Factory Forty doesn't look like a traditional corporate space. They have a large garden with organic vegetables, chickens (6 hens and one rooster), a pond with frogs, honeybees on the roof and a pingpong table on the terrace.
Best co-working space: Factory Forty, rue des anciens étangs, 40 | 1190 Brussels, Belgium.
Bucharest, Romania
Bucharest was once called 'The Paris of the East' due to its elegant architecture. Such architecture is difficult to find today as it was destroyed during the war. However, during recent years, the city has experienced an improvement in the economy and culture.
Impact Hub has locations in many cities around the world and has made its way to Bucharest as well. It's not just a co-working place, as it is an environment designed to help start-ups grow and develop, even with funding issues. By becoming a member you enter a community of professionals ready to assist you. You can participate in many events and be in a continuous interaction with Hubbers everywhere.
The simplest membership, which includes what we mentioned above, is $23 a month and is suitable to those who don't necessarily need a desk or an office. There are various plans depending mainly on the number of days you will spend at Impact Hub. The most expensive plan is $200, giving you unlimited access to their spaces.
Best co-working space: Impact Hub Bucharest, 5 Halelor, 2nd & 3rd floor (Unirii Square)
Bucharest, 030118, Romania
Budapest, Hungary
Budapest is one the most beautiful cities in Central Europe and has become a popular destination among tourists. The language has been a bit of a problem in Hungary as with other Eastern countries, however Budapest has overcome this obstacle and is now full of English speakers, which is always a positive quality for investors.
KAPTAR is a co-working space in the heart of Budapest that has grown rapidly during past years. Their aim has been to create a home, to attract people, not only with the design of the place, but also with its spirit. It is a lively community full of talented people who exchange ideas, opinions and improve each other professionally.
They have a great monthly plan for $138, which gives you access each day of the week and to several events. They have also added a fingerprint scan entrance to increase security. KAPTAR also offers a yearly subscription for $1382 which gives you 24/7 access, a logo on the first door and other benefits. A daily pass costs only $12.5 and this way you get to explore it yourself.
Best co-working space: KAPTAR, 1065 Budapest, Révay köz 4.
Budapest, Hungary #2
In the past 10 years, Loffice has been the synonym for co-working in Hungary as it was the very first co-working office, opening its doors in 2009. After the second year, they expanded to Austria and opened their Vienna co-working space in 2011. Throughout this time, Loffice has demonstrated its art-loving and design-sensitive attitude as well as its commitment towards freelancing, entrepreneurship, and startup culture. Loffice's mission to create a bridge for personal collaborations among businesses from various countries and cultures quickly became renowned by big corporates that resulted in many collaborations and projects.
The projects that were brought to life thanks to this cherished environment include, for example, a yearly business management mentor program called Vienna WOW that provides financial, legal and business consultancy for Budapest- and Vienna-based startups. Coworkid, Loffice's very own nonprofit foundation is a project aiming to reintegrate mothers and young parents into the labour market or support them in becoming entrepreneurs via regular consultancies, workshops and events – all with a child care service during these events.
In 2020 they kicked off a new chapter with a newly built community complex in the 8th district of Budapest. The space is designed in a future-oriented manner, including all aspects from technology to concept, Loffice will now focus even more on personal connections and community functions. By combining co-working, co-clubbing and co-living functions, they just bring 'community building' to a next level.
Best Co-working Space: Loffice Paulay Ede St. 55., Budapest, H-1061 (Plus five other locations!)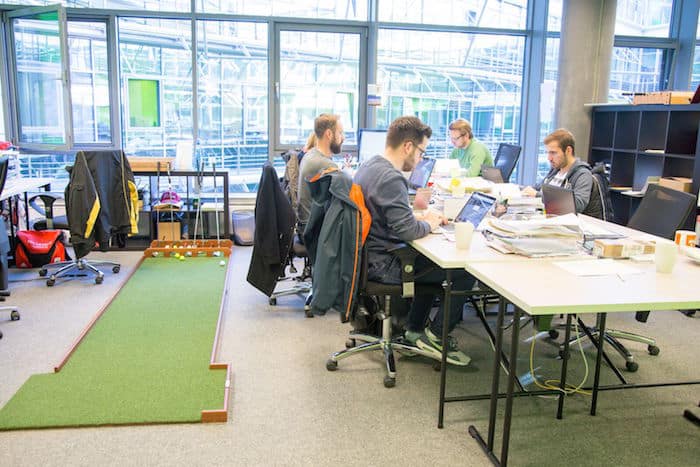 Cologne, Germany
When people think of Germany they mainly think of Berlin, Munich or Frankfurt, but Cologne deserves its attention. Cologne is a beautiful city full of tourist attractions to visit. I'm sure you have heard or seen a picture of the famous love lock bridge, yes that's in Cologne.
When it comes to co-working spaces the competition isn't very high, but STARTPLATZ is a pretty good one. With more than 3200 meters in the center of Cologne this place can offer you the modern spaces you need as a co-worker, or serve as an incubator for start-uppers. Each membership gives you discount rights, network access and expert consults.
The Starter plan costs €80 a month and gives you five days access to a flexible table from 9am to 7pm. In addition, you get to use the phone and conference rooms. You can have the double amount of days if you add €70. Those who want unlimited access and a fixed table will pay €300 a month.
Best co-working space: STARTPLATZ, Im Mediapark 5, 50670 Köln
Copenhagen, Denmark
Here's an interesting fact about Denmark: the happiest people on the planet live there. So, we can only imagine how happy the capital city of Copenhagen must be. For all the nomads out there who seek some extra happiness, consider giving Copenhagen a go, after all it's a financial node for Northern Europe.
Republikken, founded in 2005, is the oldest co-working space in Copenhagen. Its tenure has allowed the Republikken to develop a wide range of services for entrepreneurs, creatives, and businesses, including two open area co-working spaces, private offices, meeting rooms, a laser cutter workshop and a drop-in work café.
For the basic Connect membership, which allows you to use the main co-working spaces, you will pay roughly $125 per month. A fixed seat membership will cost you about $277 a month, while you can expect to pay $665 a month for one of the 23 private offices in the facility. Each private office can accommodate up to eight individuals. If you're just looking to spend the day there, you can get a workpass and pay as you go: just under $6 for the first hour and then $2.25 for each of the following hours. Republikken is open from 8 am to 5 pm.
Best co-working space: Republikken Vesterbrogade 26, 1620 Copenhagen V, Denmark
Dublin, Ireland
Dublin — Ireland's capital — is a beautiful city full of opportunities for tourists to enjoy with monuments, museums and parks everywhere. Being an alpha city it serves as a center of education, arts, economy and industry.
Dogpatch Labs is the leading co-working space in all Ireland and has a great focus on technology start-ups. It is home to many entrepreneurs and venture capitalists which will give your project a push forward. Labs offers work zones and relax zones, the best food, conference and meeting areas, different workshops and much more.
They only have two membership options, you either choose a hot desk for €200 or double the amount and get your own personal desk. Both include super-fast internet, access to the conference room and to the Google's Tech Hub Network.
Best co-working space: Dogpatch Labs, The CHQ Building, Custom House Quay, Dublin 1
Frankfurt, Germany
Frankfurt is a cluster of commerce, education and culture. It has become the heart of European finances and the headquarters of various important institutions are located there. It's evident that a city of this importance attracts individuals and businesses from around the world.
Die Zentrale is a small, yet lovely co-working place that welcomes freelancers and entrepreneurs to join their coffee-shop-inspired environment. Besides the working area, it offers meeting and seminar rooms, a hangout zone, a library and a mutual kitchen.
You can spend the day from 9am to 7pm for €30 and, if you decide you like the place, the payment will go toward your monthly fee. For €99 a month you get a hot desk, access to a printer or copier and can snack on fruits. For a fixed desk and 24/7 access the cost is €300 and you also get a locker and a mailing address.
Best co-working space: Die Zentrale, Berger Straße 175 | 60385 Frankfurt
Ghent, Belgium
One of Belgium's best kept secret's, Ghent is actually the country's largest municipality after Antwerp. The city center is completely pedestrianized and boasts medieval architecture — like the 12th-century Gravensteen castle and the famous guildhalls along the river harbor you've likely seen in pictures (if you haven't already been there). The city is also a university town and a regional cultural hub.
LikeBirds is a co-working space in Ghent that just moved to a new location this August. They have plenty of workspaces for creative entrepreneurs, freelancers and inspiration-seekers, as well as a fantastic kitchen and bar, a creative lab and a rooftop terrace.
LikeBirds has four kinds of membership: Light, In Between, Medium and Full Time, which respectively cost €100, €150, €210 and €295 a month.
Best co-working space: LikeBirds, ESKIMOFABRIEK WIEDAUWKAAI 23 K 9000 GENT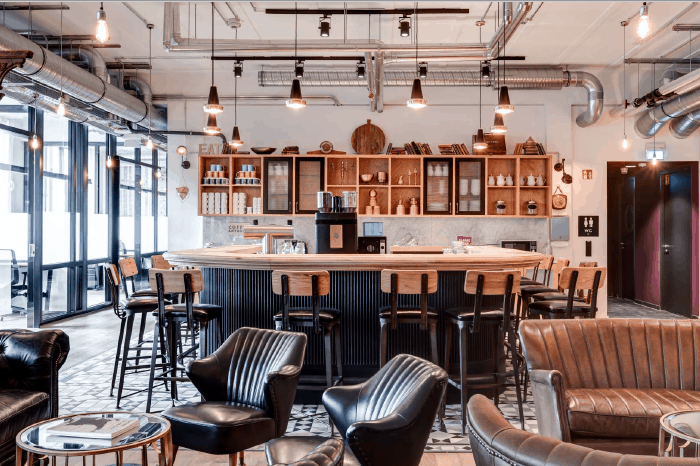 Hamburg, Germany
I hope I am not the only one who thinks of hamburgers when Hamburg is mentioned, or am I? The second largest city in Germany is famous for being a transport hub with one of the main ports in Europe. It is also a preferred destination for international visitors.
MINDSPACE is a center of innovation and entrepreneurship and gathers in one place start-uppers, accelerators, investors, and other creative minds. They have put a lot of thought into designing their offices in order to give them a homey touch and a dose of inspiration.
A full package, including 24/7 access to a personal desk and several hours in the meeting room, costs €250 per month. Those who are in a group — and therefore interested in more privacy — can choose one of the offices, which start at €420. Members have other benefits such as access to a kitchen and coffee bar or usage of printers and scanners.
Best co-working space: MINDSPACE, Rödingsmarkt 9, 20459 Hamburg
Helsinki, Finland
Whenever you hear a Nordic state or city being named you think of a great place where things function perfectly, and Helsinki is no exception. More than once it has been on the top list of cities to live in and we believe more nomads will turn to Helsinki in the upcoming years.
HUB13 is the number one co-working space in the city and is designed to help entrepreneurs achieve their goals more efficiently. Each membership includes super-fast wifi, access to the kitchen and host assistance.
This is one of the few places where you can get a weekly plan for €99, which comes with a hot desk for all five weekdays. They also offer flexible membership, which costs €199 a month and means you'll have to grab a desk or a corner you find free and start working. The option of a fixed desk comes at the price of €299 a month and gives you free hours in the meeting room, 24/7 access, etc.
Best co-working space: HUB13, Kaisaniemenkatu 13A, 2nd & 8th floors, 00100 Helsinki
Krakow, Poland
It is a common thing for people to want to visit Paris, London and Berlin, but it's good to pay attention to cities like Krakow as we might be missing a lot. A beautiful city with a large cultural background, warm and welcoming people and amazing food, all of which come cheaper than you can ever imagine.
PRACOWNIA is a co-working place designed with your comfort in mind. It has bright and spacious rooms to inspire your work, balconies to go out and take a break and a mutual kitchen. It offers all of the members 24/7 access, a desk of 120cm, usage of equipment like printers, scanners and three hours of meeting or training room among other benefits.
The subscription plans are quite simple as they include the same things we mentioned above. They only change according to the number of days of access. A 10 day subscription plan costs $49, while for 15 days you need to pay $75. A monthly plan of unlimited access comes at the cheap price of $96 and you even get a $6 discount for your first month.
Best co-working space: PRACOWNIA, Al. Słowackiego 1/6, 31-159 Kraków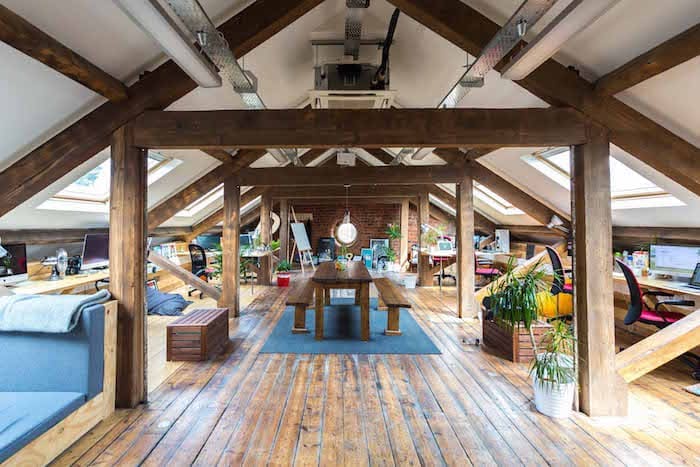 Leeds, United Kingdom
Leeds is not the most developed city in the UK, but it holds first place for banking and other financial services with more than 30 banks in the city — national and international. A place in a good financial condition is always attractive to independent workers.
Duke Studios sees itself as a co-working space for creative and innovative people who need a collaborative environment to work on and exchange ideas. All the members get access from Monday to Friday, have all the bills paid, usage of the kitchen and free Yorkshire tea.
A co-working space will cost £99 a month with 5 days a week access, someone who wants to rent a desk has to pay £225 a month and can use it every single day, as well as enjoy some other benefits such as a lockable storage. This, however, requires signing a 6 month contract with Duke Studios.
Best co-working space: Duke Studios, 3 Sheaf St, Leeds LS10 1HD
Lisbon, Portugal
Although the percentage of English speakers in Portugal is quite low, that is not the case with Lisbon. Most people there are able to carry on a normal conversation in English, which is usually the case with touristic places. One of the oldest cities in all of Europe, Lisbon remains a major center of great development.
Coworklisboa is established as one of the best working places in Lisbon. People of different areas such as designers, programmers and photographers have made a home out of Coworklisboa and have given birth to a collaborative community and a wide network.
The cost for one day with a flexible desk is €12, for one week €40 and for one month €100. For those interested in a fixed desk it varies between €150 and €180, according to its size and the other amenities included. If anyone feels comfortable enough working in the lounge they can subscribe as a Nomad for only €50 a month.
Best co-working space: Coworklisboa, Rua Rodrigues Faria 103, LxFactory – Edifício I – 4º Andar, 1300-501 Lisboa
Ljubljana, Slovenia
Known for its mountains, ski resorts and lakes, Slovenia is a charming country for any digital nomad. The country also sports Baroque architecture and medieval castles that merit more than just a fly-by visit. The capital of Ljubljana has beautiful green areas and a large university population, perfect for an entrepreneur looking to hire from a young, educated workforce.
Poligon Creative Centre is right in the middle of all the action, creating a strong co-working community. With a unique set-up in a former tobacco factory, Poligon has numerous desks and offices, as well as a conference room and a workshop with a 3D printer. The center also offers a crowdfunding lab, event space, photo services, plus a bar, shop and library.
You can have access to Poligon for €12 a day, €30 for five days, €65 for 12 days, or €95 for a full month. Meeting room access requires an addition €7 per hour. You can also sign up for annual membership to Poligon Friends for €35, which gives you access to event and discounted fees on all Poligon Study events.
Best co-working space: Poligon Creative Centre, Tobačna ulica 5, 1000 Ljubljana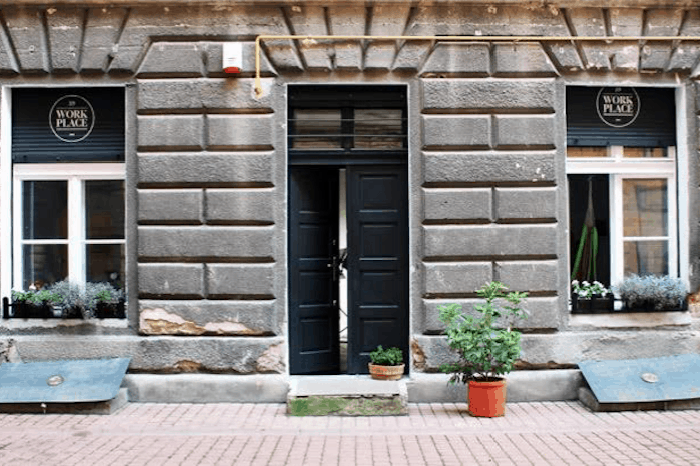 Lodz, Poland
Lodz is one of the greenest cities in all of Europe, so whoever feels like visiting a less modern place and breathe in some fresh air, relax and de-stress, this is the one. There are only a few Co-working spaces in Lodz, but what is important is that you have options to choose from in case you are considering a visit.
Work Place 59 is a small yet interesting space for students, freelancers and entrepreneurs to meet under the same roof and share their knowledge and skills. Its members have access 24/7, can use the meeting rooms, the kitchen, the shower, and there's also a film studio for photography lovers.
You will have a hard time finding a place with unlimited access, your own workspace and many other amenities for as cheap as €70 a month. There are no hidden costs or extra payments, it's all included, unless you want to use the conference room for more than three hours a month, which requires €3.50 an hour.
Best co-working space: Work Place 59, Piotrkowska 59, 90-413 Łódź
London, United Kingdom
London is a global city in every area you can think of: art, culture, education, technology and finances, among others. Its metropolitan area is ranked fifth in the world for the highest GDP, which tells you something about London's development. It is the first choice for foreign investors when deciding to expand in a new city and has more visitors than any other place.
Because of London's global nature, it's no surprise that there are over 30 co-working spaces within the city. As such, it was hard to pick just one co-working space, but our first place goes to WeWork. They offer such lovely spaces designed to inspire you to work, free calls in their phone booths, an opportunity to book the conference room and as much tea, coffee and infused water as you like.
WeWork's greatest value-added yet is their impressive membership community. With 50,000 members worldwide, WeWork helps you create a network of colleagues and potential customers using their online community, or through their many continuously organized events.
WeWork offers a variety of plans, the most simple being We Membership. For less than £100 a month, you get limited access to their workspaces, as well as full access to their digital app, events, benefits and other services.
For a little more you can choose between a Hot Desk or a Dedicated Desk membership. The former costs £350 a month, while the second will put you back £400 a month. If you don't mind changing your desk daily, you can save some money with the Hot Desk plan, as that's their main difference. The last plan is more suitable for a group of people who need their own office, the payment of which starts at £750 a month.
Best co-working space: WeWork, 9 Devonshire Square London EC2M 4YD (has 10 other locations in London alone.)
Madrid, Spain
Madrid is one of the largest cities in the European Union and is considered as a major contributor in the fields of education, entertainment, fashion, science and arts. It has one of the highest GDP levels in Europe and, therefore, is a crucial financial area in the Southern part of the continent.
Madrid's utopic_US is a co-working place offering a simple, yet efficient environment in which you get to grow professionally and improve your work and projects, especially if you use their training schools, some of which are free. They are firm believers in the importance of sharing and collaborating with each other to increase the productivity of every member.
If you already have a space to work, but would like to enter their platform and take advantage of their wide network, the Partner plan is the most suitable as it comes as cheap as €15 per month and includes several benefits. The Fix plan costs €230 per month and it comes with a permanent desk, 15 hours of the meeting room and many other discounts on special services. For something in the middle, the Flex plan will cost you €120.
Best co-working space: utopic_US, with three locations in Madrid.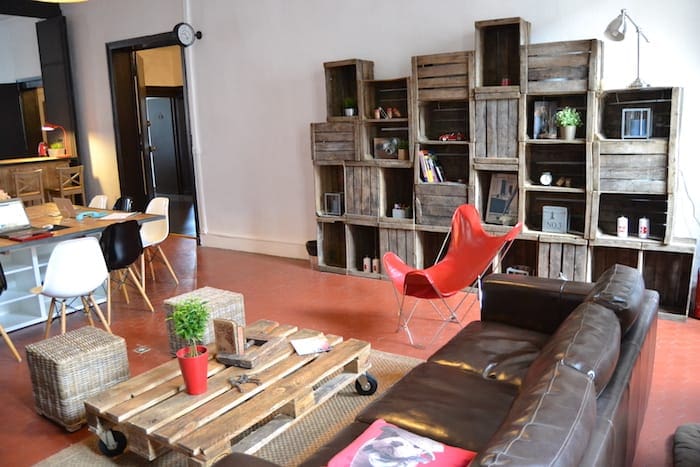 Marseille, France
Sometimes Paris steals the show from every other city in France, but being the second largest city in the country, Marseille deserves some credits. It's a huge metropolitan area and holds the first place in the Mediterranean coast for commerce and cruise ships.
Group'Union is a co-working place located in one of the most prestigious streets of Marseille. Its 150 meters are divided into one open space, four offices for residents, two private rooms and even one photo studio.
The cost of an all-inclusive plan for one month is €156, which gets you 10 hours of daily access from Monday to Friday and other benefits such as discounts, free events, etc. The Resident plan has everything included in the all-inclusive plan, but you also get your own office for more privacy.
Best co-working space: Group'Union, 55 Rue Paradis 13006 MARSEILLE 06.51.58.86.74
Milan, Italy
Milan is a leading global city in many areas such as arts, commerce, education, finance and services, among others. It is home to the headquarters of some of the largest banks and companies in Italy and outside of it. The city is a world center for fashion and design, mostly known for hosting Milan Fashion Week.
There are a lot of good working spaces to choose from in Milan, but our top spot goes to StartMiUp, which has managed co-working spaces since 2012. They offer fully equipped workspaces, flexible plans and a great community.
At StartMiUp you get customer support from specialists, tools to facilitate your working process and a wide network to help you grow professionally, all within a modern environment designed to inspire its members.
Best co-working space: StartMiUp, Copernicus 38, 20125, Milan
Munich, Germany
Munich is considered an alpha-world city and a major center of arts, advanced technologies, finance, innovation, education and business.
Impact Hub is a working space spread worldwide. From Belgrade to Sao Paolo they provide numerous facilities such as team offices or co-creation areas for spontaneous and brainstorming use. They also have phone booths, printers, fast wifi and a kitchen where members can enjoy fruit, snacks and coffee to fuel for the day.
Being a member will cost you € 210 per month if you choose the Exploration plan, which includes full-time access to the workspace, the HUBnet and usage of materials. There's also the option of the Global Membership for €42 per month, which makes you part of the Impact Hub community and gives you access to all their events, an efficient way to meet potential clients.
Best co-working space: Impact Hub Munich, Impact Hub Munich, Gotzinger Straße 8, 81371 München
Naples, Italy
You probably already know that Naples is the city that gave birth to the beloved pizza, but Naples is worth a visit for other reasons as well. One of the largest metropolitan areas in the region with a high level of development, Naples is a pleasing city for your eyes, your pocket and your taste buds.
HUB spa is a co-working place located in the core of the business area of Naples. It is designed to attract talented and innovative people or organizations, all of which aim to bring a change for the better. HUB spa supports new projects financially and puts a lot of attention on their environmental impact.
The cheapest membership is €150 a month (10% discount for 3 months) and comes with a hot desk, 9am to 7pm access and very fast internet. For a more comfortable work space and a fixed desk the cost is €200 a month, which also includes the phone and fax services. The fullest membership of €280 comes with many other benefits such as 8 hours in the conference room and considerable discounts on special events.
Best co-working space: HUB spa, Via Gianturco 66 Napoli
Palermo, Italy
Palermo is a city bursting with culture, art and delicious food. Endless tourists visit the city each year to enjoy the unique architecture, the nightlife, and the amazing Mediterranean weather. It's the main center in Sicily for its development of the service sector, commerce, and the economy in general.
PMO Coworking is at the heart of Palermo, making it a spot of interest for all the freelancers, start-uppers or independent workers in need of a workplace. Its aim is to inspire people and assist their professional growth — all within an elegant, yet homey atmosphere. Each member can enjoy the fast wifi and use the printer, scanner and kitchen appliances (such as a refrigerator and microwave).
A shared workspace at PMO costs €150 a month and includes 9 hours access each day from Monday to Friday, a personal locker and two hours in the conference room. To get a fixed desk you will have to pay an extra €50 a month.
Best co-working space: PMO Coworking, Via Principe di Belmonte, 93, 90139 – Palermo
Paris, France
Is there anyone who doesn't want to visit Paris? Since the French Revolution until today it has been a global city famous for its influence in finance, fashion, science and arts. The beautiful city attracts millions of visitors every year, some for the Eiffel Tower and the unique cuisine and some to take advantage of the business opportunities.
Remix is a unique and warm workplace in Paris. It's quite a large place and is very stylish and cozy with six closed offices, a conference room for 80 people, three meeting rooms, and a mutual kitchen with a large table where members can enjoy their meals.
To be a part of Remix you can choose from two types of memberships. They both grant 24/7 access and come with high speed wifi, free coffee and tea and a few hours in the meeting room every month. You can pay €380 per month which allows you to work at any workstation in your area or €440 for an office which is able to accommodate you and your team.
Best co-working space: Remix Coworking Center, 24 COURT OF SMALL STABLES – 75010 PARIS (Remix has three other locations in Paris.)
Prague, Czech Republic
Prague is the largest city of the republic and has a surprisingly low rate of unemployment, a great feature considering the economic crisis of these last years. The golden city, as some call it, is crucial in the economic and cultural stage of Central Europe. That is one reason why it is established as an alpha city and attracts so many visitors each year.
Node5 is the best co-working space you can find in Prague. It offers lovely spaces to push you to reach your full capacity and a great community with which you can exchange ideas, knowledge and improve yourself professionally.
There are several memberships so you can choose the most suitable option for you. You can pay €49/month for the Day Worker membership if you would like to join the community, but will only occasionally need a desk. The Flexi Resident membership costs €70 for everyone who doesn't mind changing the work environment and wants flexible hours. There is also the Fixed Resident membership for €108 a month, which gives you access to a dedicated desk 24/7.
Best co-working space: NODE5, Radlická 180/50, Praha 5 Smíchov, 150 00
Riga, Latvia
Riga is a small and modern city, some even dare to call it a village considering how full of green areas it is. One great thing about Riga is that you can find free and unlimited wifi in every corner, and I mean working wifi, not the ones that never connect to your device.
The Mill has created a co-working space for creative and innovative people. It's a warm community where you can meet with the hottest designers or developers in Riga. The space is comfortable and relaxing, but at the same time designed to keep you focused on your work. If you are in need of a break, you can enjoy a ping-pong match or just hang out in break areas.
To be a member you can pay €150 a month for a fixed table and unlimited access to their premises, or you can go lower with €100 a month if you don't mind a random seat with access 9am to 6pm during the weekdays.
Best co-working space: The Mill Riga, Brivibas street 33 (2nd floor) , Riga, Latvia
Reykjavík, Iceland
Reykjavík is the capital city of Iceland, the most sparsely populated country in Europe with only 332,529 residents. The country offers incredible natural attractions, such as geysers, glaciers and ice caves, geothermal spas, mountains and active volcanoes, whale watching and beautiful waterfalls. Because of its small population, Iceland also has a very friendly, open culture.
Reykjavík Coworking Unit is an affordable co-working space for web designers, developers, writers, graphic artists, photographers, illustrators and more. The site is actually a converted industrial space and has big desks, free coffee and wifi, a fully equipped kitchen, 24/7 access and all the comfy chairs you need to enjoy your new workspace.
Prices range from €25 per day, which grants you access to a flexi-desk from 9 to 5 on weekdays with access to both the printer and the scanner. A week pass will cost you €140 and will get you a fixed dest and all the other amenities. You can also get a month pass for €450 or a three-month membership pass that brings down the monthly cost to €300.
Best co-working space: Reykjavík Coworking Unit, Laugavegur 116, 101 Reykjavík
Rome, Italy
Rome is one of the most beautiful cities in the world, attracting millions of tourists every year with the Colosseum and its different museums. The city has an ancient history and throughout almost all of it, Rome has been a center of culture and development. It continues to be so even today.
Talent Garden Roma is a campus of over 1200 meters designed to attract freelancers, start-ups or enterprises mainly focused on the digital area. Its members can stay there 24/7 and use up the innovative spaces at their disposal, including a lovely terrace. Tag has built a strong community open to collaboration in order to give everyone the opportunity to grow, learn and improve.
The cost to become a resident for every day of the month is €250 and it includes a permanent workplace and 5 hours at the meeting room. Another option for those who don't need to go there physically each day is to pay €150 a month for 20 hours a week. However, your spot isn't guaranteed this way. For those who would like to visit Tag just once, the daily pass is €25.
Best co-working space: Talent Garden Roma, Via Giuseppe Andreoli, 9, Roma, RM, Italia
Rotterdam, Netherlands
Known for its bold, modern architecture following its reconstruction after WWII, Rotterdam is a major port city in the Dutch province of South Holland. In fact, it is the largest port in Europe and one of the largest in the world, making the city a major logistic and economic center. Rotterdam offers a bold cultural life built on a strong maritime heritage and a beautiful riverside location that is known as the "Gateway to Europe."
42worspace is Rotterdam's leading tech hub that provides a curated community for tech and digital entrepreneurs. The space offers 32 flex desks, 8 premium desks, 25 single offices, three event spaces, seven meeting rooms, a cafe area, rooftop bar, and even a gym and two single-tenant floors.
The 42workspace community is home to professionals from various fields and industries, including e-commerce, artificial intelligence, cryptocurrency, tech education, cybersecurity, blockchain, IoT, app development, marketing automation, e-marketplaces, fintech, and agritech.
42workspace enables its members to raise capital by giving them access to their extensive investor network. The space also hosts innovation sessions, meetups, tech talks, release parties, pitch competitions,hackathons, and keynotes in their 42cybercafe.
Best co-working space: 42workspace Schiedamse Vest 154 – 3011 BH Rotterdam
Seville, Spain
I feel like everybody pictures a happy country, full of festivals, music and costumes whenever they think of Spain. Seville definitely lives up to your imagination as a joyful city. It will inject you with a dose of energy and enthusiasm if you decide to pay a visit, be it for fun or for business.
workINcompany has created spaces that change frequently in order to adapt to each individual with different aspirations. It's one of the most active professional communities in Seville. With 500 square meters of space, workINcompany gives you a comforting place where you can communicate and exchange ideas with other people from different sectors.
workINcompany provides a lot of options to choose from with prices starting at €15/day for a flexible place, access to high-speed internet, usage of a printer, fax and free coffee and tea. You can choose to pay €180 a month for the Fixed package with a personal desk, access to office equipment, a locker and a co-working VISA.
Best co-working space: workINcompany, 13 Calle Rioja, 2ºA ,41001 – Sevilla
Sofia, Bulgaria
Sofia is the largest city in Bulgaria and is home to most of Bulgaria's universities, important institutions and large companies. It has been ranked on the international list of top 10 cities where it's best to create a start-up business. In addition, it's considered to be the cheapest capital in Europe for visitors.
The fist co-working option in Sofia is Betahaus. It is one of the most successful in Europe with locations in Berlin, Barcelona and Hamburg. Each member can benefit from numerous amenities such as high speed Wi-Fi, a Skype room, a library, usage of a 3D printer, a mutual kitchen and plenty of fun and relaxing table games. Oh, and the place is dog-friendly so you don't have to worry about your furry friends.
To be a member of Betahaus you can purchase the Monthly Flex package for €116 or the Fix Desk package for €150/month. For a 10% discount you can bring a friend along. Plus, all students automatically have 20% off. If you decide on a long-term contract you get the main plans for a lower price.
Best co-working space: Betahaus Sofia, Krum Popov 56-58 str. Sofia 1421
The second co-working space in Bulgaria, Puzl CowOrKing is the one of the best IT coworking space in Central and Eastern Europe. Built by and for IT professionals, Puzl CowOrKing offers the productive environment and community support needed to grow a successful business.
Puzl CowOrKing transforms old industrial buildings into beautiful shared offices where freelancers, startups, and scale-ups thrive. Every single detail is well-thought-out to boost productivity and comfort. The combination of abundant natural light, super-fast internet, ergonomic chairs, extra-large custom desks, a state-of-the-art AC system and 24/7 access makes the long screen hours much more rewarding.
Inside the premises of Puzl CowOrKing, freelancers and teams have the opportunity to get a single desk, a team desk or a dedicated office area. All members get 24/7 access to the areas, free fair use of meeting rooms and booths, access to networking and knowledge sharing events, access to the biggest tech community in the region, discounts from partners, postal and package handling and business printing.
In addition to Puzl CowOrKing office areas, Puzl recently launched Puzl CoCafé, where you can get a top-notch co-working experience at an affordable price with no attachments. At the CoCafé everyone can get a daily / half-day pass or a monthly subscription.
Puzl CowOrKing is built with the mission to support the development of the IT sector in Central and Eastern Europe. The team is expanding the areas and the community across the region to empower a global community of tech entrepreneurs and innovators.
Best co-working space: Puzl CowOrKing Cherni Vrah 47A, 1407 Sofia, Bulgaria
Stockholm, Sweden
Stockholm has always drawn my attention for the fact that it is actually spread among 14 islands. Yet Sweden's capital is unified into a political, economic and cultural center and is considered a global city. Stockholm generates more than 1/3 of the country's GDP, proof of the development taking place there.
Café&Co is the creative core of Stockholm, merging a modern café with NY and California vibes with a co-working place for freelancers and entrepreneurs. Who doesn't like to work in a place that smells like coffee? You can always work together with other members and hang out with them at the café. Also, the café staff doubles as your personal receptionist.
There are a lot of membership levels you can choose from; for €400 a month The Fixed Seat membership provides you with a personal seat, five hours free and 50% discount on meeting rooms and a 20% discount at the café. Then there is the Mini Flex at the price €100 a month which gives you access to a flexible seat 1 to 2 days a week, 50% discount on meeting rooms and 20% discount at the café.
Best co-working space: Café&Co, Hornsgatan 47 , 118 49 Stockholm
Stockholm Sweden #2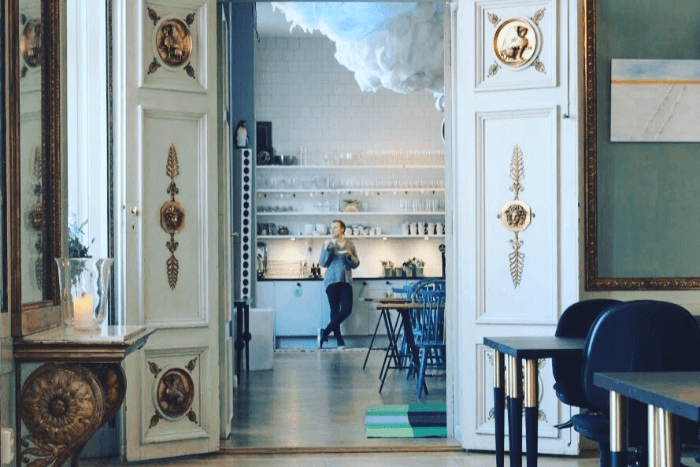 The Castle is challenging what a workspace can be. They've seen that when people truly perform, they are able to bring many aspects of themselves into their work. That's why they strive to be a place where you can not only focus and access unlimited amounts of coffee and WiFi but also laugh, feel belonging, make friends and discover new things about yourself and others.
At The Castle, you as a member have the freedom and support to decide what the place is all about. By having a framework that allows for events, workshops and meet ups to happen in a safe and inclusive atmosphere, The Castle lets its members create the place by sharing what they love.
Best Co-Working Space: The Castle Slottsbacken 8, 111 30 Stockholm
Tallinn, Estonia
Did you know that Estonia's capital is the hometown of one the most popular companies internationally? That would be Skype. Another interesting fact about Tallinn is that it has more start-ups per person than any other country in Europe and is part of the top ten digital cities worldwide.
Garage48 HUB is a creative and warm space for individuals to work. It's an affordable co-working space where you can learn a lot and meet new people, adding useful contacts or clients to your network. It is much more interesting to work in such a place than waste your day at home being inefficient.
If you're a daily visitor you only have to pay €6 a day. You can choose to be a Resident Member by paying €78 a month, which will give you 24/7 access in a shared desk or in the lounge area with a computer on your lap. If you want to have your own desk every day and don't like switching it up that often, then the Resident Member for €120 a month is perfect for you.
Best co-working space: Garage48 HUB, new location coming December 2016
Tbilisi, Georgia
Vere Loft is the co-working space from which our team is working this September. It is situated in one of the prettiest areas in Tbilisi — Vera — and is a very close walk to the city center and Freedom Square. It is an amazing place, with extremely polite staff who are there to help you with any request and make your stay and work as pleasant as it can be.
You can enjoy the good vibes, positive work atmosphere and amazing industrial interior design with comfortable swings, a game room, a lounge and lazy bags for the times you need to take a break. You can also enjoy the terrace with a great kitchen and drinks. It's a place where you'll actually want to stay and hang out after you have completed your working day.
Prices can be as low as $13 to just above $17 a day. If you're looking to stay a week, expect to pay somewhere around $65 to $87, depending on the package. And if you plan to stay long term, a month's membership will cost you $130 for the Minimalistic plan, $216.5 for the Urban plan or roughly $345 for the Industrial plan. They also offer weekend and night packages. If you want to check it out, there are complimentary donuts for every new visitor. We wholeheartedly recommend it.
Best co-working space: Vere, Loft, Khorava st. N 3, Tbilisi, Georgia
Turin, Italy
Turin is one of the main industrial centers of Italy and has become an important node in Europe's trade and commerce. With a rich historical background and full of art, museums, gardens and special restaurants, Turin is a preferred destination for many tourists.
Toolbox Coworking is one of the best choices you can make if you want to be a part of a co-working community in Turin. It offers a large space where you can interact with people that don't like working alone, but instead like exchanging ideas with a group of talented people. You can also participate in various events and expand your social life.
All memberships include basic relaxation areas, free coffee and snacks and high speed wifi. You can register for a Flex desk by paying €15/day or €100/month, or the My Desk plan comes with different desk sizes (mini, mid, max) for €160, €180, €250 a month respectively. If you're interested in team rooms, the prices start from €72/day and up to €600 a month.
Best co-working space: Toolbox Coworking, Via Agostino da Montefeltro, 2, 10134 Torino, Italy
Valencia, Spain
Valencia is the largest city in Spain after Madrid and Barcelona and is one of Spain's most developed economic areas. It's a popular destination for tourists, mainly for its historic center, monuments and other attractions.
Geeks Hubs is a geek community designed to gather talented people and help them learn from experts in their own fields. They support your projects and try to validate them to improve you as a freelancer or a start-upper. The shared space for everybody consists of the meeting room, the conference room and the mutual kitchen. You get fast wi-fi, access to the coffee maker, your own mailbox and mentoring.
You can choose the Partial Resident Geek package for only €89 a month with access from 8: 30am to 7: 30pm Monday through Friday, or the Full Resident Geek for €119 a month with an available workstation 24/7. If you're interested in team packages you can contact them to decide on what would be the best fee for you and your team.
Best co-working space: Geeks Hubs, Avenida Cataluña, 11, 46020 Valencia, Spain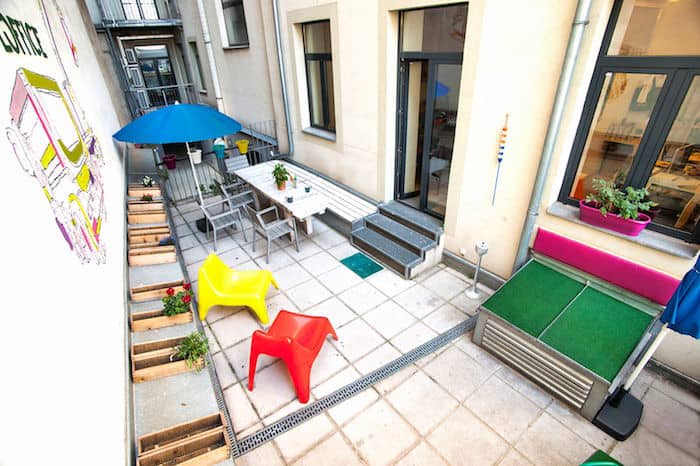 Vienna, Austria
Vienna has been named the most livable city in the world, taking into consideration its high quality of life. If you can't live there, but would like to visit this innovative city and experience its rich culture and beautiful infrastructure, you can definitely stop at one of their co-working spaces. This way you won't lose touch with whatever you're working on.
LOFFICE is the new generation office that brings together the business and the creative world. Their work is widely known and their several awards are what makes them one of the best co-working stations in Europe. They help you improve by making you stay true to your individualism and style. They have the capability to help a lot of young people to bring their ideas from their mind to a real-life project.
If you want to be a member, the LOFFICE provides many plans. Their daily fee is €15 which is an opportunity to explore the environment. You can choose a monthly subscription of €250 with a fixed desk. If you want your own office, you'll need to contact them and find your perfect match.
Best co-working space: LOFFICE, Schottenfeldgasse 85, 1070 Wien, Austria
Vilnius, Lithuania
Vilnius, the capital of Lithuania, is located in the heart of Europe and is considered one of the most cosmopolitan and friendly cities for all its visitors. The country has great potential for development in the coming years, so we advise all the foreign investors to keep an eye open.
Rise Vilnius was previously a retail space, but today it is transformed completely into a vibrant workplace for freelancers and entrepreneurs. Its facilities include a large auditorium, 50 working spaces, four meeting rooms, a podcast recording place and live streaming equipment.
The Rise membership gives you access to a desk space, support and expertise from specialists and participation in different events organized by Rise Vilnius. You can also take advantage of the meeting rooms, theaters and enjoy their weekly newsletter full of valuable information.
Best co-working space: Rise Vilnius, Gyneju str.14, Vilnius
Warsaw, Poland
Warsaw is a global city with a major influence on the culture, politics and economy of Central Europe. It stands close to Frankfurt, Paris and London when it comes to the high number of skyscrapers within the city. You will definitely love Warsaw with its different styles of architecture, royal gardens and various art spaces.
Reaktor is a co-working space in Warsaw that invites all the freelancers, start-uppers and independent workers to gather and form a collaborative network. The mansion has an old-fashioned style and it includes shared workspaces as well as private rooms, break areas with a ping-pong table, a kitchen to enjoy your meals and a lovely garden for when the weather is just too beautiful to stay inside.
You can enjoy all the above benefits and unlimited access to the workspace for the price of $156 a month, which we think is pretty good. If you're in doubt you can go and visit Reaktor with a daily pass of only $10 and it might help you make a decision.
Best co-working space: Reaktor, ul. Bohomolca 15, 01-613 Warszawa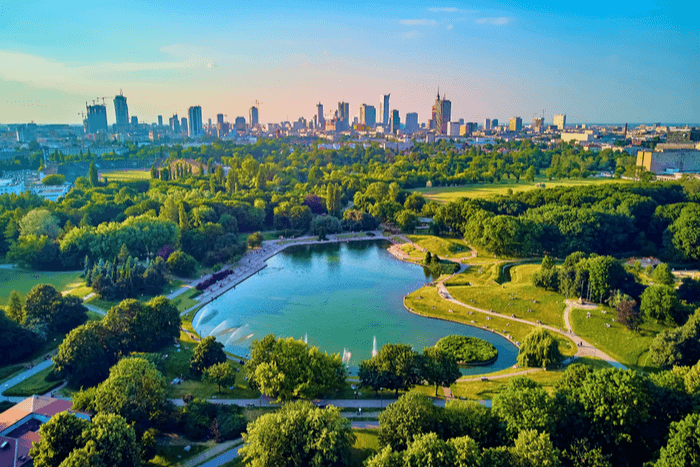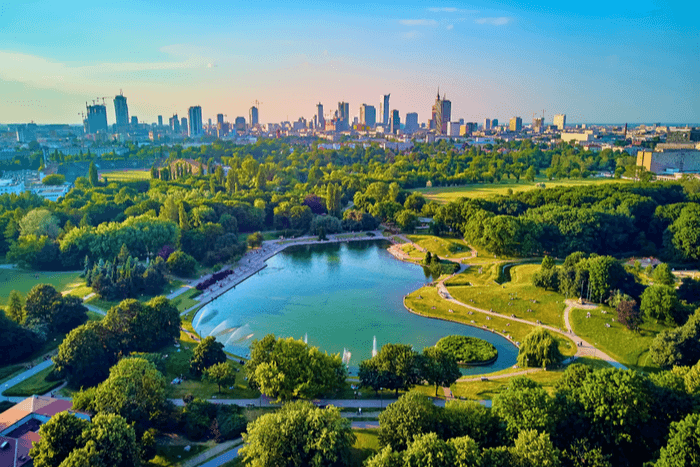 Warsaw, Poland #2
Postepu 14 HubHub in Warsaw is located in the second-largest business district in the city and provides every service imaginable. The space takes up two floors and offers everything from 220+ work desks to a chill out and gaming zone, and from bike parking and a shower to mentoring and consultancy services.
You can get a one day pass or a one month pass for a flex desk, fixed desk, private offices for 1-50 people, or an entire floor. Membership will grant you 24/7 access to the facility and access to all the community events, inspirational breakfasts, and workshops. Prices range from $115 USD for a flex desk to roughly $275 for an office.
Best co-working space: Postepu 14 HubHubPostępu 14, 02-676 Warsaw
Wroclaw, Poland
Wroclaw is one of the largest cities in Poland and has developed its living quality enough to enter the list of global cities. In 2015 it was recognized as the only city in the country who is growing quickly in the business area.
IdeaPlace is the first ever co-working place in Wroclaw and still remains a great one. The space offers you the opportunity to work on your own, but also gives you support whenever you might need it. Each member has access to a professional secretariat, office equipment and the kitchen.
The prices at IdeaPlace vary only according to the number of days you choose. A daily pass costs $13 while a monthly subscription of 20 days comes at a price of $156. In between you can opt for 5, 10 or 15 days a month. The last two plans come with a few other benefits such as four hours at the meeting room and a lockable cabinet.
Best co-working space: IdeaPlace, pl.Solny 15, 50-062 Wrocław
Zagreb, Croatia
Zagreb is the leading economic center in Croatia and is home to scientific institutions, different industries, large companies and most transport connections. It has high living standards and has focused economic activity on service and technological sectors.
ImpactHub, Zagreb has some pretty big news at the moment: they are moving to a new fantastic location in the heart of Zagreb, right next to the main park to an even bigger space of 550m2. On two floors, they will offer 100+ working stations (a mix of fixed desks and co-working), three event rooms, two meeting rooms, two phone booths, a lounge area with the kitchen and an amazing courtyard.
All of this, while keeping their positive energy and vibe. Impact Hubs differ from other co-working spaces with their special and cozy atmosphere, while offering various co-working packages and possibilities for event space along with productive content, mostly related to social innovation, entrepreneurship and education for their community.
Best co-working space: ImpactHub, Zagreb Udruga Pokreni Ideju // Pokreni Ideju j.d.o.o. Vlaška ulica 70E Zagreb, Croatia
Zaragoza, Spain
Zaragoza is famous for its landmarks, folklore and delicious food. Amazing churches, cathedrals and art galleries can be found all around the city. Like many cities in Spain, Zaragoza does not lack colorful festivals, lovely cafes and enthusiastic nightlife, all of which make it a popular destination for visitors around the world.
Coworking MS31 is one of the newest workspaces located in the heart of Zaragoza. It aims to bring creative individuals and groups together within 800 meters where they can choose to work at a desk, in an office, in a workshop area or in the lovely terrace garden outdoors.
A membership including your own desk, super-fast internet, access to the meeting room and cafeteria comes at the price of €150 a month. If you are in a group of two you can get a more spacious desk with all the above benefits for €220 a month. A private office with two desks comes at the monthly price of €350.
Best co-working space: Coworking MS31, Madre Sacramento 31 50004 Zaragoza