In this article, we will embark on a journey across the Asia to uncover the safest countries for nomads. Ranging from bustling cities in East Asia to the rich cultural heritage of Southeast Asia, we present to you a comprehensive list based on Global Peace Index (GPI).
Understanding safety, particularly in terms of crime rates and public safety, is crucial not only for peace of mind but also for strategic decision-making regarding travel or investment opportunities.
Countries with very low crime rates typically provide a stable environment conducive to business and pleasure alike.
Discovering the safest countries in Asia is indeed a valuable endeavor. It is not just about finding a favorite destination, but about discovering locations where the pursuit of a peaceful, fulfilling lifestyle can be realized.
We invite you to continue exploring with us at Nomad Capitalist, your indispensable guide to global travel and investment, to uncover the ideal destinations that offer not just societal safety but also myriad opportunities for business, second citizenship, and personal growth.
The Role of the Global Peace Index in Determining the Safest Countries
The leading think-tank organization, Institute for Economics and Peace, provides us with a key performance indicator known as the Global Peace Index (GPI). This comprehensive tool measures peace in various countries around the world, helping us determine the safest countries not only in Asia but also in Europe and other continents.
The GPI takes into account a wide array of indicators, such as the level of violent crime, international conflict involvement, ongoing domestic conflicts, and military expenditure, to provide an objective overview of safety and peace in different countries.
This aids travelers and investors in making informed decisions about their destinations of choice.
The GPI serves as a valuable tool, offering insights into the management of crime rates, public safety, and peacekeeping efforts across different countries. This understanding has profound implications for anyone considering travelling or investing anywhere in the world.
As you read on about the safest countries in Asia, the Global Peace Index will serve as our compass. Its objective measurements will guide us towards countries where safety is a priority, ensuring that your journey or investment is as secure as possible.
Stay tuned as we reveal these countries and talk more about their attributes.
Top 10 Safest Asian Countries for Nomads in 2023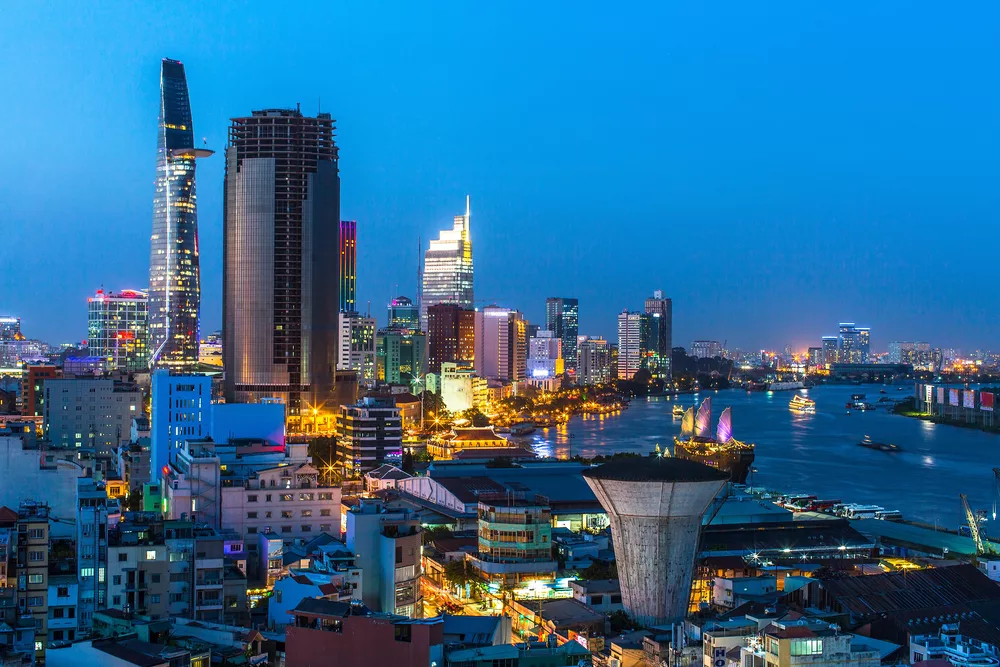 Rich in culture, history, and opportunities, Asia hosts some of the safest countries in the world. Let's discover these ten nations, from their vibrant cultures to the efforts made by their governments and citizens to secure their current status.
10. Vietnam (GPI score: 1.786)
Vietnam is an emerging Southeast Asian country. It has become an attractive destination for nomads over the years.
Despite its bustling cities, the crime rate is relatively low. This is largely due to the government's commitment to public safety, strict laws, and societal safety.
9. South Korea (GPI score: 1.779)
South Korea has grown to become a world-leader in manufacturing world-class brands. It's also at the forefront of technology.
With very low crime rates and a firm emphasis on public safety, this East Asian country has successfully become the ninth safest country in Asia.
The country's rich cultural heritage and vibrant cities are a bonus for travelers.
8. Mongolia (GPI score: 1.775)
Mongolia, a rugged and remote nation, is one of the safest Asian countries. This mountainous region boasts low crime rates and peaceful nature.
The government works hard to maintain this status, and citizens generally live in harmony, contributing to societal safety.
7. Kuwait (GPI score: 1.739)
Kuwait, an affluent Middle Eastern nation, stands out with its remarkable safety ratings, showcasing a commitment to public safety and a remarkably low crime rate.
Despite its proximity to areas of international conflict, it's considered a safe haven due to its peacekeeping efforts and strategic international relations.
6. Taiwan (GPI score: 1.618)
Taiwan, an island nation in East Asia, is renowned for its friendly locals, modern cities, and beautiful countryside.
Its high safety ranking can be attributed to its low crime rate, government efforts, and the importance placed on public safety by its citizens. It's place on this list, however, is threatened by growing tensions with neighboring China.
5. Qatar (GPI score: 1.533)
Qatar enjoys very low crime rates, allowing their citizens to enjoy the distinction of being part of one of the safest countries in the Middle East.
Its rich cultural heritage, combined with a highly developed infrastructure and a strong emphasis on public safety, contribute to its high GPI score.
4. Bhutan (GPI score: 1.481)
Known for its stunning natural beauty, Bhutan's safety comes from a blend of a low crime rate, effective government policies, and a deeply ingrained cultural respect for peace and harmony.
This Southeast Asian country's unique culture and peaceful lifestyle have contributed significantly to its high GPI ranking.
3. Malaysia (GPI score: 1.471)
Malaysia is a Southeast Asian country where different cultures blend in harmony.
Its strategic efforts to maintain peace, low crime rates, and commitment to societal safety have played a significant role in making it one of the safest Asian countries.
2. Japan (GPI score: 1.336)
Japan maintains a reputation for its remarkable public safety and minimal crime rates, which can be attributed to a combination of stringent legislation, cutting-edge technological advancements, and an efficient public transportation network.
This East Asian country, rich in cultural heritage and boasting beautiful national parks, ranks as the second safest country in Asia.
1. Singapore (GPI score: 1.326)
This city-state at the southern tip of Southeast Asia is the safest country in Asia.
With its very low crime rates, high-quality public safety measures, and strict regulations, Singapore has become a favorite destination for many nomads.
Its unique culture, advanced technology, and strict laws ensure that it remains a highly developed and safe country.
Singapore isn't just known as a safe country to live in, it's also known for having some of the safest banks in the world which is why we're such huge fans of the country here at Nomad Capitalist.
Explore the Safest Asian Countries and Other Nations Worldwide with Nomad Capitalist
These ten countries, from Singapore's highly developed city-state to Vietnam's exciting culture, exemplify the safest Asian countries for nomads.
Their low crime rates, public safety measures, peaceful lifestyle, and rich cultural heritage make them ideal for exploring, living, and investing.
The Global Peace Index provided by the Institute for Economics and Peace has been an invaluable tool in our journey across Asia.
Whether you're interested in acquiring second citizenship or exploring investment opportunities, these countries offer a wealth of opportunities for both business and pleasure.
We hope that this list of the safest countries in Asia inspires you to explore new cultures, create new memories, and seize new opportunities. These are not just destinations, but spaces where safety and culture intersect to create a unique experience.
To learn more about how you can maximize the opportunities other countries have to offer, contact us at Nomad Capitalist today. Let us guide you with our expertise so you can go where you're treated best.
Safest Countries in Asia Frequently Asked Questions
What Are the Safest Countries in Asia?
Based on the 2022 Global Peace Index, the top 10 safest countries in Asia are:
Singapore
Japan
Malaysia
Bhutan
Qatar
Taiwan
Kuwait
Mongolia
South Korea
Vietnam
Which Asian Country Is Safest?
According to the 2022 Global Peace Index, Singapore is the safest Asian country and it's also one of the safest countries in the world for banking.
Which Countries in Southeast Asia Are Safest for Nomads?
Among Southeast Asian countries, Singapore, Malaysia, and Vietnam are the safest according to the 2022 Global Peace Index.
Are Asian Countries Safe for Solo Travelers?
Yes, many Asian countries are safe for solo travelers. It is advisable to exercise caution, use common sense, and stay updated on the prevailing circumstances when visiting any place, including the aforementioned destinations.
Which Country in East Asia Has the Lowest Crime Rates?
Japan is known for its very low crime rates and high public safety standards.
Are These Countries Also Popular Tourist Destinations?
Absolutely. Most of the safest Asian countries are also popular tourist destinations. They are known for their rich cultural heritage, lively cities, beautiful countryside, and friendly locals.