This article discusses the 4 best places to live in Malaysia for expats. We'll also discuss why expats should consider Malaysia over more popular expat spots.
Malaysia is a great, business-friendly, affordable, and pleasant place to live as a Nomad Capitalist, whether it's full-time or a part-time base on your personalized Trifecta strategy.
We've also discussed in great depth how to obtain the 10-year Malaysian My Second Home (MM2H) visa.
But where exactly can you live in Malaysia? Are there other cities that you should be considering besides Kuala Lumpur?
If you want to establish a personal or corporate base in Malaysia, set up a call with us today. We'll tell you how Malaysia fits into your holistic offshore strategy.
Where to Live in Malaysia
Not everyone likes to live in big cities. Some people want a suburban environment, some want the beach. Everyone's a bit different. Hopefully, you'll be able to find a place that can best fit your needs on this list.
In general, you want to be looking at places in Peninsular Malaysia. There are two different parts to Malaysia: Peninsular Malaysia (West Malaysia) and Borneo's East Malaysia. The two different parts are completely separated from each other by water and aren't connected by land.
The Borneo part of Malaysia is made up of Sabah and Sarawak. There are a few places in this part that you might want to live in. The tax haven Labuan is there. Brunei is a tiny little sultanate stuck in the middle. But there aren't as many opportunities for most people to live there, so you should focus on Peninsular Malaysia.
Within that region, there are four main places that we would recommend: Kuala Lumpur, Penang, Langkawi, and Malacca.
1. Kuala Lumpur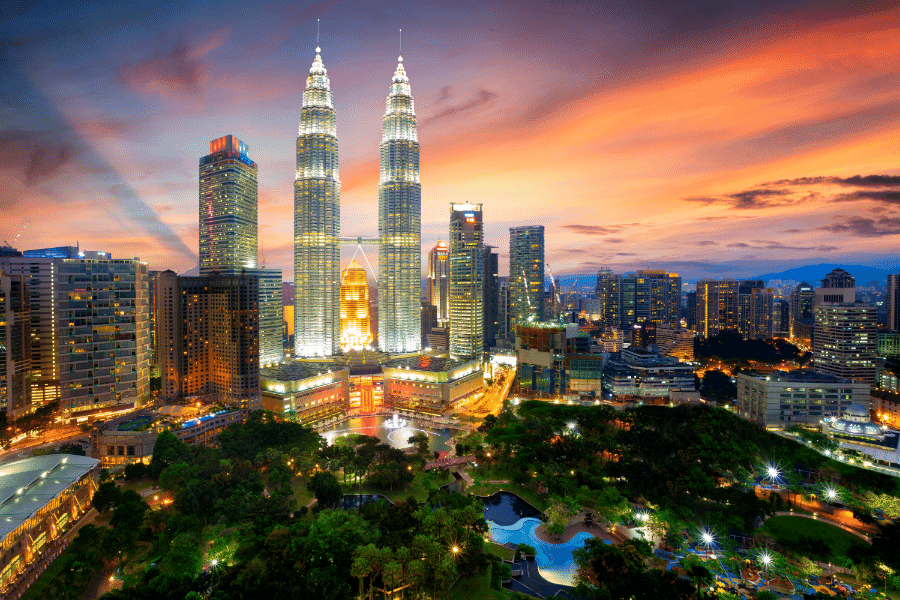 Kuala Lumpur is the main city and hub. It's got all the consumer conveniences. There are malls on every corner. Whether you like to shop or dine out every day, you'll love Kuala Lumpur.
Kuala Lumpur has a great airport that's well-connected both regionally and globally.
KLCC (Kuala Lumpur City Center) is an amazing place to live in Kuala Lumpur. That's where you can find the Petronas Towers, the KLCC park, and all the embassies. It's the commercial city center.
The government is establishing several other commercial centers too.
Mont Kiara is one of the biggest cul-de-sac in Malaysia. It's a place where you'd probably need to have a car to live there.
If you're a wealthy local, you might live somewhere like Damansara in Petaling Jaya.
What's interesting about Malaysia is that you can buy an actual home, or as they call it, a landed property. You don't have to live in an apartment. You can rent a home. You can even buy a home because foreigners can own land in Malaysia. It's one of the few places in Asia where you can do that. Even in Kuala Lumpur, there are opportunities to buy land and own a home.
If you want to buy quality real estate in Kuala Lumpur, check out our Real Estate Plan. We can help you buy excellent foreign real estate like a local.
You can read more about living in KL in our guide to this hidden gem for expats living in Asia.
2. Penang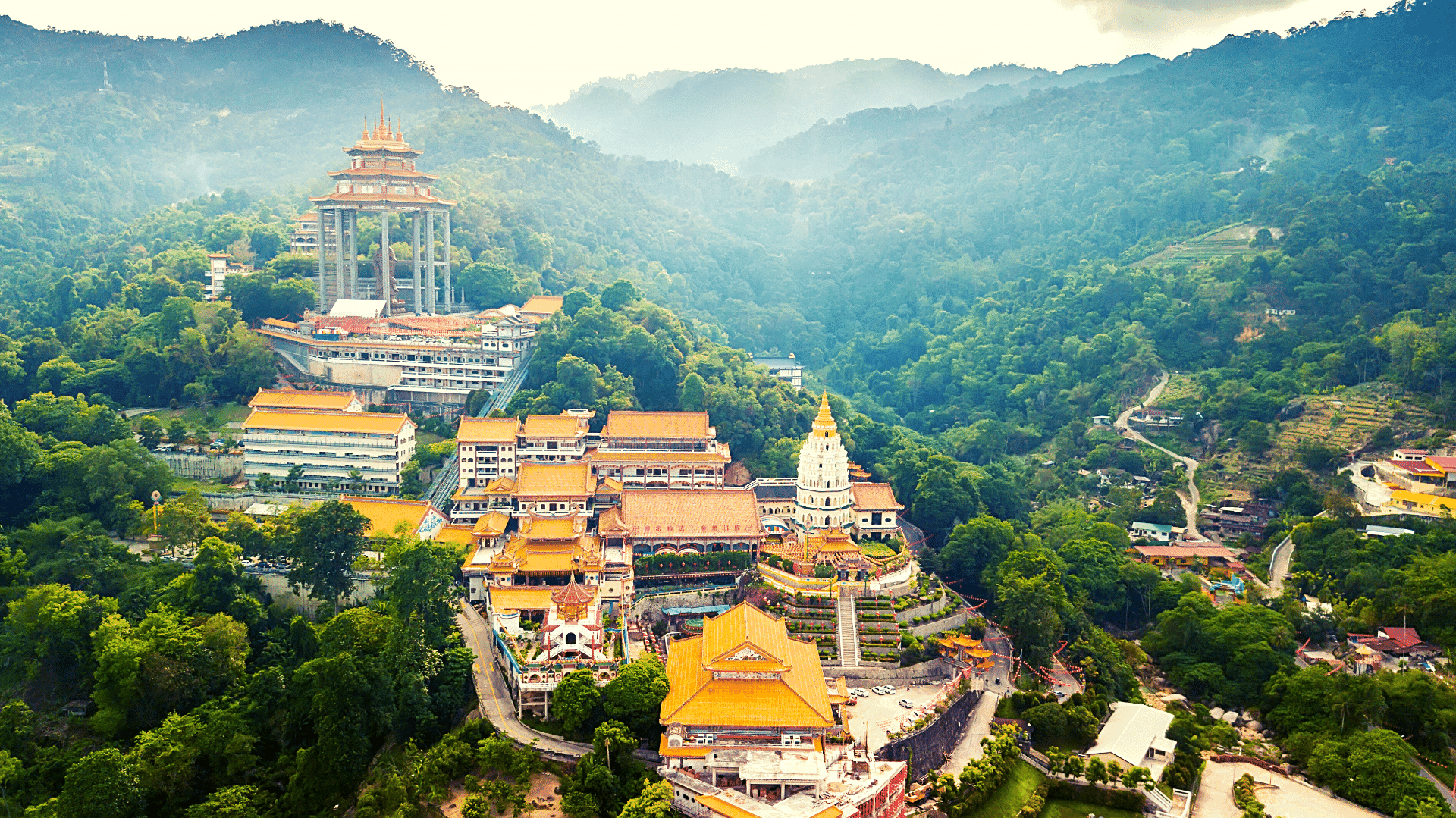 If you like more of a traditional Southeast Asian vibe and you want to be near the water, then we'd suggest Penang.
Penang is basically the Chinese majority part of Malaysia. Malaysia has numerous different ethnic groups. In most places, Malays are the dominant group, but Penang is a dominantly Chinese area.
The part of Penang you would generally live on is an island connected by a bridge. It's not a tourist island. It's the second-largest metropolitan area in the country.
You could live in George Town, which is a very interesting place. You've got more street food, different stalls, and a more Asian vibe.
You've also got a beach. If you drive around the coast, there's Batu Ferringhi and other different areas along the coast where you can actually live right there, on or near the beach. You can find a villa or a sea-view apartment. Or, you can find places near the city center.
The closest place to the beach that most people go to would be Port Dickson which is about an hour away.
But if you really want to be on the water, then you want to look at Penang.
3. Langkawi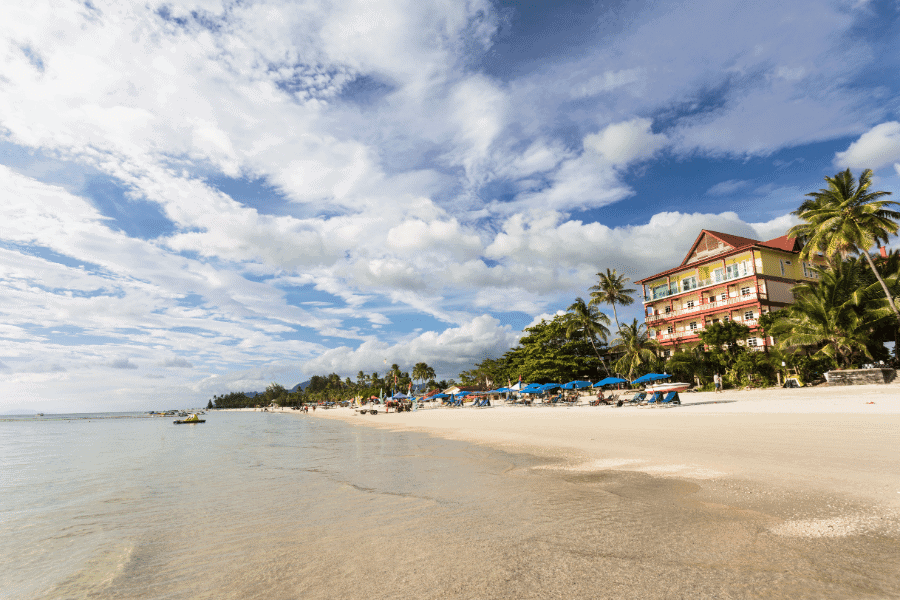 If you want to be in a resort area, you can go to the island of Langkawi.
Langkawi is a duty-free island in Malaysia. It's located in the Andaman Sea, up very close to the Thai border.
In Langkawi, you can buy everything duty-free and then bring it back wherever.
Langkawi is a lot more remote and has more of a rural feeling. That's certainly changing as they've gotten a lot of development in recent years. They are building many hotels there these days, including five-star hotels. They've also built more properties like sea view condos and villas that you can find for sale.
The challenge in Malaysia (which isn't really a challenge) is that properties tend to be larger. In many other Asian cities, you're going to be jammed into a shoebox apartment or a three-bedroom that might only be 700 square feet.
In Malaysia, it's very spacious. It's hard to find a smaller villa in some of these places, especially in Langkawi. It's hard to find a lot of real estate available up there.
Langkawi has a much more laid-back, slow pace of life. In Kuala Lumpur, you're spoiled for choice. In Langkawi, there are fewer options.
Recently we've seen more freehold projects in Langkawi. Generally, Langkawi had a lot of leasehold projects where you didn't own the actual land, you just had a lease on it. Now, there are more freehold properties.
In both Penang and Langkawi, we are seeing more services show up. Qatar Airways is flying there now, and there are more international connections. You don't have to go to Kuala Lumpur first to be able to get anywhere else.
But while there is more available now for getting in and owning, Kuala Lumpur is still the most developed area out of these places.
4. Malacca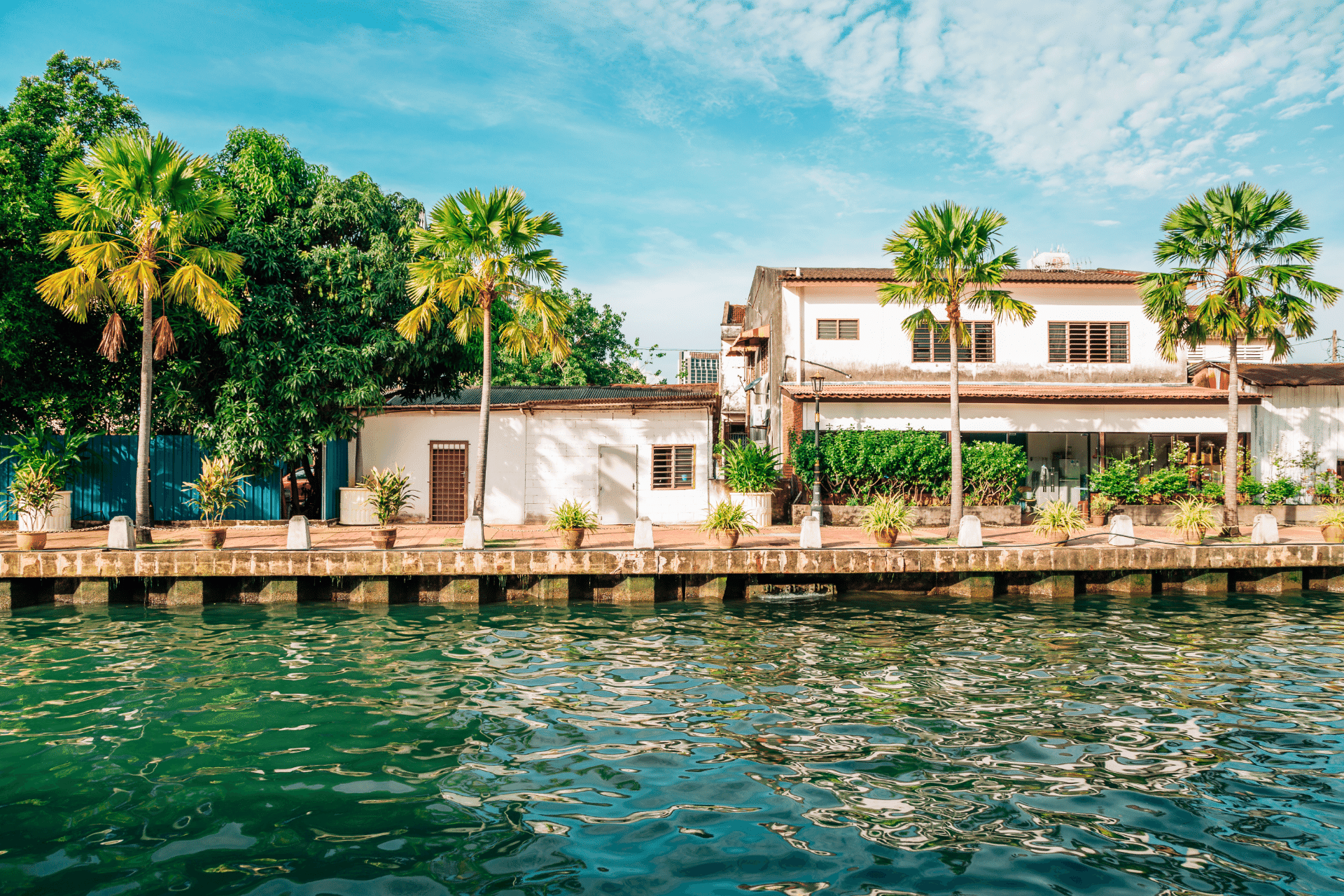 Malacca is more of a wildcard. It's a great weekend destination.
Malacca is located on the water right on the coast of the Strait of Malacca, which divides Malaysia and Indonesia. It's about two hours south of Kuala Lumpur.
This is a place that many expats might want to consider as a home base. Malacca has more of a Southeast Asia backpacker feel. There is a variety of many interesting cultural influences, from Malay to Portuguese to Dutch.
Malaysia is generally a very multicultural country.
Malacca is a good place if you want a bit of a slower pace of life. It's a little more disconnected. Things are a bit slower. Still, you're not going to be that far away from the KL airport.
Do You Want to Live in Malaysia?
There are a lot of beautiful places in Malaysia. You've got many options. For most people, it will come between Kuala Lumpur versus Penang, with some of the smaller beach outposts as wildcards.
But there are many options to choose from.
Moreover, the best part of living in Malaysia is that you can own landed property there as a foreigner – something that is a rarity in Asian countries. Vietnam, Singapore, Cambodia, etc., do not allow that.
Malaysia can be a great place for you to live full-time, part-time as part of your Trifecta strategy, or just to visit.
If you want to establish a personal or corporate base in Malaysia, set up a call with us today. We'll tell you how Malaysia fits into your holistic offshore strategy.