Last updated March 5, 2020
Dateline: Kuala Lumpur, Malaysia
I'm sitting at the Kuala Lumpur Airport Low-Cost Carrier Terminal, and directly in my view out onto the tarmac is the AirAsia jet that will take me the 50 minutes or so to Singapore.
It's not the first-class travel I'm used to, but for $11 plus a few taxes, it was a hard deal to pass up. Even on my way to the gate, I checked the ticket kiosk for tomorrow's departures — still just $11 one-way, a rarity for low-cost carriers.
What most of my fellow passengers probably don't know is AirAsia's secret to maintaining such low fares.
On the other half of Malaysia lies an obscure offshore financial center that has quietly been attracting a small following of businesses since establishing itself 30 years ago. The autonomous region of Labuan is Asia's well-kept secret and is home to several thousand international corporations, including Malaysia's AirAsia.
MALAYSIA'S OFFSHORE JURISDICTION
Labuan is an interesting place. As an autonomous region of Malaysia, it is given wide latitude to govern its own affairs. Yet, it is also part of Malaysia, which allows it to avail itself of a number of benefits of Malaysian sovereignty. Those benefits include tax incentives for foreigners.
Back in the 1980s, Malaysian leaders got together looking for ways to attract businesses seeking economic freedom. Hong Kong was the 800-pound gorilla in the Asian offshore sector at the time, and Malaysians wanted in on the game. So, they declared Labuan – a small island off the coast of Borneo near Brunei – as the latest offshore jurisdiction.
The idea was simple: offer low and no-tax corporate structures for Asian and foreign businesses and attract investment to the region.
Thanks to Hong Kong's continued economic freedom under Chinese rule, as well as other jurisdictions like Singapore, Labuan has remained largely under the radar.
Yet, it has become more popular with some Asian businesses. And its connection with Malaysia makes it an interesting proposition to consider.
How to Set Up a Labuan Offshore Company
Setting up a company in Labuan is straightforward. You can do so with only one director and one shareholder; foreigners qualify to be both. Your offshore company can be incorporated in just a couple of days.
Labuan has full access to the sovereignty of Malaysia. That includes access to Malaysia's nearly seventy dual taxation agreements with other countries (it's important to note that the US and Australia do not recognize Malaysian treaties for Labuan). A foreigner using a Labuan company can therefore elect to be taxed in Malaysia rather than at home using the tax treaty.
And tax rates in Labuan are low. Holding companies — those that hold fixed assets or collect dividends, royalties, or other passive incomes — are free from tax on all earnings sourced outside of Malaysia. Whatever you earn is yours to keep, and there are no other superfluous taxes or fees.
For businesses that trade with the public (i.e., an internet business or an airline) you'll be subject to a flat rate of 3%.
There used to be an option to choose the 3% tax or a flat tax of 20,000 Malaysian ringgit (around the US $5,000), but with changes to the tax policy in 2019, the flat tax option was abolished.
Like any other offshore jurisdiction, the government does require you to pay an annual fee of around $750. It's more expensive than a place like Seychelles, but it comes with a better image.
The government also requires you to file an annual report with a statement of your accounts. This puts Labuan in line with other stable offshore centers like Hong Kong which require a bit of extra reporting.
If you're looking for something more than just a boiler plate locale, this can work to your advantage and may be worth the extra expense.
Malaysian Residency with a Labuan Offshore Company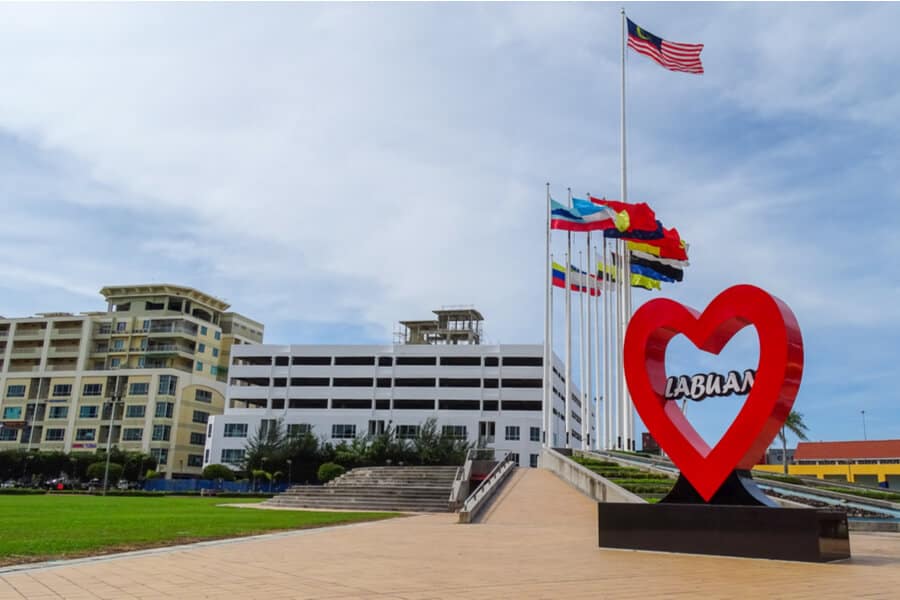 If you want to run your company from Labuan, you will need to get a Malaysian residency. You can use the MM2H program to get a ten-year residence in Malaysia, but your Labuan offshore company will actually entitle you to a residence permit that is specific to Labuan
You can get a Multiple Entry Pass for travel into Labuan by hiring yourself as a manager of the company. The pass is valid for two years and can be renewed every two years.
The benefit is that your whole family can live in Malaysia with this Pass. However, there is not a permanent residency or citizenship option with this pass.
Obtaining a work permit for Malaysia can be a good option for entrepreneurs or businesses with a decent amount of capital.
While you might have a difficult time starting a company elsewhere in Malaysia, Labuan offers work permits geared towards professionals looking to start their business in the country.
This is an easy way to help fast-track your business into the Malaysian market.
Laubuan's work permit comes with other perks as well. It allows 100% ownership of the business by a foreigner and gives the right to hire a few foreign employees without extra costs.
How Does Labuan Compare to Other Offshore Jurisdictions?
Unlike places in the Caribbean where many banks could raise some cause for concern, Labuan is home to a long list of familiar banks, from DBS to Bank of America and JP Morgan to BNP Paribas. It's a serious financial center, as opposed to some others where hack lawyers quickly churn out corporate paperwork like a mill and charge for introductions to questionable banks.
The good news is that anyone can come to Labuan and open an account. It's more open even than Hong Kong, where banks often play coy about opening a bank account with them.
Also, because Labuan is part of Malaysia, you'll enjoy being at the confluence of Asian and Islamic culture. Kuala Lumpur has declared its interest in becoming the world's Islamic finance capital, and having access to these two spheres of influence can be very helpful.
Despite the Islamic influence in Malaysia, Labuan mostly uses common law, and non-Muslims are not subject to any Islamic finance dictates. The only real restriction is that you can't settle transactions in ringgit.
In addition to companies like AirAsia, many wealthy Asians — especially Chinese — have begun to learn more about Labuan as another option for conducting business overseas. If you're looking for an offshore company with a bit more flexibility than some of the banana republic jurisdictions, it might be one worth considering.
If you are interested in conducting your offshore business in Labuan, contact Nomad Capitalist for our expert advice.