Dateline: Kuala Lumpur, Malaysia

Let's have a little fun today.

We frequently discuss the reasons to relocate from the bankrupt western world to one of my "new safe havens". In addition to being fiscally insolvent, western nations like the United States have used their financial woes to turn up the heat on everyday citizens with the police state and other draconian tactics.

But here's a more light-hearted reason to escape the United States: you can save a lot of money on air travel.

There are so many opportunities around the world that I can't make time to see them all in person. Right now, I'm doing a deal on a piece of Cambodia real estate and scouting out opportunities elsewhere.

I recently visited Panama City to get the latest on the country's easy residency program, a new private vault, and several other projects. And later this year I'll be in thirteen different countries in Europe, starting with a private meeting in Monaco for Members of my private mastermind. And having a home base here in Malaysia offers me some of the cheapest airfares in the world whether I'm flying within Southeast Asia or further afield to the Middle East or Europe.

On the other hand, the "cheap fares" I occasionally seek out for my friends living in the United States seem to get higher every time I turn around. In the Land of the Free, low oil prices and grouchy service from overweight flight attendants haven't stopped airlines from raising prices.

The days of me flying from the west coast to Brussels, Madrid, Rome, and even Singapore for $600 round trip are long gone. There just aren't many deals for North American fliers, causing further isolation and giving US persons more reasons to stay home.

Recently, I tracked the best "reasonable" airfare from Los Angeles to Kuala Lumpur at over $1,500… more than three times the price of flights from here to Paris or London, roughly the same distance away. (Don't miss my even more shocking example below.) Air travel in Asia is incredibly cheap. Low-cost carriers like AirAsia have helped drive prices down.

Just the other day, I flew from Hong Kong to Kuala Lumpur on the excellent Malaysian Airlines for all of $10 more than the no-frills AirAsia ticket; I paid another $100 more to upgrade to their excellent first-class service. Here, even the cheap airlines have pleasant service. Singapore Airlines here, and Qatar, Turkish, and Emirates in/around the Middle East, are some of the best airlines in the world. Yet their fares are so darn cheap. It must be all of that freedom in the United States. Fares in Europe are similarly cheap, with a slew of low-cost carriers whose service is marginally improving, and dirt-cheap fares all over the continent.

For some reason, it costs $402 to fly from Los Angeles to Newark, yet WizzAir can get you from Budapest to London for $73. I decided to use one of my favorite tools to scout out cheap fares to just about anywhere: Kayak Explore.

While Kayak has fallen out of favor with some as flashier competitors arrive, its Explore function still allows you to search the cheapest airfares by origin city, departure month, or even the weather at your destination. Bargains from the United States to the places you want to live, invest, and do business overseas are few and far between, but cheap airfares are plentiful if you live in Asia. Bonus: no TSA hand down your pants or even on your genitals. Compare all of that to airfares from my native Cleveland, where you can barely go anywhere in Europe for less than $1,000 (and forget about Asia), even though it is closer to those cities than Kuala Lumupur is.

Some of the best fares on Kayak turned out to be unreliable, as is common for US fares. While you could replicate many of these deals from other Asian cities like Bangkok, Singapore, or Hong Kong, here are some highlights for cheap flights from Kuala Lumpur (all fares are round trip).
Cheap airfares for living in Asia (from KUL)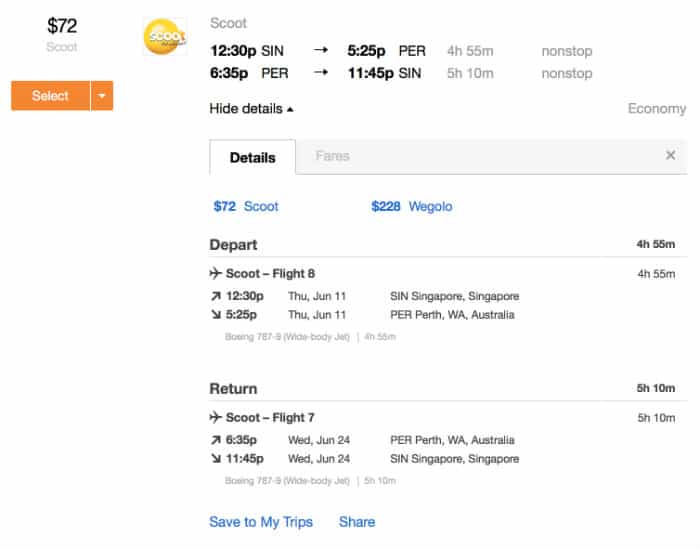 $29 to Singapore to check on your Singapore bank accounts (or open your first one), or offshore gold. With all the money you save, you can stay in one of the city-state's ridiculously priced hotels.

$56 to Jakarta non-stop on AirAsia to check out property deals as the currency falls.

$105 to Macau non-stop on AirAsia to gamble (or bank in Hong Kong next door)… and see why the place is trouncing Las Vegas as a gambling mecca. (A 4-hour flight that would cost four to five times that in the United States.)

$298 to Melbourne non-stop on AirAsia to see the kangaroos. Sydney is $339.

$310 to Jeddah, Saudi Arabia non-stop on AirAsia to do business in the Middle East, perhaps the most friendly (and most untapped) emerging region of western entrepreneurs.

$422 to Cairo through Jeddah on Saudia Airlines… tomorrow. You'd better hurry if you want to see the Pyramids this cheaply.

$497 to Paris CDG through Ho Chi Minh City on Vietnam Airlines in April, the middle of spring tourist season and a beautiful time to visit the City of Lights $522 to Moscow through Ho Chi Minh City on Vietnam Airlines with multiple dates available if you're doing any palladium business or just looking for Edward Snowden.

$625 to Dublin with a layover in London in Malaysian Airlines in May. I've been to Dublin in just about every month of the year and May is a great time to visit. Those fares are just some of the cheapest, on top of the ultra-low fares to nearby vacation spots for weekend getaways.

Malaysia is home to some great islands and party spots, such as Penang for just $29 round trip. Beaches in the Philippines are barely $100 away. Try getting to Las Vegas or South Beach for those prices. On top of that, you can easily fly in and out of Singapore for additional opportunities, including a non-stop flight from Singapore to Sydney for just $161 round trip, and a $72 (!!) round trip from Singapore to Perth, Australia. Granted you have to fly on low cost carrier Scoot, and you'll have to pay for so much as a sip of water, but compare this deal to the cost of a similar five-hour international flight in North America and it's worth it: It's not like service on US airlines is exactly doting. The bottom line is this: travel for both business and leisure is a lot cheaper here in Asia, almost no matter where you go.

The main exception is Canada and the United States, where air travel prices have gotten out of control as crony governments allow less and less competition and the arrival of carries like Virgin America haven't stopped prices from rising or improved service on mainline carriers. To add insult to injury, US airlines have now gutted their frequent flier mile programs, removing the last reason to fly on them.

Flying through airports like Frankfurt, Istanbul, and Hong Kong has given me access to some of the world's best lounges, with free flow champagne, pizzas cooked in wood-fired ovens, and even a piano player. Compare that to a few pieces of moldy cheese and the bad attitudes of US lounges and you'll realize flying in the United States has become dreadful.

A whole new world of opportunities awaits you, as does thousands of dollars a year in travel savings.

The whole process of traveling is a lot easier and a lot cheaper when you're not flying from a bankrupt western country.