Dateline: Singapore
All around the world, the War on Cash is intensifying.
Just recently, a friend of mine in Chicago called me with what he thought was a weird story: he was trying to deposit $500 into his friend's bank account at a local bank branch, and the bank wouldn't allow him to.
The teller explained to him that while he was free to use their mobile app to transfer money to his friend electronically, cash deposits to third-party accounts were no longer allowed.
Of course, this story wasn't news to me; I've been aware that banks have been cracking down on cash for years now.
The last US business I invested in dealt in a minimal amount of cash, and I would get reports that depositing the occasional $1,000 cash payment into our own bank account would raise the eyebrows of bank tellers.
And yet another friend of mine once tried to withdraw $5,000 in cash from his US bank to buy a motorcycle, only to be told that his local branch didn't keep that kind of cash on hand, only to ask why he would need such a sum in hard currency anyway.
This is not limited to the United States. In fact, while the United States has such an aversion to cash that law enforcement often seizes large sums of it from innocent parties, it is not even the worst country in the world in executing the War on Cash.
In Europe, things are even worse. For years, the European Central Bank talked about killing the 500 euro banknote, claiming the usual prattle about "terrorism" and "drug running" and "money laundering".
You would think that monetary authorities could do better than repeating the same tired lines that are thrown around so carelessly as to be largely unbelievable, but the average citizen laps it up as they move to credit card and touchless and mobile payments.
Now, I prefer to stay away from the doom and gloom and sky-is-falling tactics that many talk about when discussing the modern War on Cash. I don't mind using credit cards when I can earn points, including credit cards issued by US banks like American Express.
However, I do appreciate the value of holding cash, and as a Nomad Capitalist who places a premium on space in both my homes and in my luggage when traveling, the idea of carrying around a brick of currency worth a few hundred bucks is frustrating.
For years, I have not only studied the historical cancellation of large value banknotes in the United States and abroad but watched as recent history continued the trend. There has even been talk of removing the $100 bill from circulation in recent years.
Countries like Singapore, meanwhile, have tightened up their cash reporting requirements upon arrival and departure.
However, the War on Cash is largely reserved to the west. Bankers in the Middle East will tell stories of pallets of cash arriving at the door and being wheeled into the backroom. Or just go to Hong Kong at Chinese New Year and watch tellers wheeling piles of small bills out to eager well-wishers at your neighborhood bank branch.
But what If you'd like to store your own cash, minus the pallets?
While I have long been familiar with banknotes such as Singapore's now-endangered S$10,000-note, I wanted to know all of the largest banknotes in circulation.
Here is what I found; the largest value banknotes in the world:
10,000 Singapore dollars (SGD)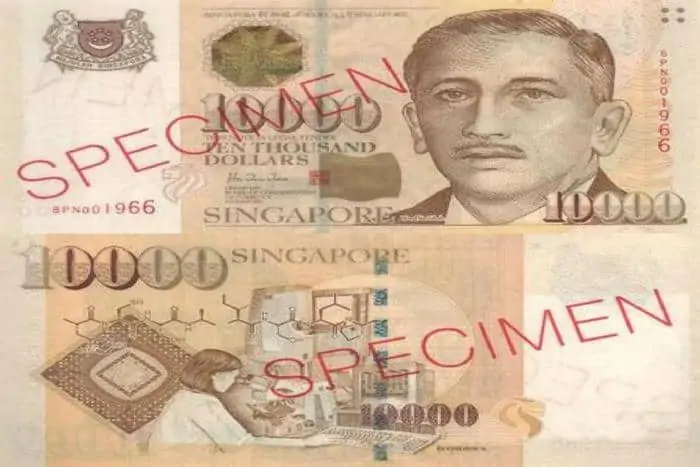 For some time, Singapore has held the world record for largest value of a single banknote.
While most banks don't deal much in these 10,000 "Sing dollar" notes, they are available. And up until recently, you would have to fly out of Singapore with three of them – worth S$30,000 – before triggering currency reporting requirements.
Sadly, Singapore is becoming a bit more conformist as they recently decreased their reporting requirements to S$20,000. Presumably, for similar reasons, the Singapore Monetary Authority has announced plans to phase these high-value banknotes out.
If you believe that banks will still honor these notes in the future, you'd better hurry to grab yours now.
Value in USD: $7,645 (as of January 2018)
10,000 Brunei dollars (BND)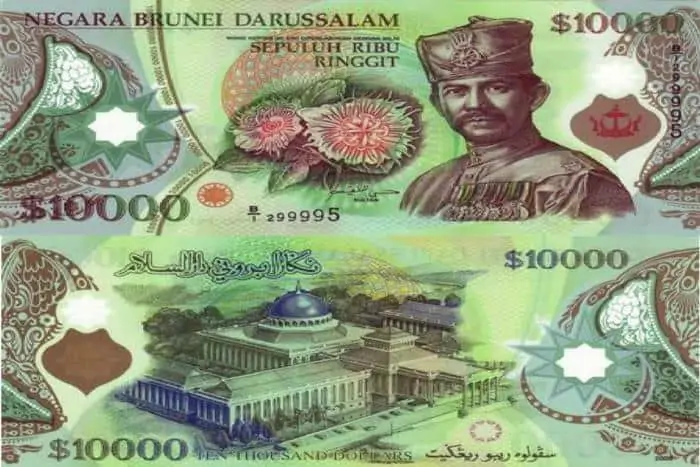 Here's an interesting loophole: the Brunei dollar is issued and controlled by the Monetary Authority of Brunei Darussalam, and therefore totally under control of the oil-rich microstate.
However thanks to a currency interchangeability agreement from the 1960s, Brunei's currency is freely changeable into Singapore dollars. That means that even as Singapore plans to phase out its own $10,000 note, Brunei can issue the same denomination with the same value. While there are no guarantees as to how easily Singapore money changers will accept high-value Brunei notes in the future, I am confident that Brunei is wealthy enough to not bow to pressure from foreign powers to ax the B$10,000 note.
Value in USD: $7,645 (as of January 2018)
1,000 Swiss francs (CHF)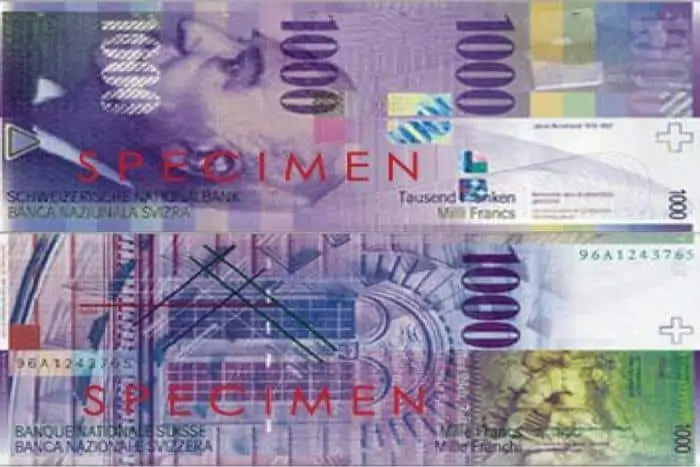 While Swiss banking is almost entirely off-limits to US citizens and those without large balances, Switzerland has bucked the western trend of eliminating high-value banknotes by maintaining its 1,000 franc note. Best of all, the Swiss government has indicated the purple note as here to stay. As with other high-value banknotes, most Swiss have never seen their currency's largest bill, but the central bank believes that "the size of a banknote had no impact on efforts to combat crime".
Value in USD: $1,068 (as of January 2018)
1,000 Singapore dollars (SGD)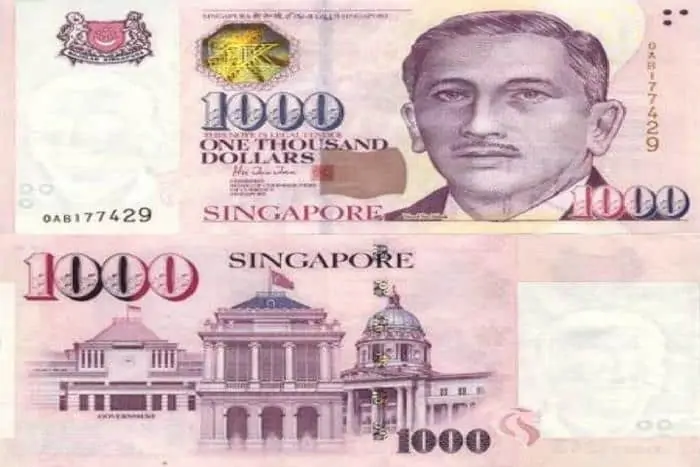 Singapore makes this list twice, this time with it's 1,000 "Sing" note.
Unlike its larger counterpart, the S$1,000 notes are actually readily available. As an experiment, I recently brought 3,000 Malaysian Ringgit to Singapore to exchange and deposit into my Singapore bank account, and there was no shortage of (rather abrupt) money changers in "Change Alley" willing to offer me excellent rates.
In the end, I walked away with the supersized note, which is larger than almost any other banknote I've held.
Value in USD: $765 (as of January 2018)
500 European Union euros (EUR)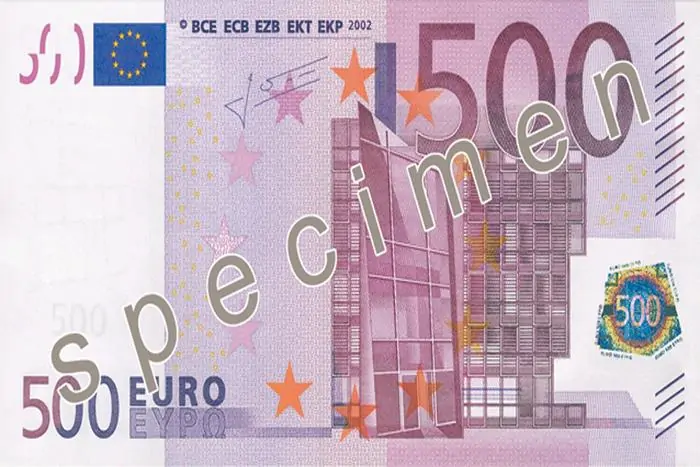 While the European Central Bank has long discussed – and is now accelerating – the process of phasing out 500 euro notes to stymy the guns-and-drugs crowd, these banknotes remain in circulation despite a promise to phase them out by the end of 2018.
That means you better hurry. I wonder how Germans will be convinced to hand over their large notes, considering they wanted a replacement for the 1,000 Deutsche Mark notes that the euro replaced.
How exactly the situation will play out is unsure yet, but unlike the Swiss, the ECB believes they "can no longer ignore" the negative effects of large banknotes in circulation.
Value in USD: $620 (as of January 2018)
1,000 Emirati Dirhams (AED)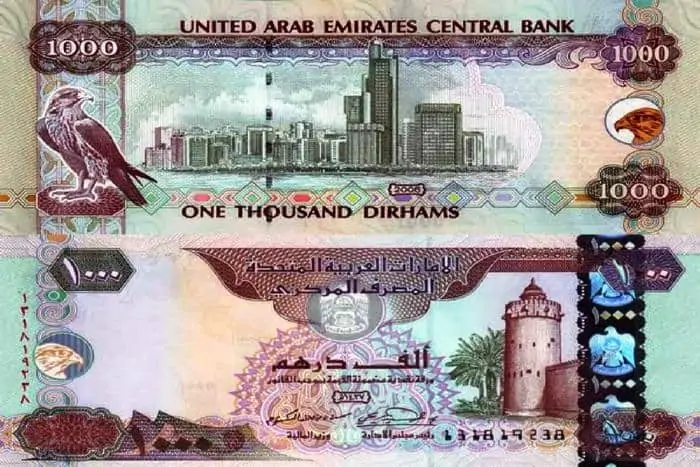 Not only is the United Arab Emirates a non-extradition country, but it's also on the forefront of the fight against the War on Cash.
While some mass market Emirati banks won't want to accept huge stacks of hard cash, "cash" is not a dirty word in the Emirates, and the central bank reportedly has no plans to discontinue this higher-value note.
Like the Hong Kong dollar, dirhams are pegged to the US dollar at the rate of 3.675 to 1, meaning your dirhams offer any perceived stability of US dollars with the ease of use and convertibility in a country that is happy to deal in actual paper money.
Value in USD: $272 (permanent peg)
100,000 Armenian dram (AMD)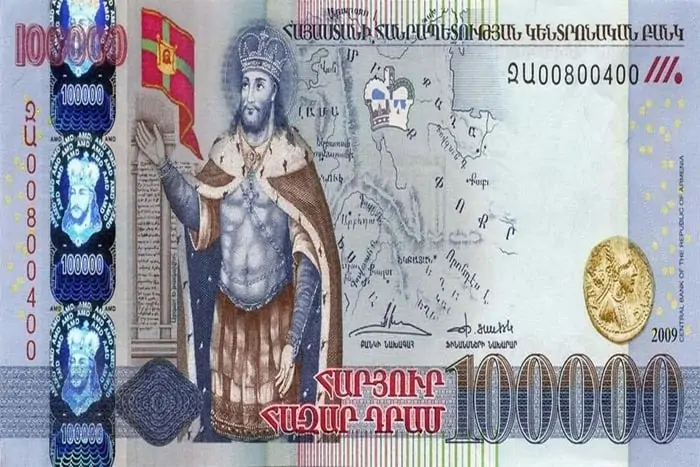 The tiny country of Armenia just a quick drive from my home in Tbilisi – is actually the issuer of one of the world's largest banknotes in circulation today.
The Armenian dram has a historically high conversion rate of about 500 to one US dollar, leading to a six-figure denomination banknote. The dram features the same beautiful imagery as seen on the Georgian lari, and the largest note features the historical ruler Abgar V of Edessa. The Armenian central bank has rolled out a new, third series of banknotes for 2018 which omits the 100,000 dram note, but there has been no explicit mention that it will not be allowed to circulate.
Value in USD: $207 (as of January 2018)
1,000 Hong Kong dollars (HKD)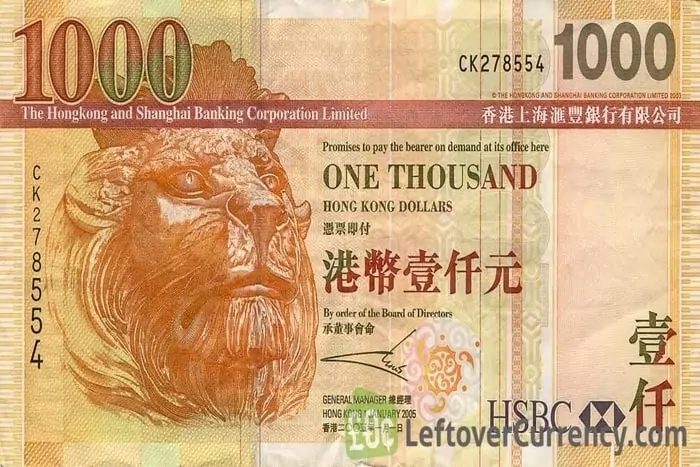 While Hong Kong's HK$1,000 notes are not worth much more than a $100 bill from the United States, they do offer several advantages over the greenback.
For one, Hong Kong actually has a sound monetary policy that means the territory isn't constantly one step away from a currency crash. What's more, investors like Jim Rogers have suggested that Hong Kong de-peg from the narrow band of the US dollar, and instead re-peg to the Chinese renminbi at par, or even discontinue the dollar in favor of RMB altogether. If that were to happen, the Hong Kong dollar would see instant double-digit appreciation. With China assuming greater powers over the islands in 2047, it may be possible. In the meantime, holding Hong Kong dollars is essentially the same as holding US dollars but with potentially greater flexibility.
Value in USD: $129 (permanent peg)
These are the most valuable banknotes in the world. Historically speaking, these notes are worth a fraction of what past high-value paper currency was.
However, past issues like the United States' $100,000 bill are now collector's items that trade at (far more than) their face value, making them not only extremely expensive to acquire but hard to trade. (My local 7-Eleven in Kuala Lumpur can't make change for a 50 ringgit note at times; imagine trying to buy food or ride to safety with a $100,000-bill.)