Dateline: Istanbul, Turkey
The evolution of the working space has seen a lot of trends come and go — from the traditional bricks and mortar HQ to the flexible and nomadic way we can work today in a digital environment. The serviced office sector continues to provide small businesses and start-ups access to facilities associated with larger organizations, as well as the on-demand add-ons of global accessibility and portability.
However, the emergence of co-working spaces is, perhaps, the most exciting of recent developments in how we work. I've covered lots of the benefits of co-working in other articles, but simply put, the main plus points are a collaborative working approach, access to creative local communities, and that all-important freedom from isolation (when you need it).
From those early co-working setups that simply offered somewhere with better facilities to sit and work among other people than the local coffee shop, the range of offerings to the market is now as diverse and as rich as the different types of people using them.
We've looked at some of the best co-working spaces across Europe, Africa and Southeast Asia. And now we've done our homework on another popular area for nomads: Central and South America.
South America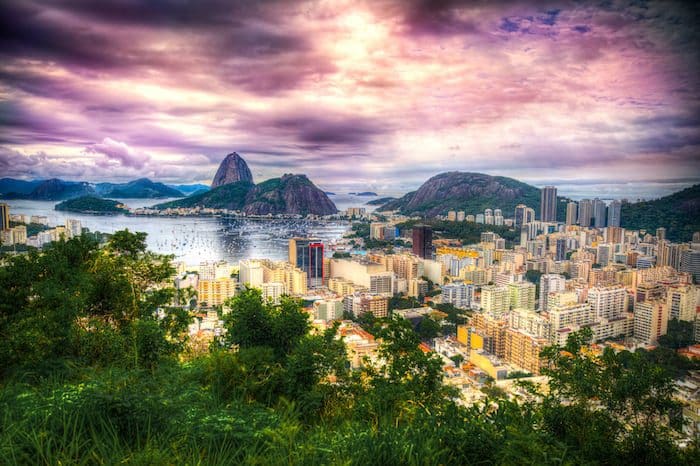 Buenos Aires, Argentina
The capital of Argentina, Buenos Aires is the most visited city in South America and attracts several million visitors each year. Recognized for its contribution to the global economy, this 'alpha' city is ranked 81st in the GaWC5 study. In 2018, it has hosted to not only the G20 summit but also the Summer Youth Olympics.
The population is as diverse as the culture, architecture and industries that call it home. Buenos Aires is home to many major multinational companies including The Walt Disney Company Latin America, NGD Studios, as well as several South American banks.
Situated in the central financial region of Downtown Buenos Aires, the Urban Station Microcentro offers almost 500m2 of the co-working space. The office is centered around an open working space with community tables and a creative hub. The site also offers meeting rooms (up to 12 people) and auditoriums (up to 50 people) for larger or more private events. Residents of the city or regular workers can rent private office space within the building.
The space features high-speed broadband, WiFi with UPS as well as the convenient facilities you would expect from any modern office space. The accommodation is well designed and provides a functional, yet comfortable environment in which to work.
Best co-working space Argentina: Urban Station Microcentro, Planta Baja, San Martín 536, C1004AAL CABA, Buenos Aires
La Paz, Bolivia
Situated high on the Altiplano plateau of the Andes, Bolivia's capital city for commerce and industry is the highest administrative city in the world. At an altitude of 3,660m, La Paz is an imposing city where traditional and modern worlds collide. Historically a region whose wealth was based on mineral mining, the economy has improved significantly over the last few decades, with new start-ups launching in tech, financial and communications markets.
A bustling and sprawling city, La Paz remains a popular destination for people exploiting business opportunities in Bolivia. An important cultural hub for the country, there are lively local markets and year-round festivals which make the city a pleasant place to spend time.
When it comes to finding a space to work, the co-working culture has yet to take off in the city and there are few places available in the main commercial districts. The Co-Work Café on Gabriel René Moreno & Enrique Peñaranda is a few km outside of the central district.
The Co-Work Café has ample space, good facilities and, in a city where WiFi and cell-phone signal strength can be an issue, excellent connectivity. The décor is warm and inviting and has the ambiance of a city coffee house, but with private working spaces and meeting rooms available.
Best co-working space Bolivia: CoWork Café, Claudio Aliaga #1239 entre Gabriel René Moreno y Enrique Peñaranda
Belo Horizonte, Brazil
Surrounded by mountains, the city of Belo Horizonte in the south of Brazil is the main economic axis for the country. The city's GDP is approximately US $28 billion and major global firms have made Belo Horizonte their home, including Oi and Google.
The city has a reputation for its burgeoning start-up scene and was featured in The Economist in 2013 as the next 'would-be Silicon Valley'. With private and public funding, many of these enterprises have gone on to great success, particularly in the fields of biotechnology and information technology.
Though not as popular with tourists as Rio or Sao Paulo, Belo Horizonte does attract many visitors to add to its population of 2.5 million citizens. Though many visit on business, the city offers vacationers plenty to do and see. The city's football stadium, Mineirão, is one of the largest in the world and is a popular venue for the country's number one sport.
The city has a huge range of shopping malls, independent boutiques and markets as well as cultural landmarks, galleries and museums. In common with the rest of Brazil's major cities, it is colorful, friendly and diverse. It has a reputation for being a city of small-town people with a strong community spirit.
Situated in the extremely popular Belvedere district, Elo Coworking offers a focused and professional co-working space. The neighborhood is convenient for banks, coffee houses, shops and parking and is an upmarket area of the city.
Elo is home to several established start-ups who use the space to collaborate and network with other freelancers and entrepreneurs. Contemporary by design, the offices are clean, bright and spacious. All members have access to meeting spaces, lockers and high-speed internet, as well as free tea, coffee and snacks. For bigger events, there is an auditorium that can suit conferences, workshops or large meetings.
Depending on which plan you opt for, access can be from 20-150 hours or you can choose an unlimited package. The building in which the offices are situated is modern and has security access as well as an outside seating area and parking.
Best co-working space Belo Horizonte, Brazil: Elo Coworking, R. Desembargador Jorge Fontana, 80 Belvedere Belo Horizonte
Campinas, Brazil
Known for its density of industrial companies, the Campinas region is home to almost 18,000 industries. One of the largest industries is the petrochemical sector, with the country's largest oil refinery located just a few miles outside of the city.
The city is also home to major companies in the pharmaceutical, automotive, IT and telecommunications sectors. In fact, there is scarcely an industry that isn't represented in this densely populated city.
With its university being accredited as the second-best in Latin America there is a wealth of talented individuals educated in the city. Graduates have numerous employment choices and many opt to start their own businesses. Campinas is an ideal place to do this as it boasts the largest number of business incubators in the country.
Home to the seven wonders of Campinas, the city attracts tourists as well as business visitors. From the Metropolitan Cathedral to the Culture Station, the Old Market to the Castle Tower, Campinas is rich with cultural tradition as well as its commercial enterprises.
The arts scene thrives alongside the business district and boasts three theaters, a symphony orchestra plus dozens of galleries and museums. The city is well connected with good transport links and has become a popular hub for visitors to the mountain region around Campinas.
Umb.Co23 offers co-working space in the Botafogo region which is central to the city. The space is modern, bright and the collaborative zone is split over a double-height mezzanine office. It is a professional environment that offers access to a focused workspace. The facilities are excellent and the management team is friendly.
Packages range from R$610 (US $190) to R$800 (US $250) per month and include access to the businesses consulting community network. Access to amenities is included in all memberships. Access to the meeting room spaces are based on your package or can be hired by the hour.
Best co-working space Campinas, Brazil: Umb.Co23 R. Dr. Antonio Alvares Lobo, 547, Campinas
Porto Alegre, Brazil
The southernmost capital city in Brazil, Porto Alegre is home to 1.5 million inhabitants and is an important agricultural and commercial hub. Situated at a delta on the junction of five rivers, the port is an essential contributory to an economy rich in export trade. Principal trades are in wool, soybeans, avocados, leather and rice. It is the second largest city in Brazil and has an extremely high quality of life.
The city is also a major player in Brazil's electronics and petrochemical industry and is an important financial capital. Porto Alegre contributes around US $9.4 billion to the country's GDP. Home to two large universities, the city has a thriving start-up scene that benefits from good investment from both the public and private sectors.
Home to some of the most important cultural sites of the gaucho natives, the city is a popular domestic and international tourist hotspot. Both modern and traditional architecture make the city a handsome place to work. Old, narrow streets lined with colonial buildings intertwine with the modernistic, high-rise skyline for a unique architectural experience.
Porto Alegre benefits from excellent transport links. There is an efficient railroad service across Brazil and into neighboring Uruguay and Argentina. The domestic and international airports offer fast access to the US as well as to Europe.
Based in the historic center of the city, Fabricia was the first collaborative co-working space in Porto Alegre. Self-advertising as a 'factory of ideas' providing 'a cozy, collective environment', the space offers a refreshing and creative place to work. With colorful furniture, natural materials and unique styling, the atmospheric energy is alive with opportunity.
Members can choose from a variety of flexible packages which start at just R$6 (US$2) per person per hour and range to monthly costs of R$160 (US $50) for up to 50 hours. Fixed packages start at R$250 (US $80) to R$360 (US $115).
There are also communal working spaces, private rooms and larger spaces available to rent. There's also an outdoor terrace which can be used for events. Facilities are excellent and members can benefit from the high-speed Wi-Fi and the usual office amenities.
Best co-working space Porto Alegre, Brazil: Fábrica de Ideias R. Vig. José Inácio, 355 – Centro Histórico Porto Alegre – RS 90020-110
Ribeirão Preto, Brazil
Nicknamed the California of Brazil, Ribeirão Preto has a reputation for its high-tech economy as well as its year-round sun. The city established its wealth during the 1970s after the oil crises of 1973 and 1979. With the global need for alternative fuels increasing, Brazil looked to alcohol fuel programs as a primary substitute. Success with an ethanol-based fuel called Pró-Álcool, farmers around Ribeirão Preto were given government subsidies with which to grow sugarcane. As a result, the area found prosperity with is agriculture. During this economy's boom, the area was the largest producer of alcohol and sugar in the world.
Ribeirão Preto remains an important province of Brazil and — though it is home to only 660k residents across an area of 651 km2 — is fast becoming a new player in the biotechnology and bioenergy industries.
Ambient CoNectar is located on the southern outskirts of the city and offers a laid-back and casual approach to co-working. The environment is spacious with plenty of natural daylight. There are floor to ceiling glass windows that look out onto a lush green garden in which members can host events or work in the open air. Facilities are modern and the design is contemporary.
Daily rates start at just R$40 (US $12) with fixed packages ranging from 300 (US $95) to R$800 (US $250). Membership includes access to high-speed Wi-Fi, unlimited local phone calls, access to lockers, free hot and cold drinks as well as limited use of the private meeting rooms.
Best co-working space Ribeirão Preto: Ambiente CoNectar Rua Visconde de Inhaúma, 2111. Boulevard – Ribeirão Preto
Rio de Janeiro, Brazil
The seaside city of Rio de Janeiro is a vibrant city and one of the most colorful and diverse locations in South America. From the rain-forests and mountains to the historically important, landmark locations, the city plays host to millions of visiting tourists each year. Of course, tourists add to the existing population of 6 million, so you can expect the city to be bustling at all times.
Rio is a glitzy and fashionable destination and attracts creative entrepreneurs with its artistic and inventive business communities.
The co-working space at Goma is situated in a refurbished and renovated Downtown house. It fosters a very creative atmosphere with the feel of a university common room. The open plan work 'laboratory' is set-up to create cozy hubs for networking and collaborative working with private offices and meeting rooms available to rent by the hour, day or month.
The facilities are modern and include high-speed internet access, air-conditioning and all the conveniences of a contemporary office. There is a kitchen, bathrooms and a 'decompression' zone, as well as multi-purpose rooms that can be flexible to suit whatever event or workshop you are running.
The current community consists of architects, designers and marketing consultants, as well as entrepreneurs in the education, sustainability and communication sectors. Goma has a good energy to it and co-working seems to be at the heart of the productivity of all of the members.
Monthly costs for co-working start at R$420 (USD $130) for access 10 days per month and up to R$677 (USD $212) for unlimited monthly access.
Best co-working space Rio de Janeiro, Brazil: Goma Rua Senador Pompeu 82 Center, Rio de Janeiro
Sao Paulo, Brazil
The 12th largest city on earth by population, Sao Paulo is an important hub of the global financial industry. The state of Sao Paulo is the wealthiest in Brazil and has the largest GDP of the Southern Hemisphere. The city is incredibly diverse with the largest populations of Arab, Italian and Japanese people outside of their homelands. Sao Paolo plays host to the world's largest gay pride festival, is home to the Brazilian Grand Prix, ATP Brasil Open and Sao Paulo Fashion Week.
The city is an eclectic mix of arts and commerce, combining great wealth with diversity of culture. With a richness of tradition that complements the modern attitude and development of the country as a whole, there is little wonder that over 2 million tourists flock to the city each year. With something for everyone, Sao Paolo has a wide range of theaters, restaurants, hotels and entertainment.
As a center for trade, the city hosts over three-quarters of Brazil's business fairs and contributes around US $220 billion to the country's economy. Trading US $3.5 billion each day on the Sao Paulo stock exchange, the city is home to both domestic and international corporations.
Situated in the upmarket Pinheiros district is the Colab CoWorking office. The area is renowned for its association with the arts community and is popular with writers, movie directors and creative entrepreneurs.
Colab CoWorking offers virtual offices, serviced co-working spaces as well as private offices and meeting rooms. The spaces are large, airy and full of natural daylight which enhances the clean and modern design. The atmosphere is professional but relaxed.
Monthly costs start R$100 (US $ 30) which allows up to 4 hours use of the space and virtual business services. Physical desks start at R$675 (US $ 210) which includes full use of the amenities. A private office for up to 6 people costs R$3,795 (US $1,185).
Best co-working space Sao Paulo, Brazil: Colab CoWorking, R Fradique Coutinho, 160, São Paulo, Brazil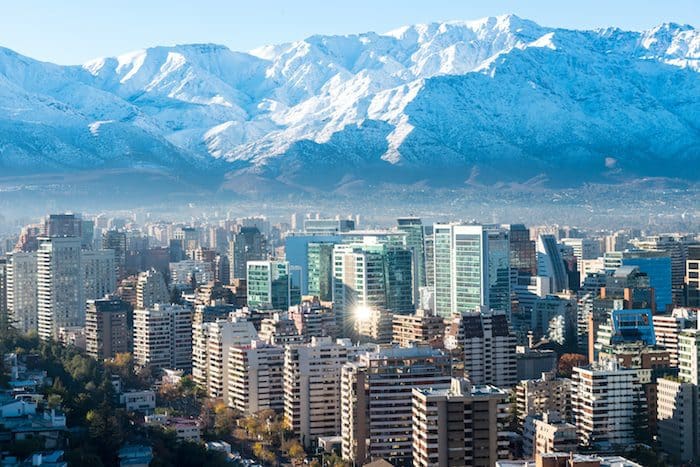 Santiago, Chile
Generating 45% of Chile's GDP, Santiago is not only the capital city but also the center of the country's industrial and finance sector. Home to many international companies, the low government debt, and a strong economy continues to attract businesses to this region. The towering and modern financial district, including Gran Torre Santiago (the tallest building in Latin America), rubs alongside the picturesque 19th-century streets of Downtown.
Santiago is well connected to international transport routes with direct flights available to and from Sydney, Paris and Auckland.
Urban Station has several locations around South America and two co-working locations in Santiago; one is situated in Providencia with the second in Metropolitana. We think the one by Le Golf subway station is the best. It's right in the heart of the financial district. Surrounded by calming green landscapes amidst the modern glass towers, Urban Space provides state of the art facilities in a friendly, creative and professional setting.
The open plan working space acts as a central hub for entrepreneurs seeking the energy of a busy and energetic workplace. Meeting rooms are available for up to 14 people as well as auditoriums which can accommodate up to 24 people.
Best co-working space Chile: Urban Station Enrique Foster 110, Santiago, Región Metropolitana
Bogota, Colombia
From its colonial architecture in the historic downtown to the boutique glamour of the northern district, Bogota is a capital city that embraces its heritage alongside its modern success story. The city is sprawling, covering an area of no less than 600 square miles and incorporating its 7.8 million inhabitants as well as an eclectic mix of commercial, industrial and cultural locations.
As the capital of Colombia, Bogota is home to the country's main financial institutions, as well as representatives from the media, oil and gas, technology and conglomerates sectors.
A popular tourist destination, the city is well set-up with excellent transport links and regular flights across Latin America, the USA, and Europe via Frankfurt, London, Madrid and Paris.
Hub Bog is a flexible co-working space offering a large open plan hub with office spaces benefitting from natural daylight. They offer high-speed WiFi as well as the usual amenities plus a Skype room, ergonomic chairs and table football.
The space is relaxed and is aimed at maximizing a creative atmosphere so work can get done as collaboratively as necessary, while also offering peace and quiet for those that need it.
Daily desk rates start from $40k Columbian Peso (roughly equivalent to USD $14) and monthly rates at $445k pesos (or USD $150). Fees include 24-hour access, free tea, coffee and fruit as well as access to all the facilities offered at discount rates.
Best co-working space Bogota: Hub Bog, Calle 98 # 18-71 Piso 2, Bogota Colombia
Medellin, Colombia
In a turn of fortune, far removed from the notorious reputation that this beautiful city earned itself in the 1980's, Medellin is a diverse city with a rich cultural and creative influence. It has emerged in the 21st century as a hub of Colombia's economic success and is home to several major corporations.
The city itself is lively, energetic and more wealthy than you'd be lead to believe. Famed for its textile industry, Medellin is now an emerging space for the fashion industry. Designers have made the city their spiritual and physical home, playing host to Colombia's premier fashion event, Colombia Moda. And, it's not just the fashion industry that has woken up to smell the roses, the tech sector is also growing at an exponential rate along with other markets.
Alive with opportunity and bursting with ideas, Medellin is an ideal location for both start-ups and established entrepreneurs to do business.
By far the most popular co-working space in this vibrant city is Atom House. Self-advertising with a tag-line of "More than just a co-working space, a community with everything you need for world domination", Atom House is an extremely pleasant place to work. The energy of the open-plan spaces is bursting with positivity, yet the venue also accommodates quieter solo-working, meeting spaces and workshop auditoriums.
Where bohemian falls on the right side of anarchy, the relaxed atmosphere is epitomized in the third floor 'Hackers Lounge' which provides a place to relax, entertain and — with sofa beds and showers — even crash for the night; perfect for those workaholics who don't know when to quit.
A daily pass costs from just USD $6 and includes flex desks, drinks and snacks as well as the usual connectivity and functionality you need for your day at the office.
Best co-working space Medellin, Colombia: Atom House Calle 8 # 43a-49, Medellín, Colombia
Quito, Ecuador
Quito is Ecuador's gateway to the global economy, making it a particularly important economic hub of the country. The city is officially the highest capital in the world, as well as being the closest to the equator. It sits on an active volcano, is part of the Andes mountains and has a population of 2.6 million people.
Quito is a popular destination for tourists keen to witness one of the best-preserved World Cultural Heritage Sites. Dating back to the 17th century, the old town is a bustling area of the city, rich with cultural points of interest, including religious buildings, art and sculpture.
The city is home to many Latin American companies with finance and oil being the predominant industries. In recent years, the country has found success with tech start-ups and Quito is also home to a large community of creative entrepreneurs.
Situated in the heart of the city, WorkingUp offers a co-working space that incorporates the spirit of collaborative and creative working. From the playroom complete with DirecTV and a PS4 to the comfortable napping room, no attention to detail has been spared in this vibrant office. The working spaces are fun and brightly decorated, with additional meeting and conference spaces available.
Prices start at $10 for a day pass to $145 a month for up to 240 hours of flexible access. For more permanent contracts, WorkingUp offers private offices and fixed desks with lockable storage facilities.
There is a lively group of residents in the building who have an innovative approach to the way they work and the atmosphere encourages a community spirit. The facilities are modern and ensure that anyone using WorkingUp has fast connectivity to maximize their productivity.
Best co-working space Quito, Ecuador: WorkingUp, San Ignacio N27-127, Av Gonzalez Suarez, Quito
Georgetown, Guyana
Nicknamed the 'Garden City of the Caribbean', Georgetown is the capital of Guyana and is the country's financial and administrative capital.
With a population of just 118k people across a total area of just 230 km2 the city is small. Surrounded by marshlands and below the level of high tide, Georgetown sits above a network of canals to protect itself from flooding.
The city is an important hub for the country as well as to the Caribbean. Though diminutive in size, the city represents a diverse mix of traditional cultures and showcases an active arts community in contrast to its business activities.
Home to the country's national university, innovative projects and businesses thrive in this area and WeOwn space caters to the growing demand for co-working space.
WeOwn offices are situated just outside the busier commercial district of the city and offer 720 ft2 of collaborative working space. There is a conference room which can accommodate 8 people, as well as an outdoor seating area and communal kitchen. The internet connections are high-speed and reliable and the management team offers a good range of administrative support.
Monthly packages start from GYD6000 (US $30) and range to GYD15000 (US $75). The site also offers walk-in access and charges GYD2000 (US $10) for a two-hour block of time.
Best co-working space Georgetown, Guyana: WeOwn Space, 3 David Rose & Aubrey Barker Street, South Ruimveldt Gardens, Georgetown
Asuncion, Paraguay
Known as the 'mother of cities', Asuncion is one of the oldest known inhabited cities in South America. Home to the national seat of government, as well as being the chief center of industry and the cultural capital of Paraguay, the city proper boasts a population of around half a million people. The surrounding suburbs make up a further two million inhabitants and the capital city can sometimes seem very crowded.
The major industries of the country are all represented in the city, particularly the large businesses involved in the mineral wealth of Paraguay.
The city isn't overwhelmed by tourists, though there are plenty of great landmark buildings, beautiful plazas and fashionable areas. It is a green city that has many parks beautifying the maze of modern and colonial architecture. Overall, Asuncion is a friendly city that embraces a fast-paced way of life alongside the traditional Paraguayan culture.
Dominating the skyline of the commercial district of Villa Mora is the Edificio Citicenter building. The 4th floor of the building is occupied by the global serviced office providers, Regus. Though not new to providing flexible workspaces, Regus' co-working packages are a new development for the business.
You can expect the usual high standards and practical functionality of a Regus office with meeting rooms, business lounges and access to kitchen facilities and flexible office working. Their co-working space is a communal area with comfortable furniture and a refreshing atmosphere in which to work. Packages are available to suit clients' demands and prices are available on request.
Best co-working space Asuncion, Paraguay: Regus 4th Floor Edificio Citicenter, Av. Francisco Solano Lopez 3794, 1892, Asuncion
Lima, Peru
With a population of almost ten million, Peru's capital city of Lima is the second-largest city in the Americas. It is one of Latin America's most important financial and commercial hubs. In fact, the city hosted the 2015 annual meetings of the International Monetary Fund (IMF) and the World Bank Group.
Lima is surrounded by industrial factories and is home to the headquarters of many national and regional companies including insurance, banking and technology groups. The city is also home to the largest export industry in South America, with the Callao seaport distributing more than 20 million metric tonnes of cargo each year.
Lima is a bustling city, packed with an eclectic mix of cultures reflected in the colorful districts making up the area. The influences of the arts, architecture, and gastronomy are wide and varied. The city also attracts a great deal of tourism and there are plenty of festivals and events running throughout the year to occupy visitors.
Opening in October 2016, Comunal's new space opposite the Redoubt Park is situated on the 7th floor and the fit-out promises to be every bit as exciting as their other spaces. As a new location for the company, there are some good deals to be had on membership and an opportunity to get in on the ground floor and establish a brand new working community.
Comunal has a reputation for providing high-quality design coupled with high tech facilities and the second Milaflores location looks set to build on that. Workbenches, offices and meeting rooms will all surround a central, co-working hub and cafeteria.
Best co-working space Lima, Peru: Comunal Coworking Av. Alfredo Benavides 1180, Lima 15047
Montevideo, Uruguay
Home to more than half of Uruguay's population, Montevideo is a bustling capital city with a thriving entrepreneurial culture. Montevideo alone has a GDP of over $40.5 billion and is the 9th highest income earner across all of Latin America. And the city excels in more than just its economy; Montevideo's inhabitants have the highest quality of life across the continent and have held this accolade since 2005.
Dubbed the 'Switzerland of America', Montevideo is home to a large financial and banking sector and plays a major role in the exports market. Almost 20 private banks operate in Montevideo with many of them being large international institutions; Lloyds, TSB, Citibank, ABN AMRO and Banco Santander.
In the middle of all this is Sinergia Cowork, a 1000 m2 space that is able to accommodate 150 workers. Situated in the Palermo district and just a kilometer away from the Centro district, the offices are fresh, modern and comfortable. With beech wood flooring, Scandinavian inspired furniture and plenty of natural light, the central workspace has a relaxed feel.
Members get access to the playroom (an inspired basement relaxation zone with darts, table tennis and table football), kitchen and an outside terrace with a barbecue and fire pit. Events, workshops and functions can be held outside or in the indoor auditorium.
Fees start at USD $25 for a daily pass and go up to USD $150 per month for a year's flexible access. Sinergia also rents fixed offices for those workers who are looking for a more permanent base in the city.
Best co-working space Montevideo, Uruguay: Sinergia Cowork, Gonzalo Ramirez 1676. CP: 11200 Montevideo
Caracas, Venezuela
The city of Caracas is home to some of the tallest skyscrapers on the continent and is home to many commercial interests including Petroleos de Venezuela, the largest company in the country. Covering an area of 300m2 the city sprawls across several districts, each with their own unique personality.
A cultural capital city, Caracas has a diverse population which is reflected in its communities including the rich mix of shopping and eateries.
The economy of the city is largely service-based with some industrial companies operating out of the metropolitan area. However, there is a large hub of financial operations making Caracas one of the largest such districts in Latin America.
With over 500m2 of space, Impact Hub has been designed using recycled materials to promote its belief in sustainability. Each area has its own unique personality yet flows with the open plan styling of the interior. The venue offers meeting spaces, offices and classroom-style conference rooms, as well as communal areas including a kitchen.
They offer mentoring and consultancy as well as access to the network of other global locations via their Passport Hub membership. The facilities are excellent and are exactly what you would come to expect from a multi-national group that specializes in co-working.
Day rates start at Bs. 2.190,00 and go up to an eye-watering Bs. 28.400,00 for a month unlimited pass. (Do take into account the country's sky-high inflation in the midst of its political and economic crisis affects these prices.) The Impact Hub is situated in the heart of the Chacao district and a short drive from the central business district of Milla de Oro.
Best co-working space Caracas, Venezuela: Impact Hub Av Libertador with Calle Ávila, Torre Xerox, 3rd floor. Bello Campo, Caracas, Miranda 1040
Central America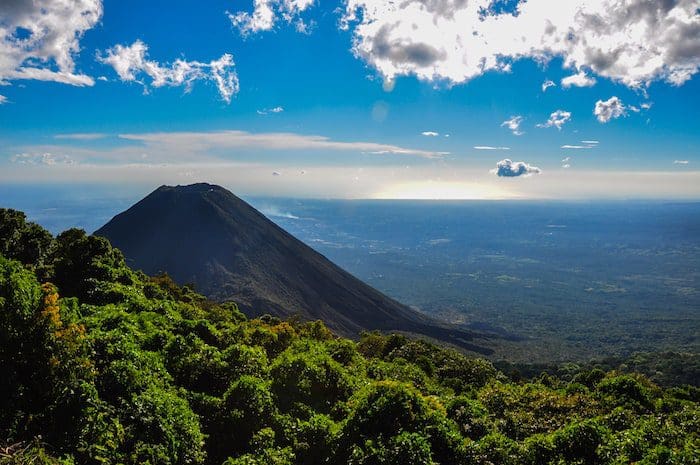 Belize City, Belize
With a population of just 368k people, Belize is a small country with strong links across Latin America and the Caribbean. The economy is mainly structured around its petroleum and oil exports, but also its tourism and construction industry. The country also exports a large amount of agricultural produce such as sugar and bananas.
Belize City is the hub of the commercial and financial markets in the country and the largest city in Belize. It is the most popular tourist destination in the country with many cruise ships weighing anchor each year in the port.
The co-working revolution has yet to fully hit Belize and at present the only option available in the city is via a serviced office at Calle al Mar. The space is professionally presented and gives flexible working in private offices and communal work zones. The building is spread over 9000 ft2 and offers boardrooms, meeting spaces and lounge areas. The space is warmly decorated in natural wood and features art by local artists depicting scenes from around the country.
Prices start at $495 per month or $45 per hour.
Best co-working space Belize City, Belize: Alliance Business Centres, 5 Calle al Mar, Belize City
Puntarenas Province, Costa Rica
In an area known as Silicon Beach, the stretch of coastline from Santa Teresa Beach to Manzanilo has always been popular with surfers and tourists alike. In recent years, it has begun to attract more entrepreneurs and start-ups as well. The location is stunning, but accessing modern facilities to work effectively has always been a problem.
SkyLoft, located just 32km from the regional airport of Tambor, is one of Costa Rica's best kept secrets. Situated in a remote location with a jungle backdrop and breathtaking views across the Atlantic Ocean, SkyLoft promotes its space as a work paradise. This unique co-working space offers all of the modern conveniences of working in a big city while encapsulating a vacation atmosphere.
The central workspace is an open plan with floor to ceiling views offering a panorama unlike any other office. The space has grown in reputation as having excellent connectivity, exceptional attention to detail and offering a relaxed environment to do business.
Best co-working space Puntarenas Province, Costa Rica: SkyLoft, Avenida de Cielo, Provincia de Puntarenas.
San Jose, Costa Rica
Costa Rica's capital city of San Jose is an important economic hub for Costa Rica and attracts over a million business commuters daily. Contributing to the country's GDP of $71 billion, the city is home to the rapidly developing financial outsourcing, software development and pharmaceutical sectors. Although Costa Rica's cash crops of coffee, bananas and pineapples are still very important, tourism is the main contributor to the nation's wealth, with ecotourism being the current market driver.
The city has a thriving arts scene with a number of galleries, museums and theaters, as well as independent markets and shops retailing local arts and crafts. Costa Ricans are proud of their heritage and San Jose is rich with historical influences which can be seen in the diverse architecture.
As a modern city, there are plenty of spaces in which to co-work but the one we think provides the best atmosphere and amenities is CoWork. Located a few minutes' walk from the National Stadium, University and directly adjacent to the Parque Metropolitano La Sabana the offices are well-designed, creatively laid out and give excellent access to high-tech facilities.
Prices start at $160 per month for a hot desk, $225 per month for a dedicated desk or just $25 per month for flexible hot-desking. Brightly decorated with inventive nooks to get some private time, the communal spaces are vibrant and are well enjoyed by the community of entrepreneurs who work there.
Best co-working space San Jose, Costa Rica: CoWork, Oficentro La Sabana, Calle del Golf, San Jose
San Salvador, El Salvador
The capital of El Salvador, San Salvador attracts more than 70% of the country's investments and is rightly a central hub for trade and commerce. The country uses the US dollar, which has proven to be a big boost for the economy with foreign investment levels soaring as a result.
Even though El Salvador is the smallest country in Central America, it is the most densely populated and the capital reflects this, accommodating 30% of the country's population of 2.1 million people in a space that covers just 660 km2. With thousands of students and tourists the city is certainly busy but without seeming to be overcrowded.
Popular attractions in San Salvador include the National Palace, historic Downtown and the National Theatre (the oldest in Central America). It is also home to the largest sports stadium in both Central America and the Caribbean.
Conveniently situated a few minutes' walk from the Museo de Arte de El Salvador, Yawal offers a co-working space with huge flexibility. The centre runs a mentorship school which aims to help its members with their business goals; from securing funding to developing ideas, providing a sounding board or just general advice on how to set-up a business in the country.
With desks available from just $45 a month, prices are arranged on the basis of the hours you want access to the space. Open from Monday to Friday, you can pay $95 for access from 9am to 11pm, $75 for day access (9am to 6pm), $60 for evening access (6pm to 11pm) or $45 for 4 hours in either the morning or afternoon.
Best co-working space San Salvador, El Salvador: Yawal, Calle la Reforma #179, San Salvador, El Salvador
Antigua, Guatemala
Surrounded by volcanoes, Antigua, in the south of Guatemala, has historically been a center for the agricultural economy of the country. In recent years, the community has grown and is producing a number of start-up businesses in a variety of sectors.
Popular with tourists, Antigua has some stunning landmark buildings as well as being a great base to explore the surrounding natural beauty.
Impact Hub is just celebrating its second anniversary and is a rapidly growing community in the city. A vibrant start-up, the space attracts business entrepreneurs, web and IT specialists, clean tech and green start-ups, architects, social workers, students and more. Impact Hub offers a great hot-spot for visiting business users to access high speed broadband and use the facilities of a creative work space while traveling on vacation or business.
Best co-working space Antigua, Guatemala: Impact Hub 1ra. Avenida Norte No. 12, Antigua
Guatemala City, Guatemala
Guatemala City has undergone a lot of development work over the past several years and has fast become a popular destination for business travelers. With many parts of the city completely transformed and revitalized, there are plenty of public and private investments that are enriching the area.
The transport system, Transmetro, is clean, efficient and cheap and several of the zones are gathering reputations for being extremely trendy with bohemian bars opening alongside the picturesque colonial buildings.
Zone 4 is also known as Cantón de Exposición, as its center was the Pavilion taken from the 1890 Paris World's Fair and has a touch of the European about it; not least owing to the small version of the Eiffel Tower built here; the Torre del Reformador.
Situated in the heart Centro Civico or Zone 4, the Chamba co-working space is an innovatively designed office offering large open plan communal areas, a relaxing space with mutually supportive members. The facilities are great and the administrative team is supportive and knowledgeable.
Basic membership starts at Q485 (USD $65) per month and offers six days use of the premises each month as well as 4 hours of time in the meeting rooms. Packages then go up to premium access at Q1195 (USD $160) per month which provides full access to the centre as well 10 hours use of the meeting spaces.
They run fortnightly lunchtime workshops designed to give start-ups access to breaking news for their business as well as relevant tools and information to provide the best chance of success.
Best co-working space Guatemala City, Guatemala: Chamba, Milky May 1 to 23 Zone 4, 01004-Guatemala City
San Pedro Sula, Honduras
Generating two thirds of the GDP for Honduras, San Pedro Sula is an important economic city for the country. Though the country's principal industries are in the agricultural sector (coffee, bananas and palm oil) as well as mineral resources and industries (like cigar, clothing and the production of automobile wire harnesses), there is growth in the secondary and tertiary sectors of banking, tourism and construction. With heavy investment from Asia, there is opportunity in the country as an emerging market.
After the capital city of Tegucigalpa, San Pedro Sula is the largest city in Honduras and is well connected with excellent road networks and an international airport. There are some great tourist attractions in the area including Mayan Ruins, historical forts and stunning beaches.
Urban Office is a state of the art co-working environment offering fingerprint recognition access, a large open plan working space and an outdoor social area. The space is bright, airy and contemporary. They offer all of the modern conveniences of a 21st century office including AC, high speed internet and a dependable team of administrative staff to provide full services.
Day passes start at just L.300 (USD $13), L.1500 (USD $65) for 40 hours per month or unlimited membership at L.4500 (USD $195) per month.
Best co-working space San Pedro Sula, Honduras: Urban Office, 15 Avenida NO, San Pedro Sula 21102
Tegucigalpa, Honduras
Also known as Tegus, the capital of Honduras is the most populous city in Honduras. Tegucigalpa is home to the seat of Government and the nation's banking industry. A colonial city, Tegucigalpa attracts about a quarter of a million tourists each year. With a wealth of landmarks, museums and natural attractions the city is a good base to explore the southern-central highland region.
There has been a considerable amount of foreign investment in the city since the 1990's and there are several multinational companies which call Tegucigalpa home.
Connect CoWork is the city's first co-working space and caters to busy freelancers and professionals that need a collaborative space to work. The offices have good Wi-Fi facilities, air-conditioning and a business support team. The offices are small but perfectly situated for access to the business district in Tegus.
There are meeting rooms available to hire by the hour. The community can access regular events and workshops hosted by the company that are designed to enhance the collaborative work process and boost networking capabilities.
Best co-working space Tegucigalpa, Honduras: Connect CoWork, Colonia La Reforma, Centro de Negocios La Reforma, Tegucigalpa, Tegucigalpa
Managua, Nicaragua
Sitting on the southern coast of Managua Lake, the capital of Nicaragua is home to a population of 1.3 million people and is home to operations hubs for many large multinational companies. Telefonica, Walmart and Union Fenosa all have offices in the city.
The country's main economy is in the production and export of goods such as coffee, beef, textiles and pharmaceuticals. Managua is a relatively small player in the economy of Latin America, but is considered to be at the beginning of an exciting economic upturn.
Nicaragua is experiencing a great deal of interest from foreign nationals who are attracted by the low cost of living alongside its relatively prosperous major indexes. The city of Managua is therefore experiencing a boom in its construction industry to accommodate this influx. In addition, as the economy grows, new office facilities are continually in demand.
Situated in the heart of the city CheckIn Office offers virtual office facilities as well as the relatively new concept of co-working within Nicaragua. Fixed desks start at $250 per month and members can benefit from the modern facilities in a well-designed and functional space.
Best co-working space Managua, Nicaragua: CheckIn Office, 3rd Floor, Centro Pellas, Managua
Panama City, Panama
With strong business links to the US, China, Japan and Singapore, as well as neighboring Costa Rica and Colombia, Panama is a central hub for commercial activities. The largest industrial country in Central America, Panama's economic growth has been incredibly rapid and successful over the last decade. It has the highest HDI in the region and is the second most competitive country in Latin America.
The country's capital, Panama City is home to over almost a million people as well as the world famous, Panama Canal. A feat in human achievement, the canal brings in a net annual revenue of around $1.26 billion and remains one of the chief sources of income for the country. However, tourism, trading and commerce continue to develop in the city with much of the weighting being towards banking.
The city itself is very popular as a stopover en-route to other destinations across Central and South America. It is a colorful and vibrant capital with picturesque colonial buildings nestled amongst a modern high-rise central district which dominates the skyline. It is extremely well connected with international flights operating daily from Europe, the USA and across Latin America.
My Office in Panama City is a co-working space that embraces local culture while delivering world-class facilities. Showcasing designs by local artists, and built with sustainability in mind, the space is welcoming and relaxing. Office spaces are quirky but functional and the collaborative communal areas offer a great environment for networking and working creatively.
With prices starting at just $99 a month the rates are very reasonable and they can offer a range of packaging from day passes to hot-desking, as well as permanent office facilities. Meeting rooms can be reserved and standard access includes free tea and coffee, use of the kitchen and rest areas plus general office amenities. Receptionists take all of your calls for you and can even request additional secretarial duties.
Best co-working space Panama City, Panama: My Office, PH Credicorp Plaza, Calle 50, Panama City