Dateline: Bogota, Colombia
Is Bogotá the future of metropolitan living in a booming economy?
With an abundant contrast of multiple layers, Bogotá is a place where colonial history collides with urban metropolis. A city where lofty Andean summits and modern skyscrapers tower over century-old plazas.
Once known for rampant crime, the capital city is evolving into a world-class urban destination for many expats and travelers. The fastest-growing city in Latin America, Bogotá's metropolitan is home to more than 13 million people. Along with Colombia's top educational institutions, Bogotá is the country's economic and political hub.
While a lot of western expats are moving to Medellin, Bogota is also a target for immigration from people disgruntled with the lack of freedom in their home countries.
Despite its past, Bogota is a bustling and increasingly safe city with expat-friendly neighborhoods like Chapinero Alto that attract both wealthy Colombians and foreigners. Here's what you need to know:
Cost of Living and Safety in Bogotá
Colombia is at the end of its long-running armed conflict, most of which takes place in more rural areas. However, the displacement of people that spill into the major cities is one of the many issues the city faces.
Safety precautions and efforts are increasing as are the tourism and expat numbers, including a 70% increase in just the last two years. The city offers a number of safe transport including modern and convenient app-based transportation like Uber and Tappsi.
If you do decide to take a city taxi, be sure to verify that it is a clearly marked official taxi; you can expect to pay around $1 USD per mile. Bogotá's infrastructure has yet to provide a relief to the horrendous traffic the city faces. Leaving the workplace at odd hours can help, but one can expect long commutes throughout the inner city on most days of the week.
The cost of living in Bogotá will vary depending on the area, however, in general, you can expect to pay around $5 for a tradition Colombian lunch and around $10 to $20 for a nicer dish in upscale areas.
Groceries will run a couple around $350 a month while a gallon of milk costs about $2.50, a dozen eggs around $1.50 and a bottle of wine around $10.
Bogotá's Booming Startup Economy
Bogotá is Colombia's capital for business as well as Latin America's fourth-largest economy by its GDP.
It was recently named one of the top 15 new cities in the world to do business by Fortune magazine. Even better, the World Bank recently ranked Colombia as the second-best economy in Latin America for entrepreneurs based on the mere days it takes to incorporate a company.
The Heritage Foundation has echoed Colombia's regional number two position in terms of economic freedom.
Besides start-ups, large multinationals like Bogota, too; companies like Citi and McDonald's have been growing their presence as well as an array of call centers and other regional service businesses. Colombia's "clear, convincing Spanish" is increasingly attractive for outsourcing in the region.
Investors and entrepreneurs in Colombia are met with the second-largest skilled labor workforce in Latin America. There are over four million workers and approximately 94,000 higher-education graduates per year.
The startup scene has been moving forward at a decent rate due to a number of incubators in Bogotá. The numbers of engineering and computer science graduates are a major contribution to the country's growing technology ecosystem.
In addition, the government has worked arduously to provide a greater amount of Colombia with affordable high-speed broadband access. The stability in the economy that Colombia has shown over recent years is becoming noticed by foreign investors and expats worldwide.
With Colombia's tax offers and incentives, competitive costs and an abundance in skilled workforce make Bogotá a major competitor for offshore operations. Bogotá's location allows for convenience in managing your international business.
The international airport is just twenty minutes from the city center and offers non-stop access to cities like New York and Mexico City within hours.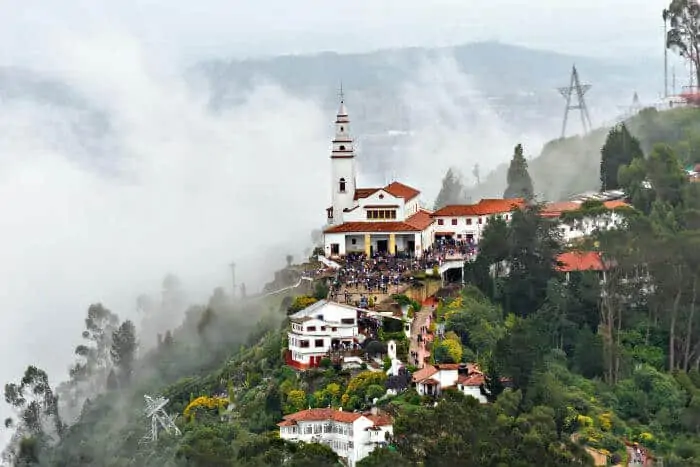 Culture in Bogotá
Bogotá is known to offer four-season days with its constantly changing climate. The city offers more than 4,000 public parks as well as one of the largest networks of bike paths in the world, which can be enjoyed even more so on Sundays when the city shuts down almost 200 miles of road exclusively for pedestrian use.
This engaging capital is complete with over fifty museums ranging from history, science, art and gold. Preciously preserved churches, colonial buildings and historic neighborhoods are met with modern shopping malls, sophisticated restaurants and an electric nightlife scene.
Most gravitate toward the cobbled historic epicenter of La Candelaria, where the majority of Bogotá's traditional attractions are located, including museums, cuisine, nightlife and entertainment. For shopping, most expats stay in the malls in the city's north where popular international brands have set up shop.
Real Estate in Bogotá
Bogotá is divided into four areas. The North has a modern infrastructure built for upscale living complete with chic entertainment as well as the numerous headquarters of multinational corporations. This is where most western expats live.
El Occidente is a middle-class residential area offering numerous parks as well as some of the city's major sporting venues. The center – El Centro – is the original downtown area and includes many of the city's public offices and financial headquarters, yet it isn't as nice as the northern part of the city.
The South is home to the working-class where barrios continue their battle with drugs and crime. The price of property has doubled since 2006 in Colombia. There are still excellent opportunities to be seized even within Bogotá's finer neighborhoods.
Most expats and investors should seek out properties within the North zone of the city, which is a safer and newly developed area. It is advised to seek out a professional when purchasing real estate here given the property scams that have been known to take place as well as the complicated process that determines your ongoing ownership costs.
Colombian Citizenship
If you're looking to start a business or invest in Colombia, there are potential immigration benefits. You can obtain citizenship in Colombia in as little as 5 years by making an investment in either property or starting a business.
The cost of getting started with a second residency in Colombia is quite affordable and doesn't take as long as Panama's Friendly Nations program. If you're interested in getting residency and citizenship in Colombia, click here to learn more about the program.