Much like Argentina's bustling wine industry, Buenos Aires brilliantly blends the old and new into a flavorful, cultural metropolis.
Known as "the Paris of the South," this sensuous city entices expats and travelers alike with its European architecture, modern gastronomy, and international culture.
This sumptuous city includes diverse people in both expats and porteños (residents of Buenos Aires). Around 85% of Argentina's population is of European descent, mostly from Spain and Italy. Newcomers living in Buenos Aires have little difficulty finding others to relate to in the global mileage that the city occupies.
Don't allow language or other fears to step in the way of you moving abroad.
This highly cultivated nation enables business and daily life to be conducted easily, even if one's time doesn't allow for expert Spanish.
Cost of Living in Buenos Aires
Expats are drawn to Buenos Aires' low-cost-upscale-living ratio.
Buenos Aires cuisine is a melting pot of international gastronomy.
Sophisticated restaurants and parrillas (steakhouses) serve up giant slabs of local steak paired with affordable world-class wine. A number of noteworthy restaurants are available at a reasonable cost.
An article published by The Washington Post proves that for under $50, and at times half, two can enjoy an extravagant tasting menu accompanied by wine pairings.
Non-meat eaters need not worry. Vegetarian restaurants are becoming abundant in the rapidly changing culture as well.
The city provides a bounty of sustainable cuisine including various organic markets, eateries, and organic delivery outfits. Produce is rich in variety and remains relatively cheap.
A two-pound bag of apples or tomatoes would typically cost you under $3, a dozen eggs for about $3 and a quart of milk for around $1 in grocery stores.
For those seeking out a more convenient option, there are companies as Tallo Verde delivering organic, local produce and gourmet foods, such as cheese, right to your front door.
The exchange rate gives those with dollars and euros a stretch for their money. However, the recent government monetary controls have made it difficult to procure American dollars.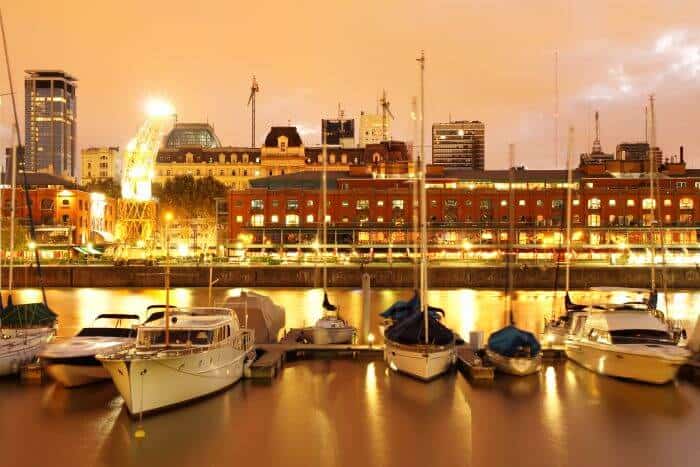 Business and startups in Buenos Aires
Annual inflation rates of over 30% are forcing people to secure funds by trading for American dollars on the streets or risk paying high rates for limited trade at the banks.
Despite the 2001 devaluation crises and inflation, the country provides a high standard of living accompanied by the highest rate of university students in Latin America; predominately because of how inexpensive (almost free) education is. As a result, businesses are provided with a highly skilled workforce at a lower cost.
Buenos Aires' entrepreneurial economy is flooded with fresh, creative and innovative thinkers.
Entrepreneurial organizations like Startup Buenos Aires offer resources for sustaining local startups in the capital city.
The Economist writes that an estimated $22m-$44m is spent daily at Latin America's largest informal market.
Known as La Salada, the market connects entrepreneurs with an estimated one million workers with 30,000 stalls of commercial resources.
A number of resources prove Buenos Aires' eagerness to invite more business startups to its city. There are many local media outlets, similar to the Argentinian Independent, that provide news in English, giving expats easy access to up-to-date information on the local economy.
Buenos Aires Real Estate
A recent Reuters article reports that "Argentina is still struggling with a dearth of hard currency and mortgages but with a change of government later this year, investors at home and abroad are positioning themselves for a real estate market revival they say is already taking root."
At the heart of the city lies Capital Federal, which consists of 48 varying barrios. Though it might look daunting at first on a map, the city is pedestrian-friendly with wide, tree-lined, elegant avenues and modern public transportation.
Buenos Aires' recent transit revolution provides the majority of the city with extremely affordable and accessible subways, buses, bike paths, and taxis.
Taxis generally cost around $2/kilometer with the other various forms of city transportation even cheaper. Commuting in the city can cost you as little as $30 a month, making life in Buenos Aires more affordable and attainable.
Chic neighborhoods within the city like Recoleta, Palermo, and Puerto Madero are choice real estate. These upscale residential and commercial districts are lined with parks, galleries, boutiques, and tasteful dining.
A flat similar to a Parisian loft that would cost someone $3,500 a month in San Francisco goes for just $700 in the nicest areas of Recoleta. Expats looking to invest in rental property will find reasonably high rental yields within the city.
Buenos Aires' real estate is typically purchased with effectivo, ironically meaning cash in Spanish. And with the dollar strong here, investors holding offshore accounts are far ahead of any competition.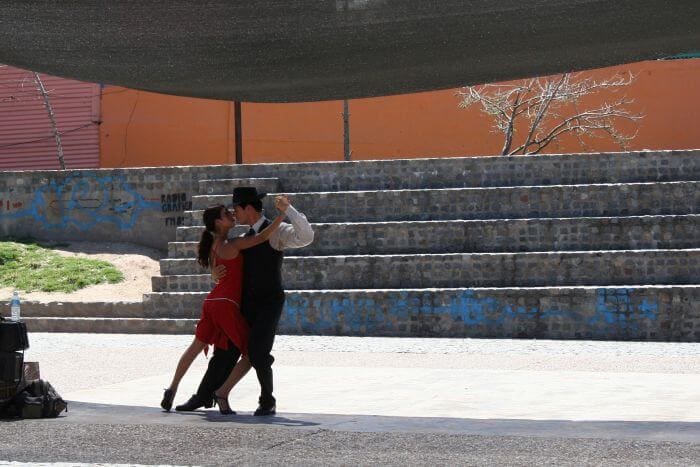 Experiencing the Vibrant Cultural Life of Buenos Aires
Offering more than 100 galleries, 300-plus theaters and a multitude of museums, the city is full of cultural living. Among its many cultural attractions is the historic Teatro Colon, named by National Geographic to be the 3rd best theater worldwide.
One living in Buenos Aires could spend their day floating between the various avant-garde galleries, historic cafes or, by The Guardian's standards, the most beautiful bookstores in the world.
Drawing you with romance and nostalgia, the city pulses with seductiveness. The tango, still very much alive here, is danced anywhere from alleyways to tango bars.
Your Buenos Aires Hub and Travel Network
Argentina is the eighth-largest country in the world and the second in Latin America. The land is as vast as it is rich in a variety of cultures and landscapes.
If Buenos Aires is "the Paris of the South," then Mendoza is surely its Italy. Less than two hours on a jet could have you in the heart of its wine country, sipping vino next to the largest mountains in the Americas.
South to Bariloche, lies Argentina's 'little Switzerland', including the largest ski resort in South America and five-star accommodation like Llao Llao.
The rest of the world is in easy access for expats doing business or leisurely travel abroad. With daily international flights departing from Buenos Aires, 11 hours of fly time lands you in New York City or just 13 hours to London.
Becoming a Citizen of Argentina
Argentina is one of the fastest countries in the world for becoming a citizen.
As Andrew has explained, having dual citizenship, or even multiple citizenships gives you the freedoms to travel and invest that having one citizenship alone can't grant.
Whether it be for tax obligation purposes or leisurely travel, Argentina can supply expats with a passport providing visa-free travel to over 150 countries, including Europe.
Still not sure about moving abroad? Convincing yourself can be the hardest part. Nomad Capitalist is here to help you move forward in your plans of moving overseas with personal offshore consultations. You can apply here for your one-on-one consultation.