Dateline: Bangkok, Thailand
"Work hard, stay productive and be kind to others." That was the sign hanging on the door of my first co-working space I ever visited in Tbilisi, Georgia. I was introduced to fast internet, cosy chairs, plenty of light, productive surrounding and unlimited amount of coffee, or simply put- heaven for remote workers. It quickly became my sanctuary. At that time I was the "newbie" to the whole "digital community", amazed by the energy, lifestyle and stories I got to hear and witness from the members. I slowly became a part of this whole new world which started to shape my life, grow my skills and confidence and shift my mindset in ways I could not imagine.
Several countries and dozens of cities later, I am still working while traveling and discovering new places, listening to unique stories and discussing different ideas and points of view with like-minded individuals who are at different stages in their lives. As a part of the Nomad Capitalist remote team that moves every few months, giving stars and ranking all the spaces and places we work from has become an "unwritten rule" and one of the first things we do as we explore our new base.
And I must say we fully enjoy it.
It started as a game, but as the time passed our criteria have risen, our check list got longer and our attention to details, design and overall vibe of the place got more sophisticated. This is how our "best co-working spaces" lists were created, from Europe, to Central and South America to Canada to Southeast Asia and even Africa.
Even though we try to share our own experiences as much as we can, we could not cover all the cities from our bucket list. This is where we got help from our Nomad base and other remote workers who shared their input and recommendations for the places we have yet to visit. Whether you are currently based in the U.S, visiting, or having a family reunion, from California to Michigan, we present our carefully selected list of the top places to get your work done in the United States.
New York City, New York
"People are most productive when around like." This is the motto of this co-working space that speaks for most of us. The Productive was created to bring New York City artists and writers together in a comfortable space, away from the distractions of life, so that they might benefit from networking, competition, and the collaborative nature of working among their similarly motivated peers.
Stop by this spacious co-working studio at 40 West 38th Street, between 5th and 6th Avenues. After signing up you can choose between three levels of memberships: Full Time Open Desk for $340, Computer Work Station, and Nights & Weekends for $240.They also provide Virtual Office services which allow use of a mailing address, conference room booking, and a locker rental for $90 per month.
All members get individual open desks, conference room access, secure wifi internet, wifi laser color printer, and kitchenette with complimentary coffee and tea and may attend weekly ASIFA Figure Drawing sessions. They also offer discounts for 3-month and 6-month commitments. Lockers are available for $10 per month.
So, if you are on your way to visit "The Big Apple" and are looking for a cosy, industrial design place to be productive and get some work done we highly recommend it.
Indianapolis, Indiana
If you are looking for a unique venue that encourages creativity in Indianapolis, do pay a visit to The Speak Easy. This co-working space is a membership-based, independent 501(3) non-profit organization, for collaborative, idea-driven people. You can expect to mingle with programmers, founders, freelancers, the business-minded, the tech savvy, first time starters and seasoned professionals.
During the day all members can be found creating, co-working and learning in their main community space, hosting clients in small breakout rooms, and leading meetings in the conference room. At night, the space comes alive with meet-up groups, guest speakers, classes and roundtable discussions.
The Speak Easy also provides services of space rentals as a carefully curated space that's intended to be cool, pragmatic, and inviting for up to 275 people. You don't need to be a member to host an event – they do anything from corporate seminars, product launches to fundraisers featuring a mechanical bull and wedding receptions.
General pricing starts at $250 per hour, but the discounts may be available for Speak Easy members, nonprofit organizations, and community partners. They also offer a pretty good deal if you want to become their member. Namely, you can get a time to test drive the space and make sure it is the right fit for you. If you find it is the right fit, you will get the final details for signing up. The founders believe in providing a place for education, conversation and manufactured serendipity. They've stayed true to these roots, with a mission to cultivate the healthiest entrepreneurial ecosystem, anywhere.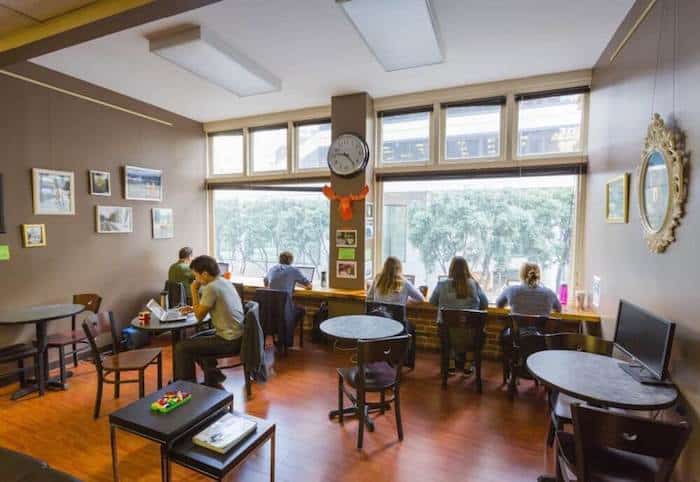 San Francisco, California
Next Space
As one of the first co-working spaces in the world, NextSpace's vision was to create a simultaneously professional and comfortable area for people who want to live and work in a different manner. They believed there was a need for a place where remote workers could go and do their best work. They were right. And they still are. But what is that small spice that makes them unique? Their answer: the importance of the culture.
They understood that if you're going to spend eight or twelve hours a day somewhere, doing something, it ought to be in a setting that works for you, not against you. This means that being a member of this space you are greeted on a daily basis to be met with a welcoming, supportive, intelligent, creative and challenging energy. You can enjoy their spacious and bright shared areas and private offices alongside your pet (they have a " bring your dog to work" option), which is a quality that ranks them high on our list.
For $25 you can get a daily pass and, if you want something long term, feel free to go to their website and book a tour with their very helpful and upbeat staff.
Chicago, Illinois
Free Range Office is Chicago's favorite spot for entrepreneurs, freelancers, consultants, creatives, independent & remote workers, part-timers and startups. If you are seeking an alternative to the corporate cubicle or isolated home office, you will be most welcome and pleasantly surprised. This high-ceiling, luminous open space in wooden decor and home-like ambience provides a comfortable alternative to the corner coffee shop.
The space is equipped with ergonomic chairs and spacious desks, couches, a meeting space, private phone booths, and all members enjoy complimentary coffee and free Wi-Fi, color printing, an outdoor terrace, a gourmet kitchen and plenty of productivity.
Their memberships start at $95/month for part-timers, which includes five visits per month, as well as networked printing, fax, copying and scanning, exclusive access to educational and networking events, complimentary beverages and access to a fully equipped gourmet kitchen with a stove, refrigerator, dishwasher and microwave. Mobile members will get 10 visits per month for $180/month, while $285 will make you a club member with 24/7 access as well as complimentary conference room usage.
If you do stop by Chicago, we wholeheartedly recommend you to book a tour and visit this space. They also provide event organization services and a beautiful space for any occasion and their event coordinator and team of event assistants are pros at handling everything from launch parties to baby showers.
Houston, Texas
Level Office
Level Office is currently one of the fastest-growing owner-operator co-working spaces and customized office suites nationwide. Located in the heart of Houston's Central Business District, 720 Rusk provides a cool space in a great location at an affordable price. Taking advantage of Level Office Co-working is a great solution for many types of businesses and self-employed workers, including entrepreneurs, consultants, freelancers, creatives and independent professionals.
They offer the enjoyment one of their private office rentals as well, which can fit anywhere from 1-100 person companies at an all-inclusive rate. So, whatever you are choosing to rent in the Level Office, you will quickly fall in love with your new space with their great-included amenities. Leasing office space at Level includes 100 Mbps high speed Internet and more features with no additional fees.
Their co-working memberships start at $199/month, which includes 24/7 secured access, five hours of conference room time per month, Internet and access to 3,000 sq. ft of space. Additionally, the Level Office membership gives clients access to 14 locations in 10 cities across the country, including Alexandria, Charlotte, Chicago, Dallas, Houston, Indianapolis, Jacksonville, Pittsburgh, San Diego, and Seattle.
Philadelphia, Pennsylvania
Indy Hall is located in the Old City of Philadelphia, just north of the intersection of 3rd Street and Market Street. You will fall in love with the neighborhood first because it is full of creativity and life, bars and restaurants for meals and meetings and boutiques and art galleries to shop at and enjoy. You won't be able to walk a full block without bumping into other people from the creative, technology, and entrepreneurial community in Philadelphia.
Indy Hall's community is the intersection of designers, developers, writers, artists, entrepreneurs, scientists, educators, small business owners, telecommuters, marketers, videographers, game developers, and more.
Being a member of this space allows you to attend a guided group intro to the community on Google Hangouts, have a 24/7 direct line to 300 other community members and their private member site which includes announcements about events and opportunities, free/discounted events every week, participation in group activities and field trips throughout Philadelphia and, of course, you can drop by their co-working space for a fun, productive workday.
They offer a $30 daily pass and $120/month will give you Six Pack membership that covers 6 working days in a month. Lite membership will get you 12 days/month for $200 and for a Full membership and 5 days per week access with a dedicated desk you can expect to pay $300. Another note worth mentioning is that all co-working memberships include after-hours co-working during Night Owls every Tuesday from 6-10pm.
Phoenix, Arizona
The first, largest and premier co-working space in Phoenix, CoHoots houses 250 incredible entrepreneurs, small businesses and more. CoHoots is a member-sustained and community-supported co-working space designed with seven open offices, five enclosed offices, a large open space with plenty of dedicated Nest Desks and plenty of flex space for Frequent Flyer (hot desk) members.
All memberships include access to business development programs like the Success Lab program, Midweek Lunch and Learns, Hoot Hour networking, monthly meet ups and a mentorship/office hour program. Daily access to the open space costs $35. For $79/month you will get access on working days from 10am-6pm and $350 will give you unlimited monthly access and all the amenities that go with it.
Through the CoHoots Foundation, they hold weekly lunch and learn talks or panels to educate startup and small business owners on various topics related to scaling their business. Their vision is to provide space for entrepreneurs to scale and collaborate in a supportive, risk-free environment. Monthly, the Foundation's PERCH initiative brings together health technology leaders to discuss and learn from each other with the goal of building a more collaborative health tech community to create and build real solutions. You can frequently see members and people in the community hosting events in their space, as well!
Also, if you need to organize an event you can also turn to their energetic team, since CoHoots is one of the top event spaces in the Valley for business workshops and meet-ups.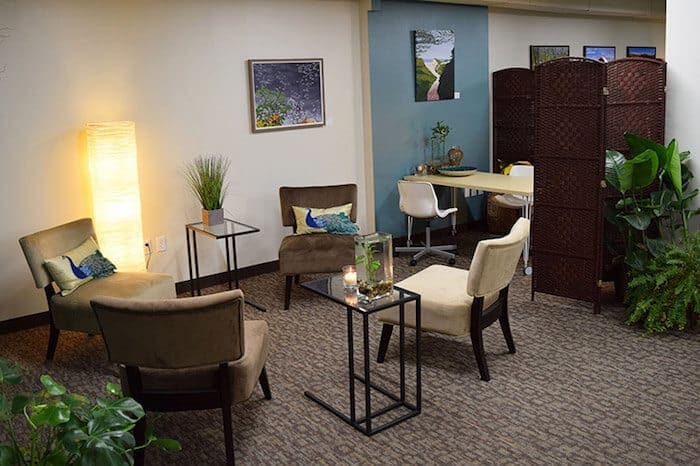 Washington DC
Hera Hub is the first international female-focused co-working space – a shared, flexible work and meeting space where entrepreneurial women can create and collaborate in a professional, productive, spa-like environment. The platform provides their members with connections to other business experts, access to educational workshops, and visibility within the community, thus giving them the support they need to be prosperous.
Hera Hub DC membership means more than having access to a collaborative, serene, and productive shared office space, you also become part of a community of like-minded, ambitious women who are moving their dreams forward. DC membership plans range from $89-$429 per month.
You can find a list of various events for members, but they have public events as well. Hera Hub GURUs are subject matter experts who donate their time to meet one-on-one with local entrepreneurs (members and non-members welcome) to answer questions they may have on a variety of topics related to their field. They have GURUS in a variety of fields, including Law, Accounting, IT and Marketing.
Boston, Massachusetts
Workbar was Boston's first co-working space, which opened in Boston's Financial District in 2009. They have since expanded to include four major "Hub" locations in Cambridge, Somerville and Arlington. Being a member here allows you to work and grow with access to meeting rooms, event spaces, and a wide variety of social meet-ups and educational workshops. In a nutshell, Workbar offers the professionalism of a corporate office, the flexibility of a gym, and the comfort of a cafe.
Part-time memberships here begin at $130/month and include tiered pricing for various plans, from full-time to dedicated desks to private offices. Choose between full and part-time memberships, open workspaces, dedicated desks and private offices or mix-and-match membership plans for your team. As part of the Workbar community, enjoy the conference rooms, phone rooms, fast and secure WiFi, office supplies, and steady flow of fair trade coffee, tea and snacks to fuel your productivity.
Their Workbar partner locations cover much of the state with network access, and are affiliated with local institutions (like UMass). Their recent collaboration with Staples has allowed Workbar to do something unprecedented in co-working by pushing outside the cities and into the more suburban markets. These Workbar at Staples locations combine the convenience of access to office supplies for the physical office, with the amenities and connectivity to drive the virtual office.
Locations in the Massachusetts towns of Norwood, Brighton and Danvers are the first of their kind and for $130/month allow a low barrier of entry to the world of co-working, as well as provide access to their other network locations. This space's "flavor" of co-working emphasizes community, collaboration and productivity with a robust events schedule which provides a great opportunity to network, learn and grow your business as well.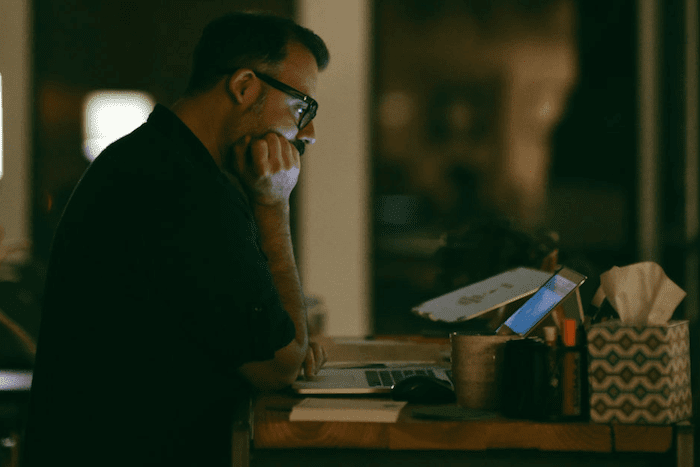 Colorado Springs, Colorado
Epicentral co-working is a shared workspace for creatives, small business owners, freelancers, consultants, entrepreneurs, and coffee-shop nomads. They are located in Colorado Springs, CO and have enormous love for their city. Epicentral's vision is to invigorate their local community by being a downtown epicenter of entrepreneurship, business, and creativity.
Epicentral provides an open workspace, meeting rooms, dedicated desks, offices and most importantly, a community of fellow doer's, thinkers, and change makers. In addition, they offer parking for $55/month and Meeting Rooms for non-members starting at $55 for 4 hours. Their memberships include unlimited Meeting Room use, coffee (from a great local roaster – Loyal Coffee), soda, La Croix, Red bull, and a slew of snacks. All members can use their mailing address and are welcome to participate in monthly member events (happy hours, potlucks, karaoke, etc).
Seattle, Washington
Impact Hub
Impact Hub Seattle is a co-working space, events space, and launch pad for purpose-driven ventures that create more value than they capture. They are located in the heart of downtown Seattle, in Masins and Pacific Commercial Buildings in the historic Pioneer Square.
You can make them the part-time hub for your efforts for $225/month. This co-working space is offering the possibility to build your projects on nights & weekends (after hours) for $195/month. They believe in a better world through inspiring entrepreneurship. Through community, space and educational events they accelerate entrepreneurs toward building the future they want to live in.
Impact Hub provide a remarkable space for productive work, a driven community that resides at the intersection of technology and social good, and a diverse selection of programming and mentorship to guide their members with the tools they need to establish their idea.
There are dozens of meetings and events happening in their space each week. Whether you're looking for an educational opportunity, a chance to network in the field, or just seeking new inspiration: they're a one-stop shop.
New York City, New York
Ensemble is one of the coolest co-working office spaces in Midtown Manhattan. Conveniently located, fairly priced (open desk membership cost is $35/day) and easily accessible, they are the office space for you, whether you are a startup or an established company. They offer individual open seating, dedicated office seats as well as private offices.
At the Ensemble Co-working space, they don't consider their place as an office. Better states, they are a collection of people, ideas, and aspirations. They are a co-working space defined by collaboration, not cubicles. More than just a work destination, Ensemble plays host to lectures, networking events, and social engagements. They unite creative professionals and young firms through the idea that a dynamic and fun space can be the best place to grow your business.
Los Angeles, California
The Blank Spaces co-working we have in mind is located in Los Angeles, California, but they have two more locations in Santa Monica and Mid-Wilshire as well. This space is a collaborative spot that's home to entrepreneurs, freelancers, and small teams. Designed by an architect and featuring commercial-grade Steelcase furniture, this work environment is one of the best in town. The community supports your business by providing modern office amenities without the headache of overhead.
From private offices to a communal WorkBar, they have flexible plans for a variety of sizes for any work style. They also have a variety of meeting room spaces that can be arranged to fit your events' needs. Whether you need a permanent place to work every day, a place to meet with a client, host a seminar, or a place to drop in every once in awhile, they have the right offer for you.
Miami, Florida
CIC Miami
CIC Miami is an 80,000 square foot shared co-working, private office, and laboratory space in the heart of Miami's medical district. They are industry-agnostic, so they are especially happy to have any innovative company in-house as long as they're working on something that will make the world an easier, better place to live in.
The 6th floor space was designed by their in-house design and architecture team. The design is very deliberate and designed to encourage community building. For example, ceilings in certain common spaces are a little lower, and psychologically, it is meant to encourage deeper, extended conversation.
They have several different tiers of pricing. Their shared, library-style co-working space is $300 a month. This includes the right to have 24/7 access to the space, eat and drink whatever you want whenever you want from the kitchen, unlimited access to conference rooms and phone booths, unmetered printing, scanning, and copying, high speed Internet, a mailing address, a concierge service, a cubic foot of storage in their public space, and other special perks from their partnerships with local entities. It also includes what they call a "CIC passport" which gives you access to the shared co-working space in any of their other locations (Cambridge, Boston, St. Louis, and Rotterdam).
Dedicated desk space is $450 a month plus sales tax per person, with the bonus of having locked storage in your relatively more private office space that you'd be sharing with other companies. This is a more cubicle style layout. Office spaces start at $550 and laboratory space at $1,500.
The community vibe is unlike anywhere I've ever worked. People are very friendly, social, and serious about their work. The community strongly values relationships and meaningful interactions, so collaboration between companies comes easily. They have a 2,500 square foot kitchen, fully stocked with snacks and breakfast items, so a lot of people like to meet and work out of the kitchen.
They also have several community events on a recurring basis. Among these are the Venture Cafe Gatherings. Every single Thursday from 4-9pm, they host their non-profit partner, Venture Cafe Miami, and have a city-wide gathering with special programming and complimentary drinks. Programming is diverse and could be anything from a Virtual Reality demo to a seminar on early stage funding to a panel on alleviating traffic issues in the city. The gathering is free and completely open to the public in an attempt to build a more inclusive, diverse community. Beyond Venture Cafe, they also have community breakfasts once a month, happy hours, and vinyl record listening sessions in their secret room on the 6th floor.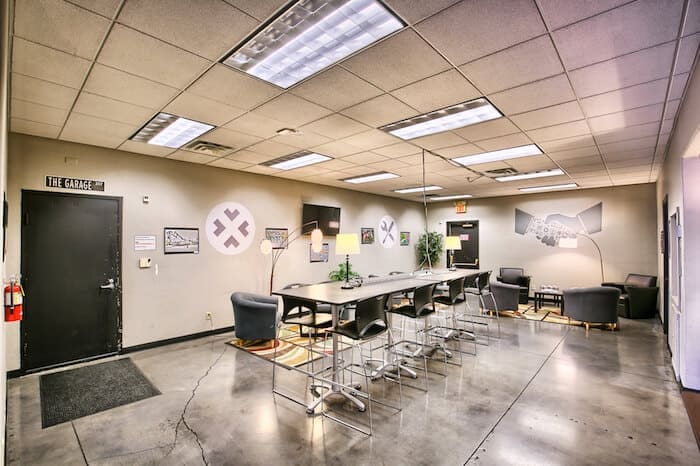 Las Vegas, Nevada
Work in Progress is Vegas's most unique shared work environment and community space. It is truly a "spaces for doers", as they will proudly mention in their introduction tour. They have two locations available, one downtown and one southwest of the city. We had the pleasure of visiting the first one, conveniently located in the heart of downtown Las Vegas, which is home to many startups and entrepreneurs.
If you choose to become their member you will get the access to a very unique offer – their community mentors – which gives more value to their overall offer as well as both private and social areas and engaging community events. Did we mention you get unlimited coffee, tea and purified water? And pretty good ones I admit by the standards of this writer who is conveniently a coffee addict .
Every working spot comes with ergonomic chairs, super fast wifi and free usage of the scanner and copy and printing machine. When you need privacy for Skype calls you are always welcome to use their phone rooms, and when in need of a break, you can relax in their comfortable lounge areas and enjoy a ping pong match with some of your coworkers. But it is highly addictive from our experience, so save it for the after work hours!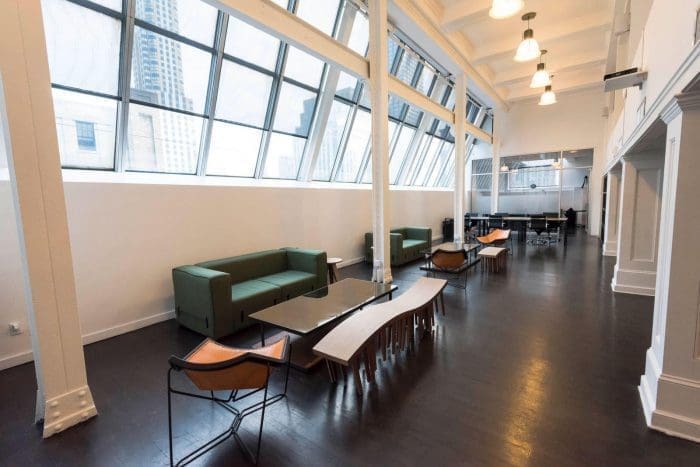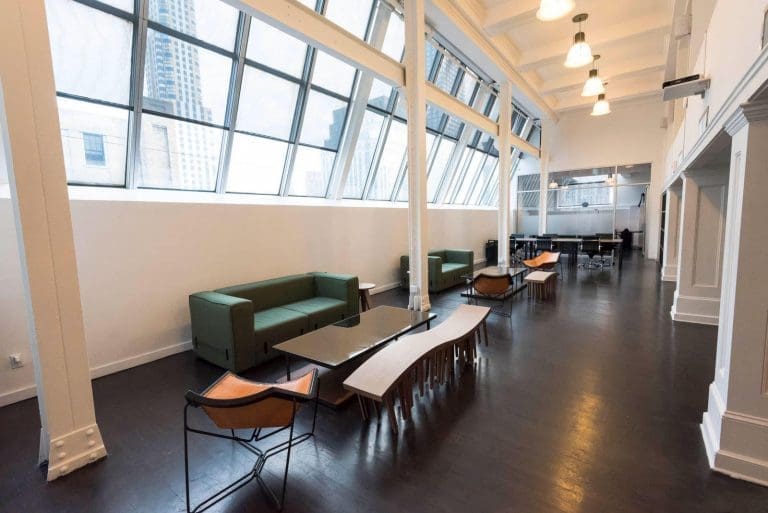 New York City, New York
Spark Labs
Spark Labs offers multiple levels of membership based on your business needs, your location (across Americas, as well as Europe, Asia/Pacific and Oceania) and your goals. At this co-working space, they are dedicated to the expansion and success of startups, growing businesses, consultants and freelancers in the tech and media industries.
The entire premise of their business is to help local and foreign entrepreneurs accelerate the development of their business in new markets. Yes, they can provide workspaces, but Spark Labs are so much more than that. As a revolutionary ecosystem for entrepreneurs, they have everything you need to get off the ground and running, from infrastructure support and business services to events and networking.
Events are an integral part of the Spark experience. They are a chance for you to learn, speak, network, get inspired and reinvigorated for the challenging road ahead. Take advantage of a wide array of events and content, from workshops and founders-only dinners to networking cocktails and startup-to-VC events.
Seattle, Washington
This co-working community, located in Capitol Hill, Seattle, is dedicated to cultivating a dynamic, creative and collaborative environment for Seattle's nomadic workforce. They believe that by working together we can accomplish more than we could alone. They also believe in co-working without a filter – the community is strong when it is diverse.
Office Nomads is an intentional co-working space. Part-time membership options start at $100/month and, as a member, you become part of a group of independent workers who face similar issues and have a diverse set of skills to meet any task. We can confirm that Nomads provides you with social sustainability, sanity, comfort and the productive environment that they claim to do.
Boston, Massachusetts
My Officio
Oficio is a beautiful space to call your own. It features all the perks of a co-working space, dedicated desk, private office, or meeting room, along with a multi-functional event space. The spaces are highly suitable for hosting events, large presentations, and more.
Memberships here start at $69 a month. Oficio has landed its feet on Newbury Street with two modern locations, one featuring a newly renovated Mad Men-inspired library. Both locations are designed to be the most productive environments for their members. This space is proud to support the Boston arts community by rotating work from local artists on their walls. In addition, they host various events for the arts community throughout the year. So take advantage of their growing community of 350+ freelancers and entrepreneurs through networking events, happy hours, special member introductions, and much more.
As Susan K. Schwartz, one of the Oficio members said: "From the rotating artwork to the zen music and great coffee, I always feel at ease working here, even on my most stressful days."
San Diego, California
DeskHub
Desk Hub is a community-driven workspace that will grow on you. It is located in India Street and some of the best and trendiest neighborhoods in San Diego where you can enjoy the hottest local coffee shops, bars, wineries and restaurants.
I do like the fact that they have a simple and inclusive pricing structure, where with one set price of $350/month you will become a member, which gives you full 24/7 access to absolutely everything: working areas, a fully stocked kitchen, secure storage, mailing service, print and copy, events and unlimited conference room usage. You can even take a power nap on their comfy lazy bags and couches.
They are also very focused on networking, collaboration, and learning in their space, which hosts many different types of events for members and the broader community.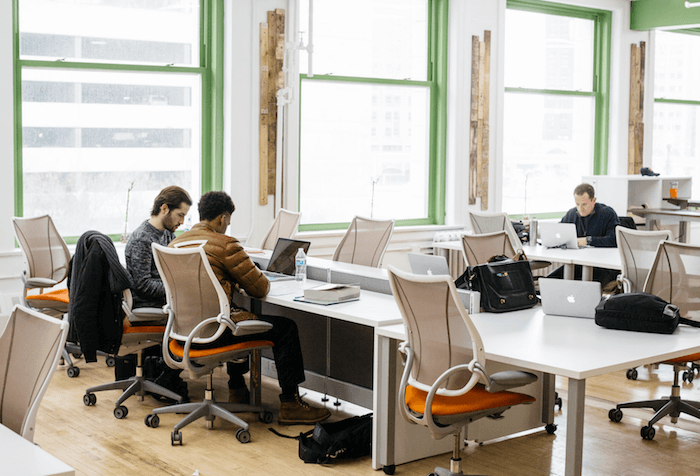 Dallas, Texas
Common Desk is currently located in the heart of Dallas' most creative neighborhoods: Deep Ellum and Oak Cliff. Deep Ellum locals are quirky, alternative, and a little rough around the edges, which perfectly contrasts the locals just down the street in Downtown Dallas, and we absolutely love that about this neighborhood.
A day pass is $25, a nights and weekends pass costs $110/month, a shared desk membership costs $225 and a dedicated desk is $450 per month. They also offer space and conference room rentals. Their spaces have an overarching unity in design when it comes to their buildout, but each space has its own unique personality to reflect the neighborhood in which it is located. They use natural elements like rough wood, natural light, tall ceilings, and creative touches like murals, eclectic accents, and quirky features to make their spaces come alive.
There's also no limit to the types of job categories you'll find in this community – from marketers, creatives, developers, and sales teams to real estate agencies, attorneys, NFL football players, nonprofits, chefs, and even doctors, the diversity of the members is what makes the Common Desk community truly one of a kind and which got them ranked so high on our list.
The vision of this space is simple and relatable: Continue making 9-5 fun for professionals by figuring out new ways to give more and more people an enjoyable office experience. And from our experience, they are quite good at that.
San Jose, California
WeWork occupies five full floors in one of two matching towers that offer amazing views of the city and the hills beyond. Amenities at this San Jose office space include a gym with showers and a locker room, a game room, and an outdoor wellness space – which can definitely give you a sign that this community knows how to work, but they know how to have fun as well. That's why the events are an essential part of the WeWork experience, helping them build and maintain a strong team culture.
If you're looking to be inspired by a diverse community of creators, WeWork San Jose is just the place. Their workspace design features private offices (for teams of 1–100+) with glass walls to maintain privacy without sacrificing transparency or natural light. Common spaces have a distinct aesthetic and vibe that will inspire your team, as well as the guests you bring into their buildings.
Step inside WeWork Valley Towers and experience firsthand why San Jose is swiftly becoming the area's creative corridor.
St. Louis, Missouri
Service and sophistication meet affordability and accommodation at The HIVE44 Event Center in St. Louis. This co-working's 2,000sq.ft. of top-notch space is a perfect venue for any business or personal occasion. The flexibility in event space will allow for a productive and memorable experience.
Their Business Center is a collaborative work and meeting space designed for business professionals. The environment at The HIVE44 is fresh and energetic. You will be around other creative individuals who are leading industry experts.
The HIVE44 is looking to build a creative community that enhances the collaborative spirit and together new startups can grow and expand by leveraging each other's core strength. This community provides everything you need to run a successful and profitable business for one monthly membership fee – starting from $150. Best of all the HIVE44 promotes your company, supports you and your business and gives you all the help you need to succeed.
New Orleans, Louisiana
Icehouse
Located in New Orleans, LA, Icehouse is a 12,000 square-foot, newly renovated warehouse and fully-charged entrepreneurial environment housing designers, media artists, entertainment companies, startups, and social innovators. They frequently host events featuring engaged social, economic, cultural, political and environmental change agents and leaders. And, they are very dog friendly.
The monthly cost of membership at Icehouse is $500 monthly, per desk, with single or multiple desks available. The open floor plan offers a collaborative, creative environment while preserving privacy and minimizing distractions.You benefit from an environment of creativity, social/economic engagement and business development. It was originally constructed in the 1920s as an icehouse, thus the name, and features a 30-foot ceiling with nine large skylights, which flood the space with natural sunlight.
Atlanta, Georgia
Catering to all types of businesses and entrepreneurs, StrongBox West takes pride in their diversity as well as their culture, which is often described as funky, creative, and inspiring. It provides not only a greatly affordable place to work, but also the framework and tools to help their members become even more successful.
StrongBox is Atlanta's oldest co-working space and the Southeast's biggest co-working space. It's the first co-working space in Atlanta to bring together tech companies and makers under one roof. Even their coffee shop is a start-up! This place is filled with geeks, creatives, coders, artists, makers, and freelancers.
Day pass membership in this place is $15, but they offer a variety of monthly membership plans to suit nearly any workspace need you have. Six to twelve month leases are also available for offices and suites, which can be customized to your tastes and brand identity.
Detroit, Michigan
Citizen Space
Located in Detroit, Michigan, Citizen Space is a community of hard-working, fun-loving independent professionals, startups and entrepreneurs who work from this great location. The idea of Citizen Space is to take the best elements of a coffee shop (social, energetic, creative) and the best elements of a workspace (productive, functional) and combine them to give indie workers the chance to have their own, affordable space.
Citizen Space offers all the benefits of working in an office, but in a much more fun, creative and collaborative environment. You'll work among small startups, software engineers, web developers, social media strategists, designers, writers, consultants and more. Some set-up shop here full-time; others just stop by to work for the day. All benefit from working among like-minded entrepreneurs.
They offer several membership levels for a monthly fee; two drop-in options; and a mailbox-only option (great for those who just need a business address). Day-tripping and casual guests can visit for a small fee of $8 an hour or $20 a day, but you must follow their rules and be a good neighbor. They hold various events and are happy to consider making their facilities available for event hosting.
In general, they welcome your pets as well, but you should check their pet policy beforehand. One more thing this place is hiding is a wee library for those of you who are interested. The Citizen Space community believes in transparency and openness. In a world where people are free, but ideas are not, only a few benefit. When ideas are free, everyone benefits. Therefore, they encourage open spaces and discussions.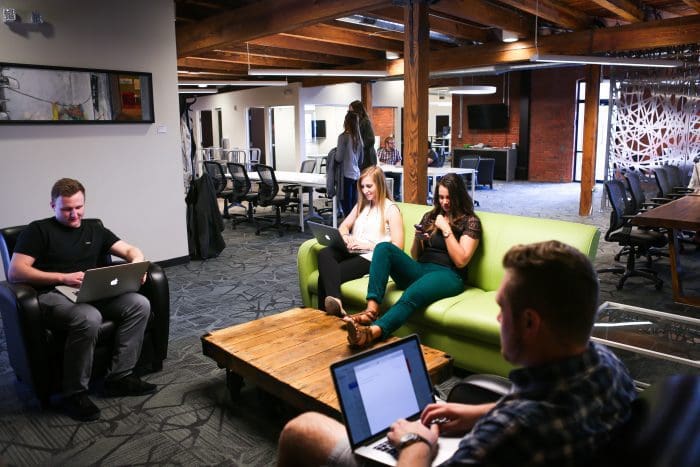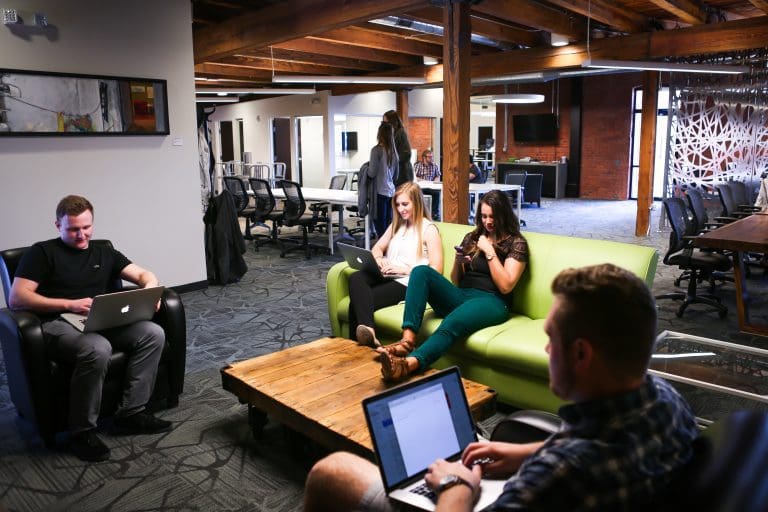 Lincoln, Nebraska
FUSE
"Whatever it is that you do, you'll do it better here."
They call themselves innovator, developer, marketer, manager, designer, student, coach, CEO, and founder. FUSE Coworking houses a variety of different companies, from solopreneurs to small teams. They are located in the Haymarket District of Lincoln, Nebraska.
At Fuse Coworking, you'll find the comforts of home and shop with all of the benefits of working in an office setting. Best of all, for less than the price of buying a latte per day, you can call Fuse Coworking "work". Membership is starting from $50 per 4 days, to $150 per month. This space hosts many great events that open to the public. You can join them for tech meetups, yoga, happy hours and more!But don't take our word for it, experience it for yourself.
Jersey City, New Jersey
Indie Grove
Indie Grove's community is led by the philosophy that entrepreneurs and independent professionals do not conform to one way of thinking, nor should the space they work in. So their workspace, meetings rooms, and events are designed to provide you the environment you need to work harder and happier. Their rooms are designed for productivity and privacy. State of the art technology and tools make presentations, project planning and brainstorming easy and impressive.
All of their membership options are month-to-month and the price and access to shared workspace varies, starting at 225$. Indie Grove's community of 250 entrepreneurs and independent professionals is diverse in terms of industry and background. Their workshops and events provide the knowledge, skills, and connections you need to successfully grow your business, whether you are a member or non-member.
From time to time they organize a free co-working day so you can experience co-working and see why it has become the most popular way for entrepreneurs and independent professionals to work. Plenty of Wi-Fi, coffee and beautiful views in the heart of the Downtown Jersey City commercial corridor!
Charlotte, North Carolina
Designed as a beautiful living room, COTERIE was born as an inspiration to create a mission driven, community focused company that could serve women in communities worldwide. This space is made so women would feel comfortable and confident and able to connect with her value.
COTERIE is committed to advancing the lives of women and has chosen to donate 10% of their gross revenue to a variety of causes that make a difference, which makes them fantastic community. Members can enjoy their fun, relaxed atmosphere with perks that include beautiful spaces, drop-in work stations, lounge areas for collaboration, state of the art conference suites and a fully stocked kitchen to gather and enjoy beverages and pop up local artisan food.
This amazing place hosts a variety of events each month. Wellness is a focus, with weekly yoga on Wednesday evenings, and a cycle of Saturday morning classes that range from piyo to tai chi. During the week you can pop into a lunch + lead featuring a local business leader, or a workshop on topics varying from personal finance to how to create your own image gallery. They offer spaces for offsite meetings, trainings, retreats, holiday parties and other select social events.
COTERIE has branches in Charlotte, NC and Pittsburgh, PA, but, with an ambitious and aggressive global rollout mapped, they have communities in development in Washington DC, Nashville TN, Orlando FL, Charleston SC, London and Dublin. Their memberships are offered on a referral basis, with members recommending other women who may be a great fit for their member base. With COTERIE, women empowering women is more than just a theory!
Detroit, Michigan
It's not just locations, colorful environments, or super-fast Internet, it's the people that make Bamboo in Detroit special. Their members are diverse, talented, experienced and starting up, tech-savvy and crafty. They range in industries and backgrounds. When you have a diverse community you have more perspectives and more room for collaboration and innovation.
You can become their member for the open co-work price of $125/month. Another thing that makes Bamboo special is that they're entrepreneurially led. They're all in it together. Starting or growing a business is hard work. They recognize this and create a culture of peer-to-peer support that helps you out anytime you need it. From events to resources, to random questions for the whole community – they're in it together.
Oakland, California
Impact HUB
Impact Hub Oakland is uniquely designed to support an ecosystem of change-makers. Gorgeous and versatile, their space fosters collaboration and creativity for individuals, groups, and events. Whether you need peace and quiet or an energizing buzz of activity, every square foot is intended to facilitate inspiration for less than $300/month for 100 hours of co-working.
The mission of Impact Hub Oakland is to build an entrepreneurial community and co-working space to create solutions for the world that works for all. They provide a range of programs as part of their ongoing commitment to developing and supporting the success of their members. Their programs aim to accelerate your learning, introduce you to great thought leaders, and connect you with new collaborators, all in service of creating a better world we know is possible.
They embody the African proverb: "If you want to go fast, go alone. If you want to go far, go together."
Minneapolis, Minnesota
COCO is a community of dreamers, creators and doers, a dream accelerator — a destination for building your venture and exploring new ideas in the company of other creators. Whether you are an independent, an entrepreneur building a startup, a small business owner or a corporate innovator, COCO is a place to imagine and pursue what's possible. You can choose whether you would like to co-work in COCO's venue in Chicago or COCO in Minneapolis.
People meet and ideas collide at COCO. Monthly memberships starting at $85. You can join COCO as a worker and soon become a dreamer, creator and doer yourself, as their motto states. I know I was lured in by this one.
Cleveland, Ohio
StartMart
Residing on the second floor of the iconic Terminal Tower, StartMart is conveniently located in the heart of downtown Cleveland and boasts 35,000 square feet of space. The goal of this startup and co-working community is to be a dynamic entrepreneurship hub connecting business to critical resources. They create an atmosphere where startups are empowered to test, iterate, fail and scale.
The Open desk membership price is $200/month. StartMart hosts multiple events per week, such as accelerator demo days, pitch events, startup weekends, hackathons, musical performances, art exhibits and small tech conventions.
Denver, Colorado
Thrive Workplace, based in Denver, is a family-owned co-working community offering unique, flexible and member-centric work spaces. With a 24,000-square-foot location in downtown Denver and a 9,000-square-foot location in Cherry Creek, Thrive Workplace provides customizable workplace options, including private offices, open work spaces and conference rooms available to rent on a permanent or a scalable basis.
Their memberships start at $50/month for a shared space. If you want a dedicated desk with a cabinet and 24/7 access then the price is $450/month and for the entire office for your team, prices start at $850/month. From free coffee to beer, to Wifi and printing, you get all the amenities here for you and your clients. They encourage opportunities to socialize on monthly Lunch+Learns, happy hours and networking opportunities and events
Thrive cultivates winning communities for driven, innovative people to succeed and offers a relationship-driven co-working experience to a wide variety of customers, ranging from Fortune 500 companies to startups.
Memphis, Tennessee
Cowork Memphis is a collaborative community of like-minded professionals that is part support system, part educational network, and part think tank. Simply stated, they believe you can Achieve More Together than alone.
This space provides an exceptional workplace that includes open and private desks and conference rooms. You can join for a day for $15 or you can choose the co-work basic package for $150 a month which includes free coffee and water, fast wi fi, discount on the meeting rooms and access to private phone rooms, classes, events and their bike community. For $250 you will get 24/7 access with additional amenities such as two guest passes, four conference room hours and 100 copy/print sheets. If you option for a private office with 24/7 access, then you should be prepared to spend $550 per month, not including the deposit.
You will for sure enjoy the events they host on a weekly basis such as yoga community classes, personal brand marathon work sessions and strategic thinking workshops. And, if you decide you need some time to clear your mind, you can always de-stress in a table tennis match with someone from the space.
Portland, Oregon
Collective Agency space comes with big windows, lots of natural light, brick walls, wood ceilings, skylights Herman Miller chairs, regular desks, standing desks and sofas – or, simply stated, everything we are looking for in one working space! In their 6,000 square feet you can also find a loft with skylights, four private conference rooms, two small private meeting rooms and an entry lounge kitchen (everything except a full-size oven). Most importantly, they provide fast and reliable internet access (wifi and ethernet available), one of the fastest in Portland.
They have a variety of payment options. Tours for people considering membership are free. Try them out for a day for $30, which is credited to your membership if you sign up that day. Six days per month access is offered for $120, as many days as you want for $250, and $320 will get you a reserved desk.
Amenities include conference rooms, coffee, tea, hot chocolate, espresso, bubbly water, central air conditioning and heat, elevator access, bike parking, computer monitors and lots of natural light. You can also work with visitors in the main area for up to three hours per day. And you'll get three visitor day-passes each month.
Of course, one of the things we appreciate as well is that they host after-hours meetings for up to 45 people with at least a week advance notice (there are events up to five weeknights per month total at each location).
Louisville, Kentucky
The Park
Located in Shelby Park, The Park is a members-only shared workspace and co-working community in Louisville. They believe in "Open space for open minds" and this concept is reflected in its design – from the windows to the glass walls, they keep things open so you have space to breathe and enjoy the natural light.
As their member, you have access to high speed wifi, a business mailbox, private meeting rooms, workshops, storage lockers, copy/print/fax/scan equipment, gourmet coffee and tea, and snacks. They can be as flexible as you want them to be, offering offices when you need it and a couch when you want to relax.
Part time membership starts at $60/Month, which gives you Flexible access to a beautiful workspace and includes a business mailing address, a personal locker, free coffee, snacks, and a key card (it does not include use of meeting rooms). For $100/month you will become a full time member with on-demand access to everything, including the conference rooms. This is the best option if you plan on using the space more than three times per week.
Fresno, California
Hashtag
Really good things happen when you put smart people in the same room. That is what the Hashtag team believes in and we fully support this vision. Great things happen when you put smart and energetic people in the creative and funky working space that boosts your productivity levels, as we have witnessed firsthand in this working space. They were confident they represent the coolest place in Fresno and we had to see it for ourselves. Hence, they made it on the list.
Day passes are a great way to experience Hashtag without the commitment of a membership. You get all the benefits of a member until 5am. Individual memberships start at $39 per month or $399 per year. In addition, they offer discounts for students who provide their student ID card for $29 per month or $348 per year. You can also choose be their virtual tenant for $100/Month which includes: 24/7 Access, 100 free copies per month, a business mailbox and address, access to the lounge and kitchen and conference rooms.
Oh, and they have mushrooms and robot wall decor. I meant it when I said they are cool!
Harrisonburg, Virginia
The Hub Coworking
The Hub is a place where the energy in the room matches the enthusiasm. It is an inspiring downtown work space for professionals, entrepreneurs and innovators. Members have access to the collective talents and knowledge of others who work here, creating an organic style of collaboration and rapport that is invaluable to small businesses, independent workers and growing organizations.
General membership is $100 and their members are creatives, professionals, innovators, do-gooders, and all around amazing people who realized their couch is no place to build an empire.
Reno, Nevada
Fusion@Midtown
With over 9,300 square feet of co-working space, Fusion@Midtown is designed with flexibility and collaboration in mind. The vision of this community is to create a collaborative workspace for dreamers, creators, and doers who want to do more than just work – they want to excel alongside others. Their goal is to be Midtown's premier workspace for independents and startups, becoming an engine for local economic growth by empowering entrepreneurs to serve the community, create jobs, and do awesome things in their own, unique ways, all for $24/day or $149/month.
They like to say they have a "culture of high-fives", meaning they're always finding ways to celebrate their accomplishments, no matter how big or small, and push each other to do greater things every time. Because they are community-driven, all of their events are put on by members of the space or partners in the community. They have a lot of business events, and some of them are CatalystLive! – the only business class in town that focuses on established businesses and how they can leverage their current assets.
They are also working on other events that can provide value to the community, but aren't necessarily business-related, such as yoga classes, creative writing meet ups and flow workshops. As this space is located in the heart of the city of Reno's most dynamic neighborhood, Midtown District, Midtown art is featured throughout the Fusion space, showcasing the imaginative talent in the community.
Jacksonville, Florida
Coworkjax
Co-working communities begin and end with their members. And Coworkjax's members (all 150 of them!) are pretty amazing! CoWork Jax believes in the five values of co-working: openness, collaboration, community, sustainability, and accessibility. They know that co-working is not just a well-designed office space, it's about forming relationships, learning from each other, and feeling less alone.
They are located in the heart of Downtown Jacksonville, and this co-working space provides routine, structure, accountability, and inspiration. Connect with their community and enjoy their member perks for as little as $35/month – it's a hell of a deal. And they're much easier to write-off on taxes than your home office.
Lancaster, Pennsylvania
The Candy Factory was established in 2010 and is located in the heart of downtown Lancaster, Pennsylvania. They were the first co-working space available in central PA and they are very proud of it! You can tell they promote and encourage business growth, creative thinking, shared brilliance, and collaboration while offering an affordable office solution for small businesses, freelancers, remote workers, and non-profits. The Candy Factory's mission is to foster community and spur the growth of small businesses.
They pay attention to the community aspect and frequently organize for their members fun activities like lunch outings, collaging club, workshops, movie nights, weekend hikes, lunch and learns, happy hour activities, and so much more. You will enjoy a chill, eclectic vibe which fits in perfectly with the ever-growing buzz of the beautiful city!
They have had such amazing success since opening, that in addition to expanding their tower to six floors, they are also expanding into a second location—called Rock Candy—on the Rock Lititz campus. We were notified that there is also a big cafe project in the works with The Mix at Arbor Place and CoLab, which offers a program for at risk students to learn business skills for their future! We'll have to check it out.
Columbus, Ohio
Industrious
Industrious is located in a trendy urban arts district on the main strip of High Street. This area is brimming with art, retail, and nightlife just steps above Downtown. Industrious is an efficient, modern workspace and their areas conveniently overlook the Columbus skyline, offering the best views of the city. They went far beyond a desk and a chair to deliver the perfect office. Industrious includes common areas, a mother's space, and a secret room with free access to the Pizzuti Collection.
Co-working rent a desk in a shared space is starting from $360/month and private office prices vary based on office size. They start at $660 for one person to $995/month for two peopler, $1229 for three and $2273 for four.
You can enjoy local Columbus treats daily from mission coffee, Kittie's Cakes pastries, fresh fruit, and local beer – all served in their café. This is a whole new level of working area, in an elegant design paired with best-in-class hospitality and a vibrant professional community. Here you can expect to meet inspiring peers from all sectors, from small businesses to Fortune 500 companies.
San Antonio, Texas
Located in the historic Rand building, Geekdom anchors downtown San Antonio's tech scene. Their members enjoy three floors, a dedicated event space, and over 40,000 square feet for innovation and collaboration.
Membership for shared community space and 24/7 access is $50/month. They offer an opportunity to get mentorship, as Geekdom's mentor network is made up of members and industry professionals ready to help you tackle any obstacle to your business success, an opportunity not many provide, so you should value it.
Other membership perks include free coffee and soda, free events, workshops & classes, lounge areas to meet and hang out in after hours and a community space. With over 400 events each year, there's a lot going on at Geekdom. Feel free to check them out on our recommendation. I promise you will enjoy it.
Tulsa, Oklahoma
Located on St. Lewis Ave in Tulsa, The Bridge isn't a group of strangers sharing a convenient space or set of executive suites. They focus on comradery, team building and sharing ideas in order to create a successful team of independent individuals and companies.
Building up their members through education is a priority of The Bridge. They will regularly bring in speakers, hold seminars, and host focused work sessions. This space is providing the right environment to cultivate and grow their members through creative thought and processes. They designed a space to allow you to get in the right headspace – aesthetically pleasing, open, and with a choice of seating for those members who don't want a permanent desk.
At the Bridge, you're a citizen of a community – not a member of an office. Unlimited citizen membership is $200/monthly. It's not just a shared office space among strangers – they're building a community and we value them for that!
Green Bay, Wisconsin
Docking Station
The Docking Station is a shared office space for entrepreneurs, freelancers, independents, and any form of career nomad that is looking for a vibrant community and a space for collaboration. Located in the historic Broadways district of Green Bay. They have combined the best elements of café culture with a productive, functional work environment that is affordable for freelancers, solo-preneurs, entrepreneurs, the creative class and start ups to gain ground and succeed.
For $75 per month you will have 24/7 access to the Docking Station and you are free to use any open desk. These unassigned spaces are available for ad-hoc usage on a first come, first serve basis. The Docking Station is the space where free-working independent professionals can touch down, connect with resources and best of all connect with people who can help them grow! It is a shared facility where being a lonely freelancer is yesterday's news and today's entrepreneurs usher in the future.
Denton, Texas
Stoke is a place for innovators, freelancers, and startups. It's where ambition, technology, and a shared desire to change the world for the better can come together. Yes, it is a co-working space, but what it offers is so much more.
For the majority of entrepreneurial hopefuls, reaching a point of success is not without its challenges. Stoke aims to alleviate some of the confusion and stress that comes with striking out on your own to start something big. Whether you need a desk or a conference room, contract advice, or even just really, really fast internet access, you can count on them. They offer flexible memberships (drop-in $20, monthly $150) so you can choose the pace that best suits your needs.
Their motto: "Bring your ambition and ideas. Stoke will provide the rest."
Roanoke, Virginia
CoLab's 10,000 square foot co-working space is nestled in the heart of Grandin Village, just two miles from downtown Roanoke. They are a gathering center for creative thinkers, freelancers, and entrepreneurs, small business owners, and people just looking to do cool things on the side (tutoring classes, neighborhood projects, and more). As an event venue, co-working space, and resource hub, CoLab supports collaboration and innovation in the Roanoke Valley.
The basic membership for this coworking space starts at $150 and their membership represents a diverse set of professions and skills. They share a strong work ethic, an innovative outlook, and a focus on community involvement. From office space, hot desking, meeting clients, making connections, building workshops, entertaining, and more, their members use this space to vitalize their businesses and grow their already innovative minds. They get their creative juices flowing in this space, finding ways to network and stay in touch with other members of the community.
A lot of public events are hosted at CoLab. Some of them are hosted by CoLab and others are hosted by their fantastic members. Public events are a great way to meet new people, grow your network, and learn something new. Especially handy are their (X)po Wednesday events – a weekly gathering to share ideas, learn about a new topic in business and/or community building, network, and collaborate.
CoLab is an entrepreneurial microcosm of what 'community' at-large should be. The culture is innovative and inspirational. Every day you can find new opportunities that arise from interactions with other CoLabers, and they are always happy to share ideas and lend expertise, as some of the members explained.
Charleston, South Carolina
Located in Downtown Charleston, the Charleston Digital Corridor is a community-sourced initiative to attract, nurture and promote the region's tech economy through an array of impactful programs, products and events while leveraging Charleston's renowned livability.
The CDC membership level starts at $300. This community is focused on creating the business, education and social environment that is attractive to tech and tech-related companies. Then, the CDC leverages its carefully nurtured relationships, program elements, legislative access, and contacts, to assist companies with integrating them into the community. This integration is accomplished through four pillars: community, talent, spaces & capital.
The Charleston Digital Corridor is the response to a request by the citizens of Charleston to grow a high-wage economy while further diversifying Charleston's economy.
Irvine, California
The PeopleSpace in Irvine is very special with its vibe and culture. They don't focus just on the furniture or anything like that. Their space is a converted warehouse. They are more grass roots and do a lot more than just co-working. They tend to think of themselves as more hub than a co-working space – as CEO Melinda Kim likes to explain.
The monthly membership for the PeopleSpace's seat is $215. Besides co-working, this community offers a variety of programs. Their PeopleSpace educational programs are tailored to their community of entrepreneurs, programmers, and marketers. The PeopleSpace Acceleration Program guides startup entrepreneurs through the process of turning their project into a startup through a product and growth focused program that includes Mentors and PeopleSpace Members, and a lot more, like Javascript workshop series or their professional development program.
They have different areas for event spaces that host hackathons, demo nights, meet ups and more! PeopleSpace's fast-paced nights, weekend workshops and classes help their community stay current and gain insight.
Fort Worth, Texas
IDEA Works FW
IDEA Works FW™ is a creative, dynamic program that provides emerging businesses with nurturing relationships, state of the art tools, an attractive and secure work environment, best practices and access to global resources to sustain and scale their enterprises.
IDEA Works FW is designed with the following objectives: job creation, entrepreneurial development, strengthening Fort Worth's entrepreneurial ecosystem and innovation driven operations. It benefits the offerings of the Fort Worth startup community and the small businesses that have the potential for employment growth, have the capacity to innovate, potential for investment, possess a community or civic interest and have the potential of catalyzing other employment or economic growth.
Santa Cruz, California
The Satellite Los Gatos is the office and workspace you need – co-working, private offices, virtual office plans, meeting and conference rooms – available when you need it, with membership prices for drop-ins and café workspace starting at $215 monthly. You will feel productive and get right to work in this beautiful, connected workspace.
The Satellite has memberships and office space for lease plans to fit the way you like to work. You can enjoy their Muffin Madness Monday, an assortment of delicious homemade muffins and assorted treats on the FIRST Monday of every month!
Silver Spring, Maryland
Creative Colony brings creative professionals together to foster a supportive community where people can grow their businesses and pursue their passions independently, but not alone. Their core values make up the spirit of Creative Colony that people count on and embody.
Located in the World Building, Creative Colony is the first co-working space in Montgomery County intended specifically for commercial, creative professionals, such as designers, filmmakers and web developers. Not only do members have access to furnished, secure spaces, as well as infrastructure to support their general business needs, the location has industry-specific resources to help their creative business grow.
Full-time membership for this creative colony is up to $275 a month.
Bloomington, Indiana
Cowork
Cowork Bloomington offers affordable office space and exciting social events for professionals of all sorts – right in the heart of downtown Bloomington. Their innovative new space includes a lounge, kitchen, snack bar, conference room, call "enclave," and a number of designated workspaces. Monthly membership starts at $150 and you get coffee, high-speed Internet, printers, and their wonderful community all free!
Unlike many co-working spaces, Cowork was not designed for (only) entrepreneurs. Instead, their organization attempts to leverage the flexibility of the new working world – gathering like-minded small businesses, contractors and remote workers that love, and hope to keep their talents in, Bloomington.
While the physical space and desks are a very important part of co-working, what Cowork Bloomington loves, even more, is the community that has flourished within the space. They'll be highlighting the amazing things that their members have been doing at Cowork and in the larger Bloomington community.
Santa Rosa, California
Sphere Pad
Sphere Pad is an ingenious co-working space filled with creative minds located in the heart of North Beach. Their lovely space in Santa Rosa is completely renovated, inside and out and less than a mile away from downtown. Bright and welcoming with a ton of natural light, absolutely inviting that just lets you get your work done.
This space offers a shared working space and private offices with a focus on building community rather than working in isolation. Coworkers at Sphere Pad come from an array of professional backgrounds including startups, freelancers, entrepreneurs, designers, web/software developers, consultants, marketing professionals, artists, and more. Their monthly membership starts at $275. They organize casual co-working events to bring members and others within the community together. SpherePad believes in promoting the success of individuals by providing a collaborative and cost-efficient working environment.
Sphere Pad's co-working space provides a place where people don't just go to work, but they also feel a sense of belonging, which is the thing they emphasize the most.
Covington, Kentucky
Platform53
Platform 53 strives to create an environment that enables you to do your best work. Platform 53 houses freelancers, entrepreneurs, small businesses and remote workers. The industries are just as wide ranging, from creatives and developers to professional service providers and students.
Platform 53's location in Covington is made up of several rooms that are all a little different because they know everyone's work styles and daily needs are different, and the daily membership price is $39.
You can be surrounded here by a community of awesome people, doing awesome and different things. They work, laugh, play, enjoy food & drink, get inspired, build relationships, and get things done. Sounds like a good day's work. They provide not only work and meeting space, but a platform for you to share ideas, connect with others, get inspired, learn, support each other, and collaborate.
San Francisco, California
HatchToday is a place you'll be proud to call your own. A place companies and organizations of all sectors come together, find their place and build lasting relationships. They provide you with everything you need to stay fueled and motivated to get work done. From coffee to IT support, HatchToday has your back. Don't forget the monthly Happy Hours with Bourbon Branch.
The key to HatchToday is tenant happiness. Their staff can't wait to get out of bed in the morning to make your coffee, sort your mail, help you setup a static IP, and give you the motivational high five that everyone needs once in a while. Since the summer of 2011, HatchToday (formerly The Hatchery) has grown to over 150 diverse tenant companies – technology entrepreneurs, freelancers, winemakers, designers, and writers. Some are bootstrapped. Others have raised tens of millions of dollars in venture financing.
Chicago, Illinois
Onward Coworking
Onward Coworking is a cozy, casual coworking space located in the West Loop. They provide flexible month-to-month desk (shared-desk membership is $280/month) and office rentals in a unique, industrial timber loft space professionally designed to accommodate a number of different working styles and preferences.
Onward Coworking revolves around three simple elements: dynamic people, inspiring workspace, and outstanding location. But Onward is more than a cool place to work, it's an evolution of work itself. It's a fresh new perspective on how we can influence the environment that surrounds your work to improve your happiness at work. It's a push onward, forward, and ahead to change our working world for the better.
Naples, Florida
Venture X is a shared workspace and community that is a blend of boutique hotel and modern office styles with a high level of design that feels professional and welcoming.
At Venture X they didn't reinvent the way people work. But they are designing beautiful spaces and developing an environment and community that people love coming to work to every day. Sit in any common area that you want. Bring your computer, find a spot and start hustling for a monthly membership starting at $280.
They believe that innovation, creativity and fulfilled lives are powerfully enhanced by diversity. Because you love what you do and because where you work and the people you work with matter, Venture X radically redesigned the office with the ideal mix of work and social space. Designed to accelerate your business in a place you are going to love working.
Santa Monica, California
Village Workspaces offers creative and technologically advanced workspaces designed to meet the diverse needs of micro businesses, freelancers, home-office workers, entrepreneurs, start-ups, tech workers, writers, designers and other savvy professionals. Their luxury modern office culture for every industry offers from offices for small businesses to cabins and co-working spaces for individuals with a membership starting From $350/monthly.
Whether you need a space to brainstorm, want to hold a workshop or intend to launch a new product, you can book one of their stylish meeting rooms or event spaces, on two amazing locations: on the thriving Westside or close to the beach in Santa Monica.
This cool environment will give you the energy and vibe of working in a larger workspace with like-minded people. It's a great place to create your own private space and get loads done while being surrounded by a vibrant community.
Corona, California
This Corona community is filled with creatives, remote workers, small businesses, freelancers, and startups. They believe that a workspace is only as good as its community. Their original design aims to increase productivity, so this is a place for professionals who are serious about success, in work and in life and who refuse to sacrifice fun in the process.
Work with them anytime from any of the seats in their coworking area and spark creativity, with a membership starting at $279/monthly.
Tucson, Arizona
Connect Coworking
Connect Coworking is a non-traditional, fun and upbeat local coworking and private office space building located in Downtown Tucson. Connect is the home to over 90 different enterprises including remote workers, non-profits, universities, and local-based startups. They provide a place for individuals to work however they'd like to work whether that be surrounded by others in an open space, in an enclosed private office, outside on their patio or in one of their break away spaces throughout the building. They offer all inclusive memberships (starting at $150/month) which include fast and reliable wifi, printing, copying, scanning, faxing, conference room hours, coffee, and FREE beer on tap oh my! At Connect Coworking, there are endless opportunities at your fingertips within house networking opportunities, local partnerships, social events and a strong sense of community! Past awesome events held at Connect include local art shows, Member Meetings (with ping pong tournament, pizza, and beer all provided!), seminars, networking events, and workshops.
They want to provide the members with space and tools they need to grow as a company while also making it not only productive but fun!
Kansas City, Missouri
Think Big Coworking
Located in the historic Globe Building in Downtown Kansas City, Think Big Event Space features original yellow pine beams, exposed brick and hardwood floors in an open space floor plan. Built in 1902, their 20th century building meets the modern world with 21st century technology, it's a smart space that breathes innovation. Think Big Coworking isn't just a space for entrepreneurs, startups and innovators, it is a community that allows members to find a new way to work, collaborate with one another and surround themselves with other brilliant minds. After all, communication and collaboration are force multipliers to getting things done fast.
Drop-in for the day or become a workstation member and work next to other like-minded entrepreneurs in a creative, productive environment. Drop-in starts at $15/day or a coworking pack for $200, including the support you need to make an impact.
Raleigh, North Carolina
The American Underground launched in 2010 in the basement of the Strickland Building on the American Tobacco Campus, North Carolina's largest historic renovation project. This project totaled over one million square feet of space and transformed what was once an eyesore of abandoned tobacco warehouses into a bustling hub for entrepreneurs. The American Underground has one location in Raleigh and three locations in downtown Durham, N.C. – a city that is capturing the national imagination with its Silicon Valley vibe and location just minutes from the world-famous Research Triangle Park.
This is a perfect place to land and be surrounded by a high-energy group of peers.
You can join coworking space for monthly $215 and you can take part in high caliber meetups, educational programs and networking events that will make you a smarter startup. This is perfect for getting out of the house and working alongside like-minded individuals.
Tampa, Florida
From enterprise clients to solo-preneurs, this collaborative work environments help on-the-go business professionals lower office overheads, increase productivity, and accelerate success so that you can spend more time doing what you love, so that you can positively impact your family, your community, and the world. Their members can enjoy simple and transparent pricing – executive office suites, plus mail & concierge services from $399 per month.
CoCreativ Makes It Possible to try before you buy with a Day Pass for $20 per day; choose your work style – whether you need part-time work space, flexible seating, or a private office, they've got the perfect combination of "office freedom" for you. No more cubicle prisons or home office dungeons. This is "on-demand office space with no surprise fees. Ever".
Pittsburgh, Pennsylvania
Alloy 26 is a cutting edge, co-working space in the heart of Pittsburgh's North Side, in Nova Place. They provide great companies with office space, amenities and programming to help you build the next big thing. They're a group of the brightest entrepreneurs sharing ideas and a passion for changing the world.
50,000SF of authentic space, guaranteed to inspire those lightbulb moments. Their open floor plan is fashioned with custom furniture with individual power stations that allow you to plugin with ease and flexibility. Private offices grant the peace and quiet you need to stay focused. Comfortable lounge areas evoke synergistic energy.
Being a member of Alloy 26 (membership starting at $225) has its perks. Their eclectic community of entrepreneurs will enable you to forge relationships and thrive.