Dateline: Canggu, IndonesiaAsia is almost universally hailed as a Mecca for digital nomads and expats alike – especially Southeast Asia.
This is undoubtedly due to the promise of earning a Western salary and living somewhere where the value of every Euro, Pound, or Dollar is worth (at least) five times more than it is at home.
However, the reasons why so many expats flock to Asia go beyond pure economics, and you don't have to live like a backpacker to save money and live a good lifestyle. In fact, quite the contrary. Now more than ever, working from abroad has become an attractive reality that didn't exist fifteen – or even ten – years ago.As the world becomes a safer place to live with each passing year and as many cities gain access to high internet speeds, it would be a waste not to seize the opportunity to start or even grow your own business online from a location that suits your needs.Many cities in Asia offer a range of environments to work from. Whether you prefer a big city, beach life, or a simpler country lifestyle, there's an option for everyone.
While Southeast Asia is a great option for location-independent workers, other options exist in other parts of Asia, too, that definitely deserve to make the cut in this list of the cheapest cities in Asia in terms of cost of living, safety, and quality of life.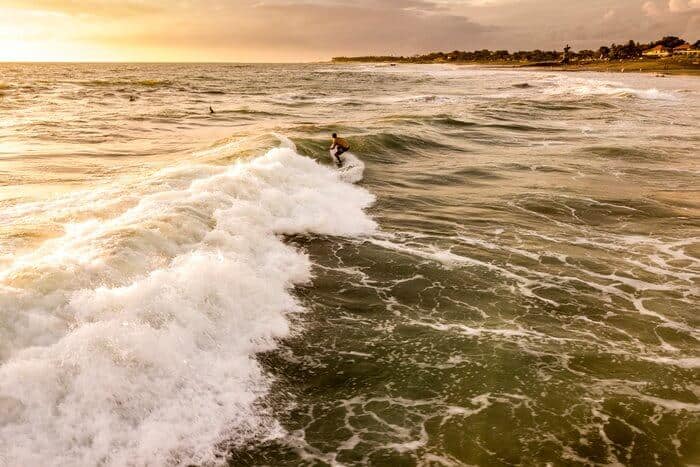 CANGGU, INDONESIA
Canggu is a small beachside town in South Bali where local Balinese and Australian and European expats live together in an odd harmony. I say "odd" because I have never been to an island where foreigners are so welcomed, but this is natural because the Balinese economy depends largely on tourism to keep local businesses running – not to mention the exuberant friendliness of the Balinese people.This is a place for anyone looking for small-town life.
As I sit, writing this article poolside from an incredible co-working space in Canggu, I can provide a first-hand account of why this town is perfect for starting your own online business or continuing the online work you already do.The number one advantage of working and living in Canggu is, for sure, the community of expats and potential for networking that exists here. There are Facebook pages for entrepreneurial expats, or better yet, if you can join a co-working space and meet other people face-to-face then you will be bettering not only your work life but your personal life, too.
There will be people working alongside you who are the experts in their own fields – be that in web design, e-commerce, or photography – and are more than willing to help you with what you need for your business for perhaps only the cost of your own work services in return.At Dojo Bali, there are also social events and educational classes held daily to improve your knowledge of online work and, therefore, improve your business.
The cost of living can't be beat, either. For 400 USD per month, expect to find yourself living in a fully furnished private villa with a pool, an incredible view of the rice fields, WiFi, and private parking.Of course, you can find a beautiful apartment in the town center for much, much less – it all depends on what's best for you. Of course, everyone gets by on a scooter, which costs 40USD per month to rent.
In Canggu, the food is also to die for. With restaurants boasting a wide range of nationalities, you can get a traditional Indonesian rice dish called Nasi Goreng for $1.20 or pig out on an authentic Italian pizza for $4 USD. The selection is amazing, and Canggu is truly the home of smoothie bowls, surfing, yoga classes, and having a swing attached to every tree in sight.
Canggu is highly accessible from Australia with cheap flights running daily, but if you are traveling from Europe or the US, prepare for a stopover in Singapore or another major airport hub.Visas can be a little tricky unless you can get sponsored by a local Indonesian person. If this isn't an option, a social-cultural visa is your best bet, which is what I use.You can pay an agency a small fee to sponsor you and handle all documents and embassy trips on your behalf. However, after 180 days of living in Bali, you will be required to leave and re-enter the country, which isn't ideal given that travel to and from the island can sometimes get expensive.
Last of all, Canggu is quite safe by Southeast Asian standards with your biggest risk being getting hit by a scooter – I'm not joking. Just be sure you have insurance before you make the trip.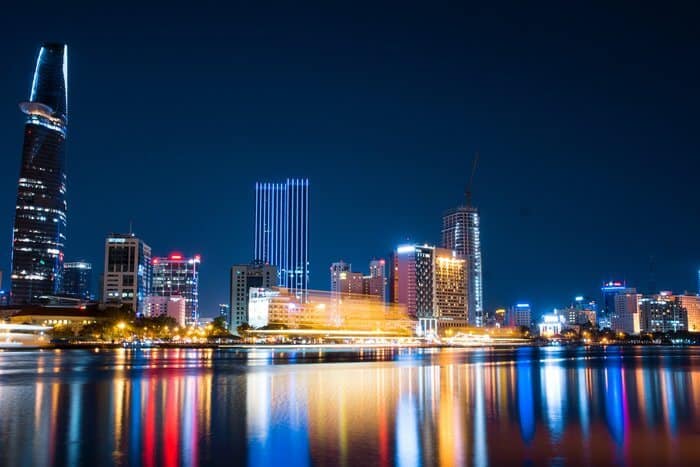 HO CHI MINH CITY, VIETNAM
Ho Chi Minh City, or Saigon as it's still commonly known, is the original digital nomad hotspot of the world. It's a large capital city of 8 million people and boasts a colorful history.A balance of chaos and calm, once you look past the crazy traffic, you will find that life actually moves quite slowly for its residents.The city is divided into districts with some parts being more cultural, more foodie, or more developed with large shopping malls, so you are bound to find an area that suits what you are looking for. I found a helpful easy-to-read guide to the 24 districts here.
According to NomadList, you can expect to be paying between 621 – 889USD per month in Ho Chi Minh, including accommodation, eating out, groceries, and entertainment. That's not bad for a big city.
However, despite having such a modern setting, HCMC remains a city interlaced with tradition and history. Here, you will be greeted with a new cultural experience, amazing street food, and a thriving social scene to boot.
HCMC is one of the largest importers of coffee in the world, making it a perfect setting for digital nomads or entrepreneurs to work from one of its many cafes with their laptops by their side. The city has fast internet speeds with great access to public WiFi. And if you'd rather work more comfortably without racking up a huge coffee bill, co-working spaces are plentiful.
Vietnamese is a relatively easy language to learn (at least compared to other Asian languages) since it uses the same alphabet as English and has no genders, plurals, or verb endings.Vietnamese people are acknowledged for being both very direct while also friendly and helpful. Another huge advantage of living in HCMC is the recent and well-received introduction of Uber and Grab taxi services around the city – one of the handful of places in SE Asia where these services are available. If you're up for a thrill, you can even book a motorcycle taxi through these apps.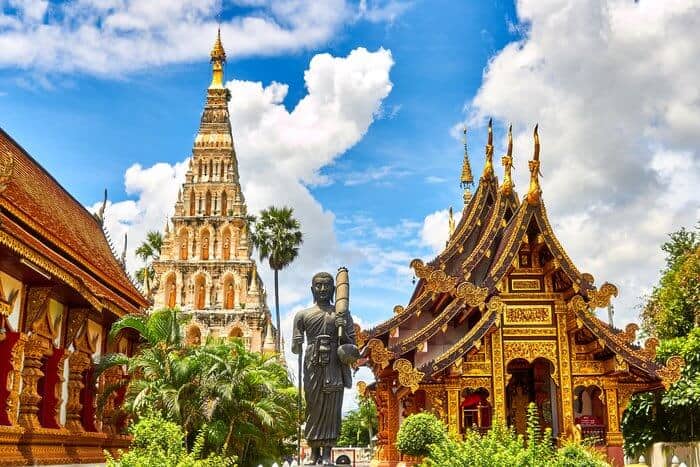 CHIANG MAI, THAILAND
Chiang Mai always makes the list as one of the best cities in Asia and the world for location independent workers – and it does so for good reason. As a smaller city with about a half million people, you can live big for very little here.Chiang Mai is one of the cheapest cities in Asia and the world for living that still boasts first-class amenities. Accommodation can range from 100 USD to the thousands per month depending on your own preferences. Street food comes to as little as $1 USD for a meal.There are also a number of budget activities to fill your spare time, such as temple hopping, paintball, hiking in the mountains, and visiting elephant sanctuaries. Chiang Mai is also a convenient city to travel in and out from, so you can easily spend a weekend in Laos, Myanmar, or Vietnam.
But what expats really talk about when advocating for Chiang Mai is the community of expats that exists there. Major digital nomad and expat groups have thousands of members that are open and welcoming to all newcomers.Events include meet-ups, educational seminars, and excursions to see local sites. The co-working spaces there are top-class with high-speed internet reaching the entire city. There are hundreds of co-working spaces and late-night cafes for young entrepreneurs and digital nomads to set camp. At these coworking spaces, you will find other extremely successful businesspersons working, making it an excellent networking destination.
Chiang Mai is also renowned as being one of the safest cities in the world with a very low crime rate against foreigners. Like Canggu, you only need to be hyper-vigilant on the road.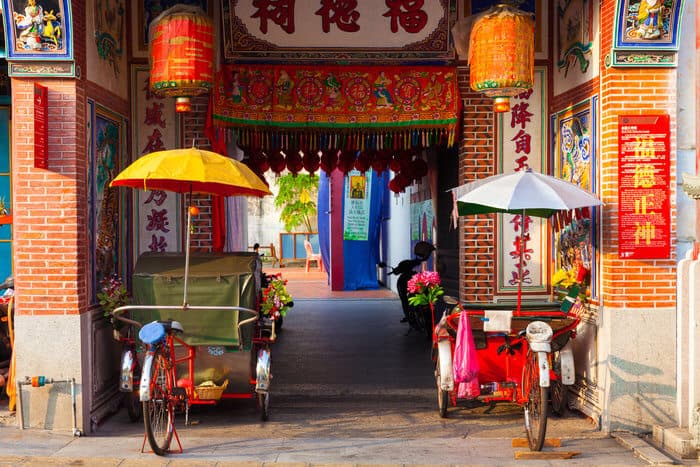 KUALA LUMPUR, MALAYSIA
Kuala Lumpur, Malaysia's capital, hosts a population of 7.5 million people, and although the primary religion is Islam, this only makes up 50% of the public's religious beliefs. Buddhism, Christianity, and Hinduism make up the other half, creating a multicultural melting pot that welcomes cultures and religions from all over.
As another treasure for big-city lovers, you'll get some of the world's tallest buildings interwoven with the city's old town architecture in Kuala Lumpur.This is another place where you can live life in a large city for a quarter of the price you would pay at home (depending, of course, on where home is for you). Rent in a one-bedroom apartment in the center of the city will set you back about 400-600 USD per month, and food and healthcare come cheap too. That means there's a lot of potential for saving your money.
Luckily, the visa process for Malaysia is straightforward and easygoing. The currency is the Malaysian ringgit, which is currently majorly undervalued, meaning your shopping is going be cheap and investments are ripe for the picking.
The light rail public transport system in KL is cheap and extremely efficient with a line that connects to the city's international airport. Kuala Lumpur is also an international flight hub, so you can get in and out rather easily.
The downfall that I seem to find with KL is that it doesn't have that much entertainment or things to do as I would like to see. The Batu Caves are ancient and incredible, but beyond that, your pick of exciting things to do is quite limited.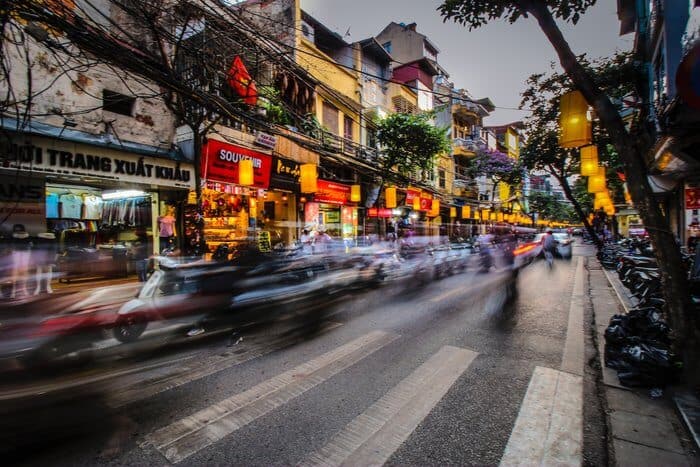 HANOI, VIETNAM
The second Vietnamese entry on the list, Hanoi, is the country's capital city, and it is one of the quicklest developing cities in Southeast Asia. However, it is still encompassed in nature. The Red River lies along the east side of the city, and large parks and lakes dot the land.Due to Vietnam's interesting political history, it is another cultural mix of Chinese and French influence. In this respect, I find it more colorful and interesting than its counterpart, Ho Chi Minh. I've often heard that walking down the city streets in Hanoi is like walking through a museum.
The local street food scene in Hanoi is bustling with little plastic stools allowing you to sit down and enjoy your dish. Of course, you'll also find a number of high-end restaurants available, too, but it's important to experience the local way of living.This city is yet another example of cheap living with a one-bedroom apartment in District One costing about 350 USD per month. Of course, cheaper and more expensive variations of this are available to suit your needs.
Vietnamese visas typically allow you to stay in the country for 30 days with the possibility of further extensions that you can pay an agency to help you with. Unfortunately, this can become a pricey endeavor, so be sure to do your research before you decide for certain that this is your dream destination.
The main fault that I find with working remotely from Hanoi is the unreliable internet speeds. It is difficult to find cafes or working spaces outside of the home that are up to scratch enough to work with. This is a stark contrast to HCMC and is generally a pity as Hanoi is almost a digital nomad's utopia in every other way.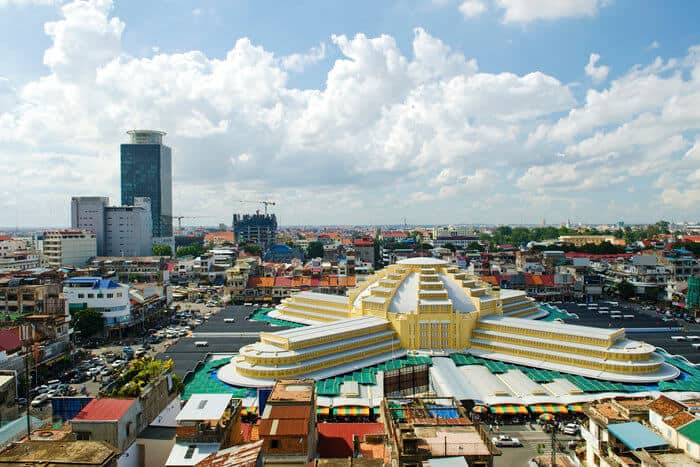 PHNOM PENH, CAMBODIA
Although more and more Western-style buildings are appearing throughout Cambodia's capital city, it is still rather underdeveloped compared to other Southeast Asian cities.For this very reason, Phnom Penh holds so much charm and allure. Numerous temples, markets, and the Royal Palace all transport you to the past while new architecture and modern restaurants and cafes seem to be opening daily.Phnom Penh is truly unique and not like any of the other cities in Asian I've ever been to.
Phnom Penh has come to the forefront for young entrepreneurs in recent years because of its extremely low-income tax rate. Starting a business there could potentially save you thousands of dollars over the years. The cost of living is also very low with an entire apartment costing approximately 400 USD per month. Phnom Penh is also one of the few cities in Asia on this list that would be perfect for someone looking to join a foreign company to work with. As modern Cambodia is quite a new country, they are actively seeking skilled expatriates from other countries to come and work.The expat and digital nomad community is thriving, and the possibility for networking is ever-present. In this city, expats seem to communicate with each other a lot but keep an equal level of connection with locals.
The one drawback of Phnom Penh is that it can be a bit "rougher" than other cities in Asia. While violent crime against foreigners is uncommon, petty crime like pick-pocketing and bag-snatching is quite common, and you should take more safety precautions than normal.
The visa process in Cambodia is one of the most expat-friendly in the whole of SE Asia. Upon arrival, you can get a business 30-day visa for only 35 USD, which you can extend to a full year by the end of the month for 285 USD. This visa will also allow you to set up your own business in the country.
Although it can be awkward to get to Phnom Penh, requiring a stopover in Kuala Lumpur, Bangkok, or another major city, to me, this small city is worth the time.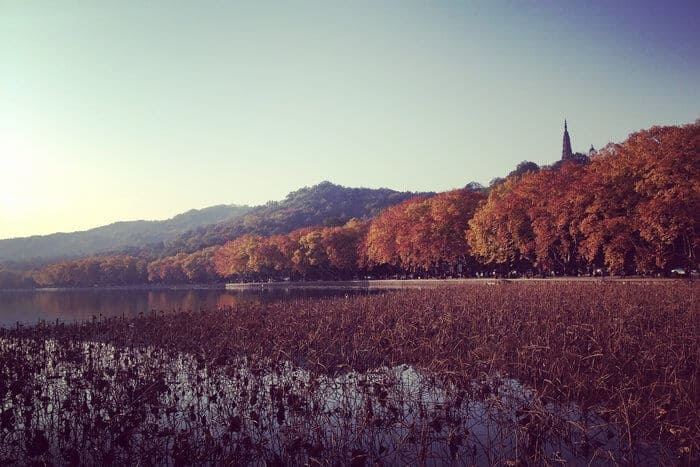 HANGZHOU, CHINA
It's time to move out of Southeast Asia and into Mainland China – another great area for digital nomads. Specifically, Hangzhou, the Tea Capital of China, is a city of about 10 million occupants located in the eastern Zhejiang Province that's an excellent place for nomads and expats alike.China is now home to the second largest economy in the world, and this is largely due to its entrepreneurial spirit. Large companies such as Baidu, Inc.. and Alibaba have gained massive success and have a net worth of billions of dollars.
This start-up culture is widely seen across Hangzhou, which has an area within the city called the Internet Dream Town where the government pours money and resources into online start-up businesses. Here, freelancers, app developers, and anyone with a good business idea can get set up with a multitude of resources at the ready for them to pull from.I picked Hangzhou because of its low cost of living compared to larger cities in Asia and specifically in China, such as Shanghai or Shenzhen. The average nomad cost of living here, including monthly rent, is 785 USD per month according to Next Step Hub.Of course, Hangzhou is a luxury city, so you can spend more and get a lot more if that's what you prefer. Hangzhou is also extremely beautiful and steeped in culture. The city is more than 2,000 years old, and there is an easy escape from the big city with a large lake and gardens to be explored in the west of the city.
Internet speeds are very quick there, and although China's "Great Firewall" offers restricted access to the use of certain sites such as Google, Facebook, and YouTube, this is just another way that China shows its entrepreneurial tendencies. This firewall is partially in place to protect ideas that come from inside the country, allowing these companies to grow popular and flourish with no international competition.
The Best Cities In Asia
In my opinion, Asia truly lives up to the hype of being the best standard of living at the lowest cost.Once you get the common misconception out of your mind that you have to slum it, you will find that you can build a beautiful and sustainable home for yourself.This is the perfect part of the world for you if you are interested in other cultures and delectable food. It's also a great fit if you simply want to cut high costs and taxes and earn more money.