This article discusses the cheapest places to live in the world. We'll discuss different regions worldwide and look at their cheapest countries.
Is the low cost of living the ultimate factor in choosing an overseas travel or second home destination? It depends. If you're an investor or entrepreneur visiting a country only for a week, then probably, the low cost of living may not be that high in your priorities.
However, if you're a digital nomad or a retiree planning to move somewhere indefinitely, you first want to check out the cost of living there.
After all, you don't want to spend your time worrying about how far your dollar will stretch.
Also, you need to understand how taxes play a significant role in determining whether a country will be cost-effective for you. Living in an otherwise cheap destination is useless if you'll pay half your income in taxes.
If you're a western national, the good news is you'll find many countries far more affordable than back home – even 200% cheaper.
At Nomad Capitalist, we've helped over 1,000 HNWI clients create their holistic Action Plans, grow their wealth, and increase their peace of mind, by helping them go where they're treated best. Wondering what's best for you? Set up a call with us today, and we'll tell you all about it.
Cheapest Places to Live in the World
Below, we'll look at different regions worldwide and discuss the most affordable jurisdictions they feature.
Cheapest Places to Live in Europe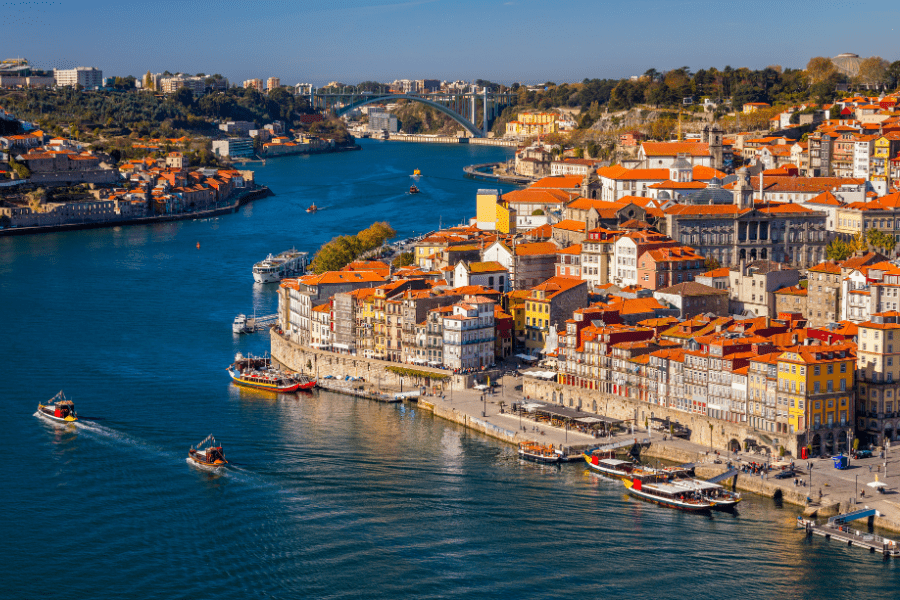 Portugal
Portugal is a southwest European country sharing its only land border with Spain. Portugal's current population is 10,110,451, and the official language is Portuguese.
People look at Portugal's European status and headline tax rate and think it'll be highly expensive. Well, you're in for a pleasant surprise because Portugal is one of the most affordable European countries.
Portugal may be an EU member state with excellent living standards, but it has something for every budget.
Housing Costs: Housing costs throughout Portugal vary depending on the property's location, size, proximity to the coast and shops, furnished status, and number of bedrooms. Most expats live comfortably in Portugal for nearly $2,500 a month. You'll pay more for a coastal property and less for an inland one. An older two-bedroom, furnished rental home (not near the beach) starts at around €350. In contrast, contemporary properties (closer to the beach) begin at about €600. On average, expect to pay around €1000 for a modern two-bedroom apartment near the beach (even in the sunny region of the Algarve).
Healthcare Costs: Expats living in Portugal have access to the public and private healthcare systems. The quality is equal, if not better, than North American standards, and prices are exceedingly low. Most expats utilize the private system for minimal wait times and access to English-speaking doctors.
Furthermore, the country is known for its diverse terrain, climate, and population. With over 500,000 expats living in Portugal, the country is an excellent blend of rich traditions and cultures. The public transport system is one of the finest in Europe, and the transportation costs are also highly affordable. Moreover, the infrastructure is developed, and necessities like electricity and fast internet are reliable.
Lisbon, the capital, is also one of the most affordable cities in Europe. Tourists and locals love it alike for its vibrant vibe, proximity to beaches, an abundance of cafes, and co-working spaces.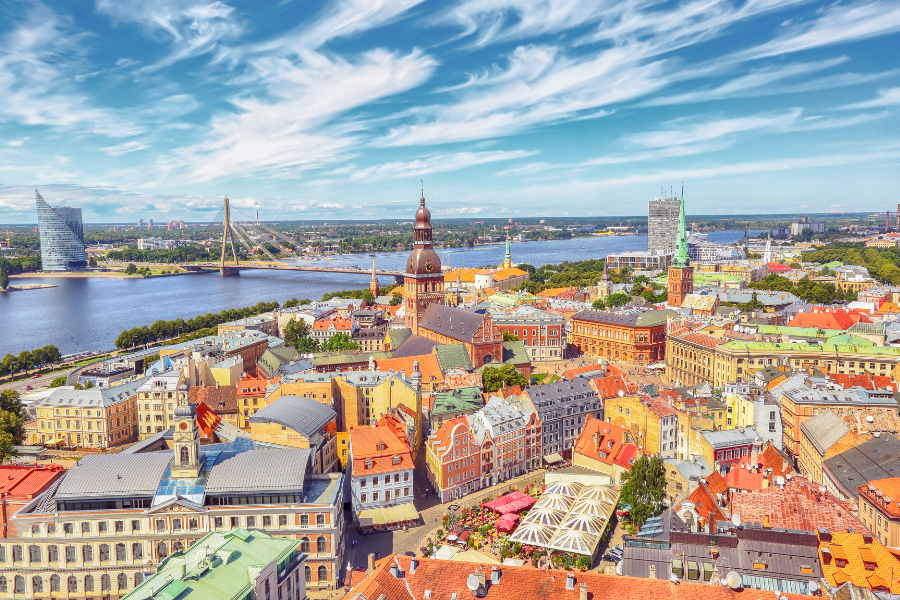 Latvia
Latvia is a relatively small EU Baltic state in the Baltic region of Northern Europe. It borders Estonia to the north, Lithuania to the south, Russia to the east, and Belarus to the southeast. It also shares a maritime border with Sweden to the west.
Latvia is undoubtedly one of the cheapest places to live in Europe. Riga, the capital of Latvia, is a charming city, and its old town is a UNESCO World Heritage Site. A single person can expect to live under $1000 in Latvia – but you'd have to be very frugal about your living expenses.
Housing Costs: It's relatively inexpensive to rent a property in Latvia, with apartments in the city center starting from €500 a month.
Food Costs: Latvia, especially Riga, has plenty of bars, cafes, and restaurants to fill your belly without breaking the bank. You can expect an abundant meal from a mid-range restaurant under €10.
Other miscellaneous expenses like transport and utilities are also reasonably priced.
For further details on how to move to Latvia, check our ultimate guide about Latvian citizenship or residency in Latvia.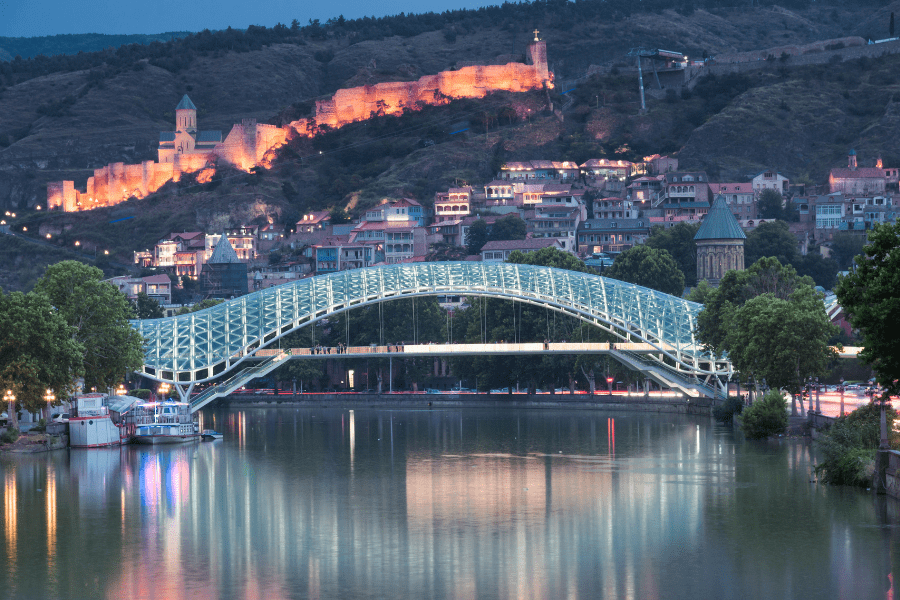 Georgia
Georgia is one of our favorite jurisdictions in Eastern Europe and Tbilisi is one of the most charming European capitals.
Georgia scores well in all domains, whether you want to a obtain a second residency, start an offshore company, invest in real estate, open a bank account, or merely move to a tax-friendly jurisdiction.
Housing Costs: Most people in rural areas own homes while renting is mostly the norm in cities like Tbilisi and Batumi. You can expect to rent a private apartment for €250-€500 per month, while luxury apartments can go up to €700.
Food Costs: Georgia is one of the oldest wine-producing regions in the world. The country also boasts excellent cuisine. You can expect an excellent meal from a good Georgian restaurant for under €20.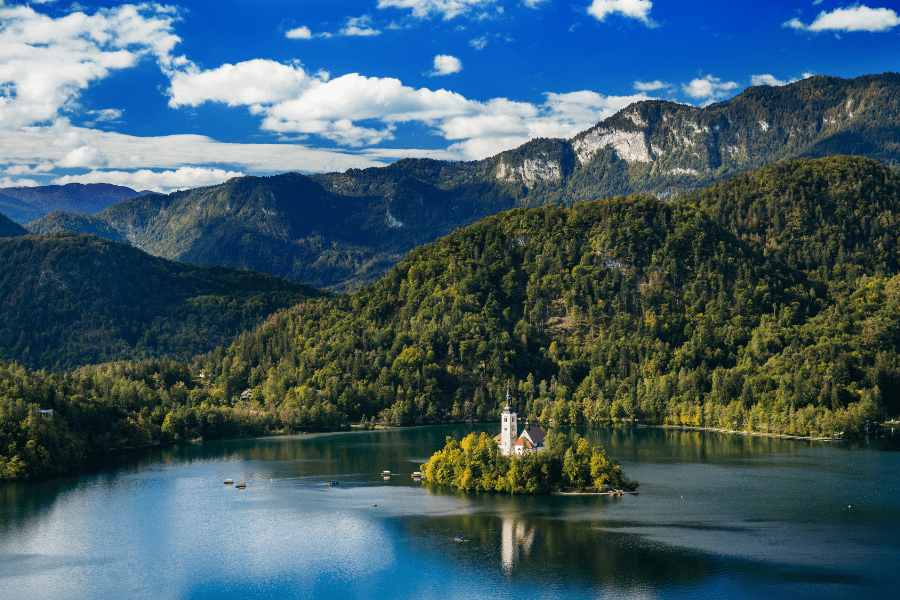 Slovenia
Slovenia is a Central European country known for its exceptional safety, crystal-clear lakes, greenery, stunning mountains, and world-class ski resorts. It borders Croatia, Austria, and Italy and is one of the wealthiest Slavic countries. Ljubljana is the capital of Slovenia and was named the Green Capital of Europe in 2016.
Housing Costs: Rent prices in city centers start from €570. The prices will decrease if you move farther from the tourist areas.
Healthcare Costs: Slovenia is an EU state with exceptional universal healthcare that won't break the bank.
Food Costs: You can save a lot of money by avoiding going out regularly and sticking to local markets to buy groceries.
Interested in moving to Slovenia? Read our ultimate guide about how to get Slovenian residency and citizenship.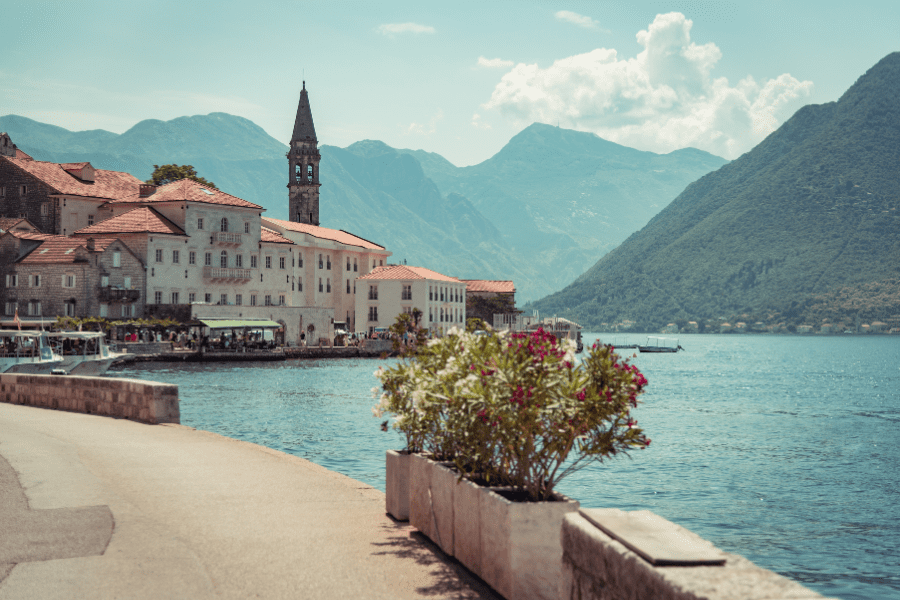 Montenegro
Montenegro is a Balkan state located in southeast Europe. It borders Bosnia and Herzegovina to the north, Serbia to the northeast, Kosovo to the east, Albania to the southeast, Croatia to the northwest, and the Adriatic Sea to the west.
The current population of Montenegro is 628,297, and the official language is Montenegrin. However, English is widely spoken, particularly in tourist areas.
The capital and largest city of Montenegro is Podgorica. However, many people know the country for the charming towns of Budva and Kotor.
The country is known for its Mediterranean climate, stunning beaches, and ancient fortresses. Most expats can live in Montenegro for €1000 per month.
Housing Costs: A one-bedroom apartment in the city center can cost you nearly €500 in rent. You can expect to pay twice if you want a bigger apartment for a couple or a family. Prices also depend on the location. For example, Budva and Kotor property prices may be slightly higher than Herceg Novi.
Food Costs: Street food or regular meals will cost you under €10, while dining out at a mid-range restaurant will cost you almost twice.
Montenegro is an up-and-coming destination with tons of real estate galore and a beautiful coastline. If you want a second home or a company in a low-tax, foreigner-friendly country, Montenegro might just be for you. Get in touch with us today to figure out if Montenegro fits well in your offshore holistic strategy.
Cheapest Places to Live in South America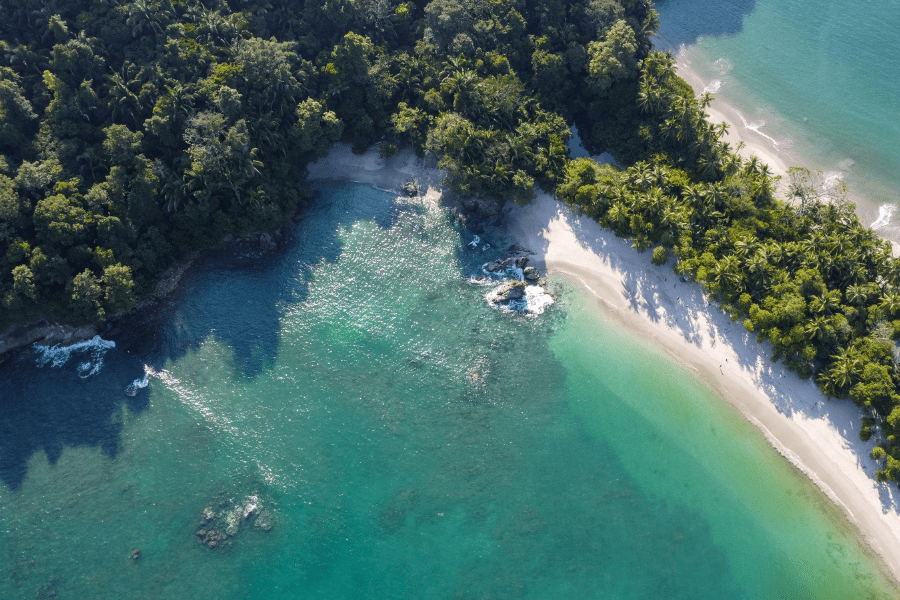 Costa Rica
Costa Rica is a small Central American country known for its natural beauty and biodiversity. It borders Nicaragua to the north, the Caribbean Sea to the northeast, Panama to the southeast, and the Pacific Ocean to the southwest.
Costa Rica's current population is 5,229,002. San Jose is the capital and largest city – over 70% of Costa Ricans live in the Central Valley.
The country contains nearly 6% of the world's biodiversity, and 26% of the land is dedicated to national parks, natural reserves, and protected areas.
Western nationals generally find Costa Rica far more affordable than back home.
A single person can expect to spend somewhere between $1600 and $2000 in Costa Rica. In contrast, a couple can live comfortably from $2000 to $3000.
Housing Costs: Costa Rica real estate prices in tourist areas and Central Valley are typically higher than in standard areas. Generally, you'll find a double-bedroom apartment for between $650-$900 per month and a modern studio apartment for upwards of $1200 per month.
Healthcare Costs: Costa Rican healthcare system is one of the best in Latin America. The prices are also very low compared to North American and European countries. Most Costa Rican doctors speak English and are highly qualified and trained by reputable US or European institutes.
Whether you want to save money nomad-ing worldwide or retire in peace, Costa Rica offers a cost-effective solution to all your woes. Moreover, Costa Rica is also an excellent second residence option for investors and entrepreneurs looking to cut their tax bills drastically.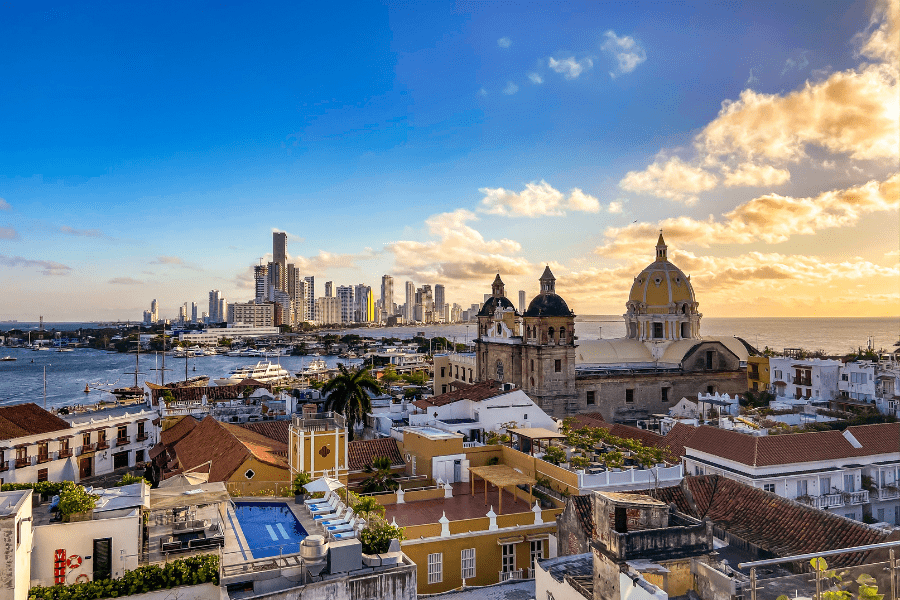 Colombia
Colombia is a South American country bordering the Caribbean Sea to the north, Venezuela to the east and northeast, Brazil to the southeast, Ecuador and Peru to the south and southwest, the Pacific Ocean to the west, and Panama to the northwest.
Bogotá is the capital and largest city of Colombia. It's the largest Spanish-speaking country in South America, with a population of 52,460,150.
Housing Costs: Colombia is an excellent country for real estate investment. The Wall Street Journal named Cali the most affordable city for real estate in Central and South America. Rent in Medellín and Bogota runs around $400-$1,000 for an average apartment. Contemporary higher-quality flats can be rented for around $1,500-$2,000 monthly.
Food Costs: A traditional Colombian lunch usually costs under $8. Dinner will cost about $10 – $20 in a tourist spot. However, your dining options and costs will vary depending on your location.
Colombia offers a quality of life and infrastructure that you'd expect from far-developed and expensive countries. Want to move to Colombia? Read our ultimate guide about getting a residency or citizenship in Colombia.
Moreover, if you're interested in purchasing real estate in Colombia, you can get Nomad Capitalist's Real Estate Plan, which helps you buy foreign properties like a local and at market prices.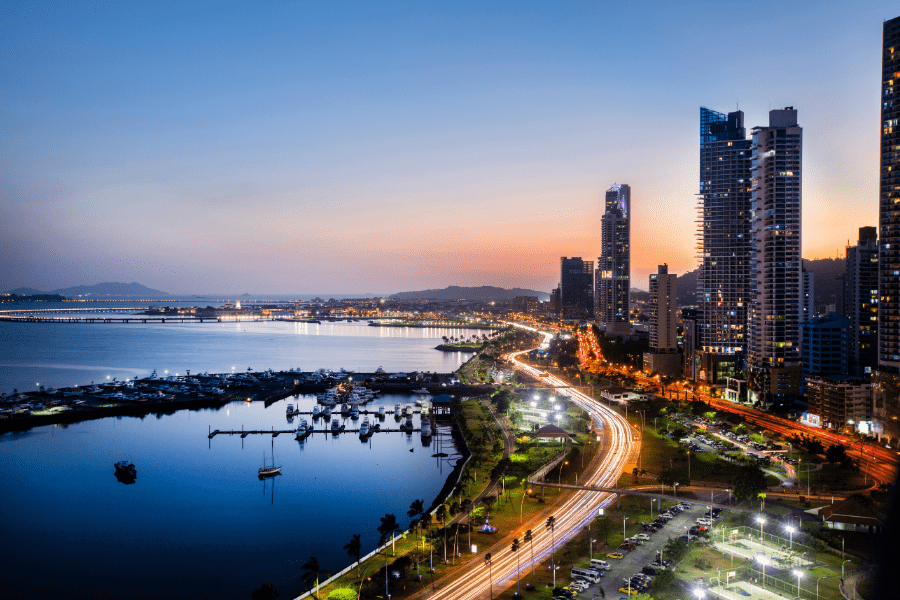 Panama
Panama is a transcontinental country bordering Costa Rica to the west, Colombia to the southeast, the Caribbean Sea to the north, and the Pacific Ocean to the south.
It's capital and largest city is Panama City, and its current population is 4,512,196. Half the country's population lives in Panama City's metropolitan area.
Retirees and digital nomads love Panama for its affordable cost of living and tropical climate. In contrast, foreign investors and entrepreneurs favor the country for its favorable corporate regulatory framework and tax-friendly regime.
Housing Costs: Whether you want to live in a luxurious gated community, own an ocean-view apartment, chill on a beach, or live in a beautiful mountainous region, Panama has a place for you to call home. Expect to spend between $400-$1100 on monthly housing costs depending on where and how you live.
Food Costs: Locally sourced fruits, vegetables, and seafood/meat is unparalleled and is 50% cheaper than the US or Western European rates.
Healthcare Costs: Panama City is one of the most well-known medical tourism spots for people seeking affordable medical treatment. Quality and highly reasonable medical care provided by highly qualified foreign-trained English-speaking doctors make Panama an excellent place to move to.
A friendly tax regime, favorable business climate, and various residence programs make Panama one of the best countries in Central America.
Cheapest Places to Live in Asia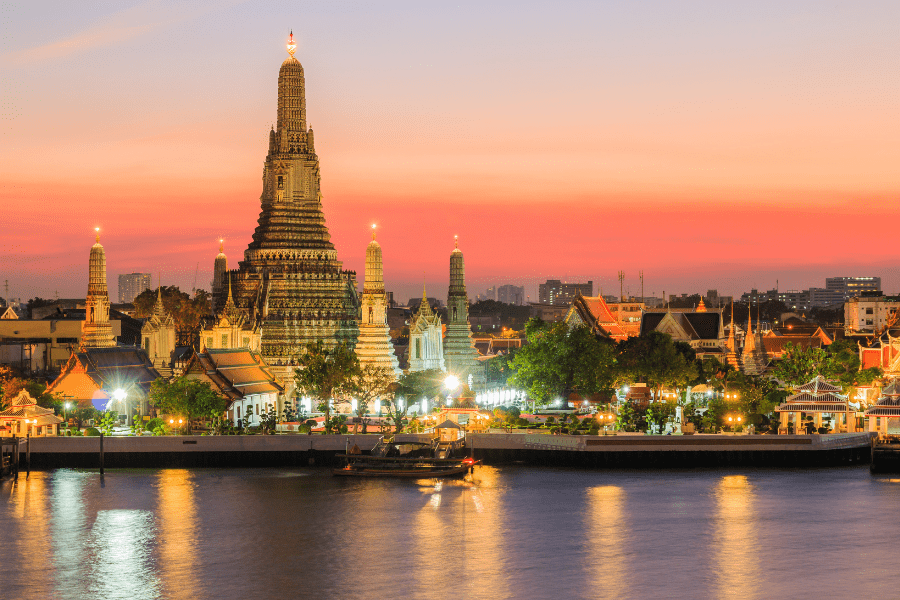 Thailand
Thailand is a Southeast Asian country on the Indochinese Peninsula, bordering Myanmar and Laos to the north, Laos, and Cambodia to the east, the Gulf of Thailand and Malaysia to the south, and the Andaman Sea to the west.
The country also shares maritime borders with Vietnam, Indonesia, and India. Bangkok is the capital city of Thailand – it's also the largest.
The current population of Thailand is 70,308,935. Over three to four million expats live and work in Thailand – most of whom are in Bangkok, Chiang Mai, Pattaya, and Phuket.
One of the most unique things about Thailand is that it's the only country in Southeast Asia that wasn't colonized by any European countries, resulting in an untouched and original culture.
Expats love Thailand for its low cost of living, stunning beaches, and diversity. The country has something for every budget, whether you're a perpetual traveler on a tight budget or a high-net-worth individual looking to enjoy life in paradise.
Housing Costs: From tall condo apartments to old traditional housing to cheaper apartments, Thailand offers tons of housing choices depending on the location and, of course, your budget. You can live in a modern one-bedroom apartment in Bangkok close to restaurants etc., for nearly $626 monthly. Go to Koh Sumai, and you can find a three-bedroom villa close to the beach for merely $475 per month. Chiang Mai is another excellent location and one of the most affordable places for expats looking for highly affordable properties (think under $200 rent/month) and overall cheap living.
Food Cost: Thailand is world-renowned for its flavourful food. Whether you go for its street food or fine dining, the country will not disappoint you. Street food can cost you under $2, while dining out in a Michelin-star restaurant will cost you nearly $50. The country is rich in options – whether it be accommodation or food.
Healthcare costs: Thailand is not only one of Asia's most affordable countries but also pretty famous for medical tourism. People from all over the world visit Thailand for several medical procedures that cost an arm and a leg back home. The country offers high-quality and affordable healthcare services. Moreover, almost all specialists can speak English, and most are trained in the US or the UK. An initial visit to a specialist will barely cost you a few dollars. Dental procedures are also ridiculously cheap in Thailand.
Thailand has always made it easy for foreign investors and entrepreneurs to enter and stay in the country. The country has various residence programs for high-net-worth individuals, retirees, and high-skilled professionals.
Want to know about the latest Thailand Golden Visa? Head on to our ultimate guide about the ten-year Thailand visa.
Indonesia
Indonesia is a Southeast Asian country comprising over 17,000 islands. Indonesia is the world's largest archipelagic state, third-largest democracy, and fourth-most populous nation. The current population of Indonesia is 281,950,954.
The Indonesian island of Java is home to over half of the country's population. Java is also the world's most populous island.
Although Indonesia is much more than that, most expats and foreigners know Indonesia for Bali. And the hype is not without reason. Famous for stunning sunsets, rice terraces, and infinity pools in the middle of the jungle, Bali takes your breath away at first glance.
Excited about visiting Bali? Read our ultimate nomad guide to living in Bali.
Jakarta, the capital of Indonesia, also offers an excellent quality of life at an affordable price.
Housing Costs: A one-bedroom apartment in the city center can cost you nearly $300 monthly rent, while an apartment roughly the same size outside the country will cost you almost $200. If you want a larger property (like a three-bedroom apartment), expect to pay twice in rent.
Food Costs: Eat like a local, and you'll save tons of money on food. However, Indonesian restaurants are also relatively low-cost compared to back home (especially for Western nationals), and you will get excellent food.
Although Indonesia is excellent for nomads, retirees, and entrepreneurs, it lacks the residency options that Thailand boasts.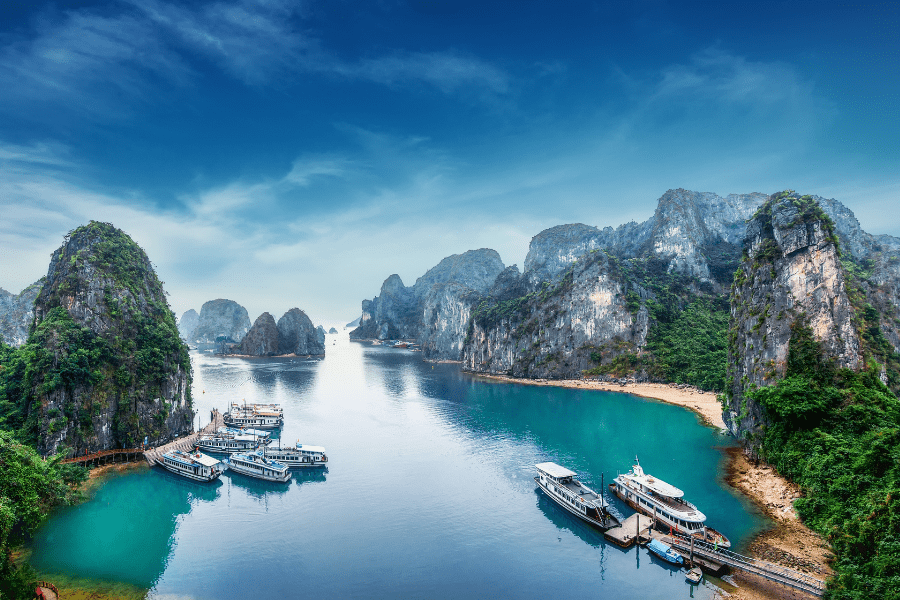 Vietnam
Talking about Asia's lowest cost of living, we can't miss Vietnam. Vietnam shares land and maritime borders with China, Laos, Cambodia, Thailand, the Philippines, Indonesia, and Malaysia.
Its capital is Hanoi, and its largest city is Ho Chi Minh City. Hanoi is also the cultural capital of Vietnam and offers a lot of charm for nomads.
The country is also an up-and-coming investment spot, with multinational companies like Nike and Samsung setting ups shops there. Moreover, following the rising costs in China, many people are moving their capital out of China and into neighboring Vietnam.
Thanks to its favorable investment climate, the country has made it into our list of five best Asian countries to invest in 2023.
On average, expats spend over $1000 in Vietnam monthly.
Housing Costs: A contemporary one-bedroom apartment in Vietnam can cost you over $400. The prices will vary depending on the location, property size, and proximity to entertainment and shops. If you want to purchase a house, you should know that the state owns all the land. So, you can only leasehold a piece of property or land for up to seventy years.
Food Costs: Vietnam offers some of Southeast Asia's most delicious and cheapest food. You can get a decent meal for under $2 – about the same price as in Thailand. A nice dinner at a mid-range restaurant may cost you nearly $8 to $10.
Is the Cost of Living the Ultimate Deciding Factor Before Moving Somewhere?
If you're moving somewhere long-term, living costs definitely affect you a lot. However, one factor that people usually don't consider while calculating the cost of living is taxes.
A comfortable life in a high-tax jurisdiction will always cost more than a luxurious life in a low-tax or tax-free country. Because the money you save from taxes can go toward improving your lifestyle, growing your business, or expanding your investment portfolio.
European countries like Greece, Italy, and Portugal may seem high-tax initially, but all these countries have special tax schemes for foreigners looking to establish tax residency. So, when looking for the cheapest place, don't just look at the monthly rent or real estate prices, but also see if the country has any tax programs you can benefit from.
What are the Most Affordable Places to Live in the World?
Over the past few years, many Eastern European and Asian countries have entirely transformed into highly-attractive investment spots with affordable living costs – especially for foreigners.
Malaysia, Romania, and Georgia are only some examples of countries where you can live an extremely comfortable life paying less than half of what you used to spend back home. That's because all these countries want foreign investment to boost their economies and are quite friendly toward foreigners. Moreover, the general cost of living there is also pretty low.
Looking for the cheapest places to live in the world isn't as easy as looking at the average housing costs or headline tax rates. To determine which jurisdiction will cost you the least, you'll need a holistic strategy considering your personal and corporate lifestyle and vision.
That's where we come in.
From billionaires and celebrities to everyday entrepreneurs, we've helped over 1,000 successful clients create their holistic Action Plans, grow their wealth, and increase their peace of mind. We can help you do the same – so what are you waiting for? Get in touch with us today, and let us help you go where you're treated best.