Last updated: November 5, 2021
Dateline: Kuala Lumpur, Malaysia
For years, Italy and Slovenia feuded under the usual auspices of western Europe vs. Cold War Eastern Europe.
But today, Slovenia is not only part of the eurozone and the European Union but it feels an equally advanced country as its neighbors to the west. Slovenian residency is a highly sought after program in the world today.
In some ways, it's even superior to its neighbors; service in Ljubljana often puts service in Spain and the United Kingdom to shame.
Banks, while not perfect safe havens, are efficient and direct. Take a look at some tips on opening an offshore bank account. Real estate isn't as cheap as in Budapest but is still affordable and of good quality.
Overall, Slovenia is one of the best-guarded secrets in Europe. And it's one of the safest countries in the world for nomads.
Plus, it's quite possible to become a citizen if you're willing to invest in a local business and then wait to become naturalized.
But it's important to note that if you need to hire staff, Slovenia may not be as affordable as some eastern European countries. Though, it is still quite affordable when compared to western Europe.
ABOUT SLOVENIAN RESIDENCY AND CITIZENSHIP
As part of the European Union, Slovenia has an excellent passport that's ranked 13th best in the world.
And if you happen to be a citizen of the United Kingdom (UK), Slovenia is definitely on our list of options for your second residency.
In total, a Slovenian passport offers access to 183 countries and territories. Slovenians can visit the United States, Canada, and Australia without a visa, as well as enjoy the freedom of movement throughout all of Europe.
Unlike Italy or other bankrupt European countries, most people don't know a lot about Slovenia. That, luckily, means prejudices and stereotypes are not an issue for those holding Slovenian passports.
In other words, there are far worse second citizenships out there.
To become a Slovenian citizen, you must start with Slovenian residency. And there are currently two ways in which to do that — by investing in real estate or by establishing a company.
In most cases, once you are a resident, you can then apply for naturalization and obtain a Slovenian passport within 10 years.
But Slovenia does not allow you to maintain dual citizenship. But there are some loopholes for keeping your existing nationality as well as obtaining future ones later.
SLOVENIAN RESIDENCY AND CITIZENSHIP FOR ENTREPRENEURS
Anyone can become a Slovenian resident by registering a business in-country and investing the required €7,500 in paid-up capital.
Though, you will also have to meet the criteria of "active business management." This includes fulfilling the following conditions:
Making a minimum investment of €50,000 in fixed assets within the first six months

Turning over €10,000 per month for at least six months

Employing a Slovenian or EU citizen for at least six months

Filing monthly withholding tax returns for six months

Not having any outstanding tax liabilities

Meeting the work permit quota
And if you're registering a new company, rather than registering an already existing entity, you will also have to adhere to specific banking rules.
For example, you must open a temporary bank account to pay the initial share capital. After the funds are deposited, the bank will issue a certificate which will allow you to register the company. Then, once the company is established, the bank account can become permanent.
Once your company is up and running, you can then apply for a residence permit to run the company. The application for a residence permit usually takes a few months, and the initial permit will be granted for one year and is renewable.
Then, after five years, you can apply for a permanent residence permit. And after 10 years of permanent residency in Slovenia, you can apply to become a citizen as long as you have some ability to speak the language.
If you happen to invest more than €1 million in a new company, you can also be granted Slovenian citizenship under the Slovenian Citizenship by Extraordinary Merit program. You just have to show that the company is of economic benefit to Slovenia and hire 15 high-skilled workers.
This sounds a bit like a citizenship by investment (CBI) program to me, but Slovenia has yet to officially roll-out a CBI program. Let's see what happens this year.
And another interesting part of Slovenian residency is if your business requires you to travel throughout Europe. You may be able to avoid being considered a tax resident in Slovenia if you spend fewer than 183 days in the country.
But if your business grows, corporate taxes are currently at 19%, which is still moderately low for Europe.
SLOVENIAN RESIDENCY AND CITIZENSHIP FOR REAL ESTATE INVESTORS
With a real estate investment, you can also gain Slovenian residency – and possibly citizenship.
Under this program, you would need to buy residential real estate in Slovenia and pay any applicable property taxes prior to applying for the residence permit.
Most countries, such as the Organisation for Economic Co-operation and Development (OECD) member countries and EU countries, will not have any limitations on the kind of real estate you can purchase. However, citizens of countries such as China, Russia, and Ukraine cannot buy real estate in Slovenia at all.
And interestingly enough, this program does not call for a specific investment amount like many other real estate investment programs do.
There are also no specific requirements on how many days you need to reside in your property or Slovenia. However, it might be advantageous to spend some amount of time there if you want to renew your Slovenia residence permit.
Like the entrepreneurship program, a residence permit will initially be granted for one year and then can be renewed for up to five years. Though, it is known that the Slovenian authorities will check to see how much you have lived in Slovenia in the previous year, which is why we recommend being in the country for at least three months per year.
SUMMARY: SLOVENIAN RESIDENCY AND CITIZENSHIP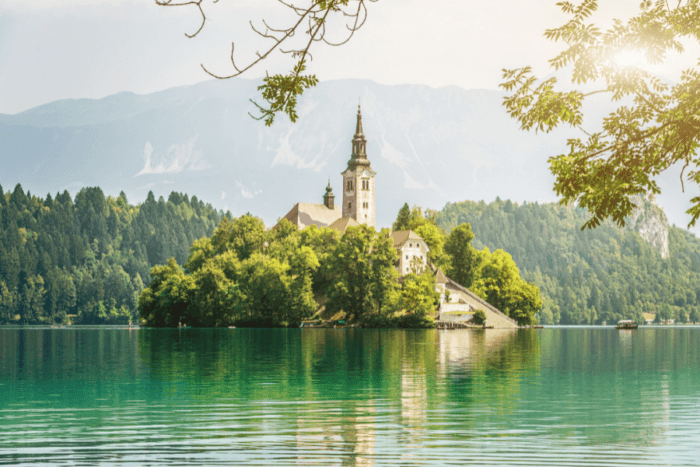 If you're interested in obtaining Solvenian residency and citizenship, there are options.
By establishing a company, investing in real estate, or making a €1 million company investment, you will be well on your way.
And apart from the €1 million option, gaining residency in Slovenia is relatively inexpensive — especially compared to some of the other residency or citizenship by investment options out there.
Plus, you'll get to live in a safe and beautiful country that offers easy access to the rest of Europe.
If you're ready to strategize on how to get your Slovenian residency, contact the Nomad Capitalist team today. We're ready to help.