One of the best ways to protect your assets, expand your investment opportunities, and lower your taxes is to go offshore.
Offshore trusts and banks are some of the best financial vehicles to protect your estate from hefty taxes and potential future litigations.
However, going offshore isn't easy. It involves thorough financial planning, professional help, and resources on the ground.
That's where we come in. At Nomad Capitalist, we help seven and eight-figure entrepreneurs dive into their best offshore life, primarily by establishing second residencies and citizenships and incorporating offshore companies.
Opening an offshore bank account is one of the essential parts of an offshore lifestyle. Whether you want to live in a particular country for the rest of your life or want to set up a business there, you'd have to open a bank account to make the necessary transactions.
European banks are some of the best in the world but opening an account with most of them isn't easy. Thanks to FATCA and CRS regulations, banks across the globe are constantly tightening up their policies, making the process harder for foreigners.
However, one European country still offers stress-free banking to locals and foreigners, and that country is Georgia.
Georgian banks are known worldwide for their premium services and straightforward procedures.
This article discusses how to open a bank account in Georgia, major banks in Georgia, and an overview of the Georgian banking system.
List of Georgian Banks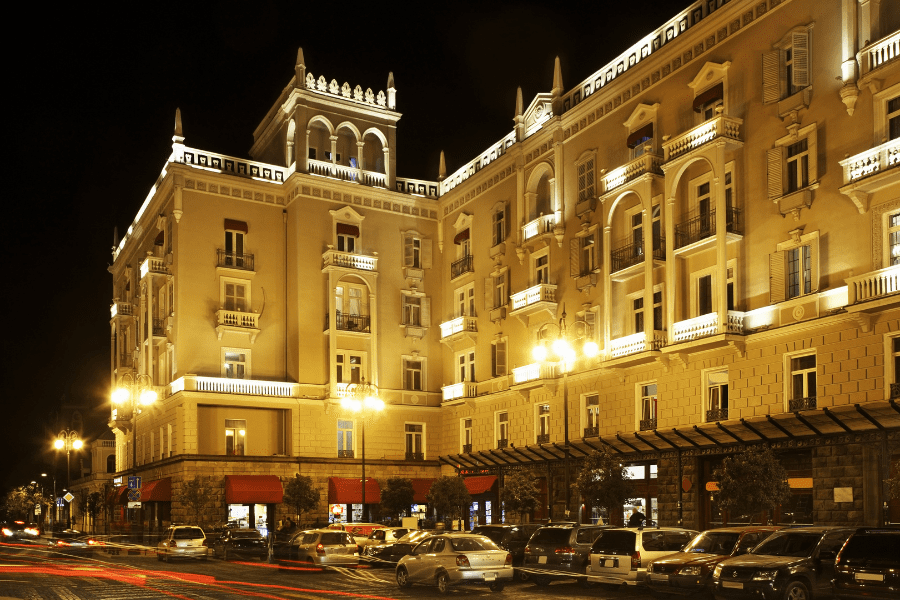 In addition to being the capital city, Tbilisi is Georgia's financial center. All fourteen commercial banks in Georgia are headquartered in Tbilisi.
As per the National Bank of Georgia, the following is the list of commercial banks in the country:
Bank of Georgia
TBC Bank
Liberty Bank
Basis Bank
VTB Bank Georgia
Cartu Bank
ProCredit Bank
Silk Road Bank
Ziraat Bank Georgia
Isbank Georgia
TeraBank
Halyk Bank Georgia
PASHA Bank Georgia
Credo Bank
Until July 2021, there used to be fifteen commercial banks in Georgia, but the number fell to fourteen after Credo Bank acquired FINCA Bank Georgia.
Leading Banks in Georgia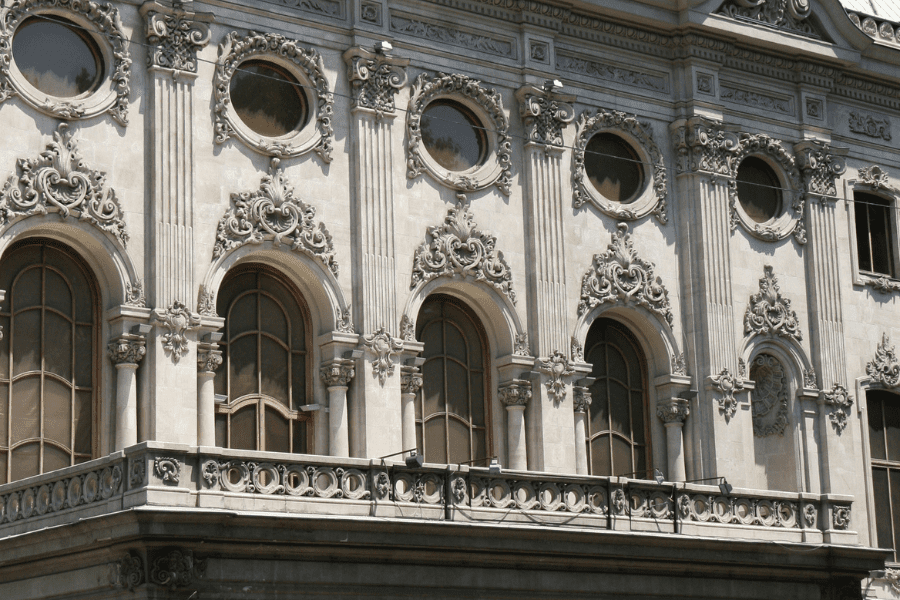 Two of the fourteen Georgian banks mentioned above are the most popular among locals and foreigners for various banking operations – National Bank of Georgia and TBC Bank.
Both of these banks are listed on the London Stock Exchange and are the leading banks of Georgia. The top status is not only because of the popularity but also the revenue they generate for the country.
The banking system in Georgia gains over 70% of its profit through the National Bank of Georgia and TBC Bank.
The two banks have made their name countrywide and worldwide for their premium investment banking, internet banking, remote banking, and other banking services.
Below, we'll briefly discuss the two banks and their services.
National Bank of Georgia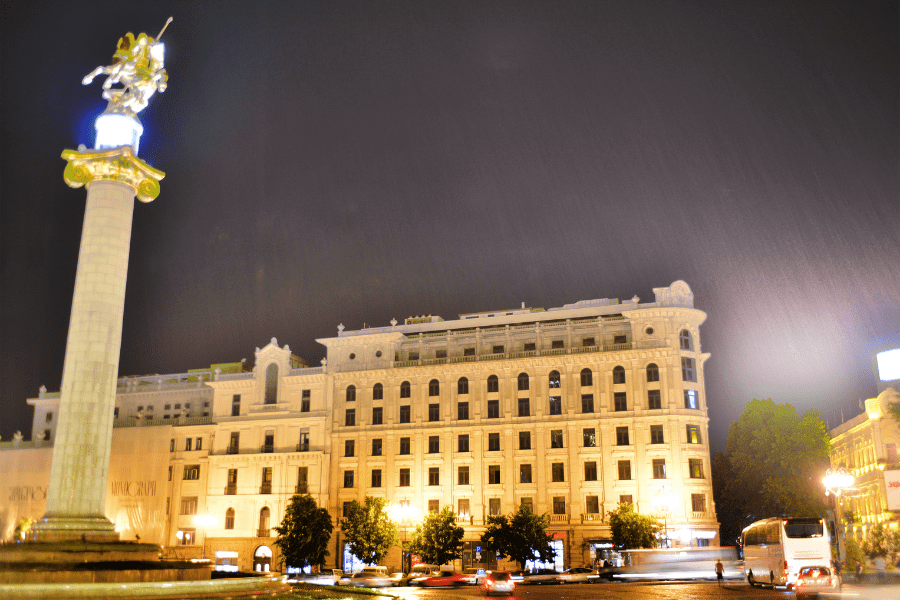 The National Bank of Georgia is the central bank of Georgia that regulates all other Georgian banks. Over a hundred years old, it's the oldest bank in the country.
According to the Georgian constitution, the Bank of Georgia is tasked with price stability and the effective functioning of the country's financial sector.
Since its inception, the bank has come a long way and is known as one of the best banks in the region and worldwide, especially for foreigners.
The National Bank of Georgia offers all the services you'd expect of a top-tier European bank, including internet banking, 24/7 remote support, personal and corporate loan provisions, etc.
You can open a BOG current account in four currencies. Moreover, you can exchange thirty-five types of currencies in BOG. Citizens of any country can utilize these facilities.
Solo Banking
If you are a wealthy individual, you should look into Solo banking by the Bank of Georgia. Solo is BOG's premium service aimed at clients who want a hassle-free, high-end, and quick service.
Some significant benefits offered by Solo Banking are mentioned below:
Private banker
Higher Withdrawal Limits
24/7 remote management
High-interest rate on a positive account balance
Access to VIP airport lounges worldwide
TBC Bank
In 1992, two Georgian businessmen and their partners founded Tbilisi Business Center, now known as TBC.
The bank was founded with an initial capital of $500. Since then, that number has risen dramatically and TBC is now the second largest bank in Georgia and widely popular among locals and foreigners for its services.
As far as banking operations and services are concerned, TBC offers similar services as the BOG.
TBC also offers remote services, making transactions easy even if you're outside of Georgia. Through TBC's "Payment from Abroad" system, you can pay online for several services with a foreign bank card.
TBC Concept
Like BOG, TBC also offers a premium service called the TBC concept. Some significant benefits provided by TBC Concept are mentioned below:
Higher ATM cash withdrawals with 0% commission
Attractive discounts
Concierge services
Things to Keep in Mind While Opening a Bank Account in Georgian Banks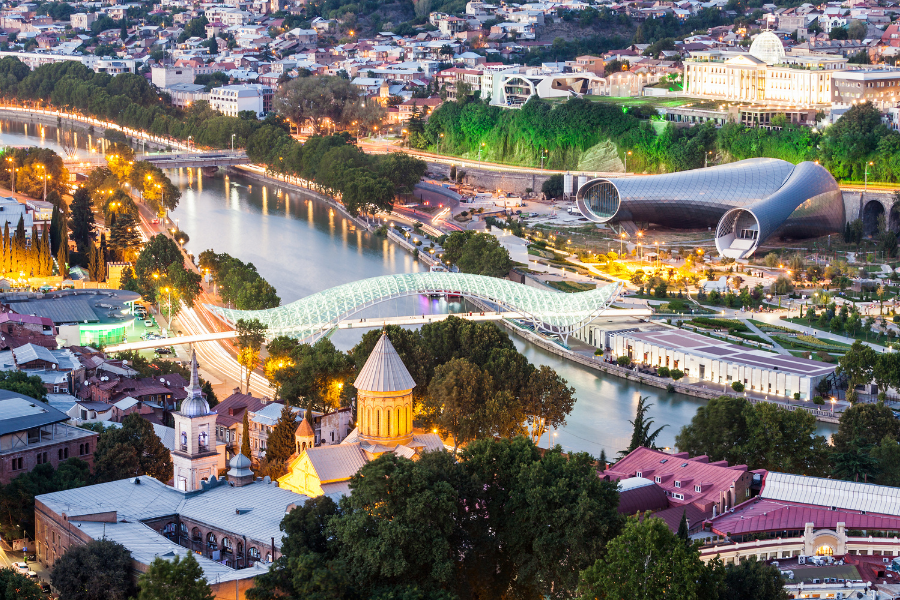 Benefits
While opening a corporate or personal account in Georgia, you'll get all the perks you receive at high-end banks worldwide, including but not limited to internet banking, Visa/Mastercard/American Express card, etc.
Georgian banks are also very efficient and quick regarding transactions. You'll receive the money sent your way fairly quickly, especially if the payment has been made from Georgia.
Moreover, all Georgian banks use the IBAN system, making international transfers and banking swift and hassle-free.
Two-Step Verification System
As per EU directives, Georgia has been tightening its banking sector regulations. Banks in Georgia have recently introduced a two-tier verification system. Under the 2-tier verification system, you must first go through the review process by submitting documents proving your identity, wealth, etc.
After the review process, your application will either be accepted or rejected. Moreover, you may also be asked for additional documents.
Use of Power of Attorney
The best part about opening a bank account in Georgia is that you don't have to be in Georgia physically. Georgia allows for opening a bank account remotely through a power of attorney from the local notary office accompanied by your notarized passport.
However, it's better to visit the country to open a bank account if you are a US person.
Benefits of Opening a Bank Account in Georgian Banks
Non-CRS Country (for now)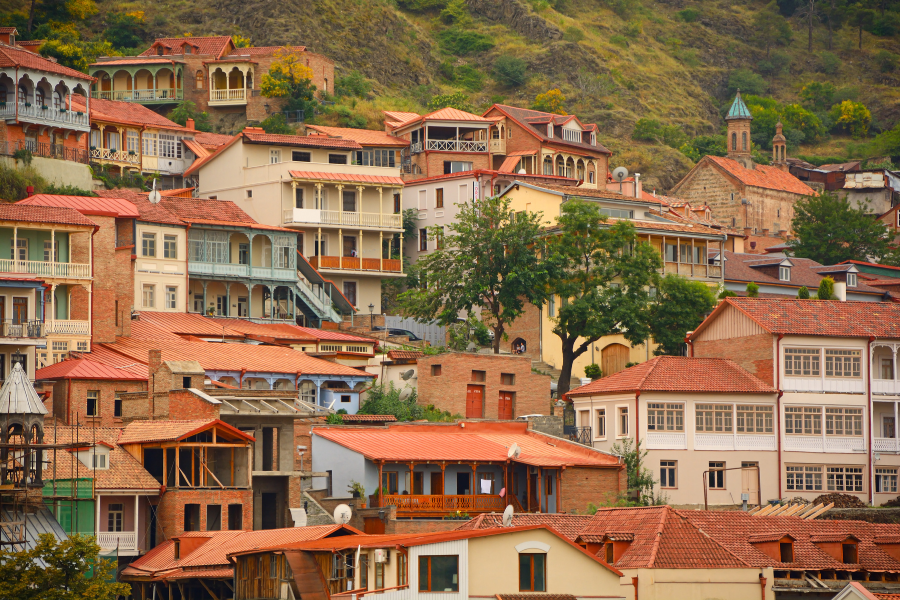 If you don't already know, CRS stands for Common Reporting Standard, which calls on countries to share the information obtained from their financial institutions with other countries annually.
Financial institutions like banks in CRS countries have additional, often rigid, regulations and policies, making it harder for individuals to open bank accounts, especially in another country.
Georgia is currently not a CRS country, meaning it doesn't share your account information with other jurisdictions.
However, Georgia is very enthusiastic about joining the European Union and as per EU directives, adopting CRS is non-negotiable. That's why Georgia is all set to adopt CRS in 2023.
Once Georgia joins the CRS club, the regulations surrounding Georgian banks will be tightened up considerably. Something to keep in mind.
Deposit Requirements
There are no minimum deposit requirements to open a bank account in Georgia. However, you'll be assigned a private banker if you deposit a certain amount for the premium service.
Moreover, the USD and euro deposit rates are higher than the US and Western European rates.
Stable Currency and High-Interest Rates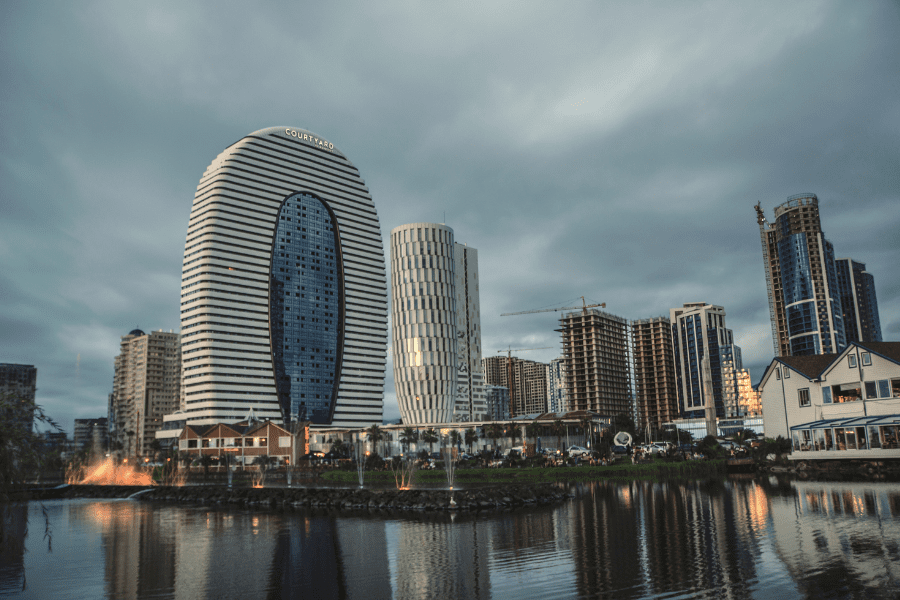 The official currency of Georgia is Georgian Lari (GEL). It's a relatively stable currency and has shown a tremendous rise in value in the past decades.
At 11.5%, the interest rates in GEL are high, so you must be careful while borrowing a loan from Georgian banks.
Quality Services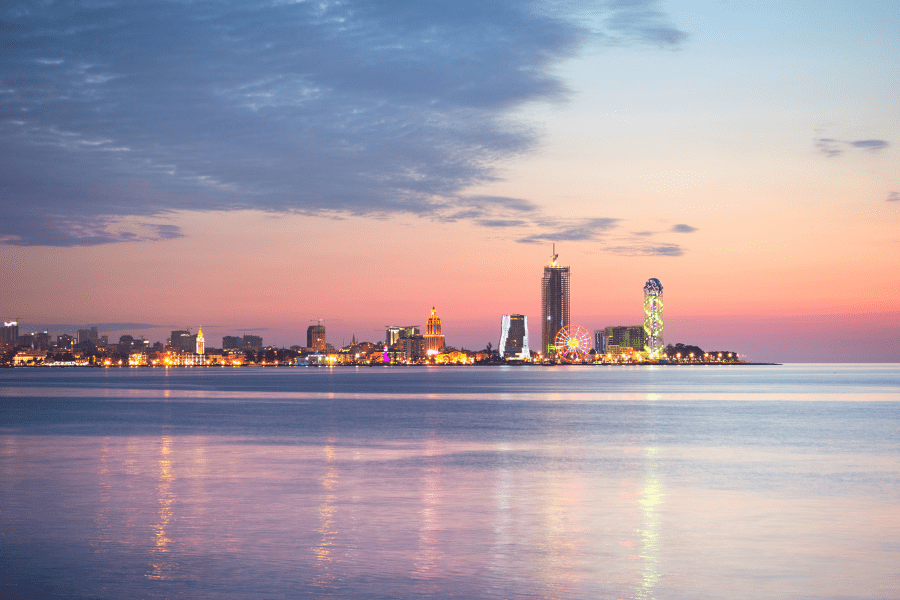 Georgian banks charge much lower service fees compared to other western banks. Moreover, there are no capital controls in Georgia. You can send money anywhere as long as the destination is not a sanctioned country.
Georgian banks provide premium services whether you are in or outside of Georgia. Making online transactions is easy, and remote banking is hassle-free.
Documents Required by Georgian Banks
Documents Required to Open Personal Accounts
You may be asked to provide the following documents while opening a personal account:
Your Passport
Georgian contact number
Filled Out Application Form (KYC Form)
Documents proving your income or other sources of funds
US or UK passport holders may be asked to provide additional documents like a W8/W9 form or other documents to keep their account in compliance with the IRS and FATCA regulations
Documents Required to Open Business Accounts
You may be asked to provide the following documents while opening a business account:
Your passport
Georgian contact number
Documents containing company details like registration information, etc.
Filled Out Application Form (KYC Form)
Common Reasons Georgian Banks Might Refuse to Open Your Account
Georgian banks are much easier to deal with than other regional banks. However, there are still chances that your account may be rejected. Business accounts are more liable to be dismissed than personal accounts.
Banks in Georgia are not obligated to share the reasons for rejection, however, keep the following things in mind before opening a bank account in Georgia to reduce your chances of rejection.
Source of Funds
The most common way to get your account rejected is not to provide satisfactory documentation proving the legality of your wealth and its sources.
Source of Payments
The source of payments is another significant reason for rejection. If most of your payments come from other countries, your account application will likely be rejected.
Foreign Currency
A foreign currency account is far more likely rejected than a GEL account. However, business accounts face this problem far more than personal accounts.
Business Model
This applies to business accounts. Your business model plays a huge role in banking procedures. Ambiguous or shady business activities and structures can get your application rejected.
Conclusion
Georgia is an up-and-coming jurisdiction for banking and company registration.
Its simplified tax regime and residence permits make it an excellent country for foreign investors and entrepreneurs worldwide.
Georgia is also very welcoming to digital nomads. Georgian programs like "Remotely from Georgia" were introduced to attract digital nomads worldwide to Georgia.
Moreover, the Georgian real estate market is thriving and among the cheapest in Europe.
Since Georgia will join the CRS club in 2023, it's best to open a bank account there before that so you don't have to deal with the additional regulations and due diligence.
Opening a bank account in Georgia may be easier than in other European countries, but you'd still need professional help to guide you through all the banking and legal complexities.
That's where we come in. We've helped over a thousand clients with their citizenship, residency, taxes, business, and banking issues, and we'd love to help you too.
We have a strong base in Tbilisi and are highly knowledgeable about all things Georgia. If you want to open a bank account in Georgia without stress, set up a call with us.