Dateline: Yerevan, Armenia
Armenia just may be one of the hidden gems for tourists in the world.
My new favorite hotel here, The Alexander, is quite possibly the best five-star hotel I've stayed at in the last year. Service here is excellent, from the surprisingly authentic Mexican restaurant to the surprisingly present shops selling Ferragamo scarves.
What Yerevan also has is a diaspora that demands high-quality products and services. Armenians live in Los Angeles, Paris, and all around the world, then return home to impose what they're learned overseas.
One thing those other countries don't have, though: among the world's highest bank interest rates.
I've spent a lot of time in this part of the world over the years, buying multiple properties in Georgia and opening bank accounts across the region. Now, I'm turning my sights to a newly reform-minded Armenia, which is also one of the best places to hire remote workers.
But let's talk about banks. While interest rates on US dollar accounts have risen slightly thanks to Fed interest rate hikes, the idea of earning 1.8% in a US bank isn't exactly exciting, even if that interest is now tax-free to me as a former US citizen.
That's where foreign banks come in.
HOW TO EARN THE HIGHEST INTEREST RATES
While depositing money in US dollars, euros, or British pounds in developed world banks can seem safe and should likely comprise a good chunk of your cash portfolio, there are other options.
While I wouldn't rush to open a Turkish lira term deposit given recent events, there are other currencies that I expect to appreciate or at least remain flat against my benchmark US dollar. That means that holding other currencies that return far higher interest rates can be beneficial to me.
There are also emerging world banks that desperately need US dollars or euros, and will pay handsomely for it. Again, there is risk in that the institution itself may not be as sound, but in many cases you can find banks that are supported or owned by larger banks or wealthy family offices.
Basically, you can get paid for taking one of two risks: institutional risk or currency risk. Those are both substantial risks, but I would argue that with careful planning, you can eliminate all but the illusion of both risks. I love investing in places that have relatively low risk, but which are perceived as high-risk by the average guy sitting in an armchair in Adelaide or Cardiff or Lawrence, Kansas.
After all, most people in the world outside of the western world are having their money returned to them, too. Invest in stable currencies in well-managed banks and, as long as you get your money back with interest, you haven't lost anything but you did get paid more for the risk. You may even get more banking privacy.
With that said, let's examine several of the countries paying the highest interest rates on your term deposits.
But first, a disclaimer…
Information here is based on my personal experiences and opinions, and may change rapidly, so you should always confirm interest rates and other material facts for yourself. This article may not be continuously updated. Banking and investing in foreign countries and foreign currencies carries risk, and no blog article can take your risk tolerance or personal situation into account. Use this information as a guide but don't rely on it with your own money, and don't blame me if a foreign currency loses value or an offshore bank causes you issues.
Now, on to the list of banking jurisdictions.
COUNTRIES WITH THE HIGHEST INTEREST RATES
GEORGIA
Let's start just north of here in Georgia's capital of Tbilisi. I've said before that Georgia is quite possibly the easiest place in the world to open a bank account. While many banks are confused by FATCA or make the process unnecessarily slow, you can still open an account in Georgia with ease if you know where to go. What's more, Georgia offers among the highest interest rates for deposits in its local currency.
Georgian banks have recently lowered deposit rates on US dollars, which seems odd seeing that US banks have raised theirs. If your goal is to hold dollars, you can do better elsewhere. However, if are open to holding Georgian lari, you can enjoy rates near 10% on short-term deposits. While the lari lost some of its value against the dollar several years ago, it has held relatively steady ever since. I personally don't see
The largest banks in Georgia – TBC Bank and Bank of Georgia – are both traded on the London stock exchange and currently offer rates of 9.4% on one-year term deposits; rates may be slightly lower for non-residents. UAE-owned Terabank currently offers 10.5% and offers a convenient branch in the Biltmore Hotel, although their process is slower.
Smaller banks may offer more or less, but I've generally found these to be the best. Liberty Bank, the government's designated bank for handling pension payments, is often mentioned as an alternative with its higher interest rates, but you'll pay for the privilege with their terrible service. Furthermore, many smaller banks used to dealing with locals won't understand why a foreigner wants to open a term deposit in Georgia, and you may well be rejected (as I once was at Liberty Bank).
ARMENIA
Like Georgia, Armenia offers high interest rates on its local currency, the Armenian dram. A forex trader of mine likes the recent fundamentals of the dram against the dollar, which has has very low volatility as of late. Armenia's new, more reform-minded government may help buoy the currency further.
Opening a bank account in Armenia is relatively simple. In fact, if you've opened an account anywhere in the former Soviet Union, you'll likely see a lot of similarities in how things are done. There are several decent banks, although some of them have a less modern feel owing to Armenia's greater orientation toward Russia. Two exceptions are Ameriabank and Evoca Bank.
Evoca Bank is almost too cool for school, with hip advertising painted across Yerevan, and a website that is a bit too sexy for a bank. As a smaller but growing bank, they're also a bit more particular about new accounts crossing all of the "T"s before being opened. However, they do pay 9.5% on a one-year term deposit denominated in dram.
While Armenian banks don't offer compelling rates on US dollar deposits, they do offer a rather unique opportunity for internationalization: holding Russian rubles. While any bank worth its salt offers dollars and euros, a relatively small number offer the ability to hold Russian currency. Interest rates on the ruble are also a bit underwhelming given past volatility, but if you need or want access to the ruble as an alternative currency, Armenia is a great place to do it.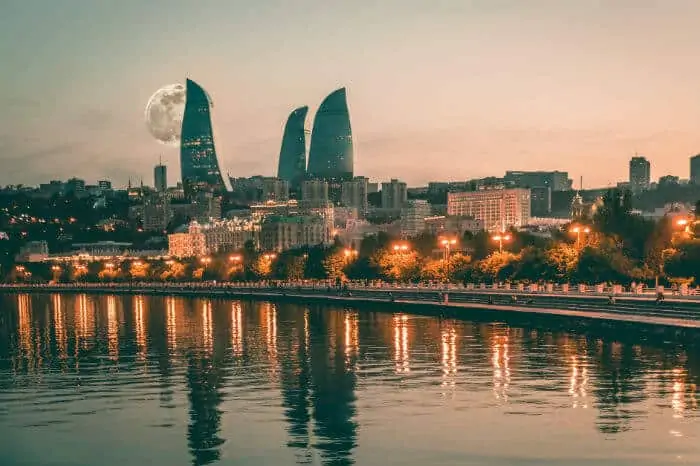 AZERBAIJAN
We might as well list all of the Caucasus countries, and Azerbaijan rounds out the list. Honestly, Baku was my least favorite place to open a bank account in the region; the process felt a bit labored, required two visits in the same day, and involved less English fluency than in Georgia or Armenia. However, Azerbaijan is wide-open to foreigners opening accounts and the country now offers an easy e-visa program. If one banks' FATCA form was any indication, they're not exactly on the ball over there, which honestly may seem like a good thing but probably isn't.
Azerbaijan has a LOT of banks, although at least one of them has been taken over by the central bank as of late. The International Bank of Azerbaijan and AccessBank are among the biggest and easiest to work with, although there are foreign banks operating there, too.
AccessBank currently offers 10% on a 12-month deposit in Azeri manat if you take the interest at the end of the term. (Many foreign banks allow you to take interest upfront or intermittently in exchange for a lower rate.) While the manat suffered declines against the US dollar several years ago just as the Georgian lari did, it has historically been the least volatile. If manat isn't your preference, you can also earn 3% in dollars or 1% in euros.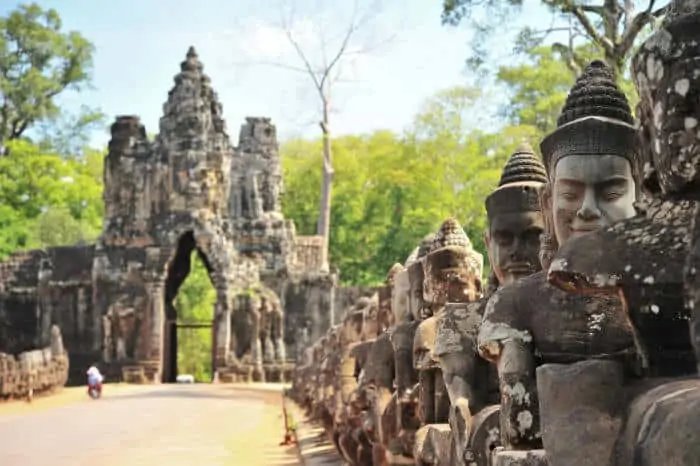 CAMBODIA
I've been an advocate for investing in Cambodia since 2007, long before I ever wrote about it here. Cambodia has a small domestic market but is seeing huge investments from China now; the beach town of Sihanoukville from which I reported here years ago saw housing prices double in just one year thanks to Chinese investment.
What many people don't know, however, is that Cambodia has also seen an influx in banks. Everyone from Malaysia's RHB and CIMB to Public Bank, as well as Bank of China and Bank of India, have joined longstanding foreign banks like ANZ in serving Cambodia. There are also several good local banks, and many of these offer excellent interest rates.
Banking in Cambodia offers a unique proposition: not only are US dollars in high demand, but the local Cambodian riel is essentially as good as the US dollar. The riel has hovered just above 4,000 to the dollar ever since I first visited Cambodia, and I don't see that changing much. The biggest challenge you'll have in Cambodia is bureaucracy; many banks want you to have at least a business visa and at worst a local referrer to open an account. My friend Reid at InvestAsian has been working on a streamlined process for opening bank accounts.
Canadian-owned ABA Bank is currently paying a rather generous 4.75% on one-year US dollar deposits. Switch that deposit to Cambodian riel and you'll earn 6.25%. That's not a huge premium but might be worth it given the low volatility. Microfinance institutions will often pay even more; Korean-owned Woori Bank was paying 8% on US dollars last I checked. If you can find a good microfinance institution with good ownership, you can create excellent risk arbitrage, although you'll need to be on the lookout for teaser rates like these.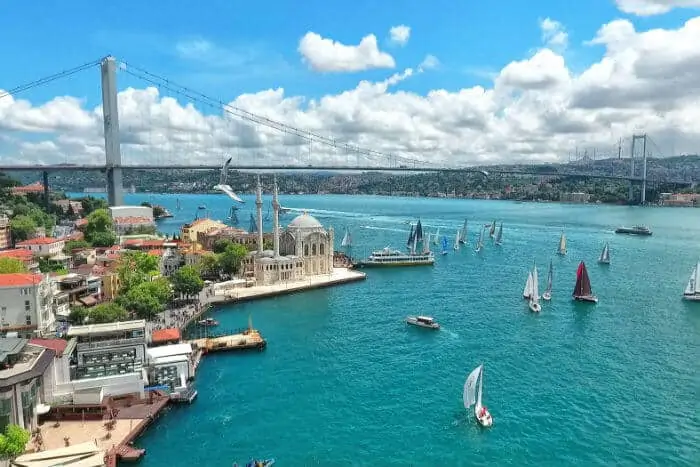 TURKEY – The World's Highest Interest Rates
Banking in Turkey used to be a lot easier; back in the early 2010s, you could simply walk into a bank branch and open an account. Today, the process is made complicated by the requirement for a Turkish tax ID number, a requirement that my Turkish contacts tell me every bank follows diligently. Add that to the recent free fall of the Turkish lira and geopolitical risk, and you may be turned off by the idea of banking in Turkey.
However, this article is about high interest rates and Turkey certainly offers those, even as President Erdogan implores Turks to have faith over the currency collapse.
As of my writing this, the best way to earn high interest in the Turkish lira is with a (oddly-numbered) 92-day term deposit. Turkey has plenty of banks, but I've always had a soft spot for Garanti, which is offering anywhere from 15.5% to 17.5% depending on how much you deposit. If you think the lira has hit rock bottom, you can enjoy double-digit rates while waiting for it to appreciate, although analysts I talk to don't see that happening in the near term.
Separate from high returns, one thing that is interesting about some Turkish banks is the ability to hold gold and a variety of hard-to-get currencies. Garanti, for example, offers time deposits in dollars, euros, British pounds, Swiss francs, and Japanese yen. Rates won't be good, but you can access these currencies with nominal deposits that are often available only to priority banking customers in other countries.
MONGOLIA
I last visited Mongolia about a year ago and opened a bank account of my own. I made a video about the process, which I found somewhat painful and frustrating. For one thing, I couldn't find almost anyone who spoke much English in Mongolia outside of the Shangri-la Hotel. I also couldn't find many bankers who understood why the heck someone born in the United States would visit Mongolia to open a bank account.
For years, offshore websites have been exalting the virtues of banking in Mongolia. The two best banks I found – Golomt Bank and Khan Bank – do open accounts for foreigners. Khan Bank is currently offering a robust 5.4% on US dollar deposits, meaning if you hold dollars now, your only real risk is with the bank itself. Golomt Bank pays an impressive 3.3% on euros, and also offers similarly priced deposits in Chinese renmibi; both of which are hard to find with such great rates.
If you deposit in Mongolian tugriks, however, you'll earn 14% with Khan Bank and 13.3% with Golomt Bank. And there's the rub. For years, people talked of taking an "easy" 14% and paying for any currency depreciation with the high interest. Then the tugrik fell 50%, and a lot of "easy" interest was wiped out.
For me, Mongolia is an interesting but rather ballyhooed place. It's not particularly easy to cheap to get to, nor is it very exciting. Few people speak English, and I get an odd feeling about the banks from experts there I spoke to. Mongolia is interesting to me as an exotic option, but I find it's been overhyped due to its natural resources.
UZBEKISTAN
The Uzbeki som – the national currency of Uzbekistan that even I hadn't heard of until recently – had been steadily losing value against the US dollar until 2017, when it suffered a one-day loss of half of its value. Likely not the place you want to open a term deposit.
Despite its flawed currency, Uzbekistan's banks do offer one bit of reassurance in that no bank has been liquidated with unsettled liabilities since the country gained independence in 1991.
Few of Uzbekistan's twenty-six banks have entered the digital world with working websites that display interest rates, let alone offer competent online banking services. Then again, Central Asia is among the world's final frontiers, and barely one-third of its citizens even use the internet.
If exotic post-Soviet currencies are a risk you're willing to take, Asaka Bank – one of the better digital banks – will pay you 17% for a one-year deposit in the Uzbeki som. Other banks pay similar rates; Trustbank at 16%, Asia Alliance at 15%, and Ravnaq Bank at a paltry 11.8%. US dollar accounts are available at 4% APY, a rate you can outperform in other countries.