This article discusses Austrian residence permits, how to get an Austrian residence permit, the types available and the benefits of living in Austria.
Austria is one of Europe's most picturesque and prosperous nations with a high quality of life and excellent services, making it quite appealing to foreign expats.
If a second residence or citizenship in Europe is your goal, make your life easier by getting expert advice up front, we've helped thousands of clients find a new life in countries all over the world, including Europe. Talk to us today to learn how we can do the same for you.
Why Austria?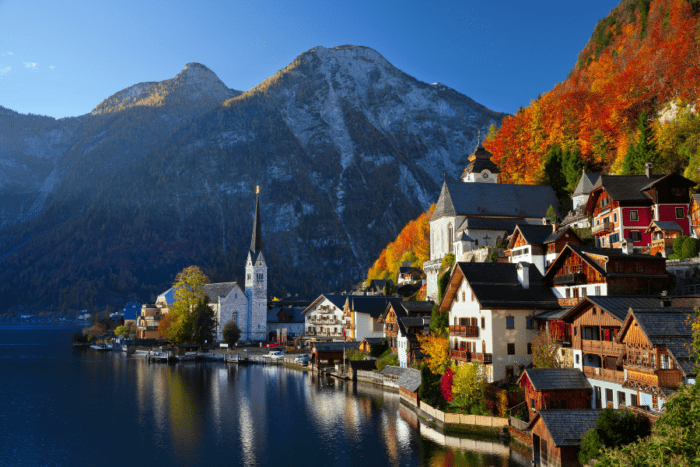 What is it about Austria that draws millions to the country each year?
Is it the Alps, dense forests, and magnificent lakes? Is it Vienna – the former seat of the Holy Roman Empire? Or is it the pursuit of a high quality of life?
In truth, the charm of Austria includes all the above mentioned factors and more.
Situated in Central Europe, Austria is surrounded by some of the most beautiful and famous European countries like Switzerland, Germany, Italy, etc., offering a geological position that is a dream come true for any digital nomad or adventurous person. Imagine going to Prague over the weekend because it's just that close.
In terms of economy, safety, wealth, and quality of life, Austria has always impressed foreigners. Austria wasted no time rebuilding after World War II, and in a few decades, it has rebranded itself as one of the most successful progressive countries in the world.
Considering all this, it's no surprise that foreign nationals from every part of the world are flocking to be a part of this beautiful and modern country, but is that easy?
Austria is a small country with a population of less than ten million, so naturally, the Austrian government is picky about who gets the privilege of living there.
Benefits of Getting an Austrian Residence Permit
High Quality of Life
Western European countries are usually associated with a high quality of life and this is certainly the case with Austria.
Economic Intelligence Unit (EIU) named Vienna the most liveable city of 2022 in its Global Liveability Index. Moreover, IEP's 2022 Global Peace Index indicates Austria to be the fifth most peaceful country in the world.
The abovementioned stats speak for themselves. Foreigners looking to get a residence permit in Austria can expect to live a high-quality life there, although the living costs may be a bit heavy on the pocket, depending on where you live.
Europe's Very Own Bridge-Builder
For decades Austria has acted like a bridge builder, a meeting point, and a crossroads between European countries. Austria is also an essential transit country facilitating a smooth supply chain among Europe's prominent economic regions.
Thanks to its geological position, Austria has absorbed much of the cultural richness of its neighbors – not that its own culture lacks authenticity.
Austria is famous for its castles, museums, art, and music. Oh, and of course, we can't forget the coffee. Each afternoon you'll find plenty of Austrians sipping coffee and spending hours in the quaint roadside cafes.
Travel Freedom
Allowing visa-free access to 174 countries, according to the Nomad Passport Index, an Austrian passport is gold in terms of travel freedom.
But what about people who only have an Austrian residence permit, rather than a passport? Fret not because residence permit holders enjoy the same access as Austrian passport holders.
They can travel visa-free to the EU, the Schengen area, and any other country with a visa treaty with Austria.
Is it Hard to Get an Austria Residence Permit?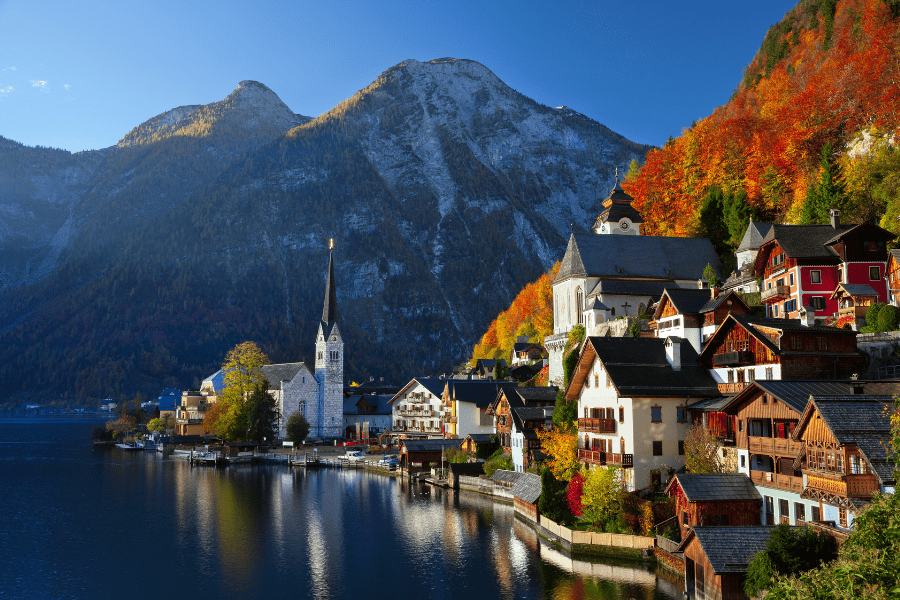 Thanks to its economic and political stability, the number of foreigners looking to live or work in Austria has been increasing exponentially over the past decades. Top-quality healthcare, some of the world's best educational institutions, stable investment and business environment, and safety have made Austria one of the most attractive countries in the world – and Austria knows it.
That's why the Austrian government has a specific and nonflexible immigration policy. Austria is a small country, and they simply don't have the room to receive tens of thousands of residents yearly, no matter how qualified the applicants are.
Each Austrian region is allotted a quota of limited residence permits (for specific categories) distributed on the first working day of January each year. All residents must prove that they have a clean criminal record through a document like a police clearance certificate and that they have never violated the EU visa regime.
Permanent Residency
After legally residing in the country for five years, among other requirements, you can qualify for permanent residence, i.e., the residence title of Long Term Resident – EU, allowing free access to the labor market and long-term settlement. The long-term residence permit is issued for five years.
Let's look at how you can get a residence permit in Austria.
Five Major Ways to Get a Residence Permit in Austria
Austria issues residence permits to many categories of foreigners depending upon their motive to enter and stay in Austria, duration of stay, study obligations, employment contract or lack thereof, etc.
The Settlement and Residence Act regulates all aspects of Austrian residence permits.
Generally, you can get a residence permit in Austria if you:
Are Financially Independent
Open a Company
Are An Employee
Qualify for Family Reunification
Study at an Austrian University
This article will discuss the first two options in detail since those are best suitable for high-net-worth individuals, investors, and entrepreneurs.
Austrian Residence Permit for Financially Independent Individuals
The official site of information on Austrian immigration states the following text:
"Third-country nationals wishing to settle in Austria without gainful employment (e.g., pensioners, financially independent individuals) may obtain a residence title "settlement permit – gainful employment excepted."
To receive an Austrian residence permit for financially independent individuals, you must keep the following things in mind.
Quota-Based Distribution
Only 450 individuals are granted this settlement residence permit on the first working day of January each year. Considering the appeal of living in Austria, there is tough competition to bag these permits. Therefore, if you are serious about getting it in your first attempt, you are advised to get professional assistance and prepare all your documents in advance. Any little mistake can reduce your probability of getting the residence permit considerably.
Means of Income
Under this settlement permit, you cannot work or run a business in Austria. Instead you must prove a regular monthly income (from a pension, profits from a foreign company, income from assets, etc.), equaling twice the standard rates of the General Social Insurance Act (ASVG). Also, we highly recommend showing at least €50,000 in your bank account for a single adult applicant and € 10,000 for each child.
Following are the monthly incomes (for 2023) that you must prove to get the residence permit:
Single Applicant: €1,110.26
Married Couples/Partnerships: €1,751.56
For Each Additional Child: €171.31
Adequate Accommodation
To qualify for the residence permit, you must buy or rent a property in Austria, the size of which must be sufficient to house you or any family that will be accompanying you to the country.
Health Insurance
You must also own health insurance that covers 100% of treatment costs in Austria. All accompanying family members of the applicant must also be 100% medically insured.
Language Requirements
The German language is the official language of Austria, and almost all residence permits demand you to be familiar with it at a basic level (A1). You must prove your language knowledge by taking an exam and providing a certificate.
Even after fulfilling the above mentioned requirements, there is no guarantee that you'll be granted an Austrian residence permit. But getting professional assistance and doing your best to get your error-free paperwork in order can improve your chances tremendously.
Austrian Residence Permit for Working Individuals
If you want to live in Austria without running a business, the 'gainful employment excepted' residence title works best for you, but what about entrepreneurs who want to start a company in Austria?
Austria offers two types of residence permits to foreigners who want to work in the country – Red White Red Card and EU Blue Card.
Austria also has a point system concerning the criteria for each foreigner category. However, there is no point system for EU Blue Card holders.
Red-White-Red-Card
A Red-White-Red-Card is issued to the following categories of foreigners:
Highly Qualified Workers
Skilled Workers in Shortage Occupations
Other Key Workers
Self-Employed Key Workers
Start-up Founders
EU Blue Card
You may be granted an EU Blue Card if you:
have studied at a tertiary educational institution (like a university) for at least three years
have received a job offer for at least one year in Austria relevant to your education
are promised an annual income of at least € 66,593 (2022 rate), i.e., one and a half times the average yearly gross income of full-time employees
Austrian Residence Permit for Entrepreneurs
For entrepreneurs who want to start and run a company in Austria, the following two options are the most relevant:
Red-White-Red-Card for Self-Employed Key Workers
Red-White-Red-Card for Start-up Founders
The start-up option is a lot more complicated and the due diligence involved is extremely thorough, thus significantly reducing your chances of getting the residence permit.
The self-employed route is easier to follow, although it requires double the minimum investment amount compared to the start-up route.
Self-Employed Key Workers
As a self-employed key worker, your business must meet at least one of the following criteria:
Minimum investment of €100,000
Create new jobs in Austria, or secure existing jobs
Be of regional significance.
Work with new technology
Start-up Founders
A start-up founder must make a minimum investment of €50,000 with at least 50% equity share.
Moreover, they must operate their business according to the approved business plan, launch innovative products or services, and obtain a score of at least 50 in the points system.
As you can see, the self-employed route is far better than the start-up route, even with double the investment amount.
Because of the investment included, these two routes may be considered Austria residency by investment programs.
Obtaining an Austrian Residence Permit
After you've submitted your documents to an Austrian consulate, it takes up to three months for your documents to be processed. If approved, you would need to visit Austria to apply for the residence permit, as a physical presence at the time of application is required.
If you are a non-EU citizen, you must first obtain a D Visa with a validity period of three months to visit Austria.
Your residence permit application will be reviewed within three months, after which you can visit the relevant residence authority in Austria and receive your residence permit.
Austria – A Top Tier Residence Option
Generally, you'd need to legally reside in Austria for ten to thirty years to be eligible for Austrian citizenship. Although the Austrian passport is a gem in itself, not everyone has that sort of time on their hand.
Considering that, Austrian residence is the best thing you can go for if you want to live in a politically and economically stable region where you, your investment, and your family will thrive.
So what are you waiting for? Reach out and let us help you navigate your way toward obtaining an Austrian residence.