Last Updated June 14, 2022
Legendary travel author Paul Theroux famously remarked that "comfort is the enemy of observation." And for years, US persons and others in the "first world" have made assumptions about everything from travel to living to investing based on age-old assumptions. 
There is a lot of propaganda surrounding Colombia, which suffered for years under the banner of a bloody drug war, but is now easily one of the world's most underrated hidden gems — not only for investment but also for entrepreneurship and lifestyle — as a way to escape the US. To this day, mention Colombia to someone who doesn't travel much and they'll dream up images of Pablo Escobar and harken back to the day they watched Blow. 
But it just so happens that Colombia offers an excellent opportunity for what I call "emerging citizenship." Emerging citizenship is my term for the opportunity to get in on a second citizenship while it's on the upswing.
Why Acquire Colombian Citizenship?


We've discussed before the concept that countries, as they become wealthier and more prominent, tend to dramatically tighten their immigration protocol. While getting Singaporean citizenship would have involved making a small and well-fated investment twenty or thirty years ago, today it is all but impossible to get in unless you have millions of dollars or a start-up company and the blessing of people in high places. If you missed the boat, your goal should be to find the next Singapore. That's how to take advantage of emerging citizenship.
Singapore can afford to be picky because it has plenty of people on its  276 square miles of land, and the Singaporean passport grants access to 193 countries. 
It's one of the best passports in the world, allowing those who hold it to enter visa-free to just about everywhere except the Commonwealth of Independent States (CIS) States and parts of sub-Saharan Africa. 
Colombian citizens are able to visit 131 destinations visa-free, 27 countries of which are in Europe.
Acquiring Colombian citizenship is easy, and the process takes about five years. Colombia is a very foreigner-friendly country, and an investment in real estate worth at least $165,000 is required.
The amount changes yearly, the real estate purchased must be 650 times the Colombian minimum wage. The minimum wage is currently COP 1,000,000 for the year 2022.
Unlike many citizenship by investment programs in the Caribbean, that investment can be made pretty much wherever you wish. You can purchase quality property with a real yield and a real chance for appreciation, not just some "government approved" property. 
You can live in the real estate or rent it out. You can buy one rather livable property to qualify, or spread your cash out and buy up a bunch of dumps. You can invest in Medellin or Bogota, or some other city altogether. 
Why get a second residency in Colombia?
You can apply for Colombian citizenship after five years

The process of obtaining residency is relatively quick

You do not need to relocate to Colombia to maintain residency

Colombia speaks Spanish, an easy language to learn
How it works
Time to Citizenship: 5 years
Direct Citizenship by Investment: No
Minimum Investment: An approximate $165,000 in real estate
Nationalities Allowed to Get The Colombian Nationality: All
Taxes and Costs
Cost of living: $1,500+
Income Tax Rate: 0-39%
Taxes Foreign Income: Yes
The Colombia Passport
Visa Free Countries: 131
Can Visit Europe: Yes
Can Visit the US: No

About Colombia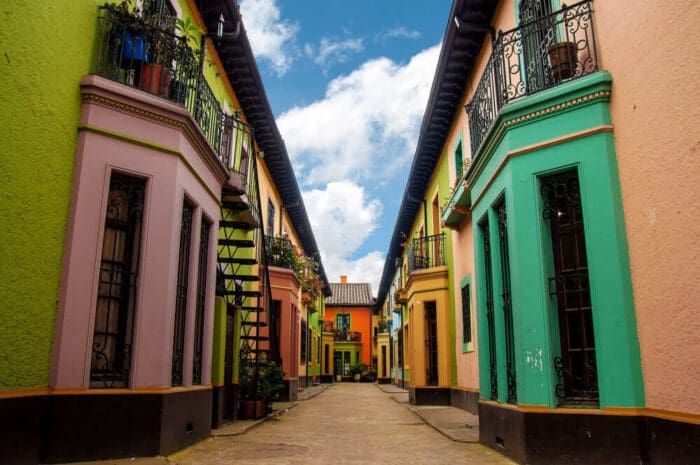 Colombia is a country in northern Latin America, bordered by Venezuela, Brazil, Peru, and Panama. Nearly 52 million people live in Colombia, with more than seven million living in the capital city of Bogota.
Although it has a history as one of South America's most dangerous countries, Colombia has experienced great economic growth in recent years. The country's economy is one of the freest and most open in the region. Also, Colombia is easily accessible from Europe.

Can I Get Colombian Citizenship by Marriage?
Colombian citizenship by marriage is allowed. There are also other countries that allow citizenship by marriage.
Reach out to Nomad Capitalist


We're not trying to sell you on the Colombian residence and citizenship, it might not be the right program for you.
When it comes to your second passport, there is no one-size-fits all.
What we do instead is tailor a holistic plan that optimizes your tax rate, supports your business, and meets your needs and that of your families.
We have served 1,000+ entrepreneurs and investors just like you, and we're happy to serve you.

Why Colombia Citizenship?


Colombia is a beautiful, underrated Latin American country. Once you obtain residency in Colombia, you have the right to live and work there for life. In order to keep your residency status, you will need to visit the country once every two years for at least one day.
The time required to become a citizen is only five years after being a resident.
Colombian Dual Citizenship


Colombia allows dual citizenship, so you do not need to renounce your current citizenship to become a Colombian citizen.
Colombia's policy of jus soli – or "right of the soil" – means that children you give birth to while in Colombia will obtain Colombia citizenship at birth. Being a parent of a Colombian citizen could shorten your own path to citizenship to just two years.
Taxes and cost of living in Colombia
Colombia's corporate tax rate is 31% but it will decrease to 30% in 2022. Personal income tax only needs to be paid after five years of actually having lived in the country.
There is no in-country presence requirement in order to maintain your second residency or work toward your second passport.
Nevertheless, it is possible to live for as little as $1,500 per month. Local food is cheap and plentiful, and transportation is affordable.
Colombian Citizenship and Residency – FAQs 
How to Get Colombian Citizenship?
If you're wondering how to become a Colombian citizen, then here's your answer. You are eligible to get Colombian citizenship five years after you issue the resident visa, or two years if you are married to a Colombian citizen or if he or she has Colombian children. 
The Ministry of Foreign Affairs may require an interview with the applicant who wants to get the Colombia nationality.
Does Colombia Allow Dual Citizenship?
Yes, Colombia allows dual citizenship, according to the Colombian Embassy in Washington.
How to Get Colombian Citizenship by Parents?
If your parents are Colombian nationals, or if you have only one Colombian parent, you can adopt Colombian nationality and become an official Colombian national according to the Colombian constitution.