Dateline: Bogota, Columbia
I recently gave some thought to the question: What would I do if I had to start over with nothing and only had $1,000 per month to live on as a nomad capitalist — where would I live and why?
I like to think about this every once in a while because we've talked about ideas such as the lifetime emergency fund. This is when you put your money in offshore banks at higher interest rates that kick off at least $1,000 a month in interest that you could go and live on. 
And during a pandemic, this is a great question to ponder again. After all, you never know what could happen.
There are places in the world that aren't too bad where you could actually go and do that. As someone who's been an entrepreneur my entire life, I like to make sure that I'm not going to go back to the beginning and that's dictated my relatively risk-free, or lower-risk, philosophy in life.
Whether you invest in a way that you can live off $1,000 of interest a month or you truly get to a point that you have to start over, I'm going to share with you some of the best places that I would live if I had to do it on $1,000 per month. 
First, I'll give you my number one choice. Then I'm going to give you other options that you might want to think about.
After that, we'll ask our subscribers. And get ready – they chimed in with an abundance of recommendations.
MY TOP PICK
Tbilisi, Georgia

My number one place to live if I had only $1,000 a month would be Tbilisi, Georgia.
At Nomad Capitalist, we've been talking about Georgia for many years and I think a lot of nomads have started to go to Georgia as a result of our channel. 
Tbilisi is Georgia's largest and capital city. Located in the eastern part of the country, on a riverbank, and against the backdrop of a valley, this city is sure to charm anyone who visits.
It is also known to have a new bohemian scene.
From nightclubs to speakeasies, to wine factories and underground bread shops, there are a lot of fascinating gems to find in this city. There is even a flourishing café scene. 
And if you love architecture, the city features art-nouveau and Soviet-era buildings. There are several buildings with breathtaking interior and exterior designs.
Tbilisi also has many mosaics, monuments, and historic churches to visit. They even have a fortress. 
And if you want to discover somewhere truly interesting, you can venture just outside of the city center and see the secret location of Joseph Stalin's underground printing house.
You definitely won't have a chance to get bored in this city.
It's also a very affordable place to live, and I would personally choose it as my number one location for several reasons. 
First, I think the people are extremely friendly. I've built a lot of lasting friendships with people that I've worked with and they've also introduced me to other people with whom I become friends. Georgia, as a whole, is a very hospitable nation and when you need something, people are there to help you. 
Often, there's the spirit of friendship that I think people are looking for. If you had to spend your time in one place, then Georgia is a very, very good choice.
I happen to own a home there, so for me, $1,000 per month could go entirely to food, entertainment, and the cost of maintaining a house. Though, I recently shared the cost of maintaining my homes and the utility bills in Georgia are extremely cheap, even when you're living there. And the country is opening up to the idea of cryptocurrencies if that's your thing.
But the cost of groceries has gone up in the last year or two, yet they are still pretty cheap. Plus, there's plenty of local produce. 
You could also buy some land. If you save up and buy land somewhere in the country for a couple of thousand dollars, you could grow your own vegetables. There's great soil in Georgia, so you can even have a backyard garden which goes well with Georgia's large organically, locally produced meats. 
Even if you owned a home, you could still go out and have nice dinners a couple of nights a week with drinks on a budget of $1,000 per month.
And they really do have some of the best wines. When I think about sitting in my home, in front of the fireplace with a glass of Georgian wine, it's just spectacular.
If you had to rent though, you could still rent relatively affordably, cover your utilities, enjoy Georgian life and still stay within your budget. It would probably mean fewer dinners out, but Georgia would still be a great place to live.
I also think having four seasons is attractive to a lot of people. It doesn't get super cold in the winter, but it does get chilly. And in a couple of the summer months it gets relatively warm. But you've got all four seasons and you could potentially take someday or weekend trips.
These reasons, and so many more, are why Georgia is my #1 choice.
HONORABLE MENTIONS
All right, now onto the rest of the list. 
Before we get started, let's establish some criteria. Certainly, there are a lot of places in the world where you could go and live in some far-flung village and raise your own goats to live on $1,000 a month. We're not talking about that. We're talking about larger towns up to mega-cities, or somewhere in between. 
Another important factor to consider is if you can immigrate there. Unless you're from one of these countries, you need to be able to stay there. 
If you constantly have to rely on 30-day tourist visas — and you can only get two of those a year — that's not going to work. 
So, I'm looking at countries where you can easily get immigration through a residence permit or extended tourist visa. In Georgia, many people can go for 360 days on just a tourist visa or by getting a residence permit.
Istanbul, Turkey
My second place to consider is Istanbul, Turkey.
Istanbul is in a very strategic location, straddling the two continents of Europe and Asia. It should come as no surprise then that it has drawn many different empires over the centuries, which have all influenced the cultural diversity found in Istanbul today.
Luckily, many historical buildings from these different eras are still intact. For example, you can see a mosque and a Greek Orthodox church both in the same area.
Reportedly, Istanbul's cuisine is delicious too.
If you're looking for a big city, then Istanbul is a great option. And living on $1,000 a month is possible thanks to the decline of the Turkish lira against the dollar, the euro, and pretty much everything else.
Rent isn't super cheap, but food and tea are. Not to worry though, you can still find a relatively affordable place in a nice area of Istanbul.
There's also a lot going on — you have water and that big city vibe — but you also have residential neighborhoods that are very welcoming. Though more expensive, some of the best neighborhoods are Nisantasi, Taksim, Karakoy, and Cihangir— at least for real estate.
Overall, I think you could live a pretty affordable lifestyle in Istanbul, given the decline of the lira. So, if you're looking for a huge city, I would choose Istanbul. 
Plus, it's well-connected.
And if you love it so much that you end up wanting to invest there long-term, Istanbul's real estate options are quite attractive too. In fact, they are surprisingly cheap.
Kota Kinabalu, Malaysia
Now, let's say you want to live in Asia. 
I know a lot of people look at cities like Chiang Mai and Chiang Rai, Thailand. Those are affordable and you could probably do it on $1,000 a month. 
For me, I'm less interested in Thailand. There's nothing wrong with Thailand, but I would go to Malaysia for a more laid-back Asian vibe. Though, not Kuala Lumpur and probably not even Penang, as both of those cities are going to be too expensive. 
But I think you could probably pull it off in Kota Kinabalu, Malaysia; otherwise known as KK.
KK is on the island of Borneo and is partially surrounded by a rainforest. Known for its markets and beaches, this city also offers several natural attractions.
Plus, it has many activities to keep you busy. From climbing Mt. Kinabalu, to exploring local cuisine, to visiting the many landmarks, there is plenty to do. You can even take a short trip to other nearby islands.
And KK has more of that laid-back Asian vibe that people might like about other parts of Southeast Asia.
Here, you would have all the benefits of the beautiful Malaysian people and a pretty easy immigration process too. They let pretty much anybody come in for numerous residence permits or through tourist visas. 
It really is a great place to live. 
Phnom Penh, Cambodia
If you want a larger city in Asia, it gets a bit more challenging because a lot of the larger cities in Asia are expensive. Especially if you want to be on the beach.
Most cities in Southeast Asia aren't going to work, including Kuala Lumpur.
But if you're like me and would still like a bit bigger city in Asia, I would think about Hanoi, Vietnam. Though, I feel that being able to stay in Vietnam would be a challenge for most people.
In that case, I would probably go to Phnom Penh, Cambodia. You can get a business visa that you can renew every year there. It's definitely becoming more difficult but is still doable. 
Phnom Penh is the capital of Cambodia and sits on the southern side of the country. While the city is known to be busy, for some travelers, that is also the allure.
While Phnom Penh has also drawn many expats and digital nomads, parts of the city can be a bit rough. That's why you should always take extra precautions to ensure your safety.
Though, with growing nightlife and an active food scene, it will hopefully still make you want to live there. 
And while Cambodia uses the US dollar and that can make some things more expensive, I think you could still get by with $1,000 a month. Renting something would be relatively cheap as there are still a good number of rentals.
I think any city in Asia might be tough to live on $1,000 a month, but it should be possible in Phnom Penh. It's also likely in Hanoi, with the caveat that it's a bit more difficult to get in and to stay there. 
Antalya, Turkey
Let's say you want to leave near a beach in Europe. 
There are probably some small towns in the Algarve region where you could really stretch your money. Yet, the problem is that the euro is gaining against the dollar and Portugal is becoming more expensive. 
But you might be able to sell your plasma and pull it off in some tiny town of the Algarve in Portugal. Located in the southern part of the country, this region is safe and has several beautiful beaches and amenities.
Though, I think the better bet would be Antalya, Turkey. 
This Turkish city is resort-like and known as the "Turquoise Coast" due to the color of the Mediterranean sea that graces its shores.
While Antalya is rapidly being developed, you can also see artifacts from historic ruin in the archaeological museum. There are also beautiful natural attractions to be discovered, such as waterfalls, mountains, and beaches.
Again, due to the decline of the lira, you could probably pull something off in Antalya. Especially if you sign a year-round lease and lived there for $1,000 a month.
Buenos Aires, Argentina
Where would I choose in Latin America?
Some of the big cities might be tough. 
But if I'm only living on $1,000 a month, I wouldn't be as concerned about taxes. So, a place like Bogota, Colombia could be on the list. 
Given the same concept as the Turkish lira decline, your best bet would be to live in Buenos Aires, Argentina. You would have a great quality of life and the constant financial chaos probably wouldn't bother you that much. In fact, it would benefit you because your dollar would go even further as the peso declines.
Known as the "Paris of South America," it is vibrant with a lot going on in a beautiful city. That would be convincing enough for me because it has become more affordable as the currency has declined.
Plus, the food scene is insanely good and the nightlife…well, it never ends. You can stay out doing everything in Buenos Aires later than in other cities.
And if you like tango, they have that too. In fact, they perfected it.
Buenos Aires is certainly not as expensive as Mexico City. And I think you could probably squeak something out in a place like Buenos Aires for $1,000.
Obviously, you wouldn't be living high in the hog in any of these places; with the exception perhaps of Tbilisi, depending on where you choose to rent. You can take the metro there for 15 cents, get any kind of meal for $1–$2, cook at home for basically nothing, and they make wine for incredibly cheap.
I imagine there are parts of Spain where you could do that as well. 
But with all that said, for me, Tbilisi is number one and these other cities would just be considerations.
ASK THE AUDIENCE
I'm sure that many of you have your own considerations for the best places to live on $1,000 per month. That's why I wanted to ask my audience of 270,000 people what they thought.
I asked them, "What city would you choose to live in if you had $1,000 USD a month?" and here's what they said.
CHEAPEST PLACES TO LIVE IN ASIA


CHEAPEST PLACES TO LIVE IN AFRICA


CHEAPEST PLACES TO LIVE IN EUROPE


CHEAPEST PLACES TO LIVE IN LATIN AMERICA


Overall,  you have many, many choices to explore for living on $1,000 a month! 
From the friendliness of Tbilisi to riding in a tuk-tuk in Sri Lanka, to working for a tech company in Colombia, to going on a safari in Kenya, there are a plethora of possibilities.
So, take it from me and go to Georgia or take it from the multiple YouTube subscribers that shared their experiences from across the globe. 
Either way, you've got options. 
And if you're a nomad, maybe you want to explore multiple options. Just don't forget to save some of that "splurge" money for a flight.
And who knows, living in one of these cities may even lead to citizenship one day.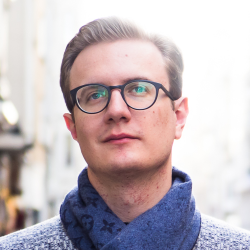 Latest posts by Andrew Henderson
(see all)