Dateline: Kuala Lumpur, Malaysia
The world is a big place full of all kinds of business and investment opportunities. And so, here at Nomad Capitalist, we like to keep our eyes out for a good deal.
But a good deal isn't just about the price tag.
If the best places to invest in real estate were where property is the cheapest, we would go for inhospitable tracts of the desert far away from any urban area. But there is a lot more to good investment deals than cheap foreign real estate. That's why we look for places representing good value for the money.
I've previously mentioned that a good rule of thumb to know whether you're getting a favorable deal in a desirable urban area is if your potential real estate investment is $1,000 per square meter or less.
This is what I would categorize as "dirt cheap". With increasing urbanization rates, if it's in a desirable location, it's a fairly safe investment that you will recoup and make a profit on.
However, there is good real estate above this threshold as well – it's a rule of thumb after all, not a divine law. With this in mind, I've collected three cities with great opportunities for development where you can still find real estate far below its potential value.
Foreign Real Estate Investment Advice
One of the major tips for finding cheap real estate markets with great deals is to eliminate unnecessary third parties – chief among them, people specializing in dealing with foreigners.
If a realtor's main client base are other foreigners, especially if their website and advertising material is in English and not the local language, then RUN.
I don't say this lightly, I've often seen firsthand how these types of real estate agencies will add a markup of 10%-40% to the price of properties they sell. And sometimes they are outright scams.
But beyond avoiding scams and overpriced real estate, what can you do to find cheap real estate markets worth your investment dollars?
Among the primary things that can create opportunities for investment are momentary shocks in the underlying value of a currency. Remember, when you're investing in foreign real estate, you're more often than not also partially doing Forex speculation as the underlying asset is priced in the local currency.
As such, many of the opportunities that you may see in the real estate market of a country might only be momentarily there, and could make perfect sense when priced in the local currency, but will massively appreciate once the region's economy and currency rallies.
With that said, let's jump into three cheap real estate markets where prices are down but the fundamentals are still solid.
Istanbul, Turkey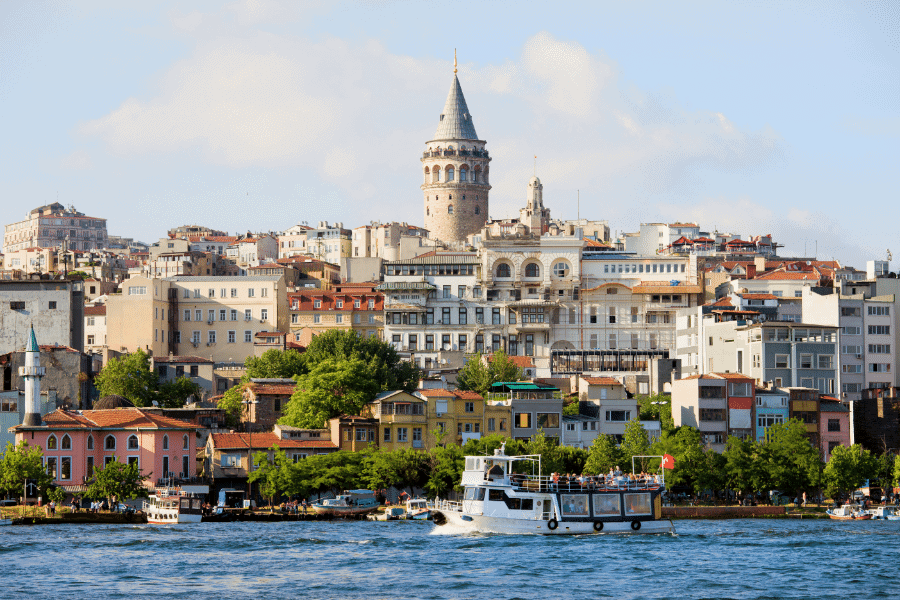 Since Erdogan began taking increasing authoritarian measures, whenever Turkey is mentioned in investing circles, it produces various emotions – some have a visceral reaction against it, others are agnostic, and some are particularly bullish about it.
While I understand people's reticence on the matter, the capital flight that has occurred just made the prices too good to pass up. Despite being one of the major financial hubs of Europe, Istanbul remains among the cheapest cities on the continent.
At those prices, it almost doesn't matter who's in charge, I'd at least give the real estate market a look.
Partially owing to the rapid decline of the Turkish Lira over the last five years due to the political instability and capital flight, there are fantastic deals at our "dirt cheap" price range.
You don't need to go too far off areas either – Istanbul is divided into three broad areas, the Old City, the New City, and the Asian Side. The Old City is where most of the historical buildings are located, the Asian side is less affluent with newbuilds and the New City includes more expensive areas.
But despite being pricier, you can still find real estate for our price range in Taksim Square, which is arguably the heart of the city. But if the regular protests and general hustle and bustle isn't up your speed, you can check out the areas of Beşiktaş, Cihangir, Galata, etc, which are generally across from the Old City.
Overall, I would categorize this as an opportunistic investment. People were spooked off because of Erdogan, but things will normalize in a 10-20 year horizon, and I'm fairly confident in that assessment.
If Turkey were about to let jingoism stand before good business sense, they wouldn't be trying to recover their good standing by offering generous citizenship programs and more business-friendly policies. You can read more about these investment opportunities in our Turkey real estate guide.
Mexico City, Mexico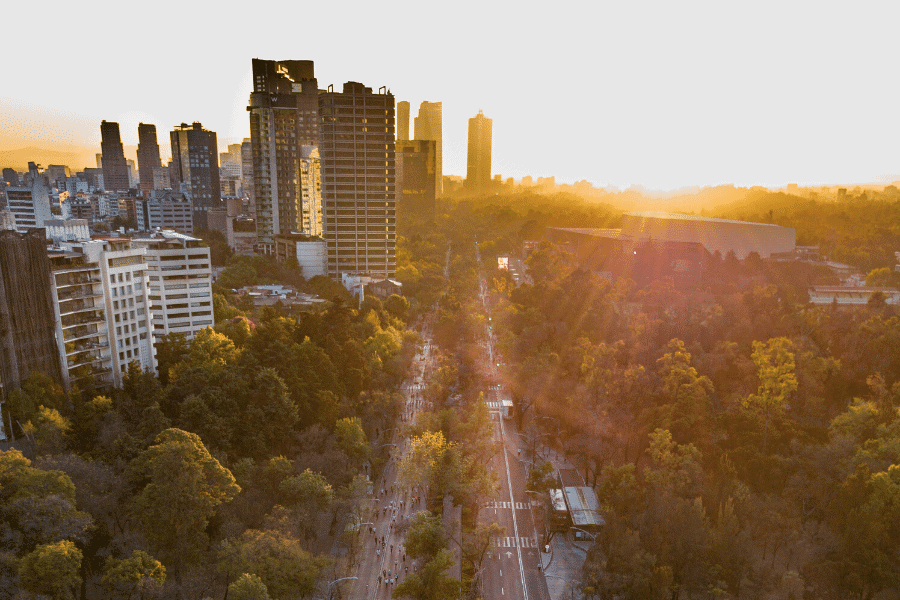 When Americans think about Mexico, what comes to mind are tequila and sandy beaches – they think about resort areas like Cancun. The rest of the country is seen as a giant no-go zone where drug lords are lurking in every corner, and it's certainly not considered among the best places to invest in real estate.
But let's get some facts straight. Mexico is by itself almost half the size of the EU, meaning that a single state can be the size of a country in Europe.
Such blanket assessments are patently unhelpful and simply untrue.
Mexico City has plenty of safe neighborhoods with vibrant culture. It's a huge city of 22 million people, you are bound to find whatever you're looking for. If you're searching for peace and quiet, you'll get it, the same goes if you're looking for somewhere unsafe.
Mexico is a country of contrasts. The economic inequality is among the highest in the world – so it's not uncommon for billionaires to share the same space as people living on six dollars a day
There are plenty of pricey areas like Polanco, where you can pay $8,000-$10,000 per meter, but you're halfway to Singapore levels at that point.
I think those regions are rather overpriced for what they are.
But owing to the vast wealth disparity in the country, sometimes just crossing the street can change prices from London-range to third-world.
In other words, if you look at a glitzy area that is expanding, you can often buy property right at the border when the particular real estate is still not considered high-class. But if you wait a few months or years, the section soon becomes gentrified and the price is bid up.
As such, all the people holding land there massively benefit.
For instance, in the Cuahutemoc district – close to Reforma (the Mexican equivalent to the Parisian Champs Elysees) – we recently looked at one deal asking for $295,000 for a 220 square meter apartment in front of a beautiful park – or rather $1,300 for a square meter.
This is a fantastic location when you consider how central it is and its proximity to more affluent neighboring districts. Give it some time and it is bound to appreciate through natural economic development.
It bears saying that the government is more left-leaning than one would hope. Upon assuming power, the current president even had to publicly state that property confiscation wasn't on the agenda.
While my team and I do monitor the changing political and legal landscape, we're not particularly concerned. Especially as the lifeblood of the country, the United States-Mexico-Canada Agreement (USMCA, previously NAFTA), has the inviolable condition of not allowing expropriations.
So, while there is a lot of rhetoric, the direct influence of the US would put a quick stop on any major left-wing shakeup of its next-door neighbor.
Bogota, Colombia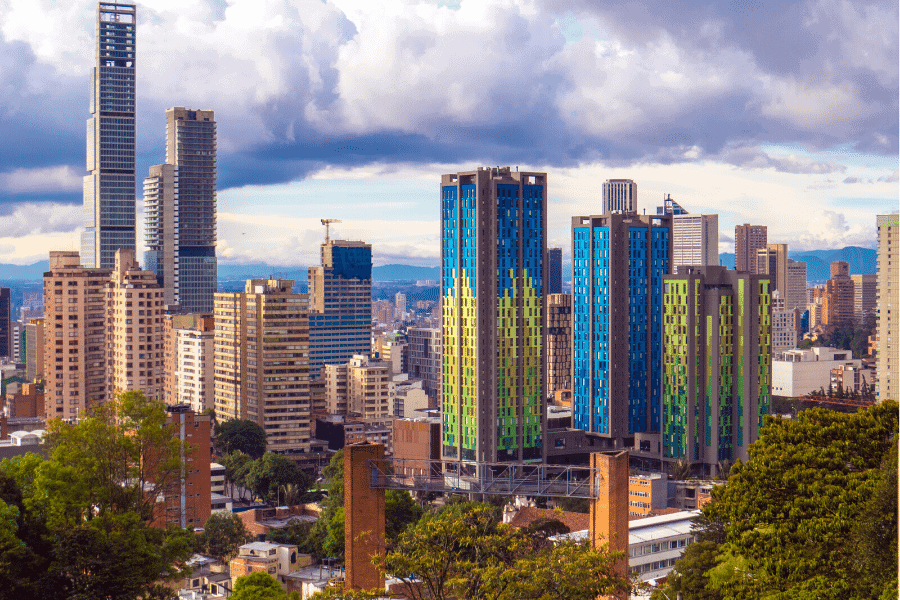 Quick! Think of something relating to Colombia that isn't drugs or coffee. Chances are those are the extent of your connection to the country, as well as most people.
It unfairly has a perception of lawlessness because of the drug wars of the past, but this is disappearing and the wounds are healing. Nowadays, it's one of the freest economies in the Americas.
And while its economy is not as big as Mexico's or Turkey's, its projected growth is rather positive.
Yet, even among those in the know, they would tell you to go for Medellin rather than Bogota. But if you're looking for overlooked and cheap real estate markets, you can't do much better than Bogota. I believe in it so much that I've put my own money there, and it's one of my Trifecta model real estate investments.
I went for Bogota rather than Medellin as I prefer capital cities, given that no matter what happens, there will always be a built-in demand for it because this is where the government and financial centers are.
As in every city in the world though, there are bad areas. But if you go North of Candelarias and the downtown, you reach a safe and well-priced zone.
In this area, it's not uncommon for the price of a square meter to go for between $1,400-$1,600.
Capitalize On Cheap Real Estate Markets
Contrary to popular belief, real estate can and does go down. It's simply the reality of any asset, as they're bound by the laws of supply and demand.
However, far from it making me nervous, I consider it as a fantastic opportunity. All three of the options I mentioned today have various reasons for being "dirt cheap" considering what they are.
But I don't foresee them always staying this way.
It may take a year, two, maybe even five for the market to suddenly snap back into some common sense. But sooner or later, common sense is vindicated by the markets.
You just have to be patient and wait to find the opportunities all around you.