Dateline: Tbilisi, Georgia
I just arrived back in Tbilisi for the holidays after enjoying some time in Latin America. The Latin world is not my top choice for travel, but I enjoy it in small measures at least once a year.
As I've focused more on designing my personal Trifecta Strategy, I have whittled down the competitors for the most livable international city in Latin America to Bogota and Mexico City. I spent quite a bit of time in Bogota, Colombia during the final months of 2017, but the moment I showed up in Mexico City, the matter was settled:
Mexico City is, officially, the most livable international city in Latin America (for me).
While I enjoy Bogota quite a bit, I feel less at home there. There's a weird vibe for me… even though I have nothing against it.
However, time and time again, I come to Mexico City and fall in love.
The city has amazing food, from restaurants ranked among the best in the world to street tacos. The people are incredibly warm and helpful, including the best and most helpful boutique staff I may have ever met (and the shopping itself is fantastic.) The culture throughout the country is fascinating and there is so much to explore domestically. I have also found that Mexico has much better English speakers than Colombia (and they actually understand my Spanish).
In short, Mexico City has everything you need. So, while Latin America is not my #1 choice for travel, when I am there, I want it to be in CDMX.
Mexico City is the kind of city you could spend years exploring and still have more to discover. Even the most ambitious travelers will miss some of the city's greatest attractions, but that won't keep you from soaking in the buzzing pace of life, the vibrant colors, or the sheer size of one of the most populated cities in the world.
If you've never been, it's a place you definitely want to put on your list. Before you buy your plane ticket, though, here are some of the most important things you should know about Mexico City, from when to go and where to stay to where to eat and what to do.
When to Go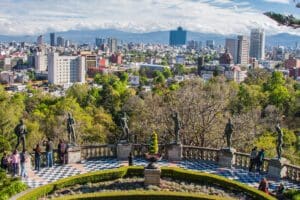 Mexico City has phenomenal weather. It is basically springtime there all year long, with average temperature highs staying in the 70s (ranging from 20-25º C) most months. The lows stay around 50º F for the better part of the year but drop into the low 40s in the cooler winter months.
The other great thing about the climate in the Valley of Mexico is that you get none of the humidity that makes places like Cancun a bit unbearable after a while. It may take a while to get used to the altitude of over 7,000 feet (2,250m) or deal with the smog, but Mexico City's weather is something you can enjoy pretty much all year long.
That being said, there are better times to visit the city than others. Mexico City has a rainy season and the cooler months can be chilly. So, here's what you need to know:
Spring: March-May
This is the absolute best time to visit Mexico City. Temperatures are in the mid- to high-70s and there is very little rain. With the cold winter months gone, the city's beautiful Jacaranda trees and Bougainvillea blossoms come out in all their vibrant hues, creating a breathtaking scenery along the crowded city streets.
This is one of the busiest times of the year to visit, though, so rates are often higher. Rates are especially high over the two-week break for Easter (Holy Week), but it may be a trade-off to get the whole city to yourself. Many locals head out of the city to visit family or one of the country's many beaches over the holidays, leaving the city and its calm, abandoned streets for you to explore uninhibited.
Summer/Rainy Season: June – September
While it may be a bit counterintuitive for folks from North America, summer is one of the worst times to visit Mexico City. The months of June through September constitute the city's rainy season, with average rainfall being the highest in September (3.54 in.) and July (2.36 in.), and a bit lower in June and August (1.57 in.).
The rain is usually pretty predictable though. The mornings are warm and temperatures increase as the day progresses, but around 3 or 4 pm every day, the skies fill with lightning and thunder and the rain comes pouring down. After a couple hours, the skies have emptied and the temperature has dropped about 10 degrees.
You can avoid the worst of the rainy season by getting what you need done before the rain begins and staying indoors after that. These are not the kind of rainstorms you want to get caught in – walking or driving – as flooding is not uncommon.
Hotel rates can be lower during the summer months thanks to the rain, but September, in particular, is especially busy thanks to the Independence Day celebrations September 15-16 when you can expect rates to go up. Book early if you plan to be in the city for these dates and don't expect many restaurants or shops to be open during the celebrations.
Fall: October-November
The rain finally lets up near the end of September, temperatures begin to drop, and things get much chillier around November. However, fall is a great time to be in town if you are looking for a chance to be fully immersed in Mexican culture. The Day of the Dead (Día de los Muertos) is one of the largest and most unique holidays celebrated in Mexico. Hotel prices do go up during this time, though, so you'll pay for the chance to be around during the festivities.
Winter: December-February
You can get some of the best hotel rates during the winter season, but you will have to deal with cooler weather. December is the rare month out of the year when the average high doesn't quite reach the 70s and all of the winter months sport colder nights reaching into the low 40s.
If you're willing to put up with these temperatures, you can get some great deals on hotels (unless, of course, you insist on visiting the city for Christmas or New Year, when prices tend to spike).
Visas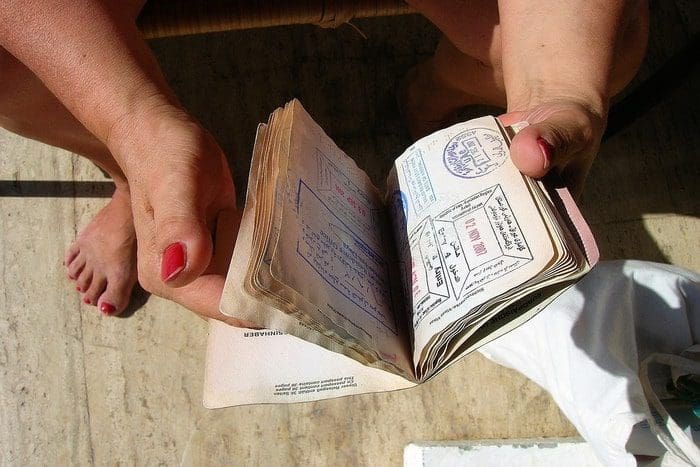 Mexico is one of the easiest countries to visit in the world when it comes to who can enter visa-free and how long they can stay. Citizens from more than 90 different countries can enter Mexico visa-free as tourists and stay for up to 180 days at a time. Citizens from non-visa-free countries can obtain a visa for $332 pesos, approximately $15 USD.
Holders of non-Western passports who also have permanent residence in a western country can enter Mexico visa-free using their residence permit. That means you could hold a passport that requires a visa, but if you have residency in Estonia, for instance, you could still enter Mexico visa-free.
Besides the tourist visa, there are several other ways to visit, work, and even live in Mexico long-term. If you work remotely, you can stay in Mexico the allotted six months without needing to follow any other procedures or obtain other permissions.
If, however, you wish to work in Mexico, you will need to apply for a "permission to work" visa. And, if you wish to stay for a longer period of time, you must apply for temporary or even permanent residency. You can learn more about how to apply in our article on how to obtain residency or dual citizenship in Mexico.
Where to Live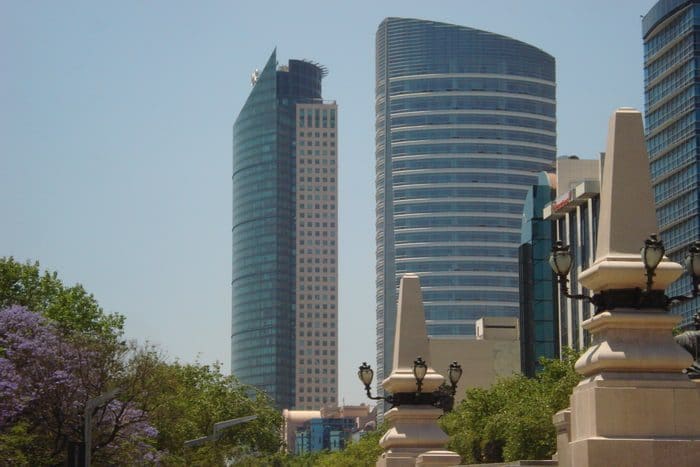 If you plan to stay for only a short period of time, Mexico City has a wide range of hotels for you to choose from. You can find a lot of decent hotels for just $45 a night, like the Hotel del Ángel at the center of the city – right around the corner from the Angel de la Independencia monument along Reforma (the main street cutting through the city) – the hotel even includes a breakfast buffet full of typical Mexican dishes.
However, if you're hoping to enjoy your stay in full luxury, here are some of the best 4- and 5-star hotels in Mexico City:
Carlota
Carlota recently opened in Colonia Cuauhtémoc and is quickly becoming one of the trendiest hotels in town. The Mexican design with poured concrete, industrial chic and neon touches make it one of a kind. The main floor boasts a lifestyle boutique, as well as a restaurant, bar, and pool.
The luxury boutique hotel only has 36 rooms though, so you'll need to grab your spot fast if you want one. Rooms start around $130 USD a night. The hotel is also pet-friendly if you want to travel with a furry companion. You can find the Carlota at Río Amazonas 73, Colonia Cuauhtémoc.
Condesa DF
If you are looking for a more bohemian feel, Condesa DF may be the perfect choice. With a completely remodeled interior, the hotel is housed in a 1928 French Neoclassical building located on an angular corner in the architecturally-rich Condesa neighborhood. A night stay starts at roughly $180 USD.
The hotel gives off the vibe of a clubhouse for the cultural elite, with posh turquoise and white rooms and modern mid-century furniture. The central patio and rooftop bar both add to the ambiance, not to mention the fantastic view and plush sofas you'll find at the top. You're sure to find a group of young socialites at the bar each night ready to party. You can find Condesa DF on Avenida Veracruz N.102, Colonia Condesa.
The Four Seasons Mexico City
Located along the central Paseo de la Reforma (#500), the Four Seasons Hotel once again delivers a luxury hotel experience. The rooms are clean and spacious and the deep soaking tubs, full marble bathrooms, and on-site spa offering facials and customized massages all ensure that your stay will leave you feeling rested and relaxed.
The hotel is housed in a colonial-style building surrounding a beautiful fountain courtyard. Rooms come with LCD flat-screen TVs, iPod docking stations, and incredible window views of the bustling city below and the peaceful Chapultepec Forest just a mile away.
Pricing varies from $300 a night to over $800 during particularly busy seasons, so plan your visit strategically if you want to avoid the high rates.
The Hyatt Regency Mexico City
At a more reasonable $130 – $270 a night (depending on when you go), the Hyatt Regency in Polanco fuses Eastern and Western influences throughout the hotel. The rooms are clean and spacious, the design is contemporary and luxurious, and each room comes with its own minibar, marble bathrooms, satellite TV, and impressive views of the city and park. The hotel also has a full fitness center, complete with a sauna, tennis courts, and a swimming pool.
The Hyatt Regency also offers three on-site restaurants – the Japanese Yoshimi, the Amado, and a pastry shop. If you want to venture outside of the hotel for a bite to eat, the hotel is at the heart of Polanco, one of Mexico City's top gastronomic districts. The hotel is located on Campos Elíseos 204, Polanco.
Hilton Mexico City Santa Fe
If you are looking to get out of the city center, or have business to attend to in the city's financial and commercial district of Santa Fe, the Hilton Santa Fe may be the perfect accommodation for your stay. Prices range from less than $100 a night to upwards of $300.
Situated along Antonio Dovali Jaime 70, the hotel is just a quick walk to a movie theater, several restaurants, and the largest shopping complex in Latin America. The hotel itself has a rooftop pool and cocktail lounge that serves drinks and small plates, as well as the MADERA and Lobby Lounge restaurants that offer a mix of American cuisine and traditional Mexican dishes.
Le Méridien Mexico City
Le Méridien offers similar rates (from $90 – $250 a night) as the Hilton, but is located in the heart of Mexico City along the Paseo de la Reforma. The newly renovated rooms come with plush new furniture, 32" flat-screen TVs, a laptop safe, and marble bathrooms. They are also stocked with a refrigerator, microwave, wet bar, and complimentary coffee and tea.
St. Regis Mexico City
If you want to stay in the Starwood family but add on a little more luxury, you could go down the road to Paseo de la Reforma 469 and reserve a night at the St. Regis for $250-$400 a night. The extra cost will get you attentive service (even a butler if you want one) and greater luxury, from Pratesi linens to white marble bathrooms complete with Remède bath amenities.
The rooms have spectacular views, but you can get the best panoramic sight of the city from the gym, spa, or indoor swimming pool. However, unless you're a Starwood Preferred Guest, you will have to pay $16 a day to get a Wi-Fi connection in the hotel.
Alternative Accommodation
While I prefer to stay in nice hotels that meet my comfort needs and allow me to focus, Mexico City offers as many different levels of quality and price as you could imagine. You could stay at mid-range hotels like Holiday Inn or Fiesta Inn, or you can check out the many hostels dotting the city, from the Zocolo to Condesa and beyond.
Another option is to rent a place on Airbnb. The average rating for the Airbnbs available in Mexico City is a 4.8 out of 5 and the average night stay is just $49 for an entire home.
The Top Five Neighborhoods in Mexico City
Whether you are renting an Airbnb, staying at a hotel or hostel, or looking for an apartment to rent long-term, it's good to know the best neighborhoods in Mexico City to ensure a safe, relaxing stay. Here are my top picks:
Polanco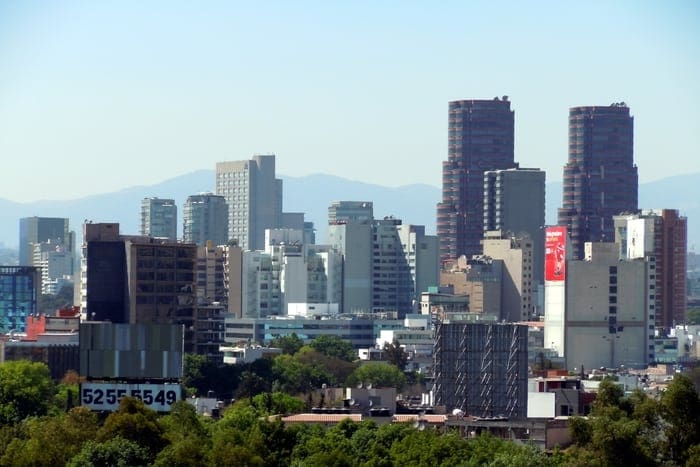 Known as the Beverly Hills of Mexico City, Polanco is the main upscale district of the city with high-end car dealerships, five-star hotels, museums, embassies, and more. The premier shopping avenue, Avenida Presidente Masaryk, is full of shops carrying famous brands and world-class restaurants.
The residential areas are filled with Spanish Colonial Revival mansions and luxurious apartments, home to some of the richest politicians, celebrities, artists, and businessmen in the country. On the northern end, modern architecture has made an impressive mark, including the Museo Soumaya and Acuario Inbursa, the newly built 3500 square meter aquarium.
Condesa-Roma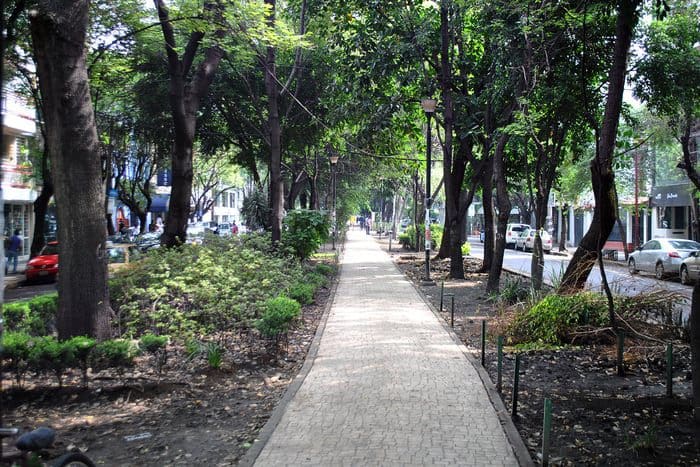 Like Polanco, La Condesa (The Countess) is full of international restaurants and is a great area for foodies. It also sports a number of trendy nightclubs, making it a popular place for younger businesspeople and students. The area is also a big hit with pet lovers and is home to a large number of expats from the United States.
La Condesa is just five kilometers from the Zócolo, the city's main square and, together with the adjoining Colonia Roma, is one of the most architecturally important areas of the city. These two neighborhoods are also considered to be a bastion of creative freedom in Mexico City.
Coyoacan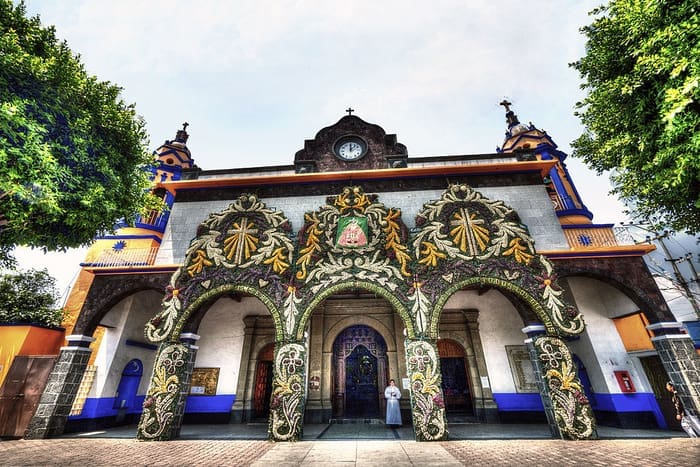 Located 10 km south of the Zócalo, Coyocan is one of the oldest neighborhoods in Mexico City. The borough didn't truly become a part of the urban sprawl of Mexico City until the mid-20th century when farms and forests were developed to accommodate the growing city. However, many of the original villages have kept their layouts, as well as their narrow, cobblestone streets and 16th- to early 20th-century buildings.
The old colonial design of the neighborhood gives it a distinct identity that draws many visitors to Coyoacan's historic center and its 860+ retail businesses each weekend. Coyoacan is the most-visited place in Mexico City after the Zocalo and receives approximately 70,000 people each weekend.
Coyoacan is also a great place to live. The neighborhood was ranked as one of the best urban spaces to live in North America back in 2005 and is the only Mexican neighborhood to have made the list. Frida Kahlo, Diego Rivera, and Leon Trotsky all lived in this neighborhood and you can even drop by their homes today as they have been turned into museums.
Santa Fe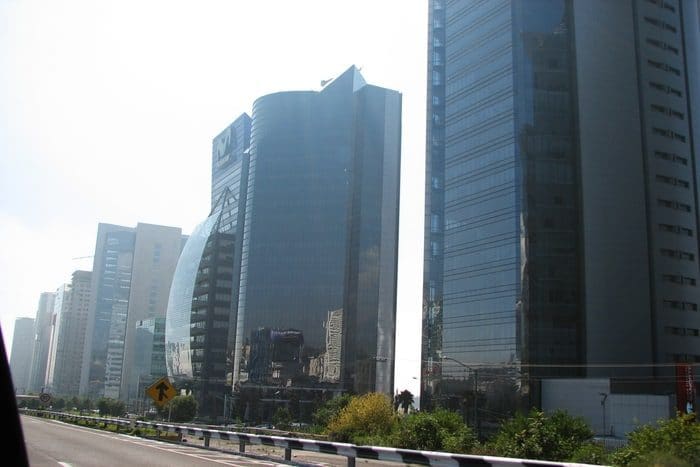 As mentioned, Santa Fe is Mexico City's major business district and home to Latin America's largest shopping mall. The area mainly consists of impressive high-rise business buildings but is also home to three college campuses and a residential area.
Overinvestment has created a surplus of commercial real estate, however, so monthly rent is actually quite low in comparison to other areas. If you're thinking of opening an office in a Latin American business district, Santa Fe is a great option.
Cuauhtemoc-Centro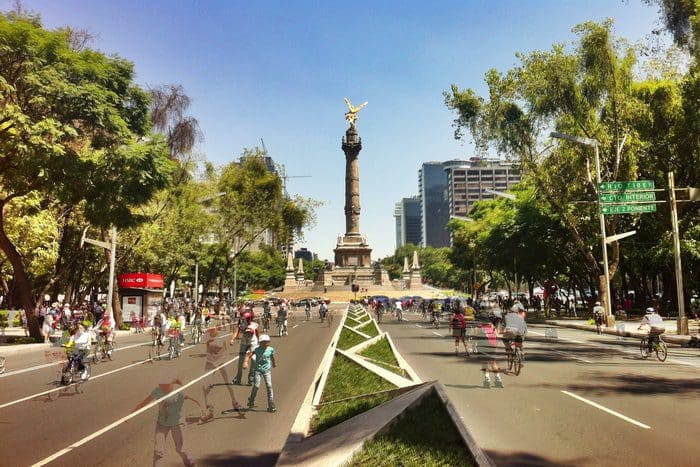 Cuauhtemoc is the historical and cultural center of Mexico City and, up until 1920, constituted the entire city. The district continues to generate roughly a third of Mexico City's GDP through commerce and services. The area is home to the Mexican Stock Exchange and many of the city's most important tourist attractions, skyscrapers, museums, libraries, government offices, markets, and other commercial centers.
As many as five million people visit the central district every day to work, shop, or visit cultural sites. The Paseo de la Reforma and nearby streets are full of upscale restaurants, hotels, trendy coffee shops, and fantastic taco joints. You would never guess that just a few blocks away is a quiet middle-class suburban neighborhood that tends to quiet down after 9 pm.
Cost of Living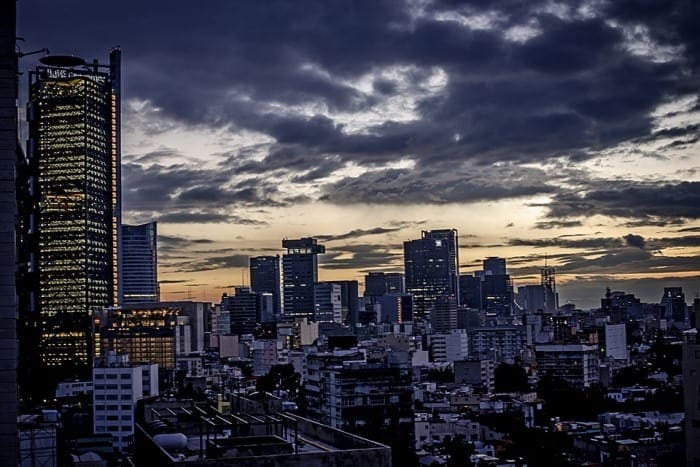 Moving to Mexico City is one of the easiest ways to reduce your cost of living and maintain or even increase your quality of life. The cost of living is anywhere from 50% to more than 120% cheaper in Mexico City than anywhere in the United States.
Fresh fruits and vegetables can be purchased at the local street markets or even in traditional grocery stores for pennies on the dollar, as well as meat cuts and many of the staples you'll need to stock a kitchen. Imported foods like peanut butter and Oreos will cost just as much if not more than they do at home, however.
First-run films are available on the big screen for incredibly low prices, sometimes even as low as a couple dollars per person. Even the big 3-D and 4-D theaters will cost you less than a regular ticket back home. The city is also full of theaters and arenas with a steady stream of plays, musicals, ballets, operas, concerts, and sporting events.
And if soccer is not to your liking, the NFL has begun making trips down to Azteca Stadium to entertain the adoring "American Football" fans in Mexico. There has even been talk of opening an NBA franchise in the city.
Real estate is also much cheaper in Mexico, even in Mexico City. Just outside of the city, you can find beautiful homes in safe communities for less than $200,000. The peso has been crushed by the dollar over the past few years, driving down prices, but you should plan to buy in cash because the weak peso is also pushing up interest rates making mortgages very unattractive.
Healthcare can also be exceptionally good in Mexico City at just a fraction of the cost you would pay back home. Private hospitals are often staffed by doctors trained in the US and Canada, but with a much better bedside manner. Medicine is also much more affordable and widely available.
While there is still a lot of poverty in Mexico, Mexico City is arguably one of the most developed "first-world" cities in the world. It is the perfect blend of the warm Latino culture, fast-paced city life, and a touch of North American culture that can keep you from ever really missing home, all while saving money with the great cost of living.
No wonder Mexico is the most popular country for American and Canadian expats. It is already home to over a million expats – a population the grows every year.
Transportation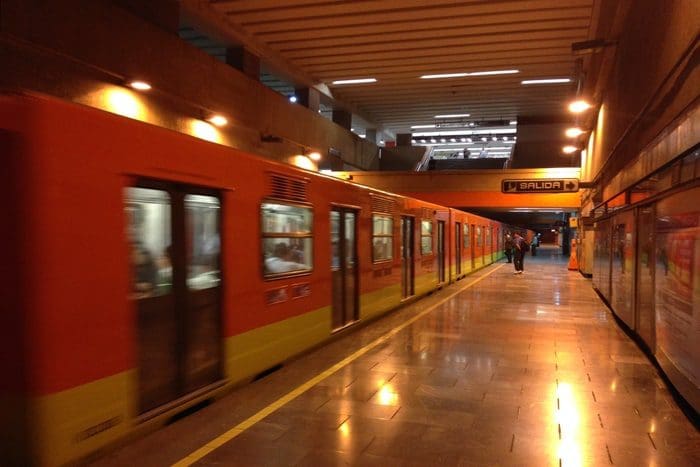 Mexico City's transportation is highly developed and incredibly cheap. In a few cases, the increase in crime has made some transportation options less attractive for travelers and expats alike, but there are so many forms of transportation that you will never be left without a safe way to get around the city.
The Metro: Mexico City's subway system is made up of twelve different lines that cover the entire city. It is open Monday through Friday from 5 am to midnight, Saturdays from 6 am and Sundays from 7 am. It only costs 5 pesos to take the subway, but watch out for pickpockets who like to prey on unwary travelers or your ride could become very costly.
Buses: Buses are everywhere in Mexico City. A bus ride can cost as little as eight pesos, but the price goes up the longer you ride. Bus stops in major tourist areas will have a map with the route description so you'll know which bus to take.
MetroBus: Just over a decade old, the MetroBus was introduced in 2006 as a bus that runs in its own designated lane and can travel much faster than surrounding traffic. While most of the stops are more convenient for commuters, you can use the MetroBus to access Plaza Tres Culturas, the Reforma 222 shopping center, and the trendy Condesa neighborhood. You must purchase a 15-peso smartcard that you can top up and then use for every 5-peso trip.
Women-Only Transportation: Since January 2008, Mexico City has made a certain number of city buses and taxis available to women only. The pink taxis, buses, and even train cars (during peak hours) are designed to protect women from groping by male passengers.
Collectivos: Colectivos (also known as microbuses or combis) are smaller minibusses that provide more speed and comfort than buses and can get you closer to your final destination as well.
Taxis & Alternatives: You can take one of the many Nissan Tsuru taxis to anywhere you'd like inside or even out of the city, but they are not always the safest option. Sitio taxis registered to a specific locale (like a grocery store or hotel) are one of the safest ways to travel, but alternatives like Uber offer an extra level of security.
Mexico City has several alternative taxi apps that you can use during your stay. Uber has a well-established presence and works especially great for pooled rides. EasyTaxi is very similar in its use and pricing. Yaxi has the most payment options, Cabify prices per distance, and Blablacar is great for city-to-city travel.
Miscellaneous Travel Options: The recently installed Teleferico and the older Suburbano are other transportations options that you may hear mentioned by Chilangos (Mexico City locals), but they are more for local commuters than for folks looking to get around the city.
Mexico City is also a great travel hub for folks from North America because the city is home to an international airport and it can take just a matter of hours to fly home to visit family or attend to business.
Where to Work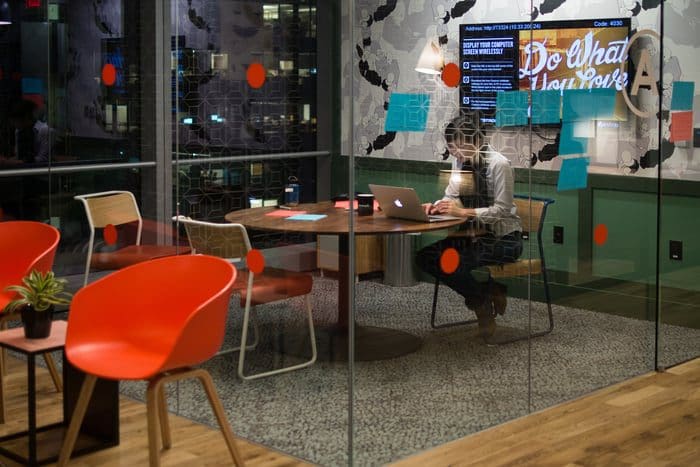 People have been raving about Mexico City's incredible food and the great vibe for years now, but recently they've begun to talk about the city's growing entrepreneurial scene as well. As an established metropolitan business hub, the startup culture was quick to catch on in Mexico City and new ventures continue to develop each week.
Mexico City's growing reputation for business has created a demand for great locations from which small businesses can operate, leading to the birth of many new and exciting co-working spaces within the city. Here you can check The 10 Best Coworking Spots in Mexico City
Here are some of our favorites:
El 3er Espacio
El 3er Espacio was one of the first co-working spaces in Mexico City. The spacious office has plenty of natural lighting thanks to the large windows. You can also head up to the terrace to work or enjoy the beautiful views of Parque Mexico. The Hipódromo neighborhood where El 3er Espacio is located has fiber, so the internet is faster here than in many other areas.
You can give this co-working space a free trial-run before committing. Once you do, you'll need to pay an annual membership fee of $500 MXN plus either your daily or monthly rate. A day pass costs $200 MXN, a part-time pass (80 hours) costs $1,090 a month, full-time costs $2,150 MXN, and full-time with a reserved spot will cost you $2,842 MXN.
El 3er Espacio always has free coffee and water in the office and, while they don't have any food items on site, you'll always find fantastic food in the Condesa neighborhood right next door. The co-working space is open Monday – Friday, 8 am to 9 pm.
Homework
If you're looking for something available 24/7 and a little more central, Homework Co-Working in the Plaza de la Revolución checks both of those boxes. Like El 3er Espacio, Homework has a spacious work area and a beautiful terrace where you can enjoy the view while you work.
Homework is home to several Mexican companies and startups and launch parties and famous faces are not uncommon at this co-working space. You can enjoy the free coffee or head out to the street for some of the great food available in downtown Mexico City.
A monthly pass at Homework costs $2500 MXN for a hot desk or $3800 MXN for a reserved seat.
Impact Hub
Impact Hub is a worldwide co-working franchise that delivers great service no matter where you go. We have discussed many of its locations here on the blog before and the Mexico City location offers the same great workspaces, meeting rooms, free coffee, and bean bags that you are bound to find at its locations in Europe, North America, and Latin America.
You'll also find the same great community that Impact Hub offers to its members, from events to special speakers to discounts on classes and community potlucks. A monthly pass will cost you $2900 MXN and will give you access Monday through Friday from 8:30 am to 8 pm (although extended hours are available.)
The Pool
A pass to The Pool will get you 24/7 access to the co-working space at its two separate locations in Polanco and Juarez. The Juarez location is more central (close to the Angel de la Independencia) and the office in Polanco is in a quieter, residential area.
The Pool gives off a more serious feel but is still just as spacious as the other co-working spaces on this list. It also has great lighting thanks to its many windows. Both locations have a café on-site and plenty of food options in their surrounding neighborhoods.
A part-time pass will cost you $1680 MXN a month (80 hours) and a full-time pass costs $3371 MXN. You can also pay for additional services like a private office, meeting rooms, etc.
Urban Station
Urban Station has fiber internet, a minimalist design, and numerous different types of workstations for you to choose from, including individual tables, common areas, and private offices. There are free drinks and on-site catering.
You can pay 55 pesos an hour if you're just going to be working there for a short period, or you can pay $3,380 for a monthly pass or $3700 for a reserved spot. Urban Station is open Monday through Friday from 8 am to 8 pm.
WeWork
Like Impact Hub, WeWork is an international co-working network with locations in numerous different countries. They pass the benefits of their experience along to their members, whether it's through their great kitchen (with fruit, cereal, coffee, and beer available), spacious design, convenient offices, and meeting rooms, large event spaces, comfy lounge areas, beautiful terrace views, or 24/7 access.
A day pass is billed in USD and set at $45, while a full-time pass costs $3950 MXN, a reserved spot in a shared office costs $4150 MXN, and a reserved private office costs $4500 MXN.
WeWork has three locations throughout the city. The Juarez location is the most central, the Reforma Latino location is right next to Bosque de Chapultepec, while Monte Urales is farther out and a bit difficult to reach via public transportation.
Other Co-Working Spaces
If none of these options pique your interest, no problem, according to Nomad List there are at least 77 co-working locations throughout the city. The wide range of options means you can find a place to work pretty much anywhere in the city and can fit a co-working space into any type of budget.
Where to Eat and Drink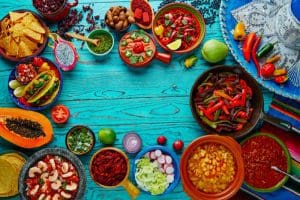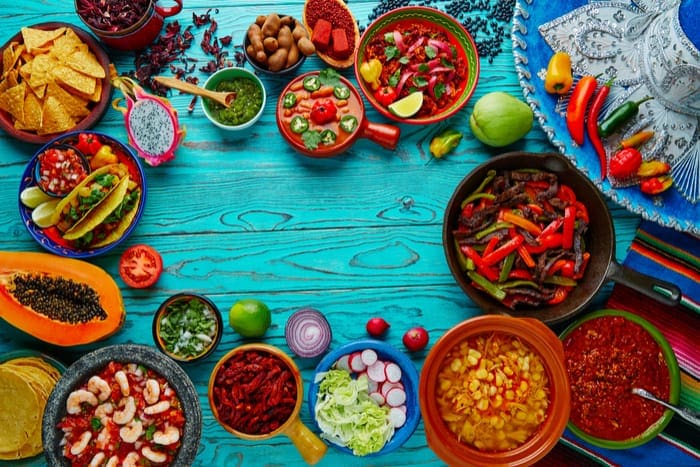 One of the greatest things about Mexico is its mouthwatering food. No matter how simple or complex the dish may be, it's easily some of the best food you will ever eat. The great thing about Mexico City is that you get the whole spectrum of food options, from Northern cuisine to the South, the Coast, the Central dishes native to Mexico City itself, and a wide array of international restaurants as well.
No matter what your food preferences are, you can just as easily eat at a five-star, world-class restaurant in Mexico City as you can enjoy a delicious plate of tacos. You'll also find numerous Italian, Argentinian, Brazilian, Chinese, American, and even Korean restaurants throughout the city. The following is an eclectic mix of some of the best restaurants, bars, and taco joints of Mexico City.
La Casa de los Azulejos – Sanborns
Enjoy a meal at the Sanborn's restaurant located in La Casa de los Azulejos while soaking in the city's fascinating history. The Sanborns chain is one of the most successful Mexican chain restaurants in the country. The food is good, but it is the location of this particular establishment that makes it worth the trip.
La Casa de los Azulejos was originally built in 1793 for the Count of the Valle de Orizaba. The family eventually covered the façade of the palace home in blue and white tiles from the state of Puebla. The truly unique, but stunning result earned the building its name: The House of the Blue Tiles.
The home remained in private hands until near the end of the 19th century. It changed hands several times in the coming years, taking part in some of the city's most historic events. It was rented out to the city's exclusive social Jockey club for over three decades, occupied by Zapatistas in 1914, and used as a banquet hall by supporters of Porfirio Diaz to celebrate the assassination of the revolutionary Francisco Madero.
In 1917, the Sanborns brothers purchased the mansion and turned it into the flagship restaurant for their growing business. The interior of the building boasts a 1925 mural by Orozco, a peacock mural by Romanian painter Pacologue, a beautiful stain-glass covered courtyard surrounding a Moorish fountain, and architectural elements from the Baroque and Art Nouveau periods.
The building is located close to the Palacio de Bellas Artes building in the historic center of Mexico City and was declared a national monument in 1931. If you are looking for a luxurious setting to enjoy a meal and a healthy dose of Mexican history, you can expect all of that and more with a meal at Sanborns' Casa de los Azulejos.
Tacos el Califa
One of the best taco joints in the Mexico City area is hands down, Tacos el Califa. While you can find a lot of great taco places around Mexico City, it can sometimes be a little hit and miss. The great thing about El Califa is that you can find the same great quality at all nine of its locations – from La Condesa to Polanco to Paseo de la Reforma 382 and its many other locations.
While you shouldn't expect an English waiter, there are English menus and any trouble you may have communicating what you want to eat will be highly rewarded with fresh-made tortillas and local cheeses, a wide variety of meat cuts, delicious beverages, and an impressive salsa bar with everything you could ever want to put on one of their tasty tacos.
Even better, El Califa often stays open until 4 or 5 in the morning, so you can satisfy your cravings for the best classic Mexican taco in the city at any time of the day or night.
Pujol
Enrique Olvera is easily the best-known chef from Mexico and his most recent project, Pujol, is convincing proof that his reputation is more than deserved. If your plans only allow for a visit to one high-end restaurant while you're in the city, Pujol is the place to go. Critics are calling it "the most creative, clever, and well-executed take on contemporary high-cuisine Mexican cuisine."
A meal at Pujol costs about $80 UDS a plate, making it one of the more affordable fine dining options in the Western hemisphere. The restaurant is located in the upscale neighborhood of Polanco at Francisco Petrarca 254.
El Hidalguense
Barbacoa is one of Mexico's special meat dishes that involves wrapping beef or goat meat in maguey leaves and steam-roasting it over an underground wood-fueled fire. By tradition, the dish is only served on weekends, which explains why El Hidalgense – which serves some of the city's most delicious barbacoa – is only open Friday through Sunday. The restaurant is located in Colonia Roma at Campeche 155.
Público / Comedor
If you need a good place for a quick breakfast or lunch, Público in Polanco serves up great food at fair prices. You can share a table with other business folks while enjoying the many different dishes, from pan de elote (Mexican cornbread) to breaded steak or the traditional torta (baguette sandwich). The restaurant closes at 7 pm, so make sure to stop by Molilere 50 to get some great food at Publico before then.
Mia Domenicca
If you're looking for a great restaurant for a romantic night out, Mia Domenicca is a great choice. Chef Lucho Martinez draws on many Mediterranean-inspired flavors to create his beautiful and delicious dishes. Mia Domenicca is located in the Roma district on the street Durango 279.
Maximo Bistrot Local
Chef Eduardo Garcia – who studied under Enrique Olvera at Pujol – has now started his own restaurant that is fast becoming one of the most exciting culinary scenes in Mexico City. Maximo Bistrot has a constantly changing menu with European and Mexican influences and fresh, seasonal ingredients. The restaurant is located in the Roma district at Tonalá 133.
Pasillo de Humo
For a taste of Oaxaca, Mexico, Pasillo de Humo offers a great contemporary interpretation of the dishes from Mexico's southern coast. You can try Oaxaca's traditional hot chocolate, mole, tlayudas and other dishes in Condesa at Pasillo de Humo located on Av. Nuevo León 107.
Bósforo
If you're looking for something to drink and want to immerse yourself in Mexican culture, Bósforo is the place to go. The mezcaleria is located in the city's historic center along Luis Moya 31 and offers up some of the best mezcal around. The staff is knowledgeable and will happily explain the varied nuances of the Mexican drink and help you find something you'll like.
Pulqueria Las Duelistas
If you want to try Mexico's other fermented beverage – pulque – you can't go wrong with Pulqueria las Duelistas. Also located in the historic center, the bar is situated along Aranda 28 where you'll find tourists and locals alike sipping on the fermented agave juice. Whichever flavor you try, pulque is liquid Mexican history.
Salón Tenampa
For tequila lovers, Salón Tenampa is one of the most revered drinking halls in all of Mexico City. Established in 1925, the downtown cantina located in Plaza Garibaldi 12 offers appetizers and a long list of tequilas from producers from all over the country. The restaurant sets the perfect atmosphere for tequila consumption, with mariachi bands on hand to serenade you while you enjoy the most famous Mexican alcohol of them all.
Things to See and Do
There is no shortage of things to see and do in Mexico City. Most folks who only get a short vacation from the office will head to Mexico's beaches, but Mexico City itself is full of activities for every type of traveler and should not be overlooked.
With the extra time and flexibility that comes with my international lifestyle, I always enjoy stopping in Mexico City before or after a visit to the beach. Whether you will only be in the city a couple days or you're planning a longer stay, here are some of the best places to visit in this incredible world-class metropolis to experience Mexico's culture and history.
Teotihuacan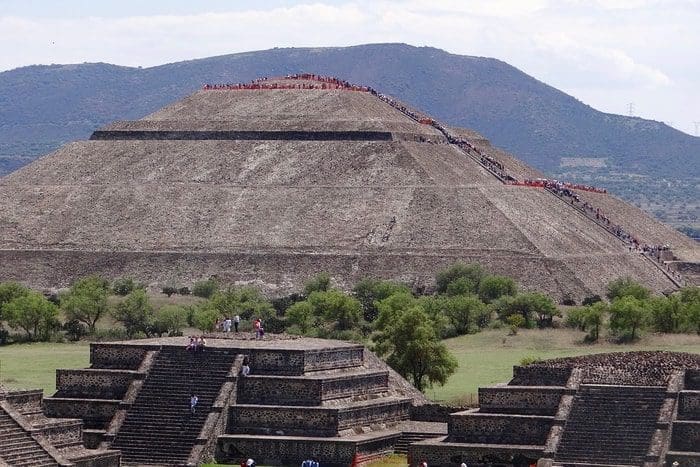 Mexico is home to hundreds of archaeological and UNESCO World Heritage sites and the most visited site of them all – Teotihuacan (teh-oh-tee-wa-can) – just happens to be in Mexico City region. The short hour or so of driving from downtown Mexico City required to get to the ancient ruins is more than worth the effort.
Teotihuacan contains some of the largest pre-Columbian pyramids in all of Mexico, including the Pyramids of the Sun and the Moon and a vast corridor of ruins where the ancient city's 200,000 residents previously lived and carried out their daily lives.
To fully enjoy the impressive site, come early to beat the crowds, be prepared to climb pyramids, bring your own water, and make sure to apply and reapply sunscreen as there is no shade and it is easy to get burned. Also, try to avoid visiting on Sundays as Mexican residents receive free admission this day and the site quickly becomes crowded.
El Bosque de Chapultepec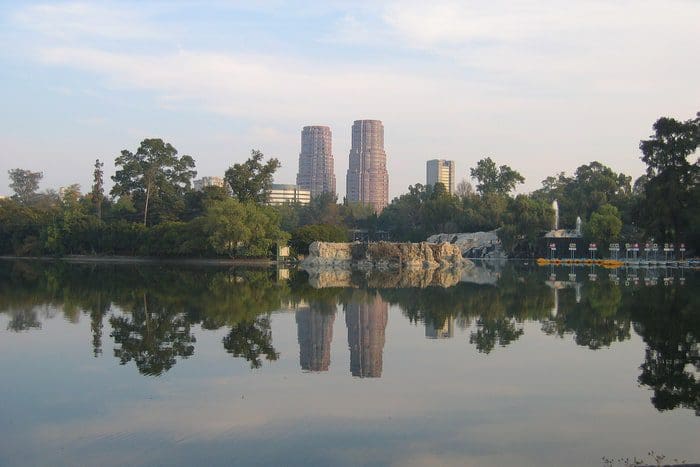 The Chapultepec Forest is Mexico City's largest and most popular park. Almost double the size of Central Park, the sprawling 1600-acre park is home to the presidential residence, the Chapultepec Castle, a zoo, several museums, military monuments, statues of Aztec kings, restaurants, an amusement park, and acres and acres of green space.
El Castillo de Chapultepec
Built atop Chapultepec Hill, construction on the ornate Chapultepec Castle first began in 1785 but was not completed until after Mexico's independence from Spain. It served as the national military academy until the French invaded Mexico and Napoleon III sent Emperor Maximilian and Empress Carlota to establish a Mexican monarchy in 1864 and they made the building their personal castle.
The Mexican monarchy only lasted until 1867, however, and the "castle" was then used to house Mexico's presidents until 1939. Since then, the building has served as the National Museum of History. The east end of the castle preserves the palace home of the emperor and his wife, a unique reminder of Mexico's brush with aristocracy. Apart from its historical significance, the castle also offers stunning views of the city from its exterior deck.
Amusement Parks
The Forest of Chapultepec is also home to an amusement park: La Feria de Chapultepec. The park has approximately 50 different rides and other attractions. The park's Montaña Rusa once held the world record for the world's tallest roller coaster and the Montaña Infintum was the first roller coaster in the world with three vertical loops.
If you want even more amusement, Mexico City is also home to the only Six Flags operated in Latin America. Located on the southern edge of the city, Six Flags Mexico is the most visited theme park in Latin America with 2.5 million visitors a year.
El Zocalo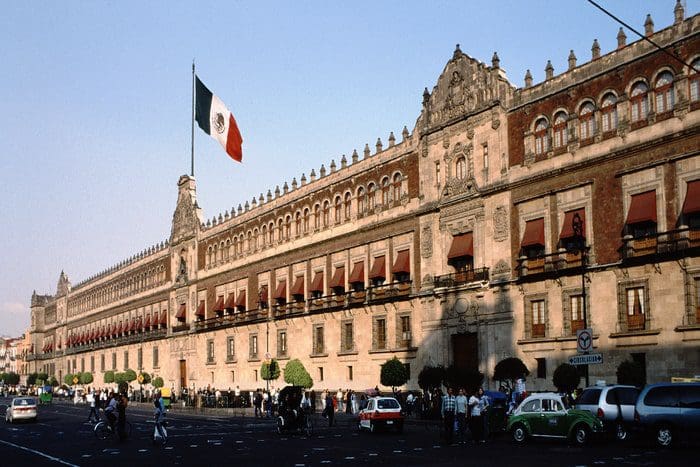 El Zócalo is Mexico's main public square and is host to numerous historical sites, concerts, and annual events. These are just a few of the places and events you won't want to miss:
The National Palace (El Palacio Nacional)
The first palace built here was built by the Aztec emperor Moctezuma II in the early 16th century. Cortés destroyed the palace in 1521 and rebuilt it as a fortress. After purchasing the palace in 1562, the Spanish crown used it to house its viceroys until Mexican independence in 1810. Today, it serves as the office of the president of Mexico and the Federal Treasury.
The building is also home to some of Diego Rivera's most famous murals depicting Mexican civilization and the country's post-revolutionary history. The Campana de Dolores (the bell rung by Miguel Hidalgo in 1810 to begin the War of Independence) hangs above the palace's center door. From the palace balcony beneath it, the president delivers the grito each September 16th to a packed plaza commemorating Hidalgo's call to arms and the country's ensuing independence.
The National Cathedral
The national cathedral is another must-see attraction in the city's main square. The cathedral includes five naves, 14 chapels, underground catacombs, fascinating architecture, and a painting by the Spanish artist Bartolomé Esteban Murillo.
Templo Mayor Ruins
Before the cathedral was built, the Teocalli (temple) of Tenochtitlán once sat in the same spot. In 1978, electricity workers discovered an eight-ton carving of an Aztec goddess near the cathedral and the decision was made to remove the surrounding colonial buildings and excavate the Templo Mayor.
Scholars believe the Aztecs built the temple on the exact spot where they saw the eagle on a cactus with a snake in its beak – Mexico's national symbol. The Aztecs believed that this location was literally the center of the universe, which is just one reason to visit the ongoing excavation site and its corresponding museum.
Feria de las Culturas Amigas
For the past decade, Mexico City has hosted an international fair in the final weeks of May into the beginning of June. Once held along the Paseo de la Reforma, the Feria de Culturas Amigas is now held in the Zocolo. Over 90 countries are represented with food, music, dance, theater, literature, movies, photography, architecture, and design.
There are also conferences and major spectacles put on in the artistic forum set up in the main square. And, if Mexico's delicious food isn't diverse enough for you, you can head on over to the Gastronomy Pavilion where you can buy and eat foods from all over the world, including countries from Africa, America, Asia, Europe, and Oceania.
Day of the Dead If you are visiting in the fall instead of the spring, you will still find the Zocolo full of activity. The entire city fills with elaborate altars (ofrendas) to their ancestors in the lead-up to Day of the Dead (November 1 and 2) with the most beautiful altars set up in the Zocolo.
Additionally, inspired by the James Bond film Spectre, the city now hosts an annual Day of the Dead parade with over a thousand costumed dancers and performers and enormous skeleton puppets that pass along Reforma and through the Zocolo.
Mexico City Museums
Mexico City is home to more museums than any other city in the world. You could take a good six months or longer trying to visit every one of the 150+ museums in the city. If you're short on time, try to at least stop by The Museum of Anthropology located in the Bosque de Chapultepec for a peek into Mexican culture, the iconic Palacio de Bellas Artes to see the immense murals or attend an event in the building's magnificent theater, or head south to Coyoacan to visit the homes of Frida Kahlo, Diego Rivera, and Leon Trotsky.
Desierto de los Leones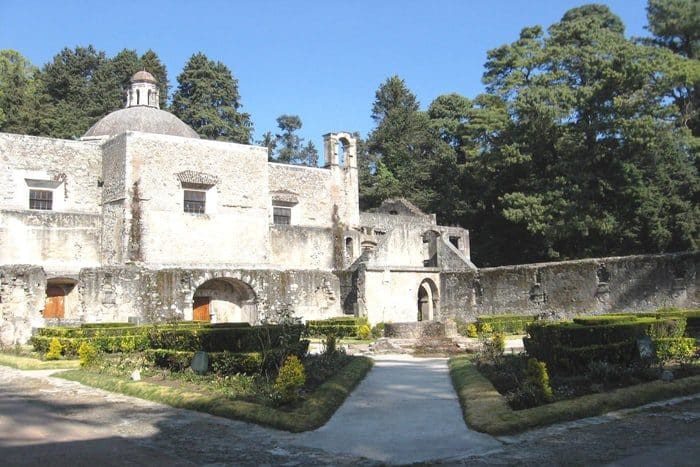 If you want to get out of the hustle and bustle of the city but the Chapultepec Forest just doesn't cut it for you, you could head west of the city center to Desierto de los Leones National Park. The mountainous terrain is covered with pines, firs, and oak trees with many brooks, ravines, and waterfalls.
The term "desierto" (desert) in this case is used to describe a wild, sparsely populated area and not an actual desert. And the term "Leones" (lions) refers to the original landlord's name, so you don't have to worry about any big cats wandering around the area.
The beautiful national park represents 15% of the entire Valley of Mexico and provides various recreational and environmental activities to visitors such as camping, hiking, mountain biking, horse riding, and trekking. You can pack a picnic or enjoy the traditional foods served in the local restaurants. There are also special sporting events each month from a 100 mile "wild race" to a 10k foot race. You can also enjoy walking around the convent built by the Barefoot Carmelites in the 1600s.
Xochimilco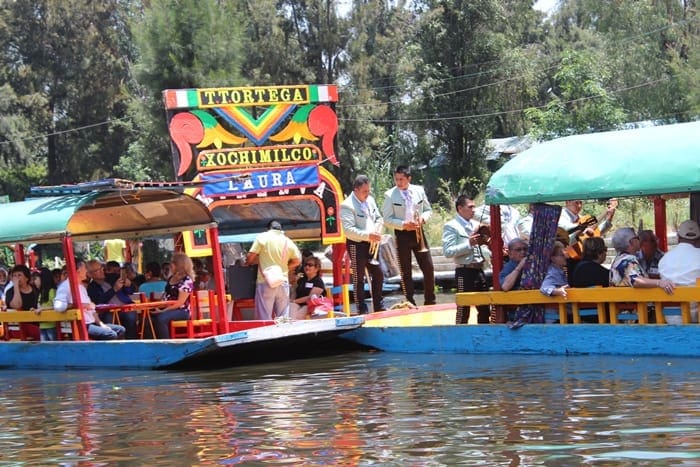 The final location on our list is Xochimilco, a southern borough of Mexico City that is largely an agricultural area. There, you can board the colorful open-air boats called trajineras and take a trip down the picturesque canals of Xochimilco's historic center to view the area's wildlife preserve and the floating gardens (chinampas) that the Aztecs used to raise crops in their ancient city of Tenochtitlan.
Your trip down the waterways will be accompanied by music boats filled with mariachi bands and local vendors who will sell you tamales, elotes (corn on the cob), tacos and more while you float through the physical remnants of the Aztec empire.