The Nomad Beach Index was designed to highlight the best beaches in the world on the basis of not just beauty but also available services, taxes, immigration and safety.
The Nomad Beach Index was developed by Nomad Capitalist, the world's most visible boutique consulting firm serving high-net worth and emerging affluent global citizens.
The Nomad Beach Index was designed to speak to the specific needs of aspiring global citizens in a world where global mobility is increasing, yet wealth preservation and personal freedom are increasingly elusive.
The 10 Best Beaches for NOMAD CAPITALISTs
10. MAURITIUS
Mark Twain once stated that, "Heaven was copied after Mauritius." The stunning beauty and unbeatable climate of this island country off the coast of Africa attracts over one million tourists to its beaches each year.
Thanks to favorable taxation policies, Mauritius has long been one of the best places in Africa for investment and offshore company formation. This has contributed to the country's development which, in turn, has ensured that travelers have access to basic services and a diverse range of activities across the island.
Mauritius has one of the best passports for residents of the developing world and a fairly friendly and straightforward immigration process. The country is also considerably safe. Although petty crime is common, most crime is non-violent, so you can safely soak up the sun on beaches like Flic-en-Flac, Grand Baie, Le Mourne and Belle Mare.
9. Budva, Montenegro
Just a short swim across the Adriatic Sea from Italy, Montenegro's beaches are just as gorgeous and charming as Italian beach towns like Cinque Terre… but for a fraction of the cost and with more benefits for those living the Nomad Capitalist lifestyle.
Montenegro is one of the easiest places in Europe to do business with a low corporate tax rate of just 9%. With a strong focus on attracting investors, this small Balkan country has also made it exceptionally easy to become a resident or even a citizen. What's more, Montenegro earned our highest ranking for safety.
Montenegro's beach appeal is seasonal, however; and, despite the booming development going on all along the coast, most of the hotels and Airbnbs are less than desirable. For those with an investment mindset, though, Montenegro would be a fantastic location to invest in Airbnb properties as the country continues to gain popularity as a travel destination.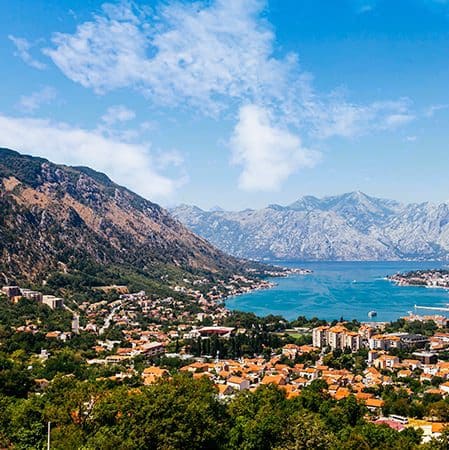 8. Vanuatu
The volcanic island country of Vanuatu consists of approximately 80 islands that stretch across over 800 miles of the South Pacific just west of the more well-known island nation of Fiji. Sandy beaches and clear-blue water can be found almost anywhere you go in Vanuatu, but some locations are harder to get to or have fewer services due to the remote nature of the islands.
Where Vanuatu shines brightest in our rankings is in the area of taxes and immigration. As of 2018, Vanuatu is one of the only countries that allows you to pay for citizenship by investment directly in Bitcoin. What is more, the cost is relatively low at roughly $200,000 including the donation and fees. Vanuatu has no income tax and, besides a rather lax VAT, has very little tax at all, making this a great potential tax residency for a Nomad Capitalist.
The only real safety concern on Vanuatu is the fact that it is an active seismic zone prone to earthquakes and susceptible to tsunamis.
7. Langkawi, Malaysia
Langkawi is an island district of Malaysia just off of the country's northwestern coast. Only 4 of the 99 islands are inhabited with most of the tourist population passing through the Southern Islands. Many of the beaches offer long stretches of white sand accompanied by a wide array of restaurants and bars with evening entertainment and live music.
Besides the many water activities available on Langkawi, there are also majestic waterfalls and fascinating virgin jungle trails. There are several shopping malls, as well a cable car and sky bridge that will give you a stunning aerial view of the islands. Langkawi gets our highest safety ranking because the monkeys will be your biggest worry when it comes to pickpockets in the area.
Malaysia offers an easy permanent residence program that is one of our top 12 second residencies through real estate investment. However, they do not make it as easy for foreigners to become Malaysian citizens. And, while Malaysia as a whole is not a tax-free country, Langkawi is a special economic zone for trade that is completely duty-free.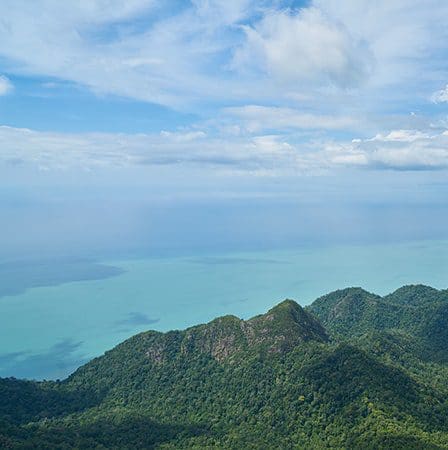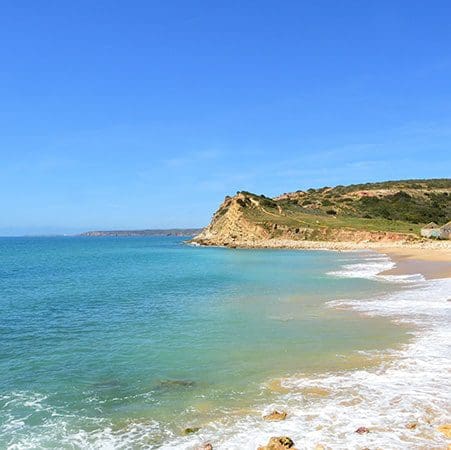 6. Algarve, Portugal
The Algarve, in Portugal's southernmost region, is full of fishing villages, beaches, golf resorts and breathtaking cliffs. You can also find enchanting villas, hotels, restaurants, bars, and many other services that make The Algarve a highly desirable location for tourists and Nomad Capitalists alike.
When it comes to taxes and immigration, though, Portugal gets just average marks. While Portugal's tax system as a whole adheres to the philosophies of the rest of Western Europe, the Portuguese government does offer zero-income tax for non-habitual residents. And though there is a Golden Visa program for qualifying investors, it has become incredibly inefficient.
Along with its high level of services, The Algarve's strongest ranking was that of safety. Petty theft is a big issue throughout all of Portugal, but even so, it is one of the safest countries in Europe thanks to low crime levels.
THE NOMAD BEACH INDEX 2019
5. St. Kitts and Nevis
The dual-island nation of St. Kitts and Nevis offers up panoramic views, picturesque sunsets, and long public beaches filled with restaurants and bars. And if you get your fill of the beach, you can turn to the islands' lush green mountains filled with vervet monkeys and hiking trails.
While the islands scored on the lower-end of the scale for safety, it is easily overlooked due to the fantastic treatment you'll get as an investor. Zero taxes and citizenship are available to those willing to make an investment in the country.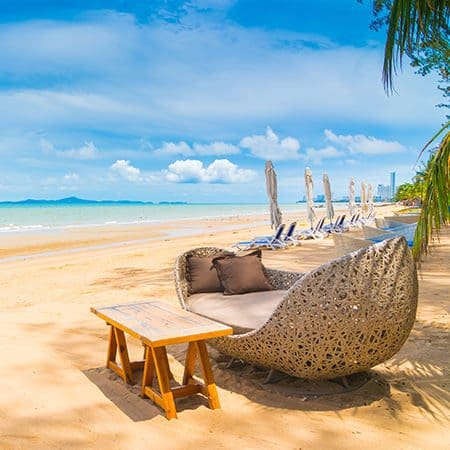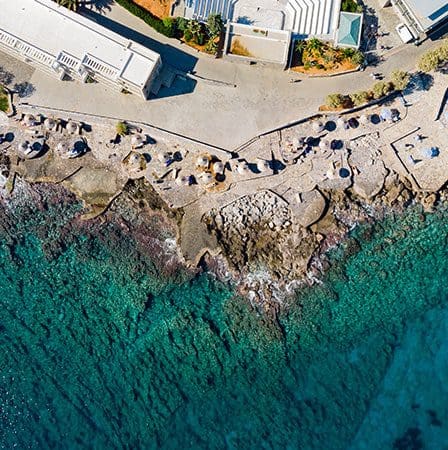 4. Crete, Greece
The remote Greek island of Crete is easily one of the most beautiful locations on this list. Pink sands, wildflowers, palm trees and the bright blue sea set Crete apart as a must-see location. Elafonísi and Vai Beach are tourist favorites while Achilia Beach and Dammoni Beach offer more seclusion. Crete also offers an abundance of activities and services and a high level of security.
Surprisingly, Greece scores well on the immigration side of things as well. Greece's Golden Visa is the cheapest in Europe, available for a property investment of just €250,000. Once you have purchased the property and obtained your residence, you do not need to stay in Greece to maintain your permanent resident status. Supposedly, you can gain citizenship after seven years as a resident, but this is a rather nebulous process since Greece does not like handing out citizenship to those who are not ethnic Greeks.
Greece is a great place to visit and, if you can avoid becoming a tax resident, a great place to obtain a second residency. But don't plan on staying too long or you will become subject to some of the highest tax rates around. At a rate of 48%, Greece has the 13th highest income tax in the world and will tax you on your earnings both in Greece and overseas.
3. The Bahamas
The Bahamas is made up of 700 islands, so we'll just name our top three here. The sands at Pink Sands Beach have that lovely rosy hue found on Crete. The beach stretches out for three miles and is home to several resorts, restaurants and bars. If you're looking for white sand and clear turquoise water, head over to Pig Beach on Exuma where pigs literally paddle around in the water. And, if you prefer a bit of adventure via diving excursions and underwater caves, Gold Rock Beach is the right fit for you.
The Bahamas gets high marks for taxes as the country has no personal or corporate income tax, no capital gains tax, no sales tax, no withholding tax, no gift or inheritance tax and no probate fees. Immigration is also pretty straightforward: you can purchase an annual resident permit from the government for $1,000.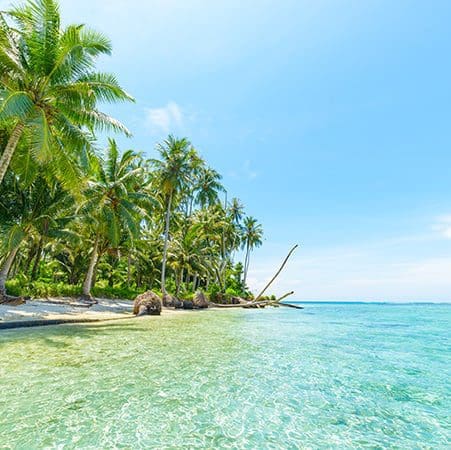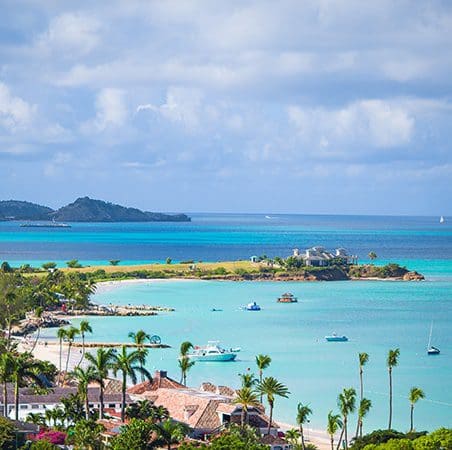 2. Antigua and Barbuda
The dual-island nation of Antigua and Barbuda is home to numerous beautiful beaches. The island of Antigua alone has 365 beaches! A popular destination for cruise ships, these beaches have plenty of activities and services available to anyone looking for a little sun, sand, ocean, good food, and good fun. Favorite beaches include Ffryes Beach, English Harbour (also known as Galleon Beach), and Heritage Bay.
Antigua and Barbuda is not a tax-free country, with a corporate tax rate of 25% along with a sales tax, stamp duty, property tax and other taxes. However, it is possible to live in the country for part of the year without becoming a tax resident. This is even possible for citizens of Antigua and Barbuda, as long as they spend less than 183 days of the year on the islands. And it is quite easy and affordable to become a citizen of Antigua by investing just $125,000. This price applies to both individuals and families, making Antigua the cheapest citizenship by investment program for families.
1. The Cayman Islands
The Cayman Islands is a visually striking country with beautiful beaches and island landscapes and a warm and mild year-round climate. Seven Mile Beach is the most popular beach on the island with five and a half miles of public beach property that makes it ideal for long walks at sunset and endless hours playing in the clear blue water known for its calmness.
You can establish Cayman Islands residency through a very straightforward process, but it comes with a hefty price tag. If you want to move to the island country, you will need to spend over $1 million for a renewable temporary permit (that lasts 25 years) or over $2 million for a permanent residence permit that will allow you to eventually acquire citizenship (if you meet numerous other qualifications). You could get twenty passports from other Caribbean countries for that price.
However, there's a reason Cayman residency costs so much – it's worth it. Because of its long history as a haven for wealthy vacationers and expats, the Cayman Islands provides an abundance of services and activities that are unmatched throughout the Caribbean. Quality private hospitals, legal services, and education are accompanied by excellent infrastructure and two international airports. The Cayman Islands offer world class lifestyle options with high-end stores dotting the island and yachts filling its harbors.
Best of all, The Caymans is a well-known tax haven with no income tax, no property tax, no company tax, and no capitals gains tax. In fact, the government has never levied any income, capital gains, or wealth tax.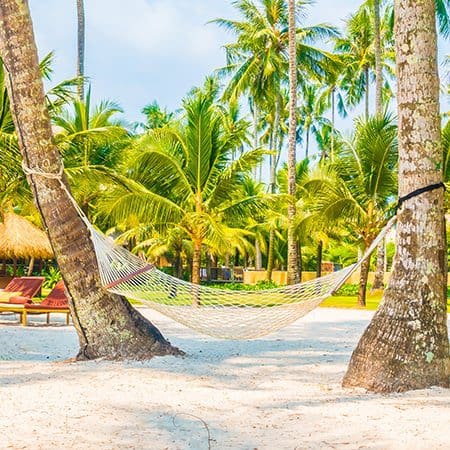 DISCOVER THE BEST BEACHES
As with most things, finding the right place for you is not as simple as picking the number one beach on a top ten list. Your particular needs and circumstances must factor into the decision as much as the view or local entertainment.
With the Nomad Beach Index at your disposal, you can now more clearly understand the various pros and cons of each location and choose which one best fits your personal definition of paradise.
Need help?
THE NOMAD BEACH INDEX RESEARCH TEAM