This article discusses the best small European towns for quiet living.
At Nomad Capitalist, we receive a diverse range of clients. While many people like the hustle and bustle of city life, most are interested in tranquil towns with a great standard of living.
After all, who wouldn't want a quaint cottage in the European countryside?
The problem is that most of the core EU states have policies that are counter to what we're trying to achieve here at Nomad Capitalist – namely, high taxes and equally high bureaucracy. Our clients want to live somewhere tax-friendly, with lower bureaucracy and more freedom.
Luckily, there are still many European countries that offer a low-tax high-quality lifestyle.
If you, too, want a low-tax lifestyle in a small but beautiful European town, set up a call with us today. We can make your European dream come true.
Tivat, Montenegro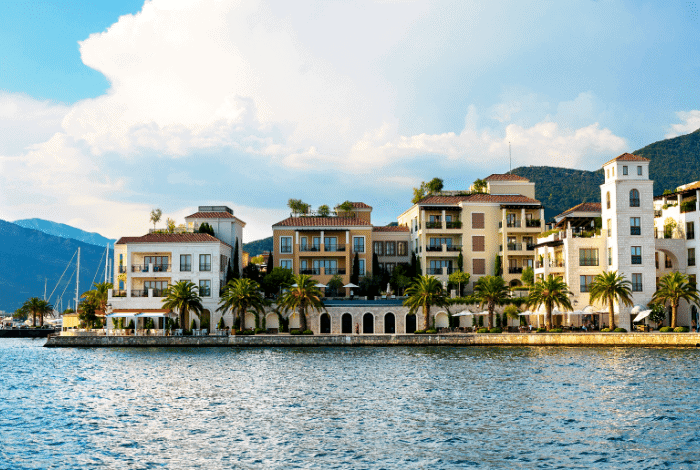 If you want the beauty of Monaco but hope to live a low-key lifestyle, then this town in the Bay of Kotor (Montenegro) is ideal for you. It has everything you could ever want, including a yacht club, but it barely has 14,000 people.
Tivat is surrounded by beautiful mountains with sand-swept beaches, but without the hordes of tourists, you would see at comparable locations.
Montenegro has that EU vibe, but it is still outside of its direct sphere of influence. The country is currently a candidate to be an EU member.
Hence, the country is in a state of change that currently gives it all the benefits of being within the EU without the negatives, like bureaucratic overreach.
The one mark against this location is that, since it uses the Euro, it's not one of the cheapest places in Europe or at least the Balkans.
But it more than makes up for it by being very business-friendly, and it is among the best places to live in Europe.
Plovdiv, Bulgaria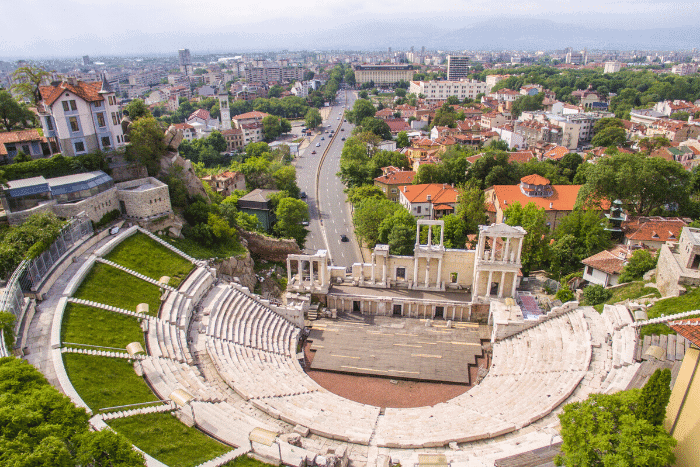 If your definition of the best small towns in Europe includes a city with both history and culture, there are few better than Plovdiv in Bulgaria. It's much quieter than the capital Sofia.
While not at the top of the list for most people, those in the know think this is a hidden gem. Digital nomads from around the world have flocked here in droves because of its easy-going life.
In Plovdiv, not only will you be within the EU, but it's far freer, open, and tax-friendly. English is widely spoken in the country, and if you are interested, you can even gain citizenship via investment here.
The distances in the city center are quite walkable, and cars have been barred from downtown, allowing you to admire the 2019 European capital of culture with the peace it deserves.
If you would like to live amongst Roman ruins and beautiful nature, there are few cities better than Plovdiv. 
Portimao, Portugal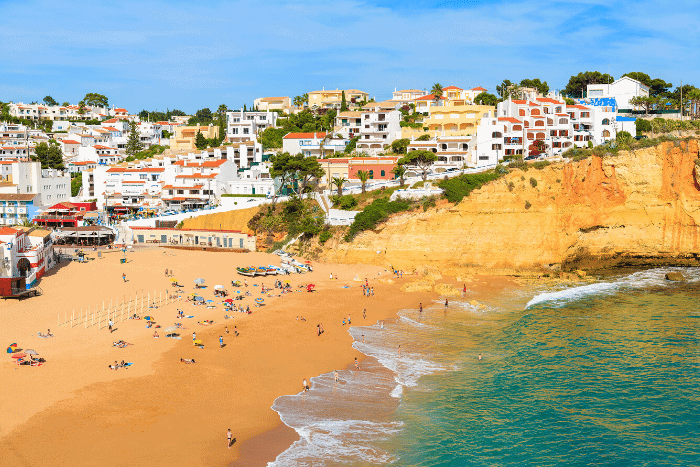 Portimao is the second biggest city in the Algarve region, and while the whole area is worth checking out, we would like to single out this specific city.
The town was historically a fishing and shipbuilding center, but it has since developed into a tourist area famous for its beaches. It has sun year-round, and life is very affordable and laid back.
Furthermore, the city has good internet, which allows you to run an online business quite easily. Add to the fact that Portugal has a Non-Habitual tax residence program allowing tax exemptions for ten years on most types of foreign-sourced income, and Portugal becomes an excellent place to live.
Novi Sad, Serbia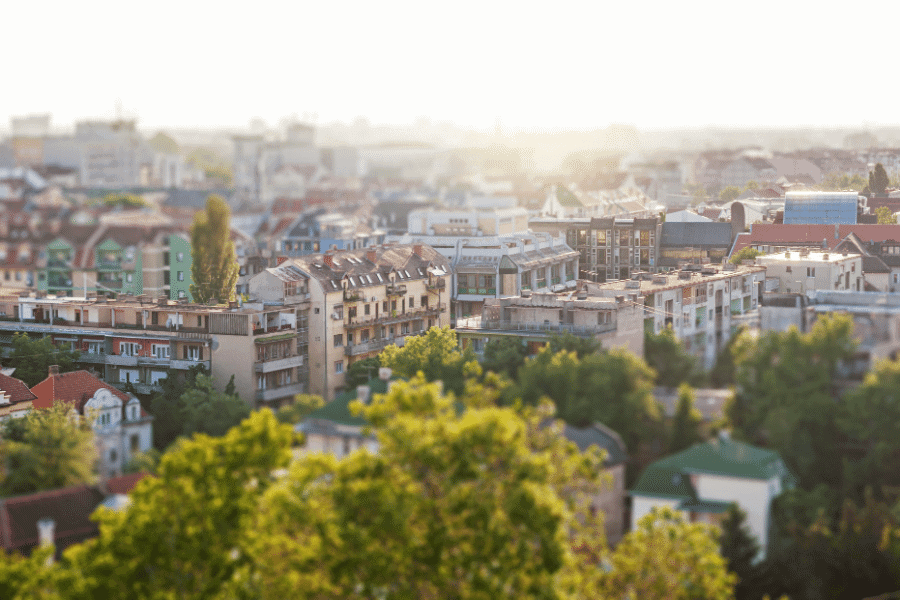 If you want to live in the outskirts of Europe but in a country with a lot of developmental potential, then Serbia is the place to be.
The capital city of Belgrade has a great vibe, but the hidden gem of Serbia is Novi Sad.
During the summer, it's an idyllic place to live. It feels as if a garden has been converted into a city. Beautiful nature surrounds every street.
It's as cheap as it gets for living in Europe, partially owing to the fact that its main inhabitants are students of the local university. You can also find numerous bars and cafes.
There are few tourists overall, and it truly still feels like traditional Eastern Europe without the Kitsch that you would see in other countries.
It's also worth mentioning that Serbia offers a second residency if you purchase any kind of real estate.
Perhaps it's not the most dynamic of towns, but it's beautiful with easy access to Belgrade, which does have more hustle and bustle if that's what you're after.
Andorra la Vella, Andorra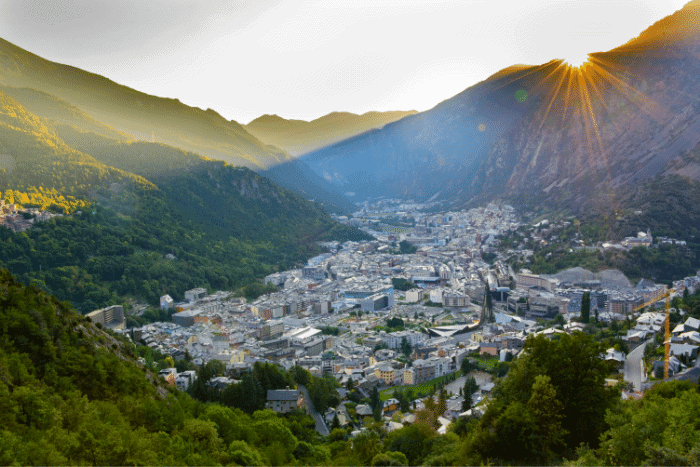 Nestled between France and Spain, this tiny country used to be a tax haven until very recently.
But even at a maximum 10% income tax rate, it's still a very attractive location and among the countries in Europe with the lowest tax rates.
The demand for such a desirable location, however, is countered by a rather expensive and difficult immigration process.
If you manage to overcome those difficulties, you will be rewarded with access to a city at the crossroads of some very enviable locations.
Drive south, and you will reach Barcelona in under three hours – head northeast, and you'll find yourself in the South of France – and if you head west, you'll be in some of the world's most beautiful national parks.
Besides that, Andorra itself is a shopper's paradise, and its low VAT of 4.5% means that people from all over Spain and France go there specifically to shop.
You can have all the benefits of living in the middle of the EU, a stone's throw away from interesting locations, but without the high taxes and needless bureaucracy.
Is Living In A Small European Town Worth It?
If a small town in Europe offers low taxes, a high-standard lifestyle, and the kind of life you're after, the size of it should not matter.
People put Western European countries on a pedestal, but the reality is that most of those countries come with exceptionally high taxes and bureaucracy.
To get the best results from an offshore move, you should go where you're treated best.
Europe is a continent full of variety and unique historical backgrounds. Each location also offers different legal and tax situations that may benefit you or prove to be a detriment.
That is why you shouldn't simply take the first option that is offered. Don't follow the herd. Find the right place for you, your goals, and your dream lifestyle. And if you are confused, get in touch with us today. We'll help you decide which country works best for you.