This article discusses how to get Serbian residence, with information on the different types of residence permits in Serbia available, the pros and cons of each plus details on how to apply.
With breathtaking landscapes and stunning architecture, Serbia is the very definition of old Europe. It's proud of its culture and traditions while also looking towards the future as a low-tax, EU-candidate country.
If you're looking to obtain a Serbian residence permit we at Nomad Capitalist can make the process easier. We've helped thousands of clients obtain residence and second citizenships in Europe and all over the world.
Our job is to help you find an all-encompassing solution to fit your lifestyle, while legally reducing your tax burden so you can go where you're treated best.
Serbia – Country Overview
Serbia is conveniently located between the Eastern and Western worlds. Situated between Hungary, Romania, Bosnia and Croatia, Serbia isn't far from the slavic, Middle-eastern, and Mediterranean cultures.
Visitors will notice this crossover rather quickly when entering the country. The nation shares its slavic heritage with some Middle-eastern and Greco-Roman influences due to the Ottoman and Holy Roman Empires.
The capital of Belgrade is a highly developed city with all the modern conveniences familiar to citizens of the U.S. and other western countries. The rural areas also have a lot to offer in the form of towering mountains and rivers like the Danube.
The climate is beautiful, with Serbia being considered a temperate climate. Temperatures don't usually drop below freezing in the winter and rarely go above 80 degrees Fahrenheit (27 degrees Celsius) in the summer.
Today Serbia ranks as one of the leading nations in the world economic index. Exports from Serbia have risen steadily over the past decade, with trade between Germany, China, and the U.S. growing steadily.
Serbia has healthy relationships with the EU, Asia, and the United States, granting its growing economy new capital. It holds free trade agreements with the European Free Trade Association and holds a Generalized System of Preference with the U.S.
This small nation holds numerous opportunities for growth and expansion, while providing an affordable and pleasant environment.
If you're considering a Serbian Visa, residency, or citizenship, let us help you.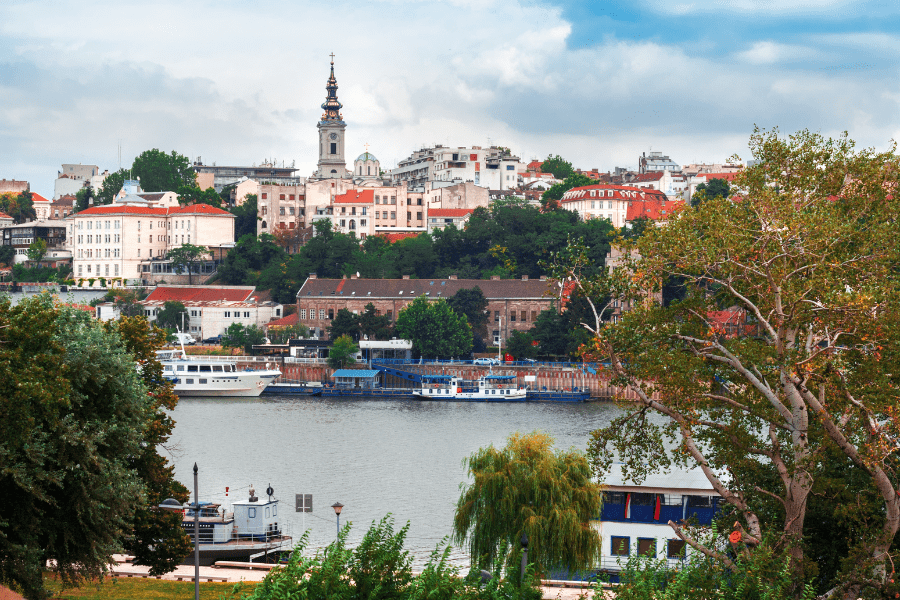 Why Serbia?
Serbia's growing economy and low cost of living make it one of the best places for residency. While Belgrade is one of the most popular spots for tourists and immigrants, don't overlook the more rural regions.
Serbia's rural regions, known as Sumadija, offer excellent investment opportunities. The land here is affordable and well situated. Purchasing land here is not only cheap, but it opens up the doors for further investments in the country.
Buying land in Serbia increases your chances of gaining a Visa or permanent residency in the country. It's one of the best ways to begin your move into the nation and fast track your way to residency.
Serbia's also a safe and welcoming country. While you should be careful when traveling through rural areas, the nation has a low crime rate and well established national roadways. Until you become well-acclimated with traveling through the country, just try to stick to the main roadways.
Finally, getting a tax residency in Serbia could be a smart financial decision. They have a favorable tax rate of 15% which is much cheaper than other countries. It could give you the financial freedom and savings you've been looking for in your current homeland.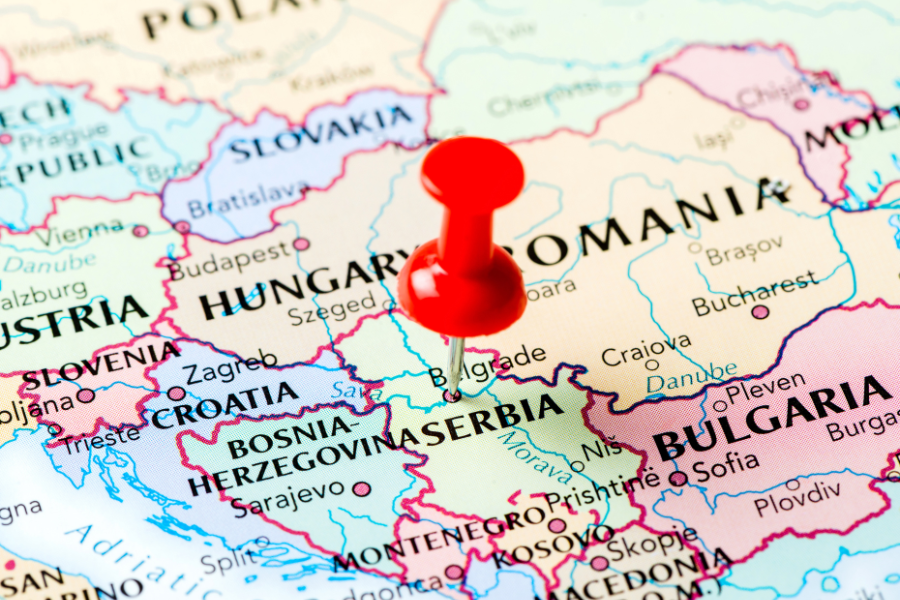 Residence in Serbia Programs
There are two primary routes to permanent residence in the Republic of Serbia:
Residency through real estate investing
Residency through the establishment of a business
If you want to become a tax resident in Serbia, you can do so a year to the day after being approved for Serbian residency. The Tax Authority of Serbia will notify you, and as a tax resident, you'll be subject to the 183-day rule of minimum stay in the country.
The key to turning a temporary stay of a vacation into a legal stay is to supply all the necessary documents required for a temporary residence permit in Serbia. These documents include:
Proof of a health insurance policy
Medical certificate issued by the Serbian Medical Society
Stamped passport
Temporary Visa
Birth certificate
Proof of profit
Or, proof of purchase of real estate
With these documents the Serbian immigration agency is more likely to favor your application.
Permanent residency is possible to obtain after five years. For a permanent residence permit, a foreigner should stay in Serbia continuously for at least two and a half years over these five years.
Legally Stay In The Republic Of Serbia By Investing In Real Estate
An applicant for a Serbia-based permanent stay can smooth their passage by buying a property.
Serbia doesn't have a minimum property value or costs required to qualify for residency. Your property must be evaluated and approved by the governing authority in order to approve that it qualifies.
A potential applicant for residence may purchase real estate in Serbia if your country of origin has a mutual agreement regarding real estate. The U.S. and Canada are members of this alliance, meaning you can purchase land before entering the country.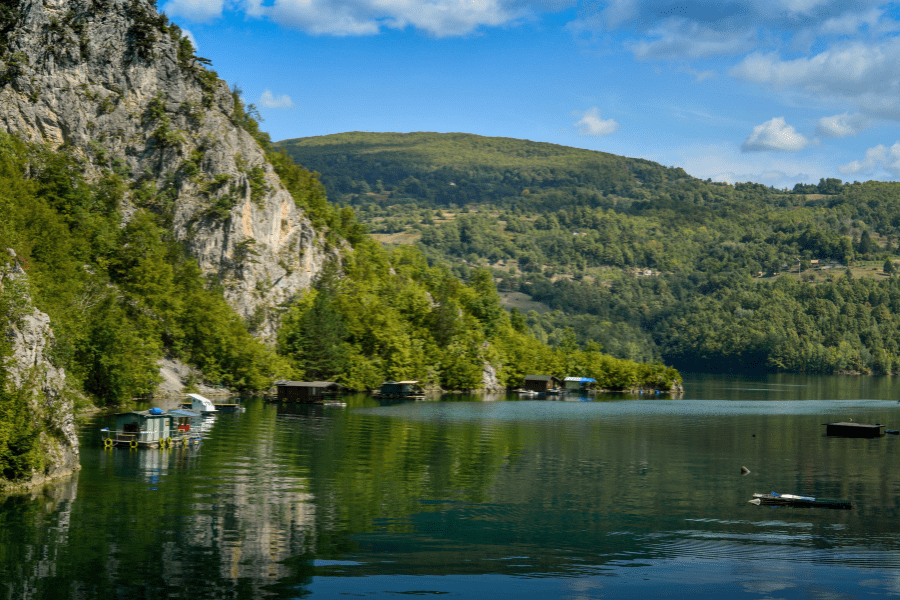 Residency By Establishing A Company
Company formation provides another route to a residence in Serbia. Submit your application through the Serbian Business Registers Agency and Police Department.
Make sure your company is an active industry or functioning branch of a foreign company. The Serbian tax authority will investigate this, so ensure your company is up and running properly before you apply.
If it is a foreign company you are expanding in Serbia, this is one way to open a corporate bank account in the country. As Serbia did not sign CRS, the absence of the Common Reporting Standard ensures greater privacy.
Documentation Necessary to Apply For Serbian Residency
The Serbian Ministry of Internal Affairs requests the following documents if you want to guarantee yourself a legal stay in the country:
A copy of your passport
Two photographs sized 35x45mm
Bank statements from a Serbian bank account showing the current balance
Health insurance policy
White Card issued at your local police station
Proof of ownership of a property
CV
The Serbian government wants to verify your income and intentions. Applicants who demonstrate strong financial profits and investments in the country are more likely to be approved.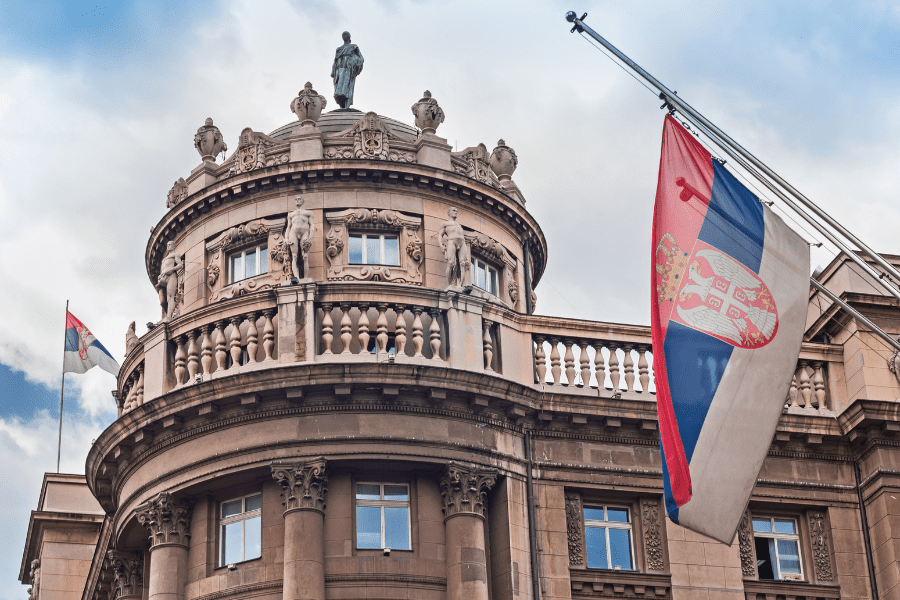 Requirements For Residency Through Real Estate Investment
When applying for a residency through real estate investment start with the following steps:
Search for properties for sale (e.g. residential real estate in Belgrade or summer homes in Vojvodina)
Locate, tour, and complete the purchase agreement for the desired property
Live at the property for 30 days so that police may check on your physical presence there, including asking neighbors
Apply for a temporary residence permit as an investor and renew it annually
Provide a stamped copy of the real estate title deed
If you buy real estate in Serbia, you must reside in Serbia for half of the time the permit is issued
Reside in the country for at least 183 days for the first year
By residing in the nation for at least 183 days for the first year you establish yourself as a taxable resident. This doesn't necessarily mean you'll be obligated to pay taxes in Serbia, but you will be entered into the tax system.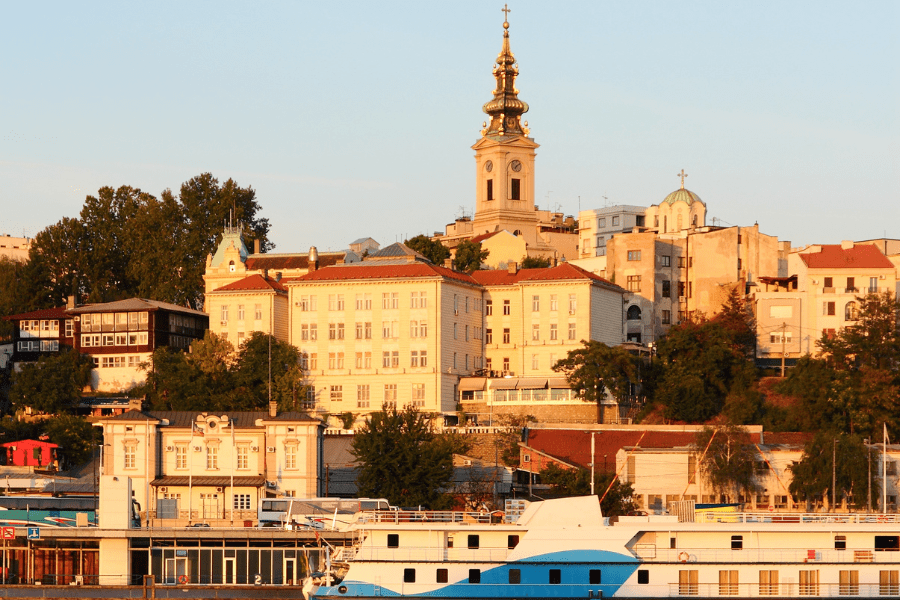 Requirements For Residency Through Establishing A Business
The new business in Serbia route to residence requires you to take the following steps:
Form a Limited Liability Company in Serbia (known as a DOO in the country rather than a LLC)
Apply for a temporary residence permit as an entrepreneur
After six months, renew your residence permit for a further one to three years
Serbia allows for you be the only employee of this business
Serbia always seeks to expand its business and entrepreneurial opportunities. Even if your business is located outside of the nation, you can still apply for residency. But, you need to demonstrate that there's an operational branch of the company within the Serbian border for this to apply.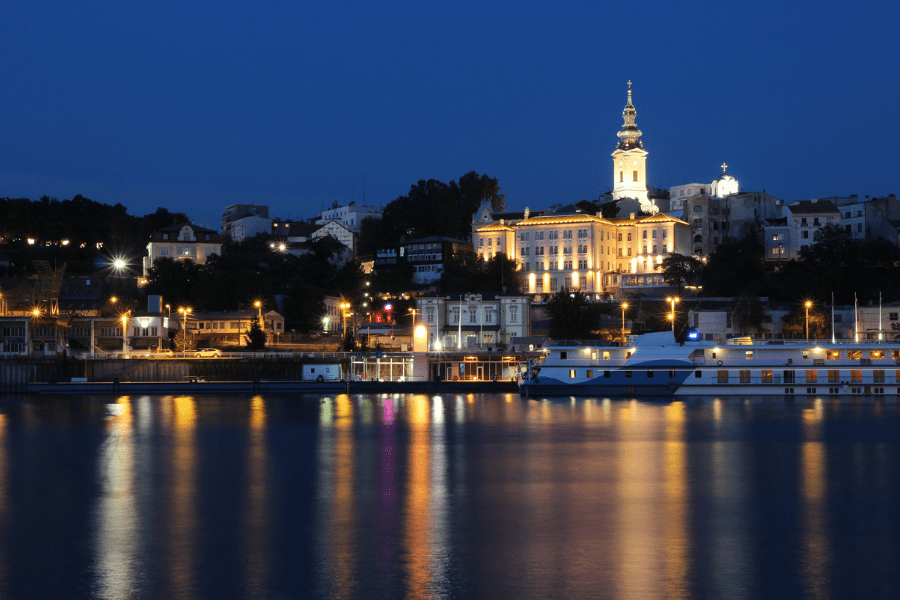 The Pros and Cons of Serbian Residency Permits
The Benefits Of Serbia Residency
Solo and Marital Applications
A marriage certificate will secure you a temporary residence permit if you have been married to a Serbian national for at least three years. While this system is simpler and quicker, you don't need to be married to apply for this Visa.
You can apply for residency by establishing a business, purchasing real estate, or otherwise establishing yourself in the country.
Residency Permits Lead To Work Permits
Depending on the type of residency you apply for, you might also be eligible for a work permit.
A business permit or real estate permit won't automatically open the doors for a work permit.
However, with a VIsa or residency permit you'll be more likely to have the opportunity to apply for a work permit in Serbia.
Tax policies
Serbia has one of the best tax rates in Europe. With a flat tax rate of 15%, you'll be able to file your taxes quickly and smoothly.
The nation offers excellent expansion opportunities for businesses while granting favorable tax rates. This makes Serbia ideal for anyone seeking to escape crippling taxes and regulations at home.
Permanent Residency Is A Path To Serbian Citizenship
Serbian citizenship takes five years of permanent residence as a real estate owner or ten years of residence as a business owner. You may start the naturalization process as a business owner and change to a property owner to speed up the process later.
Time spent during business permanent residence will count as half for the purposes of becoming a Serbian citizen. Two years in the country on a business visa qualifies towards the five years required under the real estate permanent residency application.
Serbia Is A Growing International Presence
Serbia is a full member of UN and WTO organizations, putting it on the international stage as a trade partner. Serbia is a candidate for European Union membership, meaning it has an increasing international presence.
EU membership will bring further trade partners to the country and expand its economic development. If you're looking for a chance to be part of a growing economy with an international presence, Serbia's a great choice.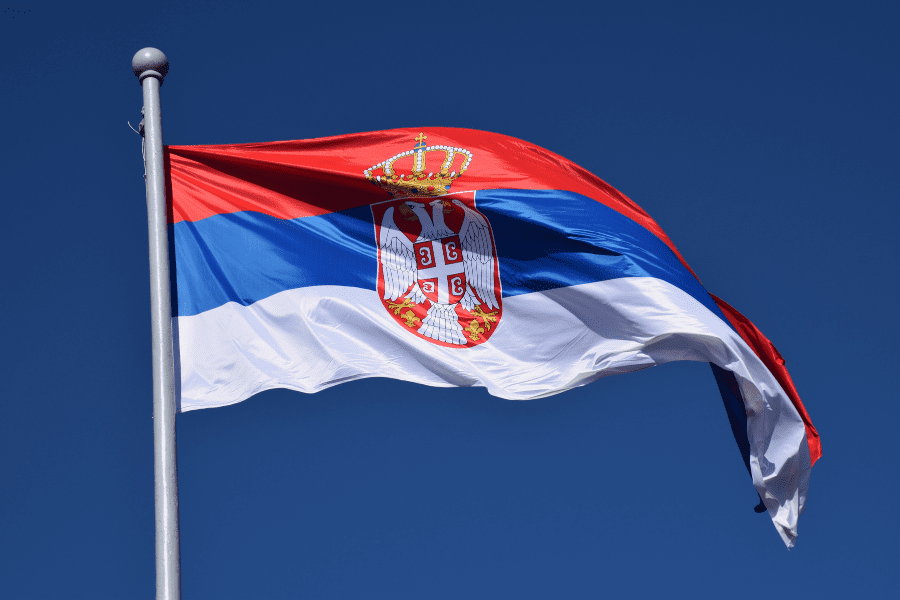 Keep These Aspects in Mind When Applying For Residency
Serbia's Application For Eu Membership Is Pending
While Serbia's a prime candidate for EU membership, the Kosovo issue could minimally impact their progress towards full EU membership and further trade agreements in the future.
The Application Process Can Take Up To A Decade
The path to citizenship in Serbia can take up to a decade due to the somewhat lengthy application process. If you choose to go through an application for a permanent residence Visa before moving to get citizenship it can take several years and a lot of paperwork.
However, there are several options that can save you time and money. You can choose to apply for citizenship by descent, marriage to a Serbian citizen, or if you have a child with a Serbian citizen.
Conclusion
There are several excellent perks to moving to Serbia, including affordable housing, low cost of living, and an expanding economy. With several pathways to residency and citizenship, there are a lot of ways you can start a new life in Serbia!
At Nomad Capitalist we believe in going where you're treated best. With the ever shifting political and economic landscape, a lot of people are starting to reevaluate their residency and tax options.
Whether you're seeking a permanent residency, a Visa, or to switch citizenship, we are here to help. Contact us today at Nomad Capitalist and let us take the burden of the move off your shoulders.
Serbian Residence – FAQ
Is Serbia A Member Of The EU?
Serbia is currently one of eight countries up for EU membership. Although it is in the process of becoming an EU member, it has not yet been fully admitted.
What Is The Tax Rate In Serbia?
The main income tax rate in Serbia for residents is 10%. The standard corporate tax rate is set at 15%. The capital gains tax rate is 15-20%.
How Do I Get A Residence Permit In Serbia?
Serbian residency is acquired either through real estate investment, business investment, or marital status. Visas and other temporary residencies are granted for business, study, and visiting purposes. If you're looking for experts to help you gain residency in one of Europe's loveliest countries, contact us to make the job easier!
Does Serbia Allow For Dual Citizenship?
Under certain circumstances, Serbia allows citizens to hold dual citizenship with another country. This decision is largely based on ancestry and the country where you hold citizenship.
What's the Currency of Serbia?
Serbia currently uses the Serbian Dinar. While U.S. credit cards and cash are accepted at most large companies and hotels, the Dinar is the national currency.