This article discusses the seven best European cities for luxurious living without breaking the bank.
Many of the people we help aren't necessarily looking to move or even spend time in places like Laos or Lesotho. They don't want to live in the United States, Canada, or Australia anymore, but they don't want to leave the developed world either. The good news for these folks is that, despite the higher cost of living in some European countries, even some of the best cities in Europe offer affordable options for luxury living.
Though small, Europe is diverse enough that almost anyone can find the ideal place for their dream lifestyle. The entire continent is saturated with culture and history that you can experience through stunning architecture, countless museums, and famous cultural sites. Europe also boasts everything from Mediterranean beaches to Alpine skiing and from big-city living to rural retreats.If you want to live, invest, or work in Europe, reach out to us today. The region has several excellent opportunities for investors and entrepreneurs regarding residence, citizenship, company formation, and banking.
Athens, Greece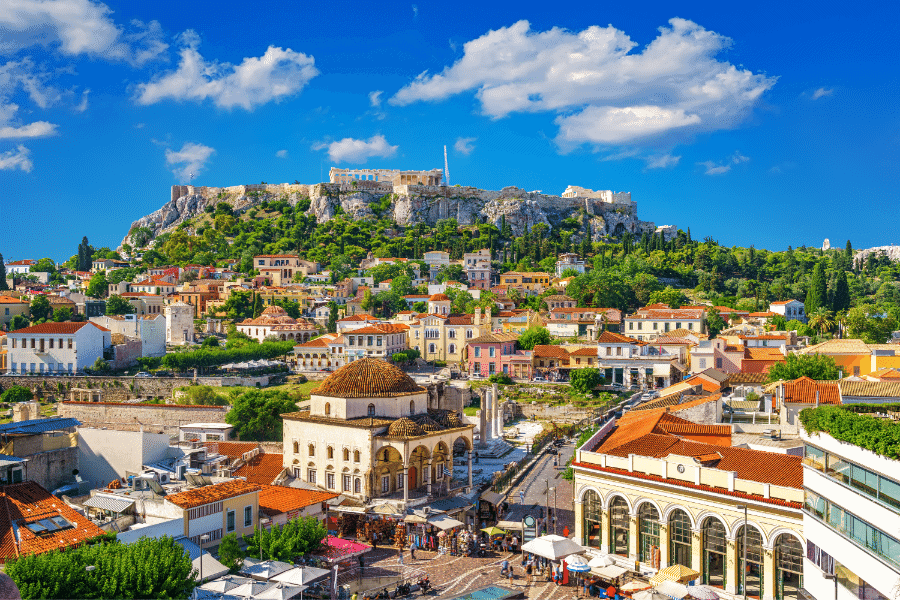 While Athens has one of the higher costs of living among the countries on this list, lumping it in with the other overpriced countries in Europe would be a big mistake. Greece, as a whole, is more affordable than most people would believe, and even the country's touristy capital of Athens is more affordable than what you would expect, especially taking into consideration all that Athens has to offer.
Athens is one of the oldest cities in the world; a center of art, culture, politics, and philosophy that has had a large influence on many other countries in Europe and throughout the world.
The country also has great weather year-round, a rich history, beautiful architecture, and the people are friendly and warm. There are many reasons why people choose to visit Athens.
The good news is that you can do so and enjoy a luxurious stay for a fraction of the cost you would pay in many other European cities. The average price of a five-star hotel room, for instance, is just $145 per night.
In fact, the cost of living in Greece is one of the lowest in the European Union – at least 30% less than many places – and the standard of living is very high. The biggest places you'll experience affordable prices are in housing and food. Rent is low, and if you decide that Athens is the place for you to settle down, you can find very affordable housing throughout the city.
In fact, Athens is not only one of the best cities in Europe, but Greece as a whole is also one of the cheapest Golden Visa options in Europe. If you purchase a property for 250,000 EUR or more, you will qualify for permanent residency in the country.
Food is also abundant, delicious, and generally very cheap throughout the streets of Athens. While Greece has some of the highest VAT rates in the EU thanks to austerity measures, the VAT rate for food is much lower, and it is easy to enjoy the wide range of locally grown produce for considerably low prices. Athens is one of the best places for affordable yet luxurious living, with its greatest perks being its relatively low cost of living and the very friendly and open people. The great weather and rich history are the cherries on the top.
Belgrade, Serbia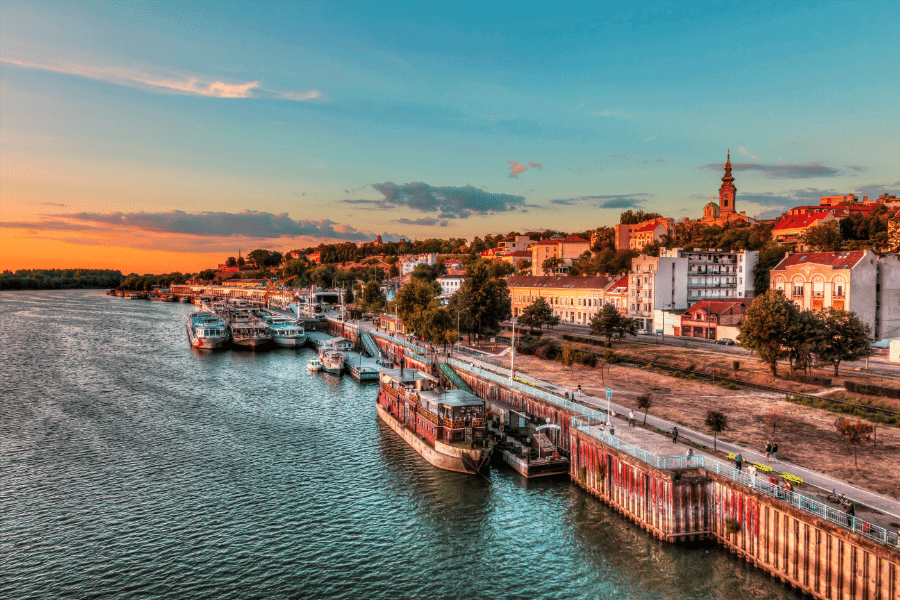 While the cost of living in Athens is quite low, it is nothing in comparison to the type of luxury you can afford in Belgrade, Serbia. We have always loved Serbia for planting flags. The country has a debt-to-GDP ratio just half of US levels, 15% flat tax and low-priced, efficient talent for hire making it a decent place to do business.
Belgrade is one of the most underrated European capitals with a unique vibe, a great entertainment culture, friendly people, delicious food, all four seasons, and a fantastic cost of living.
The city offers numerous five-star hotels with professionally trained, English-speaking staff ready to provide all the information you need and to pamper you with every service available.
Serbia's food is also one-of-a-kind, and it is both abundant and affordable. Serbians simply can't imagine a single day without a good meal, and are very talented at whipping up delicious plates in the many restaurants and cafes throughout the city. You can also find local produce and other foods at great prices. Belgrade boasts factors like the incredibly low cost of living, relatively high safety rankings, and the generally warm and friendly people (especially for Eastern Europe) all contributing to the city's appeal.
Krakow, Poland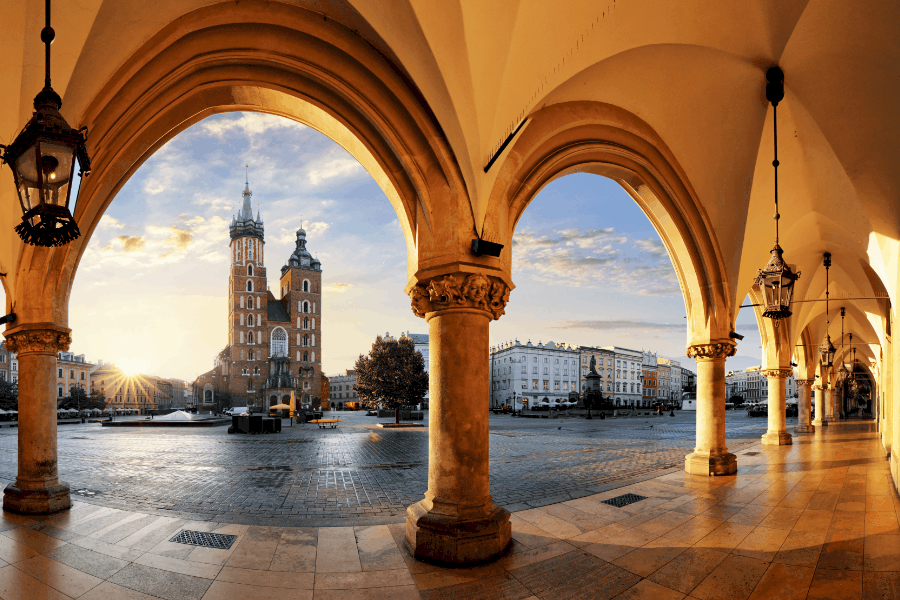 Poland offers one of the best values for living in Europe – but it does so without losing the luxury amenities that make a life of travel more enjoyable. Krakow is a beautiful city with deep cultural roots, warm locals, and amazing food. Even better, it offers all of this at affordable prices.
While Warsaw isn't much pricier, Krakow is worth a visit to see the charming architecture, beautiful parks, and breathtaking views of the river from the city's ancient castle. Most Polish cities could have made this list as well. Poland is a great country overall for European luxury and charm at a fraction of the cost you'll find in places like France, Great Britain, and Germany next door.
Student-friendly Wroclaw is also a great place to live but lacks the gorgeous sights Krakow offers. Krakow has a lower cost of living than Warsaw and Wroclaw, which is why it ultimately earned its spot on our list of the best cities in Europe for luxury living. The city is a bit isolated but the cost of living is about as low as it gets, especially considering that you do not have to sacrifice any of the luxury amenities that improve your life.
Lisbon, Portugal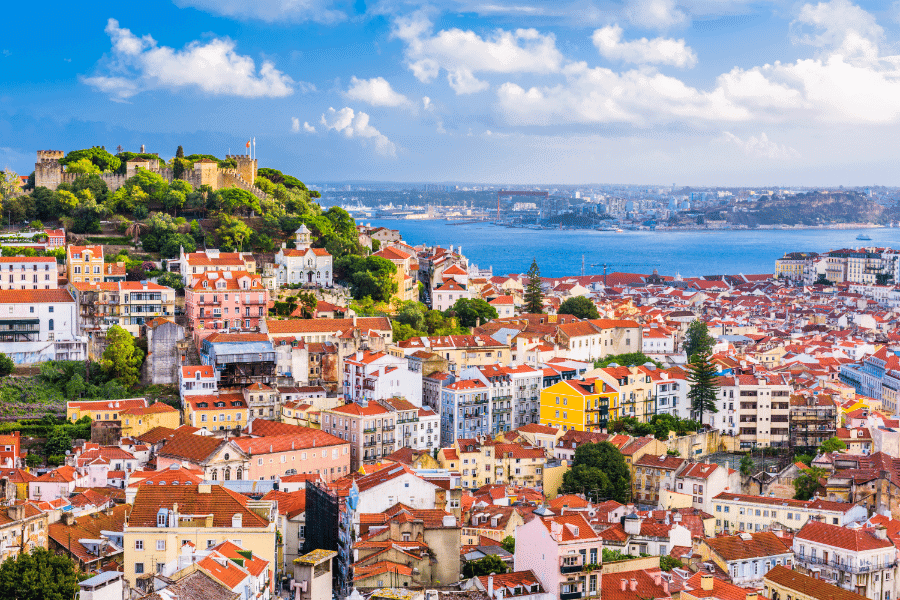 Lisbon is one of the oldest cities in all of Europe and is a great deal all around. While the cost of living is more on par with prices in Athens, Lisbon is not just great for the cost of living but also the working environment (with great co-working spaces), accessibility, safety, entertainment, and the locals' friendliness and openness. It is for these reasons and more that Lisbon has already established itself as a favorite European hub for expats.
Lisbon's location on the coast of the beautiful Atlantic Ocean only adds to its rising popularity. And, to top it all off, Portugal is friendly to investors and not only offers a relatively easy path toward achieving EU residence, but also an option to pay zero tax through non-habitual residence.
Lisbon also made it onto our list of the safest cities for nomads and expats and is one of the friendliest countries for gay (LGBT) nomads.
Portugal is also safe and easy to get around, and most people speak English in Lisbon, which also helps with navigation to all the great sites and destinations you will want to visit in the country. Lisbon is one of the best cities in Europe for value and has a relatively low cost of living. Even five-star hotels are relatively cheap at $180 per night. You can get a nice city center apartment for as little as 500 EUR a month, giving you quick access to all the fantastic food and entertainment in the city. Lisbon also has a small airport that has flights to cities worldwide, making it a great destination for someone who wants all the comforts and conveniences of Western European living and worldwide travel along with lower costs and a slower pace of life.
Porto, Portugal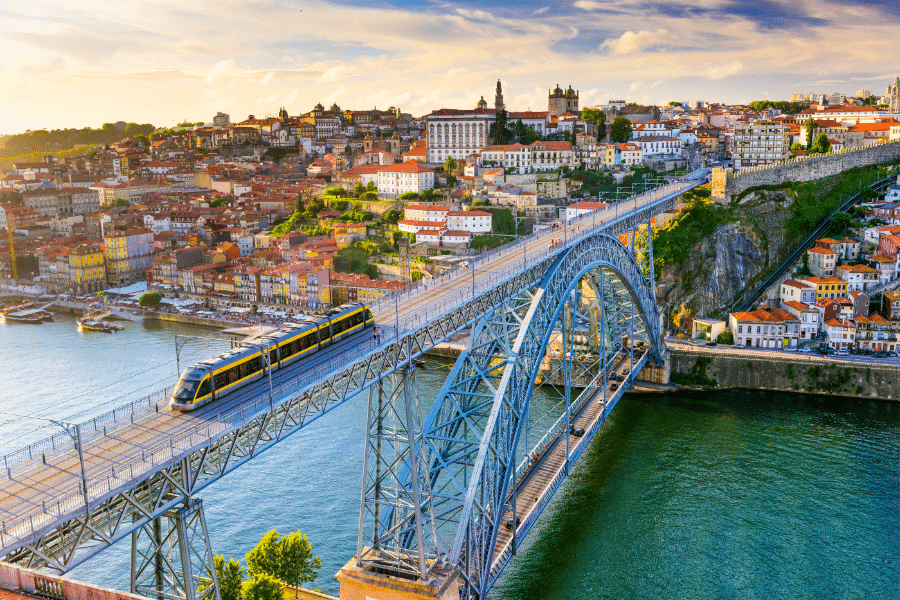 Portugal is such a great value that a second Portuguese city made this list. Porto offers low cost of living, relative safety, great entertainment, and the warmth and openness of the locals. Like Lisbon, Porto is located along the coast of the Atlantic Ocean but still has that Mediterranean feel.
You could spend your days visiting the city's many beautiful bridges or enjoy a wine tasting at one of Porto's world-famous wineries.
The cost of living in Porto is extremely reasonable. You can stay at the Old Royal Palace of Bucaso – or many other five-star hotels like it – for around $100 a night or get an apartment for roughly the same 500 EUR you would pay in Lisbon. Food is also first-class and yet more affordable than what you'll find in the rest of Western Europe. Porto (really Portugal as a whole) is the perfect mix of the nostalgic old-world that draws so many of us to Europe, to begin with, combined with modern conveniences like free Wi-Fi in public areas, modern malls, comfortable transportation throughout the city, luxurious hotels, and more. The only thing you'll have to get used to are the cheap prices you'll pay for it all.
Prague, Czech Republic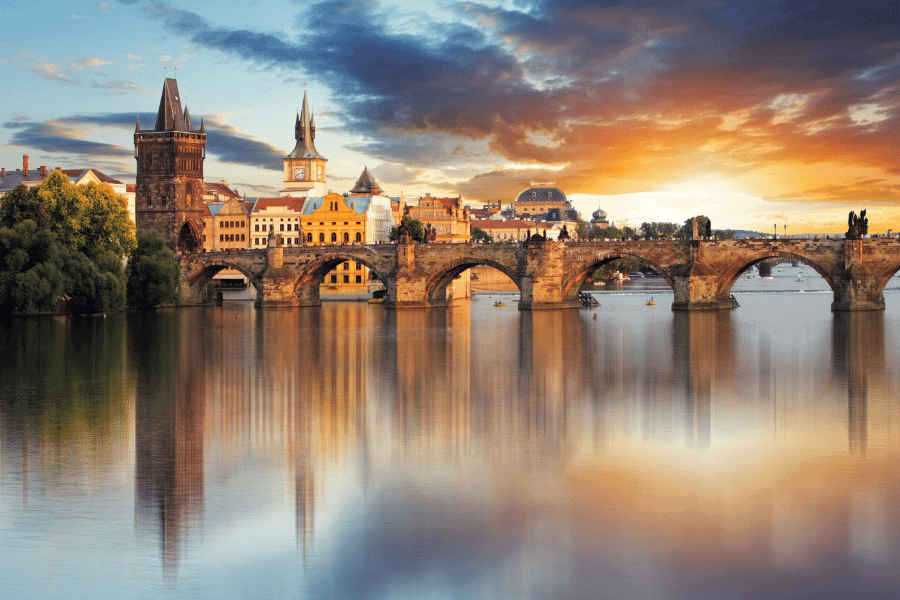 Travelers from all over the world love the mix of old-world charm and modern entertainment available in Prague. If Prague's nightlife and tourist scene fit your definition of luxury, the city may be your perfect affordable European city for luxury living.
Prague is home to stunning architecture, a vibrant music and entertainment scene, any type of food you could dream up, and an international vibe that feeds off the expats that pour into the city from all around the globe. Since the Czech Republic uses its own currency, prices are much lower than elsewhere in Europe. The average price of a five-star hotel is $228 a night, or you could double that and get an apartment for $400-$500 for the whole month.
Prague is one of the most-visited cities in Eastern Europe and also one of the safest in the world. For many people who visit Prague each year, the low cost of living is a pleasant surprise, especially for those of us who like to maintain a higher standard of living.
Tbilisi, Georgia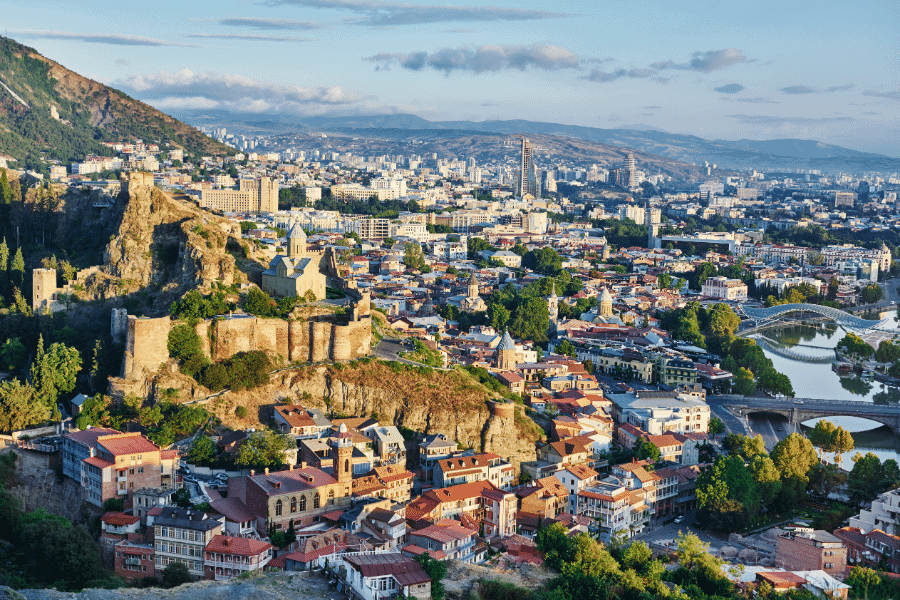 Not only can you attain a high standard of living in Tbilisi, but everything just comes so effortlessly in Georgia. It really doesn't get better than Georgia when it comes to indicators like cost of living, safety, and many more.
We have long spoken of Georgia as the "next America" because it follows the same open market principles that contributed to the US's progress so many years ago. Not only are there opportunities to invest in the tourism industry, open a bank account, and start an offshore company, but the cost of living is affordable, the streets are safe, and it's a great, friendly place to live. And, in terms of luxury, as Tbilisi continues to grow, more five-star hotels become available.
Best City For Affordable Yet Luxurious Living
Affordability and luxury are subjective matters. What works for one may not work for another. One thing is for sure though – whatever comforts you're used to back home, all the European countries in our list will have them.
Europe is highly diverse and no matter your preferences you'll find a place there to call home, start a business, or simply invest.
So what are you waiting for? Get in touch with us today to start your European journey.