While most of Europe is facing an economic crisis, from Spain's youth unemployment rate of around 50%, to the collapse of the Russian Ruble, Poland is one of the very few countries on the continent that actually has good prospects. There's no such thing as a "recession-proof" country, but Poland is about as close as it gets. GDP growth never fell below 2.5% during the 2007-2008 Global Financial Crisis, and an actual recession is something Poland hasn't had to suffer since 1991 when it made its transition to democracy. But the real estate market has been somewhat of a different story. While the Polish economy itself has been robust, Poland's property market crashed around 2007 and are to this day, still down by around 30% off their highs in some major cities. This arguably presents a great buying opportunity. While Poland's fundamentals are strong, the fact that the country's real estate market hasn't caught up may be a sign for investors to start buying. Putting aside any potential undervaluation, Poland has some of the best rental yields in Europe. Hovering at around 7%, you'll be hard-pressed to find a better return in this part of the world. In addition to strong rentals yields and prospects for capital appreciation, Poland is not a hard place to live indefinitely. Just by starting a business, one can obtain residency and eventual citizenship is also possible. Suddenly, buying property in Poland makes sense for many different people with different goals. However, it's worth noting for those who aren't citizens of the EU, houses and land are strictly off-limits. Apartment units are still available for purchase by anyone, but most people will be limited to buying property in urban areas.
Warsaw or Krakow, Which is Better?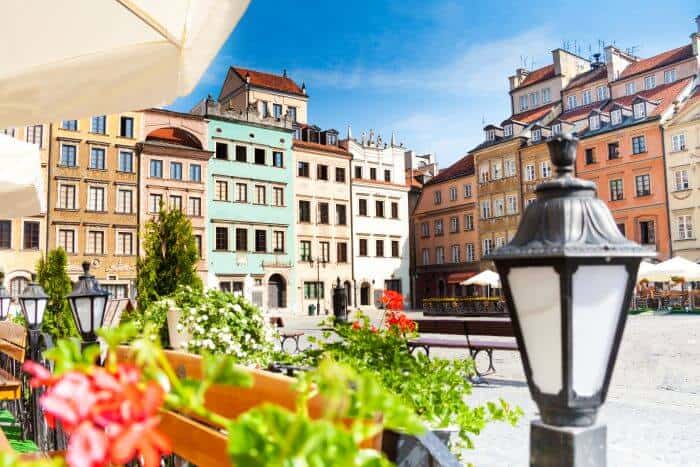 While Poland is a moderately sized nation of around 40 million people, investors usually focus on buying property in one of two of its major cities. Warsaw is Poland's capital and largest city, along with its business hub. Former communist apartment blocks have given way to a glistening skyline over the past few decades, which is indeed one of Europe's most impressive. An up and coming financial center, Warsaw is where things happen in Poland. On the other hand, Krakow is preferred by tourists and practically everyone else from a lifestyle perspective. The city of around one and a half million is one of the few in the region not bombed during World War 2, and it remains most of its charm because of this. Warsaw is a bit generic by comparison. Whether it's best to buy an apartment in Warsaw or Krakow depends on your intentions. Yields, in general, are higher in Warsaw and can reach as high as 8%. Most tenants looking for apartments in the capital city will be locals, foreign expats, and other long term renters. That doesn't necessarily mean that Warsaw is a better investment choice, though. There is currently a lack of supply for short-term rentals in Krakow and because the city is Poland's most visited by tourists, there could be opportunities for profit by renting out an apartment through channels such as Airbnb. Airbnb (in general, not just in Poland) has the potential for higher rental yields than normal. Like a hotel, a high premium can be charged on "by the night" rentals over what a long-term, monthly tenant would pay. If you'd like to learn about some of the best parts of the world to make a profit on Airbnb, along with many more actionable strategies, our Foreign Real estate e-Book is for you. If you're willing to put in some extra work and can keep the short-term stayers lined up, catering to the tourist market in a city with pent up demand such as Krakow can be a highly profitable move. Otherwise, the stability and hands-off approach of letting out an apartment in Warsaw the "normal way" might be more your style.
Residency and Citizenship in Poland
Poland does not have a residency through property investment programs, such as those in countries such as Ireland, Spain, and Portugal. Nonetheless, it is still rather simple for almost anyone to live in Poland on a long-term basis and enjoy the piece of real estate they bought. Business owners and employees of a Polish company are able to apply for residency in the country. Incorporation costs are not high, the process of starting a business is simple, and low taxes make Poland a viable place to start a business anyway. A temporary residence permit is valid for three years, and extensions are for another three years. Extensions can be applied for back-to-back as long as you are able to show that you still meet the initial criteria. After living in Poland for a continuous period of 5 years, you can then receive permanent residency. Living in Poland for 3 more years and learning to speak Polish (which is not that hard of a language to learn) allows you to naturalize and become a citizen of Poland. Eight years is a long time, but there are worse places to spend almost a decade. EU Citizenship is, of course, extremely valuable as well. With low taxes, an open economy, a healthy business environment, a simple residency program, and an undervalued real estate market, Poland remains a great country to knock out multiple different flags at once.