This article looks at banking in the UAE. We start with an overview of the country, its economy and banking sector. We then look at the different types of banks in the UAE, as well as some of the more prominent local and foreign banks in the country. You will also find advice on how to open a bank account in the United Arab Emirates.
The UAE is the second-largest economy in the Arab world after Saudi Arabia. It's also one of the world's leading financial centers with a vibrant real estate market, business-friendly government, and low taxes.
Looking to do business in the UAE? Need advice on banking, international real estate, or residency? Remove the question marks from the equation. Talk to Nomad Capitalist about getting your specially-tailored Action Plan today.
UAE – Country Overview
The United Arab Emirates is a country of approximately 10.08 million people, with foreigners making up an estimated 88.1% of the population.
Located in the Middle East, on the Arabian Peninsula, it has borders with Saudi Arabia to the west and Oman to the south.
Abu Dhabi is the capital of the UAE while Dubai is its largest city.
Arabic is the official language of the UAE, and its currency is the United Arab Emirates Dirham (AED).
UAE – History
The UAE was formed in the late 20th century following the British withdrawal from Arabia.
Since the 19th century, the founding emirates had been de-facto protectorates of Britain, collectively known as the Trucial States.
In 1971 six of the states, Abu Dhabi, Ajman, Dubai, Fujairah, Sharjah, and Umm al-Quwain, agreed to join together and form the United Arab Emirates.
Bahrain and Qatar opted not to join, while Ras al Khaimah joined the UAE a year later in 1972 to create a state of seven independent emirates.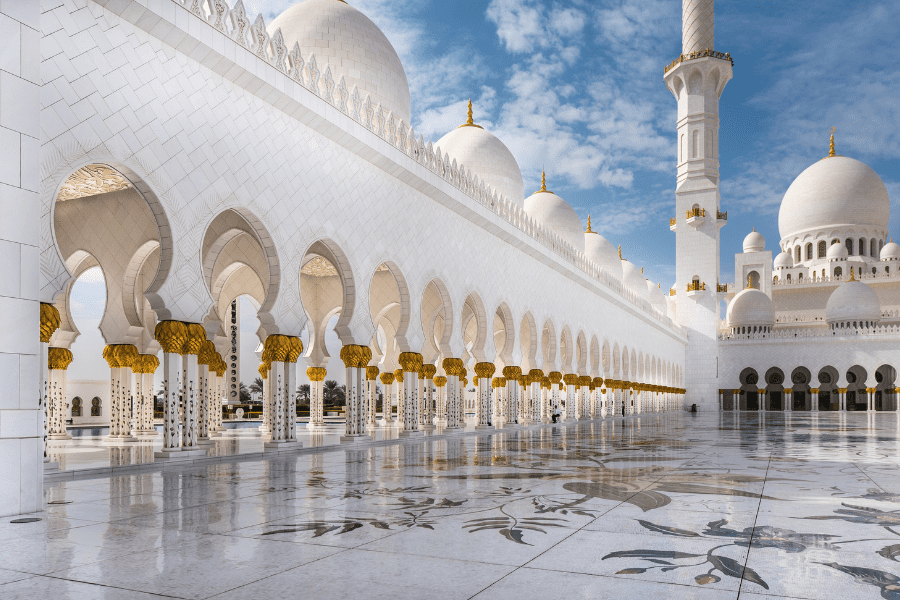 UAE – Government
An emirate is a territory or state ruled by a monarch, known as an Emir.
The United Arab Emirates consists of seven such territories:
Abu Dhabi
Ajman
Dubai
Fujairah
Ras al Khaimah
Sharjah
Umm al-Quwain
Each of these territories is essentially a state-within-a-state, with its own government presided over by its own emir.
These seven emirs also form the Federal Supreme Council, which in turn elects the President and Vice President of the UAE.
So, although the UAE elects a president and has a parliament known as the Federal National Council, it nonetheless has an autocratic rather than a democratic government.
UAE – Lifestyle
The UAE scores high on luxury, and there's always plenty of things to see and do, including some of the most impressive architectural feats on the planet, rearing high above sparkling blue waters and golden beaches.
And if you want sunshine, the UAE has that too – perhaps a bit too much of it.
Keep in mind you're in the desert, so it gets hot, unbearably hot for most of us. You won't have to worry about rainstorms or snowstorms, but you will need to keep a watchful eye out for sandstorms.
Sandstorms aside, the UAE is a safe and clean country with a low crime rate – the government makes certain of it.
However, visitors should be aware the UAE is a socially conservative country with strict laws on homosexuality, premarital sex, blasphemy, and even public swearing.
But things are rapidly changing. The government is aware that it needs to change to better accommodate changing attitudes, particularly given its high numbers of foreign residents.
One obvious concession has been with the consumption of alcohol. Unlike many of its neighbors, foreigners are free to go out, have a drink and enjoy the vibrant nightlife.
The UAE boasts top-quality restaurants, bustling expat bars, and opulent nightspots.
The Dubai Mall, meanwhile, is one of the world's largest malls and a popular destination with tourists and residents alike. Indeed the UAE is perfect for those who love to shop with plenty of big boutiques and luxury brands.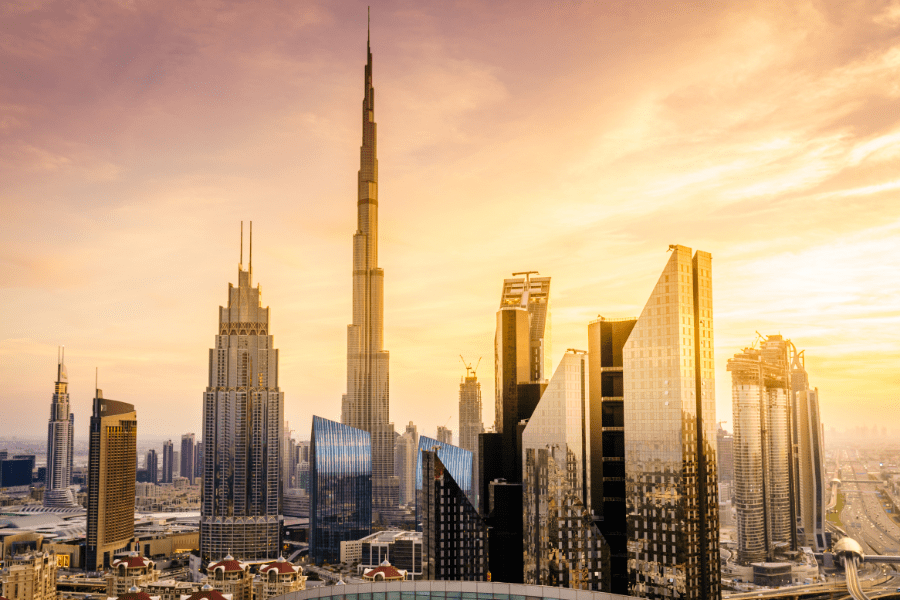 UAE – Tourism
Our founder, Mr. Henderson, once described Dubai as, "Las Vegas, without the casinos."
Which sums up the UAE in a nutshell.
On the one hand, it's a highly conservative country, albeit one that's famous for its opulence and excess.
The UAE takes advantage of any opportunity to create wonder by flexing its financial muscles.
Hence architectural triumphs such as the Burj Khalifa. Standing at 2,717 feet (828m), it remains the tallest building in the world.
Then there's the luxury Burj Al Arab hotel, the towering sail-like structure built on an artificial island, which has become synonymous with the UAE.
At 1,053 feet (321m) it's slightly taller than the Eiffel Tower in Paris and is every bit as iconic.
The wealthy emirates don't let a thing like being in the middle of a scorching desert stop them from enjoying top-quality golfing or ice skating. There's even a massive indoor skiing resort where you can also go and see penguins.
And if penguins in a desert still doesn't impress you and you prefer more high-octane thrills, Ferrari World Abu Dhabi is a theme park devoted to the luxury race car brand and home to the famous Formula Rossa, the world's fastest roller coaster.
UAE – Economy
Oil may have made the UAE wealthy, but prudent economic diversification made the nation the regional power it is today.
Today oil and gas make up just 30% of GDP, while other heavy industries, including manufacturing and construction, also receive considerable investment.
While tourism, which we just mentioned, rapidly rebounded after the pandemic, is responsible for an estimated 9% of GDP in 2022.
These sectors, in turn, help drive the country's booming real estate sector.
With a steady stream of investors and tourists, plus an ever-increasing influx of expats, new property developments are always in demand, making for a vibrant property market.
Meanwhile, the country's service industry continues to expand as the country grows in stature as a center for global trade.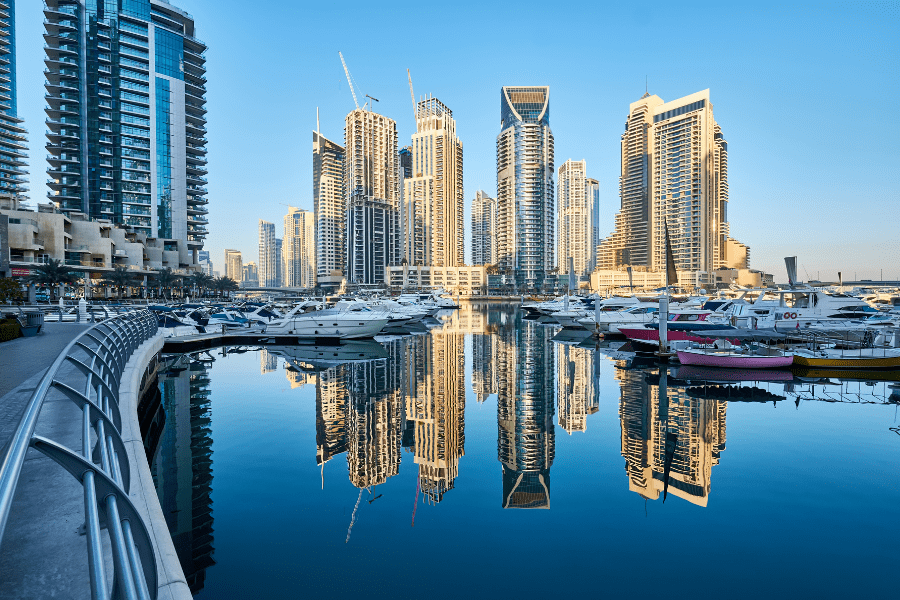 UAE – Investment
The UAE is a low-tax country with a business-friendly government making it highly attractive to foreign investment.
The UAE's change from no tax to low-tax country is down to the introduction of a new 9% corporate income tax. You can see more details on this tax in the video below.
The UAE Central Bank, located in Abu Dhabi, regulates all banks in the UAE.
As with many financial hubs around the world, the global financial crisis of 2008 had a severe impact on the UAE's banking sector. The drop in oil consumption in 2020 in the wake of the pandemic had a similar effect.
In both cases, the economy rebounded, a testament to the sheer financial power of this indomitable "Singapore of the Desert."
Banking in UAE – Overview
The banking sector in the UAE is highly regarded globally. It offers plenty of choices regarding where and how you choose to bank.
For newcomers, particularly westerners, the UAE's banking landscape can initially seem confusing. So let's first look at the main types of banks in the UAE and get you up to speed with some of the new concepts you'll encounter there.
Types Of Banks In UAE
Let's start with what's most familiar, foreign banks. One should hardly be surprised to learn that many of the world's largest banks, including banks from the US, China, Europe, and the UK, have a presence there.
Then there are the local banks. These include banks that are owned by the governments of different constituent emirates. For example, Emirates NBD is owned by the government of Dubai. In essence, this is a national bank, albeit a national bank of a state within a state.
Banking in Dubai
Many of the biggest banks in the UAE are based in Dubai. Prominent Dubai banks include Dubai Islamic Bank, Emirates NBD, and Mashreq Bank. Foreign banks in Dubai include Citigroup and Bank of China. HSBC Middle East also has its headquarters there.
Banking in Abu Dhabi
Abu Dhabi is home to the biggest bank in the UAE, First Abu Dhabi Bank, alongside Abu Dhabi Islamic Bank (ADIB) and Abu Dhabi Commercial Bank.
Deutsche Bank opened the first of its offices in the UAE before expanding further into the region, while other foreign banks, including Bank of China, Citibank, and BNP Paribas, also have operations there.
Islamic Banking
Islamic banking refers to financial institutions which follow the principles of Islamic law (Shariah law) and incorporate them as part of their banking practices.
The most notable difference is their approach to lending, whereby the collection of interest payments is forbidden. (You can find more information about Islamic banking in our FAQ section at the bottom of the article.)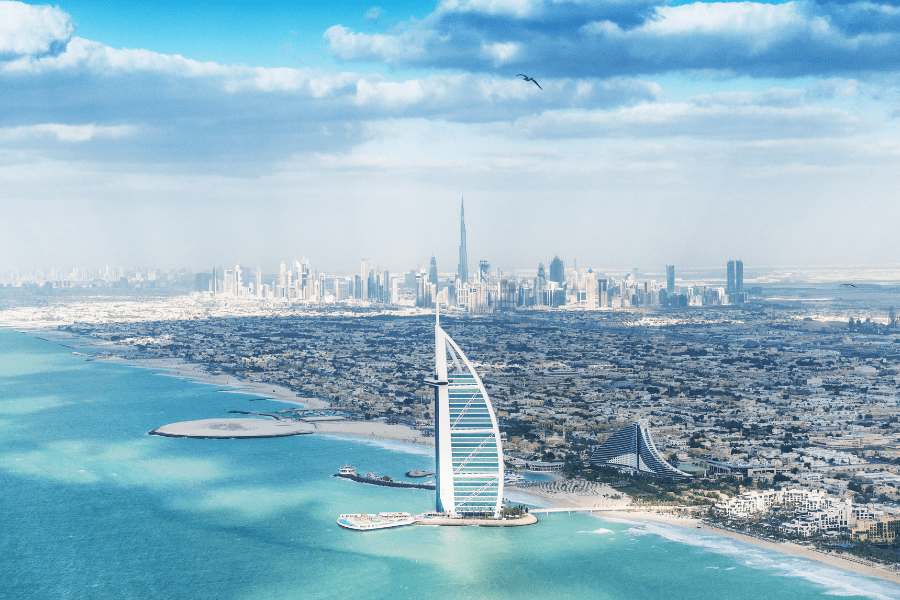 UAE Banking Services
The UAE's status as a leading financial center means that your banking service options are broad. From basic personal banking to investment banking, global transaction banking and corporate banking services, all banking needs are catered for.
One thing to keep in mind, however, is that banks in the UAE tend to be stickers to the rules. So you may find them to be way more rigid than other banks elsewhere in the world.
So even as a corporate customer, situations could arise which will require you to visit the bank in person to conduct business. Business which, in other jurisdictions, could otherwise be done remotely. We know people who experienced this first hand with Emirates NBD, for example.
Of course, some of you may prefer the personal touch and find the added layers of due diligence and direct personal service reassuring. For others, however, who are looking for a less hands-on jurisdiction where everything can be done remotely, it may be a dealbreaker.
Either way it's worth knowing in advance.
There are many considerations to take into account when choosing an offshore banking jurisdiction, to best ensure your wealth is protected and all your transactions run smoothly.
Picking the wrong banking jurisdiction without seeking proper advice first can lead to unforeseen issues, costs and delays, but of course every banking jurisdiction will tell you theirs is the best so how can you tell?
Our company views them all impartially to help you choose the solution that best suits your needs. We take everything into account, including your assets, investments, business operations and other factors, to create an all-encompassing Action Plan that covers everything from offshore banking and asset protection to legal tax reduction.
Local Banks In UAE
Though not exhaustive, this list includes some of the UAE's largest or otherwise most noteworthy local banks.
Abu Dhabi Commercial Bank (ADCB) is one of the largest banks in the United Arab Emirates. It was founded in 1985 and enjoys a significant market share throughout the UAE, as well as operating branches and offices in the US, London, Singapore, and Mumbai. Abu Dhabi Commercial Bank provides a wide range of universal banking services and brokerage services. In 2019 it absorbed Union National Bank. (Union National Bank previously being another major national bank from Abu Dhabi.)
Abu Dhabi Islamic Bank (ADIB) was established in 1997 and its founders include the Abu Dhabi Investment Authority. As its name suggests, it is an Islamic bank and has branches throughout the Arab world, as well as a real estate financing office in Knightsbridge, London.
Dubai Islamic Bank is another major regional bank with branches throughout the UAE. The bank was founded in 1975 and is a pioneer of Islamic banking. It's the largest of its kind in the UAE and one of the largest in the world. In 2020 it grew further after completing its acquisition of Noor bank.
Emirates Investment Bank is a Dubai-based independent bank providing private banking and investment banking services.
Emirates NBD was founded in 1963 in Dubai as the first national bank of Dubai before later merging with Emirates Bank International in 2007. Emirates NBD enjoys wide coverage throughout the UAE and offers a full range of banking services including retail banking, private banking and wealth management, alongside wholesale banking and Islamic banking services.
First Abu Dhabi Bank is the largest bank in the UAE (at the time of writing). It was created in 2017 following the merger of First Gulf Bank and the National Bank of Abu Dhabi (NBAD). It offers full universal banking services along with Islamic banking.
Mashreq Bank: is another leading financial institution in the UAE, with its headquarters in Dubai and a strong presence throughout the Arab World. Founded in 1967, it is the oldest privately owned bank in the UAE and provides a wide range of banking services, from retail banking to commercial and investment services.
United Arab Bank was founded in 1975. Located in Sharjah, the UAE's third largest city, the bank offers a range of services, including personal and corporate banking services, treasury services, and Islamic banking.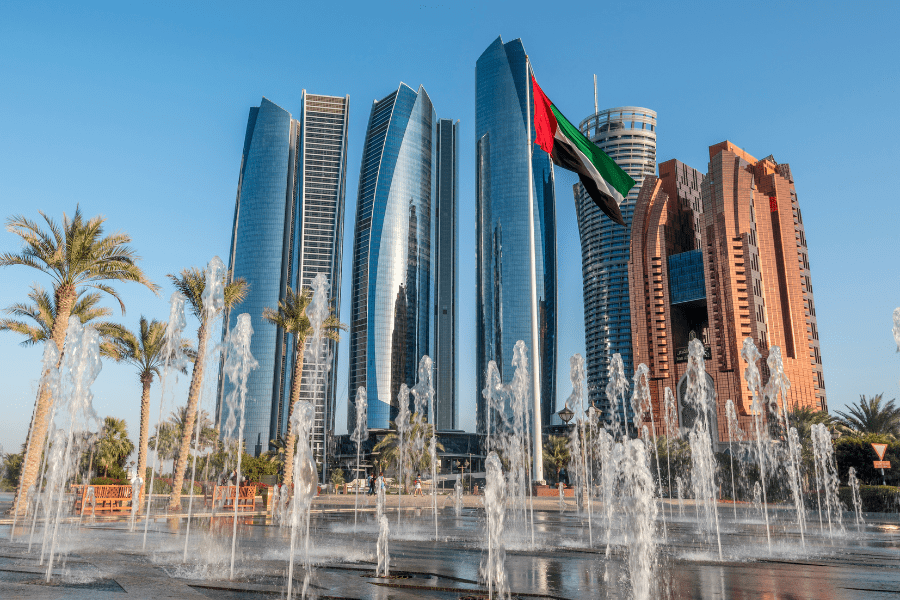 Foreign Banks in the UAE
The success of the UAE's economy has attracted several prominent international banks from every continent, including major investment banks and universal banks, to the region.
This list features just a few of the international banks in the UAE, to give you a taste of the diversity of banking on offer.
Arab African International Bank (AAIB) was established in 1964 through a partnership between the Central Bank of Egypt and the Kuwait Investment Authority. It is the first Arab multinational bank in Egypt and also has a presence in Dubai. It provides a range of services with a strong focus on mobile banking.
Bank of China Limited is the fourth largest bank in the world, with offices in several key financial centers worldwide, including offices in both Abu Dhabi and Dubai. Although the Chinese government is the majority owner, it is still considered a commercial bank rather than a national bank.
BNP Paribas was founded in 1848 and is the largest bank in the EU (and the second largest in Europe after HSBC). It has branches and offices in both Abu Dhabi and Dubai, and its operations in UAE strongly focus on real estate and wealth management.
CitiBank UAE is a subsidiary of the US-based Citigroup. It has branches throughout the emirates, opening its first branch in Dubai in 1964 and a second in Abu Dhabi in 1971. In addition to retail banking, credit cards, and insurance, the bank also offers corporate banking and wealth management.
Deutsche Bank AG opened its very first UAE office in Abu Dhabi back in 1999 and another in Dubai two years later, before expanding operations in the UAE and throughout the Gulf states.
Doha Bank is one of Qatar's largest commercial banks. Founded in 1979, this bank operates two branches and a network of ATMs in Dubai and Abu Dhabi. It offers personal, corporate, and international banking services.
Habib Bank AG Zurich is a Swiss multinational commercial bank with its headquarters in Zurich, Switzerland. It began operations in the United Arab Emirates in 1974 and is now one of the top five foreign banks under the name HBZ UAE.
HSBC Bank Middle East Limited is the Middle Eastern arm of HSBC, the largest UK bank. In 2016 its headquarters were moved to Dubai. HSBC Middle East offers a full range of services, from personal banking, insurance and loans to wealth management and funds.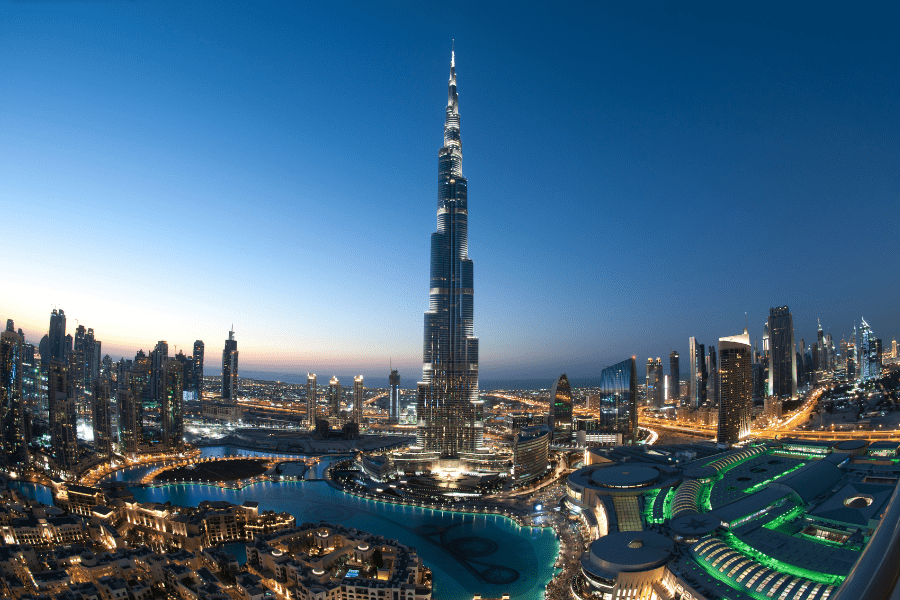 How To Open A Bank Account In UAE
The basic requirements for opening a bank account in UAE are much the same as opening an account anywhere else, which are:
A form of government ID (we always recommend a passport)
A proof of address (such as a utility bill)
You may also be asked to provide proof of income, which for most foreigners in the UAE means a payslip from their employer, though this could also be in the form of bank statements showing earned income from your business or passive income sources.
This should be sufficient to open a basic savings account with a debit card, allowing you to perform essential banking functions in the UAE, without the fees you may incur while using your foreign account (i.e., ATM withdrawals, card payments, etc.)
However, you will need to provide proof of UAE residence for anything more elaborate.
The bank may ask for additional information, such as bank statements, source of funds information, and letters of recommendation from other financial institutions. Though again, these KYC requirements are the standard with banks worldwide.
Make Life Easier…
Finding the best bank that suits your needs, setting up appointments, gathering and sorting paperwork, not to mention handling all myriad tasks involved in acquiring residence visas, takes time.
It's also confusing and can be highly frustrating if you don't know what you're doing.
But we do. We do this every single day.
We've helped thousands of entrepreneurs and investors like you to get residency visas, obtain second citizenships and set up offshore bank accounts in multiple jurisdictions worldwide.
And we guarantee maximum compliance with international law, while at the same time ensuring all our clients save as much on tax as possible. Talk to us today to learn how.
Conclusion
Banking services in the UAE are diverse, efficient, and of a high standard overall.
Whatever specific type of banking you are after, you will likely have good banking experiences in the UAE.
UAE banks may have taken something of a battering recently due to the pandemic. But with the immense financial resources of the combined emirates of the UAE behind them, they are rapidly rebounding.
As a result, more and more investors and entrepreneurs are attracted to the region, more major financial institutions continue to establish a presence there, and those famous, mesmerizing high-rise buildings keep reaching ever higher.
The UAE is a popular destination for HNWIs. And it's not just because of its banking services and low taxes but also its lifestyle.
You can enjoy an excellent standard of living, surrounded by luxury with low taxes and a business-friendly government.
Need help or advice on banking in the UAE? Interested in learning more about the UAE, its property market, and its residence by investment program?
Or are you just on the hunt for a low-tax jurisdiction that ticks all the boxes?
Then talk to us today, we have the answers to your questions, and whatever your needs are, we'll create an Action Plan to make it happen.
Banks In UAE – FAQ
What Is The Biggest Bank In The UAE?
At the time of writing, the biggest bank in the UAE is First Abu Dhabi Bank. The bank was created following the merger of the National Bank of Abu Dhabi and First Gulf Bank.
The National Bank of Abu Dhabi was founded in 1968 and was the emirate's largest lender.
At the time of the merger, First Gulf Bank was the third biggest bank in UAE. Unlike the National Bank of Abu Dhabi, it was a commercial bank.
The merger in 2017 created the biggest bank currently operating in the United Arab Emirates.
How Does The Banking System In UAE Differ?
In many ways, most banks in UAE are not all that different from their western counterparts.
They offer personal banking, commercial banking, private, investment, and wholesale banking services, not to mention a broad range of other related financial services such as insurance and loans.
The unique structure of the UAE, whereby each emirate has its own independent government within the state, does make things a little confusing, however.
This is compounded by the fact that some of these emirate governments – states within the state – own certain banks. So they're essentially state banks in all but name only.
Another key difference between banks in UAE versus those of more western countries is the availability of Islamic banking services.
What Is An Islamic Bank?
An Islamic bank is a bank that lends money and conducts its operations in accordance with the principles of Islam.
Islamic banks differ from corporate and financial institutions in the west in their approach to lending practices.
According to Islamic teachings, interest (riba) is considered haram or forbidden. Muslims are therefore encouraged to avoid engaging in any financial activity that involves interest.
Banking with an Islamic financial institution and only using a Shariah-compliant lender for loans is, therefore, standard practice in the UAE and throughout the Middle East.
Dubai Islamic Bank pioneered the field of Islamic banking. It is currently the largest Islamic bank in UAE and the second-largest Islamic bank in the world. Abu Dhabi Islamic Bank is another prominent bank in the UAE.
Many banks in UAE offer Islamic banking in addition to regular retail banking and often provide specific Islamic banking booths.
Can A Foreigner Open A Bank Account In Dubai?
Yes, a foreigner can open a bank account in Dubai. After all, Dubai is a leading international financial center, with a far higher than average ratio of expats to locals. However, unless you have a residence visa, you will only have access to basic banking services. This is also the case in other emirates, including Abu Dhabi and Ras Al Khaimah.
Can Non-residents Open A Bank Account In UAE?
Yes, depending on the bank, a non-resident may be able to open an account in the UAE, though only savings accounts with limited functionality. You will get a basic account plus a debit card for ATM withdrawals, and that's it.
For anything more elaborate than that, however, you will need to have a residence visa.
Obtaining UAE residence is a process in and of itself, but as a Nomad Capitalist client, we can speed the whole thing up, saving you time and hassle.
What Is The Best Bank In The UAE For Expats?
If you are living and working in the UAE and not sure what bank to choose, then you are best off selecting one of the brand name universal banks which are already familiar to you.
If, on the other hand, you are a HNWI looking for banking solutions in the UAE then get in touch and we can help you find a bank that best suits your needs.
Plus, as a Nomad Capitalist client, we can create a special Action Plan that helps with other areas, including legal tax reduction, property, investments, and more.