Would you like to know about Italian residency requirements? Second residence can be a life-changing experience. A residence permit in Italy can help you go where you're treated best.
Nomad Capitalist can do so much more for you than secure Italian residence. We create holistic plans for HNWIs to enable you to reach new heights in wealth and freedom. We can also look after all your property needs so that you can invest in foreign real estate like a local.
We're here to serve you. This article will show you how to become an Italian resident, the benefits and requirements, and an overview of life in Italy.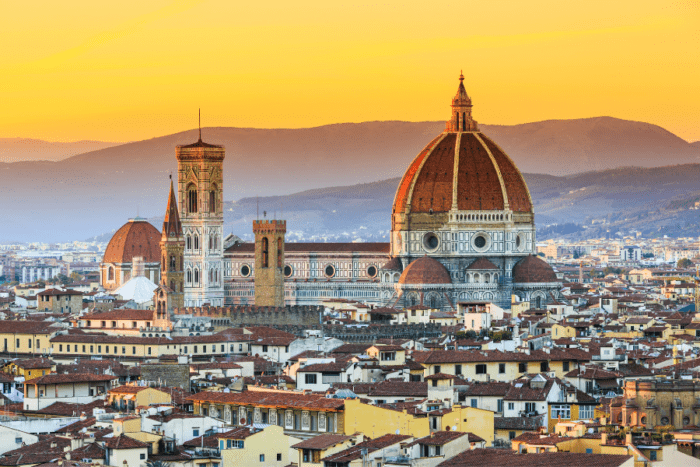 Italy Country Overview
The Italian peninsula is located in Southern Europe and extends into the central Mediterranean Sea. Italy has land borders with Austria, France, Slovenia, and Switzerland.
The country has a north-south divide, with northern Italy more industrial and developed and southern Italy more agricultural and less economically developed. (Which is why you may also be able to gain additional tax benefits for moving to certain regions.)
Italy – Climate
The north is colder and wetter, similar to Northern Europe, while the south is drier and warmer thanks to Mediterranean weather.
The seasons are more pronounced in the north, with Turin experiencing an average winter temperature of 32.5 °F (0.3 °C) and a summer average of 76 °F (24 °C).
Italy – Culture
An Italian residence permit allows you to tap into the country's rich culture.
Venice gave carnival to the world, and you can enjoy the original celebration each year. Italy's art galleries are treasure troves where you can feast your eyes on classics by Renaissance masters such as Leonardo da Vinci and Sandro Botticelli.
Italy – Passport
Residency in Italy can pave the way to obtaining Italian citizenship. It's a right enshrined in Italian law. The Nomad Passport Index rates the Italian passport as a top-tier travel document.
As an Italian national, you can take advantage of visa-free and visa-on-arrival access to 174 countries.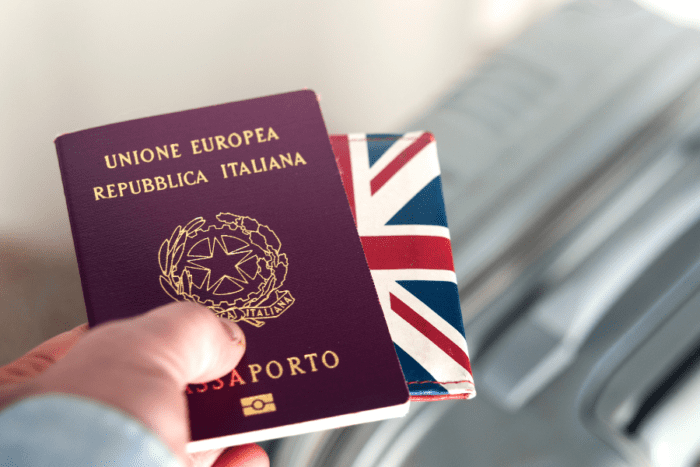 Italian Residency Benefits
You can become an Italian citizen by starting out with a temporary residence permit.
The path to permanent residency in Italy depends on which type of visa and temporary residency you have.
Although the renewal requirements differ for each type of residence permit (permesso di soggiorno), you will be eligible to gain permanent residency after five years.
A bonus about this option is by becoming a permanent resident in Italy, you can relocate anywhere else within the European Union.
You must pass a basic Italian language test when applying for a permanent residence permit.
 You must also spend at least six months per year in the country for the following ten years. You will then become eligible to apply for Italian citizenship and the accompanying Italian passport. 
Italy scores well on livability. You will have a vast diversity of landscapes on your doorstep, from lakes to mountains to seas to vineyards.
Italians love life and are generally easygoing and laid back. If you relocate to the country with your partner and children, you will appreciate Italy's family comes first mentality. Singles will lap up the country's vibrant nightlife.
You can enroll your younger children in free state schools and enjoy access to public healthcare. There's also the chance to receive maternity or disability benefits.
Under the flat tax regime, the individual is subject to a substitutive tax of €100,000 per year on non-Italian source income.
Italy is well connected to the rest of Europe, and you'll enjoy the freedom of traveling to other EU countries. Become a Nomad Capitalist client, and we will help you hit your financial freedom goals and go where you are treated best. Our team is here to assist you with your residence in Italy.
Italian Residency Requirements
Acquiring an Italian Temporary Residence Permit
Entering Italy with the intention of staying beyond 90 days requires non-EU citizens to apply for a residence permit (permesso di soggiorno) within eight days of arriving in the country.
Each provincial immigration office (questura) has a different process, and idiosyncratic Italian bureaucracy can mean rules are liable to change with the wind. (Which is why we recommend saving yourself all the time and hassle of going alone by becoming a Nomad Capitalist client.)
You should first head to your local post office and look out for the Immigration Desk (sportello amico). The forms are long but require straightforward details such as the following:
your passport number
your entering italy date
your previous addresses
information about your dependents
You will also need to include the required documents, including:
four passport-size pictures in line with italy visa photo
your valid passport
documents related to why you are in italy, such as a work permit or enrollment in school
all the documents you submitted when applying for your long-term italian visa in your home country
proof of health insurance
When you return to the post office with your completed forms, remember to take your original documents, as the postal worker will check them as you file your application.
The total cost of the residence permit application is €76,46 as of September 2022.
acquiring the residence card €30,46
application stamp €16,00
mailing fee €30
Your slip (ricevuta) will show that you have applied for legal residency, and includes details of the appointment at your local Immigration Office (Ufficio di Immigrazione), where they will check your documents to ensure you have filed everything correctly and take your fingerprints.
You can check the processing status of your application on PortaleImmigrazione.it. Finally, on the Poliziadistato.it website, you can check the offices' availability to collect it. Waiting times vary depending on Questura.
Obtaining an Investor Visa for Italy
This residence-by-investment program is another way to secure a two-year Italian residence permit. You can renew this for a further three-year period. Italian authorities introduced this initiative for non-EU citizens to secure temporary residence in Italy in exchange for one of the following investments:
€2 million investment in Italian government bonds, held for at least two years.
€250,000 investment in an already existing local startup.
equity financing to an Italian limited company with a particular focus on new high-tech enterprises such as innovative startups
€500,000 investment in a local company incorporated and operated in Italy, maintained for at least two years.
€1 million in philanthropic donations to support a public interest project in education, culture, immigration management, scientific research, preservation of cultural and natural heritage, or similar.
First, you must apply for the Nulla Osta on the official website by completing a series of forms, including:
Proof that you have accommodation in Italy
Proof of income from the previous fiscal year
A passport picture of yourself
A valid passport
Proof of residence in your country
You can scan and submit all required documents electronically on the same website, including downloading and signing the Final Declaration. A committee will assess your application, and you will receive a decision within 30 days.
There is no charge to complete this online form, which requires attaching supporting documents and disclosing personal details.
Once the Italy Investor Visa Committee decides, you have six months to apply for your investor visa at the nearest Italian Embassy or Consulate.
How to Apply for Italian Elective Residency Visas
An elective residency visa (ERV) initially allows you to move to Italy for one year but only accepts applications from those looking for permanent residency.
It is not a work permit, and you cannot receive an active income in Italy. This is a good option if you're retired.
You can apply for your ERV at the Italian consulate in the country and city closest to your legal residence. The consulate can take up to 90 days to process your application, which will need you to include the following:
one or more passport photos
your valid passport
separate application forms for each applicant
proof of passive income of just over €31,000 per person or €38,000 joint income per year for married couples plus five percent per dependent minor
your valid marriage certificate if you're applying as a couple and a valid birth certificate for dependent minors
your property ownership deed for an Italian property or a rental lease agreement
one-way travel tickets to Italy
proof of a private health insurance policy
an application fee of €116 per person
Securing an Italian Permanent Residence Permit
After five years in Italy, non-EU citizens can apply for permanent residence in Italy.
You will receive permission to stay for an extended period (permesso di soggiorno per soggiornanti di lungo periodo) after demonstrating continuous legal residency and taking an Italian language test to show at least A2 level (elementary) competency.
If you've made it this far, you will need to spend a further five years in the country on a permanent residence permit if obtaining Italian citizenship is your end goal.
This will provide you with an Italian passport and all the visa-free travel it entails, including the chance to relocate to other EU countries.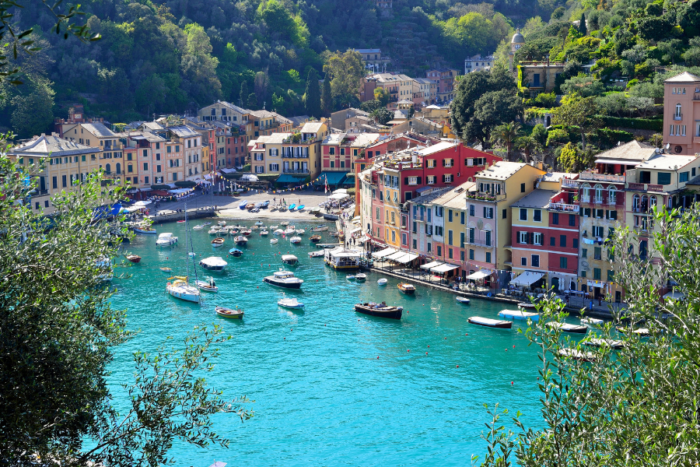 Italian Residency Conclusion
While the Italian Government used to rely on tourism to boost its economy, it has realized that there is a demand for temporary and permanent residence in Italy. So, it has looked to provide more supply lines.
Italian immigration accepts the following types of applications:
temporary residency permit applications from inside the country
online investor visa applications
italian elective residency visa application via an italian consulate
permanent residence permit applications from long-term residents
The documents needed to obtain residency include the following:
your valid passport
evidence of a private health insurance policy
a rental lease or property deeds
a birth certificate for dependents
a marriage certificate if applying as a couple
clean criminal records
If you can speak Italian, obtaining Italian citizenship after ten years of permanent residence in Italy is possible. This is ideal for those who don't qualify as Italian citizens through any Italian ancestry.
There are other avenues to explore as well. If an Italian work permit is your main objective, you can apply for a European Blue Card. This is issued to prospective employees with high proficiency in a designated field of activity.
If that's you, you must include proof of an outstanding academic record, including university studies.
Let's say you obtain permanent residence in Italy. Sure, you can apply for Italian citizenship down the line. But maybe you feel the urge to be more nomadic and go further afield. Nomad Capitalist will help you go where you're treated best so get in touch with us to discuss your options.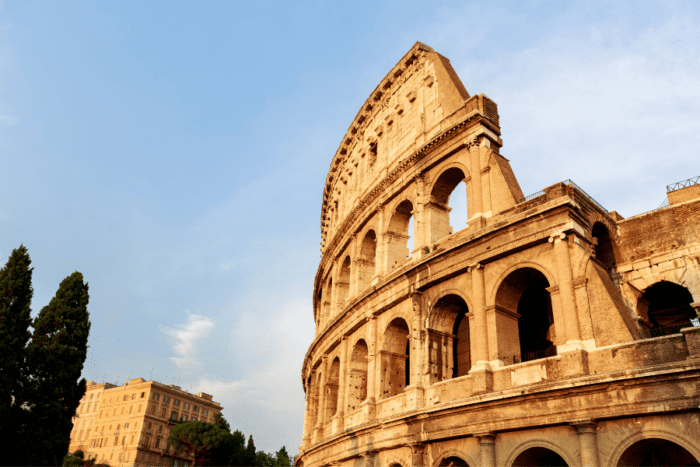 Italian Residency FAQ
Can a US Citizen Move to Italy?
Yes. But the US Embassy in Italy stipulates that "Americans must have an entrance visa which should be obtained at an Italian consulate before coming to Italy, in order to remain in Italy more than three months and gain resident status." 
And it should also be noted that, as a US citizen, you are still liable to pay US taxes.
How Much Money Do You Need to Get Residency in Italy?
That depends on which route to residency you take. However, in order to qualify for the elective residency visa, the principal applicant must prove financial stability of at least €30,000 per year. 
This must be passive rather than active income.
Can I Get Residency in Italy if I Buy a House?
Contrary to what you may have heard elsewhere, you cannot obtain permanent residency in Italy through real estate. However, you can combine property ownership with an elective residency visa to achieve permanent residence in Italy. Then, if you're looking for an even longer-term stay, you can apply for Italian citizenship.
Is Dual Citizenship Allowed in Italy?
Yes, Italian dual citizenship is possible.

Italian law recognizes dual nationality and does not limit the number of citizenships you may hold. This means an Italian citizen is permitted to have three or more passports as long as the other nations where they are citizens have similar legislation. 

As a Nomad Capitalist client we can help you get that permanent residence permit in Italy, Europe or elsewhere around the world.