Dateline: Kotor, Montenegro
Just a couple of weeks ago, I was in Porto, Portugal celebrating my birthday with some close friends. As we ate, I began to discuss my upcoming travel plans with a friend who is originally from the US and his girlfriend. I explained how I plan to spend the first quarter of 2018 at my base in Kuala Lumpur, Malaysia with occasional trips to Cambodia, Taiwan, and Laos.
When she heard that I was traveling to these destinations alone, my friend's girlfriend said with a hint of jealousy, "You're lucky that you're a guy. I could never go to those places alone. I wouldn't be safe."
I have heard many stories from my remote team about the challenges of solo female travel. Like it or not, female travelers often face challenges that men do not. However, I have also found that there are many misconceptions – especially among US folks – about places that are and are not safe.
Many people, for example, believe that Southeast Asia or Asian countries, in general, are not safe, even though some of the safest countries in the world can be found in the region.
On the other hand, there are still some countries that are not that safe. I was attacked at gunpoint in Colombia and would understand if a solo female traveler chose to skip the destination.
Then again, according to the Numbeo crime index, there are seven cities in the United States that have higher crime rates than Mexico City – a place many Americans would consider too dangerous. And even my old hometown of Cleveland, Ohio has a higher crime rate than Bogota, Colombia.
Little facts like this piqued my interest and so I decided to include a safety measurement in our newest Nomad Quality of Life Index. My team went to work researching the safest cities in the world, pulling from various rankings and crime indices to compile a comprehensive list for the safety-conscious traveler.
You can find the full list by checking out the Nomad Quality of Life Index, but the following are the top ten safest cities for nomads and expats.

10. Dubai, United Arab Emirates – 92.41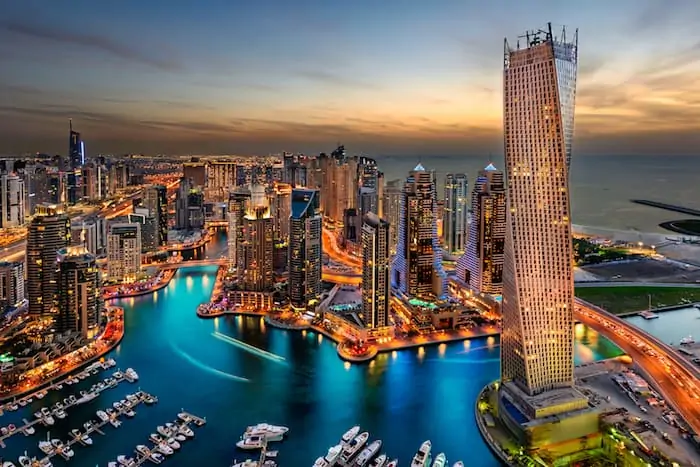 You probably never considered Dubai to be among the safest in the world, but with a crime rate of just 19.52 it earned the spot of the world's tenth safest city. Its overall safety ranking on the Nomad Quality of Life Index was 92.41, making it one of only two Middle Eastern countries in our top ten.
Dubai's stricter laws keep crime to a minimum, creating one of the safest cities in the Middle East and one of the safest in the world for tourists. While areas like Deira and Bur Dubai should be avoided, the crime rate is much lower than many other countries in the region.
I had a chance to visit Dubai earlier this year while in a process of getting my economic citizenship and I can confirm that the public transport is clean, safe and monitored and there are even pink taxis that are only driven by female drivers as a special service for women in the city.
In fact, despite the stereotype of how women are treated in the Middle East, the city is also quite safe for female travelers. It is safe to take taxis, stay alone in hotels, and walk around alone in much of the city. And, if you prefer to rent a car, women are also allowed to drive.
Women do not have to wear a burka, headscarf or veil, but covering your shoulders, knees and neckline is always taken as a gesture of respect toward the cultural values of the region. Still, you will likely see many female tourists running around in shorts and tank tops. While this type of dress is allowed, many Emiratis find it disrespectful and it can invite unwanted attention.
If you are worried about your safety traveling through the Middle East as a woman, it always helps to show respect for the culture and traditions of the people whose country you are visiting. If you use a little common sense, Dubai can be the perfect place for a female traveler looking to experience the culture of the Middle East without worrying about her safety.
9. Hong Kong, Hong Kong – 92.59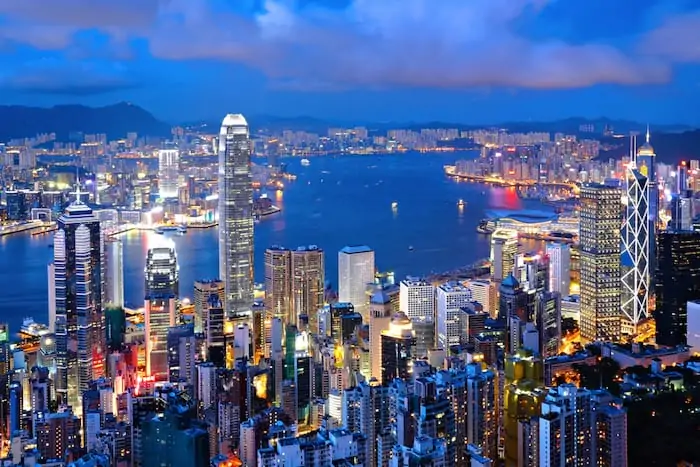 For anyone familiar with this Asian hub for investors, it is no surprise that the city is one of the safest in the world.
Crime rates are incredibly low, the infrastructure and roadways are immaculate, and the police and medical services are all well-trained and efficient. These and other factors give Hong Kong an overall safety rating of 92.59, ranking it the ninth safest city in the world.
Female travelers can use the many safe and clean transportation options to get around the city and should not feel scared while doing so, even at night. While you can wear about anything you want, be aware that Hong Kong is still more conservative than most western cities and you may get some stares from both men and women if you show a lot of skin.
Most of Hong Kong's crime rate can be attributed to petty crime, so keep your common sense intact. Never accept invitations from shop owners to see products kept in back rooms or "upstairs." This can be a red flag signaling that something is up. So, while Hong Kong is safe, don't let that convince you to let your guard down.
If you can manage to avoid the petty criminals, Hong Kong is a fantastic place to dip your toe into Asian culture. Thanks to its British heritage, many people speak English and all the signs are in English too, making it an easy city to explore. There are some fantastic places to explore in Hong Kong with something for every kind of traveler.
8. Tbilisi, Georgia – 93.48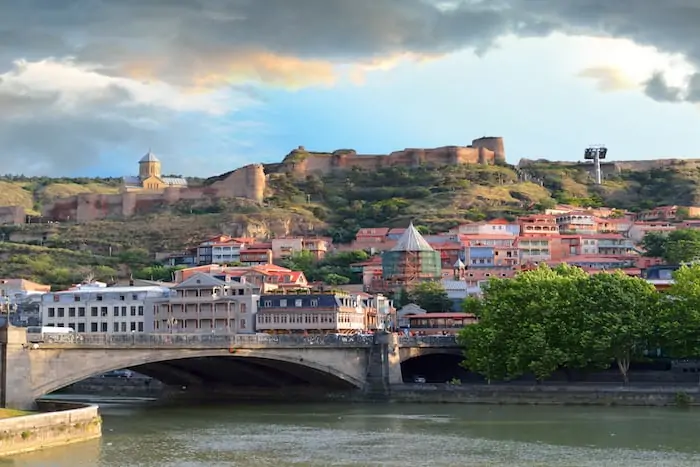 Just over a year and a half ago, I forgot $1,000 cash on the table at a restaurant in Old Town Tbilisi, Georgia. I realized that I did not have the money with me half an hour later and began to dread the worst. I had nothing to fear; a simple call to the restaurant got me my money back in five minutes.
This wasn't just luck. The fortunate return of my cash was largely due to the Georgian culture and people. Crime in Tbilisi is extremely low, at a rate of just 17.25. The low crime rate, combined with other factors gave the city a score of 93.48 on our scale.
In fact, according to a Gallup poll, the citizens of Georgia feel safer than anyone else in the world, especially when it comes to walking alone at night. The Gallup poll reports that 90% of women and 93% of men feel safe walking alone after dark (compared to 62% of women in the US and the UK). Physical security, especially after dark, is a powerful indicator of the overall safety for female solo travelers.
Citizens and expats alike who have visited Tbilisi will gladly agree that the city (really, the whole country) is one of the safest out there. While you may find the occasional weird taxi driver or get some comments from men on the street, compared to the rest of the world, Georgia is a fantastic place for female solo travelers.
7. Lisbon, Portugal – 93.7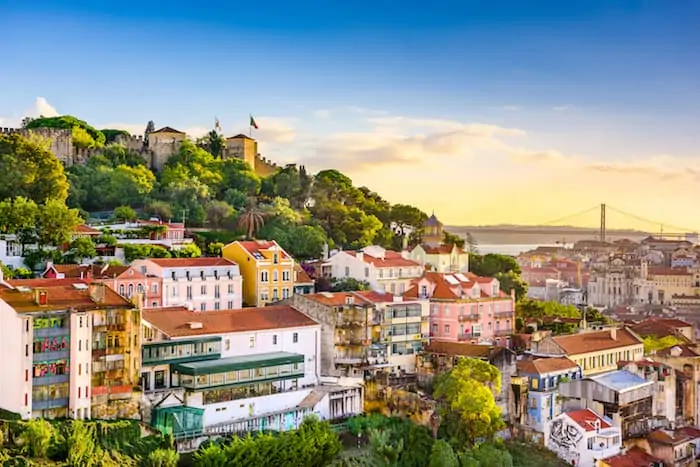 Practically every female solo travel blog on the internet has at least one post raving about how Lisbon is the perfect city for solo female travelers. And, with a total score of 93.7 on our Nomad Quality of Life Index safety ranking, we would have to say that there is a good reason for so many female travelers to feel this way about the city.
While only 72% of people report feeling safe walking alone after night compared to Georgia's 90%, men are actually at greater risk of assault and violent crime than women. As a whole, Portugal has a homicide rate of just 1 per 100,000, adding to the factors that make the country relatively safe for travelers, especially women.
The one thing to be aware of is pick-pockets. They are not so common on the streets, but they are everywhere on the trams where tourists are plentiful. Keep your valuables close and in front of you at all times, as you should anywhere you travel.
Other than that, Portugal is safe and easy to get around, whether you are walking or using the public transportation system. Most people speak English, which also helps with navigation to all the great sites and destinations you will want to visit in the country.
6. Prague, Czech Republic – 95.13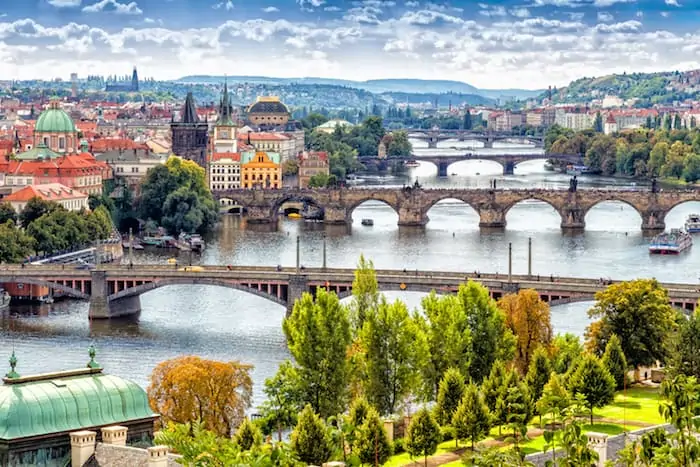 Not only is Prague one of the most-visited cities in Eastern Europe and from my perspective a haven for entrepreneurs, it is also among the safest choices for first-time female solo travelers. Between its incredible architecture and its vibrant art and music scenes, the draw is understandable. A safety ranking of 95.13 doesn't seem to hurt either.
It is also safe to walk around at night, as long as you don't follow shady characters into back alleys. The biggest dangers to look out for are pick-pockets in the city centers and other high traffic tourist areas, as well as hidden exchange fees when trying to exchange your cash. Keep your belongings close and in a hard-to-access place. Be vigilant, but don't stress yourself out over it. Extreme measures like bag slashing are unheard of in this city.
Prague is also known as a party destination. If that is your purpose for visiting the city, know that while most tourists who visit for this reason do not run into problems, there is always the risk. Stay away from strip clubs, casinos, and anyone offering illegal drugs or another such debauchery. Again, common sense will keep you out of most trouble anywhere you go.
5. Tokyo, Japan – 97.14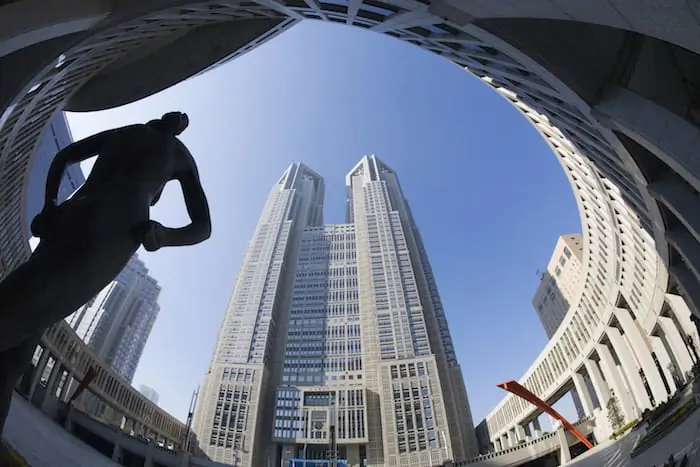 Japan has long been known as a place where you could leave your wallet, phone, or laptop sitting out on a park bench and have no problem getting it back. Tokyo certainly lives up to this reputation. The Asian nation has a crime rate of just 19.38, an incredibly low homicide rate of 0.3 per 100,000 people, and an overall safety ranking of 97.14.
Japan is certainly safe for female travelers, but it is also widely believed that crimes against women are severely underreported by Japanese women in the country. Foreign women may receive some verbal harassment or uncomfortable questions, but physical attacks are extremely rare.
There were several incidents of women having their drinks spiked, as well as reports of groping on the trains in Tokyo. The groping problem received enough attention that many lines now offer all female carriages during rush hour located at the end of the train with signs in both English and Japanese.
So, while Japan is an overwhelmingly safe place, don't be lulled into a false sense of security. Take the same precautions you would anywhere else, but you should be safe to walk around on your own and explore the city. If you are concerned about your safety, the trains are not the only all-female services offered in Japan. You can find everything from overnight buses to housing accommodations strictly for female customers.
4. Taipei, Taiwan – 98.29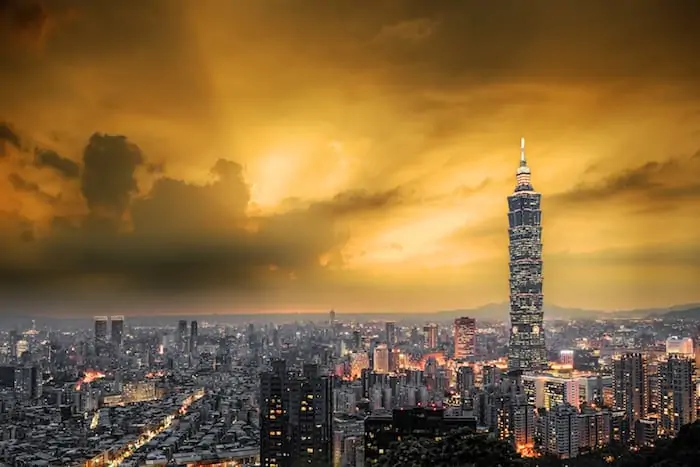 Taipei, Taiwan is not only one of the safest cities in all of Asia it's one of the safest cities in the world, especially for expats and tourists. The city is a true melting pot of cultures with people of all religious and cultural backgrounds. Crime is at a low rate of 17.38 and the city has an overall safety ranking of 98.29 – near perfect.
It is safe to walk around the city at night due to the well-lit streets and friendly people. As in Japan, there are waiting zones, carriages, and taxis designated for female passengers. Local law enforcement is also extremely helpful and will come to the aid of anyone, local or foreign. There is very little violent crime in the country and gun violence is almost non-existent.
The biggest dangers in Taiwan are actually the weather and the drivers. Since it is a tropical island, the country is vulnerable to contagious diseases, unsafe water supply, and the occasional typhoon. The drivers are a more constant threat. Many people use scooters and motorcycles that they will drive on sidewalks and back alleys, so make sure to be aware of your surroundings at all time to avoid an unfortunate accident.
While there is always the chance you may have your purse or jewelry stolen, if you stay out of seedy massage parlors, saloons, and shady nightclubs, you will avoid the biggest threats to your safety. You will be more than safe just about everywhere else.
3. Singapore, Singapore – 98.51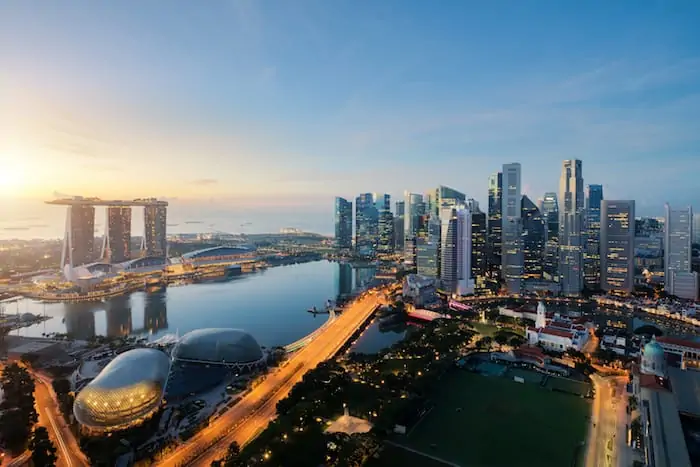 Crime rates in Singapore are low in almost every area. The country has a total crime rate ranking of 16.9 and scores a 98.51 on the Nomad Quality of Life Index safety ranking. Many female expats living and traveling through the country report feeling safe walking around the city alone after midnight and much later.
While violent crimes like murder, gang violence and theft-related violence are basically non-existent, so too are street harassment and sexual assault. The biggest crime of concern in the city-state is cybercrime and credit card fraud. Petty crime still occurs, but most long-term expats have never encountered any type of crime in the country, and those who have reported receiving prompt and efficient aid from the Singapore police.
It is no wonder that Singapore is fast gaining a reputation as one of the safest cities in the world. The real issue you should concern yourself with in Singapore is that you do not break the law yourself. Crime rates are so low largely because Singapore is very strict about crime and even more strict about enforcement of the law.
Offenses as minute as littering, chewing gum, or eating on public transportation systems can earn you large fines. You can even be jailed for failing to follow traffic rules. Drug use is an extreme offence and even smoking in public places can land you in a world of trouble. Foreigners do not receive much leniency in this regard, so if you do plan to visit Singapore, be sure to be in full compliance with the laws.
2. Munich, Germany – 98.73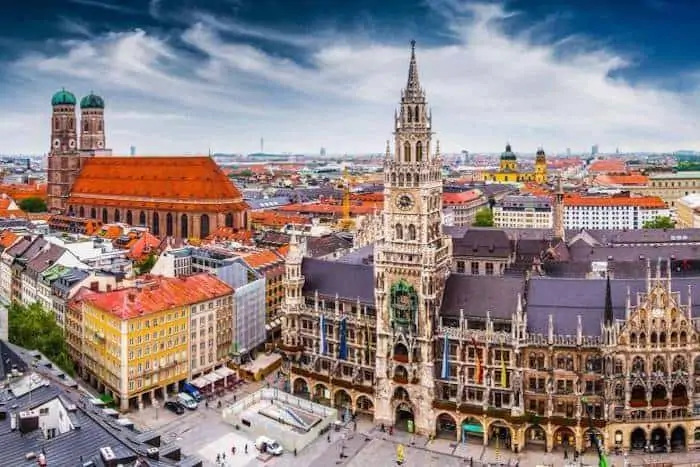 Munich is not only one of the safest cities in Europe but one of the safest in the world, coming in second on our list with a score of 98.73. Approximately 75% of people report feeling safe walking alone at night in Munich, the city's crime rate is just 16.4%, and Germany as a whole has a homicide rate of just 0.5 for every 100,000 people.
The risk of pick-pocketing in Munich is higher than other types of crime, but if you can manage to avoid the Main Station after dark, you can avert most problems. It is legal to drink outside, so there is also a chance female travelers could receive some verbal harassment, especially if you go for a stroll after dark.
Other than that, Munich is a very safe city for tourists, expats, and locals. There are many great sites to check out in the area, making it a great place for female solo travelers who want to get a taste of Europe without much concern for their safety.
1. Doha, Qatar – 100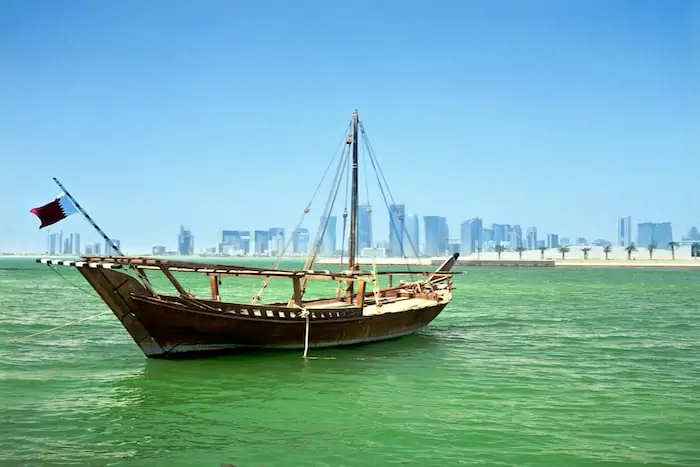 One of my favorite parts of putting together these lists is the surprise even I get when a country you never would have considered to make the list at all takes the number one spot.
This was the case for Doha, Qatar on the Nomad Quality of Life Index safety ranking. With a crime rate of just 15.87, Doha wins the spot as the safest city in the world with a perfect score of 100.
The perfect score does not mean that Doha is free of crime or that it is the perfect place for the female traveler. Verbal harassment is commonplace and can even be a bit overwhelming here. For the most part, however, the harassment involves horn honking, cat-calling, and whistling as you walk by – nothing life-threatening.
Beyond this, women should have no fear traveling to this small Middle Eastern country. Qatar has made monumental efforts to earn its place on the world stage, from securing the rights to the 2022 World Cup to lining up a long list of cultural and sporting events. All of this has contributed to their continued efforts to maintain a sparkly clean reputation.
As a Middle Eastern country, the same rules that applied in Dubai about covering your shoulders, knees and neckline still apply. While you are also allowed to drive here, you should take some precautions with driving and taxis due to the city's crazy drivers. Most everyone speaks English so it is very easy to communicate and get around the city if you need directions.
While it may not be the perfect place, the fact that Qatar takes the top spot is just another reason to disregard the "CNN effect" and stop believing that the Middle East automatically means violence and repression for anyone who steps foot in the region. Qatar, especially, aims to lead the Middle East in social development and change, so if you're looking for a forward-thinking country in the Middle East where you can experience the culture, Doha could be the perfect place for your solo adventures.
Honorable mention
If you would like a few more options for safe travel destinations, here are the other countries from our list with a safety ranking above 90.
Tallinn, Estonia – 91.36
Tallinn has a crime rate of just 21.37 and 67% of folks feel safe walking alone at night.
Vienna, Austria, 91.53
Vienna's crime rate is only 21.09, but the more impressive statistic is that 81% of people say they feel safe walking alone after dark. Only Tbilisi, Georgia tops this percentage. Vienna also has a low homicide rate of 0.4 homicides per 100,000 people.
Warsaw Poland – 91.96
Although still low, Warsaw has a higher crime rate of 26.3. As a whole, Poland is still one of the safest countries in the world and a great option for female travelers.