Last updated July 21, 2017
Dateline: London, United Kingdom
European passports are some of the most coveted second passports in the world. The good news is that many European countries offer investor residency programs to allow investors and entrepreneurs the opportunity to work toward a second citizenship in Europe in as little as five years.
Having an EU passport offers benefits most other developed countries can't offer:
Citizenship in one EU country allows freedom of movement across all 28 countries, from the United Kingdom to Bulgaria
European citizens enjoy free or nearly free higher education at Europe's universities
The best European citizenships have a more favorable image than countries like the United States and Australia
No European country offers citizenship-based taxation, although Hungary has done so in some circumstances in the past.
We frequently discuss the myriad of ways to obtain residency: starting a business, working as a highly-skilled employee, or even attending school.
However, perhaps the most low-risk way for a person of means to work toward European citizenship is as an investor in real estate.
Europe is actually one of my favorite places to invest in real estate now. Foreign real estate, on the whole, is an excellent asset class for its appreciation, currency diversification, and asset protection benefits. And Europe has some of the most undervalued property in the world right now.
For all of the talk about crisis investing in places like Russia or Myanmar, Europe has been so badly hit in some places that some properties are practically dirt cheap. One of my friends recently told me about a property on Sicily for $30,000.
There are several European countries that offer second residency to foreigners who wish to move there or simply work toward a second passport. It's even possible to obtain a European residency without relocating.
Here are the most popular options:
1. Portugal
Investment: €500,000
At the peak of the global recession, Portugal decided to open its doors to Chinese and Arab world immigrants in an effort to save its falling real estate market. The result was Portugal's Golden Visa program under which any non-EU citizen can obtain Portuguese residency by investing in real estate valued at 500,000 euros or more.
The program worked: real estate prices in Portugal went up more than 80% in a matter of years, showing the more solid fundamentals in Portugal compared to neighboring Spain.
Portugal's residency program is unique in several ways. First of all, there is no requirement to purchase only property; you can purchase as few or as many properties as you want, provided you hit the 500,000 Euro threshold. That means you can buy a luxury villa overlooking the sea, or ten small studio apartments in an up-and-coming neighborhood in Lisbon.
The Golden Visa program is also unique in that it has very easy physical presence requirements. To maintain your second residence, you must spend a mere seven days in Portugal the first year and fourteen days each subsequent year. After six years of residency, you may apply for Portuguese citizenship WITHOUT obtaining permanent residency status first.
The end result is that the Golden Visa program allows you to obtain citizenship in the European Union with zero or minimal tax hassles and no need to relocate.
2. Ireland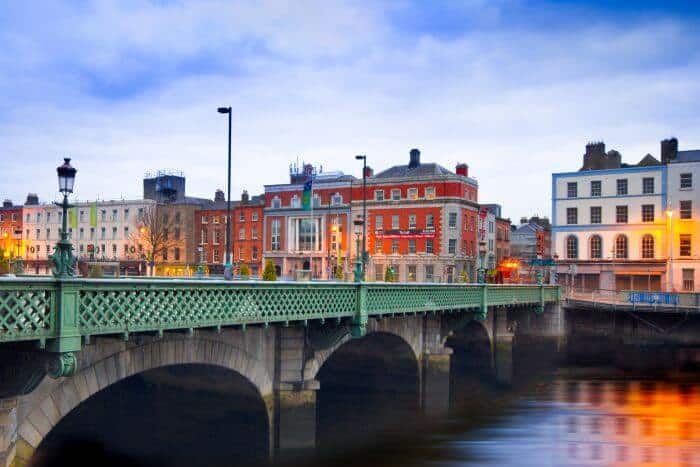 Investment: €950,000
One of my favorite countries in Europe, and an easy country for English speakers to adapt to, Ireland has a long tradition of allowing immigration. It also has a long history of its youth emigrating to find work overseas. The joke in Dublin is that Ireland's biggest export is people.
However, Ireland is a great place to live and offers one of the world's best and most respected passports, which you can obtain after five years of actual residence. To obtain temporary residence in Ireland, foreigners must make an investment of €950,000 in a hybrid of government bonds and real estate for their personal use, of which €450,000 should be invested in real estate.
There are a number of other options to obtain Irish investor residency, but real estate is among the most popular, even now that Ireland's property market has somewhat recovered from the gutter.
Ireland is definitely more of an option for an investor who actually wants to live there, although there is no requirement to do so. The real estate program is designed for the purchase of an expensive single-family home. After five years of living in Ireland, you may apply for naturalization. You should expect to make Ireland your tax domicile before applying.
3. Latvia
Investment: €250,000
In the late 2000s, Latvia was mired in bad press in the midst of a global recession that hit Eastern Europe hard. The government responded by allowing foreigners — namely wealthy Russians living the next country over — to purchase real estate in Latvia and enjoy residence privileges.
The government was so open to foreign investment that the fee to process an investor residency application was barely $100. Times have changed (that government fee is now about $28,000), and Latvia is now the most livable of the fast-growing, business-friendly Baltic states. It also offers the cheapest investor visa program in all of Europe.
For a mere 250,000 Euros invested in Latvian real estate, non-EU citizens can obtain Latvian residency. The visa starts out as a temporary residence permit that must be renewed annually for five years. If you spend the majority of your time in Latvia — and subject yourself to taxation there — you can apply for permanent residency after five years and citizenship after another five.
Latvia is not a great choice for investors seeking a second citizenship without actually living in Europe, but it does make a good residency for those who want the privileges of European residency without actually making it their home. As long as you maintain your property, you can maintain your residency.
4. Spain
Investment: €500,000
Spain introduced its own Golden Visa program to compete with that of Portugal, but it hasn't been as popular, nor is it as worthy a contender for obtaining a second passport.
Just like Portugal, the Spain Golden Visa program requires immigrants to purchase real estate valued at one half million Euros. Most investors use the program to invest in luxury property, although those numbers are a bit skewed because few passport seekers have any interest in the program to begin with.
Here's why: becoming a Spanish citizen requires ten years of residence before applying. From there, the process can easily take two years. The Spanish Golden Visa program does not offer a "fast track" option for investors; it takes a high-value investor the same long ten year period as it does his or her maid on a work visa.
Spain is very fickle about handing out its citizenship, and those investors who choose to actually live in their properties for six months or more a year enjoy near-US levels of tax compliance burdens; not exactly the reason to get a second residency.
5. Greece
Investment: €250,000
Tied with Latvia as Europe's cheapest real estate investor visa option, Greece offers all of the charm of sky-high property taxes and corrupt politicians with none of the benefits of future citizenship.
Greece has become rather isolated in recent years, not just in its astonishing attempts to default on its debt or demand Germany pay its creditors for it as retribution for World War II. Greece has also implemented a policy that disallows foreigners of non-Greek origin from becoming naturalized citizens, leaving Greece's "Golden Visa" program as a pure residency play.
Residency without the prospect of future citizenship could be of use to some people, but I doubt many investors will find the prospect of property taxes increasing 700% to be worth it. If there was ever a country to vow "never to buy a green banana in", Greece would be toward the top of the list. Stick to other options if you want to move to Europe.
6. Cyprus
Investment: €300,000
If you're looking for Mediterranean island living and actually want a base to live in, my money and I would choose Cyprus over Greece any day. While Cyprus is not part of the Schengen Area, it is part of the European Union and has become known for its quasi-favorable tax climate. That makes it particularly of interest to European citizens seeking a tax-friendly home base.
However, you can also qualify for residency with a real estate investment. Cyprus residency rules require you to purchase new property, which means resale options are not possible. The minimum investment is a rather reasonable €300,000, however, you must also pay VAT. If you plan to spend time in Cyprus and not rent your property, the VAT is 5%; otherwise, it is 19%. Paying €57,000 in what is essentially a stamp duty is far less appealing to me.
To claim a residence card, you must also place a three-year, €30,000 term deposit in a Cyprus bank, and prove an annual income of €30,000 if you're single.
The best way to get started
Investor visa programs change all the time; as mentioned above, the cost of a Latvian visa increased about 27,000% overnight several years ago.
It's true that more countries in Europe and around the world are offering residence permits to foreign investors, but prices and requirements are increasing, even with increased supply. With so many people in the Middle East, Russia, and East Asia seeking their "get out of jail free card", I expect most European countries to raise the stakes on immigration and naturalization in the next few years.
If you'd like to learn more about fast track second citizenship programs, you can learn about second passports here.
Last updated: Aug 6, 2021 at 10:39PM