A budget-friendly country in the Baltics might not be the place that you, a high-net-worth individual, might want to live in. But it would be foolish to give Latvia a miss when it comes to investing.
The country is full of great real estate deals with some of the biggest growth potential in Europe right now.
But one of the main reasons foreigners have flocked to Latvia this past decade – and Riga if we're being specific – is because of its residence by investment program.
It's no secret that you can get easy European residence when you invest at least €250,000 in Latvian real estate. A lot of Russians and Asian citizens have taken advantage of this already.
Investing in real estate in Latvia is an extremely efficient way to get cheap European residence, which comes with the benefit of visa-free travel all across the Schengen area (sans the UK).
Plus, you can kill two birds with one stone in Latvia: not only will you qualify to become a resident of the European Union (and potentially even get paid to do it) but you'll also diversify your wealth portfolio with an investment in this part of the world.
Curious to find out more? In this article, we'll tell you why Riga is an interesting proposition, why you should get ready to pounce on its deals right now, and how exactly you can do it.
Why Invest in Real Estate in Riga?
Riga – Latvia's charming capital that was once only known for rowdy British stag dos – has grown in leaps and bounds in recent decades.
Appreciated as the regional center for business, finance, and culture, it's THE place to invest if you're thinking of diversifying your portfolio.
Sure, if you want to live in Latvia or at least visit it annually, you could get a cute summer house in the nearby resort of Jurmala that sits on the shores of the Baltic sea. Or you could get yourself a cabin in the pristine woods to hide away from the world when the next pandemic hits.
But when you look at things purely from a return on investment point of view, there is no better choice than Riga.
We always recommend putting money into the capital city when it comes to real estate investments in lesser-known countries, such as Latvia. That's because capitals usually have the highest population, host all of the government offices, and simply are more lively in terms of economic activity.
Capital cities like Riga have built-in potential that other and smaller cities lack.
A considerable number of investors have recognized this already.
While there are no exact numbers on how many people have applied for the Latvian Golden visa that grants residence to individuals in exchange for buying real estate (other options are also available, albeit not as popular), the country raises around €30-40 million annually.
No small feat for a country this size.
In fact, over 70% of all property transactions in Latvia are now completed by foreigners. These are mainly Russian, Chinese, Vietnamese, Ukrainian, and Uzbek nationals.
You could say that the foreign investment activity has been heating up for a while in Latvia.
Most of that giant sum goes towards buying property in Riga because, given the minimum investment sum of a quarter of a million euros and the requirement to buy one property only, there probably isn't another city in Latvia that has a supply of such properties.
You'll get quite a lot of bang for your buck in Riga for that amount. You're probably looking at a higher-end apartment of three or four rooms.
But it's not 'free for all' either. The influx of foreign investors, the majority of whom are looking to invest in top-quality apartments and homes, has created pockets of real estate in Riga that very few Latvians could ever afford.
Living in Riga, Latvia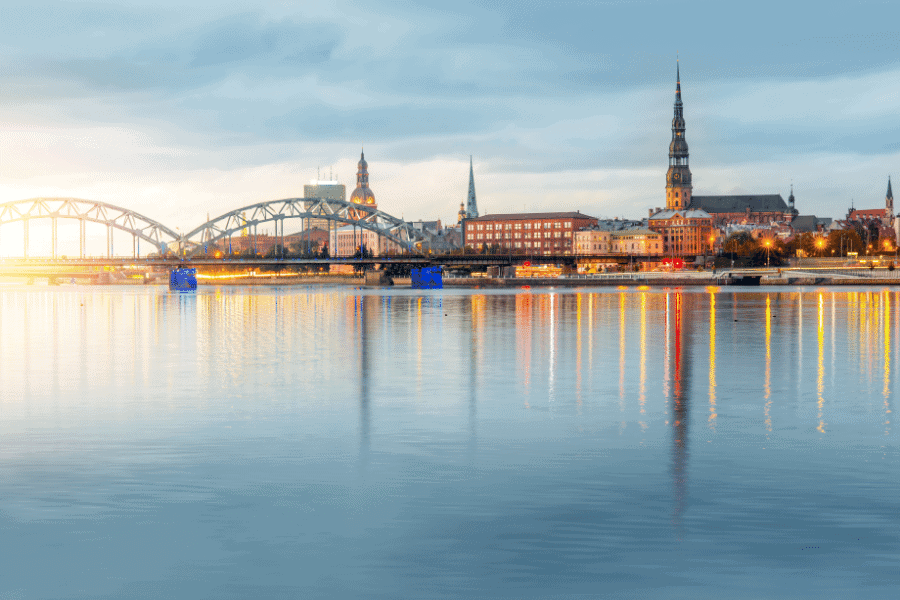 Are you a hands-on investor? How would you like to spend your summers in Northern Europe and revel in all that it has to offer?
Living in Riga is great. It's easily our founder Andrew's favorite place to live in the Baltic states.
Not only is Riga relatively low-cost (can't beat a five euro business lunch), but it's also teeming with cultural and social life.
If you consider yourself quite the socialite, you'll find yourself right at home in Riga's many cafes, bars, and chic rooftop terraces.
And if you ever feel like escaping the city, over half of the country is forest. That's not to mention the Baltic sea and the vast golden sand beaches which are but a 30-minute drive away.
Add to that, medieval villages, castles, numerous national parks, and the neighboring countries of Estonia and Lithuania that are a relatively quick drive away, and you'll be busy day-tripping for a long time.
There is one thing, however, that not everyone will appreciate about Latvia: there is considerable Russian influence. The countries do share a border after all.
Nearly 30% of the country's population is Russian-speaking and the popular seaside resort of Jurmala is almost exclusively Russian in summer.
Apart from some negative sentiment, there is no need to worry about any kind of Russian incursion into Latvia. After all, Latvia is a long-standing member of not just the EU and Schengen, but of NATO too.
Why Invest in Latvian Real Estate Now?
The most successful investors are those who can read the signs of the market and make good decisions based on them.
Here are the main signs that we've observed that tell us that Riga is one of the top European locations to invest in right now.
Plenty of good deals
Western Europe is on its last leg, not only in terms of all-reaching legislation and incredibly high rates of tax but also in terms of potential investment properties. The good stuff was swept up a long time ago. Now, you must turn to new locales for bigger growth potential.
Sure, it would've been ideal to invest in real estate in Latvia before it attained the euro, but there are plenty of good deals still left, waiting for the right buyer to turn up.
After all, Latvia suffered one of the worst blows to its economy in the world during the financial crisis of 2009, which caused real estate prices to hit rock-bottom. Even today, you can buy property in Riga at around $1,500-$1,800 per square meter.
A 4% annual rental yield
No matter where you buy in Riga – the trendy Miera Iela or the Vecriga (old town), you can expect an average 4% annual yield on your rental.
Of course, some investors can suss out a better deal than others. But that takes intuition and it also depends on sheer luck. If you ballpark your annual yield at 4%, you can't go wrong.
Smaller apartments will have a higher yield than bigger ones, simply because the demand for them is higher.
Prices are on the up
The demand for real estate has taken off recently, with property prices growing 11% year-on-year – the highest in all of the EU. As the Latvian economy grows and matures, the real estate prices are only ever going to go up.
Even if you decide to liquidate your investment a few years down the line, chances are you are going to turn a profit. As more tourists and expats discover Riga, there will always be demand for central apartments in this regional hub of a city.
The Best Neighborhoods in Riga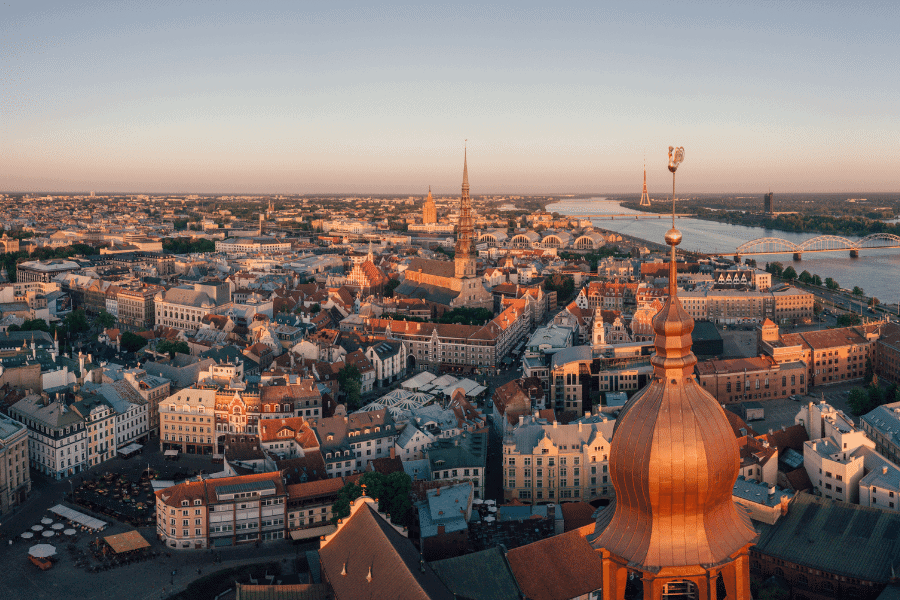 Riga is the biggest city of Latvia, with a population of approximately 630,000 people and a handful of neighborhoods that could be of interest to foreign investors.
One thing to keep in mind is that there aren't really any unsafe areas in Riga. Petty crime is actually more prevalent in the very heart of the city due to tourism. But Riga is not like Bogota, where you must avoid certain neighborhoods due to safety concerns.
So, without further ado, where do we recommend buying real estate in Riga?
Vecriga. The obvious choice, the historical center of Riga is a UNESCO World Heritage site. It's probably the best neighborhood to buy if you're more risk-averse and want your property to be as liquid as possible, in case you need to sell. This is a charming area, with church bell towers dotting the skyline, and cobbled stone streets lined with charming cafes as well as all-night joints – whichever floats your boat. Vecriga will command the highest short-term and long-term rents in Riga.
Centrs.This is an area that's walking distance from Riga's old town. The Freedom Monument is located here, together with a potpourri of Art Nouveau buildings, popular museums, and cathedrals too. Elizabetas ielas is the main street of Centrs and is a great area to invest in due to its popularity with middle and upper-class professionals, as well as young families.
Miera Iela. A trendy area in the city of Riga, Miela Iela is a place where the artsy and the bohemian type intermingle. In other words, it's the hipster area of town with design shops, galleries, coffee roasting cafes, and lots of interesting real estate propositions. Running from the Centrs to the neighborhood of Brasa, it could be a good proposition for those who have a real intuition for renovating older and historical properties.
Agneskalns. We're taking you across the Daugava river to the neighborhood of Agneskalns. This is an old neighborhood that was mostly planned and built in the 19th century. That's why it has tons of charm, thanks to its colorful wooden houses. Of course, those don't necessarily make for the best investments, but there are many apartment buildings that you'll be able to choose from. The main draw to Agneskalns is its lively market, so you get a healthy mix of demographics – from families to retirees.
There are many other neighborhoods in Riga too. However, the further you go from the old town, the more Soviet-esque things become.
And you certainly won't find properties in the ballpark of €250,000 – a sum that you need to pay to be eligible for Latvian residence (more on this below).
How to Invest in Latvian Real Estate?
The process of buying residential real estate in Latvia is the epitome of simplicity and the entire process will take just a few weeks of your time.
There are no restrictions on buying real estate if you're a foreign national. You can acquire not just apartments but also houses, farms, and other residential properties.
But you must keep in mind that while foreigners can freely buy movable property in Latvia, they cannot own the land on which it stands.
A local municipality could grant you permission to do so, but mostly, foreigners are only allowed to lease the land for 99 years.
Formalities aside, the real estate prices in Riga hover at around $,1500 per square meter, on average.
Of course, nothing is better than visiting Riga in person to get up close and personal with your investment.
However, if you don't have the time or would rather not travel to Latvia, all of the paperwork and legal procedures can also be taken care of by granting power of attorney to someone like a local lawyer.
Step 1: Finding a Property
You will need to have a local real estate agent that can take your requirements and work with you to deliver a good deal.
Alternatively, you can choose to work with the Nomad Capitalist team – our main goal is to find you a good deal, not an 'expat-friendly' (and overpriced) deal like many of the local agents specialized in dealing with English speakers will get you.
First, determine what your budget is and what kind of a property you want to invest in:
Go for an apartment in the old town if you want to capitalize on the vibrant Airbnb market and rent to ever-increasing numbers of tourists

Choose a 2-3 bedroom apartment in the center of town if you see yourself renting to professionals for longer-term

Travel to Riga and choose a neighborhood and a property you love if you're going to be living there yourself (even if it's just for a part of the year as part of a

Trifecta strategy

)
If you have specific needs and wants, we can work those out together and give you recommendations as to which type of property and where you should be looking to buy.
Once you have narrowed your options down, go view them and choose which one you would like to buy.
You can skip this step if you're buying your property remotely.
Step 2: Preparing to Buy
Your agent will check the property out in terms of any tax or fee arrears, and check that the property is registered with the local Land Registry.
You will then negotiate and agree on the price of the property. It's usual to see a 3-7% discount on the advertised price.
You can either conduct the negotiation yourself if language is no barrier, but it's usually a part that's handled by the real estate agents by way of making and accepting or rejecting offers.
At this point, nothing is set in stone and both parties can still change their minds.
Step 3: Drawing up the Preliminary Sales Contract
This is where your real estate investment in Riga gets real. You will be signing a preliminary sales contract and paying the agreed deposit.
Usually, the down payment required in Latvia is 10-15% of the transactional value of the property. This will be held in an escrow account of the notary.
The contract will also define what would happen if either party pulled out of the deal. Make sure the terms sound acceptable to you.
Step 4: Signing of the Act of Purchase
This is the final formal step in finalizing your real estate purchase in Latvia and luckily it's a quick one.
The Act of Purchase, or the Contract of Purchase, will be drawn up by the lawyer of the buyer and then signed by both parties in a notary in Riga. It can also be done in any Latvian embassy in the world.
The notary will charge you a couple of hundred euros for the privilege.
Step 5: Registering your property and paying fees
You will need to register your real estate with the Land Registry, which takes quite a lot of paperwork and approximately two weeks to receive proof of your ownership.
In order to do that, however, all of the fees must be paid and proof of payment must be provided to the Land Registry.
Here's a quick list:
Stamp duty of 2% – this is the largest sum that you as a buyer will have to pay. This will be 2% of the purchase price that was specified in the Act of Purchase. This tax is capped at

€40,000.

You will also need to register your property's title and get a receipt of registration certificate. It's advisable to hire a lawyer or a notary for this, and the total fees for both the registration and the professional help will usually run at 0.3-0.5%.

A VAT of 21% will be payable if you're buying a newly built apartment.
NOTE: If you're concerned about getting Latvian residence, there are a few more requirements to keep in mind. Not only does the transactional value have to be at least €250,000, but its cadastral value should be no less than €80,000. An additional payment to the state budget – aka a government fee – worth 5% of the property's transactional value is also payable. That's an additional €20,000 at the very least.
Maintaining Your Riga Real Estate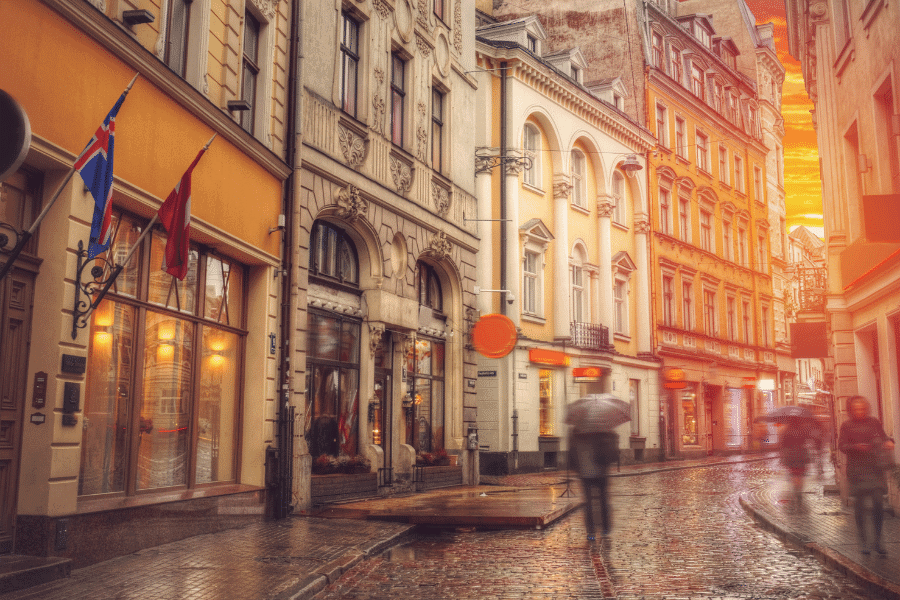 There really isn't much to maintaining your property in Riga that would be different from anywhere else in Europe.
There will be your utility bills which consist of a recurring fee, as well as a metered usage fee. In other words, even if you're not using the electricity or the water, you will have to pay a set amount per month.
All of your utility charges should only ever cost you a couple of hundred euros if you're using the space. It's normal for tenants to pay all utility bills themselves if you're renting your property long-term.
And finally, you will be liable to pay property tax at rates which are the highest among all the Baltic countries.
On average, property owners in Latvia pay property tax that equals 1.5% of the cadastral value of their property. However, if yours is a residential property that you aren't using for commercial purposes, your rate is more likely to be 0.2%-0.6%.
It's definitely not like the property tax in the United States or in Western Europe where they'll make you pay through the nose just because you own real estate.
The Challenges of Buying Latvian Real Estate
There is no scarier feeling than when you're about to wire funds to a foreign country, possibly somewhere you've never been before.
No matter how solid your research or how professional your real estate agent or advisor, there will be a moment of uncertainty – fear sets in.
And while investing in Asia or Latin America has its nuances and a lot of cultural considerations (for instance, no escrow in Colombia can feel terrifying), Latvia is a different ballgame.
There is nothing that you need to worry about when it comes to buying Latvian real estate. The entire process is fully regulated and handled by notaries, lawyers, and government officials.
There is pretty much no room for scams or mishaps.
Yet, if we had to give you one thing, we would say that the biggest challenge of buying real estate in Latvia is not speaking the language.
Even though you can easily circumvent this issue by working with the right professionals, there will always be some meaning lost in translation.
If you invest abroad, you've probably already come to terms with this and it won't pose a major challenge at all.
Obtaining Residence and Citizenship in Latvia
Have you always wanted to freely travel across the Schengen area?
You got it – simply invest in real estate in Latvia.
And if you were already planning to buy, then the residence permit will be a nice little perk.
One of the biggest benefits of purchasing real estate in Latvia is that you'll be able to participate in the Latvian Golden visa program, which grants its non-EEA investors a residence permit.
There are a few boxes you need to tick:
Spend at least

€250,000 on real estate in Latvia

It must be a single property if you buy in Riga or the seaside resort of Jurmala (it can be two properties if buying elsewhere)
Be a non-EEA citizen, be of good character and health, and have no criminal record
If you can play by their rules, you could get your European residence permit in just two to three months.
Even better – you won't have to live in Riga to retain your residence but will be expected to travel to the country at least once a year if you wish to retain your resident status.
Finally, while there aren't many cases of resident investors obtaining Latvian citizenship (mainly because the Latvian Golden visa program is still quite 'young'), technically, you should be able to get your hands on a Latvian passport in ten years' time of being a resident.
Needless to say, a European passport is one of the most valuable travel documents in the world. Currently, the Latvian passport is the 12th most powerful in the world, giving you the right to live and work anywhere in the European Union.
Buying Real Estate in Riga – FAQs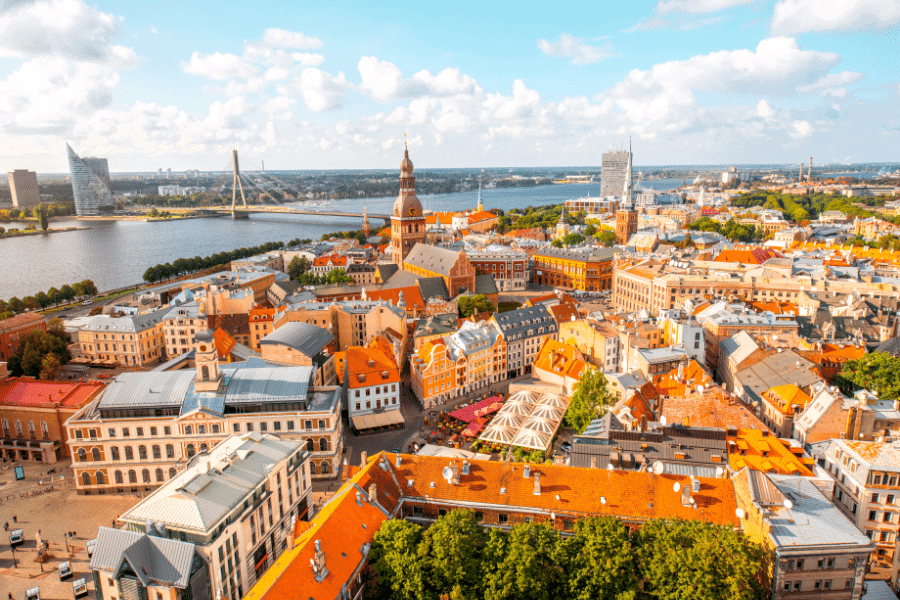 Should I invest in Latvia?
Yes. The Nomad Capitalist team thinks that Latvia – and Riga specifically – has great investment potential. And while it's already been discovered by some foreigners, there are still plenty of good deals to be found in Riga, the country's capital. Apartments for approximately $1,500-$1,800 per square meter are available, and the average annual yield is 4%. It's not a get rich fast scheme, but it's a great way to diversify your portfolio.
Is it easy to invest in Riga's real estate?
The Latvian government is extremely foreign-capital orientated, so they've made it truly easy to invest in real estate in Riga. All you need to do is find a suitable property, have enough funds to purchase it, go through the legal processes, and voila. There is nothing standing between you and your Latvian real estate investment.
How much do I need to invest in Riga to get a residence?
A minimum amount of €250,000 must be invested in a single property (if in Riga or Jurmala) to become eligible for residence by investment in Latvia. You can, of course, invest more. If you want to purchase more than one property, it will have to be in other parts of Latvia.
Which neighborhood in Riga should I invest in real estate?
Most foreign investors will go for Vecriga or Centrs when choosing which neighborhood to purchase their property. Both are the most central areas of the city: Vecriga is the historical center and has a lot of potential for short-term tourist rentals, and Centrs is where young professionals choose to live near the city offices – long-term rental potential guaranteed.
What's small, investor-friendly, and has plenty of great real estate deals?
The Republic of Latvia.
Sure, a Baltic country in northern Europe isn't everyone's cup of tea (the Greek charm or the Portuguese hospitality cannot be beat). But some investors could find it a stable, comfortable, and affordable place to be in the world right now.
The main benefits of investing in real estate in Riga are:
A high-growth investment in the European Union

The cheapest way to obtain European residence

Your residence could eventually lead to a passport in 10 years' time

A relatively low cost of living if you decide to move to Riga

Visa-free access to the entire Schengen area

Your entire family can get residence in Latvia based on your real estate investment

No physical residence requirement (although you'll have to visit one time each year)
So, if you're the kind of investor who loves nothing more than being early to the real estate investment party, there's still time.
As the capital of Latvia, Riga offers all the charm and benefits of Europe but at half the price of its western counterparts. The important thing is that you don't work with the local agents who have 'specialized' in investment real estate and the Golden visa program and will cost you a premium.
Here at Nomad Capitalist, we have a boots-on-the-ground perspective of Riga's real estate market and can work with you to uncover the best deal and the best property for you.
Let's talk about how you can benefit the most from your next investment. Your move.