This article looks at moving to Grenada, how to do it, what things you need to consider, and what the pros and cons of living in Grenada are.
At Nomad Capitalist, we help seven to eight-figure entrepreneurs, business investors, and other successful professionals realize their dream offshore life.
If you're looking to move offshore, legally reduce your taxes and enjoy a greater quality of life with more travel freedoms and investment opportunities, talk to our team today.
Looking For A Change?
Many of our clients want to leave their country, either by means of renunciation or simply with the intention of never returning, and most of their reasons revolve around the basic needs and preferences of a Nomad Capitalist.
Here are some of the reasons why most of our clients move to other countries:
Sense of Belonging
We all feel a connection to our home country. Despite its flaws, we still hope that it can thrive and get better.
There are things that we are proud of and then there are things with which we disagree, still, the love remains intact, and with it, our resolution to keep living there.
But just like most things, countries change, laws overturn, policies shift, and before we know it, we find ourselves in a country that doesn't seem like "ours" anymore.
The definition of belonging varies from person to person, but when you don't connect to a country on that level anymore, people with the means to do so, generally, want to move out.
Tax Exemptions
A big part of our service revolves around developing favorable tax strategies for our clients and picking out tax-free or tax-friendly countries for them, allowing them to invest or spend more of their wealth where they truly want to.
Many high-net-worth individuals give away a huge fraction of their wealth in taxes each year, but the right country with the right plan can make all the difference.
A country with a flexible tax regime is often found in the good books of all Nomad Capitalists.
Quality of Life
When your country stops providing you the quality of life you were accustomed to, people are compelled to move out to locations that offer far better.
Be it your safety, personal or financial autonomy, or freedom of expression – people want to live in a place where they can be their true selves without having to fear the consequences.
Although not exhaustive, the above-mentioned points are the major reasons why successful professionals choose to move to other countries.
Now that we are clear on the reasoning behind moving out, let's talk about the biggest piece in the puzzle of "relocation", i.e. which country to move to.
Once you've made the decision to move out, the world is your oyster, or at least that's what some people would have you believe.
If you want to travel like a nomad, sure, given a strong passport, you can hop from country to country living an adventurous life.
Or, you can adopt our Trifecta strategy.
But if you are not too thrilled about the idea of constantly being on the move and want to settle in one place, then you have to be far more careful about your choice of country.
Generally, for a country to be good enough to move to as a Nomad Capitalist, it has to have the following qualities:
Easy to immigrate to
Minimal cultural shock
Affordable
A country that has an easy immigration process, some sort of cultural similarity or expat community, along with a cost of living that doesn't break the bank, is usually the kind of country you should look for.
That is why we are here with one such country, that can be a haven, in every sense of the word, for the right person looking to relocate.
And that country may well be Grenada.
This article will discuss everything you need to know about moving to Grenada and how that can affect your life.
So let's start with the obvious question, why Grenada?
Why Grenada?
Grenada is a small island nation in the Caribbean, known for its natural beauty, white sandy beaches, remarkably welcoming people, and spices.
Yes, Grenada is called the spice island or the "Spice Isle" of the Caribbean, owing to its nutmeg production among other spices like cinnamon and mace.
In fact, according to the World Bank, it's the world's second-largest exporter of nutmeg.
The country also boasts the world's first underwater sculpture park.
The country comprises three main islands – Grenada, the largest, and two sister islands, Carriacou, and Petite Martinique.
There are several other smaller islands that are also part of Grenada.
So what is it about this small island nation that will make someone choose it for relocation?
There are many things that make a strong case for Grenada and spending your life there, and we will discuss all of them shortly, but one thing that will immediately hook you to the idea of a life in Grenada is its breath-taking landscape.
Grenada is a true Caribbean haven, with its 40 white sandy beaches, abundance of waterfalls, crystal clear waters, and so much more.
Thanks to its world-class beaches like Grand Anse beach, Grenada has also made it to our Nomad Beach Index for 2022.
If the ultimate Caribbean life is the goal, read ahead and find out why moving to Grenada could be the best decision you've ever made.
Moving to Grenada – All the Right Reasons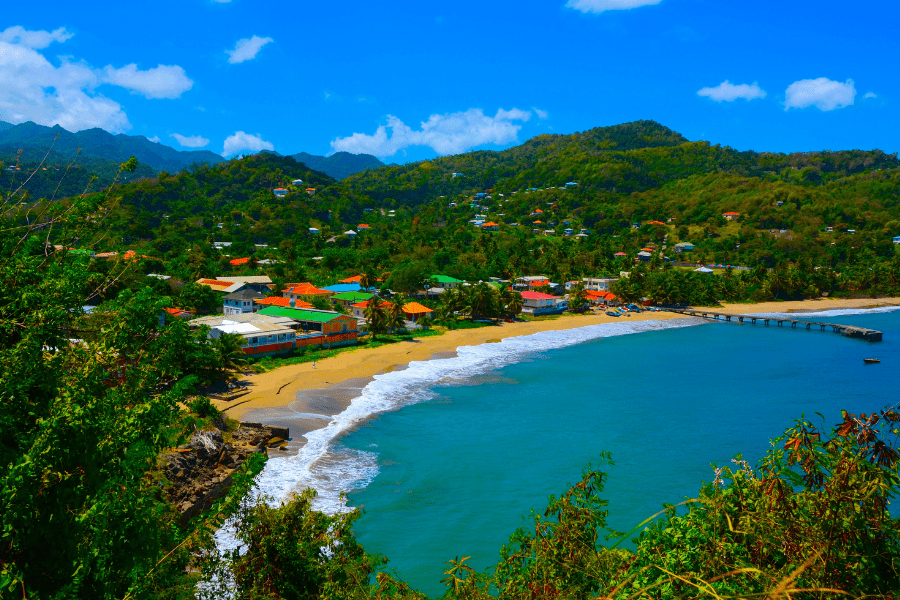 Ease of Movement
As of 2022, the Grenada passport allows visa-free or visa-on-arrival access to 135 countries around the world.
Here are a couple of distinct advantages that the Grenadian passport will give you:
Visa-free access to China and easy access to USA E2 Investor Visa.
China has the world's largest economy on the basis of Purchasing Power Parity, and the second largest when we consider GDP.
So if you are a business investor or global entrepreneur striving for non-restricted access to China, a Grenadian passport might just be the opportunity you were looking for.
The same can be said about the USA E2 Investor Visa since citizens of non-treaty countries have a pretty hard time acquiring it.
Thanks to the treaty that Grenada has signed with the USA, the citizens of Grenada can enter, work, and invest in the United States without any considerable restrictions.
You'll also be pleased to know that while Grenada is a small secluded haven, it puts its best foot forward when it comes to easy access to the world.
The Maurice Bishop International Airport runs direct flights to Miami, New York, Toronto, London, Frankfurt, the Virgin Islands, and the Caribbean.
So, for people who are still getting used to the "island time", home is just a flight or two away.
With visa-free access to the EU, China, and Russia, and direct flights to major capitals around the world, getting Grenada's citizenship seems like a pretty viable option for people who cannot compromise on their freedom of movement.
Cost of Living in Grenada
Don't expect day-to-day living in Grenada to be inexpensive, especially if you are a fan of imported products and high-end accommodations.
On the other hand, you will find that groceries, local food, education, and primary healthcare are pretty affordable.
The cost of renting or buying property varies a lot between the capital city of St George's and other islands in Grenada.
The country has an abundance of luxury villas and premium bungalows for high-net-worth individuals and their families.
There's also no shortage of beach-side apartments.
The major financial relief comes from the favorable territorial tax regime in Grenada.
Overall, compared to the US and UK, the cost of living is still largely inexpensive.
Favorable Tax Incentives
Right off the bat, Grenada has no capital gains tax, no inheritance tax, and no tax on worldwide income.
That, on top of the fact that Grenada has a territorial tax regime and does not tax foreign income, is a huge perk for business investors and entrepreneurs looking to live in Grenada but operating business elsewhere.
Locally sourced income is taxed at 10% or 28%, depending on the amount of the income, while the corporate tax is 28%.
Whether you are looking to establish a residency in Grenada or go for Grenadian citizenship, you will be able to benefit from the tax incentives in the region.
One of the Safest Caribbean Countries
Here, at Nomad Capitalist, we prioritize your safety.
All the real estate opportunities, tax incentives, and natural beauty won't matter if the location isn't safe.
Grenada is one such country where you won't have to worry about your safety. The crime rate is pretty low and most of it is opportunistic petty theft.
In Grenada, you can enjoy the landscape, roam the beaches, explore the rainforest, and do much more without having to worry about your well-being.
Quality Healthcare
The healthcare situation in a country is one of the major points to consider before moving there, more so, if you plan to retire there.
According to the World Health Organization (WHO), Grenada has one of the best healthcare systems in the Caribbean region.
The country has both, primary and private healthcare facilities, and thanks to the small country area, you are never too far away from a healthcare provider, making it a wonderful location for expat-senior citizens or retirees.
Primary health care is mostly free but private health insurance is strongly advised.
Booming Real Estate Investment Opportunities
All the factors mentioned above, mixed with the fact that the country allows both foreigners and citizens to buy and sell land, make Grenada an attractive investment spot for real estate investors all over the world.
Foreigners need to obtain an "Alien Landholder License" to purchase Grenadian land.
When it comes to property taxes, the citizens of Grenada have a considerable advantage, as they don't have to pay any taxes while buying property.
They also have to pay only 5% transfer tax when selling their property, while foreigners are taxed at 15%.
Breath-taking views, pristine forests, stunning beaches, welcoming people, and a seemingly unspoiled landscape are only some of the reasons why anyone would consider living in Grenada.
The official language is English, making the region quite attractive for Americans and other English-speaking people.
Now that you know some of the major benefits of moving to Grenada, let's discuss how you can make the actual move.
Moving to Grenada – Residence or Citizenship?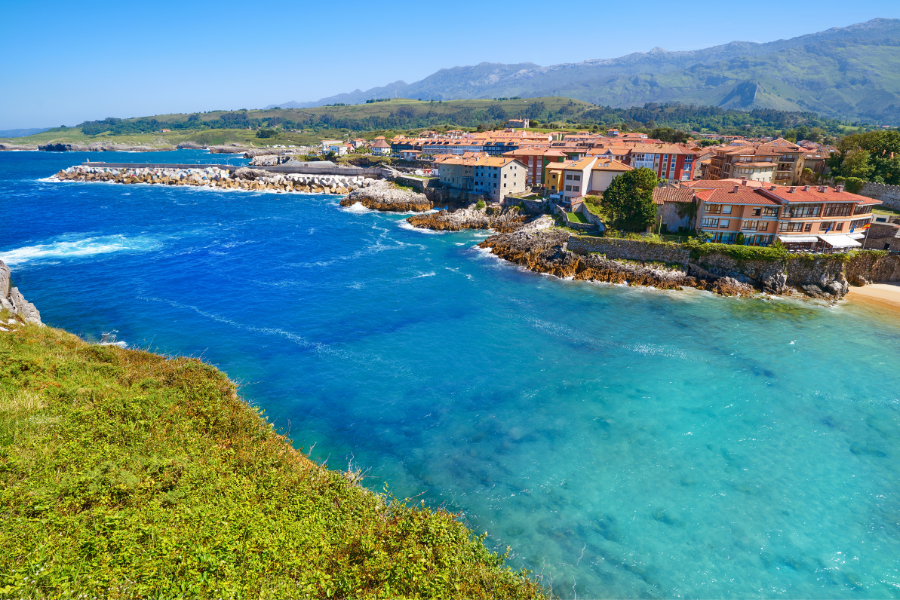 For people looking to reside or work in Grenada, the country offers a number of visas, permits, and also a citizenship by investment program.
Let's see what are your options if you plan to move to Grenada:
Grenada Permanent Residency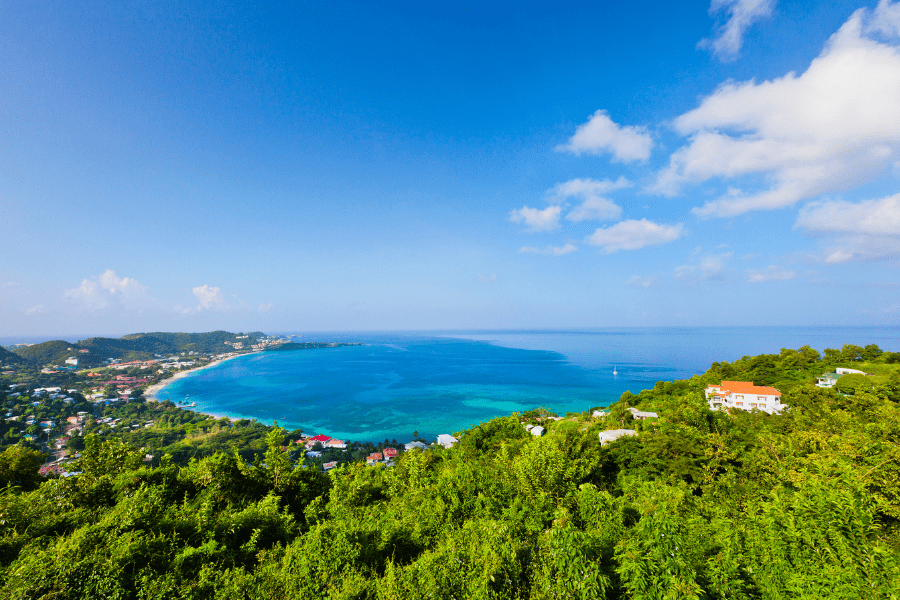 Americans can enter and stay in Grenada without a visa for 90 days, while for British citizens that duration is 6 months.
Anything longer, and you have to request an extension from the Grenada immigration department, on the basis of certain "proof" documents justifying your stay.
After legally residing in Grenada for over two years, one can apply for permanent residency.
Although, it's important to notice here that even permanent residents cannot work in Grenada without a work permit.
This is done to ensure a high employment rate for Grenadian citizens.
Grenada Citizenship by Naturalization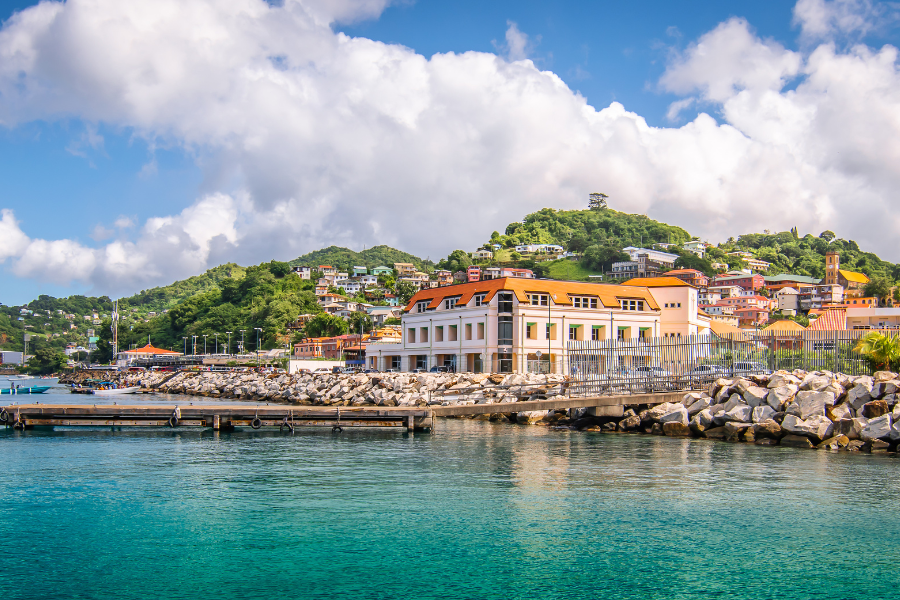 If you have been living in Grenada for seven years, including five years of permanent residency, you are eligible for Grenada citizenship by naturalization.
It's important to note here that you have to live in Grenada, continuously, for a whole year, immediately prior to your citizenship by naturalization application.
Grenada Citizenship by Investment Program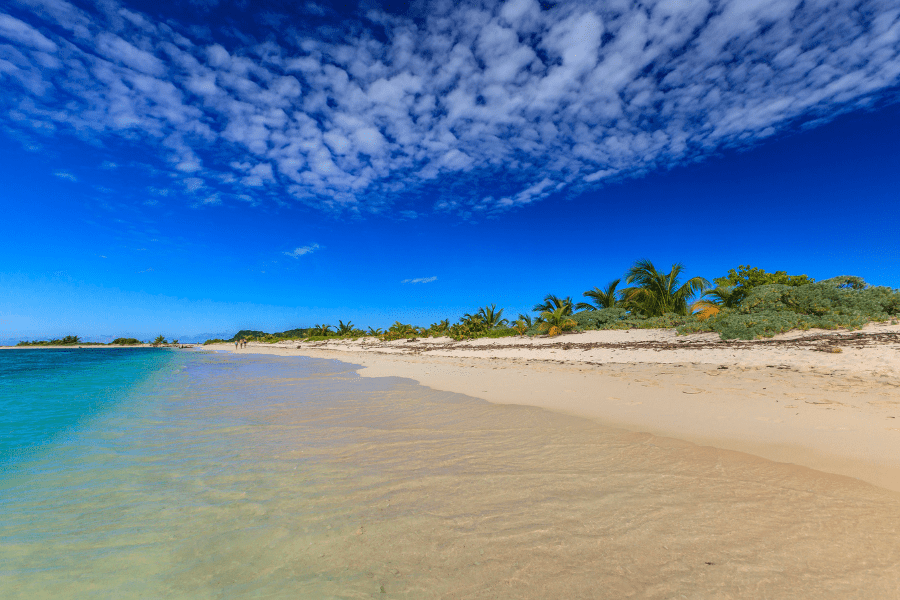 Grenada initially started its citizenship by investment program in 1997 but then relaunched it in 2013 with certain reforms.
Grenada citizenship by investment program offers one of the fastest routes to acquiring a passport in the Caribbean.
Let's see what the Grenadian CBI is all about.
Moving to Grenada via Grenada Citizenship by Investment Program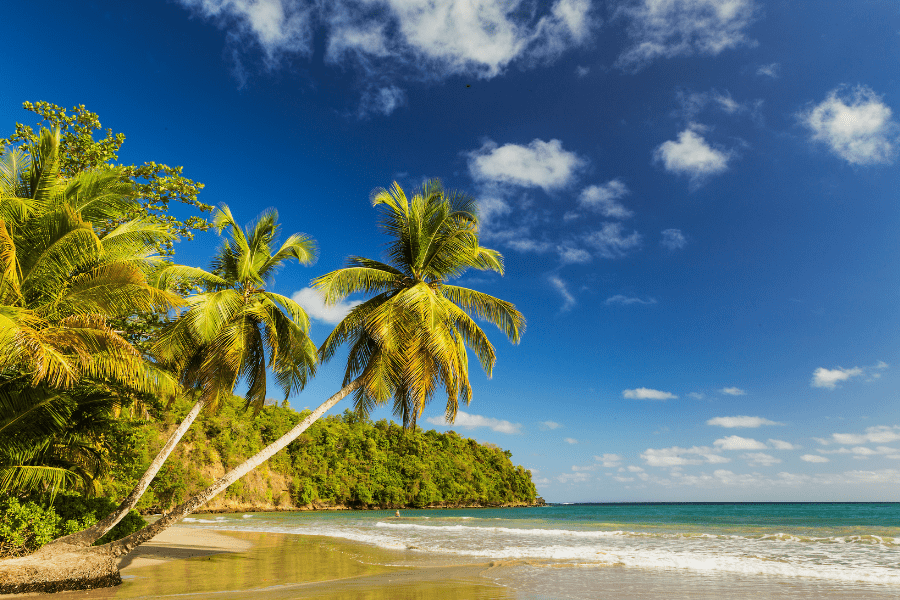 Under the Grenada CBI scheme, you can obtain a Grenadian passport through two routes – by making a one-time donation or investing in real estate.
One Time Donation to National Transformation Fund (NTF)
You can acquire Grenada citizenship by donating a one-time sum to the National Transformation Fund (NTF) which is responsible for developing and financing infrastructure projects to help the people of Grenada.
Here are the details of the amount that you have to donate, only once:
For a single applicant: $150,000
For a family of four (including the applicant, spouse, and two young children): $200,000
For additional dependants, other than the family of four, the following amount is charged per dependant:
A child: $25,000
A parent: $50,000
A sibling (unmarried, with no kids): $75,000
The donation is to be made only once, but you will not get your passport till you pay the application fee, processing fee, and due diligence.
The details of which can be found in our comprehensive guide about Grenada citizenship by investment program.
All in all, a single person choosing the donation route will pay $158,000 to the NTF, whereas a family of four (two young children) should expect to pay $214,000 minimum.
Invest in Grenada Real Estate
You can also acquire Grenada citizenship by investing in one of the pre-approved real-estate projects.
The government fees for the real estate route are considerably higher than the donation route, but you can hope to make a passive income through it by renting it out or selling it.
To retain Grenadian citizenship by the investment route, you have to hold your real estate purchase for 5 years. After that, you can sell your property, ideally at a handsome profit.
You have to make an investment of at least $220,000 to be eligible for the investment route. You will also have to pay $50,000 in administration fees.
Similar to the donation route, the application fee, processing fee, and the due diligence are also to be paid.
Things to Consider Before Moving to Grenada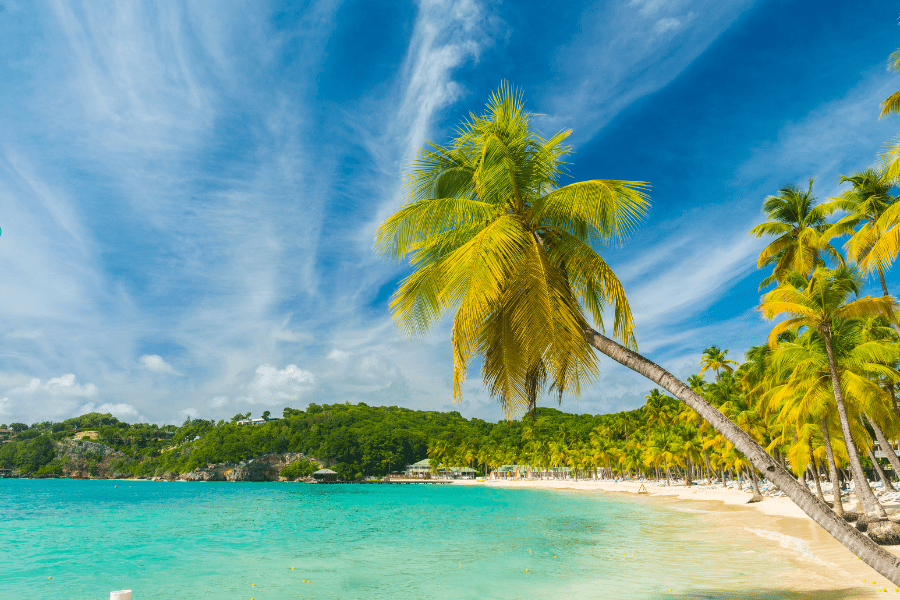 No country is perfect and comes with its fair share of pros and cons.
We have already discussed the pros so here are some of the cons that you should consider before moving to Grenada:
Island Time
Most people move to Grenada for its warm weather and sweet Caribbean life, so don't be surprised when the pace of life there is a bit slower.
If you are a city person who needs everything to be fast-paced and organized, Grenada might not be an ideal fit for you.
It has a pretty decent expat population and a functional community, but things still move at a far slower pace as compared to mainland western nations.
The only way around it is to get used to it.
Possibility of Hurricanes
Although located outside of the hurricane belt, Grenada has been hit by hurricanes in the past.
Hurricane Ivan in 2004 laid huge waste to Grenada's agricultural sector, and the country had to face millions in damages.
Although it's a rare occurrence, you should definitely keep the possibility of a hurricane in mind before planning a life in Grenada.
Limited Access to Amenities
As we mentioned before, Grenada is a small tri-island country.
Although it does its best to keep its citizens connected to the world at large, sometimes, you may find that the level of amenities available does not match the quality that you were used to before.
Should You be Moving to Grenada?
With visa-free access to Russia, China, and the EU, acquiring a Grenada passport can offer you an unrestricted gateway to booming economies around the world.
That alone is a major factor for many business investors around the world looking for an opportunity to enter the markets mentioned above.
On top of that, the country is beautiful, the people are welcoming, and the real estate market is booming.
Does all that intrigue your interest in Grenada? If so, contact us.
We will help you plan your dream Caribbean life in the beautiful country of Grenada in a way that suits you the best.
Moving to Grenada – Nomad Capitalist Guide 2023 FAQs
Is Grenada safe?
Grenada has a considerably low crime rate and is one of the safest countries in the Caribbean region.
Can you retire in Grenada?
The tropical climate, majestic mountains, beautiful beaches, and welcoming people are only some of the factors that make Grenada a wonderful retirement destination.
Moreover, the country also has lucrative tax incentives and a booming real estate market.
How can you move to Grenada?
You can apply for permanent residency after legally residing there for over 2 years.
You can apply for Grenada citizenship by naturalization, after legally residing in the country for seven years.
You can also acquire a Grenada passport by making a one-time donation or investing in one of the pre-approved real estate projects under the Grenada citizenship by investment program.
Does Grenada allow dual citizenship?
Yes, Grenada allows dual citizenship.