This article discusses the cost of living in Malta and how affordable it is to live there compared to other (more famous) North American and European countries. We will also discuss day-to-day costs in Malta, like transportation, food, and housing.
Malta is one of the most popular citizenship by investment jurisdictions offering the chance to become an E citizen in just one year. It's also an excellent digital nomad hub with lighting-fast internet speed, a warm climate, and a stunning landscape.
If you're interested in living in Malta as an investor, entrepreneur, or digital nomad, you must know the cost of living there – from housing to healthcare. The cost of living in a jurisdiction directly impacts your quality of life and whether you can reside there long-term.
Eager to plant a business flag in Malta? Or maybe you want to get your hands on the excellent Maltese passport?
Whatever your future goals in Malta, Nomad Capitalist can help you. We've helped over 1,000 clients create their holistic Action Plans, grow their wealth, and increase their peace of mind, and we would love to do the same for you. Get in touch with us today to go where you're treated best.
Malta – Country Overview
Malta is a small country situated in the Mediterranean Sea between Sicily and Tunisia. The country comprises three major islands – Malta, Gozo, and Comino.
Malta became independent in 1964 and an EU member state in 2004. The country adopted the Euro in 2008.
The capital of Malta is Valletta, and the current Maltese population is 444,947. Maltese and English are the official languages. English being one of the official languages, is a significant reason why most Western expats favor Malta.
Another reason why expats love Malta is because of how well-connected it is to the rest of the world – practically a stone's throw away from Europe, North Africa, and the Middle East.
Malta is famous for its breathtaking landscapes, warm climate, fascinating military history, and one of the oldest temples in the world.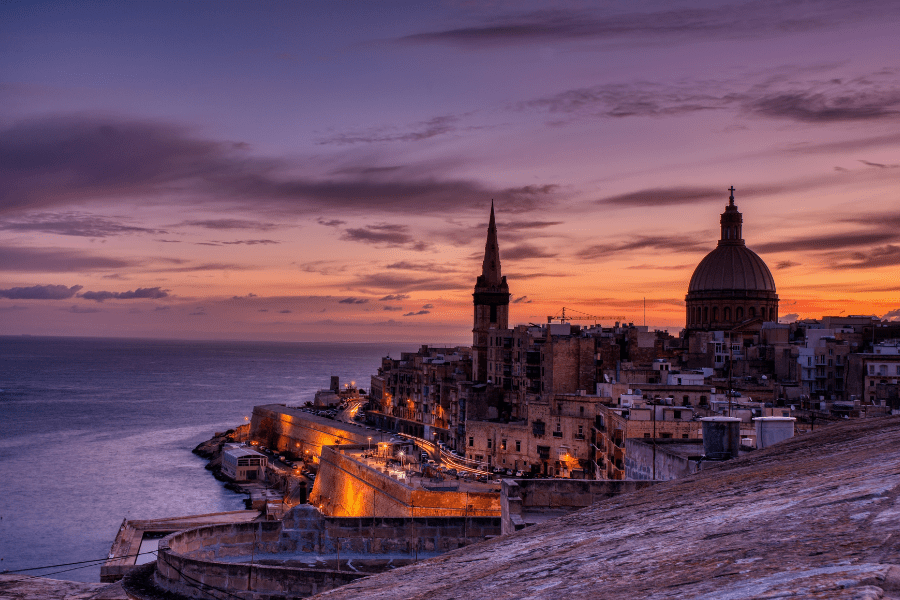 Malta Cost of Living – Overview
The cost of living in Malta is lower than many in Central and Western European countries. It's also lower than the European Union average.
Malta cost of living may be lower than Austria, Germany, France, etc – however, the quality of life is still on par with these countries (if not better).
The country may be small, but it's one of the most densely populated EU countries, home to 115,000 expats (over 20% of the population). Malta's diverse population is another feature in its favor.
Below, we'll discuss healthcare, housing, transportation, and food costs in Malta.
Housing in Malta for Expats
Malta may be a small country, but it offers many housing options for locals and foreigners. However, considering the population density, apartment buildings will be the top prospects in the most popular cities, like the capital Valetta, St. Julien, etc.
Whether you rent or buy, the prices vary according to the property size, build, view, location, and amenities.
If your goal is to is to rent an apartment in an affordable Mediterranean country, Malta is certainly not the option for you. But if you're looking to buy a property for investment purposes, that's a different story.
The general advice is to rent before you buy property to explore the area and find the best real estate before purchasing a home.
However, with Nomad Capitalist's exclusive Real Estate Plan, you don't need to worry about buying an offshore property at exaggerated rates because we help you buy foreign properties like a local, so you can fulfill any residency or citizenship requirements, diversify your assets, or simply enjoy a second home in a beautiful jurisdiction.
Now, let's discuss renting and buying in Malta.
Renting Property in Malta
Renting a property in the city centre will obviously cost more than renting properties in the outskirts.
For example, renting a two-bedroom, two-bathroom penthouse with breathtaking views in a famous resort town like Sliema (northeast coast of Malta) will more likely cost you over $2000 per month.
Whereas, an apartment of the same size in a central location in Mellieħa (village/beach town), within walking distance to the beach and shops, will cost you approximately $700 monthly.
On average, you can expect to pay $1000 to $1500 monthly rent in Malta.
Compare that to the average rent for a one-bedroom apartment in New York City which can go up to $3950, and you'll understand why expats flock to Malta. A low cost of living is one hell of an incentive when mixed with high quality of life. Moreover, compared to the UK, Austria, Ireland etc., Malta prices are nearly 30% cheaper.
Buying Property in Malta
You can expect to buy a brand-new apartment in Malta for as little as $199,000. The higher you go, the better deal you'll get. A lot of properties in the Maltese real estate market are geared toward foreigners to cater to their residency requirements.
To qualify for Maltese residency, you'll need to buy a home worth at least $300,000 in Gozo or the south of Malta or over $350,000 elsewhere in the country.
With that sort of sum, you can expect to bag a property that would most likely cost upwards of $1 million in places like Los Angeles, Miami, or New York.
One of the routes to becoming a Maltese citizen is to purchase or lease a real estate property with a minimum value of €700,000 or pay a minimum annual rent of €16,000 per year.
With the help of the right team, you can invest that sum in a high-yield property that can generate passive income. You can also choose to sell that property at a profit after the holding period is over. The right property will generate enough profit to cover your residency or citizenship costs. Imagine that – you will get an EU passport for practically free.
Sounds like something you'll be interested in? Set up a call with us today to explore your second citizenship and residency options.
Now that we've covered Maltese housing in detail (the most significant aspect of living somewhere), we'll discuss the miscellaneous costs like food, transportation, healthcare, etc.
Food Costs in Malta for Expats
Malta doesn't have much farmland, so most of the food is imported. Even so, food prices are pretty affordable compared to some Western countries. Ferries arrive daily from Italy, transporting goods from all over Europe.
The best way to cut your food and grocery bill in Malta is to shop from local markets. Maltese farmers' markets provide fresh food at highly affordable prices.
Love dining out? Going out to eat in Malta is more affordable than in North America, with a meal at an inexpensive restaurant costing you 25% less than it would in the US.
However, dining out in touristy areas may not help your pocket. For example, a dinner in a mid-range restaurant in Valletta might cost you the same or even more than in Los Angeles, New York, or other cities.
Healthcare Costs in Malta for Expats
Malta features a dual healthcare system (like most countries) – National Health Service (public) and the private healthcare system. Malta has one of the oldest public healthcare systems in the EU, dating back to 1372.
The healthcare system in Malta is far more accessible and affordable than in the US and European countries like France and Germany. Malta allocates 10% of its GDP to healthcare, which is significantly higher than the international average of 6%. WHO ranks the Maltese healthcare system among the top 20 in the world.
EU nationals can use European Health Insurance Card (EHIC) at public hospitals and clinics. In contrast, third-country nationals can purchase health insurance per the Maltese residency guidelines.
Most expats opt for private healthcare insurance, but no matter what you go for, private or public, you can expect to receive quality medical services.
Transportation and Utility Costs in Malta for Expats
Utilities in Malta are not expensive at all when compared to other EU countries. You can expect to pay somewhere between $80 to $150 for utilities if you have a moderate-sized home.
Malta was one of the first EU countries with nationwide 5G mobile internet service. Internet services in Malta are reasonably priced and cost nearly $35.
Communication costs in Malta may be more expensive, specifically regarding mobile phones. Many people use prepaid mobile tariff or pay-as-you-go plans to reduce their phone bills.
You can use buses, ferries, and water taxis to get around Malta. Senior citizens over 70 usually don't need to pay the bus fare.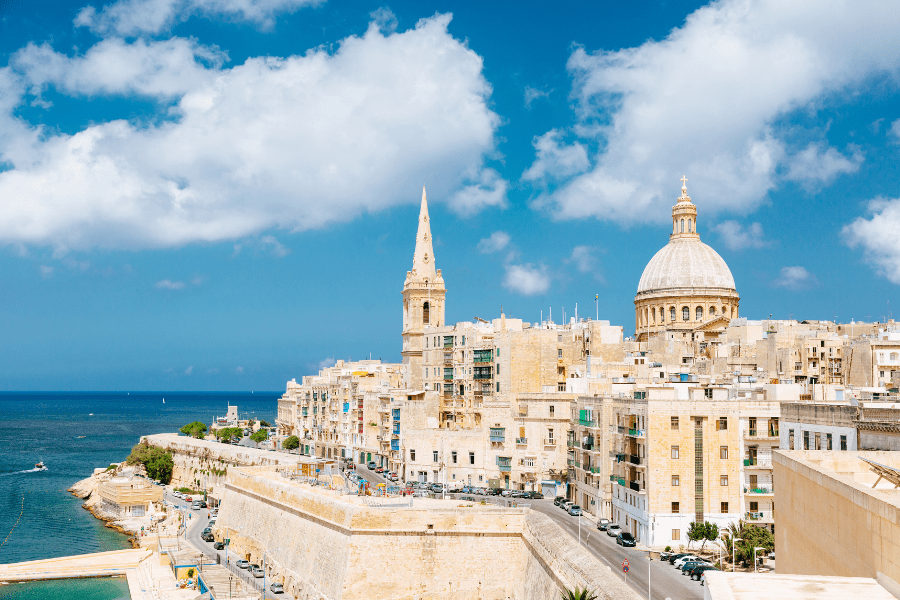 Is Malta Cheaper to Live in Than Other European Countries?
EU countries are considered some of the best in the world regarding living standards, healthcare and education systems, and safety. However, most relate them to high taxes and consumer prices as well.
Considering Malta's perks, like foreign investment and business opportunities, its consumer prices are lower than some other countries, though not all.
The average salary in Malta is somewhere between €1500 to €2000. Moreover, a family of four generally needs €2700 per month to live in Malta (including all monthly costs but rent).
You can find cheaper jurisdictions, particularly in Eastern Europe, but don't expect all of them to have the same perks as Malta's.
How to Get a Residency in Malta?
Non-EU nationals can get Maltese residency through the following programs.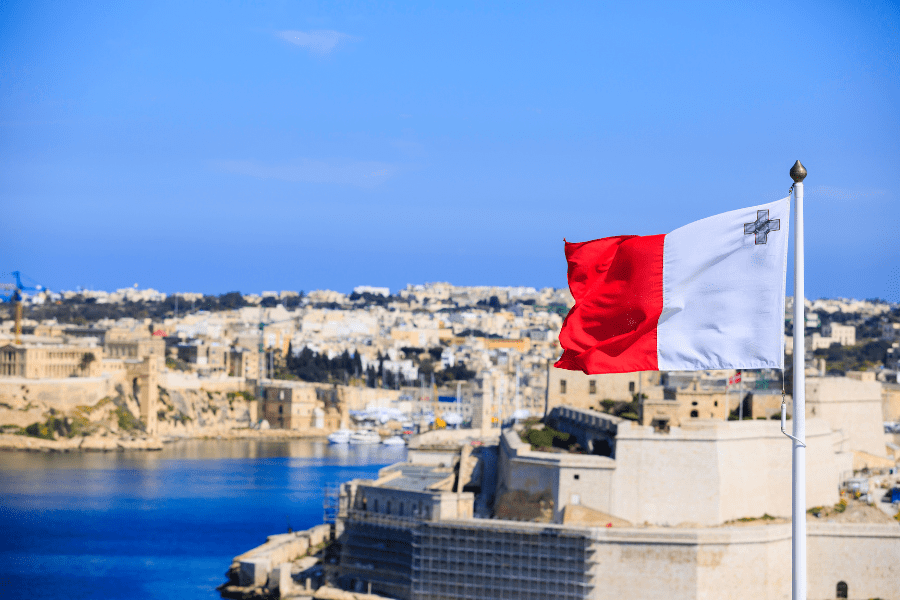 Malta Global Residence Programme (GRP)
The Maltese government introduced GRP to strengthen the Maltese property market, increase work opportunities for legal, tax, and financial professionals, and boost the leisure and hospitality sectors.
To qualify for GRP, you must have enough resources to support yourself and your dependents without relying on Malta's social assistance system.
The most significant residency requirement for Malta's GRP is that you must own or rent Maltese property.
If purchased on the central island of Malta, the property must be worth at least €275,000. Whereas, if you buy a property in Gozo and the Southern Region of Malta, it must be worth at least €220,000.
If you qualify, you can live in Malta as a long-term resident and enjoy tax benefits such as not being taxed on foreign-sourced income as long as it's not remitted to Malta.
GRP holders are entitled to a work permit and have visa-free access to the EU and Schengen area.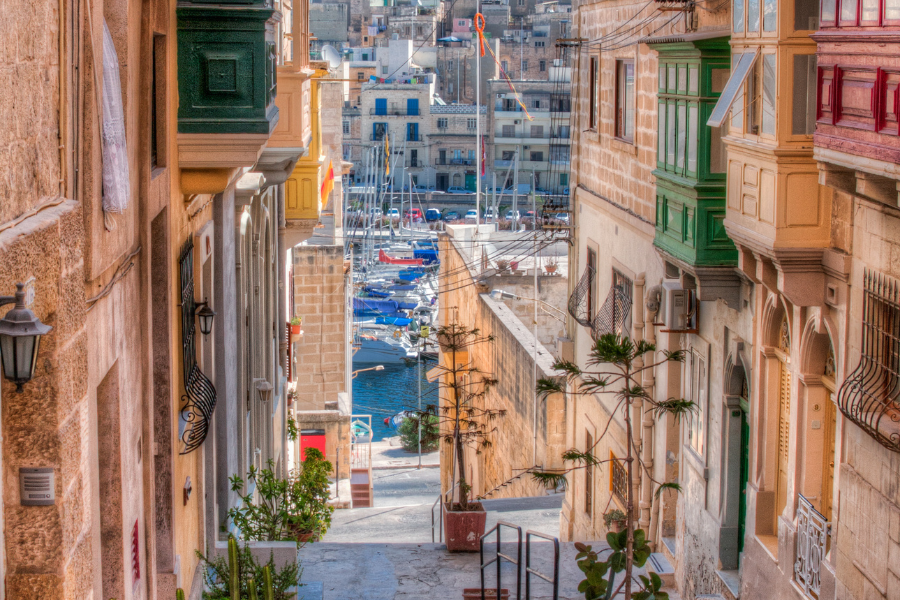 Malta Permanent Residence Programme (MPRP)
Malta Permanent Residence Program (MPRP) enables non-EU nationals and qualifying family members to live indefinitely in Malta as permanent residents. It also allows visa-free travel within the Schengen area.
MPRP doesn't impose a minimum stay requirement, but you must renew or update the residence permit annually.
The Malta Permanent Residence Program has stringent financial requirements – some of which are the following:
You must be able to show a minimum capital of €500,000, with €150,000 in financial assets.
You must pay the non-refundable government contribution worth €68,000 (if you're buying a property) or €98,000 (if you're renting a property).
You must buy a property worth at least €300,000 or more in the south of Malta and €350,000 for the rest of the island or rent a property with a minimum rental value of €10,000 in the south of Malta and €12,000 for the rest of the island.
You must donate €2,000 to a charity or a non-governmental organization (NGO).
For more details, you can check out our ultimate guide on how to get Malta residency.
How to Get Citizenship in Malta?
According to the Nomad Passport Index, the Maltese passport ranks 12th globally, providing visa-free and visa-on-arrival access to 171 countries.
You can become a Maltese citizen through the Malta citizenship-by-investment program. As a CBI applicant, you can get Maltese citizenship after one or three years of legal residency.
Some of the most notable requirements for Malta CBI are mentioned below:
Buy a €700,000 residential home in Malta or rent a house with a rental value of €16,000 per year.
Legal residents of three years must invest €600,000, while legal residents of one year must contribute €750,000.
Donate €10,000.
For more details, you can check out our ultimate guide on how to get Malta citizenship by investment.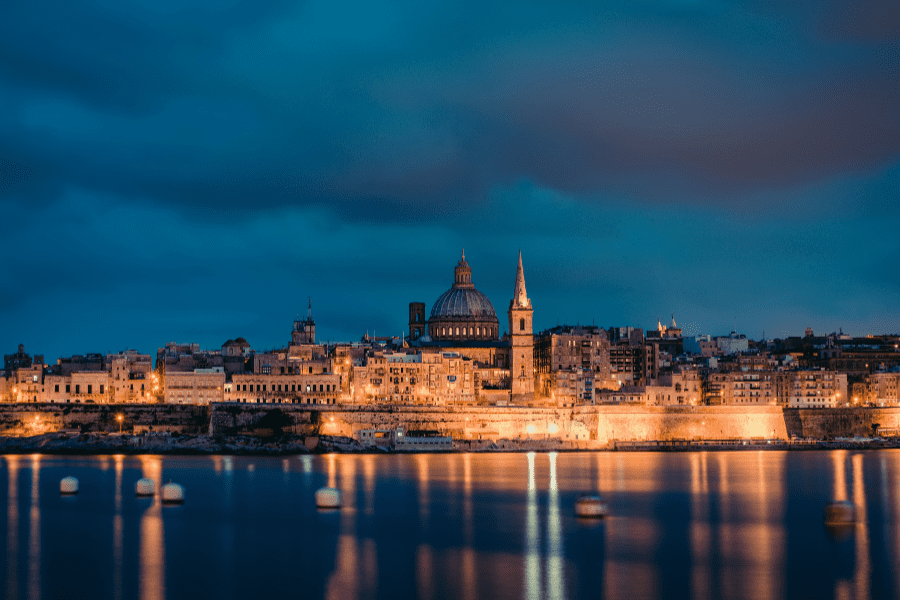 Should You Consider Living in Malta?
Affordable cost of living, one of the finest citizenship by investment programs, high living standards, a favorable business environment, and thriving opportunities – Malta offers all and then some.
If living in a high-standard EU jurisdiction without breaking the bank piques your interest, set up a call with us today. We'll handle all the complexities so you can sit back and enjoy your new and exciting life.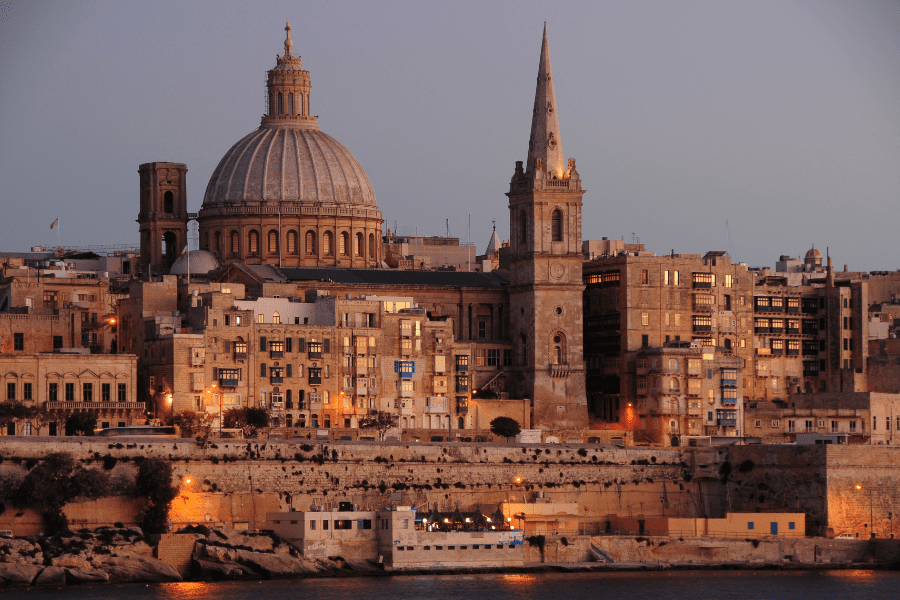 Cost of Living in Malta in 2023: The Ultimate Guide FAQ
Is the cost of living in Malta low?
Malta's overall cost of living is significantly lower than in the UK, the US, and most Western countries.
Is Malta tax-free?
No, Malta is not tax-free. However, it is a tax-friendly jurisdiction with several tax incentives for investors and entrepreneurs.