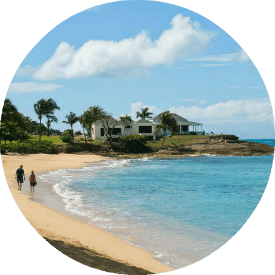 Antigua Economic Citizenship and Second Passport
---
The Caribbean island nation of Antigua offers an economic citizenship program open to almost all nationalities. The program offers the opportunity to obtain an easy, nearly instant citizenship in exchange for a reasonable investment, complete with visa-free travel to over 120 countries.
Unlike the citizenship by investment program in nearby St. Kitts and Nevis, Antigua's second passport program also allows entrepreneurs to invest in operating businesses on the island.
Antigua Citizenship at a Glance
How long does it take? Approximately 4-6 months.
Visa-free travel? 132 countries including the European Union
Does it allow for dual citizenship? Yes, economic citizens of Antigua may keep their existing nationality without issue.
Investment Required: The minimum investment starts at $300,000 and goes up from them based on whether you choose the real estate, donation, or business investment option.
Residency Requirement: Economic citizens are required to spend five days living in Antigua during the first five years after obtaining citizenship in order for their passport to be renewed.
About Antigua and Barbuda
Antigua is an island chain nation in the Lesser Antilles. The two main islands, Antigua and Barbuda, make up the majority of land area and population. Thanks to its Caribbean location, Antigua is home to a large tourism sector and enjoys excellent weather year round.
Antigua's way of life is largely influenced by Britain due to its status as a Commonwealth nation. English is the official language. The country is a member of the CARICOM group of countries which allows citizens to live and work on other Caribbean islands.
Antigua is an open country that allows almost anyone to apply for its citizenship program provided they are in good health. What's more, you can apply with your spouse, dependent children up to 25, and parents 65 or older. And provided you spend less than 183 days per year living in Antigua, your worldwide income will be tax-free.
Visa-Free Travel
Antigua has one of the 25 best passports in the world, offering visa-free travel to 132 countries and territories including Canada and Europe's Schengen area. Economic citizenship may be maintained for life and passed to future descendants so long as you meet the initial residency requirement.
Citizenship by Investment
The investment requirement for obtaining Antiguan citizenship is broken down into three options:
Invest $400,000 or more in "government approved" real estate, plus pay government fees
Donate $250,000 to the government's social fund, plus pay lesser government fees
Invest $1.5 million or more in Antigua businesses (smaller investments are available if you invest with friends or family)
Having a second citizenship is an important step in international diversification and planting flags and offers the potential for better investment opportunities, tax advantages, and global travel.  If you are interested in Antigua citizenship, request your free citizenship consultation below.