Once reserved for the most adventurous, who had the ideal job, living as a digital nomad is now the norm for many. People want to live their best life without being dependent on anything, and the idea of working and traveling the world simultaneously appeals to many.
If you're also thinking about pursuing your dream nomadic digital lifestyle at Nomad Capitalist, we understand you like nobody else.
Our CEO Mr. Henderson adopted the nomadic lifestyle many years ago before it was on trend. He took on an adventure of a lifetime that gave him the most valuable gift – freedom.
Freedom to live and work where he wants. Freedom to grow businesses and pay taxes in the most tax-friendly countries. Freedom to travel the world.
To achieve this level of success and freedom, you have to make the life-changing decision to step out of your comfort zone. Being a digital nomad is not always easy, and you need to be ready to move confidently toward your goal.
But how do I start my digital nomad journey? What remote jobs would allow me to support myself?
If you're reading this article, no doubt you have asked yourself these questions. Luckily, we're living in a world full of job opportunities.
In this article, we'll tell you everything we know about the most valuable nomadic lifestyle jobs that allow you to travel and work remotely.
These jobs won't only open up career opportunities but can also make your dream life a reality.
Why put it off any longer?
Contact the Nomad Capitalist team today, and we will help you go where you are treated best. We don't offer one-size-fits-all solutions but rather build holistic strategies, helping our clients set up in countries with low or zero taxes, so they can keep more of their money to reinvest.
Digital Nomad Lifestyle: Where to Start?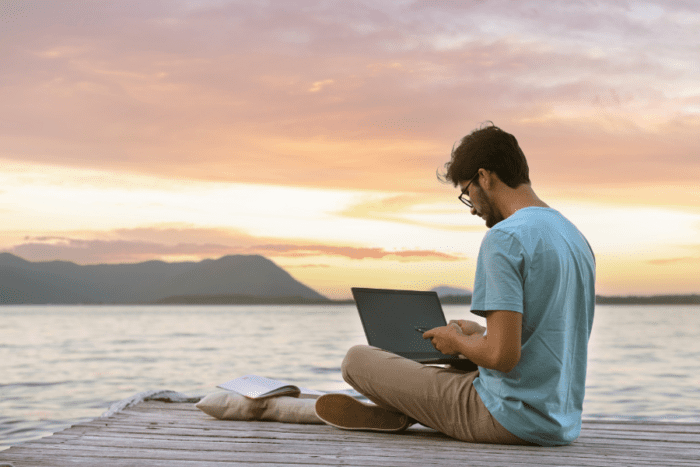 Whenever you start something new, it's always exciting and frightening at the same time, especially when you decide to become a digital nomad and step into uncertainty.
The data shows that more and more people are striving to have a digital nomad life. According to one study, around 16.9 million Americans identified as digital nomads in 2022. And it makes total sense why. Who doesn't want to have a better work-life balance and the freedom to explore new places?
But how do you become a digital nomad? What is the secret to living a rich nomad lifestyle?
Everything starts with a plan. Carefully consider where you want to go, why, and how long you want to stay. Many countries offer digital nomad visas with flexible terms, and one of them could be a great option for you.
You can spend several months in Asia, then go to Europe, and eventually reach the Caribbean islands. You have the freedom, and everything is up to you.
However, you are not exempt from paying taxes when you're a working nomad. So, do some research and find the best way to pay them and, most importantly, where you should pay. It's especially significant if you already have a business you plan to expand.

Most importantly, you need to land a location-independent job. Ask yourself what you are good at and start looking for freelance jobs that would allow you to prove your skills and grow professionally.
Finding a good digital nomad job that meets your expectations may take some time. So, be open to new experiences and keep trying until you feel THIS is the one.
Where to Live as a Digital Nomad?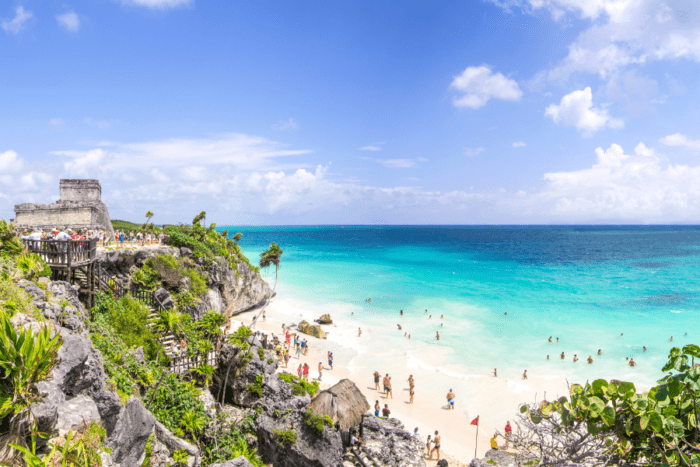 Where could you live as a digital nomad? We have great news for you. You can go literally… anywhere. If there is a stable internet connection, buy a one-way ticket and pack your luggage.
Does staying in one place sound a little boring? So, why not diversify your digital nomad lifestyle? When there are so many cities for remote workers where you can work comfortably, it would be a pity to stay in one place all the time.
Experienced digital nomads also consider the cost of living, digital nomad coworking spaces, internet connection, climate, and leisure opportunities when choosing a destination.
Our advice to you is to go where you're treated best.
Many digital nomads have moved to Mexico City, while others have decided to live in Mauritius. Whatever your preference is, make sure that it has all the amenities for earning money remotely.
Digital Nomad Taxes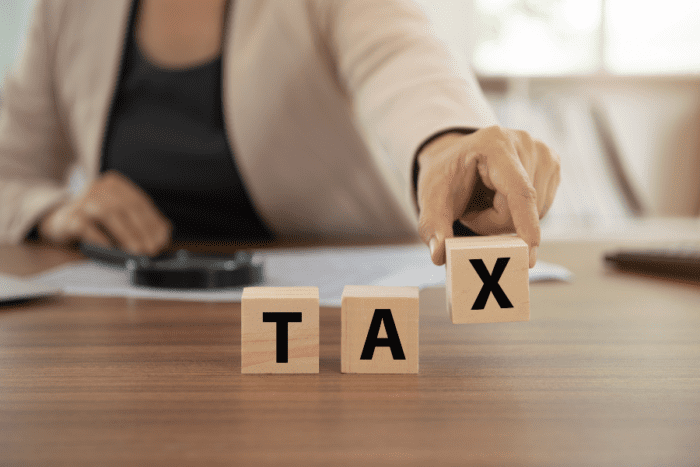 As a digital nomad, you must be extra careful with your taxes. Even though you have a location-independent lifestyle, you still need to be a tax resident somewhere.
Often we suggest revoking your tax residence in your home country and obtaining a second residency in your country of residence. There are a few reasons why it would make your life easier.
For instance, if you're a US citizen, you'll have to pay taxes regardless of your location. The US has a citizenship-based taxation system, which means you're still obliged to pay even if you don't live in the country anymore. And as we all know, the US has high taxes. So, what would you choose if you had a chance to pay less elsewhere?
Another benefit is that once you get a second residency in another country, you will have access to more services, whether renting an apartment worry-free or opening one of the best bank accounts for digital nomads.
When it comes to choosing a second residency, many digital nomads give preference to Latin America or the Caribbean. It's best to remain open-minded, and Eastern Europe and Southeast Asia offer excellent alternatives worth considering.
Countries Granting Digital Nomad Visas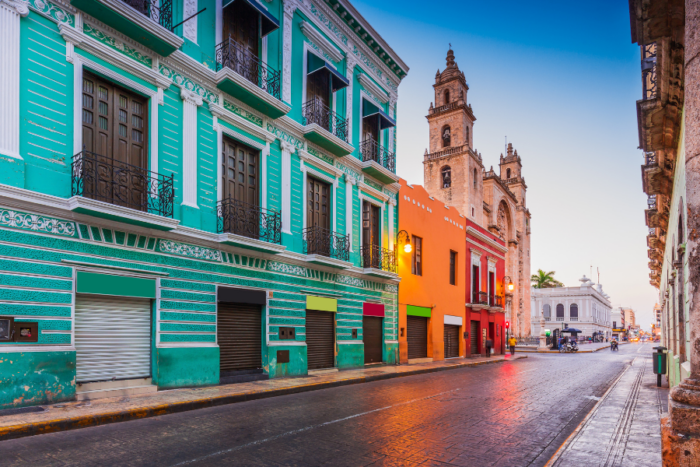 Many digital nomads prefer to have a "home" base where they can reside legally and live like a local. And plenty of countries offer this opportunity to foreigners with digital nomad visas.
Mostly, digital nomad visas have an easy application process. All you need to do is prove you're a tax resident with a remote nomad job. Some countries allow you to stay several months, while others are more generous and have a stay period of up to one year.
If you want to learn more, we have an ultimate guide about the best countries with digital nomad visas.
Best Digital Nomad Jobs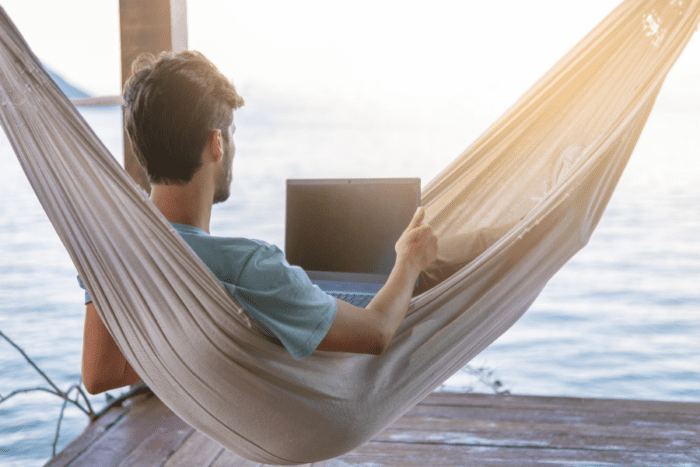 Alright, we have talked about a digital nomad mindset, taxation options, and digital nomad visas, so let's look at the best digital nomad jobs.
There are so many jobs that can be done from anywhere in the world. Whether you are passionate about writing, have a basic knowledge of IT, or have excellent communication skills, you can land your dream job online. All you need is fast internet access and a little bit of patience.
So, if you just decided to take a digital nomad path, these are the job opportunities that we highly recommend paying attention to.
Social Media Manager
Twenty years ago, it was unimaginable that one day managing a social media account could become a full-time job for thousands of digital nomads. But here we are.
Social media keeps booming. Every business, from a small online shop to a multibillion-dollar corporation, is eager to have an active social media presence. And as long as there is demand, there is a need for supply.
So, if you're a creative soul who can't live without Instagram, TikTok, or Twitter/X, being a social media manager can be an excellent job opportunity.
The social media manager is a sought-after digital nomad job. Just open a LinkedIn vacancies page and take a look. Thousands of companies are looking for responsible people who can bring their social media accounts to an entirely new level.
Skills
Like many other digital nomad jobs, the social media manager's position is multilayered. You must have certain skills, including creative writing, analytical thinking, digital marketing, and communication skills.
Social media managers plan and execute the brand's social media presence online. You'll be responsible for writing posts, drafting and implementing the content strategy, managing the social media plan, and building rapport with your target audience.
But not only that. You'll have to know what exactly works and what is unlikely to bring any results. To stay up to date, you'll have to keep a close eye on the latest trends and use the latest software.
Social media changes constantly, and as a manager, you don't need to be afraid of getting stuck in a routine. You'll learn and discover something new every day.
Salary
The average social media manager's salary in the US is $72,834 annually.
Graphic Designer
Have you always been passionate about combining technology and art? Is turning ideas into drawings your hidden superpower? Do you like to communicate a message through visuals?
If you answer yes to all these questions, then the graphic designer could be one of the best digital nomad jobs for you.
Graphic design has gone hand-in-hand with technological evolution. In the 80s, this job implied old-school posters and paper ads, but today the scope of work is way broader.
Graphic design is marketing in a visual form. And if you can't imagine your life without a graphics tablet, why not use it in your favor?
Skills
Graphic designers create visuals. It can be brochures, web design, app design, games, books, or logos. The list is endless. Whatever you like to draw the most, you can find a client to draw it for. And trust us, there are plenty of potential clients out there.
As a graphic designer, you must be artistic and well-versed in the arts. You must be well acquainted with the concepts of color theory, balance, proportion, and composition. Besides that, you must have an in-depth knowledge of graphic design tools and some marketing knowledge.
Graphic design is a terrific digital nomad remote work. It has huge potential because you can land a job in any field with your graphic design skills. Nowadays, everybody needs a graphic designer starting with tech companies and ending with international organizations.
Salary
In the US, graphic designers earn $53,009 on average per year.
SEO Specialist
If you are a problem solver who likes to see everything neat and tidy, think about becoming an SEO specialist. Compared to other remote social media jobs, it may require more effort. Optimization can draw more conversions and bring steadier results. And along with that, more satisfaction.
Today, search engine optimization is the cornerstone of any business's success. SEO specialists are in high demand, and it's not going to change in the near future. Therefore, SEO specialist is on the list of the most popular digital nomad jobs.
As the Google algorithm constantly changes, keeping a website ranking high can be quite challenging. But that's what the SEO job is about. Your end goal is to outsmart Google, ensuring the website's excellent performance despite algorithms or market modifications.
Skills
As an SEO specialist, you must be tech-savvy and deeply understand SEO. Your responsibility is to check the website's analytics daily to reveal technical problems and detect where the primary traffic comes from.
Conducting audits and preparing a strategy will be your priority. And to succeed, you should be able to conduct research, critically analyze the data, and clearly communicate your message to other team members; If you are familiar with coding, even better.
An SEO specialist is a great digital nomad job if you like to deal with numbers and data. As the Google algorithm can be unpredictable, be ready to learn something new every day.
Salary
The average SEO specialist's salary in the US is $54,809.
Digital Marketer
Are you passionate about marketing? Do you know how to design marketing campaigns and generate leads? Are you highly competitive and eager to achieve the best possible result every time? A digital marketer role could be your perfect digital nomad job.
Marketing is a broad field, and marketers wear many hats. Overall, your goal is to implement marketing strategies and promote products or businesses via various social media channels. But you are the one deciding what role you're going to perform.
You can do everything yourself as a social media marketer or email marketing specialist. Otherwise, you can build a digital marketing consultant career and teach others how to achieve positive results.
Among digital nomad jobs, a digital marketer is an incredibly sought-after position. Nowadays, social media presence is the key to success, and every business is trying to be visible online and dominate the market.
The problem occurs when a lack of knowledge brings the opposite or zero results. That's where you walk onto the stage and help companies to promote their brand properly.
Skills
As a digital marketer, you'll be responsible for building brand awareness and identifying weaknesses through various social media channels.
Whether email, content, or social media marketing, you must have a clear vision of what your target audience wants.
Yes, you'll be highly reliant on the data. But you should also be able to predict your target audience's wishes, giving them what they may want before they actually realize that. Digital marketers have a skill for understanding how people think and then implement this knowledge for business purposes.
Once your marketing campaign bears fruit, you analyze the success and determine new opportunities to sell the service or a product. In the end, maximizing profit is what companies care about the most.
Salary
In the US, digital marketers earn $62,873 on average per year.
Freelance Copywriter
If you've been writing all your life and you really love it, start making money out of it. That's what thousands of digital nomads do.
Freelance writing is diverse and is in demand in every possible field. Just think about it. You can write engaging content about travel, business, design, marketing, and so much more. Release all your creativity and get a well-deserved reward.
The type of content also varies greatly, and considering the need for good copywriters, there are plenty of job opportunities to choose from. You can write content for a company's website and work on advertisements and email marketing materials. Or you can start your blog and write about your personal experiences. 
Skills
Any copywriter should have brilliant writing skills and in-depth knowledge of SEO principles. A copywriter's job is not just about putting words into sentences and sentences into paragraphs.
Behind every good text is a deep competitor's research, optimization, and keyword research.
You should be familiar with Google ads and Semrush to ensure readers and the Google algorithm will love your text.
Your content must be creative, unique, and straight to the point. And to achieve it, be ready to conduct high-quality research and analyze competitors' websites.
Like many other digital nomad careers, copywriting requires high-level communications skills. You must be capable of clearly communicating ideas through text and negotiating with clients.
Salary
The average Copywriter's salary in the US is $57,104.
Virtual Assistant
This digital nomad job is excellent for people who like to have everything under control. Virtual assistants have exceptional management skills and can offer a solution to any problem. They are efficient individuals with outstanding communication skills who companies can always lean on.
Does it sound like you? Then you have a high chance of offering your expertise to companies lacking business planning and problem-solving. You'll be their administrator, closely monitoring meetings, phone calls, schedules, and emails. You need a stable internet connection, dedication, and solid management skills to perform well.
Imagine yourself as the helping hand of a company. If before you were planning and scheduling your daily routine for free, you'll now be doing that for others and get generously paid for it.
As with many other jobs for digital nomads, this position grants you total freedom to work from anywhere you want. And any time you want.
Skills
As a virtual assistant, you must have impeccable communication skills and high proficiency in word processing and online software. Sharing a screen, rescheduling a meeting, and updating online calendars should be a piece of cake for you.
The exact responsibilities will depend on your clients. Some expect you to reply to phone calls and emails and manage a spreadsheet. While others would ask you to prepare presentations or book accommodation for an upcoming trip. Overall, be ready to perform various administrative tasks.
Salary
In the US, virtual assistants earn $49,621 on average per year.
Business Consultant
If you have expertise in business and solid knowledge of at least one market industry, you can become a business consultant. This rewarding job has great potential and will give you the digital nomad life you've always dreamed of.
According to the US Bureau of Labor Statistics, the demand for business consultants will increase by 11% by 2029. So, there will always be a company that could use some of your help in the following years.
Business consultants assist companies in improving efficiency. Frequently business owners and managers can't see the whole picture to detect a problem. That's why they hire a person from outside with a fresh point of view who can tell them what is wrong and how to improve it. Business consultants are problem solvers, always ready to offer a complete solution.
Skills
As a business consultant, you'll be expected to handle business projects, meet clients, and collect and analyze data. Your priority is to resolve a problem, whether it's a financial issue, strategic planning, or productivity.
A business consultant is a great nomad job for you if you have excellent knowledge of the business industry. You must have strong analytical and strategic thinking, easily predicting the possible outcome. The project you may work on can be multilayered. So, be ready to deal with different levels of complexity.
Salary
In the US, business consultants earn $76,287 on average per year.
Online Business
If you decide to become a digital nomad, you might not even need remote jobs. There is another way. You can be an entrepreneur making money with an online business. Yes, it may be riskier and more time-consuming. But remember, those who risk win.

You may ask, but what kind of business should I establish? Be creative and think about your strengths and what you are good at. There are plenty of business ideas out there. E-commerce, marketing courses, blogging, app development.
At Nomad Capitalist, we believe that making a living from your passion and having a location-independent business is one of the best digital nomad jobs.
The Nomad Capitalist team helps people just like you to start or move their business overseas. Especially if you're an American, but really if you're from any Western country, getting a business off the ground takes more than just moving the assets. It's more complicated than that.
How are you getting out of your country's tax system? How's your business going to move out? Where are you going? What's your citizenship plan? We put together the suite of experts and act as your general contractor to make it all happen.
Skills
To own a business and succeed, you must have an entrepreneurial mindset and stamina to step out of your comfort zone. Be passionate about your work and learn from every challenge you face. No, it won't be easy. But once you make it, the rewards and self-respect you earn will be well worth it.
Salary
Your annual salary will solely depend on your business. Yes, you may make only several thousand in the first month but give yourself some time. Remember that as an entrepreneur, you can always maximize your income.
If you're still unsure about how to get started in your nomad life and which route would be the best for you, apply to work with us. Our dedicated network of professionals can help you find the right fit for you and help you go where you're treated best.
Nomadic Lifestyle Jobs: FAQs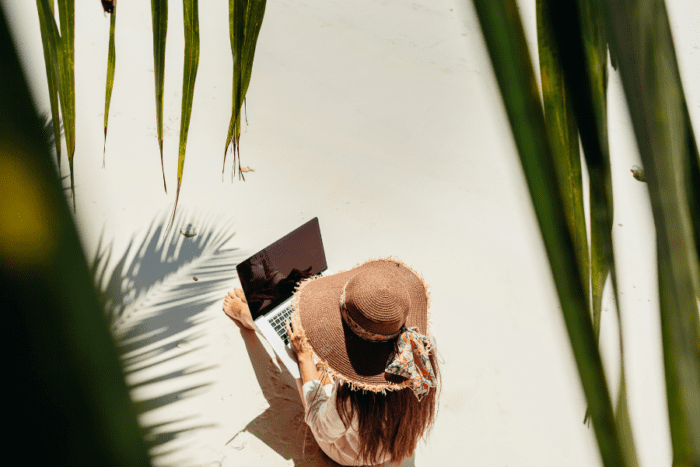 How to Become a Digital Nomad?
If you want to become a digital nomad, you must first create a comprehensive plan.
Everything starts from your mindset. So, make sure that you're ready to take on an adventure of a lifetime and drastically change your life. Sometimes it may seem that nobody understands, but you should keep moving. You'll never find your true potential if you don't step into uncertainty.
When it comes to the job, ask yourself what you are good at and what remote jobs can earn you money. Think about the place where you would like to stay. And, even though you'll be free to go anywhere you want, you still need to pay taxes.

What Is a Digital Nomad Visa?

There are plenty of countries that offer digital nomad visas. This visa allows you to stay legally in the country. It's an excellent solution for remote workers because countries offering digital nomad visas often don't tax the income.
Where to Live as a Digital Nomad?

We have great news for you. As a digital nomad, you can live anywhere you want. When your job is location independent, you don't need to worry about staying in one place all the time. Feel free to travel the world and explore new places while working.

When choosing a destination, there are several factors that many digital nomads take into consideration. With remote work, you need a stable internet connection. Apart from that, many digital nomads prefer affordable countries with warm weather.

What Do Nomads Do for Work?

There are many digital nomad jobs that you can do online. Some digital nomads make a living with freelance writing or social media management. Others work as graphic designers or business consultants. The scope of job opportunities is infinite.
You can even be a travel blogger or own a business online that would allow you to sustain yourself. You can make a living out of whatever you are good at.
We believe that the future of digital nomads has unlimited potential. That is why more and more people are eagerly looking for the best digital nomad jobs to start a completely different life. As you're one of them, we hope our list helped you better understand the endless job opportunities out there.

At Nomad Capitalist, we have helped 1500+ high-net-worth individuals to become global citizens and go where they are treated best. At first, it may seem like there is too much involved in becoming a nomad, but that's where we can help. When you become our client, we work as the architects and general contractors of your holistic Plan B, taking you where you can live your dream nomad lifestyle.