Ukraine has been in the news for all the wrong things over the past years. Its on-going armed conflict with Russia, the annexation of Crimea, phone calls with Trump, nation-wide protests…
It sure isn't the most desirable of all places to hold citizenship.
Some of its recent woes could be overlooked, though, if what you got in return was a European passport.
But, unlike a passport from Ireland, Poland, or Italy, all of which are European Union countries, Ukraine probably won't be part of the EU for another good decade.
So, what does Ukraine have going for itself that could entice people who have heritage in this Eastern European country to apply for its citizenship?
For starters, it's passport ranks 41st in the world – not too shabby. You'd be able to travel to 129 countries visa-free, which puts Ukraine on par with some of the Caribbean countries that offer citizenship by investment (CBI).
However, the CBI programs cost a considerable amount of money – think six digits – whereas you're able to get a Ukrainian passport by descent for a low government fee.
And while it's not the fastest bureaucratic process in the world, citizenship by descent can be that perfect catalyst that you may need to finally embrace the Nomad Capitalist lifestyle.
Do you have Ukrainian roots and want to take this citizenship thing further?
We've recently launched our all-inclusive citizenship by descent service. Taking care of proving your eligibility and going through the entire application process for you is what we do best.
What Is Citizenship by Descent?
If you never thought about getting a second passport before, thinking about citizenship might feel weird.
It's one's birthright, usually, and most people don't give it a second thought.
However, if you're someone who wants more out of life, considering what citizenship lets you accomplish is essential.
Every citizenship has its pros and cons, from visa-free travel to taxation. Needless to say, some are more valuable than others.
You can obtain it by birth, marriage, naturalization, or investment, among other means.
One of those is ancestry.
Citizenship by descent is when one is eligible to apply and receive the citizenship of his or her ancestors.
It's mostly the European countries that went through a tumultuous 20th century that offer the descendants of its past citizens a chance to 'come back to the homeland.'
For example, Lithuania is one of those countries, whose people were prosecuted, jailed, exiled, or had to flee the country due to their ethnicity, religion, and political beliefs.
Their descendants, thus, have a chance to regain Lithuanian citizenship.
Ukraine is another such country, welcoming its long-gone citizens back into the fold.
Ukrainian Citizenship by Ancestry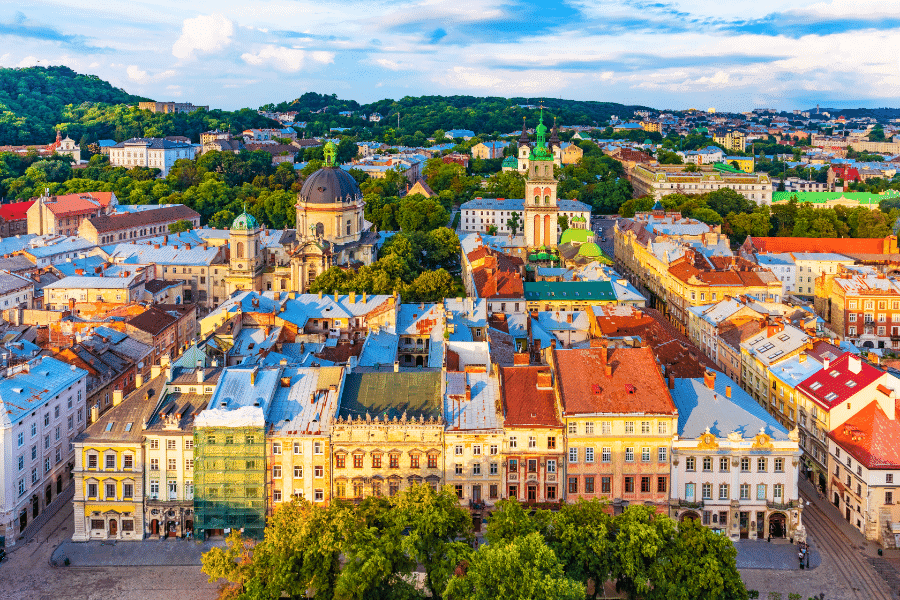 Citizenship in Ukraine is governed by jus sanguinis, or right of blood. What this means is that the location of one's birth doesn't matter, but parental citizenship does.
So, if your mother or father is Ukrainian, you have the right to Ukrainian citizenship by birth.
And when it comes to citizenship by descent, the same principle applies. A Ukrainian ancestor will have passed down the citizenship via the bloodline to you.
However, to apply for Ukrainian citizenship because you have roots in the country, you'll first have to prove your eligibility.
Eligibility
Even though the countries that offer citizenship by descent will make it seem like they want everyone to come over and reclaim their citizenship, the reality is a little different.
Because the process usually doesn't cost that much, the government employees aren't going to bend over backward to grant you citizenship.
Thus, you must build a bulletproof case for yourself; the burden of proof of your claim to Ukrainian citizenship falls solely on your shoulders (or the shoulders of the professionals you've hired to help you).
To prove your eligibility, you must have at least one person tying you to Ukraine:

• A Ukrainian parent who was born or permanently resided in the territory of Ukraine before August 24, 1991.
• A Ukrainian grandparent who was born or permanently resided in the territory of Ukraine before August 24, 1991.
• A sibling (or half-sibling) who was born or permanently resided in the territory of Ukraine before August 24, 1991.
• A child who was born or permanently resided in the territory of Ukraine before August 24, 1991.
Seems pretty straightforward, right?
It normally is, if the records of your ancestors were made after 1917. Before then, paper records simply weren't kept.
In the period between 1917-1945, the paperwork will normally be available at the location where your relative was born and/or a resident in. So, you or your hired help will need to physically travel to that location and dig around in the local archives, or the church archives. This will, obviously, extend the entire application process.
If, however, your relative in question was born in 1945 or thereafter, you're in luck. Records were being kept much better after that date and were all centralized as much as was possible.
Have a relative born in 1945 or later? Then you'll need to access the main register of civil acts or have a look at the national archives.
Application Process
After you've had a chance to establish your eligibility, you'll need to lodge an application. This can be done in Ukraine itself or in your nearest Ukrainian embassy or consulate.
When compared to some of the other citizenship by descent processes, Ukraine deals with its cases relatively quickly. Usually, you'll be able to get your passport in under a year.
You will have to submit the following documents in order to apply:
A filled out application requesting Ukrainian citizenship based on your ancestry.

8 colored photos.

Your passport.

Documents (birth certificates, marriage certificates, death certificates, and others) confirming the fact of birth or the permanent residence of your parent, grandparent, sibling, or child in Ukraine.

Proof of familial ties to the relative in question.

A police record from your current country of residence.

A request for changing your citizenship.

A request to register the place of your residence in Ukraine.
Needless to say, all of the documents which aren't in Ukrainian will have to be apostilled, translated, and properly notarized to be accepted.
Fast-forward to the day you're handed down a positive decision on your Ukrainain citizenship – congratulations!
You are now legally considered a citizen of Ukraine.
But, to obtain a Ukranian travel document – its passport – you will need to renounce your current citizenship(s), as Ukraine does not allow dual citizenship.
The country's officials give you two years to do so.
You'll need to not only renounce your citizenship but also to obtain proof that you've done so. Only then will you be handed your Ukrainian passport.
The Pros and Cons of Ukrainian Citizenship
You've got a Ukrainian relative who makes you eligible to apply for a Ukrainian passport, but should you do it?
Whenever we talk about passports, there are two factors that we consider.
First, we think about what the pros of this additional passport would bring the person. The Ukrainian passport has some obvious ones:
• It provides visa-free movement in the European Union. All you've got to do is fill out a visa-waiver application online before you travel.
• It has a favorable tax environment. You won't be taxed to death as an individual and as a company if you live and work in Ukraine.
• Ukraine is an affordable place to live. You can live like royalty for a fraction of the cost.
• Its passport is a decent travel document. Ranked 41st in the world, you'll be able to visit many countries visa-free.
Second, we also think about how easy it would be to get out of this citizenship.
After all, you'd want to be able to renounce this citizenship if the conditions were to change. For example, Ukraine could raise its taxes considerably or start taxing your worldwide income without exceptions.
Luckily, Ukraine makes it pretty easy to renounce its citizenship voluntarily. You'll need to visit a diplomatic mission in any country in the world with a Ukrainian witness present to do so.
You'll also automatically lose your Ukrainian citizenship if you obtain another citizenship or join the military or governmental service of another nation.
As you can already tell, dual citizenship isn't possible in Ukraine and that's the biggest con of going for Ukraine's citizenship by descent.
However, there are many different ways to circumvent the law legally and there are hundreds of thousands of Ukrainians who also hold another citizenship.
That said, you'll only be considered a Ukrainian citizen in its territory if you have its passport, which means you won't be able to receive any diplomatic help from the embassy of your other citizenship.
Is Ukrainian Citizenship by Descent Worth Your While?
Let us be frank – Ukrainian citizenship isn't nearly as great as some of the other citizenships that are offered by way of descent.
It's lacking two essential things: the dual citizenship aspect and the European Union connection.
Neither of these is likely to change anytime soon.
As for dual citizenship, the chances of things changing for the better are low to none. The main legislative body of Ukraine called the Rada even proposed to criminalize dual citizenship, though no legal moves have been made yet.
Similarly, the president of the European Union, Jean-Claude Juncker has said that he doesn't expect Ukraine to be able to join the Union for another 20-30 years.
All of this makes Ukrainian citizenship by descent quite a complicated matter.
If you feel strongly that want to go back to your roots and hold the citizenship of the country of your relatives (and renouncing all other citizenships), you may do so relatively easily.
Ukraine does have some incredible opportunities in terms of investment, sometimes rivaling those of Africa and Asia.
And life in Ukraine is of a pretty high standard, and affordable too.
Getting your citizenship by descent in Ukraine won't cost much and will only take a year, if you're interested.
Want to take the plunge?
We can help you navigate through the paperwork requirements and the entire application process.
Our recently launched premium citizenship by descent service means that we'll do it all for you, from proving your eligibility through to getting your new Ukrainian passport.
Let's talk today.