This article asks the question, "how strong is the St Lucia Passport in 2023?" and discusses whether it's a good addition to your passport portfolio.
If you're unfamiliar with the RCBI world, you may be surprised why a small Caribbean country is so popular among investors and entrepreneurs. Here's why.
Saint Lucia offers one of the most affordable CBI programs, where you can get a second passport for just $100,000 (plus administrative fees). Previously, only Dominica offered second citizenship by investment at this price tag.
When you consider Malta's $1 million investment program, you can appreciate how options like St Lucia and Dominica's don't fail to capture the interest of foreign investors.
However, affordability isn't the ultimate deciding factor when getting a second passport. You must consider factors like taxes, physical presence requirements, investment routes, and more.
Whether you want a slow-paced life in the Caribbean or the European vibe of Greece or Malta, Nomad Capitalist can help you figure out which CBI program fits best with your life.
From billionaires and celebrities to up-and-coming entrepreneurs, we've helped over 1,000 successful clients create their holistic Action Plans, grow their wealth, and increase their peace of mind. We're the general contractors of the RCBI world, and we can help you go where you're treated best. All you need to do is reach out.
Saint Lucia – Country Overview
Saint Lucia is an Eastern Caribbean island nation, located south of Martinique and northeast of Saint Vincent. Castries is the capital and largest city of Saint Lucia. The current population of Saint Lucia is 186,075.
The country is a member of the UN, CARICOM (Caribbean Community), and various other Caribbean-based unions. Saint Lucia's currency is the Eastern Caribbean Dollar (XCD) (pegged to the US dollar).
St. Lucia gained independence from the UK in 1979 but remains part of the Commonwealth. The British history of the island nation shows in its colonial architecture and official language – English. The legal system of Saint Lucia is also based on English common law.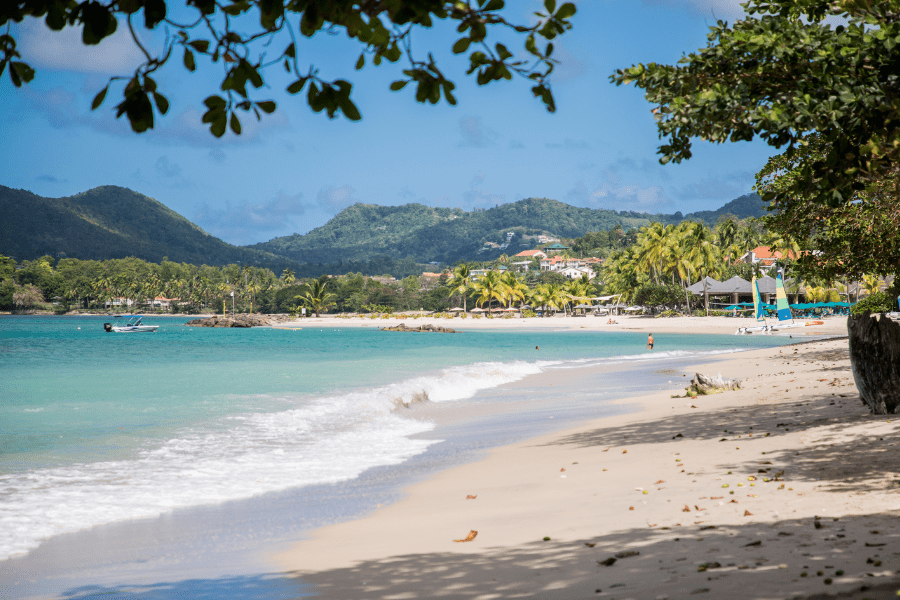 St Lucia Passport – Overview
According to the latest Nomad Passport Index, the Saint Lucia passport allows visa-on-arrival and visa-free access to 136 countries.
Nomad Passport Index measures a country's passport on various domains that are highly important to a Nomad Capitalist: tax-friendliness, dual citizenship, perception, freedom, and of course, travel freedom.
Saint Lucia scores a perfect 50 in freedom and dual citizenship and 30 in tax-friendliness and perception.
Saint Lucia passport holders can travel visa-free to the EU, Malaysia, Hong Kong, the UK, etc., making it an excellent second passport for people looking for fast second citizenship with decent travel freedom.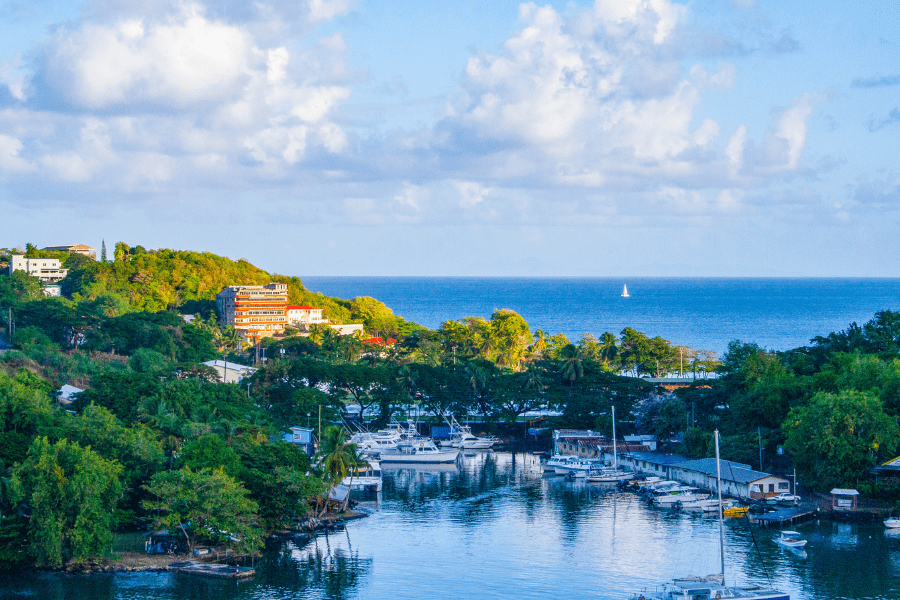 How to Get the St Lucia Passport by Investment in 2023?
One of the most straightforward ways to get a Saint Lucian passport is through the country's economic citizenship program. Saint Lucia CBI program offers four routes to acquire the St Lucia passport:
Make a Donation: Donate $100,000 to St. Lucia's National Economic Fund.
Invest in Real Estate: Invest $200,000 in pre-approved real estate, plus fees. (Complete list of approved real estate projects is available on the official website of St Lucia Citizenship by Investment Unit)
Invest in Government Bonds: Invest $300,000 in government bonds and hold them for five years.
Invest in a Local Business: Invest a minimum of $3.5 million in an enterprise project.
Once you make the required investment, pay the due diligence fees, and fulfil all the other requirements, you'll be granted citizenship of Saint Lucia in three to six months.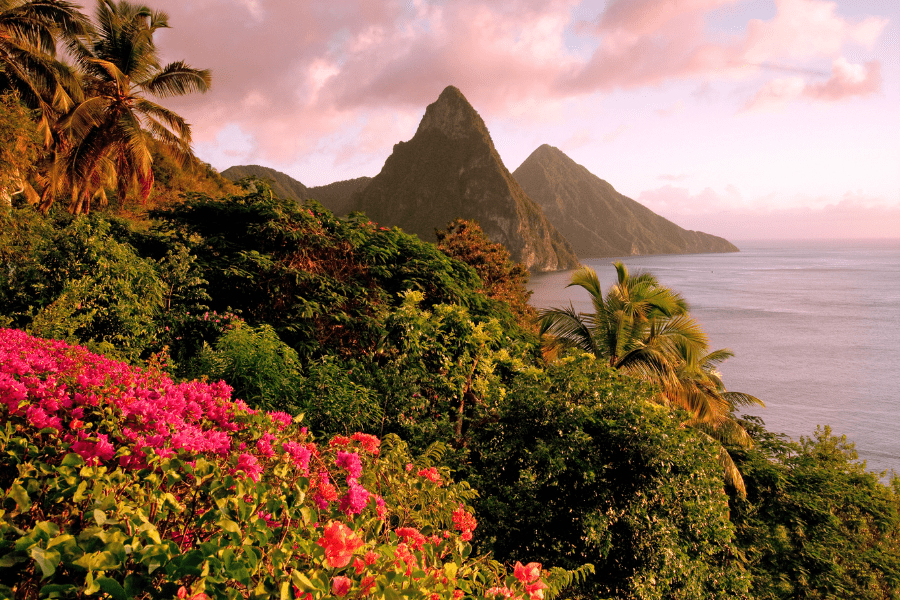 Benefits of Acquiring St Lucia Passport
Fast Citizenship
Saint Lucia will process your citizenship application within three to six months. Saint Lucia citizenship is an excellent option for people looking to renounce US citizenship. It's also a pretty good option for people who don't want to wait a long time to get their second citizenship.
The Cheapest Passport
With a headline donation of $100,000 for a single applicant, Saint Lucia offers the cheapest second passport (tied with Dominica). Dominica also has a CBI scheme for $50,000, but it comes with additional conditions, including specific physical presence requirements.
No Residence Requirement
Not a fan of island life? No worries. With the St Lucia passport, you'll never have to enter the country to receive, renew, or maintain your citizenship. It doesn't get more hands-off than this.
St Lucia Passport – Visa-Free Countries
Saint Lucian citizens can travel visa-free to 136 countries, including the EU and the UK.
Tax Benefits
Saint Lucia doesn't levy any inheritance, wealth, or capital gains taxes. Moreover, non-residents don't pay taxes on foreign-sourced income.
Dual Citizenship Allowed
Saint Lucia recognizes the right to hold dual citizenship, so you won't have to give up your existing citizenship to get a St Lucia passport.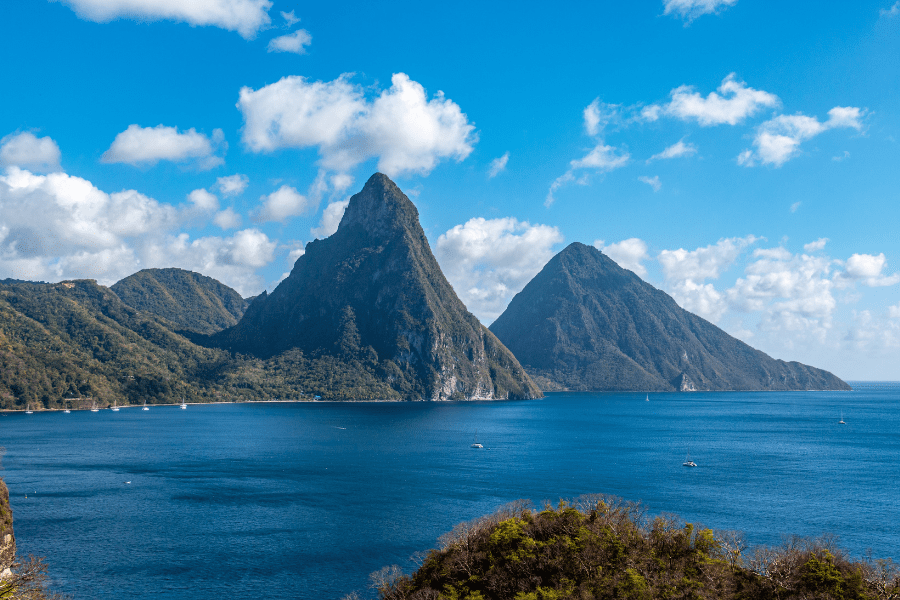 St Lucia Passport – Is It Worth It?
Tied for the cheapest passport in the Caribbean for a solo applicant, the Saint Lucia passport is an excellent tool for anyone looking to gain a fast second citizenship in a vibrant offshore sector.
Compared to Dominica, which has a similarly priced donation route, St Lucia has a far more luxurious vibe with high-end hotels, resorts, and housing options.
No matter which way you go, Dominica or Saint Lucia, elsewhere in the Caribbean, or further afield to the EU, Nomad Capitalist can guide you on the best second passport to get. We've helped our clients gain citizenship in 28 countries and can help you get the passport that best fits your life too. Set up a call with us today to go where you're treated best.
How Strong is the St Lucia Passport in 2023: The Ultimate Guide FAQ
How strong is St Lucia's passport?
A Saint Lucian passport allows visa-free access to 136 countries, including the EU, Malaysia, the UK, etc.
Can I live in the UK with a St Lucia passport?
Saint Lucia is a Commonwealth nation, enabling Saint Lucian citizens to stay in the UK visa-free for up to six months.
How long does it take to get a St Lucia passport?
Applicants can expect to receive their Saint Lucia passport in three to six months. However, delays may be caused by extra due diligence processes.
What paperwork is needed for a St. Lucia passport?
Basic identity documents such as birth certificates, marriage certificates, health certificates, and clean criminal records are all required. All these documents must be in English.
Is St Lucia safe?
Saint Lucia is one of the safest Caribbean countries with a stable political and economic landscape.
What is the Saint Lucia passport ranking?
According to the Nomad Passport Index, St Lucia holds 67th rank, allowing visa-free access to 136 countries.