Dateline: Mexico City, Mexico
Imagine that you're relaxing on a yacht. The sun is shining, the trade winds are blowing ever so gently, and you can see into the clear, turquoise waters.
There are palm trees, tropical drinks, and you can even sail to a nearby island in time for dinner.
Sounds like a dream vacation, right?
Well, what if I told you that you could have this permanently? I'm sure it sounds too good to be true — but it's not.
You can make this dream a reality by getting second citizenship in the Caribbean.
The Caribbean is host to 7,000 islands, 25 of which are amazing countries and territories. And across these various islands, you can find at least five different spoken languages, numerous cultural traditions, and many culinary delights.
Plus, five of these countries offer some of the best citizenship by investment (CBI) programs around. 
Not only does a safe and beautiful location appeal to many of those seeking dual citizenship, but these five countries' passports are some of the easiest to get and their tax incentives are insane. Plus, their processing time is usually less than 6 months, to boot.
In this article, we will compare the best Caribbean citizenship by investment programs and discuss alternative residence by investment programs.
This article also assumes that you're familiar with the concept of acquiring citizenship by investment. If not, you can get the nitty-gritty breakdown here with our comprehensive guide.

The Best Caribbean Citizenship by Investment Programs

So, if you're looking for the best Caribbean citizenship by investment programs, then you have come to the right article.
Here, we will compare five different Caribbean CBI programs so you can determine where you should go to be treated best. While I would argue that you would be treated best in any of these locations, there may be specific details that are more appealing to you depending on your individual needs and interests.
And whether you are looking into second citizenship for tax purposes, travel, or as a Plan B, I'm certain that Caribbean citizenship by investment program can meet your needs.
Read on to understand the various nuances and to compare factors. If you would like to explore these factors in more detail, click on each country's name below to be taken to a comprehensive Citizenship by Investment Ultimate Guide per program.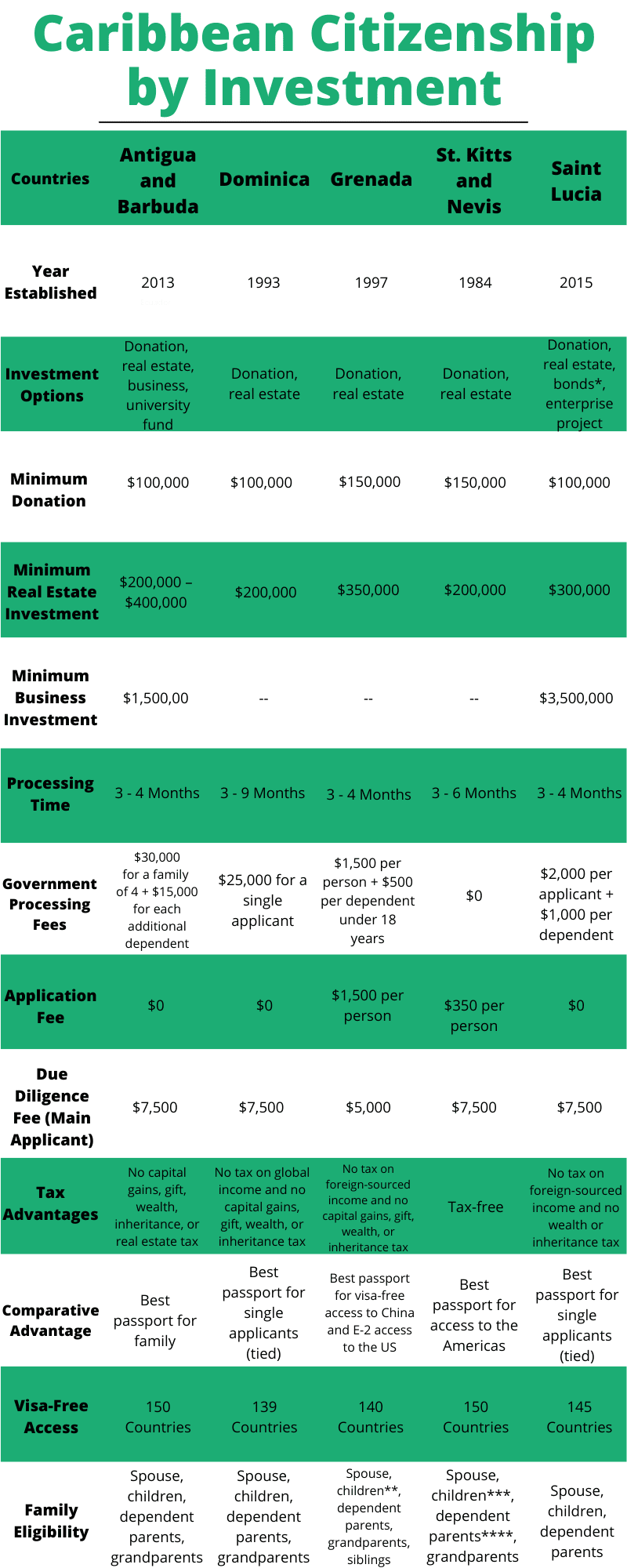 Caribbean Residence by Investment Options
If none of these Caribbean citizenship by investment options tickled your fancy, there are also some islands in, or near, the Caribbean Sea that offer residence by investment options.
While the Caribbean citizenship by investment programs are top-notch and some of the best in the world, maybe you're just not ready for citizenship. If that's the case, take a look at these countries to see if they might be the right fit for you.
The Bahamas

The Bahamas residence by investment program is one of the 15 easiest second residency programs to get. Plus, it usually only takes three months to be approved.
And in July 2021, new rules will allow for investors to gain permanent residence right away. Especially if you're interested in purchasing real estate that's valued at more than $1.5 million.
Under this program, you will be able to invest in real estate or in priority sectors of the economy, such as tourism, information technology, infrastructure, and medicine. You can also combine both investment options.
While the new amount for real estate investment is still due to be released, it is expected to be at a minimum of $500,000.  But you will have to hold the property for at least 10 years and spend at least 90 days per year in the country.
The upside is that you can apply for citizenship after those 10 years.
And family members are allowed too, as long as they live with and are dependent on you.
Bermuda

New to the scene as of March 2021, Bermuda launched a residence by investment program, known as the "Economic Investment Certificate."
Under this program, you can invest $2.5 million into various economic sectors, including:
Real estate

Bermuda-based businesses

Government bonds

Charities

Trust Funds
Your family is also welcome. Spouses and dependents can be granted residence under your application.
And after five years, you'll be able to apply for permanent residence allowing you and your family to reside in Bermuda indefinitely.
Though, if you're interested in a citizenship option, you may be eligible after the first 10 years. And with tax-friendly options, it might just be a country in which you want to open an "offshore" bank account.
Cayman Islands

The Cayman Islands offers several options for you to gain residence by investment. And while it's one of the more expensive options, it's worth it for the tax incentives and British Overseas Territory status.
Under this program, you can apply for permanent residency by investing $2.4 million in real estate. You will then need to spend at least one day per year in the Cayman Islands and your status will never expire. Plus, after five years, you can also apply for a British Overseas Territory passport.
In addition to the permanent residence program, the Cayman Islands also offers alternative residency options. For example, you can make a direct investment into a business or by owning a portion of a business.
For the direct investment option, you will need to invest $1.2 million into a business where you have an active management role and that creates local jobs. To be more specific, 30% of the employees must be Caymanian and you will also have to prove your professional expertise.
With this option, you will need to live in the country for 90 days per year to gain a 25-year permit. But your family is welcome too.
For the substantial business presence option, you will need to own 10% of the shares in an approved business or be employed in a senior management capacity. Additionally, you will need to reside in the islands for 90 days per year, but that shouldn't be too difficult if you are working for a company there.
With this option, your permit is also good for 25-years and is renewable. And again, your family is welcome as well.
St. Vincent & Grenadines

Here, non-nationals can apply for residency on a temporary or permanent basis. And you will usually get a decision in three to five months.
Temporary residency is granted for one to two years and you can apply for a renewal. After 7 consecutive years in the country, you may also be eligible for citizenship.
Summary: The Best Caribbean Citizenship by Investment Programs
Remember the dream vacation that we imagined at the beginning of this article? It doesn't have to be just a dream.
Citizenship by investment programs is a way to turn a dream vacation into a permanent reality. 
And while there are great citizenship by investment options the world over, the Caribbean really does offer some of the oldest and the best programs out there.
If you're looking to settle in the Caribbean, then I hope you will consider one of the five best Caribbean citizenship by investment programs that we discussed. 
And if you want to strategize which of these would be the best option for you, reach out to my team at Nomad Capitalist. We are ready to help.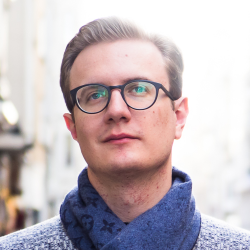 Latest posts by Andrew Henderson
(see all)