Dateline: Kuala Lumpur, Malaysia
For the past few years, I've advocated the idea that onshore is the new offshore, so you might be wondering why I decided to write about opening a bank account in Bermuda – a classic offshore destination.
This philosophy, however, is more of a mindset than prescriptive advice.
It means being open to new foreign banking possibilities, choosing banking jurisdictions based on quality, and understanding that a legal and transparent offshore strategy is the best offshore strategy.
That being said, there are plenty of classic offshore jurisdictions that are high-quality and transparent – including Bermuda.
Unlike similar destinations, Bermuda has kept its nose relatively clean while still being incredibly tax-friendly. Its banking sector is stable, and its banks are accustomed to dealing with clients from all around the world.
If you're considering opening an offshore bank account in Bermuda, this brief guide will give you an overview of the benefits and drawbacks of Bermuda's banking sector, and it will give you a brief overview of how to go about opening an account.
Why Open an Offshore Bank Account in Bermuda?
In the realm of offshore banking, Bermuda gives you the best of both worlds.
It has many of the classic benefits of offshore banking jurisdictions without the bad reputation or shady actors, and there are plenty of unique benefits of banking there as well.
Here are four of the best reasons to open a bank account in Bermuda.
Tax Benefits
One of the top reasons to open a bank account in Bermuda is that it's an incredibly tax-friendly jurisdiction.
Because Bermuda doesn't tax business profits, capital gains, or most other forms of income, a Bermuda bank account can be helpful in your tax planning.
Additionally, your Bermuda bank account will enable you to more efficiently buy and sell shares of local investment funds, and as a non-resident, you will not need to pay tax on those earnings.
If you're looking into offshore banking for tax benefits, check out our offshore banking page for more general information.
Positive Banking Reputation
Although Bermuda is often regarded as a tax haven, it's also known as a highly reputable place to bank.
Unlike other classic offshore jurisdictions, such as Panama, banks in Bermuda haven't been wrapped up in tax evasion scandals or other shady activities.
The Bermudan government takes a balanced approach to banking regulation – there's enough oversight to prevent bad actors from gaming the system, but Bermuda clearly also values business and financial freedom.
Bermuda has also taken steps on the international stage to prove its commitment to transparency, such as joining the Common Reporting Standard (CRS).
While I'm personally not a big fan of CRS, I can see why Bermuda willingly joined in – to protect its reputation as a transparent offshore banking destination.
High-Quality Banks
In addition to its tax-friendliness and solid reputation, Bermuda also has excellent banks.
For decades, foreign banks were not allowed to operate in Bermuda, so all established banks in the country have ties to its local economy. Even HSBC, which opened branches in Bermuda in 2004, gained a presence on the island by merging with a local institution, the Bank of Bermuda.
Because these banks are integrated with the local economy, they're more stable because they're not over-inflated with foreign cash.
Bermuda's local currency is also tied directly to the value of the US dollar, which only adds to Bermudan banks' stability. Unless the US dollar plunges overnight – which is highly unlikely – you won't have to worry about currency instability when you open a bank account in Bermuda.
Global Citizen Friendliness
As I mentioned the other day in my article on banking in Australia, not all banking jurisdictions are used to dealing with an international clientele. While this doesn't make them bad places to bank, it can make opening and managing accounts there more difficult.
Luckily, that's not the case in Bermuda.
The country's large financial sector deals with a variety of clients from around the world, so they won't be confused if a Canadian, German, or Chinese person wants to open an account.
Bermuda's banks have services specifically designed for their international clientele, and they even allow you to open an account remotely.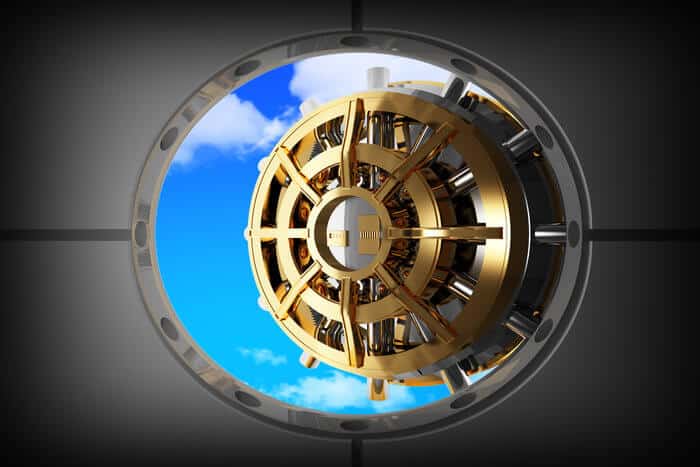 How to Open an Offshore Bank Account in Bermuda
If you want to open an offshore bank account in Bermuda, then you're in luck – the process for doing so is quite simple. Most banks in Bermuda will allow you to open an account remotely, and the application process is generally straightforward.
Choose a Bank
Choosing the right offshore bank for you is often one of the most difficult parts of opening an offshore bank account. Luckily, in Bermuda, you only need to choose from four options – Bermuda Commercial Bank, Butterfield Bank, Clarien Bank, and HSBC Bank Bermuda.
Because Bermuda's banks are generally strong, you can't really go wrong with any of these options – though I personally am not a fan of HSBC.
Therefore, the bank that you choose should ultimately depend on your personal needs and preferences. You should research your account options at each bank, speak with representatives to get a feel for their style of customer service, and do your due diligence on fees and interest rates before you begin the application process.
How to Open an Offshore Bank Account in Bermuda Remotely
Due to the island's geographic isolation, many banks in Bermuda offer the opportunity for you to open a bank account remotely.
In fact, because banks in Bermuda have such a streamlined remote account opening process, many people tend to use this route.
The first step in the process of opening an offshore bank account remotely is naturally to gather the required documents. You will typically need to provide certified identity documents, references, statements of the purpose of the account, and proof of address. However, you should check with your bank to see if you need to provide any additional information.
Once you have gathered those documents, you may then submit them to the bank either online or by mail. For this step, you should consult with your bank to confirm its submission policies.
The steps you'll need to take from there will depend on your bank and the type of account you are trying to open.
In many cases, you should be able to wire a deposit as soon as you are approved, but you may need to take further steps in some circumstances.
Should I Visit in Person?
As you may already know, I'm not a big fan of opening bank accounts remotely.
However, unlike most other banks, Bermuda's banks have a more streamlined process for opening remote bank accounts. That makes a lot of sense given the island's geographic isolation.
However, there may be some instances where opening a Bermuda bank account in person might be preferable.
First, you may only be able to open certain types of accounts remotely. Although you'll have no problem opening a basic savings account from the comfort of your couch, you might need to visit in person if you require more specialized services.
Second, if your situation or offshore strategy is complex, opening an account in person might save you the trouble of going back and forth endlessly to sort out issues with your application, or you may just be like me and prefer to meet with others face-to-face.
Finally, opening an offshore bank account in Bermuda may just be the perfect reason to visit this beautiful country.
If you feel like spending some time relaxing on the beach after opening your offshore bank account, you can kill two birds with one stone by paying a visit to Bermuda.
What are the Drawbacks of Offshore Banking in Bermuda?
Although opening a bank account in Bermuda is quite easy, there are a handful of issues to consider if you decide to open a bank account there.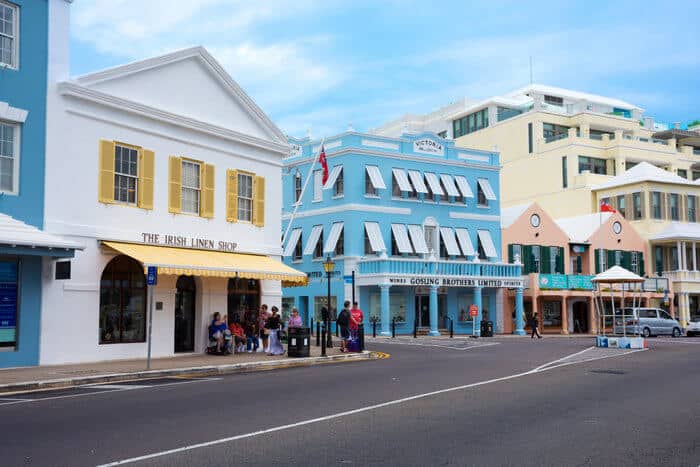 Limited Options
Although only having four major options to choose from might make your decision process easier, it can also be limiting – particularly when one of those options is HSBC.
Similar jurisdictions, such as the Bahamas or the Cayman Islands, typically have double the number of offshore banking institutions.
Therefore, while your banking options in Bermuda are certainly high-quality, you may be out of luck if none of the available institutions meet your needs.
Bank Fees
Another issue that many people encounter when banking in Bermuda is high banking fees.
Even a simple checking account costs $8 a month to maintain – which is quite high considering that this basic account usually comes free if you maintain a minimum deposit.
Although Bermuda doesn't levy many taxes, it needs to generate revenue from somewhere – and one of the ways in which it does so is by charging its banks hefty fees. Those fees are then passed onto customers through a variety of banking fees.
Additionally, much of the staff at these offshore banks are highly qualified and highly paid, and as always, good things usually come at a cost.
While you may get excellent service and benefits from banking in Bermuda, you'll surely be paying for it through high banking fees.
Low Deposit Insurance
While Bermuda's banking fees are incredibly high, its deposit insurance is surprisingly low.
In fact, Bermuda did not even offer deposit insurance until 2011.
Currently, the country only insures local bank deposits up to $25,000 – a mere 10% of what the US FDIC insures.
Granted, I don't foresee any of these banks shuttering their doors unexpectedly anytime soon, but the lack of deposit insurance in Bermuda can be a turn-off.
Perception
Despite Bermuda's sterling reputation, having a bank account in any offshore jurisdiction comes with its own set of baggage – particularly when dealing with government bureaucrats who don't know much about managing wealth.
Unfortunately, the old myth that offshore banking means hiding money isn't going away anytime soon.
Even if your offshore strategy is honest and transparent, storing your money in any offshore jurisdiction can occasionally raise a few eyebrows.
Conclusion
Opening an offshore bank account in Bermuda can be an excellent choice for many reasons. Bermuda's banking sector is tax-friendly, safe, and transparent, and its banks are used to dealing with an international clientele.
It's also quite easy to open a bank account there – you can even open an account remotely relatively quickly since the process is so streamlined.
Although offshore banking in Bermuda isn't without its faults – namely high fees and minimal deposit insurance – it can be a great option for the right person.