If you're planning a trip to Mexico but worried about safety, understanding that not all areas are equally dangerous in this large country is essential.
At Nomad Capitalist, we understand that safety is a top priority for our clients. Plus, as our readers know, we love Mexico, so if you've never visited before, we want to help you confidently plan your next trip.
By researching and taking necessary safety precautions, you can enjoy a safe and memorable trip to Mexico each year, like millions of other tourists and expats. Or even relocate there.
This article will cover famous beach towns, cities like Mexico City, and hidden gems. We will also provide tips for staying safe while traveling in Mexico.
What Parts of Mexico Are Safe?
First, let's address the elephant in the room. Yes, some parts of Mexico are unsafe, and it's essential to be aware of them.
For example, the U.S. Department of State has issued travel advisories for certain states and regions in Mexico due to crime and violence.
However, many Mexican states are safe for tourists and expats, and these areas are the ones that are low in petty crime and popular with tourists.
They have a strong police presence and rely heavily on tourism for their economy.
Some of the safest areas of Mexico for tourists and expats include:
The Yucatan Peninsula includes Cancun, Playa del Carmen, Tulum, and Merida, known for their beautiful white sand beaches, ancient Mayan ruins, and lively Mexican culture. While these areas can be packed with tourists, they are considered safe if you stick to tourist areas and take normal precautions.
The Pacific Coast includes Puerto Vallarta, Huatulco, and Ensenada. Here you would find stunning coastlines, friendly locals, and delicious seafood.
Baja California Sur, which includes Los Cabos, La Paz, and Todos Santos, is renowned for its laid-back vibe, desert landscapes, and whale-watching opportunities.
Mexico's Central Highlands, these Colonial cities, which include San Miguel de Allende, Guadalajara, and Oaxaca City, are rich in history, stunning architecture, and impressive cultural scenes.
While these areas are generally safe for tourists, taking necessary precautions and remaining vigilant of your surroundings is still essential, like in most cities worldwide.
Are Mexican All-Inclusive Resorts Safer Than Regular Hotels?
Many travelers opt to stay at all-inclusive resorts in Mexico, as they offer a convenient and safe way to enjoy a beach vacation.
A hotel or resort's safety ultimately depends on various factors, including location, security measures, and overall crime rates in the surrounding area.
It's worth keeping in mind that while all-inclusive resorts offer many perks, it's still important to take necessary precautions to ensure a safe and enjoyable experience.
If you opt for an all-inclusive resort, conduct thorough research and read reviews from other travelers beforehand.
5 Safety Tips for Traveling to Mexico
No matter where you stay in Mexico, keeping these safety precautions in mind to protect yourself and your belongings is essential:
Be aware of your surroundings, pay attention to what's happening around you, and be alert for any potential danger.
Some areas of Mexico are more dangerous than others. So before you travel, research which areas you should avoid. Steer clear of border towns and states with high levels of organized crime, such as Guerrero, Michoacan, and Tamaulipas.
Don't flaunt your wealth. Avoid wearing expensive jewelry or carrying large amounts of cash, as this can make you a target for theft.
Use common sense. Trust your instincts, and don't take unnecessary risks. If something seems unsafe or sketchy, it probably is.
Keep your documents and valuables secure. Keep your passport, money, and other valuables in a secure location, such as in a hotel safe.
The Safest Border Crossings in Mexico
Choosing the safest border crossing is vital if you drive from the United States to Mexico. Here are some of your best options:
Nogales, Arizona: Relatively safe and well-patrolled by border officials.
El Paso, Texas: This crossing is considered one of the country's safest and most efficient crossings.
Laredo, Texas: One of the busiest borders in the country but also one of the safest due to its heavy police presence.
Otay Mesa Crossing: A popular route for many travelers driving from Los Angeles or San Diego.
The Safest Cities in Mexico for 2023
Now that we've covered some general safety tips and regions to consider letunnecessary attention's take a closer look at some of the safest cities in Mexico.
These destinations are known for their low crime rates, welcoming nature, and unique attractions.
Merida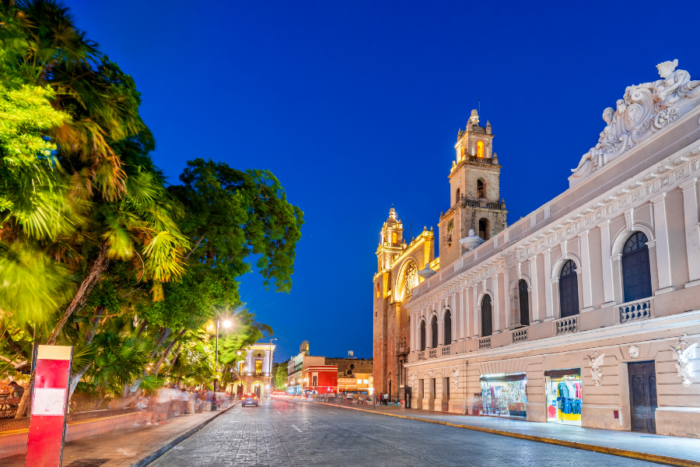 Mérida, the Yucatan capital, stands out as one of the safest cities in Mexico and Latin America, earning recognition from CEOWorld magazine as the second safest city on the continent after Quebec City, Canada.
With its low crime rates and vibrant cultural heritage, Mérida has recently become a popular tourist destination.
As the capital and largest city of the Yucatan state, Mérida is known for its stunning colonial architecture, incredible food, and proximity to important archaeological sites.
Visitors and expats can safely explore the historic city center, recognized for its lively music and arts scene while admiring iconic landmarks like the Palacio del Gobierno and the Cathedral of San Ildefonso.
Although Mérida is generally safe, taking standard precautions is essential, as pickpocketing can occasionally occur, however, the most significant safety concern in Mérida is the heavy traffic.
Its strategic location also makes Mérida an excellent base for day trips to nearby popular tourist destinations, such as Cancun and Playa del Carmen.
Playa del Carmen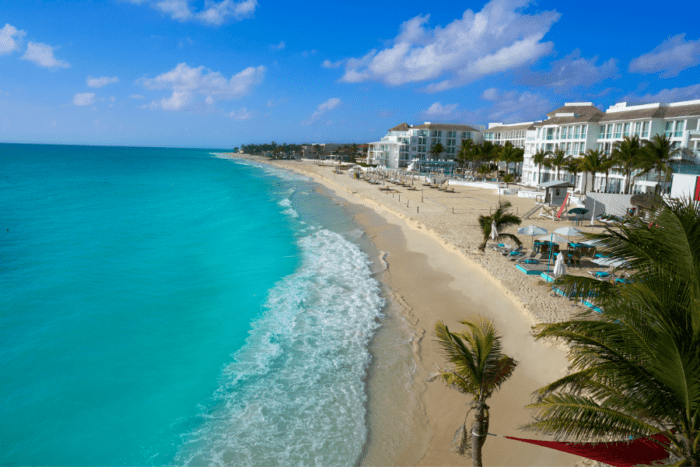 Playa del Carmen, a renowned beach town on Mexico's Caribbean coast, continues to grow and flourish as its economy expands and the cost of living decreases.
As a result, it's estimated that about 186,000 expat residents live part-time to full-time in Playa del Carmen, Mexico.
Although the state of Quintana Roo experiences minimal violent crime directed at tourists, it's essential to take safety precautions in Playa del Carmen, particularly in light of recent incidents of drug-related violence in nearby Tulum.
Visitors should avoid walking alone at night and avoid attracting unnecessary attention.
With its stunning white sandy beaches, vibrant nightlife, and proximity to the ancient archaeological site of Chichén Itzá, Playa del Carmen attracts countless holidaymakers.
The cost of living in this bustling beach town can range from $10,000 to $25,000 per year, depending on individual preferences.
Tulum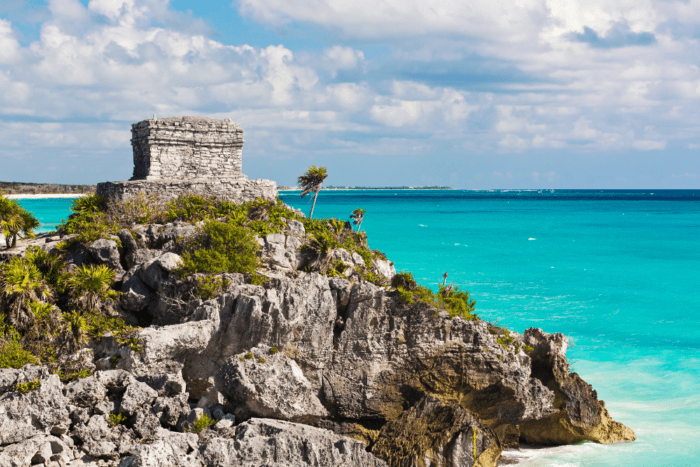 Tulum is another well-known tourist destination on Mexico's Caribbean coast that travelers consider safe.
Tulum offers an abundance of beaches with crystal-clear waters and a relaxed atmosphere. The town has a fascinating history, as ancient Mayan ruins gaze out over the sea.
The Overseas Security Advisory Council (OSAC) considers Tulum to be relatively safe for visitors, but they advise maintaining vigilance while in the area.
While there are some concerns, such as cartel activity, water quality, and natural disasters, these issues can be managed with proper precautions.
Puerto Vallarta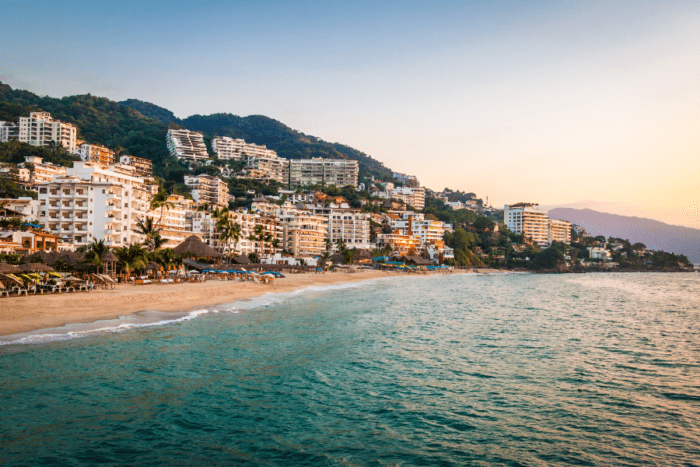 Located on Mexico's Pacific coast, Puerto Vallarta is a stunning city renowned for its art galleries, beach life, and traditional center.
Nestled between the Sierra Madre mountains and the Pacific coast, Puerto Vallarta presents the perfect opportunity to enjoy both the beaches and the mountains.
With excellent infrastructure, internet connectivity, various daily activities, and good travel links, this lively city is ideal for expats seeking a dynamic environment with a retiree-friendly atmosphere.
It is a welcoming destination for families, same-sex couples, and retirees. With crime rates remaining low and minimal involvement in cartel conflicts, the city offers a safe and vibrant atmosphere.
Although petty crimes such as bag snatching, pickpocketing, or theft may occur, taking standard precautions should suffice.
The friendly local population and abundance of fresh seafood add to the city's charm.
You can expect to live comfortably in Puerto Vallarta for $1,200 – $2,500 per month.
Cancun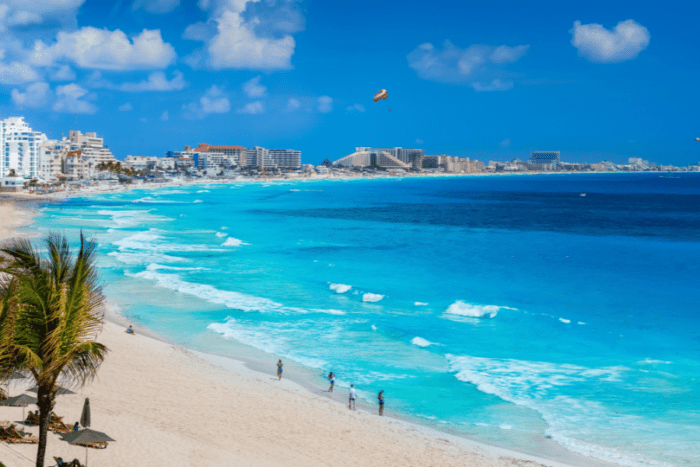 Cancun, the most popular tourist destination in the Caribbean, is renowned for its stunning, expansive beaches, luxurious world-class resorts, and vibrant entertainment scene.
In addition to its many attractions, Cancun has become one of the safest cities in Mexico, thanks to recent substantial investments in security measures.
These efforts include the installation of numerous surveillance cameras throughout the city and increasing police patrols, ensuring that visitors can enjoy a safe and memorable experience.
San Miguel de Allende
San Miguel de Allende is a stunning colonial-era city in central Mexico, known for its beautiful architecture, vibrant cultural festivals, and warm, friendly locals.
The city is celebrated as a UNESCO World Heritage Site for its well-preserved historic center.
Although crime rates in San Miguel de Allende are relatively low, it is still important to exercise caution when out at night and to be mindful of your belongings on public transport.
The city's safety and charm have made it a popular destination for expats, with over 8,000 American, British, and Canadian residents currently living there.
Regarding the cost of living, a family of four estimated monthly expenses in San Miguel de Allende is around $2,122 without rent, while a single person's expenses are approximately $596.
This makes San Miguel de Allende 57.64% less expensive than New York (without rent), contributing to its appeal as a more affordable and safe destination for visitors and expats alike.
Los Cabos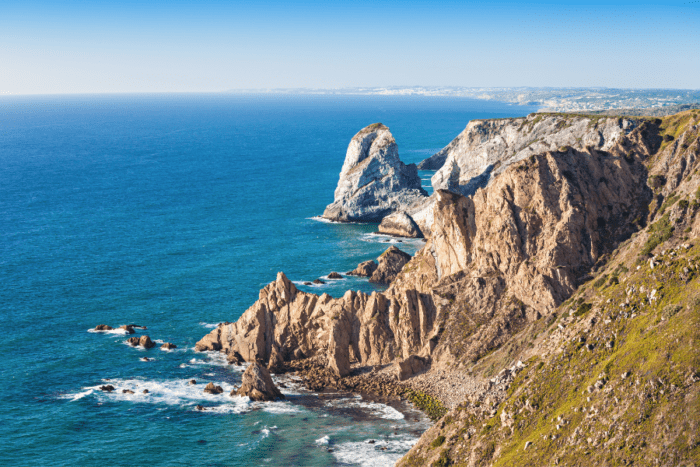 At the southern tip of the Baja California Sur, you will find Los Cabos, designed for resort experiences featuring stunning beaches, world-class golf courses, and outdoor activities.
With a low crime rate and well-developed tourist infrastructure, it's easy to see why so many tourists and expats visit and live in the area.
Los Cabos is a great place to explore the natural beauty of the Baja Peninsula, with its rugged desert landscapes and abundant wildlife.
Cozumel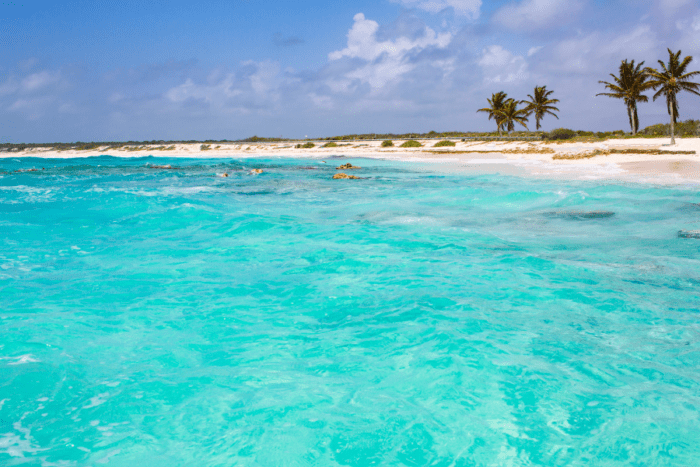 Cozumel is an island town off the coast of the Yucatan Peninsula, with turquoise water, abundant marine life, and a laid-back beach vibe.
This island boasts an impressively low crime rate and is home to some of the country's most pristine beaches.
Cozumel is one of Mexico's best scuba diving and snorkeling destinations, with many coral reefs and underwater caves to explore.
Puebla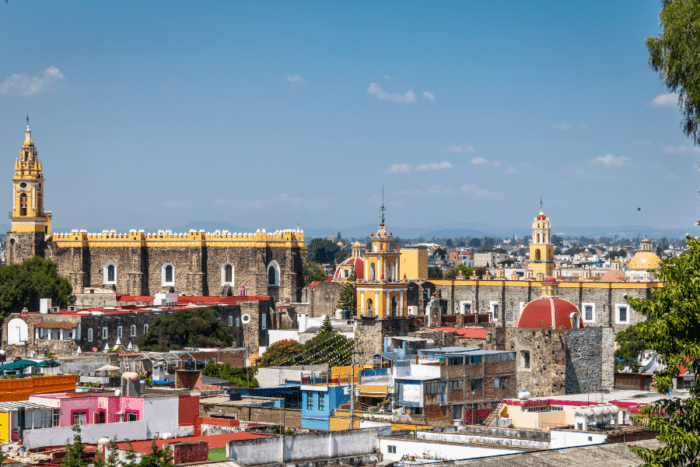 Situated just two hours from Mexico City, Puebla offers a safer, cleaner, and more affordable alternative for those seeking natural beauty and easy access to various attractions.
With its proximity to hiking trails around volcanoes, a short drive to Veracruz's beaches, and seamless day trips to Mexico City, Puebla provides a strategic location for explorers.
The city boasts its airport plus convenient bus connections to Mexico City's airport, ensuring smooth travel to other destinations.
Puebla's low cost of living is another attractive feature; spacious apartments with private courtyards can be found at moderate prices.
A two-bedroom home outside the historic district may be available for as low as $500 a month, while a two-bedroom, two-bathroom apartment near the city center typically range from $700 to $800.
Puebla's strategic location, safety, and affordability make it a prime choice for those looking to experience the best of Mexico's natural wonders, urban attractions, and coastal getaways.
La Paz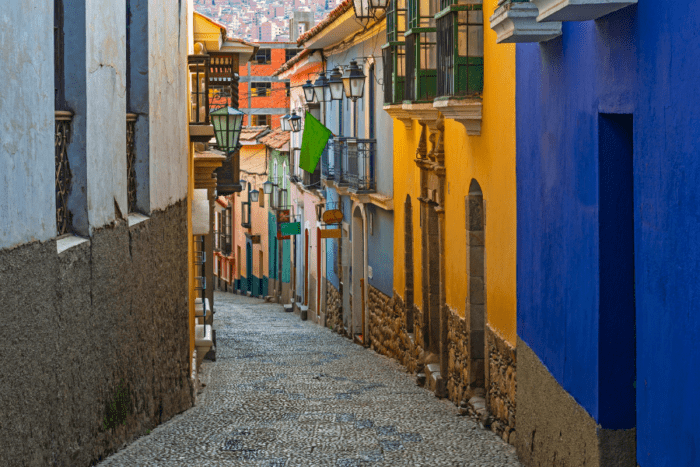 Baja California Sur offers a delightful living or vacation experience, with its capital, La Paz, being a particularly captivating destination. This port city, located southeast of the Baja Peninsula, boasts a low crime rate and a laid-back atmosphere, making it one of Mexico's safer destinations.
La Paz has everything from a local domestic airport that provides affordable and convenient connections to Mexico City to stunning nearby beaches that rank among the world's most beautiful. And the delicious local cuisine is worth mentioning.
As for living expenses, a single person's estimated monthly costs in La Paz are around $517 without rent, making it significantly more affordable than in cities like New York. Rent in La Paz is, on average, 91.66% lower than in New York.
With numerous outdoor activities, beaches to explore, and the daily catch of fresh seafood, La Paz is an ideal destination for nature lovers seeking a safe and enjoyable environment. The surrounding rocky desert formations and abundant sea life further enhance the city's allure.
Huatulco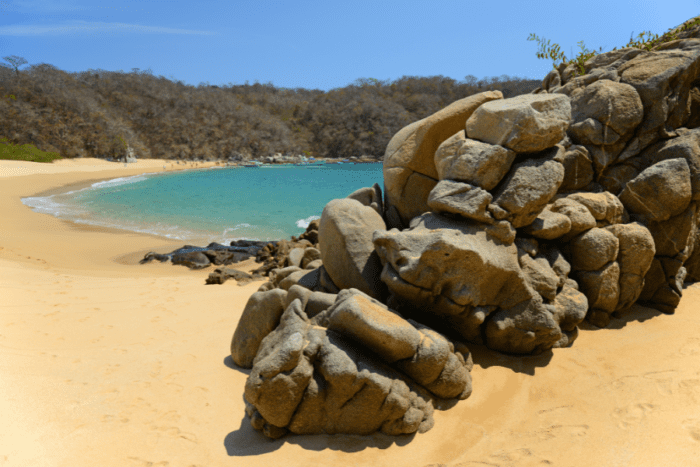 Huatulco, once a small fishing village, now boasts a well-developed tourist industry, exciting activities, and a serene seaside ambiance. Its unspoiled charm, jagged shoreline, and lush jungle landscapes can be safely explored and appreciated from this beach town.
It is considered safer than many U.S. cities, but visitors should still be aware of some organized crime presence between Oaxaca City and Huatulco.
While not as popular as other Mexican beach regions like Cancún, the Riviera Maya, Puerto Vallarta, and Cabo, Huatulco's charm lies in its nine bays, over 30 white sand beaches, and a variety of luxury resorts.
The area's friendly expat community and English-speaking locals make it an appealing destination for those looking to settle down.
Living in Huatulco is affordable and comfortable, with ocean-view homes ranging from $1,000 to $1,500 a month, often including gardening and maid services.
Gated properties are becoming increasingly popular, and professional services like doctors, dentists, and lawyers are readily available in English.
A regular doctor's appointment costs approximately $12 to $27, depending on the specialty.
Campeche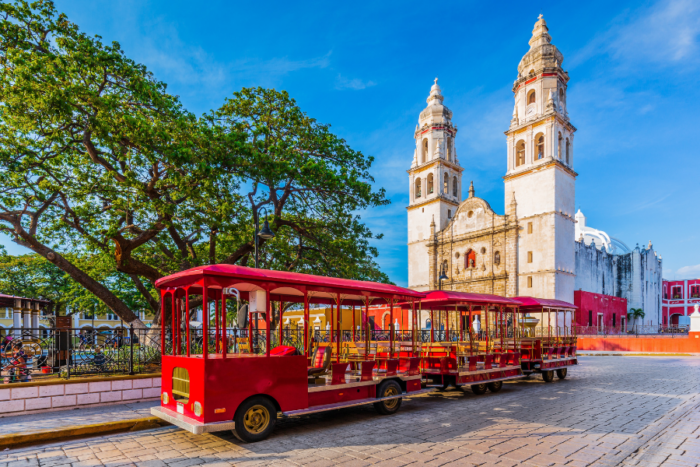 Campeche, a beautiful city in the eponymous state, is one of Mexico's safest cities and is situated on the Gulf of Mexico.
Though the waters may not exhibit the turquoise hues found in Playa del Carmen or Tulum, the city offers a more secure environment free from cartel violence.
The city features beaches along its edges, which are easily accessible by bus or a short walk if you choose to stay at a nearby hotel.
Campeche's rich history, vibrant culture, and picturesque coastal views make it an attractive destination for those seeking a safe and relaxing Mexican getaway.
With an average cost of living at $641 per month, Campeche ranks in the top 22% of the least expensive cities worldwide, making it an affordable option for those seeking a budget-friendly destination without sacrificing safety or beauty.
Ensenada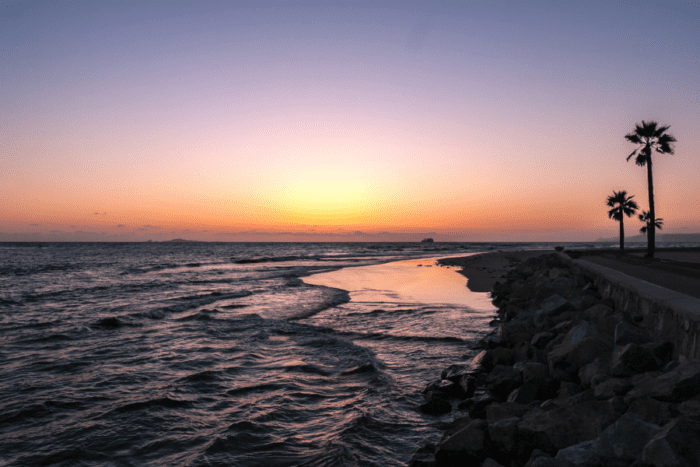 Ensenada, nestled in the northern region of Baja California, offers an ideal destination for those seeking seafood, wine, and outdoor activities in a safe Mexican city.
Its proximity to Tijuana enables easy travel around the country or affordable flights to the US. At the same time, Baja California Sur is just a short road trip away to the south.
Although Ensenada is relatively more expensive than many other cities in Mexico, most expats, particularly Californians who have made it their home, find it quite affordable compared to their places of origin.
Ensenada is a calm and safe city that boasts a low crime risk, allowing tourists to feel secure. In addition, the local police force enjoys high trust among citizens.
In this welcoming community, you can immerse yourself in art exhibits, diverse dining options, and various cultural festivities.
Sayulita
Just 30 miles northwest of Puerto Vallarta, Sayulita is an idyllic destination for nature enthusiasts and surfers alike.
With tourism being the driving force behind the local economy, the town is safe and friendly, ensuring a welcoming atmosphere for visitors.
The people of Sayulita are not only hospitable but also possess a good command of English, which makes communication easy for travelers.
Regarding the cost of living, Sayulita is among the top 20% of the least expensive cities in the world, ranking 7,401st out of 9,294 cities on our global list and 96th out of 144 cities in Mexico.
With an average cost of living of $613, Sayulita presents an affordable and secure option for those seeking a charming Mexican getaway filled with natural beauty and vibrant surf culture.
Querétaro
Querétaro, situated in central Mexico, boasts a friendly atmosphere and is renowned for being one of the safest cities in the country.
With a high percentage of English speakers, it is an ideal destination for expats seeking a welcoming and secure environment.
As for the cost of living, Querétaro is significantly more affordable than many other cities.
With monthly expenses for a family of four estimated at $1,768 without rent and a single person's monthly expenses at around $490 without rent, Querétaro is 64.45% less expensive than New York.
This charming city offers a blend of safety, cultural richness, and affordability, making it an attractive option for those looking to experience the best of Mexico.
Oaxaca City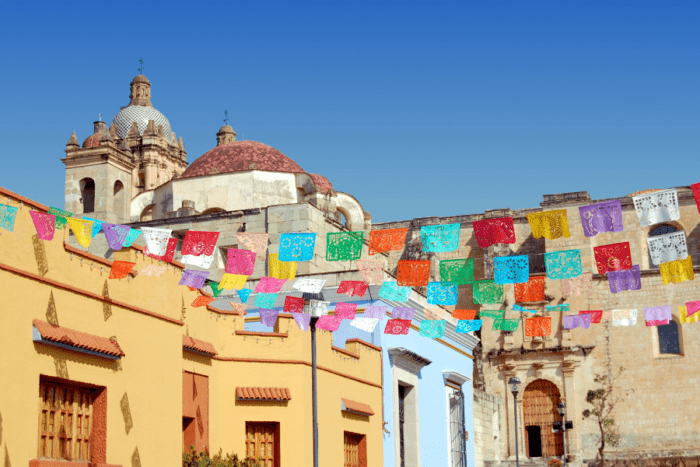 Oaxaca City, a textile gem in southern Mexico, offers a unique experience as you step back in time to explore its colorful markets, cultural treasures, and historic architecture.
As a UNESCO World Heritage Site, this city is celebrated for its well-preserved colonial-era buildings and striking landmark center.
It's an essential destination for those interested in Mexico's rich history and culture.
Oaxaca is not only one of the safest cities in Mexico but also boasts a plethora of nearby ruins and fascinating history to discover.
The city's authentic charm, however, lies in its culinary scene, as it's the birthplace of numerous Mexican dishes now found in restaurants worldwide.
Although very affordable, with expats reporting monthly expenses ranging from $900 to $1,500, including rent, Oaxaca City can be challenging for expats to live in.
Speaking functional Spanish is essential for thriving in this community, where the local language is crucial in navigating daily life.
San Cristobal de las Casas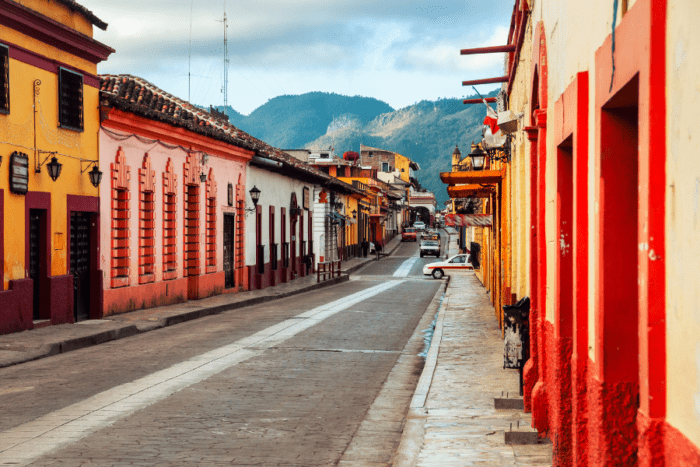 San Cristobal de las Casas, nestled in the southern state of Chiapas, is a safe and charming city known for its indigenous culture, cobblestone streets, and stunning architecture.
Often considered more of a large town, it has managed to maintain a secure and welcoming environment, attracting retirees, young families, and everyone in between.
This hidden gem is brimming with culture, great cafes, exceptional street food, and natural beauty just a day trip away.
Its affordable cost of living adds to its appeal; a one-bedroom apartment in the city center can be found for around $200 a month, and shopping at local markets yields astonishingly low food prices.
San Cristobal de las Casas offers a unique blend of safety, cultural immersion, and affordability, making it a perfect destination to explore Mexico's natural jungle landscapes and towering mountain ranges.
San Jose del Cabo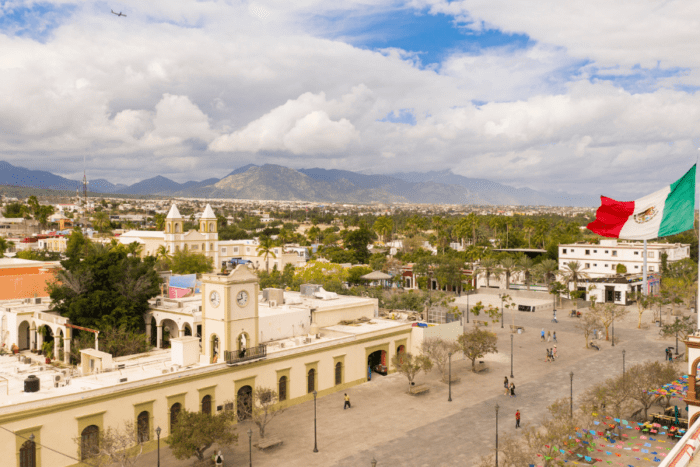 San Jose del Cabo is another resort town on the southern end of the Baja Peninsula, boasting picturesque seashores, outdoor activities, and a relaxed setting.
It's one of Mexico's safest beach towns and fully equipped for tourists.
San Jose del Cabo is an excellent destination for those who appreciate nature with its mix of harsh desert vistas and thriving marine ecosystems.
Puerto Escondido
Puerto Escondido, a secure and welcoming coastal town in Oaxaca, is recognized for its surfing and easygoing locals.Here you will find surfers and digital nomads from across the world enjoying the beach culture and slower pace of life.
Morelia
Morelia, situated in the central region of Mexico within the state of Michoacan, is known for its year-round spring weather, stunning colonial architecture, and delectable Mexican cuisine.
It is regarded as one of the safest destinations in the country.
The city offers a range of amenities, including bustling markets, quality healthcare, and an airport.
Morelia's convenient location also allows for easy access to Mexico City for additional travel connections or a quick bus ride to the coast for beach excursions.
With an average cost of living at $569 per month, Morelia is considered one of the least expensive cities to live in.
This affordability, with its safety and charm, makes it an attractive destination for those seeking a comfortable and enjoyable experience in Mexico.
Guadalajara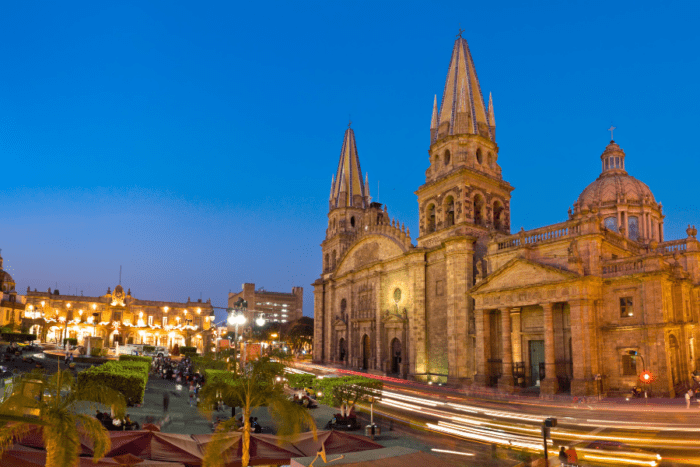 Guadalajara is a marvelous city with an excellent quality of life and a strong economy, offering a big-city experience with a small-town feel.
Known for its cultured population, people from all over the world visit and study and often decide to stay.
The city is warm and welcoming, with residents being exceptionally friendly to foreigners.
While Guadalajara can be considered a medium-safe destination with safe and unsafe areas, its cultural and natural attractions make it a worthwhile place to live.
The city is a food lover's paradise, boasting a diverse range of local and international cuisine to satisfy any palate.
Living costs in Guadalajara average between $500 and $600 per month. From this Western Mexican city, you can safely enjoy day trips to the beautiful Lake Chapala and venture into the nearby mountains for hiking excursions.
The city truly offers a perfect blend of urban life and access to nature's wonders.
Mexico City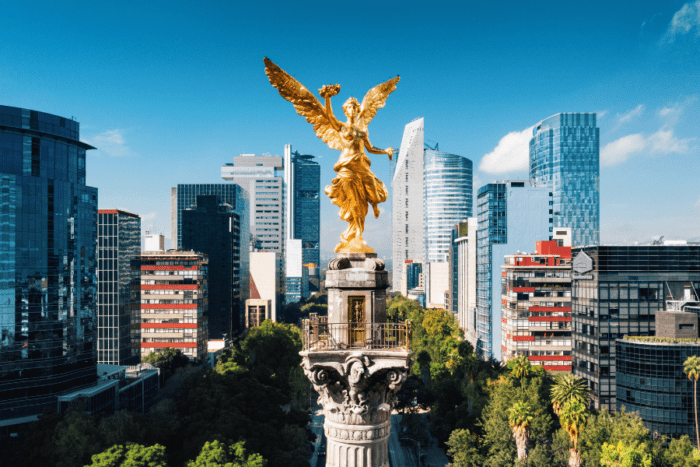 Mexico City, the capital and one of the largest and most captivating cities in the world is celebrated for its rich history, cultural diversity, and bustling street vendors.
While the city once had a reputation for being unsafe, it underwent a significant transformation between 2009 and 2011, with violent and petty crime rates dropping considerably.
Today, Mexico City is considered one of the safest major cities in Mexico, thanks to the government's investment in security measures such as increased police presence and surveillance cameras in the city center.
As a general rule, it's best to avoid the extreme northern and southern neighborhoods of Mexico City after dark and steer clear of Tepito and Merced, particularly at night.
However, the two main downsides to living in Mexico City are the dreadful pollution and traffic congestion.
If you can look past those issues, you'll find yourself immersed in one of the most culturally vibrant and gastronomically diverse cities in the world.
The Wrap-up: Safest Cities, Areas, Beaches, and States to Visit in Mexico
Overall, Mexico is beautiful, with significant cultural history and some of the most popular tourist destinations in the world.
While some areas are less safe than others, there are many safe cities, neighborhoods, beaches, and states to visit in Mexico.
By taking standard precautions and being aware of potential dangers, travelers and expats can have a safe and enjoyable experience in Mexico.
Its safe cities offer a range of attractions, from beautiful beaches to colonial architecture to ancient ruins.
Visiting these safe cities and states in Mexico allows travelers to experience the best Mexican culture and hospitality while staying safe and secure.
If you are considering moving to Mexico or any other international destination, consider signing up for the Nomad Capitalist Action Plan to get expert guidance on the best places to live, work, and invest worldwide. Additionally, you can receive specialist advice on legally reducing your taxes.
FAQs:
What city in Mexico is considered the safest with the lowest crime rate?
The city in Mexico considered the safest with the lowest crime rate is Merida, located in Yucatan.

It's also one of the most affordable cities in Mexico, making it a popular destination for retirees and expats. Merida's low crime rate makes it an excellent choice for visiting or living.
Where is the cheapest and safest place to live in Mexico?
The cheapest and safest place to live in Mexico will depend on your preferences and lifestyle. 
However, some of the most affordable and safe cities include Querétaro, Merida, and Guanajuato. 

These cities offer a low cost of living, a rich culture, and a relaxed atmosphere, making them an excellent option for those looking to live or retire in Mexico.
What are the dangerous places to avoid traveling in Mexico?
While many safe destinations exist in Mexico, some areas are best to avoid due to safety concerns.

These include border towns, which can be affected by drug cartel violence and organized crime, and certain states such as Guerrero, Michoacan, and Tamaulipas, which have higher crime rates than other parts of the country.