Dateline: Mexico City, Mexico
It's no secret that I left the United States. Early on I could tell it wasn't where I was treated best and so I went in search of what was best for me. Since I've left, I commonly get asked by people new to Nomad Capitalist, where I eventually ended up.
Today I'm going to tell you the story of where I moved to after I left the US.
You may be in the same boat as some of my clients who know they need a change but are unsure of where to move and how to make it happen. Where to move is a huge decision.
I've been studying, researching, and living this Nomad Capitalist lifestyle for myself for over a dozen years now. I've realized that different countries have different things to offer and also learned that life changes and progresses, as will your needs and desires for where you live. I understand that there are many reasons why you might be afraid to move abroad. But that is worth it if you get more freedom.
I have lived in numerous places and explored even more. I want to walk you through the way I lived in places so that you can see exactly what it's been like adapting from a perpetual traveler to someone with multiple homes.
In this article, I'll talk about the stages of exploring the world, deciding what you like best, developing my Trifecta strategy, and what's beyond the Trifecta.
I'm going to tell you how you can do it too.
So to where did I move? Let me tell you the story.
Start Exploring the World
I think what happens when someone first decides that they want to go where they're treated best, is that they realize where they're currently living doesn't have the best of everything. Where to move becomes the big question. So they start exploring.
Perhaps they're not quite ready to move overseas — maybe they don't need the tax-saving right away, or maybe they're a little bit afraid. What I did was slowly dip my toe in the expat waters. I started traveling more and more from the United States to where eventually I was traveling about half the time.
Eventually, I got to traveling a majority of the time. I had a top airline status on United Airlines. It seemed like I was always on a plane. I would go to Turkey for a week and a half and then come back and immediately go somewhere else three days later.
There was a period of a couple of years of just exploration. That does not count as somewhere I moved, but it was an important step in finding what's out there and what I liked. It's a good place to start if you're interested in living overseas and asking where you should move.
I spent some time in China and other parts of Asia, particularly northern Asia. I was fascinated by that region so I wanted to explore the different areas. I eventually realized it was not going to be a good long-term fit for me. But I think that exploration really helped me better understand who I was and what I wanted to do.
Eventually, I sold the last business that I had invested in and packed everything up. I decided to spend a year living outside of the US. I told everyone I was going to spend the year abroad.
I feel doing something like this is a great way to save face in case you spend the year overseas and you're miserable and just want to come back. It's a year to explore, but you have the option to come back.
So many people look at where to move as a permanent thing where you can never change your mind. I purposely set it up where I said I was going to go for just a year.
In my initial experience of living outside of the United States, I was not living in any one place in particular, but I was basically living out of a suitcase.
I spent the first six months mostly in the emerging countries of Southeast Asia. I did about a month generally in each country — a little bit longer in some places. I wanted to see, not only Vietnam and Cambodia but Laos and Myanmar and places like that.
After that, Nomad Capitalist hosted its very first conference and so I popped back to the US for a couple of days. We hosted the conference with Peter Shiff and others.
Then I headed down to Central America for a while before getting ready for a big Eastern Europe trip.
I was fascinated by Eastern Europe and the possibilities and opportunities there. So I spent a lot of time in the Baltic and the Balkans, all over Eastern Europe.
Being a perpetual traveler gave me a good taste of what was out there and what fits with where I wanted to be and what I wanted to do.
If you want to go where you're treated best and try to decide where to move to, you'll first need to decide what you're looking for and what it is you like best.

Decide where to move to by deciding what it is you like best
After my year of traveling, I eventually decided I wanted to have some kind of base. I liked traveling, but I also wanted some stability and a place to call my own. I didn't want that to be in the US though.
It was about at this time that I put a house that I owned in the US up for sale and disconnected myself further from the US.
Then from there, I basically looked at the places I like best — what fits my needs and wants.
I really enjoyed Kuala Lumpur, Malaysia. It felt like all of the good parts of the United States without any of the bad. There's not much government overreach, it doesn't bother you. You have wide-open spaces, bigger apartments, a multicultural society, and more.
So I went and rented an apartment in Kuala Lumpur.
I was still traveling more than half of the time but it was nice to go back from literally living out of a suitcase wearing the same clothes and being kind of limited with what I do, to having a place where I could have my different outfits, personal belongings, and my own space.
I would still do three-month-long trips to Europe, long trips to Turkey, or regional trips through parts of Asia—to Japan or Hong Kong. It was to wherever I wanted. But at that point, I lived in Kuala Lumpur and traveled from there.
I also started traveling more in Latin America. I had left this region for last since it seemed too close to home, perhaps. I'm one of those people who likes further afield places that I think are growing faster and hold more opportunities.
The truth is there are lots of opportunities in Latin America and I was happily surprised with what I discovered on my trips there.
Having explored many areas helped me know where was best for me to move to. It gave me a stable base, but also something that I could change if I wanted. I was still free to travel and discover more about the world and I still had increasing options for where to move.
To get you started, I have written extensively about easy places to move to from the US, how to move to a tax haven and some dos and don'ts for moving overseas.
Developing My Trifecta Strategy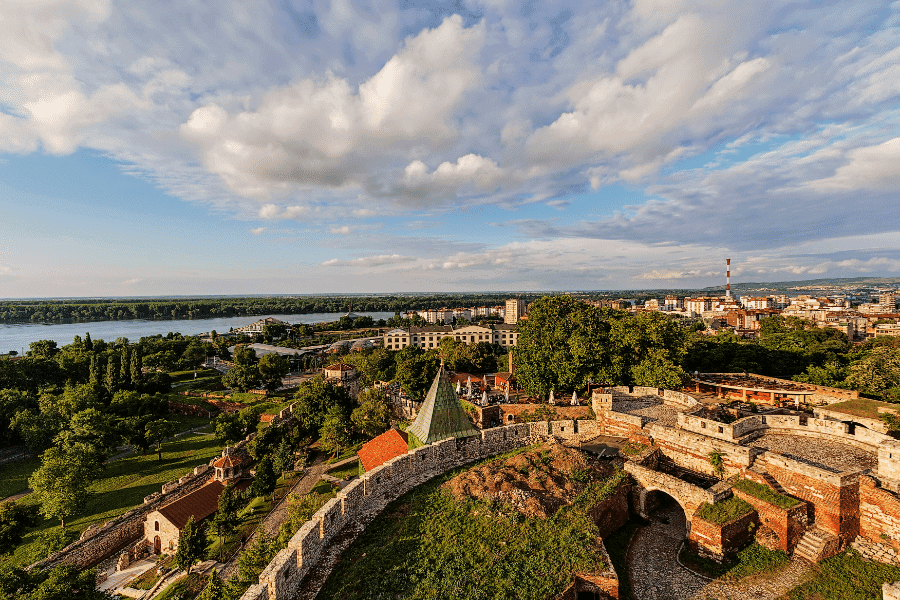 At this point in my living and traveling, what I decided was that I loved different things about different places for different reasons. There's good and bad in every place.
I also realized that without a home, no place entirely feels like home.
I felt that having more than one base in the different regions that I loved would enable me to still travel where I wanted to while maintaining a home base in that region.
Certainly if you have a family or if you just want to stay in one place for business reasons, you can move to one place. But it is also possible to establish yourself in several places. Where you move to doesn't have to be just one location.
I realized I loved Asia — not just Kuala Lumpur as a base, but I found there were other and even better places to explore around Asia. I also liked Europe — particularly emerging Europe where you don't have quite so many rules. I liked Latin America as well.
I liked each region for different reasons — whether it was the food, the people, the culture, or what it had to offer.
These new discoveries led me to create what I call the Trifecta Strategy. I established three different base locations and would basically spend three or four months between each.
I was spending four months in Kuala Lumpur, then I would move over to Eastern Europe — I started spending more time in Tbilisi, Georgia. Then I was travelling in Latin America.
I realized I liked each of these places but not all of the time.
So I decided to live in three places.
The Trifecta changed over time because the whole idea is that there's no permanence to it. It can adapt to what you like and your individual needs.
I liked Tbilisi, but as my business grew, I realized it didn't provide the necessary business hub for me in terms of hiring and meeting people. It then became a little less relevant. It's a beautiful place to go and spend time, but it wasn't really the four-month level for me anymore.
At one point, I got—and still have—a place in Montenegro. I spent four months of the summer there and realized that was too much. No one wants to live for four months in Montenegro on the seaside.
There are certain places that survived. Kuala Lumpur for example will always be a great place for me. When people ask me where I have lived for the longest, I claim Kuala Lumpur, Malaysia.
The point, however, is that with the Trifecta, you can build bases in the locations that fit you best and change when your business or personal life requires it. It's a flexible plan and you can continue to adapt to your needs. Deciding your new location can be a changing, developing process across several locations.
Where Should I Move To? Beyond the Trifecta
My Trifecta strategy gave me several places to live, but I also discovered that it was a great way to open up other opportunities — from buying real estate and diversifying into other currencies to potentially getting residence or even citizenship.
Living in different places really opened up these kinds of opportunities, while still enabling me to travel and explore new locales.
What I've done now is go beyond the Trifecta. I still think the Trifecta is a great method and a great step in deciding where to move.
But to answer the question of where I live as simply as possible — I split my time.
Kuala Lumpur, Malaysia is my main Asian base. In Eastern Europe, each place gets a little bit less of my time as it's more business oriented—more of a pop-in. I live between Tbilisi in the Republic of Georgia, Belgrade in Serbia, the seaside in Montenegro, and right now in Istanbul where I don't plan to spend a lot of time, but could. Lastly, I live in Latin America in Bogotà, Colombia.
So the question of "Where do you live?" for anyone at Nomad Capitalist doesn't have to be a difficult question. It can reflect what you need and what you want.
I have people who say that they want to live in Dubai, period. So if you ask them where they live, they live in Dubai.
For me, and for people who really want to sample the best that the world has to offer, "Where did you move?" is more complicated because it's been such a transformative experience. It's been something that has grown and adapted for me.
I started this when I was single and had a whole different perspective about life and what I wanted in the places I was going.
Now I'm a married guy and fortunately, I have a spouse who appreciates and understands what I'm doing and likes to join in and follow me.
Certainly, if you have a family and children, I don't think it stops you from being a Nomad Capitalist. Where to move will evolve over time in doing this as you find what works best for your situation.
The question "Where did you move?" is a rather permanent question to a rather fluid lifestyle where you can go where you're treated best. You can choose what you like today.
If you have six homes, you can decide what you're in the mood for and just go there. You'll be able to get what you need to be done there out of your base.
So where did I move to? I moved to the world.
It was and is a fungible process. It's ever-growing.
For example, there may come a time when I decide to spend less time in Bogotà and maybe spend more time in Mexico City. I love Mexico City and it's what I call a focus city of mine. I know my way around, but I don't have a base there.
For me, nothing is permanent, but there is stability.
Where to move and where I live will be questions for which I have a constantly changing answer.
But whether I'm living out of a suitcase or I eventually decide to live in one place, I think the answer to, "Where did I move?" is simply, where I felt best.