The world is a big place, and if you are choosing one of the best places to retire, it can also be daunting.
There are thousands of places you can choose as your next home, but where do you start?
What makes one country better than another? Is it because it is warmer, cheaper, or has more interesting things to do?
While those are valid points to consider when picking a new home, many other things should be taken into consideration when making such a life-changing decision.
Retirement Index

The only way to find out which are the best expat countries for you is to head to the next step – a round of elimination – in what we call the Retirement Index.
Finding the best retirement destination is not easy. We can help narrow down your choices with our Retirement Index, which is a one-stop list based on information from trusted sources.
We cover the basics, such as cost of living, value for money, health care, and prepare a retirement visa to give you an idea of what you will be required to have to retire there.
Countries that offer a combination of beauty, lower cost of living, and friendly people tend to draw expats from across the globe.
While many destination countries are common retirement locations, here we're looking at three more exotic choices for you to explore.
Best Places to Retire


While there are many considerations to make when choosing an expat destination, one of the most important ones is how easy it will be to live there once you've arrived.
The new International Living Quality of Life Survey rates some of the best countries for retirees using a scoring system that measures a variety of factors that play a major role in determining the quality of life.
International Living Factors
1. The Ease of Purchasing and Owning Real Estate, as well as the value of Property Investments

One of the most important considerations when planning a retirement abroad is the suitability of the property market in that location.
But another, often overlooked criterion is the cost, legal and administrative procedures to own real estate.
The options are unlimited.
With the current real estate boom, property investing has become more popular than ever before. As such, you can find plenty of places to choose from.
There are quite a few nations that welcome retirees with open arms and a warm tropical climate.
2. Discounts and benefits on things like healthcare and entertainment

Flying wide as a way to retire may seem expensive, but with the best expat countries to retire, you can find cheaper places to stay and lots of deals on food, clothing, and entertainment.
What's more, many nations offer discounts and benefits on things like access to healthcare and younger age requirements for things like public transportation passes.
3. Renting costs

There are so many things involved, renting costs, Health care facilities, and Ambulance services to name a few that depends upon you.
However, these different factors can add up to a big pension check at the end of the year or not.
You can write down your desired country in an Excel sheet and then compare their rent and health care facilities and so on. You should have all this data in front of you before making a decision based on those notes.
4. Residency and visa requirements

Although the idea of retiring in an exotic location overseas is enticing to many, actually pulling off such a venture requires careful planning and research. Americans who want to retire abroad need to know that they are free to stay in their chosen countries.
They also need to check on living costs, climate, and ease of travel. Meet each country's residency and visa requirements.
Then arrange your finances to make the move work: apply for your social security benefits before you leave the country, as well as choose a retirement income source that won't be affected by international taxes or currency exchange rates.
5. Climate

Living abroad is a fantastic and adventurous way to see the world and experience new cultures.
However, if you plan to move there for your retirement, choosing the right country is an important step.
Depending on your plans, the type of climate you prefer will be important when choosing where to retire abroad – remember that warm weather destinations may cost more to live in year-round.
6. Living expenses

If you are thinking of retiring in a country different from where you were born, there are many things to consider.
The cost of living plays a major role as it is vital to have adequate funds.
Fine weather, good medical care, and the ability to move around easily are also important in optimal retirement areas.
7. How easy it is to fit in and make friends

If you're venturing abroad, the ideal country will be the one where you can enjoy a great standard of living while still fitting in with the locals.
If easygoingness is your number one priority, it's better to look for inexpensive countries.
8. The political situation in the country is stable

The factors that constitute an attractive environment for retiring expats are good healthcare, a strong economy with low unemployment rates, stable political situations, and a low crime rate.
The annual Numbeo surveys on quality of life in countries provide for a reliable estimation of the safety of living in different parts of the world.
9. Amenities and entertainment

Most of the reasons for choosing here for retirement are the ambiance and leisure which are the most important parts of life.
Most people choose to live in small villages or suburbs but some prefer living in a city that has a large community like Chennai.
10. Living a healthy lifestyle

Living a healthy lifestyle is the most important aspect of retiring in any country.
This is what has been considered and most of the best expat retirement countries in this list fall under those lines.
11. Infrastructure and development

If you were thinking about retiring abroad, the first things a potential expat will consider are the infrastructure that the country offers.
The countries in this list offer solid economic and political systems, are reasonably close to each other and have fairly similar levels of economic development.
Each country is unique but you will also find similarities with these three in particular.
Introducing Latin America

The best expat countries for you to retire from are those that suit your individual needs and desires.
Perfect weather, great medical care, great food, and a fun way of life are increasingly more available in countries throughout Central and South America.
Retiring abroad comes with many benefits, and it's especially possible in Central and South America.
Part of this is due to the influence of their colonial counterparts, as they took many of their cultural cues from Europe, while still maintaining that distinct Latin flair and language.
These countries also have such vibrant people who enjoy a good time.
Combine these characteristics with the safety, affordability, friendliness, and comfort provided by the locals and you've got a recipe for an unforgettable retirement.
Why Central America and South America is perfect for American retirees

• Unique lifestyle choices
From climate to culture, the Latin American region has something for everyone.
It's one of the happiest places in the world and there's no wonder.
The region is a melting pot of different ethnic groups and cultures. With diversity comes creativity and the people of Latin America are known for their love of life and contagious joy.
The culture of Latin America is as diverse as its countries.
While the stereotype of Latin people living in a hut by an old mango tree might not be very accurate, there are still huge cultural differences between different South American countries.
We've selected some of the best expat destinations, according to our personal experience and statistics we found during our research.
The Three Best Expat Countries for Retiring Abroad

1. Costa Rica
If you are looking to retire abroad and need a place that is both affordable and enjoyable, then Costa Rica might be the best country for you.
After all, it's hard to beat Costa Rica when it comes to beautiful beaches (overlooking both the Pacific ocean and the Caribbean sea), delicious fruit and coffee, and year-round warm weather.
The democratic country has one of the top healthcare systems in Latin America, according to the World Health Organization. Better than a lot of countries in Western Europe.
Costa Rica is one of the most popular countries to retire due to its low cost of living, tropical climate, and gorgeous ocean views.
If you're looking for an expat retirement destination consider places like Costa Rica or Panama.
• Incredible spot for vacation
As a tourist, Costa Rica offers an incredible vacation. The country's beauty entices, its people warm the heart, and its adventure opportunities satisfy the mind and body. But Costa Rica also has more to offer than just a tropical vacation getaway.
It has become a desirable place for retirees worldwide due to its affordable cost of a living, healthy lifestyle, and top-notch medical facilities.
With a low cost of living and excellent health care — not to mention the fresh air, sunshine, and natural beauty — it is no wonder so many expats want to retire in Costa Rica.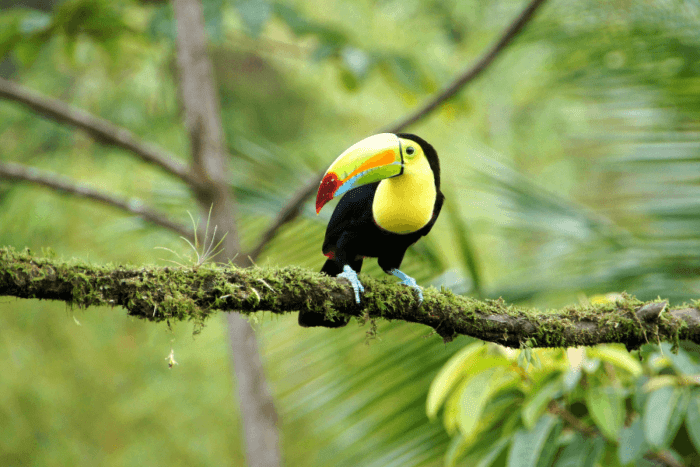 • Natural beauty and Healthcare
Costa Rica is a dream destination for many. This laid-back country is known for its natural beauty and its pleasant environment.
But the great news is, there is even more to it than that.
While Costa Rica has all kinds of delights to offer, one of the most enticing reasons to retire here is the country's universal healthcare system, among the best in the world.
• Ideal Retirement Locale
Tired of the suburbs? Looking for a spot to put down roots in a place where English is the primary language and life moves at a slower pace?
Perhaps it's time to consider Costa Rica as the ideal retirement locale. The Central American nation is among the most welcoming countries for foreign retirees in the world today, offering perks like hassle-free residence programs with little red tape, a stable democracy, a relatively low cost of living, and universal healthcare.
2. Ecuador

For a long and happy retirement, you want to retire in the best possible place. In that regard, Ecuador might be just what the doctor ordered.
The first South American country to join OPEC, this nation of 16 million people has a sunny disposition, with two distinct equatorial regions so it is blessed with lots of sun year-round.
That alone makes it attractive because almost no one looks forward to getting older and missing out on the joys of basking in the sun. Amazon storms can be pretty uncomfortable too.
Ecuador is a great budget-friendly country to retire to. Its capital city, Quito, has been named the Andes Capital of Culture and Don Juan Shopping City.
Enjoy visits to major must-see locations like Old Town Centro Histórico, La Compañía de Jesús Cathedral and the impressive Quito Artisan Market.
By visiting Ecuador today, you'll be one step closer to living life like a local.
• Gorgeous and Affordable
Ecuador is a gorgeous and extremely affordable location to retire abroad.
This nation of sixteen million inhabitants is situated on northern South America's west coast just on the border of Colombia.
Ecuador offers the opportunity to enjoy a picturesque and incredibly biodiverse area that incorporates the Galapagos Islands, part of the Andes Mountain range, tropical rainforests, and beaches. Many retirees choose to live in Quito, Ecuador's capital city.
image
This modern city features exquisite parks, churches, and various styles of architecture. Beginning expats should find Quito easy to grow accustomed to.
The diverse country has a variety of activities ranging from horseback riding to golfing.
• Artisanal culture and Healthcare Facilities
Ecuador's famous Galapagos Islands are a paradise for adventurers and sun-seekers alike.
But the country has so much more to offer, including a multitude of opportunities to immerse yourself in local artisanal culture.
The capital city Quito offers plenty of interesting historical sites as well as the opportunity to take part in weekly street festivals. The country is also home to a sophisticated health care system funded in part by insurance premiums and medical tourism.
3. Panama

Panama is a small country well-known by many as a great retirement location. The climate is warm, so you can enjoy outdoor activities year-round.
Other attractions include its fascinating wildlife, including howler monkeys and parrots, and the tropical flora from palm trees to flowering grounds."
If you love warm, sunny weather, then Panama might be the ideal place for you. There's plenty to see and do—from beautiful beaches to amazing rainforests.
Low-cost healthcare, affordable housing, and all kinds of affordable travel opportunities make Panama an ideal place for retirees and anyone else seeking a gentler pace of life.
• Freedom of Living Independently
In Panama, you'll enjoy the freedom of living independently in a beautiful tropical location without harsh winters.
Its weather is year-round comfort, with ocean breezes keeping it from getting too hot, so you can enjoy all that this country has to offer.
The potable water supply is safe and abundant in Panama. It's secure, with friendly neighbors and easy access to medical care.
image
Panama is one of the best expat countries to retire. Here, accommodations and transportation are cheap, access to Western-trained healthcare is excellent, and entertainment is abundant for those without cable.
There are also plenty of retiree benefits in Panama City and all over the country that make your new life completely stress-free.
• Ideal Retirement Locale
Panama has a booming expat population and for good reason. When you retire here, you are treated to deep discounts on entertainment, airfare, local transportation, and hotel stays.
Panama is also home to Synergy International University offering some of the world's most popular online courses in a robust program that allows you to earn an MBA while enjoying the benefits of living in Panama.
image
It may not be on the list of most popular expat destinations, but Panama is a land of serenity and great weather.
Most retirees enjoy the ability to work part-time and get by on a pension or Social Security income.
Real estate taxes are extremely low in comparison to other countries.
Panama is also one of the safest countries in Latin America, with low crime and hardly any natural disaster threats.
Residence Permits Can Lead to Citizenships

The dream of retirement can be waiting for you in a foreign country. It happens to thousands of expats every month who move abroad.
In some countries, you can become a citizen within weeks or months. What are the top expat retirement destinations?
Many nomads head for countries with low cost of living and great weather, such as Costa Rica, Ecuador, and Panama.
Others find that their dream is within reach in a western European country. In Malta, Spain, Portugal, and Greece (where a lot of UNESCO World Heritage Sites are) residency permits can lead to citizenships within a few years or months.
It's always advisable to consider all of your current financial obligations before deciding on this nature.
The costs for living in many of these countries may not be cheap, but if you've already chosen to retire abroad, then it is the perfect time for long-term planning.
Even if you plan on retiring in one country, it's best to have an expat strategy that will allow you to live in multiple countries once your income declines later in life.