While most of Western Europe is doing all it can to stay uncompetitive, such as France's highest tax rates in the developed world and the United Kingdom's attempts to kick talented foreign university students out after they graduate, Ireland is a drop of sanity in an ocean of incompetence.
With business-friendly policies, some of the lowest taxes in Europe, and one of the continent's best residency by investment programs for those with some money to spend, Ireland is certainly worth a look for a certain type of property investor.
Ireland has not been immune to the economic disaster that has swept all of Europe, but the country had strong growth of 4.8% in 2014 – far ahead of the United Kingdom, United States, and even Germany. The country's many strong points have led to it increasingly being used as a place to store wealth, especially by Russian and Chinese investors.
The last point is certainly helped by the country allowing everyone who spends 500,000 Euros on Irish real estate to be a permanent resident and to even naturalize as a citizen eventually. A program such as this is not unique, as Spain, Portugal, Cyprus, and several others have similar ones. However, unlike the aforementioned countries, Ireland is unique in not being an economic basket case.
Buying real estate in Ireland is not just a good plan for residency. Its status as a relative haven and an abnormally strong economy for Europe mean that investors could stand to make quite a profit in the nation's real estate market. They already have.
Prices have increased by 22% in Dublin during the year of 2014 alone, and demand in Ireland's capital is outpacing supply.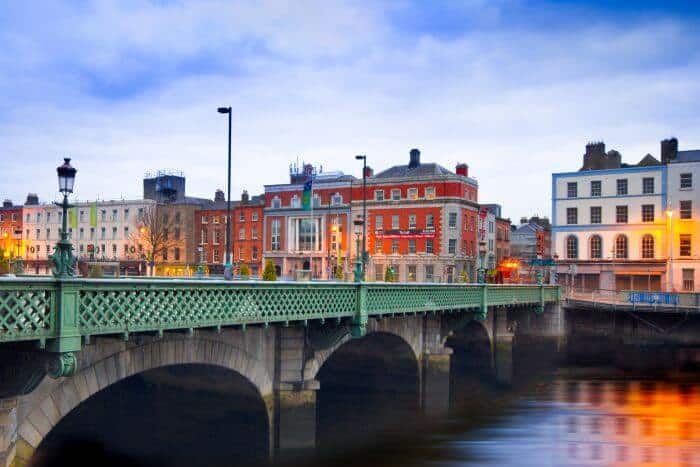 Why buying real estate in Ireland is safe
Ireland's impressive growth, higher than even some emerging market economies, is supported by pro-business laws, rich natural resources, strong exports, in addition to low-income tax rates for both individuals and corporations.
Even Germany, probably the most common example of one of the few countries in Europe that has their act together, is envious of Ireland's success. In late 2013, German Finance Minister Wolfgang Schäuble said that his country was "jealous" of how well Ireland's economy recovered after its bailout.
The 2015 Index of Economic Freedom has ranked Ireland as the 9th freest economy in the world, ranking especially well in the property rights, trade freedom, and investment freedom categories. Compare this to its residence by investment "competitors" Spain and Portugal which score 49th and 64th respectively.
Exports are helped along by Ireland's rich mineral deposits – the country is one of the world's biggest exporters of zinc and lead, in addition to having a large manufacturing sector specializing in pharmaceuticals and medical devices.
However, the low tax on corporations is one of the things that has helped Ireland's success the most. A flat 12.5% has enticed many corporations, from the US and elsewhere, to relocate their headquarters to the country and bringing in huge amounts of money with them.
The list of companies that have either moved their world headquarters to Ireland or placed their European headquarters there includes Google, Accenture, Facebook, Citigroup and more. Huge multinational companies such as these hiring workers and paying tax, even if it is only 12.5%, has brought a lot of capital into Ireland.
The best real estate investment in Ireland
Nowhere is Dublin's supply shortage more apparent than in the student rental market.
There is now a severe undersupply of dormitories close to all of the capital city's four largest universities. Parents are getting rather desperate to find their children a place to stay during their college years, and yields have been driven up beyond the 8% range because of this – one of the highest rental yields in Europe.
Large apartment blocks, in general, have higher rental yields than individual apartment units and arguably one of the best real estate investment opportunities in Europe at the moment is buying a building near an Irish university to subdivide and let out to university students.
Such an endeavor would require several million dollars at a minimum, but could potentially be very profitable.
It's worth noting that Ireland's rental law also imposes a light form of rent control. While rents can be freely negotiated between a tenant and landlord, an apartment cannot be rented out for more than the market price. It certainly helps when the "market price" means a yield of over 8% though.
While Ireland is a great place for certain types of real estate buyers, it's certainly not the only country in the world to choose from. The great thing about thinking outside your own borders and making your options global is a huge amount of different opportunities available.