The pandemic made many people change their ways, and although many changes were unpleasant, some paved the way for more personal freedom and work autonomy.
Here, we're talking about remote work.
Before the pandemic, remote workers made up only a minority of the global workforce. Whereas now, the ability to work remotely is one of the most significant demands of most employees.
Utilizing this shift toward remote work, many countries, especially tourist-centric countries, introduced digital nomad visas attracting digital nomads and remote workers from all over the world to their shores to live, enjoy, and work.
If you're unfamiliar with a digital nomad visa, here's a brief definition.
What is a Digital Nomad Visa?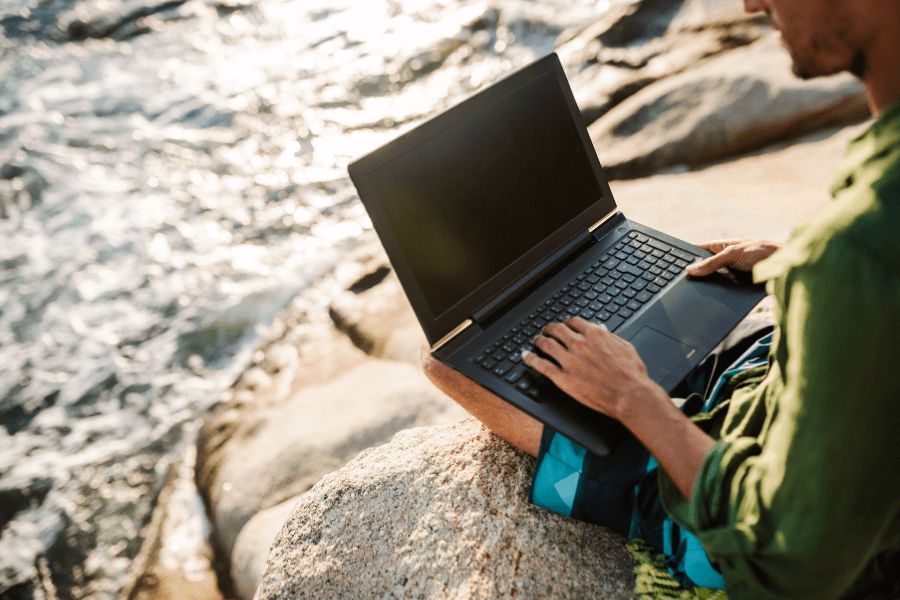 A digital nomad visa permits remote workers to stay and legally work in a foreign country.
It is generally a multiple-entry visa issued for a year or more. The requirements and the renewal policy vary depending on the issuing country.
Contrary to tourist visas, digital nomad visas give you the right to work remotely from a country legally.
So far, thirty-three countries and counting have introduced special visa programs for remote workers, and eleven are planning to introduce similar programs in the future.
Some of the most popular digital nomad visas are the German Freelance Visa and the Estonian Digital Nomad Visa (the first country in the world with a digital nomad visa).
This article will discuss the Barbados digital nomad visa and its application process. However, before we discuss the visa details, let's talk about Barbados.
Barbados – A Beautiful Country with the Warmest People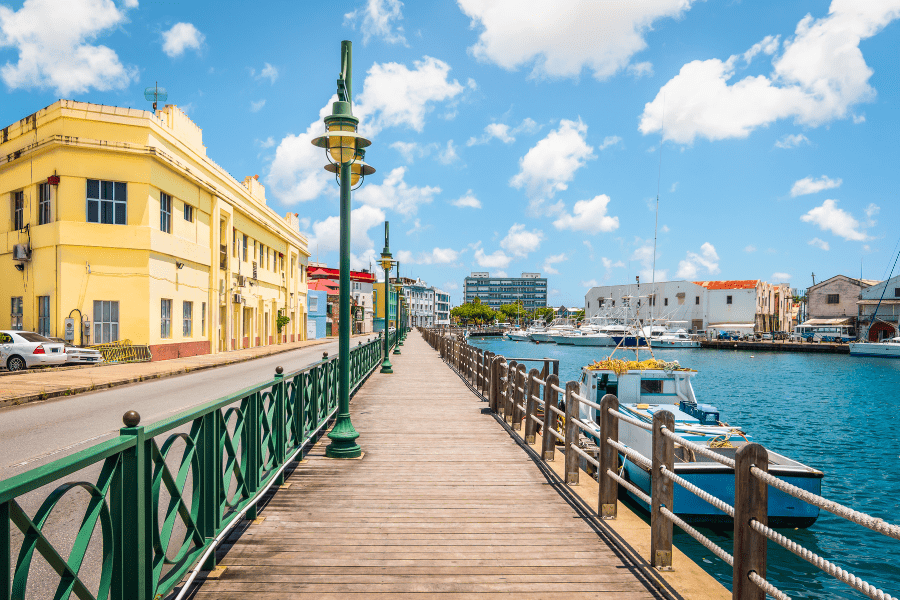 Barbados is an Eastern Caribbean island nation known for its pristine waters, tropical beaches, exquisite rum, and the Bajan lifestyle – and of course, Rihanna.
Yes, the world-renowned singer and businesswoman hails from Barbados and frequently visits the Caribbean country, especially for the Crop Over festival.
Barbados used to be a British colony but gained independence in 1966. English is widely spoken in Barbados and is the country's official language. However, most people speak it in the Bajan dialect.
The national currency is Barbados dollar (currently, BBD 1 = USD 0.5)
The capital of Barbados, Bridgetown, is a vibrant seaport with luxury resorts, beautiful beaches, and British colonial architecture.
Now that you know a bit about Barbados and what an excellent tourist destination it is, let's talk about the country's digital nomad visa called Barbados Welcome Stamp.
12-Month Barbados Welcome Stamp Visa Program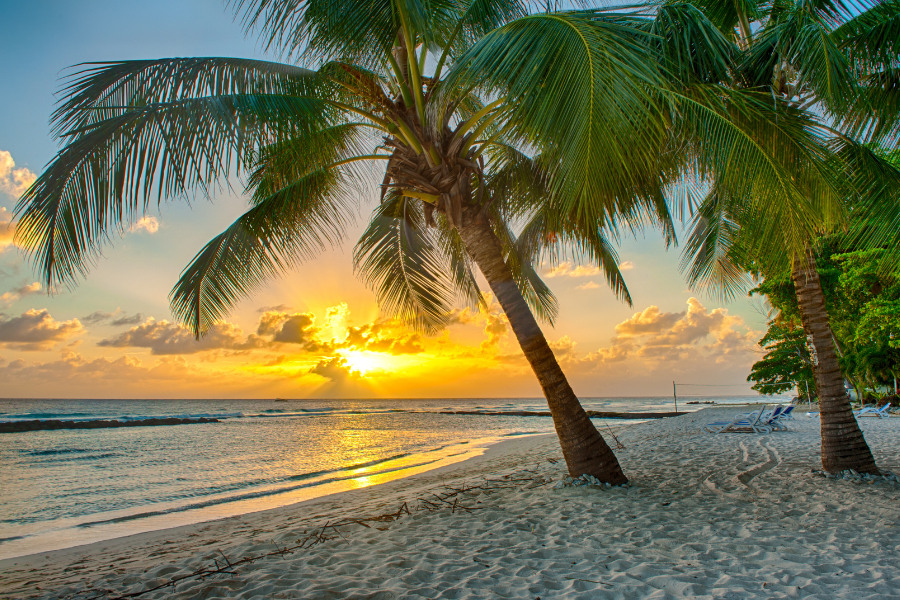 Barbados is primarily a tourist destination. According to the Central Bank of Barbados, the country earns 17.5% of its GDP from tourism. Tourism is also the primary source of foreign capital for this island nation.
Assessing the country's popularity with tourists and the rise of the remote work model, the government decided to introduce a digital nomad visa to make up for all the foreign exchange, and tourist influx lost due to the pandemic.
On June 30, 2020, the Barbadian government announced a new remote work visa called the Barbados Welcome Stamp. Barbados welcome stamp visa allows foreigners to work remotely in Barbados for a maximum of one year.
Barbados was the first country in the Caribbean region to introduce a digital nomad visa. Soon after the Barbados Welcome Stamp was announced, Bermuda jumped on the bandwagon and introduced its Work from Bermuda visa program.
The Welcome Stamp visa is aimed at location-independent individuals and their families who fulfill the visa requirements. Visa holders must be remote workers earning income from foreign sources.
As of July 2022, the visa program has received 3784 applications, out of which 2417 applications have been approved. The majority of the applicants are from the UK and the US.
Barbados Welcome Stamp Visa Application Process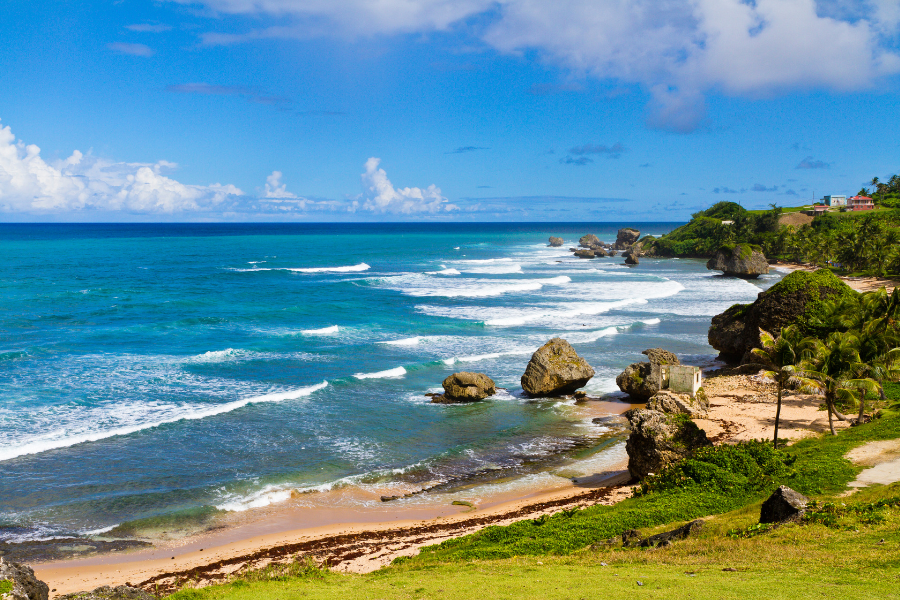 The visa application process for the Barbados welcome stamp is straightforward and entirely online. Applications generally take seven business days to be processed after which point the fees will be due. These fees must be paid within 28 days of receiving application approval and are non-refundable.
You'd need to fill out an online application form and attach the documents mentioned below.
Required Documents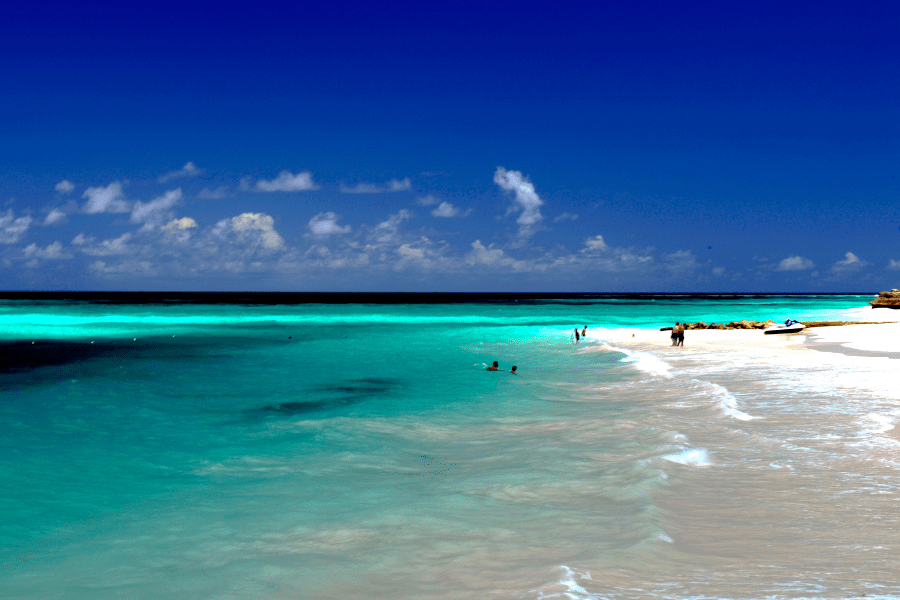 You are eligible for the Welcome Stamp visa if you make a minimum annual income of $50,000 (USD) for the year you intend to stay in Barbados. You must also have valid private health insurance which will offer you coverage during your stay,.
According to the official site of Barbados Welcome Stamp, the following documents are required to apply for the visa:
Photograph(s): Passport-sized photograph(s) of the primary applicant and all family members aged eighteen or above (if applicable).
Passport's Bio Data Page: Passport bio-data page(s) of the primary applicant and all members of the family group (if applicable).
Proof of Relationship: Document(s) proving the relationship of the primary applicant to accompanying family members like a birth certificate, marriage certificate, etc.
Barbados Welcome Stamp Visa Fees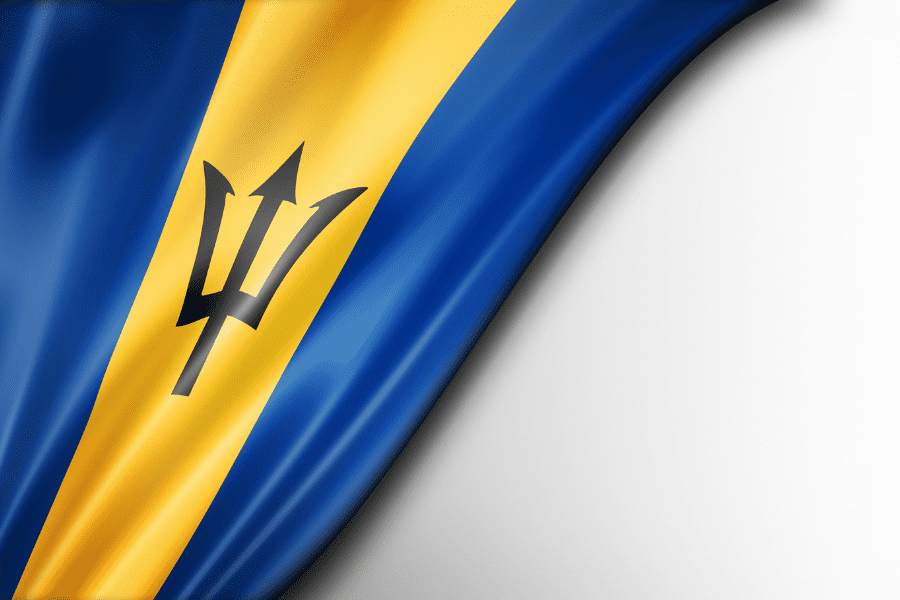 After you fill out the application form, attach all the required documents, and submit it, it generally takes seven days for the application to be approved or rejected.
Once your application is approved, you must pay a non-refundable fee within 28 days.
The fees are charged at the following rates
Single Applicant – $2000 (USD)
Family Bundle – $3000
Why Consider Barbados Welcome Stamp Visa?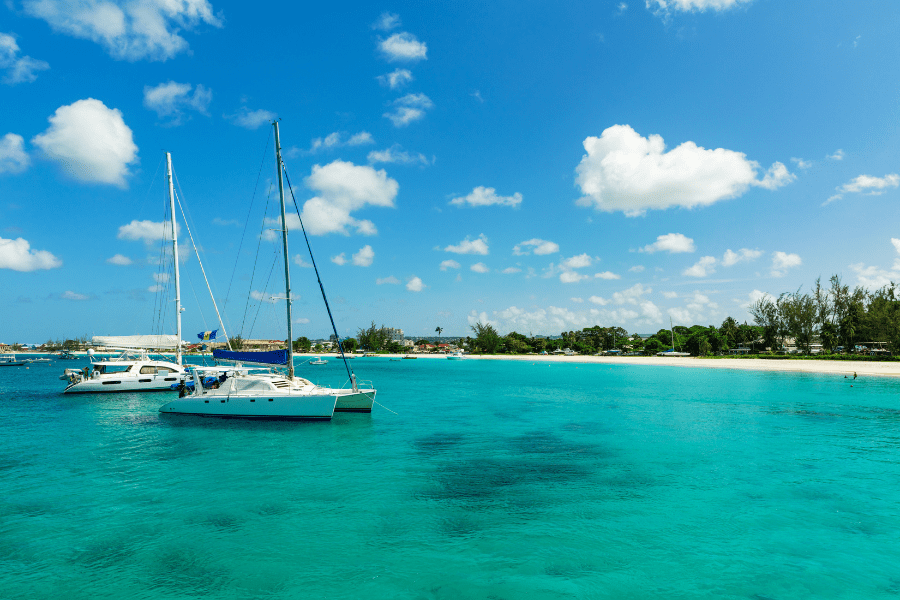 Tax Incentives
The Barbados income tax rate for individuals is 12.5% up to BBD £50,000 and 28.5% over BBD $50,000. Generally, the corporate income tax rate is 1% to 5%.
Fortunately, foreigners with the Welcome Stamp visa will not have to pay income tax in Barbados for twelve months, making Barbados an excellent location to stay, work, and enjoy life without worrying about double taxation.
Moreover, the country doesn't impose capital gains tax at an individual or corporate level.
However, the twelve-month stay will not be tax-free for the visitors since they'd still have to pay 17.5% VAT.
Barbados is more than just a tourist destination. In recent years, the island nation has been remarketing itself as an open and market-oriented economy with many fresh and profitable investment opportunities.
Foreigners impressed with any such opportunity in the country during their one-year stay can return through proper channels and start a business there to benefit from the low corporate tax rate.
A Digital Nomad's Paradise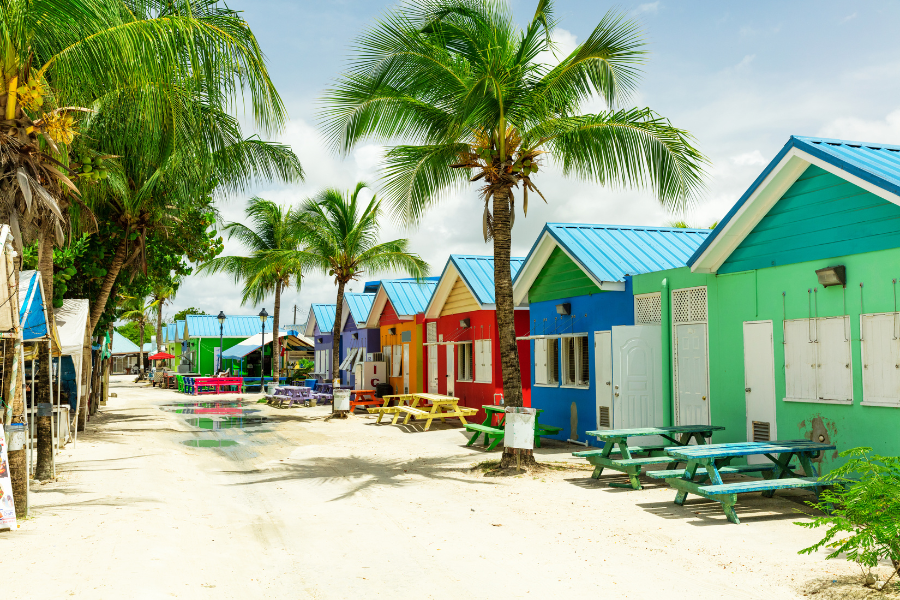 Barbados is more than just the sun, sea, and sand. The country is becoming a digital nomad hotspot thanks to its fiber internet and mobile services that are among the fastest in the Caribbean region.
Moreover, on the days when you don't want to work from the beach, you can utilize many public spaces and cafes that offer free public wi-fi.
If you want a dedicated space with uninterrupted internet, Barbados boasts many co-working spaces in and around the capital.
Destop.bb, Regus, and TEN Habitat are some of the best spaces where you can get your work done without hassle or interruptions.
The country also has a diverse digital nomad community, so expect to enjoy the Bajan lifestyle in the company of like-minded people.
Tropical Haven
Barbados is a tropical haven with colorful annual carnivals, vibrant culture, a unique lifestyle, year-round sun, and a tropical climate.
The country is known as the birthplace of rum. Moreover, the country holds an annual world-renowned Crop Over festival, attended by thousands of visitors.
Barbados is filled to the brim with natural beauty and breathtaking views. It is a surfer's wildest dream come true, with many surfing spots around the country.
Barbados is also an excellent spot for retirees. In Barbados, they can spend their golden years enjoying pristine waters, sandy beaches, and the Bajan lifestyle.
As for families with kids, the island nation is one of the safest Caribbean countries. It also boasts a free public education system, and the literacy rate is over 99%.
The country also ranks fourth in the cost of living index.
Other Digital Nomad Visas in the Caribbean Region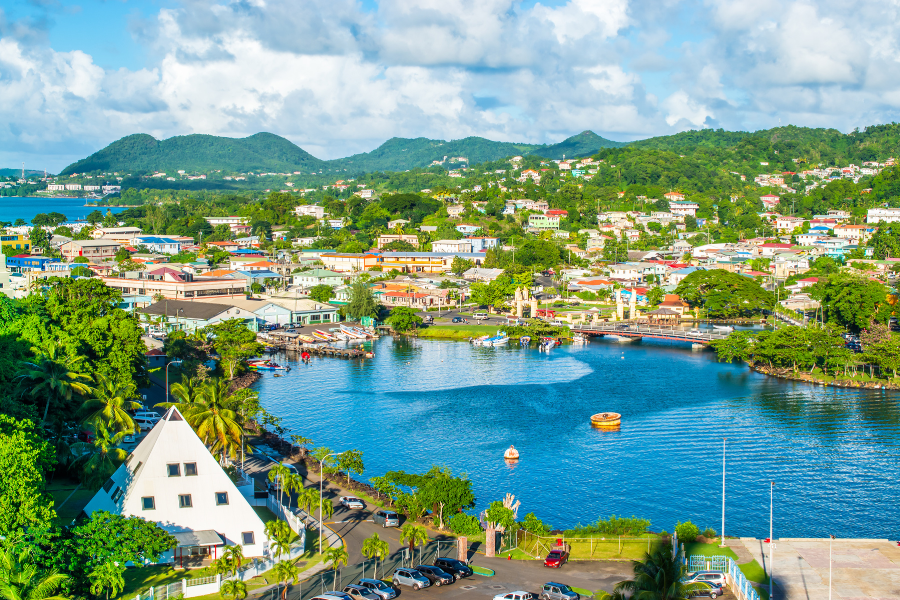 Barbados may be the first Caribbean country to introduce the digital nomad visa, but it wasn't the last. Many countries followed suit and introduced their version of digital nomad visas attracting the ever-increasing numbers of remote workers to their shores.
The Caribbean region is unique in its natural beauty, and most Caribbean countries boast flawless water bodies, world-class beaches, vibrant cultures, and a laid-back lifestyle.
If Barbados isn't to your liking, the following Caribbean destinations also offer digital nomad visa programs:
Anguilla
Aruba
Belize
Curaçao
Montserrat
The Cayman Islands
Some of these countries also offer excellent residence permits and citizenship by investment programs.
Digital Nomad Visas – Grab Them While They're Hot
Since the rise of the remote work model, more and more countries are offering visas aimed at remote workers, entrepreneurs, and other location-independent professionals to work remotely in their jurisdiction.
Offering digital nomad visas is a great way for countries to increase the incoming foreign exchange, high-value visitors who'll contribute to the economy on a daily basis, and promote their tourism sector.
The Caribbean region is also quite famous RCBI world thanks to its various CBI programs and tax incentives.
Considering all that, it sounds like a great idea to establish a Caribbean residency, acquire Caribbean citizenship, or visit a Caribbean country to test its favourability.
Don't know how to go about it? Reach out to us. Over the last decade, we've helped over a thousand clients go where they're treated best, and we'd love to do the same for you.