Dateline: Belgrade, Serbia
I remember being in sixth grade when my parents announced big news: our family was exploring the idea of relocating to New Zealand.
While I was taken with the idea of the adventure, my sixth-grade brain couldn't help but worrying about my budding relationship with Julie, my – as much as the word can apply to a twelve-year old – girlfriend.
It wasn't like I was planning to get married, but anyone can attest that a first crush makes you do weird things.
While we may be more pragmatic as adults, I'm convinced that in many ways, we share many of the same concerns as adults.
That's why it's no surprise that single Nomad Capitalists often want to know about dating, relationships, and nightlife before they venture offshore.
Let's be honest: people value relationships. Whether it's the club life, casual dating, serial monogamy, or a long-term relationship and marriage, the people I work with want to know where they can meet romantic partners.
If you're single and decide to work with me, chances are I'll ask about your relationship preferences and goals. I do so because dating is an important part of most single peoples' lives, and we want to know where we can go and find romantic success.
What I've learned in twelve years of traveling the world is that dating on a global level is different from what you're used to at home.
Many people report finding greater satisfaction dating in other countries, however not every country you want to date in will make it easy to do so.
Here in Serbia, for instance, the majority of people prefer to date people from their own culture. You may find stunning women and well-built men at every turn, and many of them will be rather pleasant if you have a friendly chat. But you'll have a much harder time actually dating them.
As I am no longer single, I decided to turn to several well-read experts on this topic to discover the best places in the world for being single. Their comments are below. No doubt any article of this article will attract its fair share of controversy for any number of reasons, none of which is intended.
However, I do believe in having an honest dialogue about how to "go where you're treated best" for dating, just as much as we do for tax optimization.
With all of that said, here's what the dating gurus had to say about the best cities for single nomads:
Cebu, Philippines
Sebastian Harris recommends Cebu:
I love the Philippines, I really do. But I have to be honest. I absolutely hate Manila. It's loud, it's dirty, and well, it's just not for me.
When I visited the Philippines for the very first time, I spent two days in Manila. Then I had enough. I had to get out of there. That's why I decided to leave this crazy city behind me.
I didn't know any other place in the Philippines. That's why I hopped from island to island to discover the country.
Then I found my personal heaven on earth. This place is called Cebu. I fell in love with this city from the moment I checked into my hotel. In my opinion, Cebu is everything Manila isn't.
The people are friendly, the atmosphere is relaxed, and the women are beautiful. Yes, I try to focus a lot on my work, but let's face it. As a single nomad, you don't want to stay in a place where you don't enjoy dating.
And let me tell you one thing. I love to date in Cebu and there are a couple of reasons for that.
Now that I'm thinking about it, I can't really name another city that offers such incredible opportunities when it comes to dating than Cebu.
If you are a single man, living the digital nomad lifestyle, you will absolutely love this place.
Cebuanas are some of the most beautiful women in the world. They don't just know how to dress. They also know how to make your head spin.
I mean, wow. Their charm, their feminine attitude, and their nurturing nature are out of this world. These ladies combine all the positive qualities that men appreciate in women.
I've dated a Filipina in the past and one of my friends is currently in a relationship with a woman from Cebu. She's his biggest fan, his greatest supporter, and she helps him however and whenever she can.
The beauty and the nature of the local women are already good reasons to book a flight and to visit Cebu. But it gets even better than that. It's so easy to meet women in Cebu.
If you are interested in meeting beautiful women during the day, you should head to the Ayala shopping mall. Just be careful that you stay away from the girls who are window shopping and hoping to find a foreign guy who pays for their designer handbag. I'm sure that's not what you want.
You want women who are interested in you and not your money. And you can find a lot of them in this mall. Alternatively, you can check out the Robinsons mall. That's where I met the beautiful Cebuana I ended up dating while I was in Cebu.
What if you are a party animal and you love the nightlife? Then you should check out the Mango square. This is the biggest nightlife venue in Cebu. Oh, and don't forget to check out the LIV superclub. This is the most famous club in the city and on the weekend it's packed with model-like girls.
Of course, as a digital nomad, you also need to focus on your expenses. Well, then you will love the fact that you can get a decent studio for less than $400 a month and eat out in good restaurants for less than $5 per meal. That makes going on dates a lot cheaper than in the USA.
I hope you enjoy your stay in Cebu and if you want honest dating advice that will help you to attract the right girls in Cebu, then you should subscribe to my daily podcast on iTunes.
Bangkok, Thailand
Dan from WorldDatingGuides recommends Bangkok:
When Nomad Capitalist contacted us about our opinion on the best city in the world to be a single nomad we had a few initial options in mind.
Our first thought was New York City, there are so many things to see and do all around you and so much fun can be had there.
But is that really a great city for everyone? Sure, if you have a big bankroll, good looks, and game then there may not be a better place on the planet to be.
But what if you are just an average Joe who isn't making a ton of dough and wasn't blessed with model looks? Is riding on the train for hours each day or spending way too much money on a tiny studio really 'the best?'
At the end of the day it was hard to argue that, so we decided to go another way.
Bangkok is a great answer for a wide variety of reasons which and we will dive deeper into all of them. In our opinion, it is the best value for money city we have ever been to, and since finances are a big part of this site we felt like that was the way to go.
But Bangkok offers so much more than just being a cheap place to live. You have great Thai food, a great infrastructure, truly world class nightlife and cheap vacation options all around you.
Best Value For Your Money In The World?
We aren't going to definitively say that you are going to get better value for your money in Bangkok than anywhere else, but you are going to be hard pressed to tell us somewhere better.
While Thailand is still a third world country in many ways when you are in downtown Bangkok it certainly doesn't feel like it.
Rent is usually one of the more important factors when it comes to budgeting your money, well you can find good apartments here for
$300, and great ones for $500 or less. We aren't talking about needing to stay out in the sticks either, at $500 you will have a nice, modern apartment in the nicest areas of the city.
Considering most Thai people don't make anywhere close to that much money you can easily spend less if you want, but the $300-$500 range will give you a nice set up.
One of the keys to this city is the great public transportation if you wanted to save some money you could head out to the end of the BTS Line to somewhere like On-Nut and get even better apartment value. Then just hop on the train for a half hour commute and be right downtown.
The trains and taxis are both very cheap, as is the food. You can get some chicken on a stick right off the grill for a dollar, get some Pad Thai for a couple of dollars, or enjoy a nicer restaurant for $5-$10.
There are also Michelin rated restaurants around, but you don't need to visit them to eat well.
Plus this is such a multicultural city that you can find foods from all over the world. We aren't going to tell you exactly what your budget will be, but for $600 a month you can get a nice room and eat some good food, consider that the low-end backpackers budget and then go up from there.
Making Money & Networking
To be honest we don't know much about the job prospects in this city. It is clearly one of the business hubs of Southeast Asia so you can probably work your way into a decent position if you have the drive and the skills.
With that said it is 2019, so why not work for yourself online and not worry about finding a job? This is one of the main digital nomad hot spots in the world so you will have countless opportunities for networking and to learn from others.
You are also a very short and cheap flight away from Chiang Mai, another big-time area for digital nomads. You can find some work here, but the networking potential is where the real value is.
Nightlife & Dating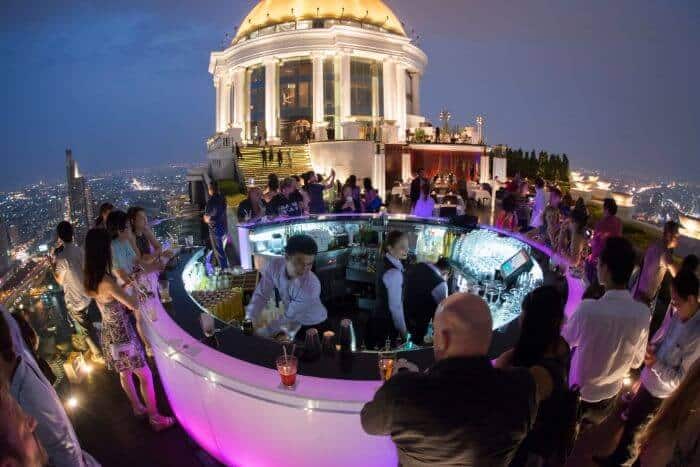 Now that we have the financial aspects out of the way let's talk about why this is such a good city for singles. First off, sorry ladies, but we are writing this from a man's point of view. All of the above greatness this city offers will apply to you, but what we are about to write probably does not.
Everyone knows about the great nightlife this city offers, but we want to keep this post family friendly so will leave out the talk about the Go Go's and what not. Let's just say if you are a single guy who isn't interested in starting a relationship and only wants to 'have some fun' there are limitless options abound.
They may not be the best on your budget, but when your basic costs are so low you can afford to spend extra on enjoying yourself if that suits your fancy. However many aren't aware that the nightlife and dating here offer so much more than just Go Go girls.
You have great nightclubs in areas like RCA and Thonglor, plus Thai girls really like dating guys from other countries. Some of them will want your relationship to be very serious, others are just looking to have some fun and see where it may lead.
This is a huge city, one of the biggest in Asia, and there are cute single girls all over. They may not speak the best English, but they are generally quite receptive to a kind word from a guy who is trying to get to know them.
The best thing about dating girls in Bangkok is that they aren't expecting the world from you. Earlier we were talking about how we were contemplating writing about New York City but then decided against it because it isn't as great for the average Joe.
In NYC your competition is rich businessman in penthouse apartments that cost more money than many guys make in their entire life. In Bangkok your competition will mostly be local guys who many of the girls have little interest in or broke backpackers who are only in town for a week or two.
Dating one of the hotter girls in NYC will often require nice clothes, expensive dinners, good conversational skills, and ending the night getting bottle service in a nightclub. Here all you have to do is take her out for some $3 Pad Thai and be nice to her.
It is just a completely different ball game, all you have to do is a get a girl comfortable with you and she will enjoy spending time with you and want to make you happy. Whereas most of us know that in somewhere like NYC being that nice guy won't get you very far at all.
We have written a full Bangkok dating guide that covers where to meet girls at night, in the day, online, and where to take them on dates. Take the advice in it, put yourself out there, and be a nice guy and you can have a lot of fun.
Combine those great dating options with some excellent value for your money and almost first world conditions at third world prices and you will see why we think this is such a great city for singles, at least the men.

Andrew Henderson is the world's most sought-after consultant on legal offshore tax reduction, investment immigration, and global citizenship. He works exclusively with six- and seven-figure entrepreneurs and investors who want to "go where they're treated best". He has been researching and actually doing this stuff personally since 2007.

Latest posts by Andrew Henderson (see all)