Last Updated November 25, 2017
Dateline, Bogota, Colombia
Southeast Asia has long been a budget traveler's dream. Affordable lodging, abundant inexpensive food, and a sense of adventure have been pervasive in the region for some time. This region is one of the most popular places on earth for nomads, especially new ones, as its affordability and relative quality of life, weather, culture, and food make it a good fit.
Today, location independent business owners are relocating to Southeast Asia by the boatload, drawn by the great cost of living and emerging opportunities in the region. On top of that, huge numbers of Southeast Asians are becoming increasingly affluent, leading to more livable cities. I've used my travels to rank, in my opinion, the best large Southeast Asian cities to live in.
Here at Nomad Capitalist, "go where you're treated best" is an individual thing. The choices one will make about where to base very much depends on the lifestyle you want to lead.
As I am becoming more interested in stability and consistency in travel and following my Trifecta strategy, I am focused more on cities with something more: good service, shopping malls, excellent food, Uber access, ease of settling in — a place that feels like home.
We recently published the Quality of Life Index, which ranks 100 top destinations based on 7 criteria as of 2017. This list is our more personal hand-picked list for the region.
The cities on this list are what I myself and my team would recommend. Even within my team, we have very different lifestyle preferences and may choose one city over another. That being said, this list — expanded from its original 5 — includes the major cities one would be looking at if doing business and creating a life in Southeast Asia.
This list, for example, was also updated to reflect improvements in the general quality of life in Ho Chi Minh City in recent years. Moreover, I have changed my mind on some cities over the years.
For example, the current #1 on this list you will see used to be ranked #3, but because I now so wholeheartedly recommend it, I believe this city gives the best quality of life and service.

Here we go — the top 8 most livable cities in Southeast Asia are…
#8: Bangkok, Thailand
The first city on the list is Bangkok.
Now, this city was not always no the list. Personally, I am not a huge fan. While many expats coo over Thailand's largest city, I find it hard to get around, lacking in cultural venues, and a bit overpriced at times. (And The Economist agrees with me.)
That being said, there are places that are not my "cup of tea" that work for many others. While I wouldn't live there (and would make the case for my favorite SE Asia city over Bangkok as I did in this video), it is a good option for some nomads and expats.
Bangkok is a city that can fit a wide variety of pockets. If you want to live cheaply, you definitely can — eating street food, living somewhere further from the metro or BTS, etc. If you are looking for some high-end lifestyle, it is accessible in areas like Silom at sky bars and different gourmet restaurants. Moreover, as an international hub, flying into and out of BKK is easy. Spending the weekend on the beach is also affordable and easy, making Thailand an ongoing popular option.
#7: Bali, Indonesia
Bali is a place I mostly look to for a vacation. It's a major nomad hub, especially for startups and new entrepreneurs, and it is certainly a heavenly spot for someone who wants to be surrounded by nature, eat healthy vegetarian food, drive a scooter around and bounce from main hubs in Ubud, to Canggu for surfing, or Seminyak to go out. This is also a hugely popular destination for interests like yoga retreats, meditation, and health classes.
My remote team was in Bali doing a three-month stay and loved it. (We have written a nomad guide to living in Bali here). Things to be aware of with Bali, however, are few. For one, there are some stories of credit card scams or duplicates. The economy of Bali has long been geared towards tourists so you need to stay vigilant. Also, it can be harder to fly to, but there are options through Singapore and elsewhere for a long and a refreshing visit to a big city after being in the jungle or beach for a while.
Also, certain connectivity issues can come up. Internet connection can be not as reliable (definitely buy protectors and power stabilizers) and transport/traffic on the island can be very congested at times. That said, the Balinese culture is generally very welcoming and hospitable and the nomad hubs of Ubud and Seminyak have had a huge influence on SE Asia nomad travels.
#6: Ho Chi Minh City, Vietnam
Ho Chi Minh City is especially popular among location-independent workers who travel with a backpack and a laptop. After all, there's a cafe on practically every corner. Ho Chi Minh City's District 1 has everything a Westerner could want, from fresh Asian food to expat-run hamburger shacks and sky bar nightlife. If you're young and single, District 1 has everything you could want. For more of a traditional, family lifestyle, other nearby areas have plenty of expats, too.
While purchasing real estate in Ho Chi Minh City can be expensive, rental apartments are are very affordable. If you're willing to live a mile or so outside of the main action, you can get a serviced apartment for $500 a month, maid service included. A friend of mine leased a five-bedroom penthouse near the country's top shopping mall for about $2,000 a month. While Vietnam has fewer easy options for international travel than other cities on this list, it's close enough to beaches in Cambodia for a great weekend getaway. And, on top of endless sky bars and high-class nightlife, the city also has a Vietnamese opera.
#5: Manila, Philippines
Yes, Manila has areas that aren't so nice. However, no one is saying Beverly Hills is a dump because it's as much a part of the Los Angeles area as Compton.
With Manila, finding the right part of town is important. The benefit to Manila and the Philippines is that English is already widely spoken. Filipinos are incredibly warm and open to foreigners. And the Philippines offers more amenities Westerners are familiar with, such as larger refrigerators.
Areas like Makati and Fort Bonifacio (Manila's own version of Singapore) offer great shopping. The Greenbelt Mall in Makati is filled with lush greenery, streams, a duck pond, and even a chapel. While not huge on culture, the city has several interesting museums and attractions from its Latin roots.
A one-bedroom apartment in Makati can be extremely affordable; even the most luxurious of buildings have apartments for less than $1,000 a month. For the successful businessman, luxury and abundance are always an option. There is always the option to buy as well. Finally, for Westerners, areas like Makati offer a city within a city with Western-style dining, such as the Filipino equivalent of the Cheesecake Factory.
#4: Hanoi, Vietnam
Hanoi is the cultural capital of Vietnam and a great option for nomads and expats. We have written before about the cost of living in Vietnam and how to be part of the emerging economy there before, and think Hanoi is one of the more underrated cities to focus on as a base in SE Asia. Hanoi has a colonial charm and excellent cultural scene for nomads who want to be somewhere a little different than the typical mall-heavy cities of Bangkok or Singapore.
One of the interesting things about Hanoi are the tube houses that result from old property tax laws. The city has some fascinating zoning laws that result in an interesting array of homes and neighborhoods throughout. Both Hanoi and Ho Chi Minh City, and Vietnam in general, are fast-growing cities that reflect the increasing interest in Vietnam as a regional economic powerhouse.
#3: Singapore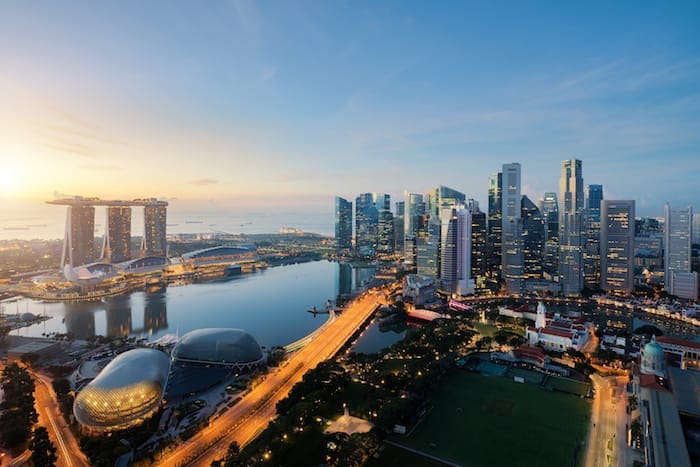 Though it is an expensive place to live in Southeast Asia what Singapore has to offer when it comes to quality of living can be worth the cost for nomads and expats
Like Hong Kong, Singapore is both a symbol of economic freedom and a rather expensive place to live. While locals can use the country's Central Provident Fund to help pay for their housing, it is a luxury foreigners don't really get. While mega-rich investors like Jim Rogers have moved to tony Singapore neighborhoods like Orchard Road and the large homes that line streets in Bukit Timah, most rent apartments in any of the city-state's diverse neighborhoods, which feature a melting pot of Westerners, Indians, Chinese, and Malay cultures.
While I personally prefer Hong Kong and its New York-like grit, Singapore is a more livable city, especially for families. The place is so amazingly sterile and clean that first-time visitors joke about eating off the ground. (Just don't eat on the subway… you may get fined.) Public transportation goes everywhere and makes getting around a snap. It's the most convenient option as well, seeing that if you want to drive a car, you have to buy an expensive "Certificate of Entitlement".
That said, the diverse culture of Singapore and its highly affluent status not only make it a perfect place for fine shopping and dining, but also for a myriad of dining and cultural options from the foreign talent that helped build the place. While Singapore is rather isolated geographically, you're not far from great beaches in Indonesia, or even the fake beaches of Singapore's own Sentosa Island. And Changi Airport offers non-stop service to every corner of the globe.
#2: Hong Kong
One of my favorite cities in the world, Hong Kong is a fantastic place to bank or do business (if you can). While not always considered part of Southeast Asia, Hong Kong is a truly international city on the South China Sea that defines much of the region.
Hong Kong is an incredibly expensive place to rent an apartment. A long-running real estate bubble has made it among the most expensive places to live. However, even in Central, there is a yin-and-yang about Hong Kong that makes it truly special. On one corner, well-dressed bankers dine on tony $100 lunches. On the opposite corner, local merchants hawk cheap clothing next to food shacks. You can get anything you want in Hong Kong; and the slightly gritty, big city nature of it offers up plenty of ways to live abundantly.
Hong Kong offers all the benefits of big city life. Plus, the weather is great much of the year. Beaches, greenery, and culture (like the Big Buddha) are a short bus ride away. And, if some of the world's best shopping and waterfront views don't excite you, the world's largest gambling mecca is a one-hour ferry ride away. The strong business culture and low tax rates make it a great city for entrepreneurs. As an added bonus, Hong Kong airport is one of the world's cleanest and most luxurious airports, with non-stop service to almost any civilized place you want to go.
#1: Kuala Lumpur, Malaysia
Kuala Lumpur has it all. Cultures from around the region have settled in this more liberal part of Malaysia led by its largest and capital city, "KL". While transportation can be a bit disjointed in Kuala Lumpur (the airport is a long way from the city center and train lines don't always connect perfectly) it is a great city for those who want a taste of different cultures. From Chinese to Indian to Malay, Kuala Lumpur is a melting pot. It has great cultural options and interesting things to do, including its elevation of street food to a highly social (and hygienic) art form.
KL is not exactly your typical urban jungle. The city has plenty of green areas, even amidst its business core. And I've seen beautifully decorated apartments right in the middle of the action going for less than $1,000 — some with views of my childhood favorite, Petronas Towers. When you consider that Singapore's ridiculously overpriced broom closets are but a half-hour flight away, Kuala Lumpur is a value destination in an upper-middle class emerging economy. And, as a hub for the low-cost carrier Air Asia, you can get anywhere in Australasia for great prices.
Ultimately, Kuala Lumpur is my city of choice for SE Asia. It's an area I continue to enjoy coming back to and I believe for many reasons it is a hidden gem for expats in the region. I rate it as #1 on this list, and while some may disagree, I encourage you to take a visit to this wonderful city and give it a full shot before writing it off. Many who visit find it is a welcome refreshing mix of much of the good of Singapore, Hong Kong, and others in one. 
If you're planning a visit to KL, check out our Nomad Guide to living in Malaysia's capital.
Feel free to leave a comment below and tell me why I'm wrong — or to agree on the other selections. We also have more information available here for why Southeast Asia as a whole is a great place for nomads and entrepreneurs. If you liked this article and are curious how to apply the Nomad Capitalist lifestyle for yourself, check out the quick video below. Then, if you'd like some help doing it, click here to let me know.
Learn how to crack the code and legally pay zero tax while traveling the world.
Watch our Nomad Capitalist Crash Course.
Nomad Capitalist is all about helping people like you "go where you're treated best". If you want to learn more about what exactly that means, and why I believe so strongly in it, I made this video that is worth watching:

Andrew Henderson is the world's most sought-after consultant on legal offshore tax reduction, investment immigration, and global citizenship. He works exclusively with six- and seven-figure entrepreneurs and investors who want to "go where they're treated best". He has been researching and actually doing this stuff personally since 2007.