Hungary is an affordable EU country with a high standard of living and plenty of interesting investment opportunities.
So should you consider the home of Harry Houdini in your escape plan? As with every country, Hungary has its benefits and its drawbacks so we wrote this article to help you make up your mind.
First, we look at the two methods we recommend to our clients to obtain a Hungarian residence permit; residency through investment with a Business Visa or residency through real estate investment.
We discuss the entire immigration process, from getting your initial temporary residence permit to obtaining permanent residence, and how you can then apply to become a Hungarian citizen.
We also look at the pros and cons of obtaining a permanent residence permit in Hungary, with information on how to immigrate to Hungary, issues you will need to be aware of before applying, and how Hungary compares with other countries within the European Union.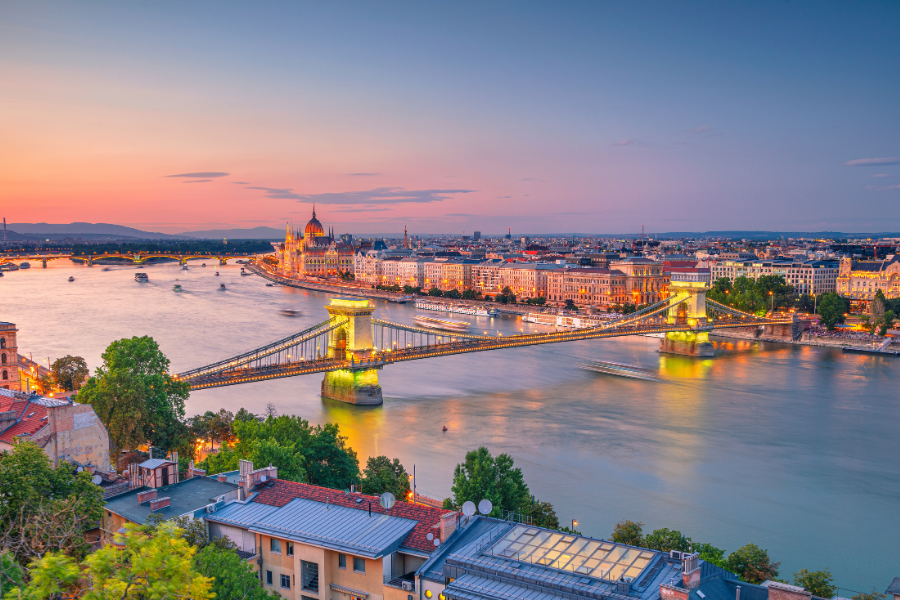 Hungary – Country Profile
Hungary is a landlocked Eastern European country of 9.69 million people.
It shares a border with five EU countries; Croatia, Slovenia, Austria, Slovakia, and Romania, while also bordering Serbia to the south and Ukraine to the northeast.
The national language is Hungarian, though English is widely spoken, particularly in the capital Budapest.
Hungary was under Communist rule until 1990, before it transitioned to a more western-style market economy. It joined NATO in 1999 and the European Union in 2004 as part of the EU's enlargement program. The national currency is the Hungarian forint.
The capital city is Budapest. Situated on the Danube river, it is a popular tourist spot and sometimes called the "Paris of the East." Budapest boasts breathtaking architecture, an abundance of art and culture, plus popular tourist spots like the Széchenyi Medicinal Baths.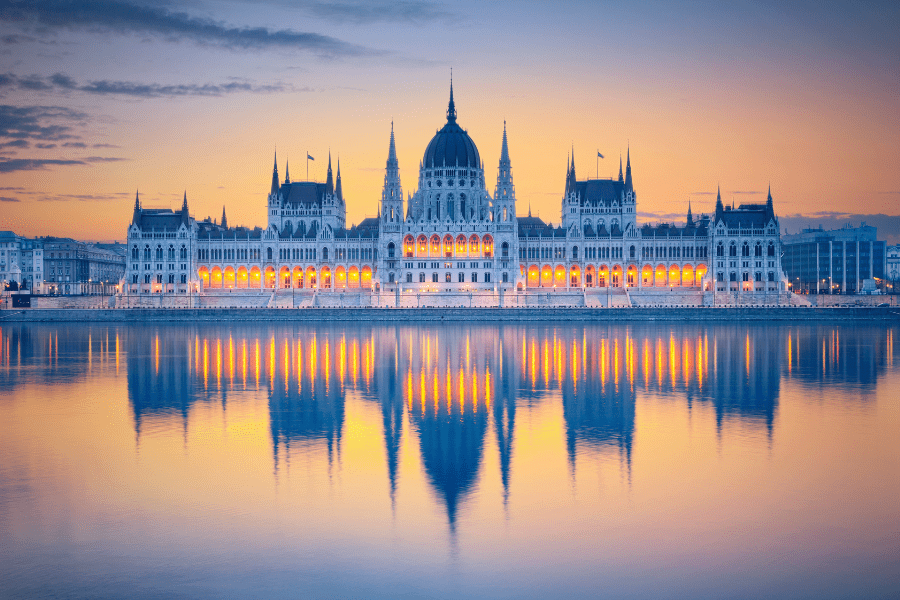 Residence in Hungary – Pros and Cons
Hungarian permanent residence works as an option for anyone looking to travel through the Schengen area visa-free and to other EU countries.
It's also ideal for anyone looking for real estate property investment opportunities within Europe without wanting to pay eurozone prices.
Hungary is a reasonably cheap place in Europe to live generally. In a city like Budapest, you can enjoy the same overall standard of living you might expect in one of Europe's more Western capitals, but at a much lower cost.
The residence through investment program in Hungary also allows you to gain a residence permit by setting up a limited liability company, after which you can take advantage of a flat corporate income tax rate of just 9%.
And there are travel benefits to living in Hungary. Residence permit holders enjoy visa-free throughout Europe's Schengen area just like EU citizens, so you can move freely throughout Europe without it affecting your residence status.
Just keep in mind that immigration to Hungary is not always as straightforward as in other European countries, which is why having assistance is strongly advised.
Indeed it's fitting that the country that gave the world the Rubik's Cube should remain so puzzling to outsiders. Here is a country that happily joined the EU, yet its increasingly precocious government now seems to be constantly at odds with it.
Hungary's nativist government is not exactly known for its favorable stance on immigration either. Add in some lingering remnants of the country's creaky old Communist bureaucracy, and things can appear more challenging still.
But luckily, help is at hand to help you navigate it all with ease.
Slashing through red tape is what we do. But more than that, our job is to help you examine options and find the best solution for your needs.
It's fair to say that Hungary is not the ideal solution for everyone, but it should certainly be on the table as an affordable EU option.
Immigrating to Hungary has both its challenges and its charms. You may find it less hassle to move somewhere else like Portugal or Malta, or then again, you could well find yourself strolling along the banks of the Danube as the sun sets, thinking it was the best choice you ever made.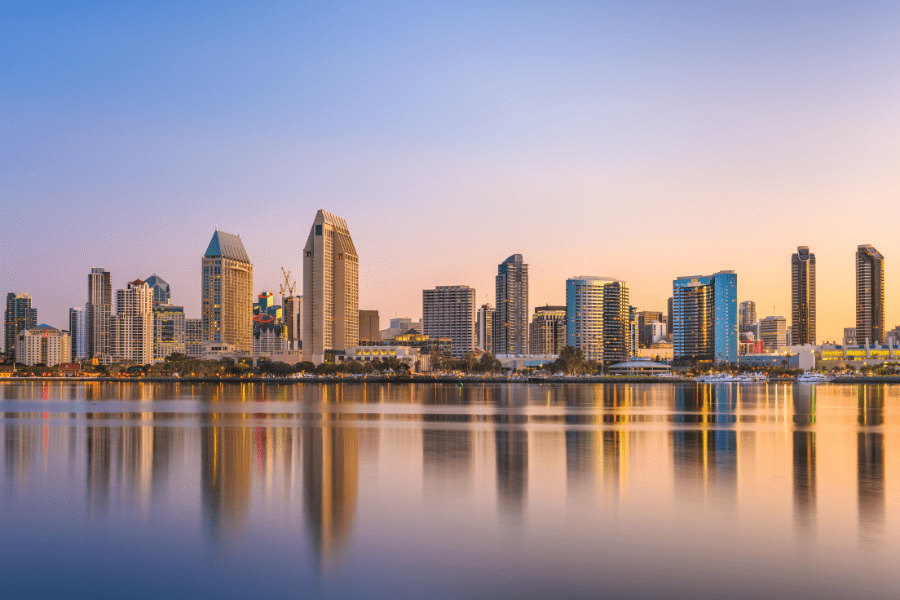 Hungarian Residence Permit Types
Your first Hungarian residence permit will be a temporary residence permit, valid for one year.
This temporary residence permit can then be renewed for another two years.
To renew your temporary residence permit, or apply for permanent residence, you must spend six months of the year, if not inside Hungary, then at least within the Schengen zone.
From our experience, the Hungarian immigration office is not as strict on this, provided you stay within Europe's visa-free Schengen area.
If you're trying to obtain permanent residence in Hungary, but your passport shows stamps that show you spent two out of your six months in Australia, then obviously that won't work.
But if you decide to go over the border to Austria for a couple of months, it shouldn't be an issue.
Having your residence in a country within the Schengen area allows you that freedom to explore and travel and savor all of Europe's flavors as you prepare to obtain permanent residence.
Once you have your permanent residence card, you can also follow the citizenship path if you so wish.
After 183 days of residence, you will be deemed a tax resident of Hungary. This process is automatic, regardless of your immigration status.
Hungary offers various types of residence permits for non-EU citizens. These include a special study residence permit for students and different work permit types, including one for seasonal workers. Each type of applicant will have to meet different criteria.
For the purposes of this article, however, we will focus on just the two resident permit types we recommend to our clients, real estate residence permits and business visa residence permits.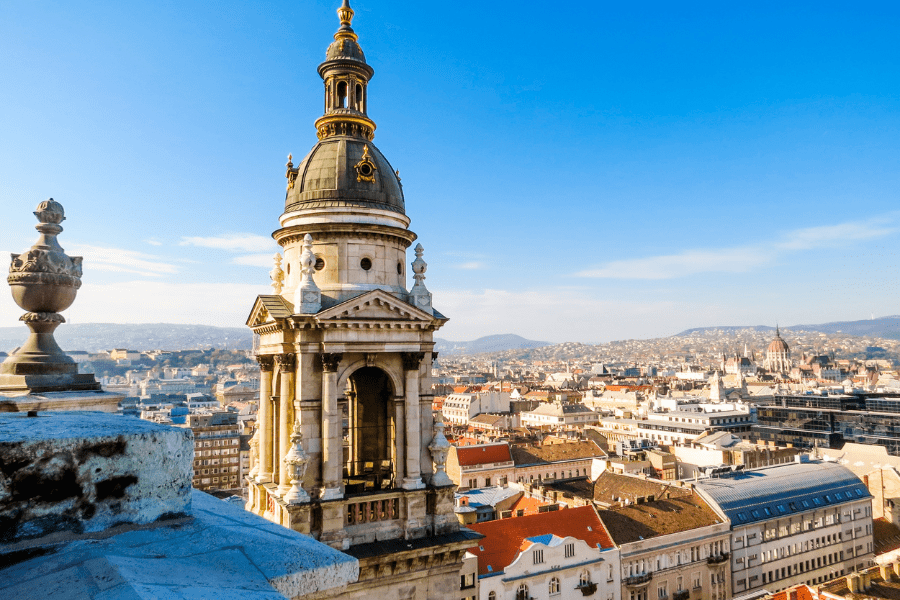 Hungarian Residence Through Investment: Property
Technically speaking, with this option you're starting a company, albeit a company established for the purposes of real estate investment. And while you can also form a company for other purposes, this is the route we usually recommend to our clients.
Investing in the local property market will allow you to obtain a permanent Hungarian residence permit with minimal hassle.
So if you're a non-EU citizen looking for EU residence for you and your family, while at the same time diversifying your investment portfolio, this could be a win/win proposition.
It's also relatively straightforward to apply.
You just need to invest in the local real estate market for a minimum amount of €200,000.
Since property is still comparatively cheap in Hungary, you could easily purchase two apartments in Budapest for around €100,000 each.
And you can make the whole immigration process even easier by becoming a Nomad Capitalist client.
Not only can you take advantage of our ten years of experience, but you also get the benefit of help from our strategic partners on the ground.
So we can arrange viewings in advance and help you find some choice properties while doing most of the legwork on your behalf.
Hungarian Residence Through Real Estate – How It Works
First, we will help you set up a Hungarian limited company to own and manage your properties. The profits from renting your properties will be the basis for your residence claim.
When you return home, you will need to arrange an appointment at your local Hungarian embassy or consulate to go over your business plan. This is more or less a meeting for official purposes to check that your immigration application is valid and that all your paperwork is in order.
Of course, we will help you with arranging and preparing for this meeting and make sure you have all the necessary documents prepared well in advance.
Officially, you should be granted your residence permit around 70 days after your appointment though you will most likely get it sooner. Around 4-5 weeks is the norm in our experience. So you will want to factor that time in when planning your schedule as you will need to return to Hungary to collect your new residency card.
Once you have been granted a residence permit, you can also then begin the process of reunification. So if there are any family members looking to join you, they are now also eligible to come and apply for residence permits.
Just make sure you have all the necessary documents (travel documents, birth certificate, marriage certificate, health insurance details, etc.) ready in advance for the immigration officials.
Your residence permit will be valid for a year before you will need to renew it. Once you have renewed it twice – i.e., after three years – you can apply for permanent residence.
Eight years after obtaining your first Hungarian residence permit, you will become eligible to apply for citizenship.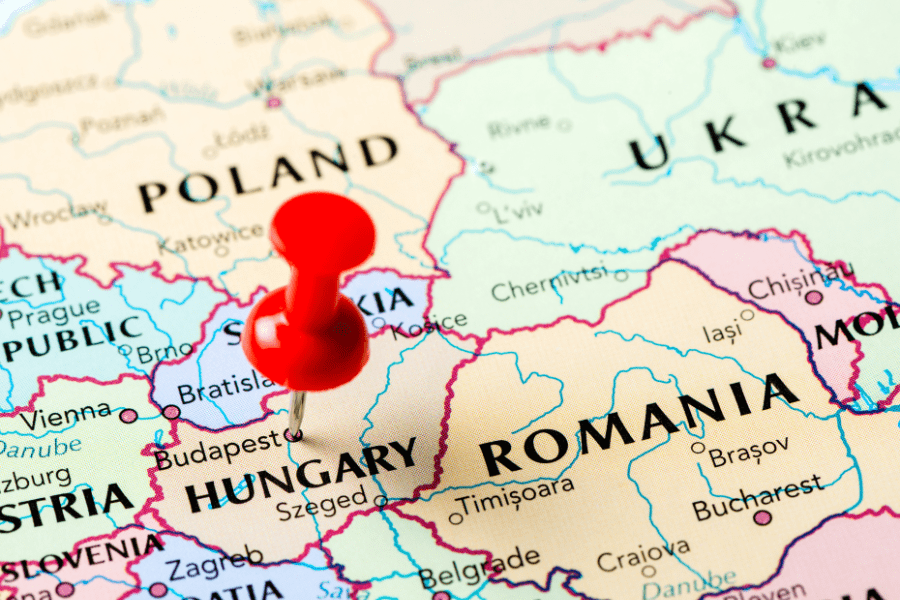 Hungarian Residence Through Investment: Business Visa
If you are looking for a residence permit through investment but don't fancy the idea of spending €200,000 on Hungarian property, you can opt to apply for a Hungarian Business Visa.
To do so, you must form a Hungarian limited company with at least €50,000 register capital.
This allows you to get a Hungarian residence permit by becoming the director of a Hungarian company. It also grants you access to the EU market, with a corporate tax rate of just 9%
To make things run smoothly, we can provide you with legal assistance and put you in touch with partners who can handle things such as company registration, virtual office address registration and so on. (We can also help with things like banking and arranging health insurance.)
That way, the process should take just a couple of days to complete, after which point you will need to prepare your business plan.
Be advised, this next step does take a little effort on your part.
In Hungary, residence permit applications aren't rubber-stamped by immigration just because you put the money down. The government wants to filter out non-EU citizens who aren't going to contribute to the economy.
Your residency application will be evaluated based on the strength and feasibility of your business plan. So your plan will need to go into specific detail as to the nature of the business, with financials and other key data, to ensure it meets the criteria as laid out by the Hungarian immigration office.
Specifically, you need to demonstrate that you are setting up a legitimate business which will have a measurable positive impact on the Hungarian economy in some way, such as hiring Hungarian nationals to work for you.
Of course, we're on hand to help you ensure your business plan makes the grade and we have not encountered any issues with any applicant so far.
You will also need to register as a company director in Hungary to be in the country's social insurance system.
After the process is complete, which should only take a couple of days, you will receive an EU tax number and can freely take advantage of Hungary's 9% corporate tax rate.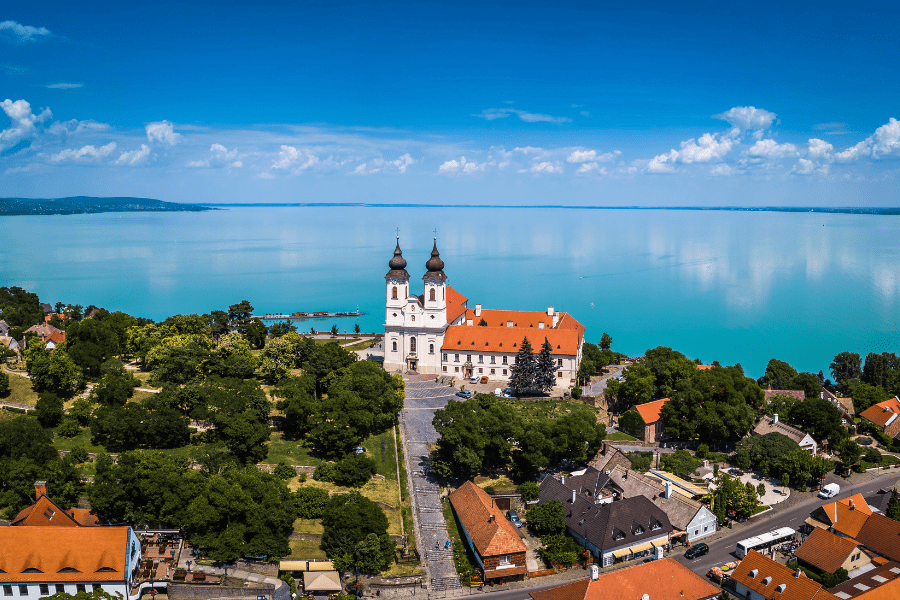 Obtaining a Permanent Residence Card
One thing to keep in mind when applying for a Hungarian residence permit is that the government is somewhat selective about the foreign citizens it grants permanent residence to.
By following the residence through investment path, you skip a lot of those hoops automatically.
However, as a third-country national (i.e., from a non-EU country), you still need to demonstrate that you will be of benefit to, and not a burden on, the state.
So you will first have to prepare bank statements that demonstrate your solvency and also show that you have a physical address in Hungary.
You need to provide proof of health insurance in Hungary plus a health certificate from your home country to show that you are in good health. This also applies to family members you wish to include in your permanent residence application.
You will also need to provide the following documents; a valid passport and birth certificate for each family member, plus a marriage certificate for your spouse.
This is standard immigration policy in any country, but as mentioned previously, Hungary still has echoes of that old-fashioned Communist bureaucracy that you may still encounter from time to time. So make sure you have all your documents prepared in advance.
And if you're a Business Visa applicant, you will also need to ensure your plan is formulated correctly and your additional company registration documents are all properly prepared, something which we would be more than happy to help you with.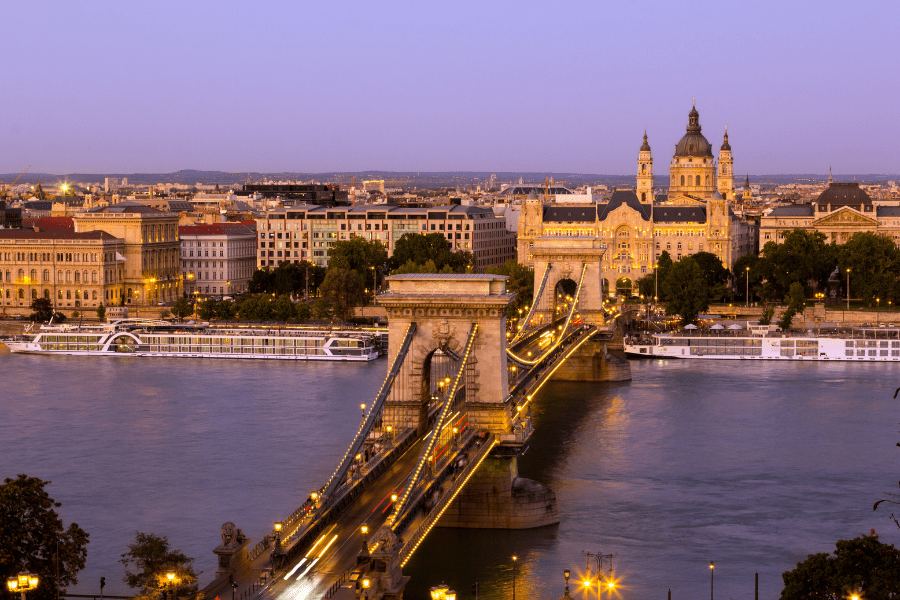 Applying For Hungarian Citizenship
The first step is to apply for a temporary residence permit, then after three years you can apply for permanent residence.
After eight years, you can then apply for citizenship, provided you have spent at least nine months out of each of the preceding eight years in Hungary.
Hungary also offers dual citizenship to those who do not wish to give up their previous nationality.
To become Hungarian citizens, applicants are expected to pass a language test.
So first the bad news; the language test is mandatory and Hungarian is a complex language to learn. (Their word for "cheers" appears to have at least nine syllables)
It's also something of a linguistic oddity compared to other European languages. So it's not like moving to Portugal when you already have some basic Spanish. You will have to learn the language from scratch – so that was the bad news.
But the good news is that the test only requires a very basic usage of the language. We don't want to say it's easy, because learning a new language comes easier to some than others, so what we will say is that you need only learn it to a basic conversational level.
By which point, of course, you may well decide to continue learning as it allows you to delve deeper into the country's fascinating culture.
FAQs
How Do I Get Residency In Hungary?
There are different ways to obtain residency in Hungary. You can apply for a student visa or a work permit, for example, though the path we recommend to our clients is the residence through investment path.
Does Hungary Offer Residence by Investment?
Yes, this is the method we recommend to clients seeking permanent residence in Hungary. It streamlines the immigration process while opening the door for Hungarian investment opportunities with additional access to the EU market.
As a Nomad Capitalist client we can help assist you through the process. We can help you prepare your paperwork, manage the bureaucracy and also arrange real estate viewings.
Is Hungary Easy To Immigrate To?
This largely depends on where you are coming from and your reasons for relocating.
Third-country nationals from western countries generally do not encounter too much difficulty, though those coming from developing countries may encounter more immigration hurdles.
So somebody from North America looking to immigrate, for example, will most likely have a very different experience to somebody from Latin America.
This is often the case in many eastern European countries whose cultures are generally less open compared to their western counterparts and it's certainly the case with Hungary's nativist government.
At Nomad Capitalist we believe that you should go where you're treated best.
For some of you, Hungary will feel like love at first sight though others may feel more at home in countries like Portugal, Malta or Ireland.
Our holistic approach takes everything into consideration, not just taxes and immigration processes, but also culture, to make sure you find the best place for you, your family and your business. Find the best location for your exact needs with a Nomad Capitalist https://nomadcapitalist.com/apply/Action Plan.