Gone are the days when North America and Western Europe were considered the pinnacle of civilization, modernity, and progress.
The world has become a global village. Previously poor or distressed countries cleaned up their act and emerged as the most desired countries of today.
Let's talk about Asian countries. Whether we talk about the economy, tourism, or entrepreneurship, many Asian countries have long surpassed the so-called champions of progress.
Asia is home to three of the largest economies in the world. Moreover, according to the Global Passport Index, the world's top three most powerful passports belong to Asian countries.
Asia is no stranger to the RCBI (residence and citizenship by investment) world as well. With programs like Malaysia's MM2H Visa and digital nomad hubs like Indonesia and Thailand, Asia has long made it to the good lists of foreign investors, entrepreneurs, and digital nomads.
Everyone wants to be part of the new and exciting environment that Asia is brewing.
But, it's not all rainbows and butterflies in Asia. With progress, there is poverty. With peace, there is war, and with popular spots, there are not-so-known regions. But popularity isn't the sole standard to measure a country – if it were, the term 'explore' wouldn't even be in the dictionary.
Asia boasts countries like Japan, South Korea, and Singapore that need no introduction, but Asia is also home to many hidden gems. Countries that don't usually make it to someone's bucket list or tourism checklists. Countries that many people are simply unaware of.
Today we're going to talk about one such country that is neither popular nor up-and-coming. Why? Because at Nomad Capitalist, we consider ourselves explorers. Exploring hidden gems, new opportunities, and exciting programs are what we're good at.
We think that a sustainable offshore strategy requires a complete and thorough analysis of all relevant countries before choosing one (or more than one) option for our clients where they will be treated their best.
So let's talk about the country this article focuses on – Armenia.
Situated in the ancient Caucasus at the crossroads of Europe and Asia, Armenia is a country that surprises you the more you read about it.
Sharing borders with Georgia, Azerbaijan, Turkey, and Iran, Armenia is an ancient mountainous country home to several UNESCO World Heritage Sites.
Many people may not even know about Armenia or what it offers, so before we jump into the details of acquiring Armenian citizenship and residency, let's talk about why someone would even choose Armenia as their second residence or home.
Why Armenia?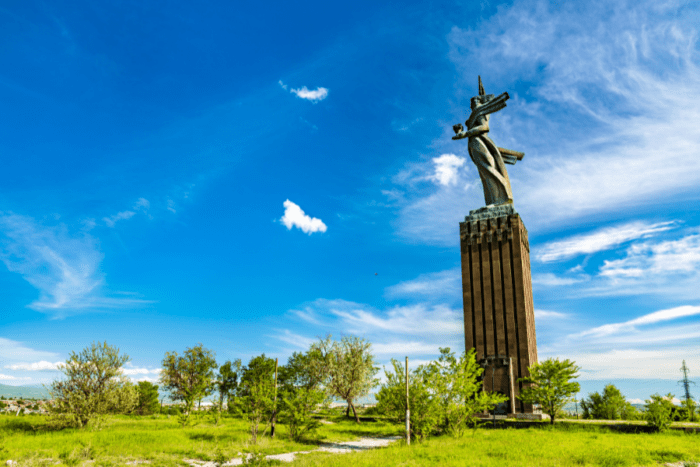 Favorable Immigration Regime
Armenia has done its best to keep its immigration policy as favorable for foreign nationals as possible. Whatever you choose, Armenian citizenship or residency, you will not be bothered by a lengthy process full of tedious paperwork and physical presence requirements.
A residence permit holder in Armenia enjoys the same rights as an Armenian national, except for political rights. Moreover, an Armenian resident does not have to serve in the Armenian military.
The best thing about Armenian residence is that there are no minimum stay requirements. You can maintain and extend your Albanian residence permit remotely. Armenia also recognizes the right to hold dual nationality.
As a general rule, to be a tax resident in Armenia, you must spend over 183 days in the country. Thus it is possible to become an Albanian resident without becoming a tax resident.
History That Keeps You Hooked
To say that Armenia is ancient would be an understatement. The first historical mention of Armenia can be found in the manuscript of King Darius Behistun in 520 BC. Although modern-day Armenia is only a tiny portion of the ancient Armenia that spanned over many modern-day countries (both in Europe and Asia), you will be able to see the historical imprints of ancient Armenia in many streets and architecture.
Armenia was also the first country to adopt Christianity as the state religion, and even now, over 90% of Armenian citizens are Christians. The first Christian cathedral, Etchmiadzin Cathedral, was built in Armenia and still serves as the headquarters of all Armenian churches.
Armenia has also been a part of the Ottoman Empire and the USSR. However, both regimes proved bloody and troubling for ethnic Armenians, during which they faced atrocities ranging from extradition to wide-scale massacres.
Unfortunately, even now, Armenia is in a territorial conflict with Azerbaijan over the Nagorno-Karabakh enclave.
Access to the 'Controversial' Countries
Let's talk about travel freedom. The Armenian passport is nowhere near Tier A passports, nor does it compete well with the passports of its neighboring countries, like Turkey and Georgia, which have done quite well for themselves in the past few decades.
But, to the people belonging to the western countries, Armenia offers something that most Tier A passports don't – access to controversial countries.
Many western countries have bad blood with Asian countries like Iran, China, etc. Even if traveling to those countries isn't entirely banned, it's restricted and regulated, causing frustration and long waiting periods for many people who are otherwise used to smooth traveling.
Armenian passport allows visa-free access to 64 countries, including Iran, Russia, China, Uzbekistan, etc. So, if you belong to the US, UK, EU, or any country that restricts you from going to these regions, Armenian citizenship might be your way in.
Natural Beauty You'll Never Get Tired of
One aspect in which Armenia is second to none is its extensively breathtaking natural beauty. If its medieval architecture was not enough to take your breath away, the scenic backdrop certainly would.
Armenia is a mountainous country with no shortage of awe-inspiring mountain ranges. The mountains of Armenia are even mentioned in the Bible.
Yes, you read it right. Mount Ararat in Yerevan (the capital city) is mentioned in the Bible during the story of the Great Flood. It's said that Noah settled in the Ararat Valley after his ark stopped at mount Ararat.
Stories are another part of the unique Armenian experience. Whether you are a Christian or not, you'll get to hear many interesting stories there that will probably stay with you for the rest of your life.
Deeply Spiritual Environment
The world's first Christain cathedral was built in Armenia and can still be found in the town of Etchmiadzin. It is one of the holiest pilgrimage sites in the world.
You'll also find plenty of monasteries in Armenia, both ancient and recent. Armenia is a profoundly spiritual place for Christians due to its history and almost entirely Christain population.
Now that you know about Armenia and what it offers, let's see how someone can acquire Armenian citizenship or residency.
How to Get Armenian Citizenship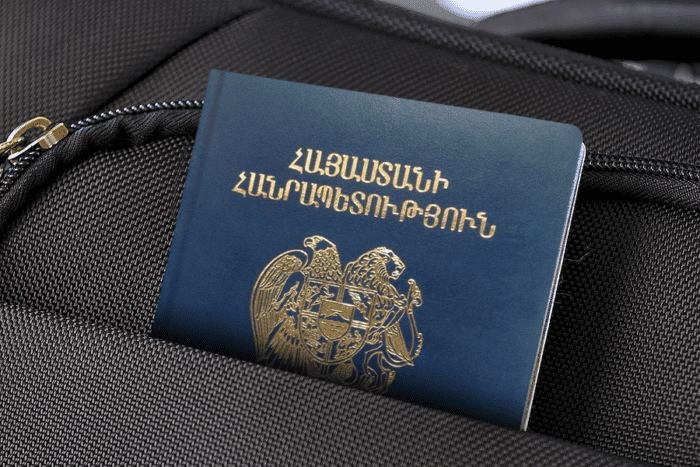 Generally, you can acquire Armenian citizenship through one of the following routes:
Citizenship by Descent
Citizenship by Marriage.
Citizenship by Residence
Citizenship by Exception
Citizenship by Descent (CBD)
Foreigners of Armenian ethnicity qualify for Armenian citizenship by descent. Under this route, there are no language or residency requirements.
However, you will have to prove that you, your parent(s), or your grandparent(s) were ethnic Armenians. You can confirm your Armenian ancestry by showing a baptism certificate, birth certificate, etc.
Note, however, that the birth certificate must be certified by an apostille, and its translation into Armenian must be notarized.
Overall, the paperwork isn't complicated, the process is streamlined, and most importantly, it is dirt cheap to acquire Armenian citizenship by descent.
If you want to know more about the Armenian CBD route, we also have a detailed article on acquiring Armenian citizenship by descent.
Citizenship by Marriage
Acquiring Armenian nationality by marriage is pretty straightforward too. All you have to prove is that you have been legally married to an Armenian citizen for a minimum of two years. During which you stayed in Armenia for at least 365 days or had a child with your Armenian spouse.
To be eligible for citizenship by marriage, you must also know the Armenian constitution enough to pass a small test. However, you are not required to have a working knowledge of the Armenian language.
Citizenship by Exception
The citizenship law of the Republic of Armenia does not mention any 'Armenia citizenship by investment' route. However, there is a quicker route to obtaining Armenian citizenship without establishing residency in Armenia – citizenship by exception.
By providing exceptional services
Before July 2022, the only legal way to obtain Armenian citizenship in an expedited manner was to provide exceptional services to the Republic of Armenia.
The law doesn't detail the evaluation criteria or the definition of exceptional services. However, in some cases, substantial charitable contributions or investments have been considered exceptional services.
The President of Armenia grants Armenian citizenship by exception. Each application is considered on its individual merits, like the creation of jobs, amount of investment or donation, applicant's ties to the country, etc.
Making a significant contribution
On July 7, 2022, the citizenship law of Armenia was amended to provide the possibility of obtaining Armenian citizenship by making a significant contribution to specific areas.
Following is the exact excerpt from the law:
"Citizenship of the Republic of Armenia can be granted, without the need to comply with sub-paragraphs 1, 2, and 3 of the first paragraph or the second paragraphs of this article, to those who have provided exceptional services to the Republic of Armenia as well as to persons with a significant contribution in the areas of the economy, science, education, culture, healthcare, athletics. The description and evaluation criteria of exceptional services, as well as a significant contribution in the areas of the economy, science, education, culture, healthcare, athletics, shall be defined by a decision of the Government of the Republic of Armenia."
As with the exceptional services clause, the law doesn't clarify the evaluation criteria or the meaning of a significant contribution. However, the Armenian government is expected to explain the details regarding Armenian citizenship by exception by January 2023.
However, on October 12, 2022, a draft decision was published explaining the meaning of "significant contribution". The draft mentions the following criteria:
A donation of $150,000 to a scientific or educational foundation
Investment of $100,000 in an IT company or a venture fund
Investment of $150,000 in a company and hold the investment for ten years
Purchase of $150,000 worth of government bonds and hold the investment for seven years
Purchase of $150,000 worth of real estate and hold the investment for ten years
Having over twenty years of work experience in a publicly traded IT company
Having over ten years of work experience in science and authoring over five scientific articles
Being engaged in dissemination and preservation of Armenian culture, heritage, and identity
Having a scientific title of docent, professor in the area of healthcare.
According to the law, the applicants who receive citizenship by exception must present themselves before an authorized body of the Armenian government and participate in an oath to collect their Armenian passport.
No residency, language, or constitutional knowledge requirements exist for people who choose the exceptional route to obtain Armenian nationality, making it the quickest and most hassle-free way to become an Armenian citizen.
Citizenship by Residence
Foreign nationals can be eligible to acquire citizenship in Armenia by permanently residing in the country for three years, but here is the interesting part – the law does not define the term 'permanent resident.'
So, in practice, you must maintain an Armenian residence permit (permanent or otherwise) for three years, after which you can apply to become an Armenian citizen. You must also know the Armenian constitution enough to pass a small MCQs based test.
Now that you know about Armenian citizenship and how to acquire it, let's talk about establishing Armenian residence, types of residence permits, and how to get them.
Establishing Armenian Residence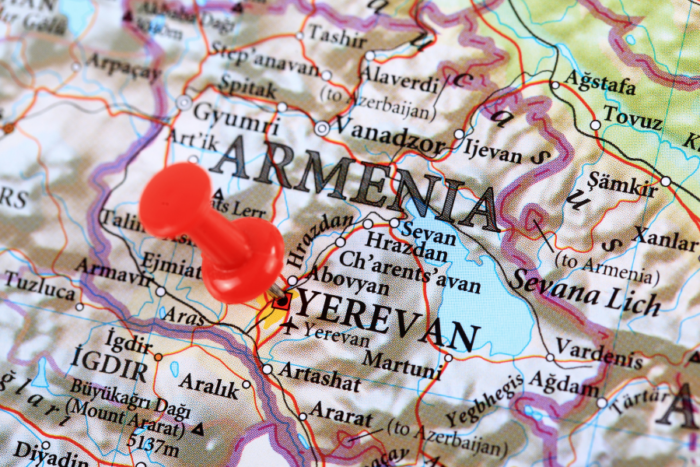 The Armenian law on foreigners mentions three types of residence statutes, each of which makes you eligible to apply for citizenship after three years. You may become a legal resident in Armenia by investing, setting up a business, working, or studying in the country.
Types of Residence Permits in Armenia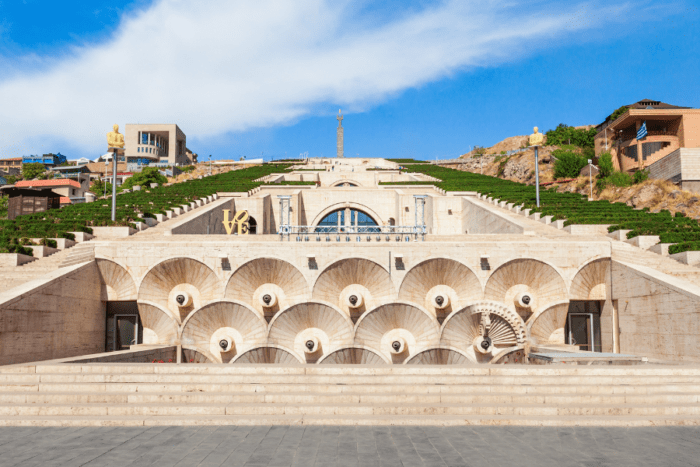 The Armenian law on foreigners establishes the following residence statuses for foreigners:
Temporary residence
Permanent Residence
Special Residence
Temporary Residence (Temporary Resident Card)
A temporary residence permit is valid for one year, with a possibility of a one-year extension. You can be issued a temporary residence permit in Armenia if you:
Study in Armenia
Have a work permit in Armenia
Are the spouse, parent, or child of a foreign national who is an Armenian Temporary Resident Card holder
Are the spouse, parent, child, sibling, grandparent, or grandchildren of an Armenian citizen or a foreign citizen holding a Special Passport of Armenia
Run a business in Armenia
are Armenian national
After submitting your application, you may get your temporary resident card in less than two months. After maintaining the temporary residency for three years, you can apply for Armenian citizenship.
To extend the Temporary Resident Card, you must apply at least 30 days before the card expires.
Permanent Residence (Permanent Resident Card)
A permanent residence permit is valid for five years, with a possibility of a five-year extension. You can be issued a permanent residence permit in Armenia if you:
Are the spouse, parent, child, sibling, grandparent, or grandchildren of an Armenian citizen or a foreign citizen holding a Special Passport of Armenia, have adequate means of accommodation or property in Armenia and also have legally resided in Armenia for three years before applying for a Permanent Resident Card
Run a business in Armenia
are Armenian national
After submitting your application, you may get your permanent resident card in less than two months. After maintaining permanent residency for three years, you can apply for Armenian citizenship.
To extend the Permanent Resident Card, you must apply at least 30 days before the card expires.
Special Residence (Special Passport)
A special residence permit looks different from other residency cards because it's issued in the form of a passport as opposed to separate documents. The Special passport is issued for ten years and can be extended indefinitely after each decade.
Before Armenia legalized dual citizenship in 2005, special passports were quite popular among people who wanted all the perks of Armenian citizenship, like owning agricultural and other lands in their name – and none of the cons, like obligated military service or the possibility of renunciation. Even now, the special passports haven't lost their appeal.
In practice, special passports are issued to foreigners of Armenian origin. However, non-Armenians involved in economic or cultural activities in Armenia have received special passports in exceptional cases.
You may get your special passport within three months after submitting your application.
How to Establish Residence in Armenia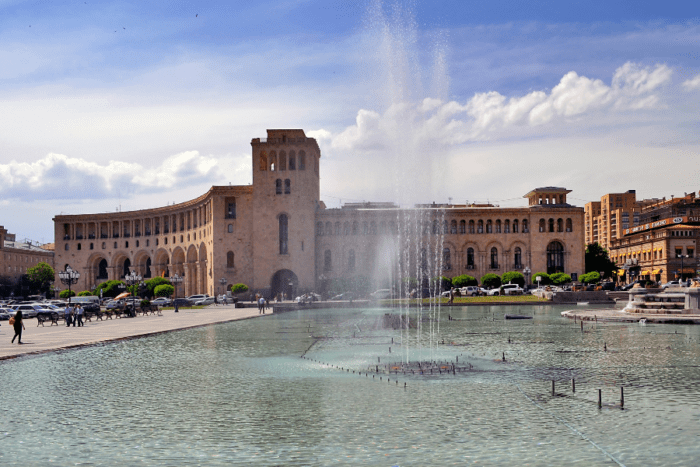 Now that you know about the residence options, you may wonder which one will best serve your interests and how to go about it.
If you are an investor or entrepreneur, you should consider establishing residency through the following routes.
Residence by Company Formation
Business owners and location-independent entrepreneurs are eligible for temporary and permanent residence permit cards. However, special passports are generally given to business owners with large setups that create many local jobs.
To acquire a residence permit by company formation, you need to keep the following things in mind:
Apply After Setting Up Business: You must apply for a residence permit after you've set up your business in Armenia. Applications involving firms in the planning stages are highly likely to be rejected. You are allowed to start a business in Armenia on a visitor visa before applying for a residence permit.
No Need to Buy or Rent Commercial Property: Your business will be considered valid whether you work from home or have a functional and dedicated traditional office space. However, the latter will look better on residency applications.
Minimum Investment and Turnover: There are no minimum amount requirements for the business's income or turnover. However, for the sake of authenticity, the turnover should be enough to cover the applicant's living expenses in Armenia.
No Work Permit Needed: As a business owner or a location-independent entrepreneur, you don't require a work permit to apply for residence in Armenia.
Register as a Taxpayer: For an acceptable residency application, you must register as a taxpayer in Armenia (as a sole proprietor, etc.). The headline corporate tax rate in Armenia stands at 20%.
Business Structure and Ownership: The law doesn't set a minimum share size for shareholders of for-profit companies applying for a residence permit in Armenia. As long as the ownership is real, it doesn't matter whether the share is 1% or 100%.
The nature of the business also does not matter considerably as long as you have all the supporting documents and evidence to prove the authenticity of your entity. Creating local jobs, although a plus point, is not required. You may apply for residency even if you are an only business employee or sole proprietor.
Residence by Real Estate
Real estate is an indirect route through which you can establish residency in Armenia. Merely buying Armenian real estate will not qualify you for a residence permit. However, you can use your real estate as an income-generating base through which you can be eligible for residency under the same rules as business owners.
Here's how you can do it:
Rental Property: You can buy a property and turn it into a rental. In this case, you would be subjected to the same rules and requirements as business owners. You would also need to pay taxes on your rental income, which stands at 5%.
Investing in Existing Business: If you don't want to buy a property or set up a new business, you may purchase an existing business or buy shares in one. Note, however, that this route may subject you to increased due diligence and complications.
Where to Apply for Residence Permits
For temporary and permanent residence permits, the applications must be filed at the Passport and Visa Department of the Armenian Police (OVIR) by you, your lawyer, or another representative with power of attorney.
You cannot apply for residence permits in an Armenian embassy abroad unless the application is for the ten-year special permit.
Should You Choose Armenia?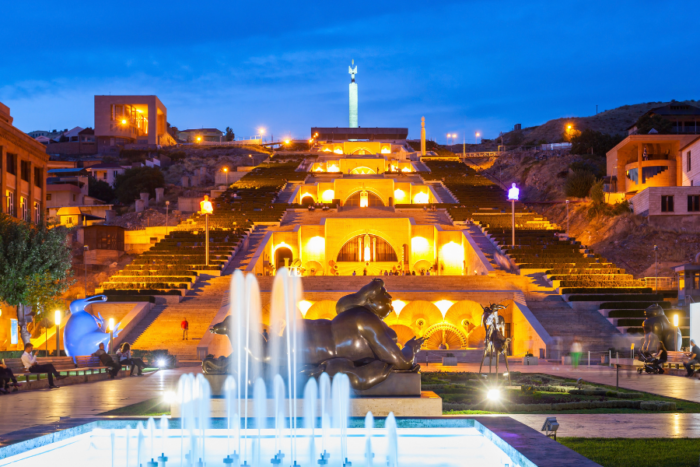 Armenia is best for foreigners who want to acquire and maintain residency without living in the country. The country is also great for people who wish to receive cheap second citizenship in three years.
Armenian citizenship could also be the doorway to black-listed countries for investors and entrepreneurs. Most westerners wouldn't want to be within miles of countries like Iran, but the world is fascinating, and what works for one may not work for another.
Armenia may not be an obvious residence or second citizenship choice, but it is interesting. Still, if the country isn't to your liking, you don't need to look far for significantly better options.
Armenia's neighbor, Turkey, boasts one of the most popular citizenship by investment programs. Georgia, on the other hand, is a Nomad Capitalist favorite for all things banking and business.
There are plenty of residence and citizenship programs in the world. Reach out and let us help you pick the best option for yourself.